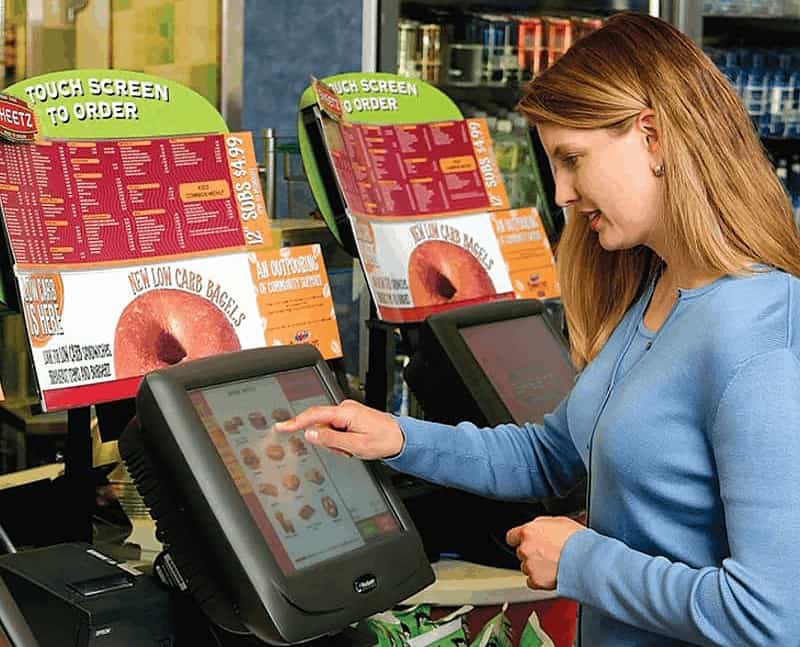 If you own or manage a fast-food restaurant, you're familiar with the highly competitive nature of this business and the need to deliver great food and the best service.
By using a reliable QSR POS system, you'll be able to customize your menu, create food combos, apply discounts or promotions, reduce food waste, and upsell slow-moving items. Such features will help you speed up your service significantly (which is the name of the game in this type of business).
If you offer delivery for online orders, QSR software can reduce errors and split checks. If you have seating in your restaurant, a point of sale system will let you customize your floor plan. Additionally, you'll be able to track your employees' hours, set user roles, and use various other management features.
Want to skip right to the best fast-food POS system? Take a look at Toast. This provider offers the easiest system to use and manage your menu. Additionally, this system features a customer-facing display that allows customers to sign their bill and tip right on screen.
What your business needs is a complete quick-service restaurant POS system. When running a tight ship, its important to cut training times and get your staff up to speed. Boosting your margins is just as important. Let's review which POS systems can help you do that.
The Best Fast Food POS Systems
System
Starting Software Costs
Hardware Costs
Key Features

Our pick!

$69/month
$799
Add Guest-Facing Display +$200
Order management system that alerts staff when food is ready

$29/month
Hardware is available at various costs
SkyTab feature – Servers or guests can input directly on a tablet to increase order efficiency and accuracy

Free for basic plan, add-ons start at $5/month
$0
Feature-rich back office that is accessible from any internet-enabled device

Quote based
Quote based
Robust inventory controls with automatic replenishment of standard stock

The best fast food POS system should offer your business improved efficiency, customer loyalty and line bursting benefits.
If you are looking for a system that offers such convenience and benefits, you should consider investing in the Toast POS system for fast food restaurants.
In order to keep up with your fast food restaurant speed and requirements, this scalable solution has an array of features to offer, including:
Flexible Menu Management
In addition to being a fast food restaurant-specific system, Toast features a flexible menu manager. In this regard, the system is equipped with an array of menu management tools that are specifically designed for restaurant businesses. For instance, the solution makes it easier and more convenient for you to add new items to the menu.
Following the initial menu setup, menu changes in your restaurant will be on the fly. Additionally, the system will automatically update the menu in accordance with inventory changes. As such, the system will automatically update the inventory levels as well as on-site and online restaurant menus after every sale.
Intuitive Customer-Facing Display
As you may be aware, a customer facing display allows for transparency between the business and your customers. With the customer display system, the customers will be able to view all their order details as your staff rings up their sales. The intuitive display also allows the customers to sign on their checks and tip their servers right from the display screen.
The display system also features built-in loyalty programs that you will come in handy for your business.
Toast POS System Downsides
The POS system is tied to Toast payment processor. Additionally, the provider requires you to incur additional costs in order to get important restaurant POS add-ons and functionality.
Get A Free Quote
2. The Best Fast Food Delivery POS System: Harbortouch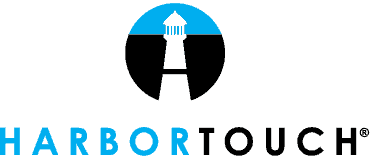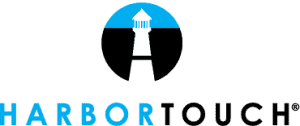 Get a powerful point of sale system for your fast food or fast casual restaurant; the Harbortouch POS system. This solution is one of the best fast food POS solutions in the industry today for industry-specific features and capabilities.
For instance, the system features caller ID integration, and allows for dynamic customizations options. In addition to these, here are several other aspects fast food restaurant owners love about the Harbortouch POS system:
Delivery Driver Management
This POS system features a delivery dashboard, offering fast food restaurant owners complete control over there delivery vehicles and their drivers. To begin with, the dashboard shows you the duty status of every driver at any given time. This allows you to know the drivers who are out on delivery and the ones that are readily available.
Additionally, the system automatically monitors the period each driver takes to deliver each order. From the dashboard, you can also tell how long is older has been waiting. Such capabilities allow for efficient driver scheduling and timely deliveries. All these are meant to enhance the customer experience in your restaurant.
Inventory Tracking
This feature is specifically designed to offer you enhanced control of inventory levels and ordering in your business. Following the initial system set up, Harbortouch allows you to import your restaurant inventory database with ease. With the inventory database uploaded, the POS will automatically track your sales and update stock levels in real time.
You will also love the fact that the system allows you to automatically create purchase orders whenever the stock runs low.
HarborTouch POS System Downsides
The provider requires you to commit to long-term contracts and the POS system is tied to Harbortouch payment processor.
Get A Free Quote
3. The Best Free Fast Food POS System: Loyverse


Affordability, ease-of-use and mobility are some of the selling points of the Loyverse fast food POS system.
For enhanced portability, the system allows you to manage your restaurant from a tablet or smartphone. In addition to being mobile, the register on this system allows for quick and easy sales in fast food joints. Additionally, the software allows you to keep the customers engaged, get visual analytics and real-time inventory management.
Other features and capabilities you will come to love about the Loyverse POS system include:
Intuitive Order Management
While shopping for the best fast food point if sale system, many owners focus on inventory management tools and forget about order management. In addition to managing the inventory in real-time, your preferred system should also allow for easier and faster order management. In order to allow the business to receive many open orders at once, Loyverse features open tickets.
With this solution in your business, you will be able to assign these tickets to the various tables in your restaurant in a single click. This may be attributed to the predefined tickets feature of the POS system. Similarly, you will have an easy time assigning the tickets to different servers in the restaurant.
Employee Management
In order to boost employee productivity, you also need to manage the employees in your restaurant more effectively. However, you do not need to be physically present at the business location to do this. With regards to employee management, this system equips you with the right tools to track employee sales performance, workload per hour, and employee clock in and clock out times.
Not only do such capabilities allow for streamlined operations, they also make it easier for you to manage the payroll. The system also allows you to limit employee access to the POS system based in their responsibilities.
Loyverse POS System Downsides
The payment processing capability of this fast food PIS system is somewhat limited. Again, the system does not support third-party integrations.
Get A Free Quote
4. The Best All-in-One Fast Food POS Platform: LS Retail


Enjoy the convenience of managing all your restaurant, front to back, from a single cloud-based POS platform—the LsRetail platform.
Basically, the solution is designed to offer fast food restaurant owners unified commerce solutions and innovative technology to manage the business. With such capabilities, the system has been proven to offer restaurants meaningful and actionable business data.
In addition to these, the solution has a horde of benefits to offer your business, including:
Diverse Inventory Management
The inventory manager on this system is one of its best-selling points. As you will come to learn, the inventory manager is diverse enough to handle the myriad of items you have in stock. Again, the system features a multitude of tools to make inventory management easy and accurate.
In addition to these, the system is capable of organizing the items with low inventory thresholds on printable reports. Again, these items may be sorted by the vendor so as to make ordering easier. Such are the capabilities that will ensure that you never run out of stock unknowingly.
Improved Bottom line
Over the years, the LsRetail fast food restaurant POS system has been proven to help business owners boost their bottom lines. In this regard, the software gives you better control over the business with an array of powerful management tools. By organizing products into groups, the software makes stock management in restaurants easier.
The system will also streamline and allow you to oversee the entire inventory as well as create custom prices and discounts for the various products groups and sub-groups.
LsRetail POS System Downsides
The replenishment setups on this system require a lot of visualization. Again, you may find it relatively difficult to configure the panels and design of the system.
Get A Free Quote
Things You Need to Know Before Choosing a Fast Food POS System
With more than 70 systems to choose from, getting the right point of sale system for your fast food restaurant requires a keen consideration. Essentially, you will need a solution that is relatively easy to use, affordable for the business, has the right features and improves customer service.
When shopping for such an industry-specific system for a fast food restaurant (such as drive-thru POS), here are some of the considerations you should make:
Online Ordering and Delivery Module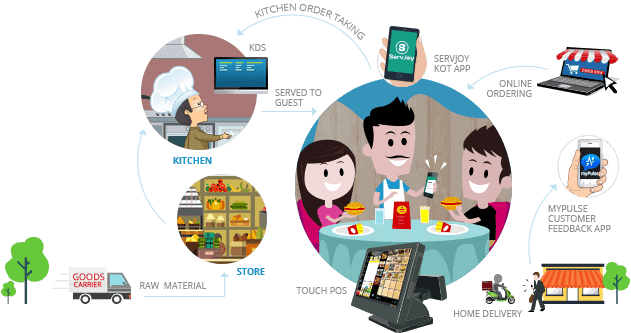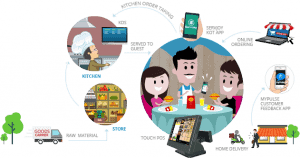 Most of the small fast food joints do not have enough dining space. In order to boost revenue in such a business, you should consider offering online ordering and food delivery options as well.
As the number of orders increase, you will need a stable technological solution to manage them more efficiently. As such, your preferred POS system should feature an online ordering capability.
The system should make it easier for you to keep track of the orders placed online, show dispatch times for the pending deliveries as well as when the customers should expect their deliveries. Additionally, the system should be capable of tracking the delivery staff for efficient and timely deliveries.
Integrated Discounts and Combos
Offering food combos and custom discounts to your customers is more likely to boost customer loyalty in the business. As such, the menu should allow to create combos while coming up with the restaurant menu. Combos are known to offer consumers a better value for their money, hence will attract more customers.
Other than having to declare a discount amount every time you are ringing up a sale, the system should allow you to create and save offers and discounts in the POS. By so doing, the system will implement the discounts and offers automatically whenever applicable.
Customer Relationship Management (CRM)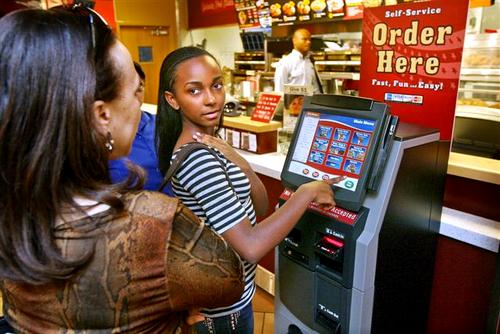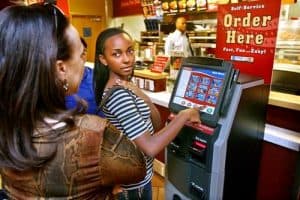 Customer relationship management is one of the important aspects of a restaurant business. In order to manage these relationships, you will need a system that is good at it.
The best fast food POS systems in the industry feature an integrated CRM feature. This feature is fitted with the tools you need to keep your restaurant customers engaged, and boost customer service.
To begin with, the feature will automatically capture such customer details as contact details, food preferences, and order history. The information collected by the system will help you understand each of your customer's preferences, hence offer them personalized services.
Again, customer database compiled by the POS CRM feature makes it possible for you to send out custom offers and messages to the customers. Using their contact information, you can keep your customers informed on your offers. You may also analyze this data to understand your customers and come up with marketing campaigns that are more relevant.
Inventory Management
A fast food casual establishment may appear to be a small business but managing the various ingredients can be a daunting task. You need to ensure that all the ingredients required for all meals you offer on the menu are always available. As such, your preferred POS system should be capable of tracking inventory levels in the business, up to ingredient level.
The right solution should allow you to set a threshold for the various menu items and ingredients. As such, inventory levels lower than the present threshold amount will automatically trigger the system to send an alert to the right staff.
Again, the system should be able to analyze your sales and give you insights into the ingredient levels you should order whenever inventory levels are low
Swift Billing Capabilities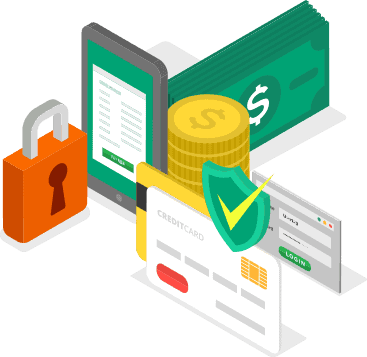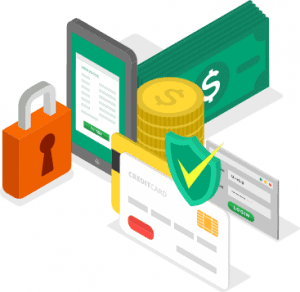 Most of fast food restaurant customers are often in a hurry and would love it if you could process their orders and payments swiftly. This is precisely why it is advisable to invest in a POS solution that allows you to Bill them as fast as possible.
For a fast and Efficient experience, you need to invest in a system that is capable of generating Kitchen Order Tickets (KOTs). Additionally, the system should allow you to deliver billing to the customers on-the-ho.  Such capabilities will speed up the order taking and billing processes for enhanced customer service in your fast food restaurant.
Our Final Verdict
Ideally, the right POS solution for your fast food restaurant should give you complete control over the business from a single platform both on-site and remotely.
Additionally, it should enhance customer satisfaction, hence allow you to retain more customers.
Whether you own a bagel shop or a burger joint, the four systems reviewed above present you with some of the best mobile POS solutions in the industry.
With most of them offering free trials, you should have an easy time choosing the best fast food POS system.