(Last Updated On: March 29, 2023)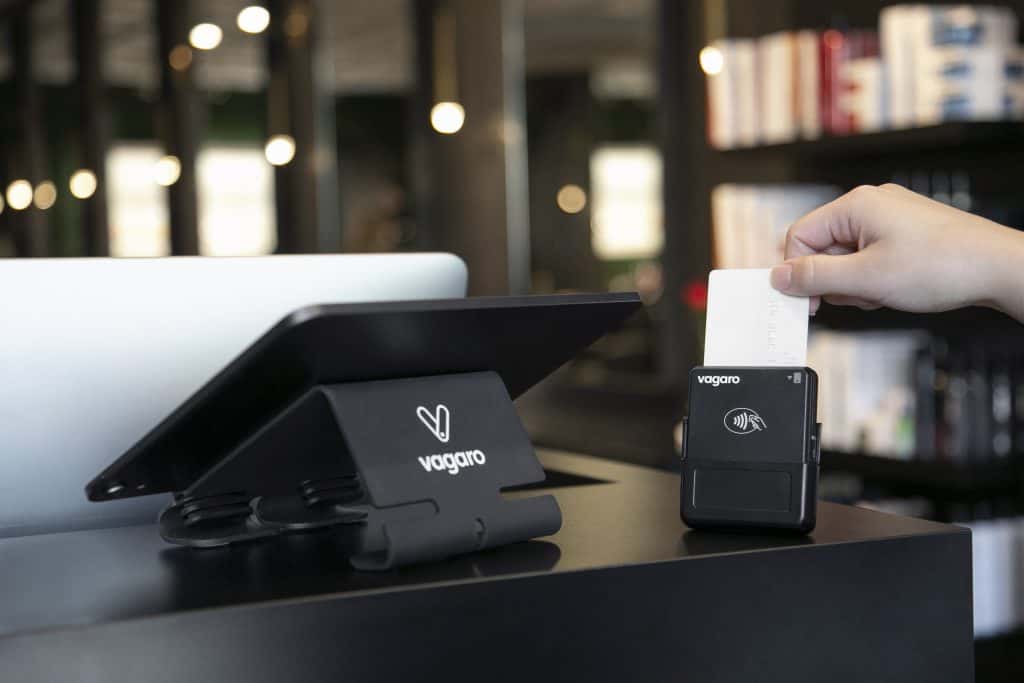 If you've been working in the salon or spa industry, chances are you've heard about Vagaro. Being an early entrant to the salon software market, this web-based solution can help you manage your business and accept payments securely.
Although Vagaro was developed specifically for the beauty industry, the software offers features that meet the requirements of gyms and fitness centers. With Vagaro, your customers will be able to book appointments on your website 24/7.
Also, you'll be able to integrate your Google My Business listing with the booking section of your website, keeping your appointment and scheduling process seamless. But that's not everything Vagaro offers. By using the various business management tools, you'll be able to process credit card payments, add new customers to the database, sell gift cards, and nearly automate your payroll.
After an extensive Vagaro POS review, we found it to be one of the best salon and spa POS systems due to its high-end gift card certificate and package offering. Compared to other POS providers, Vagaro also uses the latest hardware and has a mobile app to scan products, process payments, or manage your business from any location.
What's more, by using this POS system you track your inventory efficiently, down to the last shampoo bottle. With remote access and the backup feature, you can ensure you never lose any customer or sales data.
Need to check how your salon or spa is doing? Generate custom reports on daily or weekly sales, inventory counts, and your best-sellers. Use the software to check which massage therapist or esthetician is up-selling or generating the most revenue for your business.
Not convinced yet? Let's review Vagaro's top features, pricing, hardware, and merchant processing fees together.

Who's Vagaro POS?
Vagaro is focused on business growth. Founded in 2009, they are headquartered in Dublin, California. They deeply believe in the importance of goals and feel their point of sale system simplifies setting objectives and tracking progress.
The brand values transparency in business. There are no hidden fees or confusing contracts. They make the entire sales and booking process easier for you. Vagaro believes in continuous improvement and finding ways to operate more efficiently.
Top Features
Works with any system out there, from an iPad to a Windows desktop PC.
Offers multiple tiers of payment with total pricing transparency.
Booking, scheduling, and appointment setting.
Detailed reporting and analytics for business insight.
Versatile scheduler and calendar to manage daily operations.
Possible Drawbacks
If you are using Windows 7 you will have to purchase a later version to use Vagaro. Windows 7 docks the security and slows down processing.
Vagaro POS Software Pricing
Vagaro has one of the most extensive pricing plans for any POS system on the market. It is tiered based on the number of people using the software.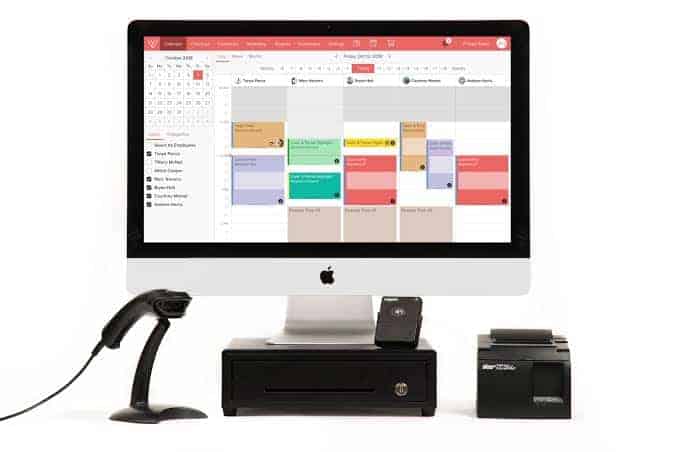 The plans are priced as follows:
1 person – $24/month
2 people – $35/month
3 people – $45/month
4 people – $55/month
5 people – $65/month
6 people – $75/month
7+ people – $85/month
Every plan comes with a free trial with no contract, cancellation, setup, or sign up fees.
Merchant Processing Rates & Fees
All processing rates for Vagaro are transparent. Small merchants with charges less than $4,000/month pay 2.75% per swipe. It is 3.5% + 15 cents per keyed-in transaction. There is no monthly cost to use Vagaro for small merchants.
For larger merchants with charges over $4,000/month, the processing rate is 2.2% + 19 cents per swipe. It is 3.0% + 19 cents per keyed-in transaction. Also, there is a monthly fee of $10 to own an account.
Vagaro never charges any PCI or batch fees. You get paid quickly—within 24-48 hours. The POS system has automatic end-of-day batching but only on days with transactions.
Every new account comes with a free EMV reader to secure your transactions. It wirelessly connects to iOS and Android devices and accepts both magnetic stripes and chip cards. The dock for the reader is sold separately.
Package Details
No matter how many employees you have, every plan includes the same features. Here they are:
Calendar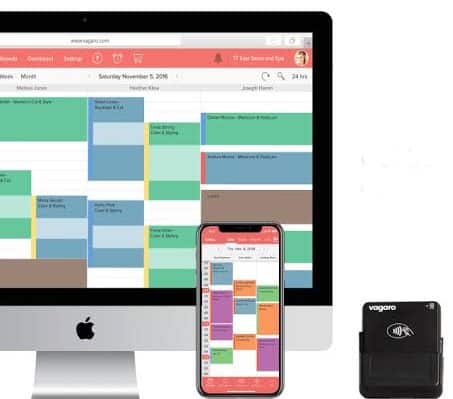 The calendar includes multiple service providers with drag and drop appointments. It also has features like:
Recurring booking
Popup notes
Resource management
Personal time off
Online Booking
You can book appointments through Yelp, Facebook, use your own website, or outcall/mobile.
Notifications
Receive notifications automatically, In-App, through SMS/Text, push notifications, or via email.
Customer Tracking
Included in the pricing is the ability to track memberships, packages, classes, products, gift certificates, and much more.
Marketing
Send automated emails, build a custom website ($10/month), get "Daily Deals", or use the other options like "Get Discovered" and "Get Featured."
Reports and Payroll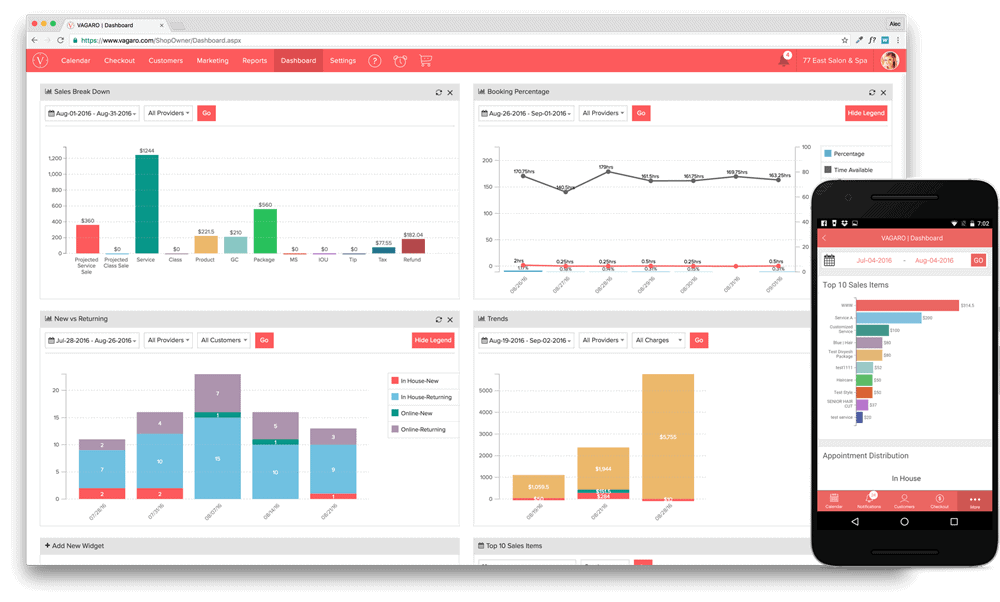 Every pricing packages comes with payroll and these features:
Inventory
Clock In/Out
Dashboard
Commission
Export reports
POS and CC Processing
This includes point of sale hardware (low pricing), a free mobile credit card reader, and low credit card rates of 2.75%.
Mobile App
All pricing comes with these apps:
Powerful App for Business
Simple App for Your Customers
Get Booked from App 24/7
Vagaro POS Hardware Pricing
Vagaro has three main setups for their point of sale system.
Essential Mobile EMV POS
This is priced at $149 ($74 when signing up for Vagaro Merchant Services). It comes with the following:
EMV credit card reader
EMV dock
Tablet stand
The tablet is not included in this hardware package.
Complete Mobile EMV POS
This is priced at $503 ($428 when signing up for Vagaro Merchant Services). It comes with the following:
Cash drawer
Receipt printer
EMV credit card reader
EMV dock
Tablet stand
The tablet is not included in this hardware package.
Complete Computer EMV POS
This is priced at $622 ($547 when signing up for Vagaro Merchant Services). It comes with the following:
Cash drawer
Receipt printer
Barcode/QR reader
EMV credit card reader
EMV dock
The computer is not included in this hardware package.
Vagaro POS System Requirements
Vagaro is unique in that it is available on any device. This includes:
Desktop computer
Tablet
Smartphone
Smartwatch
Nothing is more mobile than wearing a POS system on your wrist. The minimum hardware requirements for Vagaro are:

Hardware

Version

Compatible Medium

Desktop version on PC

Windows 8 or 10

Latest version of Google Chrome

Desktop version on Mac

OSx10.11 (El Capitan) or higher

Latest version of Google Chrome

Android Vagaro Pro app for Amazon and Google

5.0 Lollipop and higher

For EMV devices – Bluetooth version 4.0

Tablet, smartphone, Android Watch app

iOS Vagaro Pro app

iOS 9.0 or higher

iPhone, iPad, iPod Touch, Apple Watch app

Android Vagaro standard app for Amazon and Google

5.0 Lollipop and higher

Tablet, smartphone, Android Watch app

iOS Vagaro standard app

iOS 8.0 or higher

iPhone, iPad, iPod Touch, Apple Watch app

Andoird Check-In app for Google

5.0 Lollipop and higher

Android tablets

Kindle Fire 7 or above

Kindle Fire HD 8 or above

iOS Check-In app

iOS 8.0 or higher

iPad
It is not recommended that Windows 7 is used with any Vagaro software as zero-day exploit issues make the connection much less secure.
Additional Hardware
As in any POS system, there is more hardware that can be purchased to use in accordance with the platform. Additional hardware involves:
Barcode scanner
EMV reader
Cash drawer
Printer
Each piece of hardware is compatible with different setups, so it's always best to check prior to purchasing.

Vagaro POS Features and Capabilities
The features of the Vagaro POS system are perfectly suited for the wellness industry. From booking to tracking and marketing, it's a jack of all trades. Here's a brief overview of their main features:
Calendar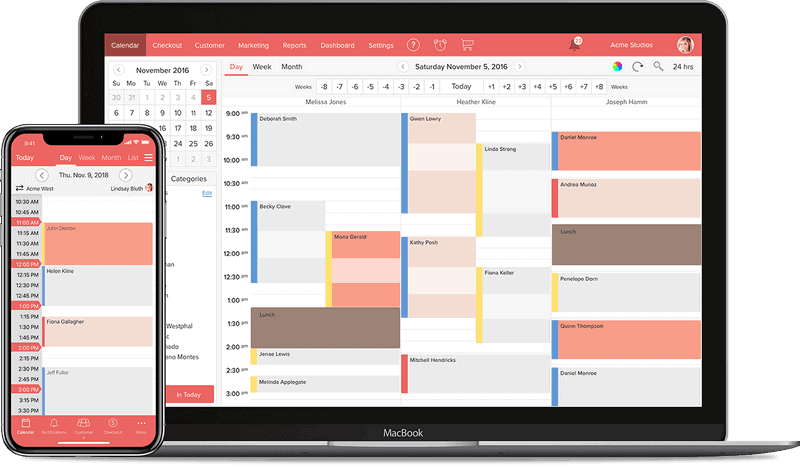 Simple to use with minimal steps, you can select multiple service providers in the calendar and view all of their schedules at the same time. With one click, group them into categories like "nail tech" and "hair tech."
In the accounting industry, a calendar is an important tool to assist in comparing data from month to month and year to year. It fixes each month at a specific number of weeks to facilitate these comparisons.
In Power BI, you can use DAX functions to create a date table. This function uses a begin date and end date to create a table with all dates between the given dates. This method is extremely quick and effective.
A calendar consists of a sheet or multiple sheets that indicate the time, the day, and the weekday. They can display the Gregorian calendar or another scheme of timekeeping, such as lunisolar.
Traditionally, a calendar displays each month in separate grids of seven columns and five to six rows (or rarely, four rows). The days of the month are numbered in each cell.
There are many different calendars, and they may be used for religious, civil or technical purposes. They often follow an international standard way of displaying the dates.
They are also used to display the moon phases. The Gregorian calendar is the most common.
The Gregorian calendar is based on the calendars of the early Roman Empire and the ancient Greeks. It is a lunisolar calendar. It was invented in 46 BC by Julius Caesar to dissociate the calendar month from lunar observation, and to introduce a leap day every fourth year.
Several elaborate mechanisms have been developed for the display of the calendar. One mechanism consists of a 48-step cam which rotates only once a year, and it features recesses at various depths to recognize which months have 30 or 31 days. It also recognises that 29 February is a month with 28 days in a leap year, and changes the display accordingly.
It's easy to schedule or change an appointment with the drag and drop feature. You can even notify the customer as soon as you make the change.
Popup notes can also be used as helpful reminders for customer needs. Other benefits to the calendar platform are:
Recurring booking and repeat appointments
Personal time off
Resource scheduling for appointments that require a room
Automatic customer notifications
Day/week/month dashboard views
The calendar also includes multi-booking features to maximize your schedule.
Online Booking
Streamline the booking experience by giving customers many ways to schedule. You can offer to book through:
com
Vagaro mobile apps
Yelp
Facebook
Website widget
You can even custom build your own website with Vagaro.
Set the lead time needed for online appointments, time intervals, a cancellation policy, and require credit card information. Vagaro even adds travel time from the client's location to the appointment. It's automation with artificial intelligence.
Payment Processing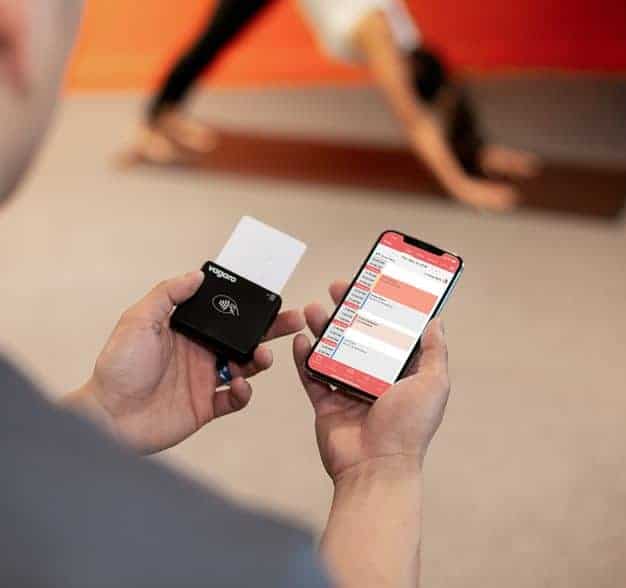 The payment processing system integrates seamlessly with the booking software. This streamlines the entire process. Customer credit cards can be kept on file for smooth booking and renewal packages.
Why not create a membership package with automatic renewals to keep your income consistent? You can even give your customers the option to pay in advance, so they don't have to worry about paying later. Tips can be added anytime.
If you have multiple independent service providers, Vagaro automatically deposits your money into the corresponding accounts. There's no need to swipe a card multiple times. This vastly reduces potential errors.
Mobile Apps
Vagaro mobile apps let you manage your schedule from anywhere. They run on both Apple iOS and Android so everyone can stay connected. The brand offers four different apps to suit every customer need. These are:
Vagaro Pro for Business: The main POS app that features everything from payment processing to marketing and reporting.
Vagaro for your Customers: More than a convenient booking portal, customers can access your online store and purchase packages, memberships, and gift cards.
Check-In Customers: No need for a front desk. Customers can check themselves in with this mobile app.
Branded app: Encourage customers to engage exclusively with your business. Raise brand awareness and consumer loyalty.
There is no wi-fi required to use any of the Vagaro mobile apps.
Marketing
Vagaro helps a business get on the map. Market from multiple channels, including:
Text messages
Email
Social media
Google and Yelp
Facebook
Vagaro offers automated email marketing tools to take advantage of your consumer database. Offer "Daily Deals" and become 4 times more likely to be booked by new customers.
Choose from hundreds of photos, add a quick title and description, and people can appoint immediately. The POS system also allows customers to build their own website.
The crafty builder offers dynamic and responsive content that mirrors your style and brand. Customers can then book with you 24/7, view your products and services, business details, even look up their own profile for past purchases.

Reports
At a glance, the Vagaro dashboard gives insight with tons of data. View the status of sales, appointments, service providers, and more. The dashboard is accessible from any device for easy and convenient analysis.
Inventory reports can be run for items that have been purchased, sold, lost, damaged, or expired. You can also check on employee performance by running reports on clock-ins/outs. The automated payroll system saves time with weekly, bi-weekly, and monthly payroll reports. The system also allows you to create multiple commission levels for each service provider.
Vagaro easily integrates with QuickBooks and Xero. Sync your sales and transaction data with either platform to simplify taxes, payroll, and inventory.
Additional Features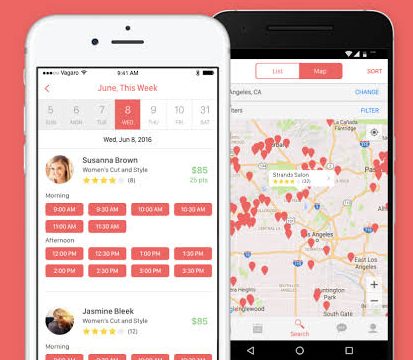 Vagaro offers many more features depending on your needs. Here are a few more:
Invoices: Get paid anywhere, anytime with online invoicing.
Customer Tracking: Consistently track customer information and offer rewards and incentives based on the data.
Inventory: Sell online, track products, and send purchase orders with the inventory feature.
Forms: Create custom forms, quizzes, waivers, surveys, and more.
Notifications: Automatically notify your clients with appointment reminders or discounts and deals.
Memberships: Create recurring memberships with autopay for more secure revenue.
Customer Service and Support
Vagaro is all in when it comes to customer support. They can be reached by phone, chat, or email 24/7. In addition to all the normal things like a help center and blog, they also offer an entire listing service. This is free advertising for any customer of Vagaro.
They Can Be Reached 247
They offer a listing service so that you can list your salon and spa in a variety of directories. Customers can search for your business using these listings and book appointments directly with you.
Vagaro also promotes your business free to potential clients in the local area. This can lead to a lot of bookings from new clients!
Daily Deals: These promotions show up on your Vagaro website, your booking page, and your Facebook account. They can include a discount, free product sample, or other special incentive to bring in new clients!
Forms: You can build custom consent forms, liability waivers, customer surveys, registration forms, and intake forms using our customizable builder. You can send these forms via email, keep track of electronic signatures, and select templates to fit your business needs.
Integrations: You can integrate your Vagaro account with other online platforms like QuickBooks, Xero, Yelp, and Facebook. This can help you sync all of your sales and get your customers to book from these sites.
Memberships: This feature allows you to create discounts on services, classes, and products that customers can redeem based on their visit frequency or a set number of visits. You can also allow them to carry unused membership visits into the next billing cycle.
Contact us to learn more about how you can use this feature in your salon and spa! You can call us or send an email to our support team.
Furthermore, Vagaro does all the research for you. They have a deeply insightful comparison tool that demonstrates how much you save with them versus specific competitors. Some savings are listed up to $2,000.
Our Final Verdict
Vagaro is clearly positioned to help customers grow. By offering flexible hardware options, they broaden an audience and enable even the smallest business owners.
Their processing rates are completely transparent. You don't often find those rates in big bold font, like you do on the Vagaro site. They make a point to build brand loyalty from the start.
The POS platform also takes it a step further by providing consistent opportunities to drive sales. From building an online site to scheduling with a smartwatch, the possibilities seem endless.
The company is committed to evolving. They are actively innovating to improve their product around every corner.
For a wellness brand in need of POS, scheduling, reporting, and more, this is an ideal system to meet your needs. While it is on the same level of Master POS, it is much more advanced than 1st Pay POS, which also caters to salons and spas.