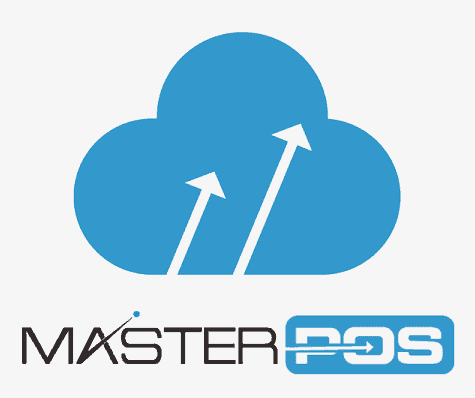 Master POS is a system offering ease of use for brands of all sizes. Extending the convenience of using your mobile device, their live dashboard presents a robust point of sale system that can be picked up in minutes.
From a built-in barcode scanner to automated inventory management, it's a great platform that restructures operations and increases customer satisfaction. Let's dive reviewing Master POS further.
Who Is Master POS?
Over 9,000 businesses of every size find value in the Master POS system. Headquartered in Hollywood, Florida, the brand is a global name in the creation and integration of retail management systems.
Engaged in every aspect of retail, their online team is available 24/7/365. They also have contact information for Europe.
Master POS prides itself on creating a product that is quick to learn and simple to use. It is most often used by beauty supply stores and similar retail operations.
Save your business time and money with a live and unified dashboard that helps meet the demand of any consumer market.
Master POS Benefits
Real-time inventory reporting
Online product comparisons
Simple scanning with integrated barcodes
Employee competition reporting
Electronic signature capture
Enhanced consumer experience
Use your own devices
Weekly integrated schedule – including shipments
Automated purchase order management
Multi-dimension inventory matrix
Push notifications for restocking
24/7/365 online support and call center
14-day free trial or free demo at request
Compatible with any Apple or Android device
Possible Drawbacks
Due to the simplicity of the software, Master POS may not be right for more complex integrations. It could have limited functionality depending on the needs of your business. For example, if you need accounting or pre-set loyalty programs.
Master POS Pricing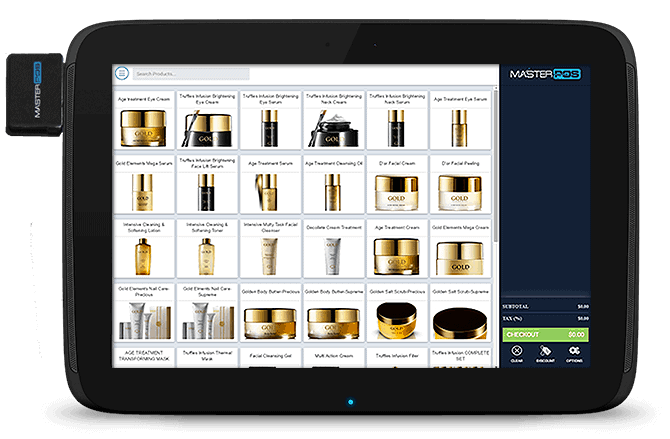 The pricing for Master POS is measured on three platforms: Value, Select, and Choice. You may want to think about the number of transactions you perform each month as the pricing is partially based on credit card processing.
The packages are currently priced as:
Value: $9.99/month with a 2.75% credit card processing fee.
Select: $69/month plus greatly reduced credit card processing fees.
Choice: $129/month as a flat rate with no additional credit card processing fees.
Every package comes with the same benefits, including a 14-day free trial. You can expect each level to offer features like:
Support on any device
Unlimited users
Competition Mode
Continuous warehousing
Unlimited products
Free setup and training
Multi-level matrix
Employee portal "My World"
Inventory control
SMS and push notifications
Customer shipping system
On-click inventory transfer
24/7/3650 Live Support
If you need more information before making a decision, you can request a free one-on-one demo. Their expert staff offers 24-hour support.
Master POS System Requirements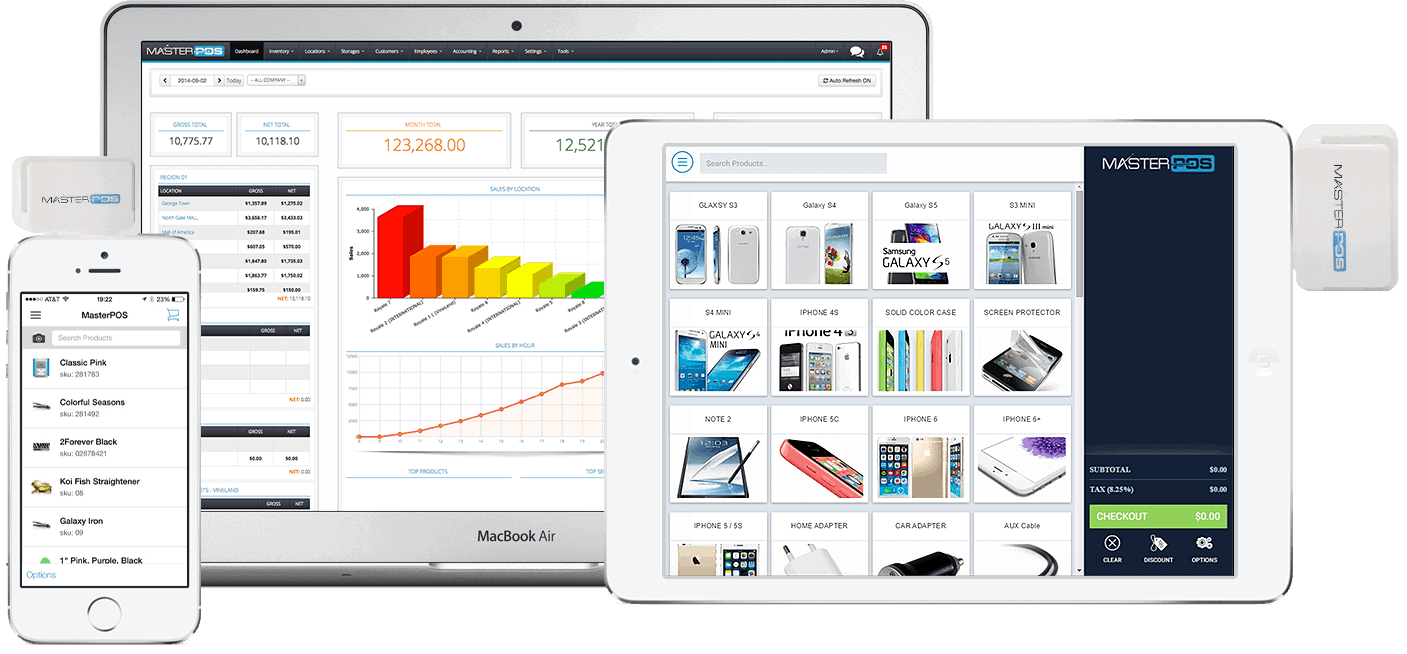 Master POS has one of the simplest setups on the market. It enables a business to use their own mobile device. Compatible with Apple and Android hardware, the software utilizes an internal credit card reader to process transactions.
A Master POS dongle can be plugged into your equipment (through the headphone jack) to swipe customer cards and process orders faster. You may need to purchase an adaptor for certain types of Apple products that do not have a jack (like the iPhone 10).
Additionally, the Master POS dashboard and app use the camera on your device to double as a barcode scanner. Much like banks today have apps that can scan a check, the technology works in the same way. This allows clerks to ring up purchases much faster as the product data is automatically scanned into the system. It also means a business can watch transactions closely and quantify product sales.
Apple technology also functions with AirPrint. This way, in addition to emailing customer receipts, you can print them from your mobile device. All you need is a printer connected to the same wifi network as your Apple equipment. It is located under the "share" icon of any app, under the printer image.
Master POS Features and Capabilities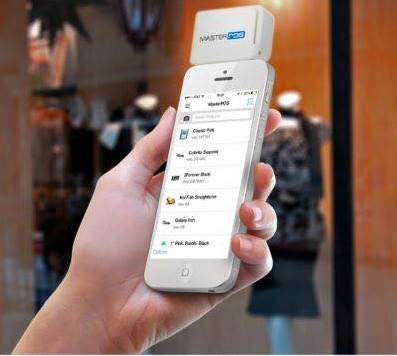 The Master POS system offers a variety of features that benefit a business of any size. It's not complicated to scale and grow because the cost of equipment is low. This is a great solution if you are just starting out or want to expand quickly.
The platform is also a smart choice for anyone with seasonal retail. You may have a lot of sales to drive or stock to manage. Here are some of the key features you can expect from the system:
Performance Management
Out of any POS product on the market, Master POS offers a lot of reporting on employee performance. If you are trying to run an incentive program or increase sales, this is a particularly useful feature. You can run daily reports on staff and then supervise accordingly. This also helps employee morale when you can reward people immediately for doing a good job.
Detailed Reporting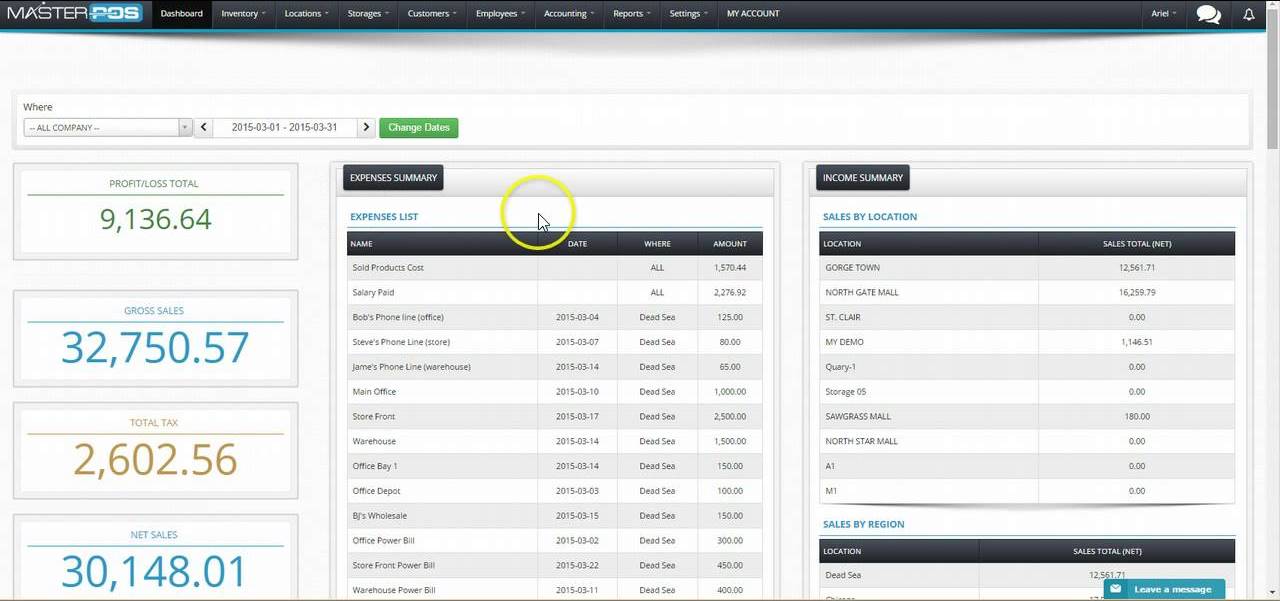 Depending on what you want to accomplish, you can run a few types of detailed reports from the platform. This includes:
Best Seller: The number of sales per day by an employee.
Hot Shot: Highest sale by employee compared to co-workers.
All in One: Total quantity of products sold by an employee.
Other reports include the ability to check inventory, scheduling, orders, and paychecks. The opportunity to look at labor costs by-product means you can closely manage staff based on what products sell best.
Fast Transactions
One of the most beneficial features a point of sale system can offer is the ability to process transactions swiftly and efficiently. The quicker you can get people through the line, the happier they will be (and the more sales you'll incur). Master POS allows a business to get up and running fast.
Built-in Scanning
As long as you have a mobile device, you can begin scanning items immediately. Using the camera on your phone, there is never a need to buy separate equipment. It's all built into the software.
Additionally, scanning products means a clerk can handle more items and longer lines. The data goes directly into the system. This can also be used later on for detailed reporting and smart management.
Easy Receipts
No matter the brand of your mobile device, you can always email receipts directly to a customer. This makes for a faster transaction. This also allows you the opportunity to collect their data for future marketing and loyalty programs. If you have an Apple product, you can use your wi-fi network to send the receipt directly to a wireless printer.
Online Integration
For faster ordering, consumers can compare in-store products with your online store. This makes for quicker sales and improved customer satisfaction. It can also increase foot traffic.
Offline Management
If you are out of network or running a pop-up shop, there's no need to worry about processing transactions when offline. The cloud-based software means no matter the network (or lack thereof) you can always process a sale for someone. The data will connect with the system as soon as you are online again.
Decreased Fees
One of the most attractive benefits of the Master POS platform is that it gives you many opportunities to reduce fees for your business.
Electronic Signature

A unique feature of the software, customers can use their finger to sign their signature on your mobile device. There is no pen necessary. This saves a business on processing fees and improves security. In the case of a chargeback, an electronic signature also allows you to respond promptly, greatly increasing your chances of winning.
Flexible Pricing Structure
The number of transactions you make on a daily basis can define how you want to pay fees. Master POS offers pricing plans that include individual credit card processing fees, as well as a flat rate.
Easy Expansion
The software always enables you to use your own equipment. If you want to open another location or hire more employees there is no need to purchase additional POS terminals. A simple smartphone or tablet will do the trick.
Smart Administration
Effective POS technology will streamline operations and offer features to facilitate administration. Master POS allows you to control your business with benefits like:
Real-time Dashboard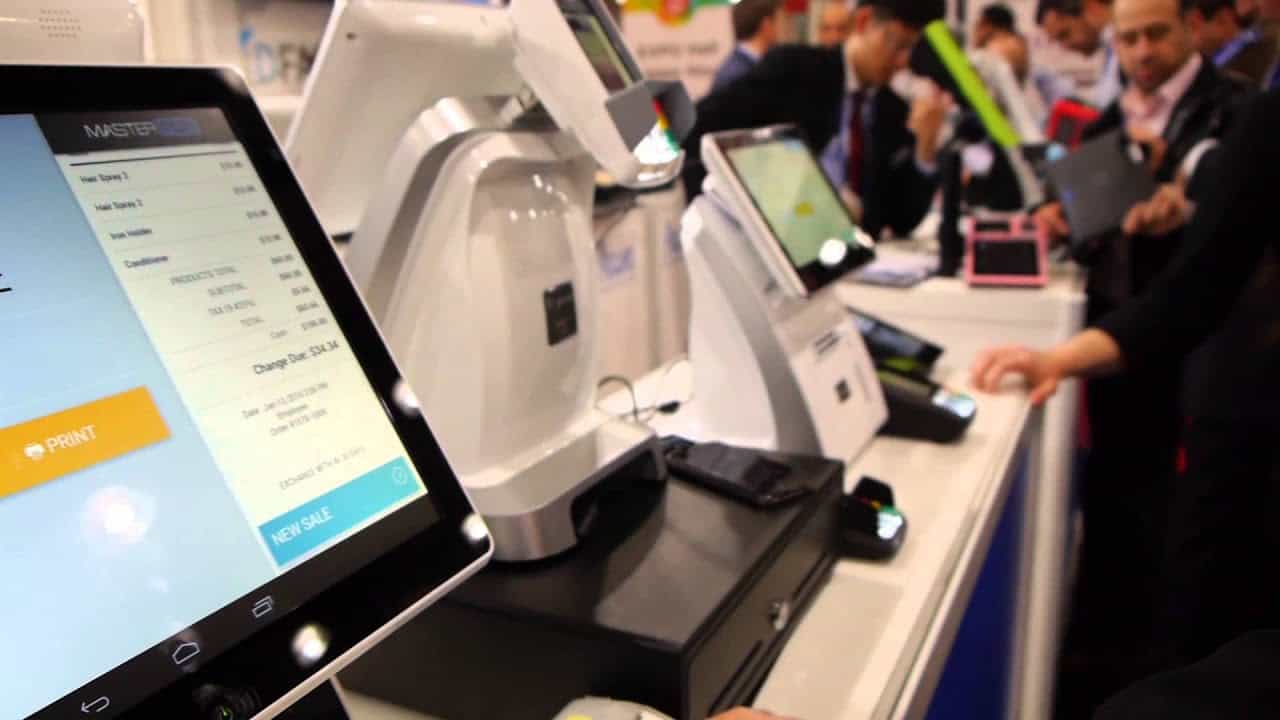 The focal point of the Master POS cloud-based system is the dashboard. It functions in real-time with detailed reporting and transactional data. However, it is relatively stress-free, and the software is easy to learn.
Integrated Scheduling
Whether you manage a large staff or oversee a few employees, your POS system should also keep track of scheduling. People can clock in and out and reports can be run on attendance. You can also keep track of scheduled shipments in the system to ensure everything is running on time.
Purchase Orders
The more inventory you possess, the more important it is to have an organized purchase order process. When inventory is running low, the Master POS system can create purchase orders to maintain stock levels.
Inventory Management
In addition to processing transactions, it's critical for a point of sale system to help you automate your inventory management. If a platform is already keeping track of detailed data, it should have the ability to watch your stock levels.
Automated Stock

Establish pre-set parameters that will continuously inspect your inventory. Set the minimum and maximum amount only one time and Master POS will let you know when stock is low. The software will calculate the exact amount of product you need to reorder and send an immediate SMS or email alert.
Instant Notifications
Shortages should be a thing of the past with a POS system that can watch the stock of a business. Master POS will consolidate all of your "low stock products" and send you one alert. Ensure you are hitting every item that needs to be reordered.
Multi Dimension Matrix
If you carry products that can be described in a variety of ways, Master POS is an ideal system. It simplifies complex inventory with a multi-dimension matrix. This allows a business to have better control and drive more sales. You can assign details like:
Size
Color
Fragrance
Custom attributes
If you have multiple locations, Master POS has one-click inventory transfers. When one store suddenly sells out of a product, instantly replenish their stock.
Customer Service & Technical Support
Master POS supports consumers on a constant basis. You can phone them during normal hours or reach a live person online every day of the week (24/7/365). That includes holidays.
Although their main office is in Florida, they also have a few international offices. Master POS experts provide free setup and training. In terms of support, they offer:
An extensive help center
A live online person (no bots)
Risk-free trial (no credit card needed)
Free demo (at request)
Helpful call center
Although Master POS offers highly involved support, the system is relatively easy to set up and can be as simple as plugging in the dongle. However, if there are any issues, their experts can walk you through the process, step by step.
Ready to Manage Your Business with Master POS?
Master POS boasts over 700 features and yet the system is not intimidating. The amount of support they offer is atypical for a software company and much appreciated.
In a world full of chatbots, the ability to always connect with a live individual makes for incredible customer service.
The opportunity to use your own equipment helps to scale quickly and meet excessive demand. An automated inventory and restocking process means you only worry about a simple push notification (rather than a lengthy inventory process).
It also leaves less room for error. As long as you set your parameters correctly, Master POS will do the rest.
The software is also unique in how it allows you to incentivize employees, much like Vagaro POS. There are multiple reports you can run to watch the performance in real-time.
You can then make immediate and more informed decisions on employee management. It also allows a brand to see which employees are performing well and offer rewards accordingly.
Overall, as point of sale systems become more complex, consider a simpler dashboard to truly facilitate sales.
Master POS is quick to set up, fast to process transactions, and always supports the consumer. A winning combination all around.
The following two tabs change content below.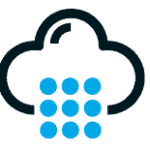 POS Quote Team
The staff at POSQuote.com is composed of industry professionals, experts, and current business owners. Through extensive research, we compile buyer's guides and review the best POS systems in the industry.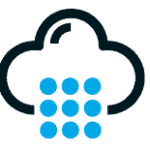 Latest posts by POS Quote Team (see all)
Reader Interactions