(Last Updated On: October 4, 2022)

To streamline operations, you need technology that fits. A point of sale system is much more than a cash register. It's a means of connecting every business avenue into one refined system.
The idea is to get ahead with your tools. Leading POS purchasing plans for the next few years include researching new POS solutions (51%), adding new modules to current systems (46%), and deploying POS for mobile devices (39%). (POS Software Trends Report, 2019).
This POS system is ideal for retail operations, including supermarkets, spas, and salons. It can also serve as a restaurant POS software solution.

1st Pay POS System Review  – Company Overview
Fort Worth, Texas-based First American is an industry-leading payment technology system that has launched 1stPayPOS Pro. They have over 25 years of experience providing integrated payment systems for 210,000+ customers.
1st Pay POS is a point of sale system designed to allow merchants to accept payments from customers in the most convenient way possible. Its system combines the best of in-store and mobile payment technologies with powerful analytics and loyalty programs. It is built by Fort Worth, Texas-based First American.
In addition to its robust features, 1st Pay POS offers accessibility for visually impaired customers. Its features include a screen reader, adjustable font and size, and dyslexia-friendly settings. The company also offers award-winning customer support. It has a call center based in the United States that is manned twenty-four hours a day to help customers with any technical problems.
The company also offers an inventory management software that tracks inventory levels, order history, and purchase orders. This helps businesses avoid costly breaches. It also features advanced configurations and menu management features, and offers assistance with preloading inventory. In addition to its POS software, 1st Pay POS also provides a cash drawer, printer, and POS stand.
The POS software can be customized to meet the business' needs. For instance, a recurring payment solution can be designed to automatically update credit card information so that customers don't have to fill out credit card information each time. This helps reduce credit declines. Other features include custom terminal solutions and EMV solutions.
Their product includes a robust set of in-store, online, and mobile solutions. It's paired with the latest payment security that spans a wide range of verticals. They're backed by award-winning customer service and intuitive technology that functions on every business level.
1st Pay POS Benefits
Cloud-based functionality with multiple hardware options.
Built-in inventory management system with powerful analytics and reporting.
Comprehensive security solutions with PCI compliance.
Deep analytics with merchant and partner reporting.
In-store solutions that include EMV and loyalty programs.
1st Pay POS Pricing
The 1stPayPOS pricing is structured to allow you the flexibility in setting a price that works for your business. The fees are quote-based and set by vendors. Fees, although not transparent, may include:
Set-up fee (one time)
Monthly license fee (per register)
1stPay transaction fee (any transaction run through the POS system)
1st Pay POS System Requirements and Capabilities
First American provides a POS system with both payment and business management functionalities. Their intuitive POS is divided into a few platforms to service niche markets. These include:
Restaurants
Retail
Salons
E-commerce
Government
Non-profit
1st Pay POS also provides integrated payment solutions with comprehensive developer tools. This enables a business to quickly add solutions to their platform for more efficient processing.

1st Pay Platform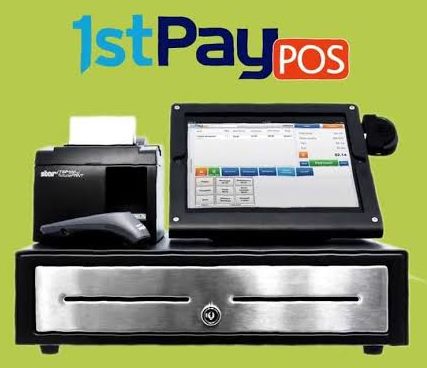 The POS software developed for First American provides a robust system to enhance, add, and customize payment solutions for your business. They deliver tech for a multitude of industries across vertical markets.
First American has intentionally designed the software to be scalable and future-proof. It grows with your business.
In addition to functionality, the 1st Pay POS platform is built with security in mind. Their comprehensive suite of features is available for in-person, mobile, and virtual payments. Some of the key benefits to this product include:
Tokenization
EMV payments
Fraud detection tools
Point-to-point, end-to-end encryption
PCI compliance
In addition to the payment platform, First American also offers these products:
Integrated Payments
First American presents a comprehensive integrated payment solution for independent software vendors and developers. It's a significant opportunity for ISVs to update their current platform and add another stream of revenue. Here are some of the benefits this program provides:
Rest API – 1stPayBlaze is a SaaS full-stack payment processing API. It's just a snippet of code!
Credit Card Vault – 1stPayVault stores all your credit card processing data and customer information. It allows you to keep the information securely on their servers, not yours.
Recurring Payments – Whether it's weekly, monthly, or quarterly, the recurring payment solution provides an easy and automated way to accept payments.
Account Updater – 1stPayMaximizer is a popular product for partners and merchants. Update credit card information automatically and reduce the number of credit declines.
In-Store
Terminal Solutions – Machines built custom to fit every business owner's needs. Whether it's a mobile terminal, EMV, or PIN pad, they can provide it.
EMV Solutions – 1stPayPOS EMV solutions presents transactions to customers in a new way. This includes EMV and Contactless (NFC) terminals, EMV Mobile Reader, EMV-capable terminal, and semi-integrated EMV solutions.
POS Solutions – The 1stPayPOS Pro tablet point of sale solution.
Gift and Loyalty Programs – FirstAdvantage™ gift and loyalty program offers in-house gift card processing and loyalty solutions directly to customers.
Mobile Payments
1stPayMobile – Process EMV and contactless payments quickly and securely using any mobile device or tablet from any location.
E-Commerce Payments
Shopping Cart – Design your own commerce website. The solution comes with business and marketing management tools to help grow revenue quickly.
Payment Page Builder – The Hosted Payment Page Builder product allows you to quickly and easily build a page that is consistent with your website. The goal is to be able to accept payments or donations online, at any time.
Virtual Terminal – FirstPay.Net™ is a secure and reliable suite of e-commerce solutions that was developed for any type of merchant. Design your own e-commerce website and create shopping carts to drive sales.
Security Solutions
1stPaySecure – A built-in suite of security tools to protect your customer data. This includes everything from data breach technology to PCI compliance and fraud prevention.
With the 1stPay Secure platform, software developers can accept payments using contactless payments such as credit cards, mobile phones, or QR codes. These payment methods allow companies to process payments in-store or online. The secure software platform also facilitates upgrades and security updates, making it easy to comply with current data security regulations.
Whether you're in a brick and mortar store or an online merchant, 1stPay Mobile offers the convenience of point-of-sale payment systems that support contactless payments and EMV chip card payments. Combined with the company's secure payment processing software, you'll be able to accept all types of credit, debit, and e-wallet payments with ease. The company's hardware solutions include mobile devices, contactless payments, and EMV chip card reader systems. Plus, they offer a suite of management tools to help you manage your business.
1stPay Secure payment technology also offers customizable fraud solutions. These tools monitor transactions and identify suspicious activity to prevent fraud. They also provide early warnings of impending attacks. By monitoring and preventing these types of attacks, 1stPay Secure helps businesses protect their customers' financial information. It can also be used as an educational tool for merchants.
Payment technology providers must take a proactive stance on data security. No single product can protect payment data from attack, so it is essential to implement systems that protect payment data from compromise and exploitation. Luckily, 1stPay Secure addresses all of these needs.
Encryption – The Point-to-Point, End-to-End Payment Tokenization and Encryption converts credit card data to unreadable code that is resistant to fraud and data hacks.
Data Breach Protection – The North American Data Security RPG Policy is designed to provide protection to credit card processing companies, acquiring banks, ISOs and their merchants for the common financial liability risks.
PCI Compliance – PCI Smart helps merchants validate PCI compliance and combat any costly breaches. When you comply with security measures on their behalf, your customers feel safer making credit card purchases.
Analytics and Reporting
Merchant Reporting – FirstView provides reports and statements online from any device.
Partner Reporting – The Daily Dashboard is the online partner reporting tool that does everything from processing applications to instant alerts and portfolio management.
1stPayInsights – A powerful business analytics tool that combines data from sales, marketing, social media, customers, etc.
Additional Solutions
1stPayPOS also has additional solutions that add value to your system. These include:
Cash Advances
Check Solutions
ACH Solutions
ATM Solutions
American Express OptBlue
Next Day Funding
Hardware
1st Pay POS provides many hardware options to support the software. Here's a breakdown of their equipment:
Android Tablet – 10" or 15"
Barcode Reader / Scanner
Payment Devices with EMV
Wireless Router & Access Points
Multi-register/location management
You can purchase a cash drawer, printers (FOH and BOH), and a POS stand. There is the option to purchase the 1stPayPOS Pro Line Buster.
It comes with an Insignia 32 GB Tablet (black) with a 10.1" LCD screen. You can also purchase the Ingenico iPP320 PIN pad that supports EMV acceptance.
Hardware can be bought in three separate packages:
Package #1 – 10"
1stPayPOS Register 10" (tablet and stand), thermal printer (Epson T-20), iPP320 PIN pad, cash drawer, and cables.
Package #2 – 15"
1stPayPOS Register 15" (tablet and stand), thermal printer (Epson T-20), iPP320 PIN pad, cash drawer, and cables.
Package #3 – All-in-One
All-in-One unit (with an integrated tablet, stand, printer, and cash drawer), iPP320 PIN pad, and cables.
1st PAY  Customer Service & Support
First American has a U.S.-based, 24/7/365 customer call center that provides round-the-clock support. FirstView and Daily Dashboard are both customer portals you can log into to manage your system. Additional resources include:
Blog
Infographics
Videos
White Papers
FAQs
The installation process has a lot of support. This is in three phases:
Pre-Installation Call
Review configuration topics
Advise next steps
Merchant Set-up Review
Email to merchant/owner
Follow-up items for configuration
Installation and Training
Formal installation and training
Occurs after system delivery to the merchant
The Final Say
First American that owns 1stPayPOS not only provides custom solutions, they also issue tools to developers. It's a flexible point of sale system designed for a variety of markets and sales verticals.
Whether you are trying to analyze consumer behavior or run extra-encrypted transactions, it's a solution ahead of the game that can easily fit into any style of operations.