(Last Updated On: October 1, 2022)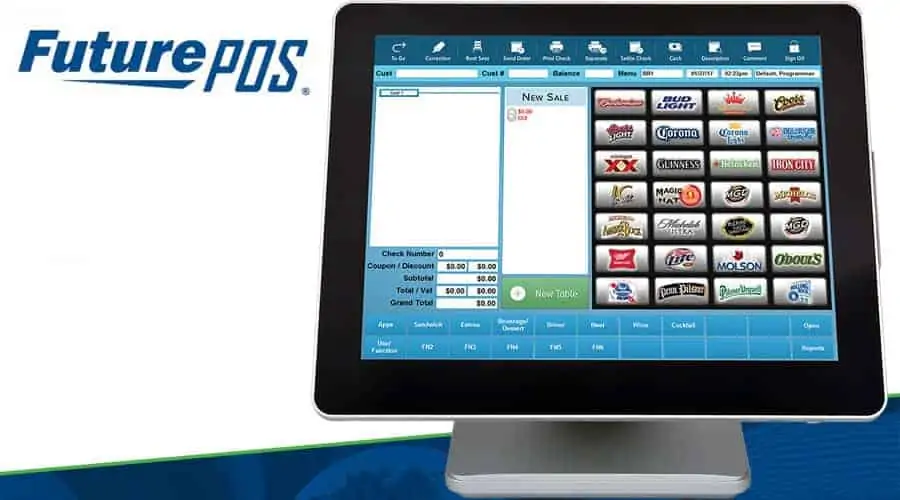 Owning and operating a restaurant means long days, hectic hours, and a lot of pressure to get every single order right.
Finding a point of sale (POS) system that provides industry-specific functionality, from order management to modifications to discounts can be a challenge. Fortunately, Future POS provides such a solution for restaurant and bar owners.
An operating manual is a valuable resource for restaurant owners. It acts as a guide for restaurant employees and can save a lot of time. It's recommended that the manual be updated at least once every quarter, if not more. It should also be available in electronic format or on a web-based system. A manual is also essential if you are hiring new staff members, as it can take some time for new staff members to get familiar with restaurant operations.
A restaurant operations manual covers all the activities that are involved in the running of the business. These include customer service, preparation of food, ordering of raw materials, accounting and reporting, and more. It includes the back and front-of-house activities, including the roles and responsibilities of every employee. The manual also serves as a reference guide when necessary.
Future POS provides restaurants and hospitality centers with powerful and intuitive point-of-sale software. Our Future POS review will walk through key features, pricing, ease of use, integrations, and other factors that you'll want to consider in a POS system.
Given that the restaurant and hospitality industry is approaching $889 billion in size, there's plenty of opportunities to grow. The key is having the right tools in hand. With over 80 dealers and a worldwide reach, Future POS has the experience in creating systems that can help you improve your restaurant's bottom line.
So, is Future POS a good system? Overall, we say yes. It has all the features and functionality you would need to efficiently run your restaurant or bar operation. There are some drawbacks, including issues around price transparency and customer service. However, the benefits of the platform outweigh these risks.
If your business needs features like check-splitting and pre-authorized tabs, advanced security functions, multi-device back office, digital signage, powerful custom reports, or their proprietary POS hardware, read on to see how Future POS can take care of all that for you and more.

Pros & Cons of Future POS
PROs
All-in-one solution with robust features

Restaurant-specific features (pizza & delivery, multi-column modifiers, recipe maintenance, pre-authorized bar tabs and much more)

Digital signage included

Multi-device compatibility

Powerful, custom-built reporting

Cloud-based system to prevent potential data loss

Direct Kitchen Display Unit integration

Webcam-supported surveillance
CONs
No pricing transparency

No custom hardware integration

Limited integrations

Outdated UI

Mixed reviews on customer support quality
Don't have time to read our full review?
Skip all the nitty-gritty details about this POS system. Easily customize a point-of-sale solution for your restaurant in just 60 seconds by
clicking here
. If you're not in a rush, read our comprehensive 5000+ word guide on the
top 20 restaurant POS systems
in the industry.
Pricing Plans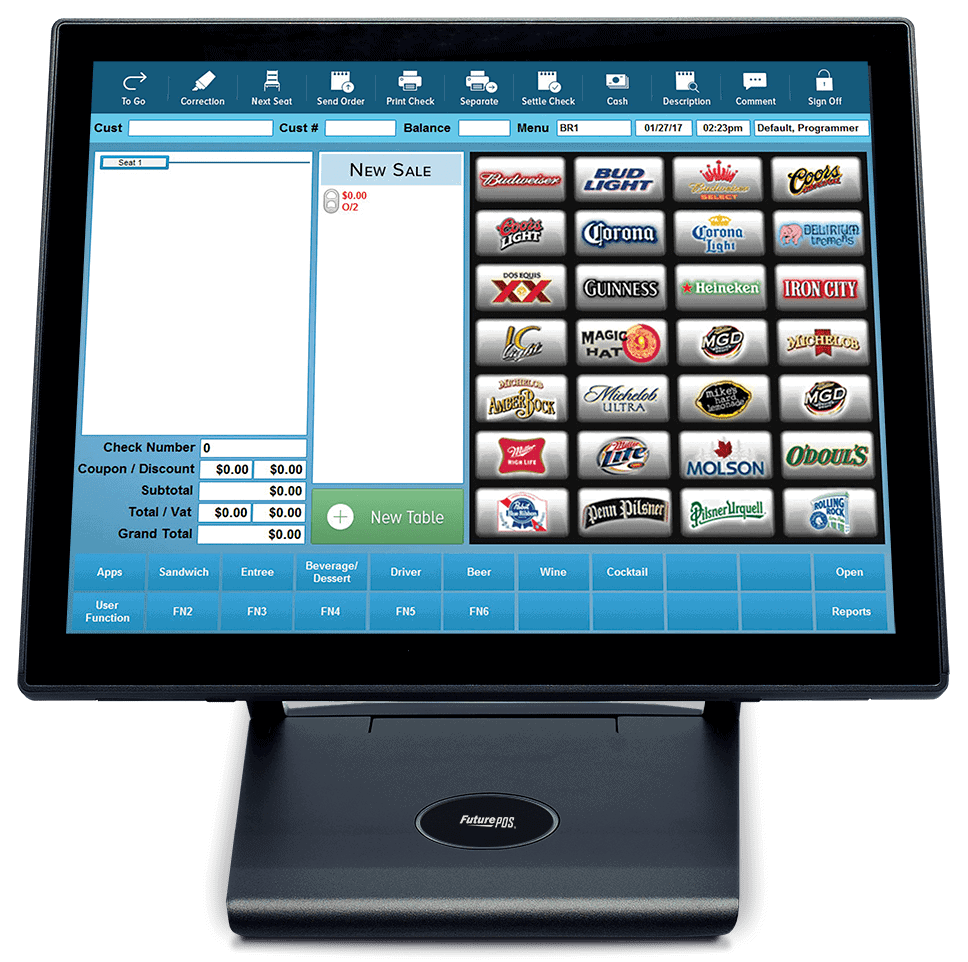 Let's address the most pressing question first: How much does Future POS cost?
We were able to do some digging and discovered that their pricing is a monthly subscription plan, which generally runs from anywhere from $59 to $79 per terminal per month. However, detailed pricing or packages are not available on their website.
A lack of pricing information could mean a number of things. Giving them the benefit of the doubt, we could assume that they have a complex fee and per-user structure that putting a standard quote online is difficult.
More likely, Future POS wants to ensure that you have a chance to speak with their team before being potentially put off by the price. They may want to make sure you see the full value of the product before you make a decision about price.
Unfortunately, there's no way to know which of these you'll possibly face without contacting their sales team directly. Since trust is a major factor between a business and their POS vendor, we have to note that this is a red flag.
We would recommend that you take all of this into account when considering whether Future POS is the right partner for your business. 
Demo Video

Key Features
Future POS has all the standard POS features in an all-in-one platform. However, there is also some unique functionality that sets it apart from the competition. Here are some of the features that we found to be especially compelling. 
Restaurant-Specific Functionality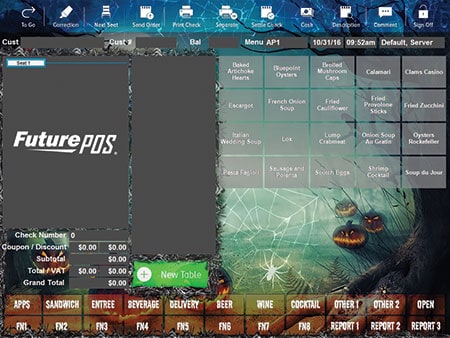 Given that Future POS is specifically designed to serve restaurants and bars, the fact that it's loaded with restaurant-specific features shouldn't be surprising. It includes menu maintenance, frequent diner & loyalty programs, check splitting, driver's license verification, bartender drink menus, pizza construction and delivery modules, pre-authorized bar tabs, and much more. 
Powerful, Accessible Back Office
You don't have to be in the physical office to run your back office. Future POS' cloud-based technology gives you true operational freedom on any device: laptop, tablet, or mobile. Find any maintenance, report, or inventory item with a powerful system-wide search feature. 
Advanced Front of House Setup
Customize the presentation and layout of your menus to allow for a streamlined employee experience and reduced order times. Avoid clicking from screen to screen with a centralized, multi-column modifier window. 
Mobile POS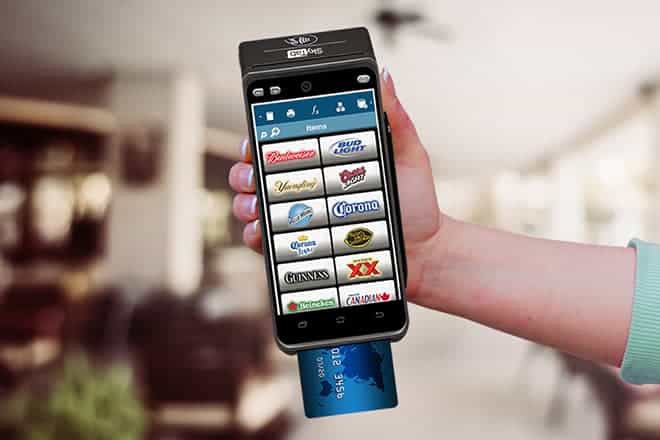 Improve customer service speed and mobilize your workforce. Future POS handheld devices function the same as a terminal, except portable. 
Digital Signage
Future POS features a digital signage module free of additional charge. Include real-time displays for sales information output — scheduled content, ads, specials, movies, and more — as well as digital menu boards, with a drag-and-drop interface.
Kitchen Video Display Unit
Fulfill orders faster and cut back on paper waste by using Future POS' Video Display Unit, rather than a remote printer. This will allow you to quickly display orders to your kitchen staff, along with preparation instructions to increase order accuracy.
Surveillance with Text Insertion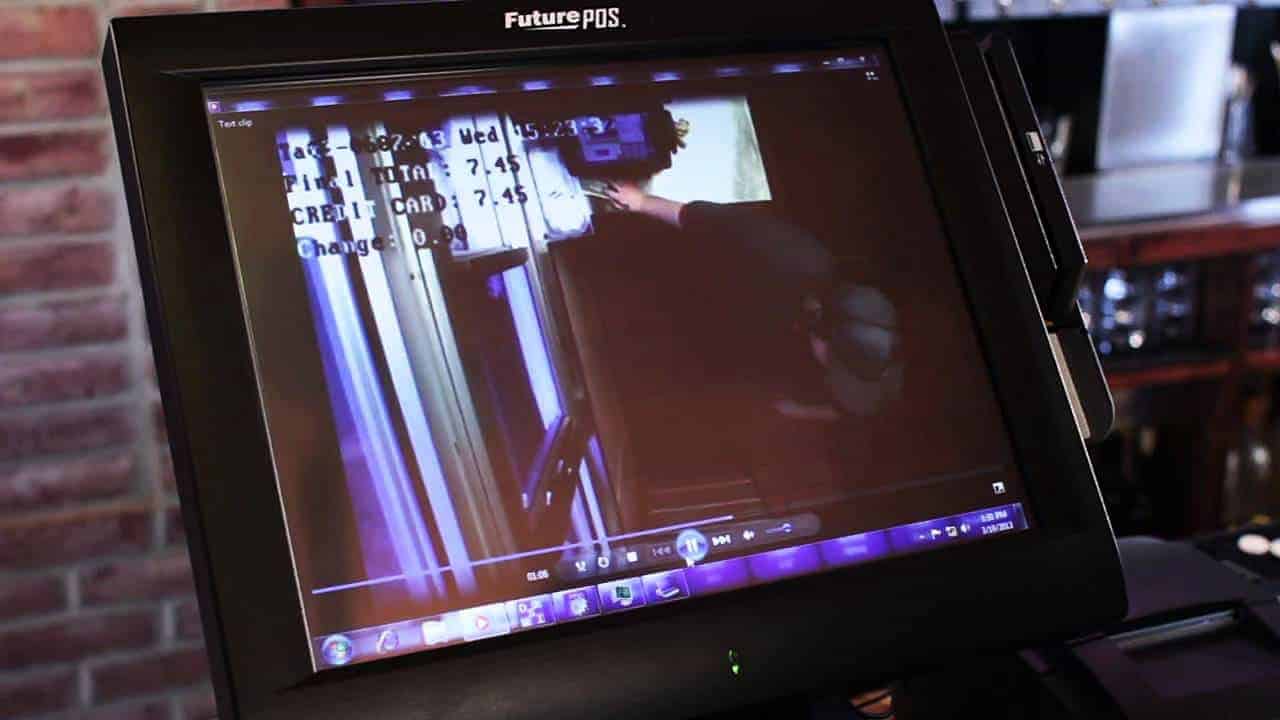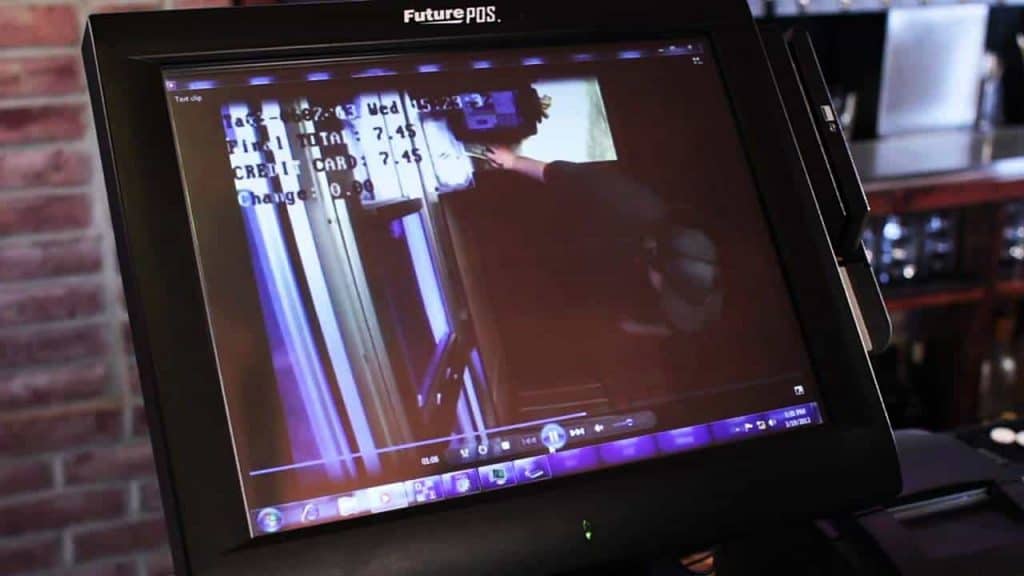 Future POS' surveillance features allow you to monitor your stations with a simple web cam. Eliminate buddy punching, view live cameras, and monitor your business to protect against fraud and theft.
Custom Reports
Many other POS systems will limit you to a number of pre-set reports. Future POS, on the other hand, puts the power of true deep dive in your hands with custom reports built either from scratch, or by modifying an existing template. Link your reports with each other for drill down views or place them on the main dashboard.
Industries Served
Future POS is built specifically for the restaurant and hospitality industry. As a result, their customers include the following types of businesses:
Restaurants

Breweries

Bars & nightclubs

Food trucks

Pizza shops

Coffee shops

Stadiums & arenas
One of the most attractive things about Future POS is that because they focus entirely on the restaurant and hospitality industry, they are able to build diverse features for the many types of businesses within that industry.
For example, Future POS provides a custom pizza & delivery module for pizza shops, a pre-authorized tab feature for bars, and a host of custom modules for coffee shops, breweries, and other restaurants.
While there are more powerful POS systems on the market in terms of scale, what sets Future POS apart is their commitment to the industries they serve. The level of customization and specialized functionality in the POS platform itself makes this commitment clear.
Deployment Type
Future POS leverages both locally installed software, as well as a powerful cloud system to provide a best-of-both-worlds hybrid solution.
The local software will help to reduce downtime and provide a more consistent user experience, while the cloud will help keep all of your devices synced and allow for updates in real-time.
The platform also allows you to access your back office on multiple devices. You don't have to travel to catch up on administrative tasks. Whether you're at home, in the office, or on the go — you've got access.
This external access is especially helpful to multi-location stores. You can manage all of your locations from a single device, saving you time and keeping everything running smoothly and seamlessly.
Ease of Use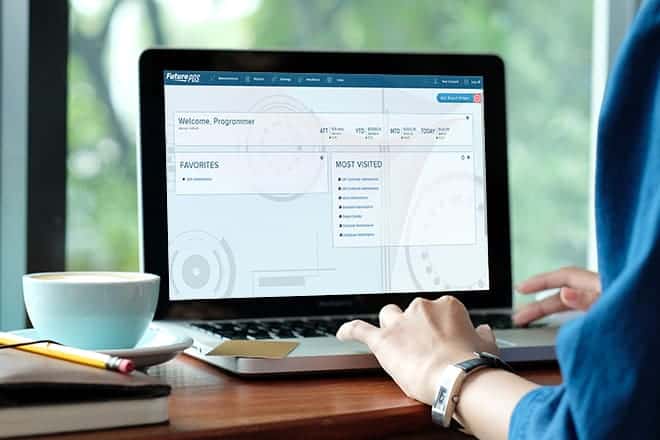 One of the cons we mentioned earlier was that the software designed was a bit outdated. However, don't take that to mean that it's confusing or difficult to use.
On the contrary, the touchscreen platform is intuitive, user-friendly and customizable. From one location, it's easy to build menus, customize orders, split tabs, make multiple modifications, and all of the other essential POS actions that you need in a restaurant environment.
Plus, the mobile POS platform allows you even more flexibility in taking orders and serving customers.
One of the other powerful pieces is the integration among all your various stations. Your front-of-house POS connects with your kitchen display, which connects with your digital signage, and all of them work together. You don't have to worry about inconsistencies or errors — everything works seamlessly.
Some people may find the design off-putting. However, if you aren't one of those people — if you care about functionality rather than aesthetics — then you should expect Future POS to provide you with a stellar user experience.
Hardware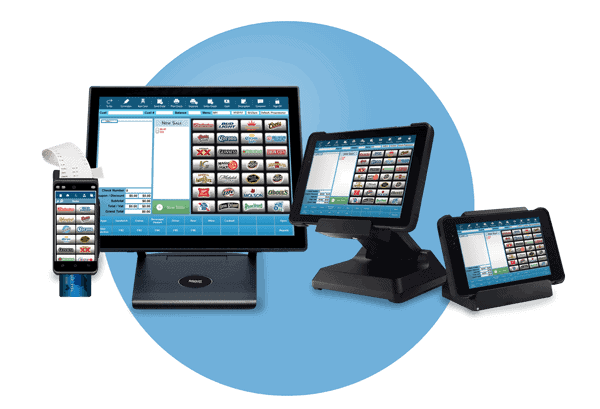 If you decide to use Future POS software, that means you'll be using their hardware as well. Future POS does not allow their software on devices other than the ones they provide.
While this is unfortunate for iPad or tablet users who want freedom in choosing their hardware, Future POS does provide a wide range of hardware options that provide all the functionality you may need. You can procure these either directly from them, or through one of their 80+ regional dealers.
Future POS' hardware options range from mobile POS platforms, tablets, and fixed terminals. All of their devices feature industry-standard touchscreens and allow for a streamlined user experience.
You can also use a variety of external devices that connect directly to your Future POS hardware. These include caller ID, scales, scanners, customer displays, coin dispensers, liquor dispensers, drive-thru menu boards, and hotel property management systems.
Although you can only use Future POS hardware, that hardware gives you the same level of functionality that you can expect from most other devices.
Integrations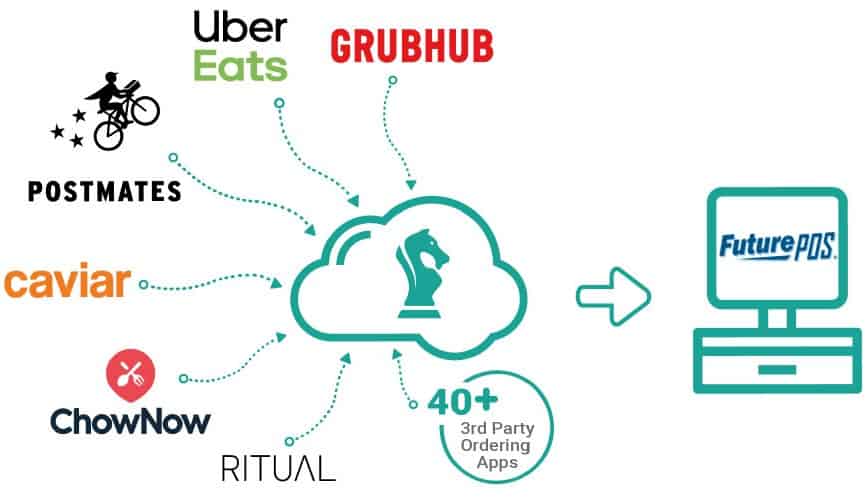 Any POS system will have to integrate with other platforms and tools to be fully functional.
The systems included in the Future POS integration suite include accounting, back office, kitchen display, all-in-one hardware, scheduling, menus, gift & loyalty tools, and more.
Here are most of the integrations offered through Future POS: Avero, Compeat, PeachWorks, Restaurant 365, CRS, Posiflex, Touch Dynamic, QSR Animations, Factor 4, HotSchedules, MenuDrive, TakeOut7, and Vigilix.
You'll notice that this isn't a deep bench of partners. Unfortunately, Future POS doesn't have as many integration options as competitors.
However, they have enough to cover most of your necessary functionality. So if you choose to go with them, you certainly won't be left out in the cold. 
Credit Card & Payment Processing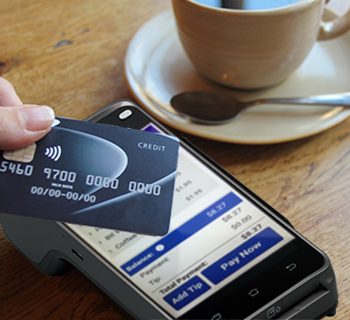 Future POS users don't need to worry about whether their data will be secure. The platform offers state-of-the-art transaction and financial data security, including certified compliance with the Payment Card Industry Security Standard (PCI DSS).
Specifically, Future POS has safeguards in place to ensure that their merchant's transaction processing systems don't store or process sensitive payment card data.
The platform's tokenization solution replaces sensitive cardholder data with a random alphanumeric value. In fact, Future POS's parent company, Shift4 Payments, invented tokenization in 2005 and has processed billions of such transactions.
Future POS' PCI-validated point-to-point encryption (P2PE) solution prevents cardholder data from entering the payment environment. This is critical to protect your customers in the event of a harmful and costly data breach. Where Future POS stands apart is that they feature P2PE that is specifically PCI-validated, providing the highest standards of data security.
Perhaps the most attractive aspect of Future POS' payment and processing system is that it provides maximum security at lower costs. Businesses with P2PE don't require costly measures like annual scan systems. Plus, the Self-Assessment Questionnaire (SAQ) requirement is reduced from over 300 questions to just 33 questions.
If you're looking for high security, but are also conscious of avoiding costly add-ons, Future POS could be a solid solution for your business. 
Customer Service & Support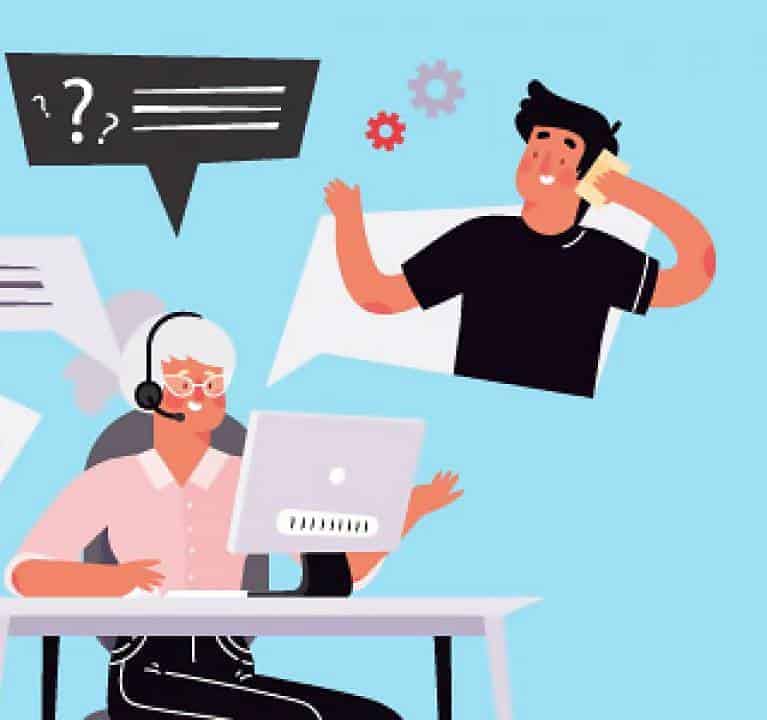 Every second of downtime costs you hundreds and even thousands of potential sales. That's why it's important that your POS vendor offer high-value customer service and support. Without it, your business could lose valuable dollars.
Fortunately, Future POS accommodates this by providing 24/7 service. For restaurants with late hours, and especially bars and nightclubs, this is critical. However, according to some user reviews, this is only helpful when dealing with simple system issues or changes.
There are also some mixed reviews as to their timeliness. Some users say they get a quick answer to their questions and almost real-time support. Others claim they have to manage the relationship themselves and keep on top of their representative. They report that issues that get "escalated" often don't go anywhere.
You should definitely be aware of this imbalance before you go to make a purchase. As you talk  to their team, get a feel for whether you feel like they would be a good partner for you.
This is one area that you can't afford to overlook — or you may run into problems when the rush hour hits. 
Future POS Complaints
While there are plenty of good things that come from Future POS, it's important that we share the drawbacks as well.
As we mentioned earlier, the lack of price transparency is a problem. This has serious ramifications when it comes to brand trust and reliability.
One of the other major drawbacks is that the platform has incredibly limited hardware integrations. If you're looking for a platform that will function on your iPad or tablet device, you'll unfortunately need to keep looking. Future POS provides their own hardware through specific dealers.
Additionally, the user interface can sometimes seem outdated. If you're solely concerned about functionality and not the user experience, then this may not be a concern to you. But for many companies this is important, so we thought we'd mention it.
It's also important to note that many user reviews describe the system crashing at random times and having difficulty processing certain payments. While there are a small number of these — and they are offset by positive reviews as well — it's important to keep this in mind when considering whether this is the best option for your business. 
Future POS Alternatives
When it comes to POS systems for restaurants and bars, there are plenty of Future POS alternatives. Before you make a final decision, consider whether one of these POS systems may be a better option for your business.
Square for Restaurants


Square for Restaurants features strong third-party integrations, a universal dashboard, and a flat payment processing rate. Additional features include staff management, strong inventory controls, payment flexibility, and intuitive reporting. This, combined with affordable hardware and an open API, makes it incredibly attractive for restaurants of all sizes. 
Lightspeed Restaurant

Self-described as "future-proof, Lightspeed Restaurant is a highly intuitive and adaptable POS alternative for restaurants and bars. It allows users to sync their point of sale with all major food delivery apps through a fully customizable online ordering experience. "Tap and slide" table features allow you to maximize space and shift your floor map to accommodate last minute changes. It truly lives up to its name of allowing you to make changes at lightspeed. 
TouchBistro

TouchBistro was developed with restaurateurs in mind, with technology specifically designed to help you streamline your sales and operations. Key features include full tableside service, cloud reporting, staff management tools, hybrid networking support, integration with multiple device types including iPad, and much more. 
Toast

Toast combines POS, front of house, back of house, and guest-facing technology to create an all-in-one platform. Key features include cloud-based reporting in real-time, flat rate payment processing, online ordering system with no third-party fees, bundled POS packages for easy startup, hardware designed to withstand tough environments, and much more.

Our Final Verdict
We hope that our Future POS review has proven helpful. After our extensive review, we've come to the conclusion that Future POS provides the core features and functionality that you need to streamline your revenue operations and grow your restaurant business.
Future POS provides a wide range of features and benefits. It can integrate with other POS systems and data centers, helping you improve customer experience and increase sales reporting. It can also help you understand your customers and develop new revenue opportunities. Regardless of how you choose to use it, you can rest assured that all your data is secure.
Future POS also supports the EMV payment method. This method involves using smart cards with embedded chips. Common EMV cards include JCB, Visa, American Express, and Europay. Future POS can capture financial data on these cards, processing it in a secure manner. And it can even share information with partners.
Future POS can speed up order processing for hospitality businesses, allowing staff to share order information more quickly. It can also help restaurants manage digital signage. It also lets you create and schedule customized digital signage content. The system can even integrate with digital video recorders and webcams. Further, it supports tableside EMV payments, allowing you to offer loyalty and gift card programs to your customers.
Future POS can also be used on mobile devices. It supports 3G and 4G SIM connectivity, allowing users to use a mobile Internet connection. It also has many management tools, such as splitting bills and managing orders and menus. The company even offers two types of live support, so you can contact them anytime you need help.
Future POS is a powerful, all-in-one solution that combines functionality with efficiency and ease of use. You likely won't have trouble onboarding new users, as the platform is intuitive and user-friendly. And because your back-office tools are accessible from any device, you have more flexibility in how and where you perform key tasks and make important business decisions.
Additionally, there are some areas of value that only Future POS provides. Digital display signage and kitchen video display are included at no additional charge. Their payment processing system also offers maximum security without add-on costs. And their custom reports rival any other system out there.
But speaking of costs, this is where we come to one of the big drawbacks of Future POS. Their pricing isn't transparent, which means you may have to spend significant time with their sales team before finding out if this is even possible given your budget.
On top of that, there are mixed reviews with regards to whether their customer support is as helpful as it's advertised to be. Given how even-handed the positive and negative reviews are, we're afraid this is something you won't know for sure until you try it out.
Finally, and this is neither positive nor negative, Future POS only works with their own hardware devices, which you can purchase either directly from them or through a dealer. Whether this affects you comes down to whether you've already invested in hardware that you want to keep using.
Overall, Future POS is a solid option as a POS system. It's not as robust or modern-looking as some of the alternatives, but if you're looking for function over fashion, we would recommend that you seriously consider it for your restaurant or hospitality business.