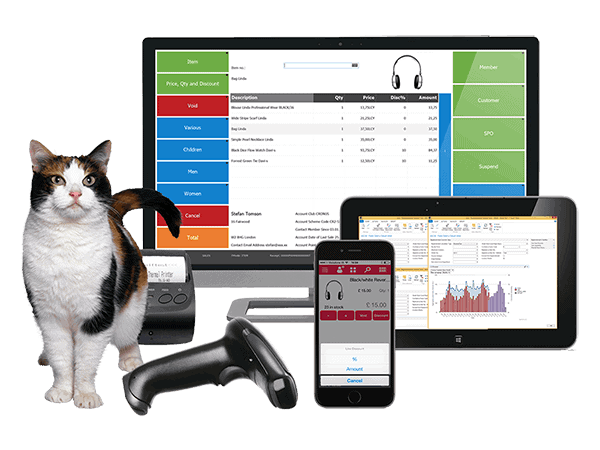 If you own or manage or a pet store, chances are you're dealing with tracking various animal breeds, inventory, customer and purchase orders, and managing inventory (among other issues).
By using a reliable pet shop POS system, you'll be able quickly train your staff to take customers orders fast and schedule pick-ups or see what items you have in stock and what needs to be re-ordered from your supplier.
Additionally, you'll be able to use real-time analytics (right from the software) to determine which items sell best, so you can stock up on inventory that matters. Save on hours of labor with automatic ordering. Also, with a point of sale solution you'll be able to set up a loyalty program and keep in touch with your current and prospective customers.
Want to skip right to the best pet store POS system? Take a look at Lightspeed Retail. This cloud-based POS system offers the most advanced inventory management system in the industry. Additionally, it boasts powerful CRM features and integrates with various third-party software. Finally, it has some of the most detailed reports for actionable insights.
In this review guide, we'll review the top pet store point-of-sale solutions. These systems will help you save time on menial tasks, nearly automating your retail process to provide outstanding customer service.
The Best Pet Store POS Systems
POS SYSTEM

HARDWARE COST

SOFTWARE COST

PROCESSING FEES

$0

from $99/month billed annually

2.6% + $0.30 per transaction
for e-commerce purchases

Depends on the
hardware
components
you need

from $69/month per register

1.75% and $0.10 per
transaction and 2.5% and
$0.30 per keyed-in transaction

from $1899.00 for hardware

from $75/month per store

Flat 2.7% per transaction

from $89 + $49 for every additional
register

Quote-based, but often between
$59 and
$80/month

2.49% + $0.15 per
swiped transaction
and 3.49%3.49% + $0.15 for keyed-in transactions
1. The Best Pet Store POS System Overall: Lightspeed

Lightspeed Retail is one of the most popular POS systems in the retail industry. As a matter of fact, this pet store POS software is currently being used by close to 1,000 pet stores. This growing popularity may be attributed to its intuitive design and a vast array of industry-specific capabilities.
This software is essentially meant to help you keep up with the customers while tracking every aspect of your store. In addition to enhanced customer experience in your business, this software will make management a lot easier for you.
Here are some of the features that make the Lightspeed Pet Store POS system stand out from the other solutions:
In-Depth Insights
However big or small your pet store is, you will be required to make important business decisions from time to time. In order to make the right business decisions, you have to evaluate your business in detail.
This is where the Insights capability of this system comes in. Lightspeed Retail is designed to automatically collect important information on the business. The system then analyzes this raw data into meaningful data and insights. From the user-friendly and detailed reports generated by this system, you will be able to tell how the business is faring.
These reports will also shed light into the best as well as worst selling products in the store. The analytic tools offered by the software will also help you spot seasonal trends in the store. As such, you will be in a better position to anticipate customer demand and take the right action in time.
Accounting Integration
Without the right technology in place, day-to-day accounting tasks can be cumbersome and time-consuming. Accounting integration by this provider is specifically designed to save pet store owners time. Additionally, this Integration with ensuring that you always have accurate numbers at your fingertips. This solution will consistently provide you with real-time accounting data on a range of aspects, ranging from daily purchases to sales reports.
Lightspeed Retail POS Downsides
The provider requires business owners to sign a one-year contract. As a result, small businesses may find the system to be expensive and relatively complex.
Get A Free Quote
2. The Best Pet Shop Back-Office POS Tools: Shopkeep


Intuitive design, affordability and a unique blend of useful features are some of the things that make Shopkeep so desirable. A considerable number of pet store owners love how the solution streamlines the checkout process in their businesses.
Just as is the case with some of the leading per store POS systems, Shopkeep is loaded with important industry-specific tools, including:
Management Capabilities
With Shopkeep implemented in your business, management will be a breeze. Following installation, the solution makes it easy for you to import your existing inventory. Thereafter, you will have an easy time receiving pet supplies from your supplies and updating the inventory with just a smartphone or iPad.
The system Al's allows you to keep track of employee hours and suppliers, whilst identifying specific products supplied by each vendor. The system will automatically analyze your sales data to help you understand your profit margins and generate informative reports. You will Al's be able to monitor sales in the store in real-time and remotely from your smartphone.
Register Tools
Ringing up sales through a POS system has never been easier than it is with the Shopkeep pet store POS system. To begin with, the system applies the innovative barcode scanning technology by the provider to streamline the checkout process.
The intuitive design of the software makes it easy for you to train new staff on how to use the POS system. The solution is also capable of printing custom barcode labels for your products using the LableKeep feature. The CRM feature, on the other hand, will automatically collect important customer data.
Shopkeep POS System Downsides
The inventory manager of this software lacks some of the important industry-specific capabilities.
Get A Free Quote
3. The Most Affordable Pet Store POS System: Cashier Live

Despite being one of the most affordable POS solutions, Cashier Live has all the features you will need to run and grow your pet store. With this software, adding and managing the inventory will become simpler. In this regard, you can conveniently add products into the inventory manager using the data importer feature.
The register on this system features intuitive design to simplify checkouts and boost customer experience. The system will also help you keep track of your customers as well as offer them discounts and promotions.
CashierLive is a user-friendly point-of-sale (POS) solution that is designed to make your business more efficient. It allows you to accept multiple forms of payments, as well as simplify inventory management and track customer data.
Regardless of your industry, you can benefit from the CashierLive system. Retailers, pharmacies, and even gift shops can use it to streamline their operations. The interface is easy to use and compatible with most devices.
CashierLive makes it easy to create and print custom barcode labels, as well as track inventory. You can also easily scan barcodes for products or items that are returned. Additionally, the software allows you to create special pricing for specific items. Combined with the time clock, you can also keep track of staff shifts.
In addition, you can handle discounts and multi-tender payments. Customers can pay with any form of payment, including cash and credit cards. If you have a lot of locations, you can utilize the CashierLive system to manage them all. Using the CashierLive dashboard, you can monitor the profitability of your store in real-time.
Whether you are running a grocery store, a pharmacy, or a gift shop, CashierLive will help you increase profits and improve your customer experience. With the intuitive design and usability, you can handle all your transactions, regardless of where you are. Plus, with the integration with Bigcommerce, you can easily set up your website and take online orders.
With the CashierLive app, you can take orders and scan barcodes from your smartphone. The interface makes it simple to handle all types of payments, including credit cards, debit cards, and mobile payments. This means that you can accept multiple methods of payment, ensuring that your customers are satisfied.
Other capabilities you will come to like about the Cashier Live pet store POS system include:
Check out Tools
Not only is the Cashier Live interface user-friendly but is also loaded with convenience features to streamline pet store checkouts. In this regard, the provider offers a perfect blend of intuitive design and usability. Such a design makes it easy for pet stores to accept all forms of payment from their customers. With this system in your store, all you need to do is scan, click and swipe to ring a sale.
The integrated payments processor by this provider has been proven to be swift and affordable. The solution does not require additional POS hardware to process card payments and the provider only charges a flat rate of 2.7 percent.
With this system, you will be able to search for items in the inventory, split payments, accept multi-tender payments and scan barcodes. You will also like the fact that it is capable of collecting tips, handling returns as well as offering discounts on items or transaction.
Simplified Management
Whether you are on site or away from the store, Cashier Live will give you detailed oversight and enhanced control. The system is packed with all the tools you will ever need to keep track of inventory levels and create a purchase order.
The system also makes cashier management easier right from the POS system, including an overview of the cashiers' clock. Additionally, Cashier Live will ensure that get real-time sales analysis and reports whenever you need them.
Cashier Live POS System Downsides
Reporting capabilities of the Cashier Live pet store POS system are rather limited. Again, the software does not have an offline mode.
Get A Free Quote
4. The Best Pet Store e-commerce POS Capabilities: Bindo POS


Unlike some of the best pet store POS systems, Bindo offers a vast array of advanced inventory management and free e-commerce capabilities. Pet owners are known to be very choosy when choosing supplies for their pets. With hundreds of pets and varying preferences, you should expect to have thousands of products and SKUs in your store.
To make inventory management easier for pet store owners, this system supports unlimited stores and SKUs. Additionally, Bindo POS has many other tools to offer your business, including:
Integrated CRM and Loyalty Programs
A pet store is essentially a retail business. As such, you still need to satisfy varying customer needs in order to boost customer loyalty. Bindo features an integrated CRM feature to help you collect important customer information. You may use this data to understand your customers, hence tailor your offering to their requirements.
Again, you may use this data to come up with tailor-made advertisement campaigns that you can send directly to their emails. The system is also capable of generating loyalty programs to incentivize the customers to keep coming to your store.
Multi-channel E-commerce
By selling pet supplies online, you will be creating an additional revenue stream for your business. To help you achieve this, Bindo allows you to conveniently sell on-site, on mobile and online; all from a single platform.
Bindo POS System Downsides
Tech support by this provider is occasionally not reachable. You may also find the software to be rather buggy.
Get A Free Quote
Pet Store POS Systems – Buyer's Guide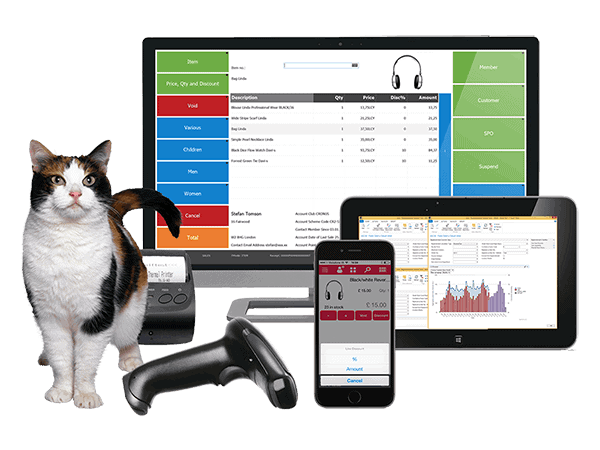 Just as is the case with any other retail shop, you need to implement technology that makes it easy to run the business and boosts productivity. This is precisely why you need to get a POS system that is specifically designed for a pet store.
The solution you get needs to be intuitive and innovative enough to foster a hassle-free working environment.
Additionally, there are several other industry-specific tools that you need to consider while looking for the best pet store POS system.
Here are some of the key considerations you need to make while shopping for one:
Service Reminders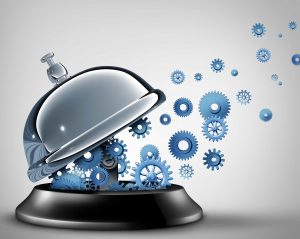 In addition to pet feeds, products and services, a good number of pet stores are known to offer a range of services like pet grooming. Your preferred POS system should be capable of sending out reminders to customers when the services are due.
For instance, the system should be able to send reminders to each of your customers on when they should bring their pets for grooming.
Such pet maintenance/service reminders have been proven to net in more recurring revenue for pet stores.
Up-Sell/ Suggested Items
For POS systems that feature a customer-facing display, this is considered to be a great marketing strategy. In its working, up-selling lets customers who may be interested in a certain product that you have an offer on that particular product.
Most leading pet store POS systems will automatically analyze the type of merchandise a customer has purchased at the checkout. This analysis will then trigger the register to upsell related products through automatic prompts to the customer at the checkout.
A customer buying dog food, for example, may be informed of a sale on dog dishes.
Kits/ Bundled Items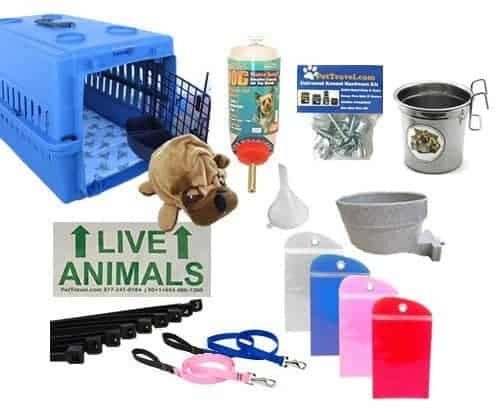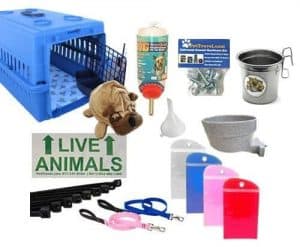 Leading pet stores often sell pet supplies, products and accessories in bundles or kits. In this regard, the retailer will group certain hardware with its related accessories and sell them as a single unit. In most cases, buying bundled products is cheaper than purchasing each item separately.
In order to allow for this in your store, you should get a system that supports the sale of bundled items.
Accounts Receivable and Layaways
If you have loyal customers that pay on account basis in your store, accounts receivable management tools will come in handy. In such a case, the POS system you get should be capable of managing such accounts, including customer statements.
Layaways, on the other hand, allow you to collect deposits on items in stock and hold the items out of inventory. If you allow this in your business, you will need a POS system that supports it as well.
Invoices and Quotes
A pet store POS system that features invoice in progress functionality will streamline sales as well as order management. To begin with, this functionality will allow you to quote a customer and print the quote. When the customer walks into the store for the purchase, you only need to retrieve the 'on- invoice and finalize the sale.
Multi-Dimension Inventory Management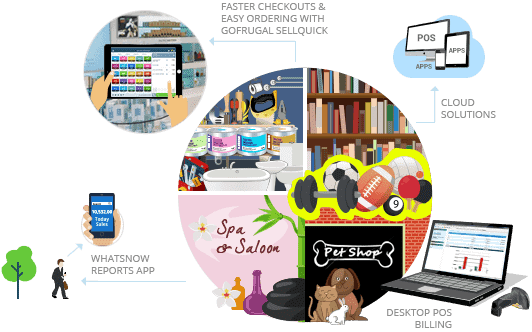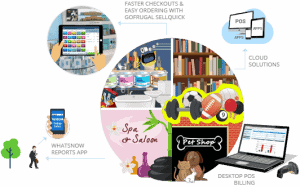 Pet stores are known to deal in an array of multi-attribute items like soft goods that come in different styles, colors, and sizes. Such an inventory manager will also come in handy if you deal in hard goods that come in different length, width and height options, such as pet carriers.
Again, your preferred solution should also have bulk case and pack breakdown capabilities. Such a capability will allow you to receive products in bulk from your suppliers and sell them individually with ease. In addition to automatic low-inventory level reminders, your preferred system should also feature auto re-ordering functionality.
The inventory manager on your preferred POS system should also have analytic tools. These will help you ascertain the best as well as worst selling merchandise. This, in addition to understock and overstock reports, will help you optimize the inventory for enhanced profitability.
Our Final Verdict
As you are aware, pet stores deal in a vast assortment of products and accessories. As such, having to manage the thousands of product SKUs alone can be challenging enough for a store owner. Unfortunately, that is not the only thing you need to do on a day-to-day basis to run and grow the business.
Owning and operating a pet store presents a unique opportunity for anyone with a passion for animals. Not only can you offer more personalized service than the large chain stores, you can also build a relationship with your local community. Moreover, you can offer unique pet products that aren't available in the big box stores.
In the first place, you must make a strong brand identity. This is done by coming up with a catchy name for your store. You can take advantage of this unique opportunity to enjoy a bit of creativity and have fun! As long as your business is known, people will be more likely to visit your store.
To make management and accounting easier and accurate, you need a unique set of industry-specific tools. Being some of the best pest store POS solutions, the four systems reviewed in this guide have all the features you need. With this guide, choosing the best pest store POS system should be way and straightforward.