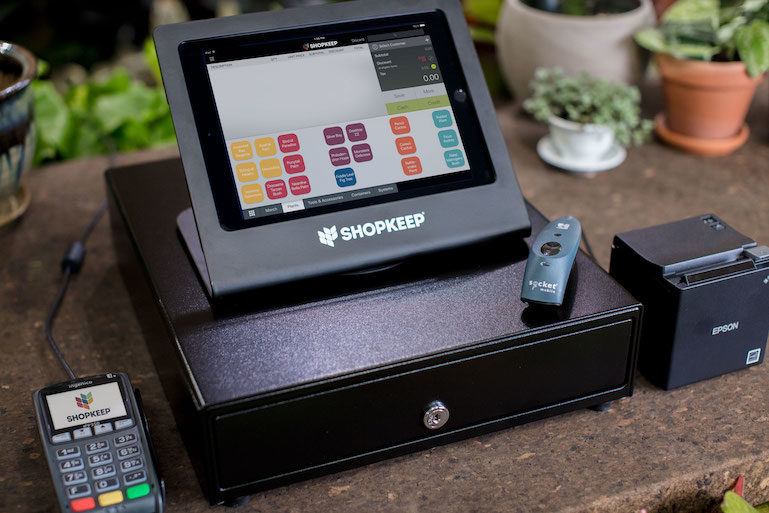 Working in retail is difficult, especially when you're dealing with customers who want to check out as fast as possible. The same can be said about running a food truck or managing a restaurant.  At times, even managing your business or finding out what products are top sellers can be difficult—if not downright impossible.
Read any Shopkeep POS review, and it becomes clear the platform has been a top solution for quick-service restaurants, coffee shops, and retail stores alike. The platform's sterling reputation for fast transactions, a visually stunning UX, and ease of use make it a staple in the industry. 
When it comes to Shopkeep's perks, the biggest perk is improved efficiency across the board. After comparing user reviews, it became clear they love the software's rapid payment methods, real-time analytics access, and its streamlined business management software.
What's more, Shopkeep will help you select the right hardware. If you own a retail business like a clothing store, Shopkeep will equip your store with hardware components like barcode scanners, receipt and label printers, cash drawers, and more. If you own a restaurant, chances are you'll need touchscreens, kitchen display systems, and printers. Both retail and restaurants will also need credit card readers and tablets, increasing mobility around the business and providing faster service. 
Shopkeep makes management easy thanks to its ability to get sales performance statistics, discover top-selling products, and monitor sales. Integrations further bolster its usability, like the Quickbooks integration to automate accounting or Mailchimp for email marketing. 
Of course, all the features that Shopkeep boasts can't just be explained in a couple of sentences. Let's delve deeper into what makes Shopkeep such a good pick, and why so many businesses swear by their POS system. 
Who's Shopkeep POS?
The driving force of Shopkeep is its customers. A New York-based company, Shopkeep launched in 2008 before the iPad existed. In 2010, the company moved to the Apple platform and it changed everything for the better.
By 2014, Shopkeep had offices in Belfast, Ireland, and Portland, Oregon. A year later, integrated payment processing was launched through the Acquired Payment Revolution integration. By 2016, Shopkeep was ranked as #116 on the Deloitte Technology Fast 500 list.
Today, the brand serves over 25,000 companies nationwide. It's rated #1 by customers as an iPad POS system and processes 289 million transactions annually.  Shopkeep leadership is a small and dedicated group.
By 2018, Shopkeep was ranked top POS system on Trustpilot. They also offer some of the easiest financing options for startups and truly believe in opening doors for small business.
Ease of Use
When it comes to ease of use, there are few POS systems that can compete with Shopkeep. Shopkeep works with both iOS and Android devices, making it an overall intuitive solution. Shopkeep's user interface is easy to navigate, helping management train staff in just a few sessions. With less time training, your team can focus on selling more products and services. 
Along with being one of the most user-friendly systems, Shopkeep boasts a supportive onboarding process for Shopkeep's Backoffice. Once you sign up for a Shopkeep account, you'll access a tutorial that details all the features by way of a walkthrough. 
Keeping things easy to use is part of Shopkeep's platform, and that includes matters regarding analytics, too. The intuitive interface makes it easy to pull up customized reports featuring sales, date comparisons, and more. Managers who want to be able to understand and access all the data relating to their business can.
Part of the excellent ease that comes with using Shopkeep is how easy the software makes most aspects of managing a business. Whether it's keeping an eye on inventory, updating your books, or just scheduling employees in, Shopkeep has a way to do it that is both efficient and easy to learn.
Key Features & Benefits
Custom POS solutions by business type
Accelerate checkout speed
Access to real-time sales data
Cloud-based back office
Manage business anytime, anywhere
Industries Served
While you could technically use Shopkeep for almost any industry, there are several industries that are more heavily geared towards this POS setup. Shopkeep makes a point of keeping things easy for users by creating hardware kits for each major industry they service.
Depending on the setup that you choose, you could consider Shopkeep to be a retail POS, a cafe POS, or a quick-service POS system. If you have an online retail store, then you're going to love using Shopkeep's third-party integrations for eCommerce, connecting the point of sale system with your website.
From working with liquor stores to vape shops, Shopkeep's team members have the experience and insights to assist businesses in industries that require compliance. By using age and ID verification, you'll avoid hefty fines that come from mistakenly selling to underage customers. Shopkeep helps you customize the POS system to deal with your specific business needs. 
Restaurant owners do not have to feel left out with Shopkeep, either. They have a fully-customizable interface for restaurants, where you can customize your menu and assign popular items for fast checkout. 
If your fine-dining or quick-service restaurant is struggling, Shopkeep is a smart choice. Along with processing orders faster than most POS systems, the software's inventory management system makes it easy to save money by streamlining your inventory management, re-ordering, and maximizing your profits.
Shopkeep POS Pricing
The pricing of Shopkeep starts at free. That includes one user and one location. However, it should be noted that the free plan has a limit of $5,000 in monthly sales. After that, plans are quote-based and not listed on their site.
Everything they do is custom, and the pricing is based on what parts of the software you need. Most small businesses are looking at $69/register/month for the full version of the program. For a more accurate idea of pricing, you'll need to contact Shopkeep. The simple pricing plan includes:
Inventory and staff management
Real-time analytics
Unlimited users
Shopkeep support 24/7/365
Additionally, all plans come with an intuitive register that streamlines sales and checkout. Customers can also enjoy perks like payroll, e-commerce, and accounting integrations.
Pricing for the hardware is divided into kits and bundles. This includes:
Retail Kit
Restaurant Kit
QSR Kit
Android POS
System accessories
Pricing for all hardware can be done online, but you must enter specific store information. To get the lowest quote, you should know estimated monthly sales, number of locations, and how many registers you need.
Shopkeep will also ask how long you've been in business and what current POS setup is installed. Quotes are also based on when you are looking to purchase. Enter contact information and a personal pricing plan will be emailed to you. A rep may also reach out.
Shopkeep POS System Requirements
There are a few different product lines that Shopkeep promotes. It is one of the only POS brands on the market to offer both iPad and Android capabilities. They even help customers fund their growing business. Products are divided into four main lines: POS Software (both iPad and Android), Shopkeep Hardware, Shopkeep Payment Processing, and Shopkeep Capital.
POS Hardware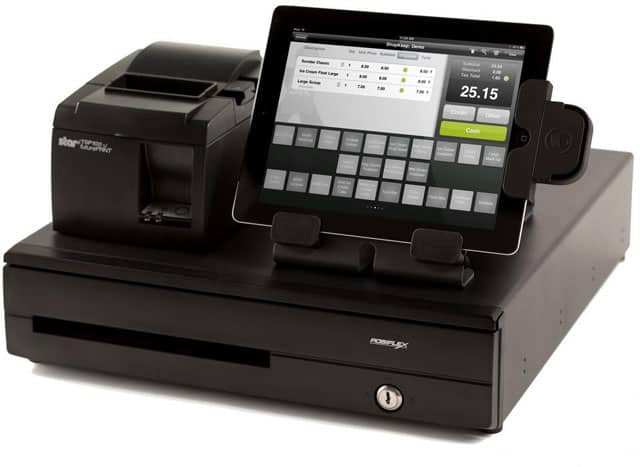 Although Shopkeep functions on both the iPad and Android, they only offer an Android version through the platform. If you want to use an iPad, that will have to be purchased additionally, so keep that in mind while budgeting.
The hardware required is broken out by POS equipment needs. A QSR restaurant runs a lot differently than retail, which is why the brand has bundled the packages in such a way.
Retail Kit
The retail kit is designed for a business like a pet shop or clothing store. The equipment is intended to speed up transactions and streamline inventory management. The package includes an iPad enclosure and the following:
Cash drawer
Barcode scanner
Receipt printer
Label printer
Credit card reader
Restaurant Hardware Kit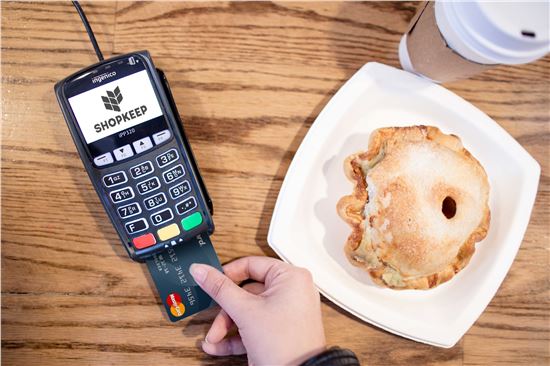 Stay out of the weeds and keep the tables turning with the restaurant bundle. This package comes with an iPad enclosure but does not include a label printer. It has the following items:
Cash drawer
Kitchen printer
Receipt printer
Credit card reader
Ethernet cable
Quick-Service Hardware Kit
This is the most basic package. It's designed for a quick setup with fast transactions. The kit comes with:
Cash drawer
iPad enclosure
Receipt printer
Credit card reader
Handheld Register Kit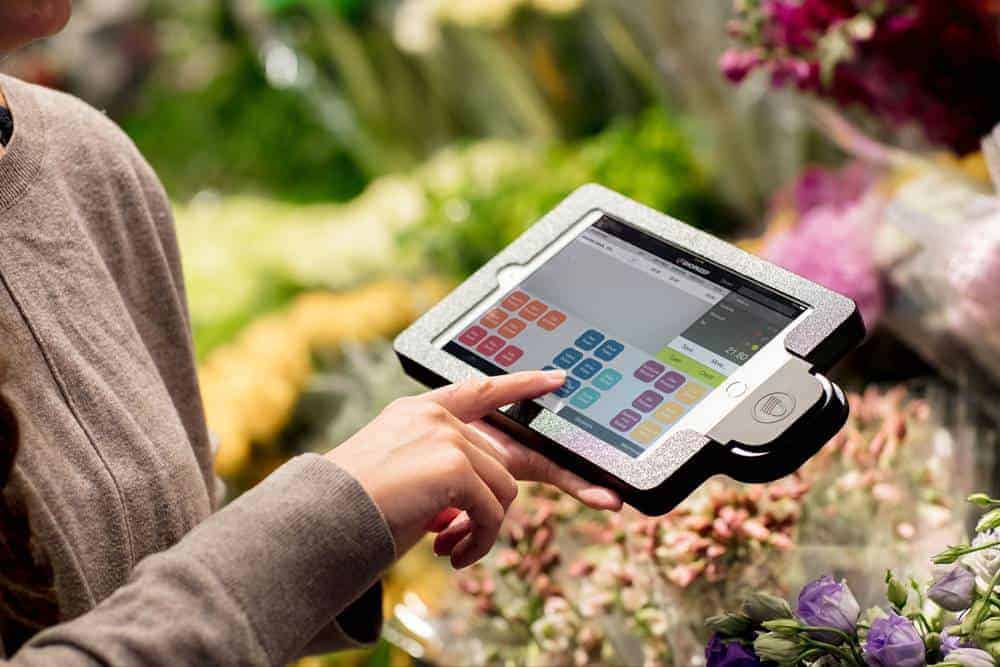 This is a mobile maven. Take payments from anywhere in the store with the handheld. Cut wait times and make customers happy using this equipment:
Handheld iPad mini enclosure
Portable credit card swiper
Accessories
Many of the items in bundles can also be purchased a la carte. This even includes printer paper and networking. Other common accessories are:
iPad enclosures – Keep your register safe and clean (also comes as a stand)
Printers – A selection of reliable label makers, receipt printer, and kitchen printers
Cash drawers – Space efficient drawers that ring with every sale
Credit card readers – Clerks can swipe, dip, or tap cards for efficient payment processing
All-in-One Android POS Hardware
Most brands will opt for this package as it is the easiest to set up and is designed to work best with the software. It comes in two types: The Mini and The Station (both designed by Clover).
The Mini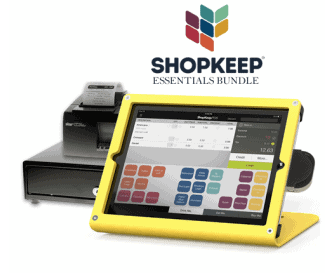 Despite the size, this equipment still offers maximum efficiency. It speeds up the checkout process and improves sales. The bundle comes with all the cables you need for installation (ethernet, USB, etc.) plus the following:
Compact all-in-one tablet with built-in credit card reader, printer, and touch screen display
Power adapters
Printer paper
Feature guide
The Station
This is much larger than the mini. It is made full size, for full power. Like the mini, it comes with all the cables and adapters needed. It also has a full-size tablet with reader, printer, and touch screen. The difference between the Mini and the Station isn't the only size. The station also comes with a connectivity hub.
Compact all-in-one tablet with a built-in credit card reader, printer, and touch screen display
Connectivity hub
Power brick
Printer paper
Feature guide
It may be that you use both the Mini and Station for different parts of your business. Needs will determine the exact system setup, configuration, and accessories required.
Shopkeep POS Features and Capabilities
The Shopkeep platform is divided into four main business types: retail, quick service (QSR), restaurant, and bar. Retail is then promoted by the kind of store, which includes:
Boutique/Clothing
Gift shop
Liquor store or wine shop
Pet store
Vape shop
The other three types are listed under "Food and Beverage." This section is broken out as follows:
Bakery
Coffee shop
Food truck or Concession
Ice cream shop
Juice bar
Additionally, there is the basic QSR, full-service restaurant, and bar. Everything is offered at a custom level to ensure you purchase the solution that fits best.
POS Software
Running a business doesn't need to be complex. Shopkeep POS software is designed to drive success. That's what makes it the #1 POS system on the market. It's flexible and easy to customize.
Successful Sales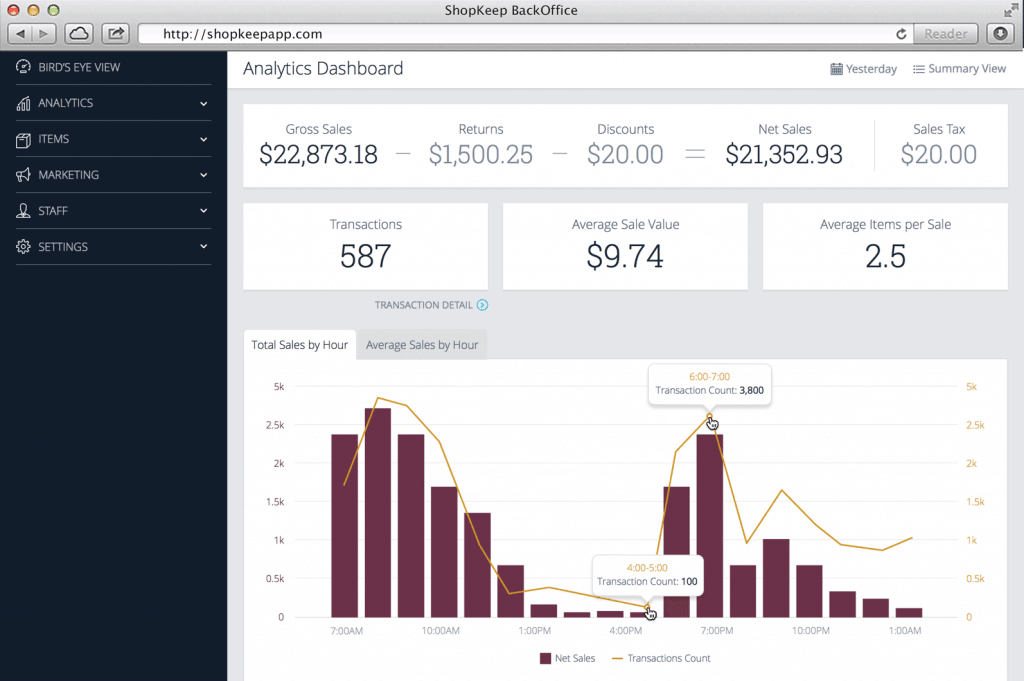 One of the greatest benefits to Shopkeep is the number of third-party vendors you have access to. Boost repeat sales by syncing customer contacts with your MailChimp account. This means smarter email marketing.
You can also capitalize on internet shoppers by creating an e-commerce platform to sell online. There's no need to build an expensive website. Shopkeep eCommerce is powered by BigCommerce. It boosts sales by creating omnichannel opportunities.
Increase your bottom line by empowering customers to pay in more ways. In addition to cash and credit/debit cards, customers can pay with gift cards or a mobile device. You can even process sales offline. The system will sync the data when connected again. This means never waiting to make a sale.
Reporting and Analytics
Shopkeep intuitive reporting tools give you access to actionable data that drives goals. Make smarter business decisions with brilliant and clear data. Shopkeep BackOffice organizes all of your information into a user-friendly dashboard with real-time reporting.
Customization allows a business to maintain more control over the reports that are run. Reporting can be produced on sales, departments, inventory, employees, and much more. From peak times to most popular items, you'll gain important insight for running the store.
Inventory Management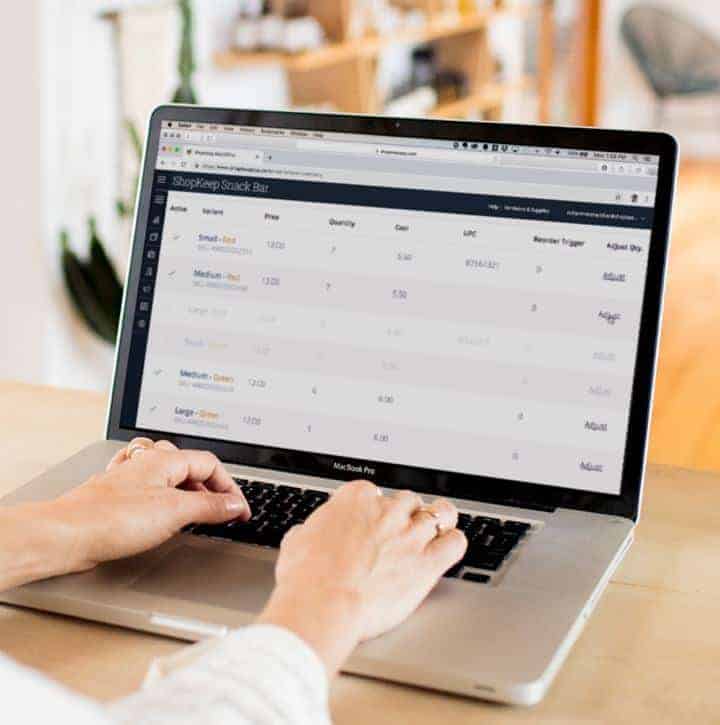 Shopkeep helps to simplify inventory management to keep your transactions running smooth. It improves margins and increases profitability. No matter the number of SKUs, thousands can be imported in bulk via CSV. Variants can be assigned to items. This helps to manage products with many different versions.
Shopkeep BackOffice maintains inventory costs, demonstrates profit margins, and reports on best-selling items or departments. New items can be added individually or as a group. Inventory receiving permissions can be delegated to certain employees without giving them greater access to sensitive data. Even certain items can be assigned to a specific department.
Inventory Reporting and Tracking
Track the quantity of items in stock. This allows you to know in real-time what to reorder and when. For food and beverage businesses, components of food and drink items can be tracked. The Raw Goods portion of the software can break it down to dishes and drink ingredients.
Sales Trend Reporting
Easily keep track of which items, categories, and departments are your best-sellers. View detailed sales data instantly to make more informed decisions on the fly. Information can be viewed on an item-by-item basis, then fine-tuned to increase sales.
Inventory Value Reporting
Enter the cost of items into Shopkeep to view profit and margins. This allows you to determine what to sell with open priced items options. It also demonstrates products you may need to cancel.
Items can also be calculated by weight and volume. Matrix inventory allows a business to easily track products with variants. Inventory can even be monitored and adjusted mobily with the Shopkeep Pocket App.
Integrations & Add-Ons
Shopkeep's ability to work with third-party apps and add-ons is one of their most popular perks, and that's saying something profound. The integrations they offer make it possible to run your entire business through their system. 
Some of the most popular Shopkeep integrations include:
Quickbooks.

Accounting just became a lot easier. Quickbooks integrations will help keep track of every sale, help you calculate your sales taxes owed day by day, and more. 
MailChimp.

With the rise of internet marketing came a need to capture email addresses and update clients on sales. MailChimp integration means signups can be done right from the terminal. If you have an online store, the MailChimp integration can also help you retain new customers as they make their first order.
BigCommerce/Online Ordering.

Even restaurants are starting to get into the world of e-commerce. With multiple online ordering integrations available for your use, getting those orders and managing your shipments couldn't be a simpler task. You can even set up your own online store through your POS.
AppCard.

This integration is one of the newest to be offered up through Shopkeep, and it is a hybridized loyalty card/analytics module. This add-on allows users to create loyalty programs that involve point systems, giveaways, and more. Of course, this app also features reports on top products (as well as important updates on your top-selling products).
Employee Management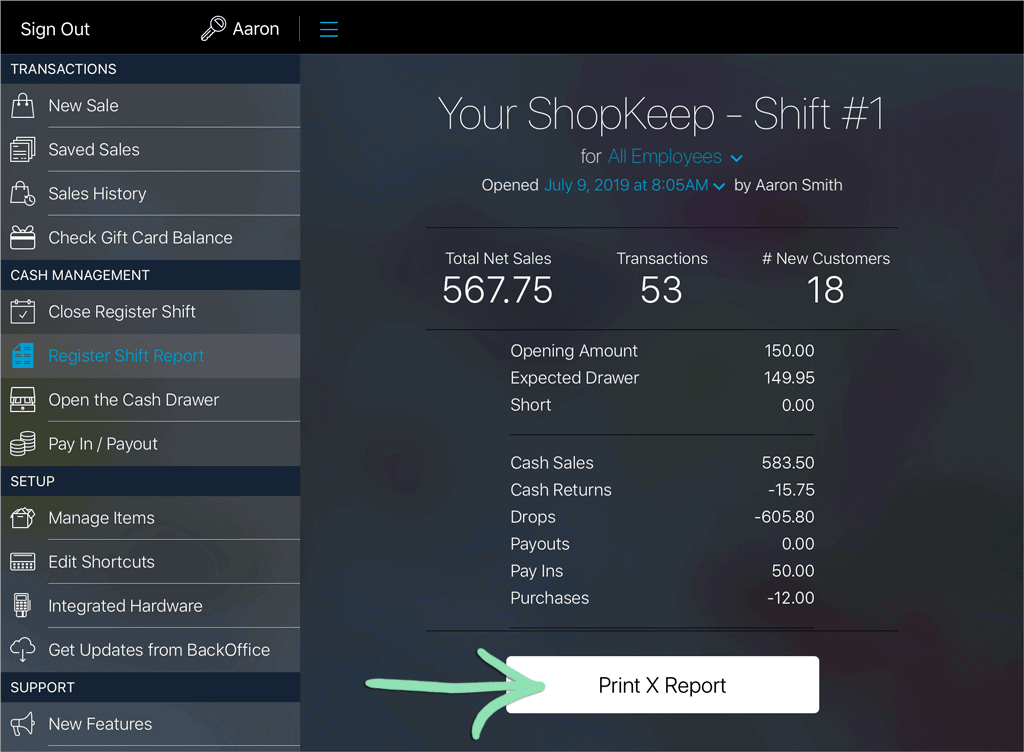 Pinpoint top performers so you know who to schedule and when it matters most. Identify and organize stronger teams to increase sales and customer retention. Track hours, overtime, and double-time. Then, combine the data with sales figures to determine how valuable an employee is to your bottom line.
Shopkeep also allows you to run a shift summary review to get a clearer picture of cash flow. Each employee is assigned individual register permissions. This means you can target data like opening and closing drawer amounts, overages, shortages, etc.
Loyalty Programs
Shopkeep Loyalty is a program that allows you to instantly identify your most loyal and repeat customers by the number of visits or purchases. You can then reward them with programs that offer special discounts. That includes their dollar-driven rewards program.
Shopkeep Pocket App

Run your business remotely with the Shopkeep Pocket app—available on iOS and Android. The app helps to keep track of in-depth breakdowns of your business that include:
Sales performance (historic and real-time)
Top-selling items
Cash flow
Daily comparisons
Register information
All push notifications are sent in real-time, including shift changes, low stock, and manager access to the cash drawer. The notifications feed lets you contact employees directly while on-the-go. No matter how many locations, you can track everything, all at once, with the push of a button.
Payment Processing

Shopkeep payment processing promises the lowest integrated processing rate on the market. Clear and transparent rates come with no long-term contracts. Shopkeep Payments allow a business to accept:
Cash
Credit/debit card
EMV chip cards
Mobile payments (like ApplePay or Google Pay)
If you already have an existing payment processor, Shopkeep can easily integrate with a third-party. You can always access funds fast with reliable depositing. Choose from a range of Bluetooth or wired card readers. All Shopkeep payment processing is PCI compliant and 100% secure.
Business Capital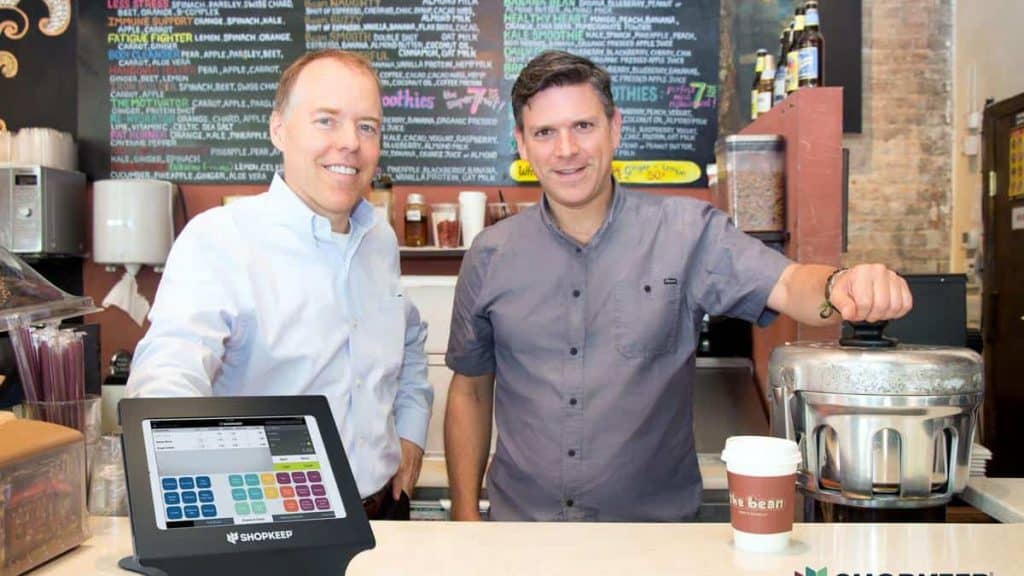 The most unique feature of Shopkeep POS is their offer to fund certain ventures. Shopkeep Capital is a simple and reliable way for customers to obtain the financing they need to elevate their business. It comes as a merchant cash advance. That means there are no monthly payments, hidden fees, or variable interest rates.
Shopkeep Capital also has no set repayment schedule. Instead, your advance can be remitted as a percentage of your daily credit card sales. Unlike traditional loans, this doesn't require a mountain of paperwork. It's as simple as logging into Shopkeep BackOffice. Funds are typically available within 1-3 business days.
The funds can be applied to any type of business need. This includes (but is not limited to):
Expanding into new markets
New equipment or inventory
Hiring more people
Funding a marketing campaign
Day-to-day operational expenses
Eligibility for the program is determined on a merchant-by-merchant basis. The first requirement is that you must be a Shopkeep customer in good standing. If eligible, there are a range of options you can choose from. Pick the amount that best suits your business.
Customer Service and Support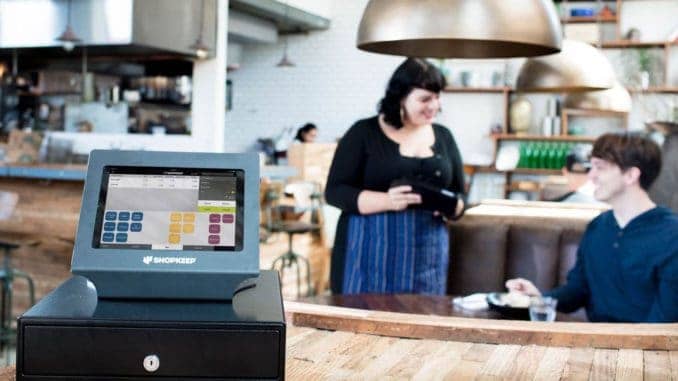 Shopkeep understands the rigors of running a business. It's in their DNA. That's why they offer omnichannel support on every platform. The Shopkeep difference includes:
Personalized Onboarding: Shopkeep goes beyond helping you sell. To assist with success, Shopkeep experts will work one-on-one with a brand to get the most out of their point of sale system.
Hands-on Support: Shopkeep offers an award-winning, 100% free customer support team available around the clock. They can be reached through text, phone, or web chat 24/7/365.
Business Capital: For merchants that are eligible, Shopkeep Capital is an easy and safe way to access additional funds that meet evolving business needs.
Shopkeep Complaints & Possible Drawbacks
Shopkeep offers a lot of features to the point where you may feel lost. It is possible that if a restaurant owner doesn't do enough research, they could end up with a system that doesn't fit.
This makes the purchasing and installation process slightly lengthier. However, the more time spent on this end, the less likely you will need to upgrade in the future
Alternatives to Shopkeep POS
It may be the case that with everything Shopkeep offers, it still isn't the perfect fit. There are some other POS programs out there that are formidable alternatives.
Square


The free version of Square comes with unlimited users and runs off an iPad. Monthly fees are $0. Processing is 2.75% per tap, dip, or swipe. The Square Reader for Magstripe is also free and works with any Square POS app. The Square Stand and Reader connects to an iPad and costs only $199 for the setup.
Features of the POS system include:
Analytics and reporting
Square Dashboard for administrative tasks
Inventory management
Customer Loyalty
Employee management
Square also offers a finance program. Unlike Shopkeep, they do not integrate payroll. Rather, they have built Square Payroll as an all-in-one software that works with every business. The service starts at $34/month depending on your needs.
Lightspeed



Much like Shopkeep, Lightspeed POS caters to both retail and the foodservice industry. Their services include POS software, Loyalty and CRM (customer relationship management), Merchant Services, and the eCommerce platform.
Pricing for Lightspeed is broken out by the type of business you run. Basic packages are as follows:
Lightspeed's Retail POS – $99/month for 1 register and up to 5 users
Lightspeed Restaurant POS – $69/month for 1 register and onboarding
Lightspeed eCom – $59/month for 250 products and 1 user account
OnSite – Small shop $99/month, Medium $169/month, Large $289/month
Every additional user for the OnSite program is $51/month. Upgrade to advanced reporting for an extra $21/month. Some features of the Lightspeed POS software include:
Mobility and cloud
Detailed reporting
Customer loyalty programs
Training and support
Inventory management
Like Shopkeep, Lightspeed also has an in-depth resource center that's divided by the pricing they offer. Customer support is 24/7. There's also a free trial to test out the platform.
Use Shopkeep POS to Manage Your Business
The first step when purchasing any POS software is to make a list of your basic business needs. Do you run a business where everyone is mobile or would more robust stations suit operations? Once you understand both hardware and software needs, you can then consider a solution that works best.
Shopkeep seems complex, but they have a dedicated support team to walk you through the process. If your business is a small startup, this may not be the option for you. A free card reader using Square with an iPad might do the trick. However, if you wish to expand and grow your business, thinking ahead is key.
If you install a POS system now that can handle a larger scope down the road, you may be saving on costly upgrades. Additionally, the staff won't need to be retrained on new software. Ultimately, the POS system you choose should set you up for years of success. Shopkeep is a platform that can get you there.
Reader Interactions