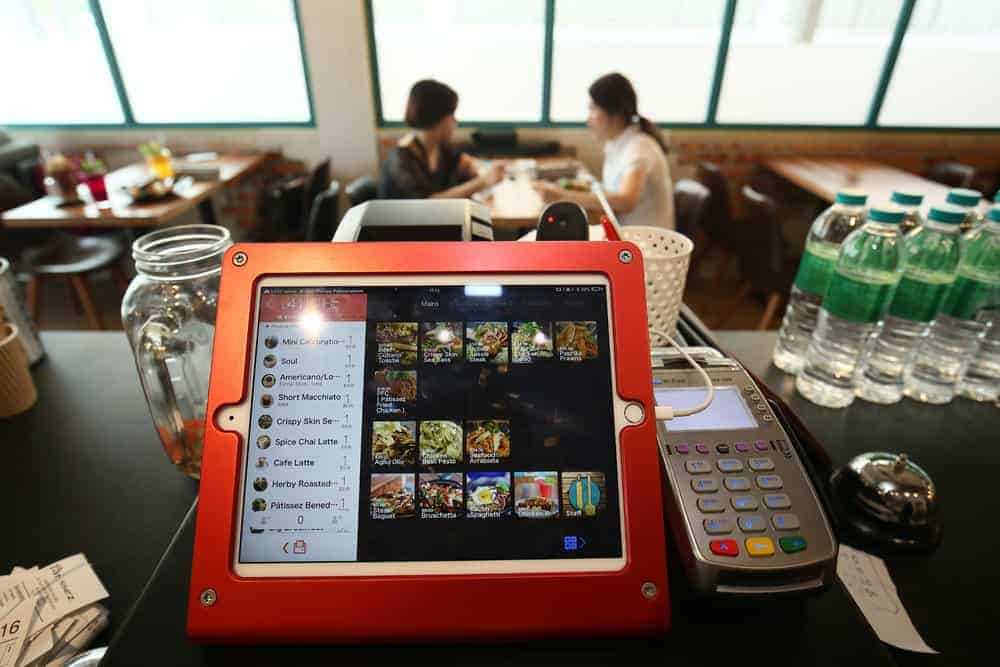 "If you love what you do, you'll never work a day in your life!" —said the person who has never owned a restaurant. The foodservice industry is a tough business and the more mobile you make it, the easier it is to manage.
The purpose of an iPad POS system is to drive efficient operations from a portable device. In a fast-paced, chaotic restaurant environment, you need versatile systems that are built to last. The right foodservice platform will perform all essential operations like sales, inventory, and marketing while sitting in the palm of your hand.
If you're looking for an iPad restaurant POS system in particular, then chances are your business faces unique challenges. You need tools that facilitate communication between your front and back of house without disrupting the service workflow. It should bust long lines and instantly process payments, with automated prompts that drive sales.
The best iPad restaurant POS systems address the needs for mobile management and offline capabilities. Automated data capture with detailed reporting ensures real-time insight on sales and labor for better decision making. It should offer on-the-fly menu updates with instant modifiers, staff controls, and optimized real-time inventory.
Like plating the perfect dish, finding the right point of sale system takes a little time. Below, we've done the research, asked the right questions, and found five stellar iPad restaurant POS.
How Much do iPad POS Restaurants Cost?
When you sit down to write the budget for your POS system, you should consider the four components that make up the cost:
Software subscription or license fee

Hardware cost

Payment processing

Add-ons and integrations
All of these come with a price tag and you need everything on this list to run your restaurant. The software is typically priced at a monthly rate which is charged on an annual basis. In this case, you are signing a contract for a year or more. 
In addition to an iPad, you'll need printers, scanners, card readers, etc. The cost of that changes by brand and whether they have proprietary equipment or not. The rate for payment processing depends on whether it is in-house and fixed or from a third-party. Any add-ons are typically attached to the monthly subscription and integration prices are based on third-party rates.
Here Are the Top Five iPad Restaurant POS Systems:
TouchBistro – The Best Overall iPad Restaurant POS System
Upserve – The Restaurant iPad POS Platform for Full-service Restaurants
Toast – The Best All-in-One iPad Restaurant POS Platform
Square for Restaurants – The Best Free iPad Restaurant POS System
Revel Systems – The iPad Restaurant POS to Drive Sales
Comparing the Best iPad Restaurant POS Solutions
POS SYSTEM

SOFTWARE COSTS

HARDWARE COSTS

PROCESSING FEE

$69/month for the POS license.

$50/month for Online Ordering. $25/month for Gift Cards. $229/month for Reservations

Third-party quote-based

Core Plan is $59/month

Pro Plan is $199/month and Pro Plus Plan is $359/month

$2.49 + 15 cents flat rate

Starter Package is $0 but there are shipping charges and taxes applied

Essentials Package is $99/month and the Growth Package is $189/month.
Digital Ordering starts at $50/month

Custom rate based on card mix

Free for unlimited devices and locations

Plus Plan is $60/month per location and
$40/month for each additional device

In-person and invoice payments are 2.6% + 10 cents.
Online payments are 2.9% + 30 cents

Starts at $99/month per terminal

System Implementation and Onboarding starts at $674

Average fees range from 1.7% to 3.5% per transaction
1. TouchBistro –
The Best Overall iPad Restaurant POS System

TouchBistro is a point of sale system that powers over 23,000 establishments worldwide. The all-in-one POS platform offers a free, 30-day trial to help a restaurant improve service, elevate the guest experience, and streamline BOH and FOH communications. With friendly, 24/7 support, the platform boasts key features like:
Restaurant Tableside Ordering to Save Time and Increase Check Averages
TouchBistro's Tableside ordering feature is designed to help staff fulfill orders faster and more accurately. It prompts servers to upsell high-margin menu items with pop-up modifiers for suggestive selling. It adds speed, mobility, and flexibility to the entire order-taking process.
iPad tableside ordering allows staff to spend more time with customers instead of waiting in line for a terminal. Menu items can be ordered and fired immediately or based on courses, with a tap. You can also join or split seats, items, and bills in seconds.
Smart Staff Controls to Better Manage Employees and Track Labor Costs
Staff determines the experience of your customers and will seriously affect your bottom line. Use the staff punch clock to view clock-ins/outs and general staff activity. Maintain payroll details and personalize employee accounts with role-based settings. 
Facilitate communication between the front and back of house with simple, integrated messaging. Servers can instantly chat with the BOH without having to yell through the kitchen.
7Shifts integration enables a restaurant to seamlessly plan employee schedules using data based on historical sales. This puts your top-performing people in the best spots. Additionally, the system will track employee-related data like overtime, labor costs, and staff performance.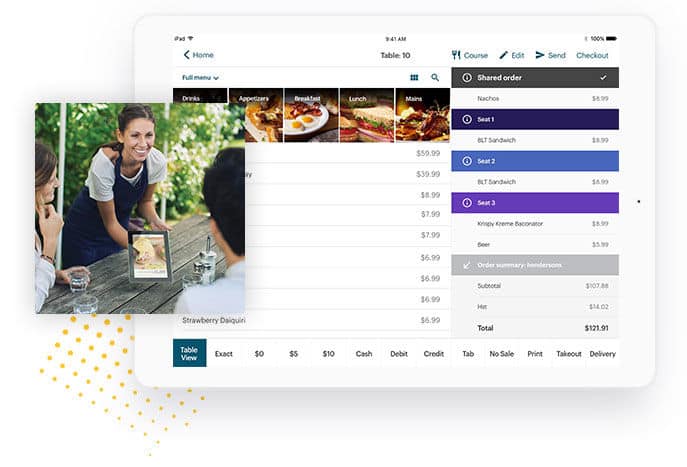 Menu Engineering for Easy Ordering, Prep, and Upsell Opportunities
Merchandise menu items with full-color pictures to help staff sell tableside. The system will immediately prompt servers to suggest better items to guests. 
TouchBistro also enables management to set automatically scheduled menu items and promotions to appear as needed. Employees no longer have to memorize a long list of specials at the beginning of every shift.
Menu items can be remotely managed to reduce costs and increase efficiency. Using an iPad, you can respond to 86'd items, low inventory alerts, and emergencies in seconds—from anywhere on the planet.
Additional TouchBistro System Features Include:
TouchBistro Payments powered by Chase or choose from integrated partners

TouchBistro Loyalty program with targeted SMS and email marketing campaigns

Table management to design a custom floor plan, move parties, and create sections

Inventory management with ingredient-level food costs and automatic in-service alerts
Get A Free Quote
2. Upserve –
The Restaurant iPad POS System for Full-Service Restaurants


Upserve is an industry-leading restaurant iPad POS system used by thousands of businesses to power exceptional hospitality. Specifically designed for the industry, the platform merges an easy-to-use interface with robust POS features that help to streamline and modernize your restaurant operations. 
The Upserve software platform includes:
Live Mobile App for On-the-go Restaurant Management
The Upserve live mobile app helps a business owner stay online, even when you're offline. It puts total control in the back of your pockets and tracks metrics like:
Guest behavior

Sales

Discounts

86'd items

Labor costs
The app organizes important data from the POS and combines it with advanced analytics from Upserve HQ in a single dashboard. Insight into performance is instantly accessible where you can manage multiple locations with a single tap.
Online Ordering with a Custom Website to Showcase Your Brand
Move your business to digital in 48 hours or less with Upserve Online Ordering (OLO). The system builds the menu for you and helps launch a personalized webpage to get started quickly. The fully integrated solution helps to manage food and labor costs with actionable sales and performance data that improves profits. 
The commission-free online ordering platform helps to grow revenue and avoid third-party delivery issues. The OLO feature includes benefits like:
Custom email and SMS notifications to guests

Promo codes for discounts and rewards

Magic Menu Quadrant to identify best sellers
Restaurant Analytics and Insights for More Informed Decision Making
Upserve HQ provides a complete suite of analytics that gives you deeper insight into what's happening in the restaurant. Connect the dots between your restaurant systems. Run custom reports and quickly spot new opportunities to improve inventory, labor, and sales.
Data Capture and Reporting
The Guest Book feature enables a business to create a unique guest profile for every customer who pays with a credit card. The useful guest data allows you to build deeper relationships and segment people into custom lists for more efficient marketing campaigns. The more relevant your messages are, the greater the chances for a sale.
The Daily Digest is a newsletter emailed every morning that lists all activities from the previous day. Raw data is translated into actionable insights along with qualitative feedback from servers. 
A Few More Value-Added Features to Consider:
Offline and Training Mode with different levels of connectivity and employee access

Fully integrated contactless credit card reader with built-in payment system

Personalized report card for each server to help boost earnings and train efficiently

Hassle-free, 100% automated customer loyalty program based on chargebacks, not points
Get A Free Quote
3. Toast –
The Best All-in-One iPad Restaurant POS Platform

Toast gives a restaurant the tools needed to manage changing industry trends and guest expectations. One platform powers your entire business with payroll and team management, email marketing, mobile capabilities, and access to fast and flexible funding.
Toast offers key system features that include:
Toast Delivery Service to Open Up Sales Channels and Drive Revenue
Dispatch local drivers through an on-demand network that keeps the sales coming in. Streamline delivery fees and accept orders online or over the phone. Guests can schedule orders and track the status in real-time on their phones. 
Pay a flat fee per order, not a percentage. Delivery fees will decrease as the volume increases. Adjust the minimum ticket size to manage delivery expenses with flexibility. Pass some or all of the extra costs onto guests. 
Reporting and analytics tools will help to summarize delivery trends and show you areas where your restaurant is most successful. All delivery orders are always placed, paid, and processed in the Toast POS system. It as easy as pie, or— toast.
Toast Payroll and Team Management to Reduce Labor Costs and Motivate Staff
Spend less time on labor management with Toast Payroll. It integrates seamlessly with the POS to track hours and timesheets with data that includes taxes and tips. It's a centralized hub for restaurant HR tasks and helps a business remain compliant with ever-changing labor laws. 
No more manually entering and checking employee stats. Hours and punch data are logged automatically. New staff can complete all the necessary paperwork online while setting up a digital profile for both payroll and the POS system. Built-in tools help to simplify scheduling and manage open enrollment for plans and benefits.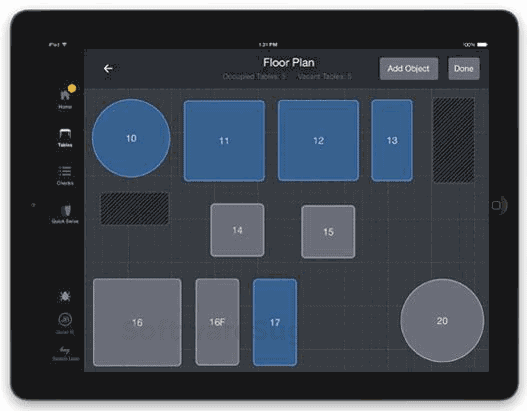 Toast Marketing to Stay Connected with Guests and Drive Sales
Toast offers an easy and effective restaurant marketing solution that helps save time and eliminate errors. Build your marketing list automatically through daily guest interactions and never export a cold list again. Run all marketing campaigns from the same platform you already use for everyday business. 
Toast gives you an all-in-one advantage to automate marketing tasks and ensure guests come back for more. Send "Miss You" emails to lapsed guests and reward regulars with custom promotions. Tailor campaigns to meet guest expectations and deepen the connection with customers who want to hear from you.
Other Features to Consider:
Open integrations with leading partners from accounting to inventory management

Kitchen display system with multi-location menu engineering and offline mode

Accelerate check times and increase revenue with tableside ordering and payments

Analytics and metrics with sales summary, product mix, and location overview reports
Get A Free Quote
4. Square for Restaurants –
The Best Free iPad Restaurant POS System


Square for Restaurants streamlines order, communication, and payments for a business of any size. Whether you have five employees or five locations, the iPad restaurant POS system comes with built-in tools for full-service, delivery, and online ordering. The solution is designed to help business owners build loyal customers and grow at a healthy rate.
If you have a restaurant, then Square for restaurants may be the solution you're looking for. This payment processing system works with credit cards, as well as Apple Pay, Google Wallet, and PayPal. Square for restaurants can be used by any type of food service business. It's free to use and works well on iOS and Android devices. To get started with Square for restaurants, download the app from the app store. If you don't have an iOS device, then download the app from the Google Play store or iTunes.
The Square for restaurants POS system can be customized to meet your restaurant's specific needs. You can view every seat in your establishment, organize large parties, and split checks by amount. Square for restaurants offers table management and meal course coordination to boost efficiency and customer satisfaction. Additionally, you can easily change your menu with a click of a button. You can even integrate Square for restaurants with other software platforms you already use. The Square family also provides full business support and specialized tools for restaurant owners.
Square for restaurants is also easy to use and reasonably priced. Its pricing is straightforward and you can choose from a variety of apps in the Square App Marketplace. There are two main plans for this system: a free version and a premium plan. The Square Loyalty program starts at $25 per month and is perfect for restaurants with a loyalty program. Square Loyalty leads to 37% more sales. Another option is Square Gift Cards, which track gift card redemptions and refunds. With a 2.9%+30 transaction rate, it's a smart choice for any restaurant.
Square for Restaurants offers key POS features like:
Kitchen Display System to Run Back of House Operations More Efficiently
See all orders on a single KDS screen, no matter where they are placed. Improve communication with a direct line between the front and back of house. Always serve food right the first time, with reliable timers and tickets that facilitate orders. The display setup comes in three styles:
Single Station

– Simply connect your KDS to the rest of your restaurant with POS integration.

Multiple Stations

– Streamline kitchen workflow by routing dishes to selected stations. Salads get sent to cold, while pasta gets sent to hot.

Online Orders

– Increase efficiency by sending online orders straight through to the kitchen.
Gain insight into each station's performance and improve bottlenecks with data capture and in-depth reporting. 
The KDS will help a restaurant optimize BOH staffing decisions based on performance metrics like ticket completion times and quality. This makes it easy to compare fulfillment speeds between services and schedule your strongest staff.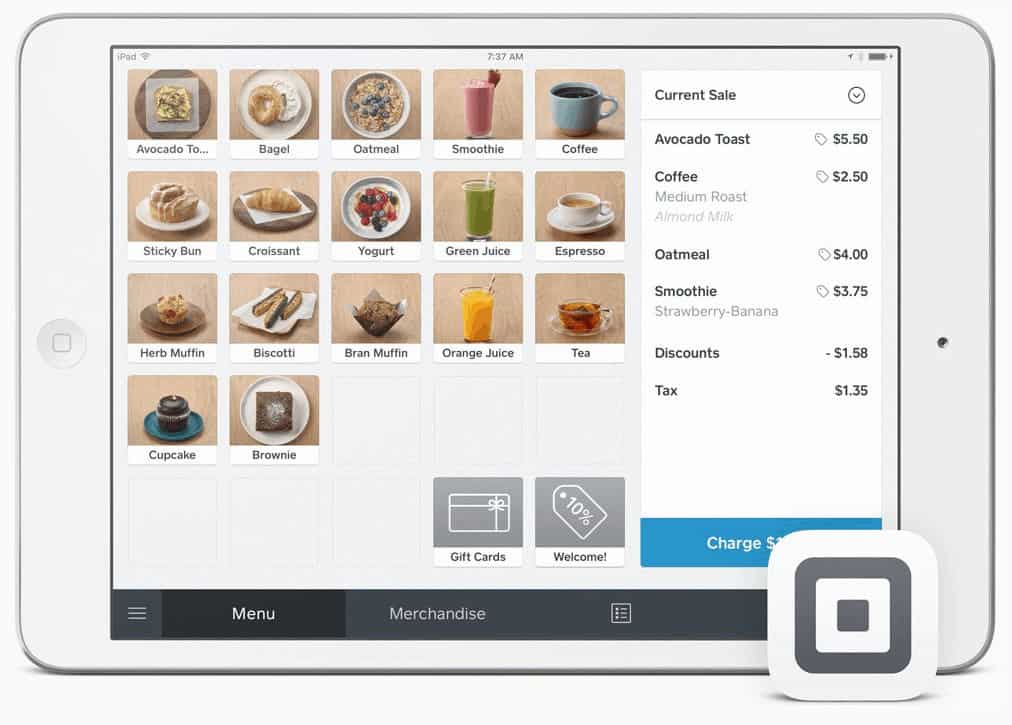 Restaurant Website to Give Customers Ordering Options and Increase Sales 
The more ways you give people to order from your menu, the more sales you'll make. Square Online is the digital arm of the Square for Restaurants POS platform. Set up a branded site in minutes and start taking food orders right away. Quickly import items directly from your POS to save on manual data entry and design.
Square Online gives customers a variety of pickup and delivery options. Offer in-person, curbside, or delivery by your own staff, courier, or third-party services like DoorDash or Postmates. In-house delivery is available at a cost of 50 cents per order
Customers can also order and pay online, then pick it up in-store or curbside. On-demand delivery will cost $1.50 per order with a 2.9% + 30 cents per transaction processing fee. 
Additional online ordering features include:
Customizable page layout designed specifically for ordering

Order staggering to limit the number of orders over a certain time period

Multi-location support from a single website

Let customers schedule orders for a future date and time
Look at These Other System Features:
Hundreds of integrations for delivery, order management, inventory, accounting, etc.

Update the menu with bulk additions for seasonal swaps and events

Advanced discounts that are automatic and repeatable

Table management with click-and-drag layouts to monitor every seat in the house
Get A Free Quote
5. Revel Systems –
The iPad Restaurant POS to Drive Sales


Revel Systems is the pioneer for iPad POS systems with a platform that's easy to use and simplifies operations. The solution is scalable and quick to deploy with regular updates, so you're always using the latest version. From in-house payment processing to durable equipment and tableside ordering, Revel Systems POS was built for the restaurant environment.
Revel is a POS solution that helps retailers manage their inventory, and also provides features such as batch processing and over/under tills. Users can also track inventory per ingredient or item type. It is easy to manage employee permissions and create customizable dashboards. The Revel POS software can also handle retail fuel sales. The benefits of using Revel are endless, and they are well worth the price. But before purchasing the Revel POS system, make sure you know what you're getting into.
Revel offers an in-house payment processing service, but the company also integrates with several third-party processors. For example, Revel offers a 2.49% processing rate that includes $0.15 per transaction. It also offers a remote option for installation and account management. It also offers flexible onboarding pricing, starting at $649 for a year. Revel's payment terminals are compatible with chip cards, as well as mobile wallets.
In addition to tracking inventory, Revel has features for mass marketing and cross-sell campaigns. In addition, the software allows users to customize their table reservations, add customer preferences, and send text messages when their tables are ready. Revel also has tools for tracking employee time and performance. Whether the internet is down, you can still accept card payments and cash transactions. A great part of Revel's software is its ability to export customer information to third-party software.
Revel's infrastructure makes it possible for retailers to manage gas stations and convenience stores in a central location. It also helps to meet data security standards and enables retailers to seamlessly switch between online and offline modes. As a result, Revel offers its customers an enhanced experience at the point of purchase. So what's Revel all about? And why are they so important to retailers? Read on to learn more about Revel Systems. You'll be glad you did!
Look for these top features:
Floor Plan and Tableside Ordering for Front of House Efficiency
Elevate the POS platform with mobile order takers and tableside ordering. Improve the accuracy of tickets sent to the kitchen while increasing the speed. The system will automatically sync table orders with the kitchen display system so there no lag between when the server leaves the tables, and when the order hits the kitchen. Everything happens immediately. 
Automatic modifiers also ensure your servers are upselling for top check averages. If a dish has a delectable add-on like a rack of ribs or skewer of shrimp, the system will instantly prompt the server to ask. Not only does this drive sales, it increases customer satisfaction and improves retention. You can also save the customer preference data for marketing purposes down the road.
Manage Multiple Sections
Revel Systems enables a restaurant to modify the floor plan quickly and easily for any setup or event. Lay out the entire dining room and identify high-volume and slow-turning tables. This allows you to adjust staff training and scheduling to better serve customers. It also helps to increase your profit margin.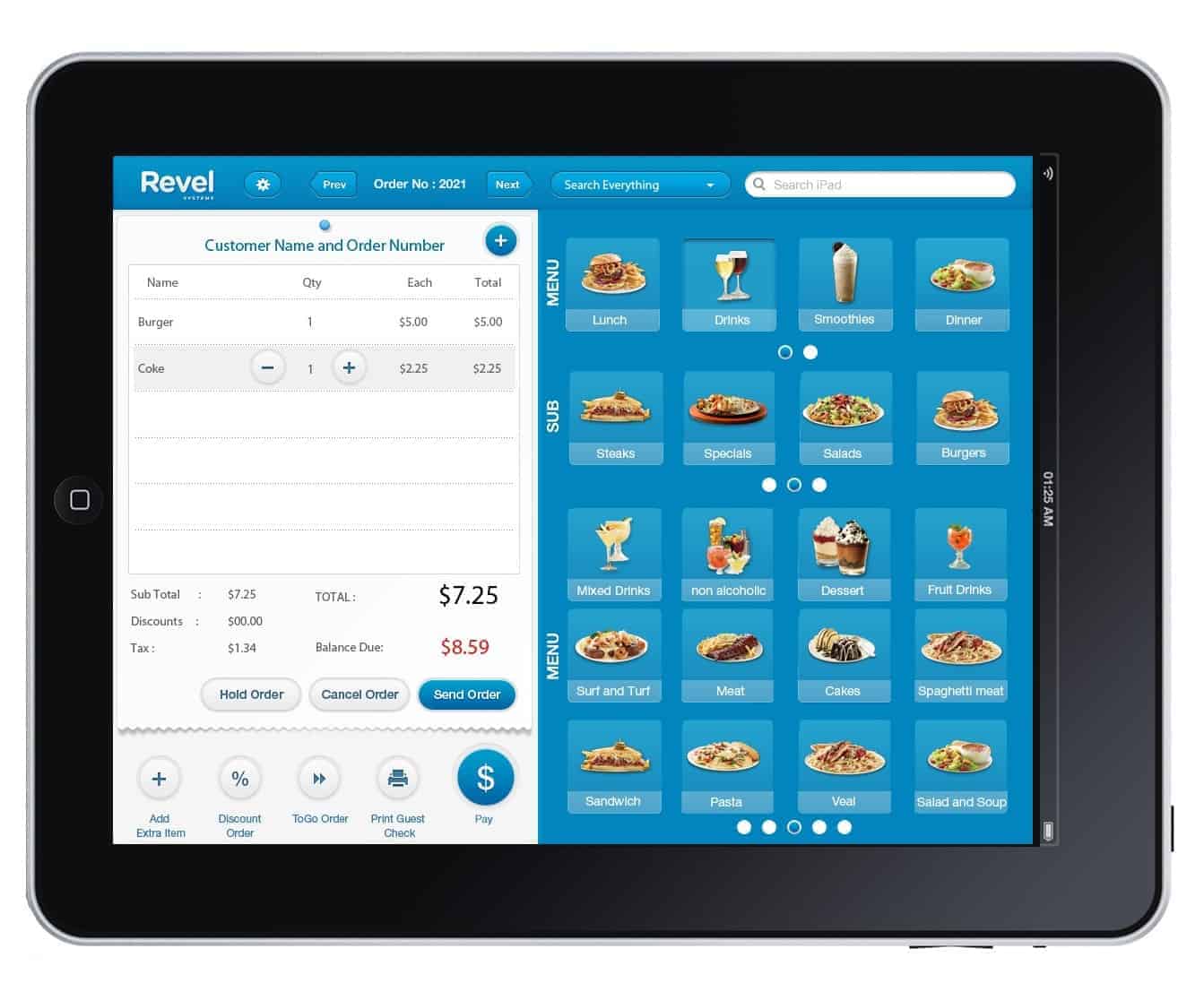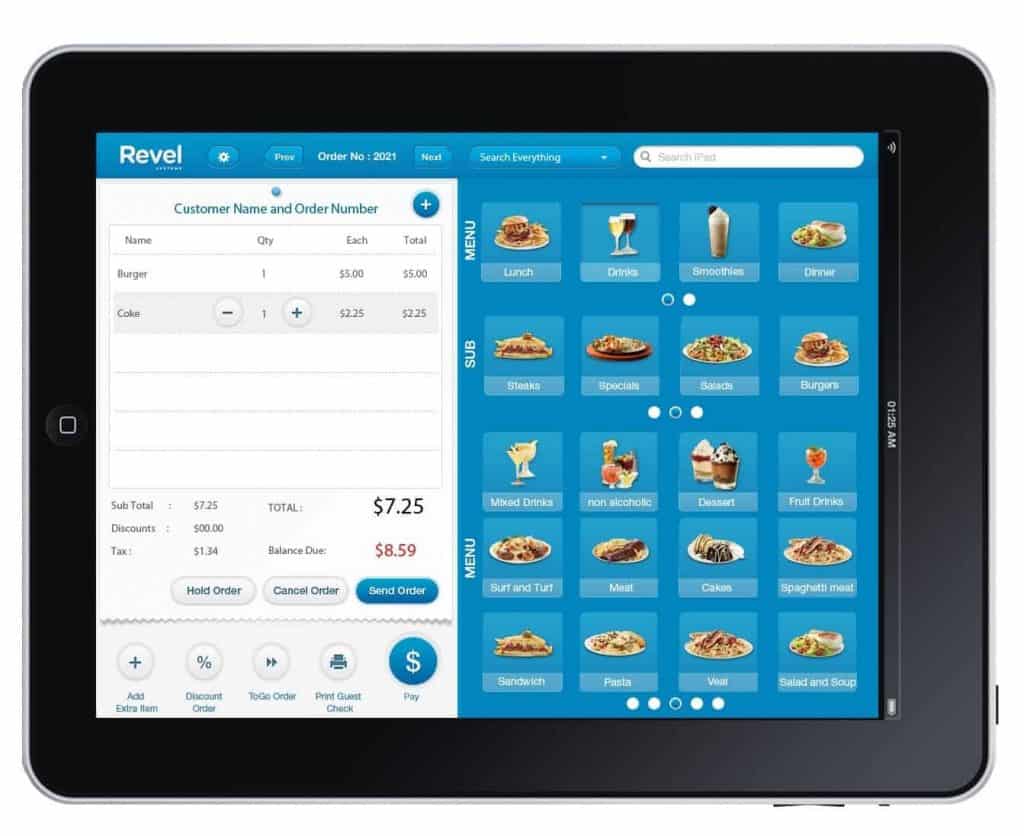 Improve the Customer Experience with Self-Service and Loyalty Programs
Speed up service and improve your bottom line by offering self-service kiosks and online ordering. Customers no longer have to wait to put in an order. 
Online Ordering XT is Revel's native offering to give merchants full control of the consumer experience and maximize profits on every sale. Online ordering opens up your operations to accept more orders and gain loyal customers.
Utilize a customer display system to keep people informed and engaged. It provides increased transparency, empowers customers, and adds a touch of branding.
Customer Relationship Management
Deploy a customer relationship strategy with your CRM. Capture guest data and connect regularly through segmented marketing campaigns. Increase sales with Revel's loyalty programs that make processing gift cards easy. 
Check Out These Other Important Features:
Complete, last-mile logistics solution for driver and delivery  

Menu engineering with an easy-to-use Management Console

PCI-compliant cloud technology with Point-to-Point Encrypted (P2PE) security

Top-line summary reports and granular stats for better decision making
Get A Free Quote
Honorable Mentions
Lavu POS –
The Restaurant iPad POS for SMBs

Lavu is an iPad-based POS and restaurant management platform designed specifically for small to medium business ventures. The system can handle food and drink establishments with 1-3 locations and is used by thousands of restaurants in 89 countries.
Lavu Pricing
The Lavu system starts at $69/month with 0% financing on hardware. If you want to test it out, there is a free trial version or you can schedule a demo with a Lavu professional.
Lavu POS System Features
Real-time Sales and Labor Reporting to Manage Resources
The Lavu Control Panel enables a restaurant to see how business is moving at every moment. Manage resources, create schedules, and update menus all in one spot.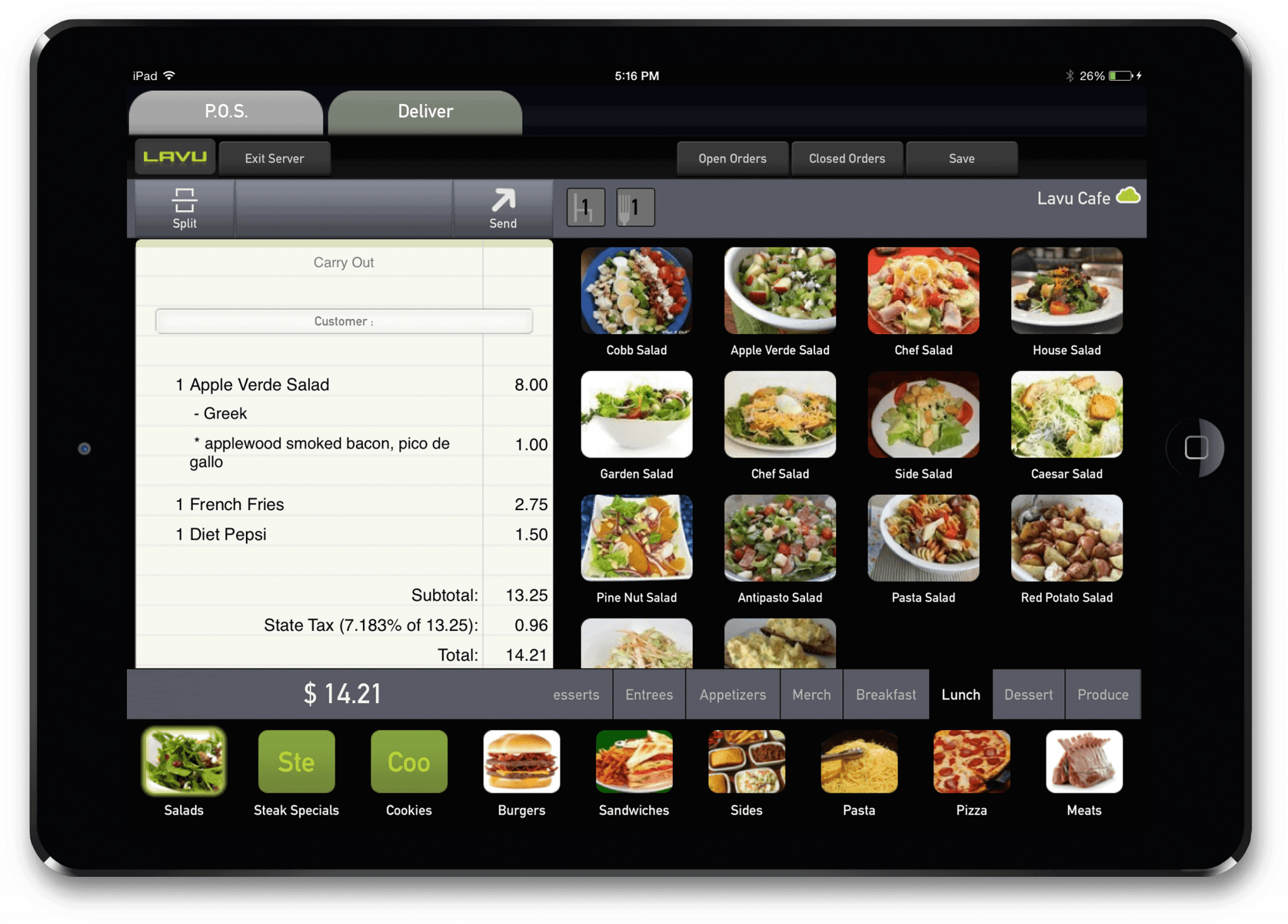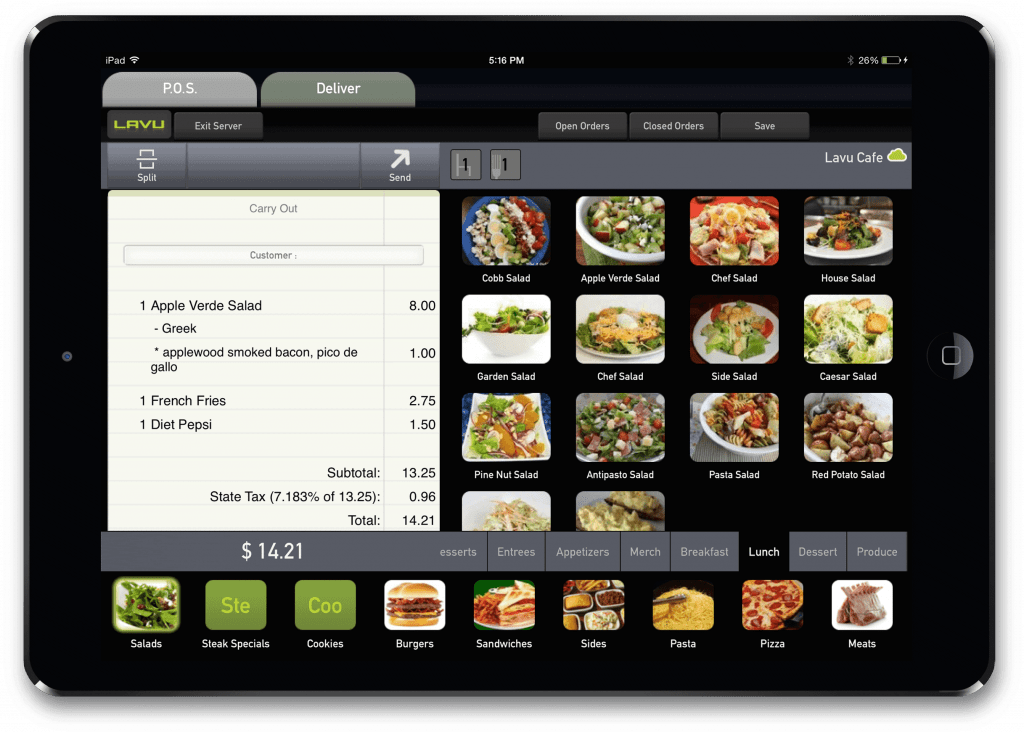 Lavu Inventory with Real-time System Alerts
Lavu's comprehensive inventory system allows a restaurant to take control of what's in stock. Generate immediate reports and update stock levels in real-time, with instant notifications for simplified tracking.
Custom Menu and Layout to Optimize the Floorplan
Arrange tables and add menu items in a flexible system that is designed to help servers sell. Automatic modifiers prompt staff to offer guests something new and helps to effectively move inventory.
Additional features are:
Lavu Pilot mobile app to track payments, menus, labor, and trends while on-the-go

Always releasing new features with free software updates

24/7 US-based customer support via chat, email, and phone

Payment processing with the lowest industry rates

Digital menu boards, kitchen display system, and other restaurant-geared equipment
Rezku POS –
The Best iPad POS for Free Online Ordering

Manage operations from any device with Rezku POS. Improve efficiency with real-world solutions and a comprehensive platform that is easy to use with lightning-fast ordering, inventory management, and online ordering.  
Rezku Pricing
Rezku is available in four pricing plans:
Small – $69/month

Quaint $139/month

Serious $209/month

Infinite $199/month
Rezku POS System Features
Branded Online Ordering and Delivery to Speed up Operations
An online menu that's branded and themed to your restaurant. Customers can order online from any device. Kitchen orders can be sent with approval, timed pickups, or pacing. Online deliveries include customized zones and fees.
Management and Operations Tools for Daily Tasks
Rezku helps to improve all aspects of operations including staff controls with timecards and payroll reporting. The platform also has an automated inventory tracking system, 60+ customizable reports, and a daily email with KPIs and performance metrics.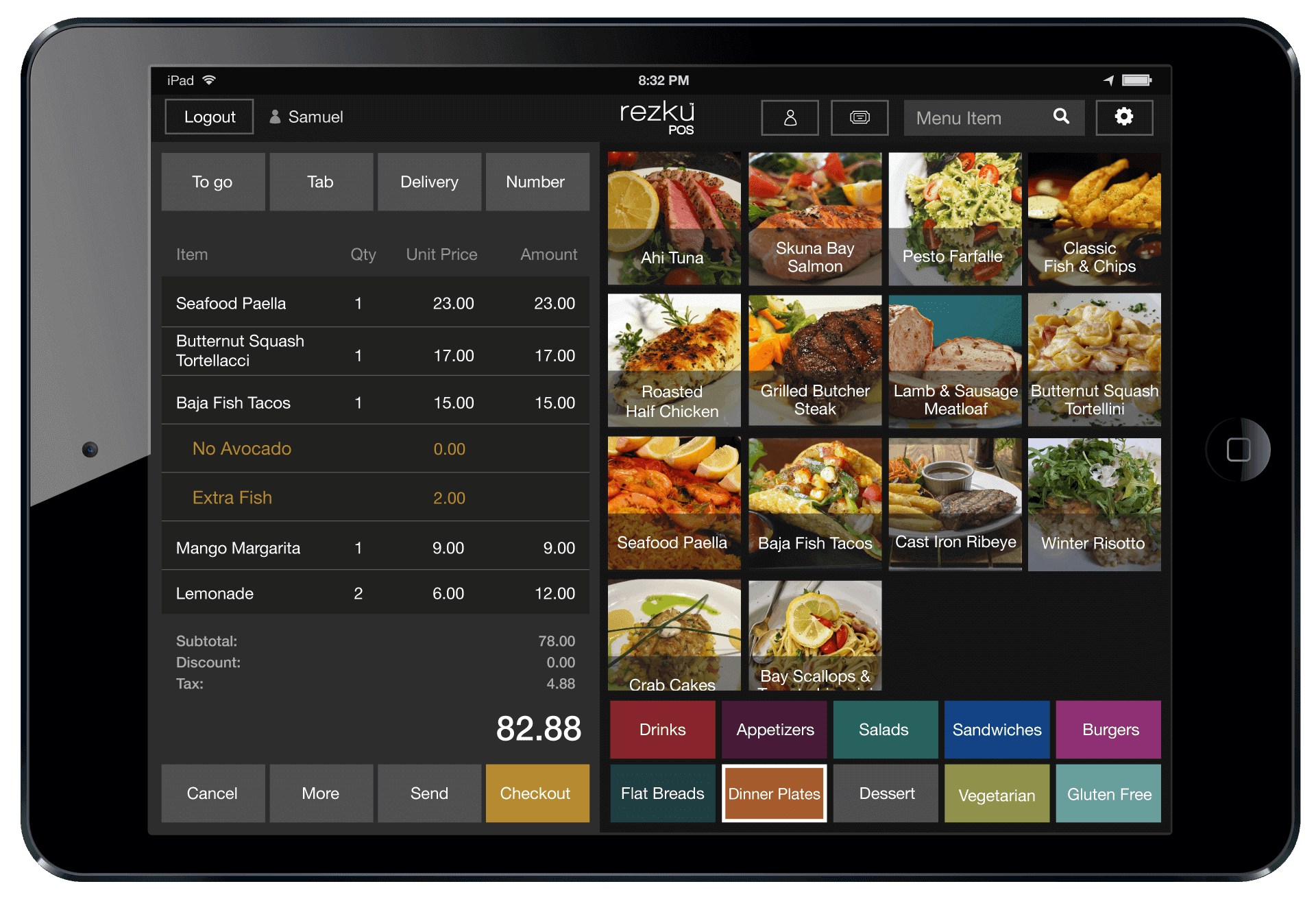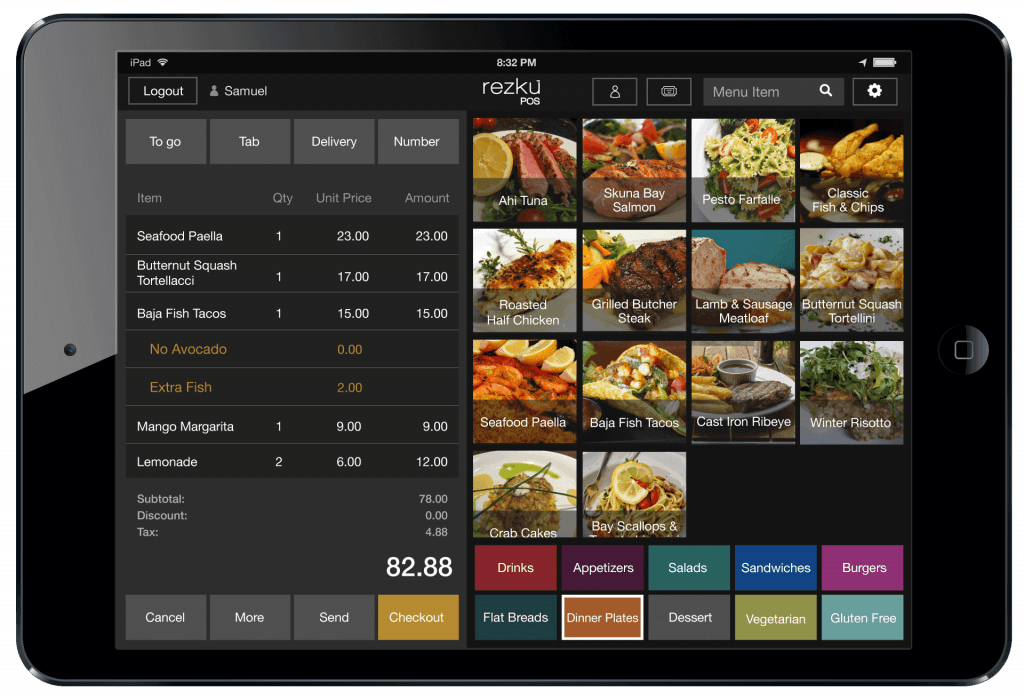 Enterprise Demand with Cross-Data Sharing
Rezku caters to enterprise demand with a higher level of security, functionality, and accountability. Use cross-site data sharing for gift cards and your CRM. The system comes with enterprise-level bookkeeping, robust integrations, and role-based permissions. 
Additional features are:
Food Cost Calculator for more accurate menu pricing and plate profit

Wireless kitchen display and customer-facing display apps

Built-in loyalty points program with customer relationship management (CRM) tools

Conversational ordering with unlimited forced and unforced modifiers

Customized, color-coded menus with detailed descriptions and images
Lightspeed for Restaurants –
The iPad Restaurant POS for Multiple Locations

Lightspeed is an all-in-one cloud-based POS system that is built to scale with your business. Sell anywhere, even online, with a simple setup that delivers great insight. Advanced reporting with multi-location data capture and performance monitoring. Edit menus at any time, from anywhere.
Lightspeed for Restaurants Pricing
The cost for Lightspeed is $69/month if billed monthly with $34/month for extra registers. Add-ons start at $12/month for regular features (reporting, table menu) and $39/month for premium (loyalty, delivery, accounting). 
Lightspeed for Restaurants System Features
Delivery and Pickup to Increase Sales and Maximize Profits
Serve more customers and sync your menu with major food delivery apps like UberEATS and DoorDash. Maximize your delivery zone to reach as many customers as possible and consolidate online orders in a single screen.
Redesign your Floor Plan to Enhance Staff Training and Accommodate Guests 
Move tables and make instant adjustments to your floor plan so staff always know where to go. Accommodate last-minute reservations and special requests. Use custom images for seats, tables, and décor to accurately represent the front of house.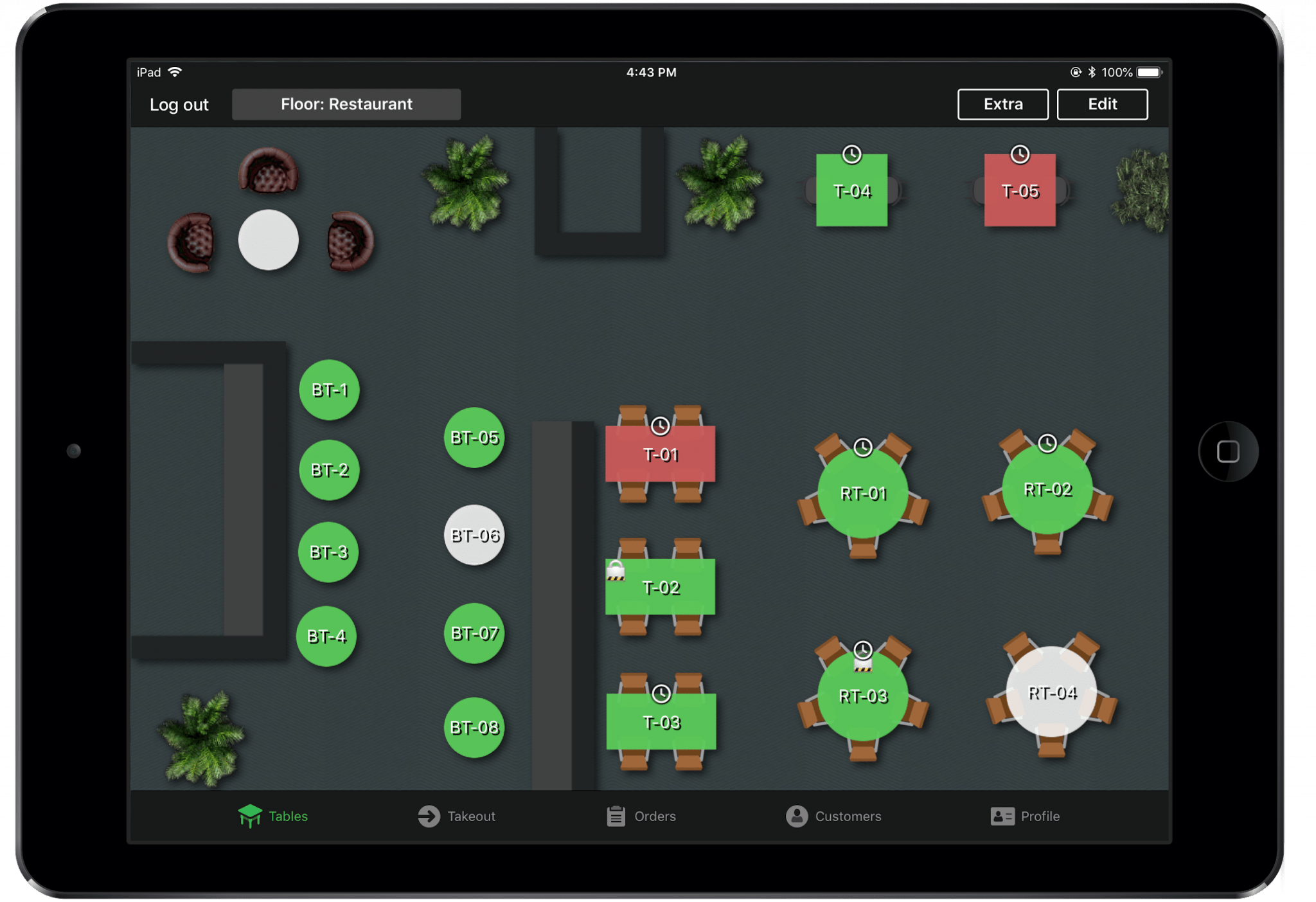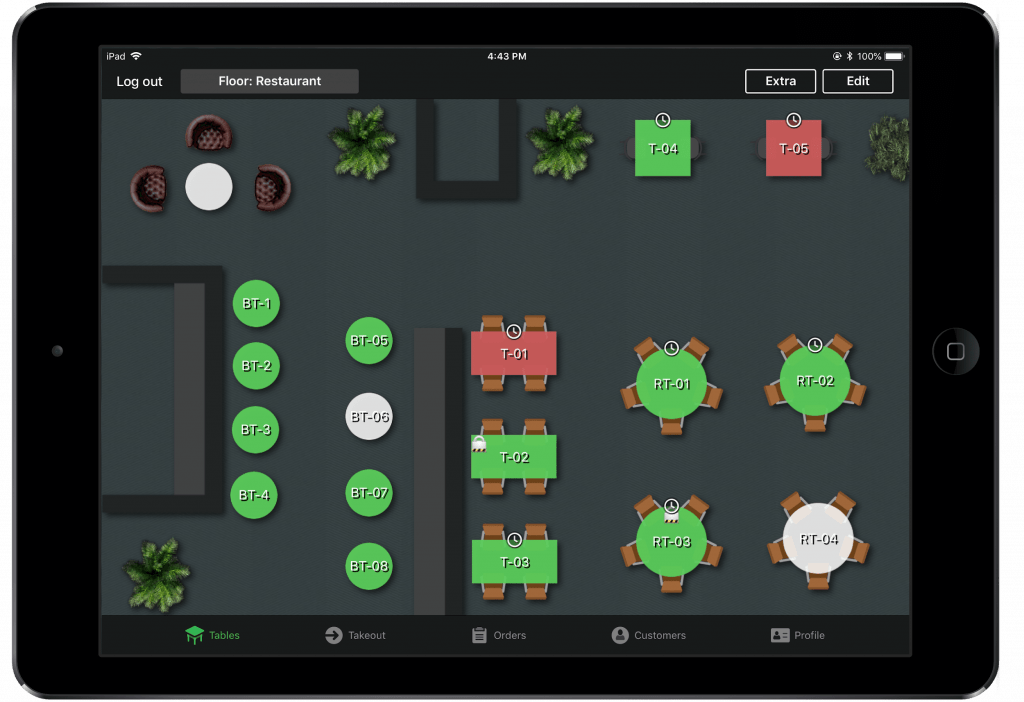 Built-in Reporting and Analytics for Data-Driven Decisions
Get unrestricted access to reports via your iPad. Assess revenue by the hour, day, or week and keep an eye on top-selling products. Run labor and shift reports to track employee performance and dig even deeper with the optional add-on for advanced reporting. 
Additional features are:
Fast transactions with a tap, dip, or swipe (including gift cards)

Open tabs and place orders under customer accounts

Generate multi-location reports to monitor your overall performance

Self-order kiosks that empower customers and increase sales

Unlimited, 24/7 support with free one-on-one onboarding sessions
Diving into iPad Restaurant POS Costs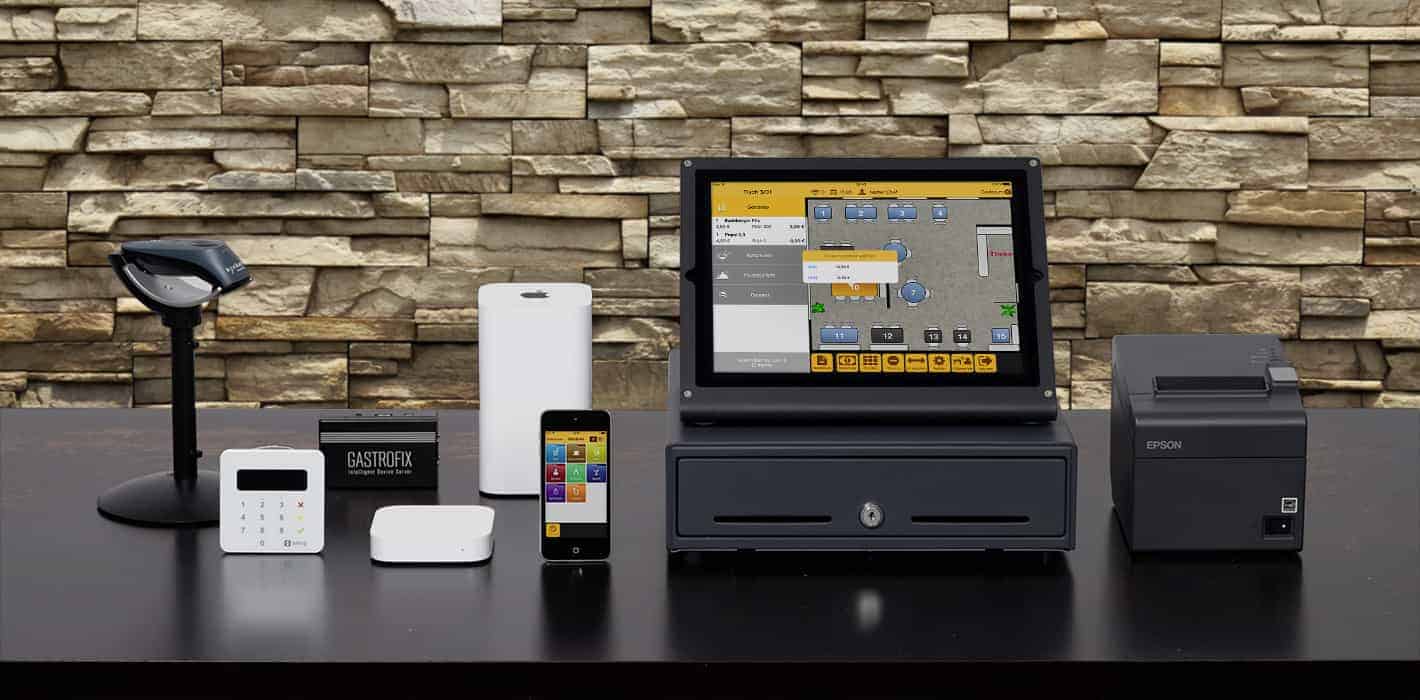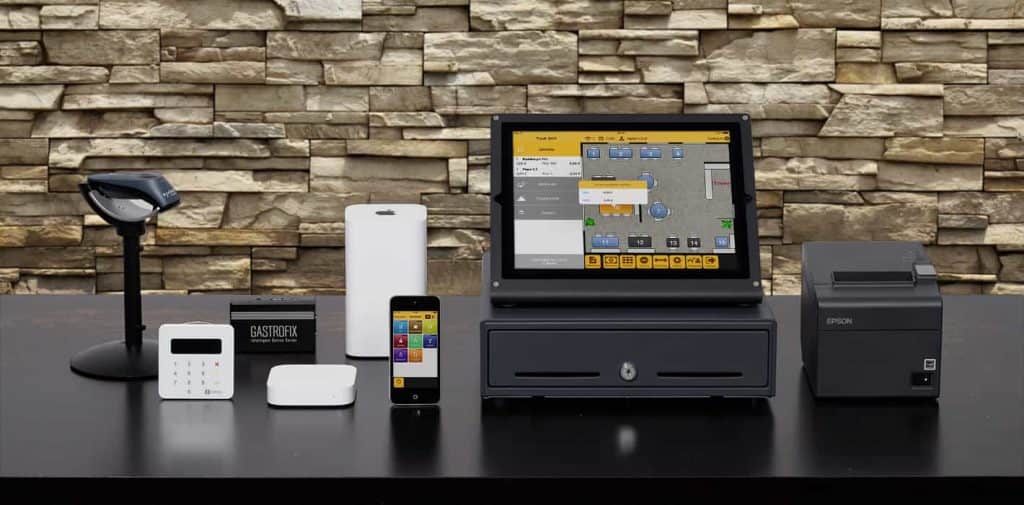 Any type of POS technology you install is going to have components that make up the total cost. Before you purchase a system, you'll want to call the company to get a more detailed quote that's specific to your restaurant.
When it comes to purchasing a point of sale system, the cost can be broken into four separate parts:
Software

Hardware

Payment Processing

Add-ons and integrations
The Cost of iPad Restaurant POS Software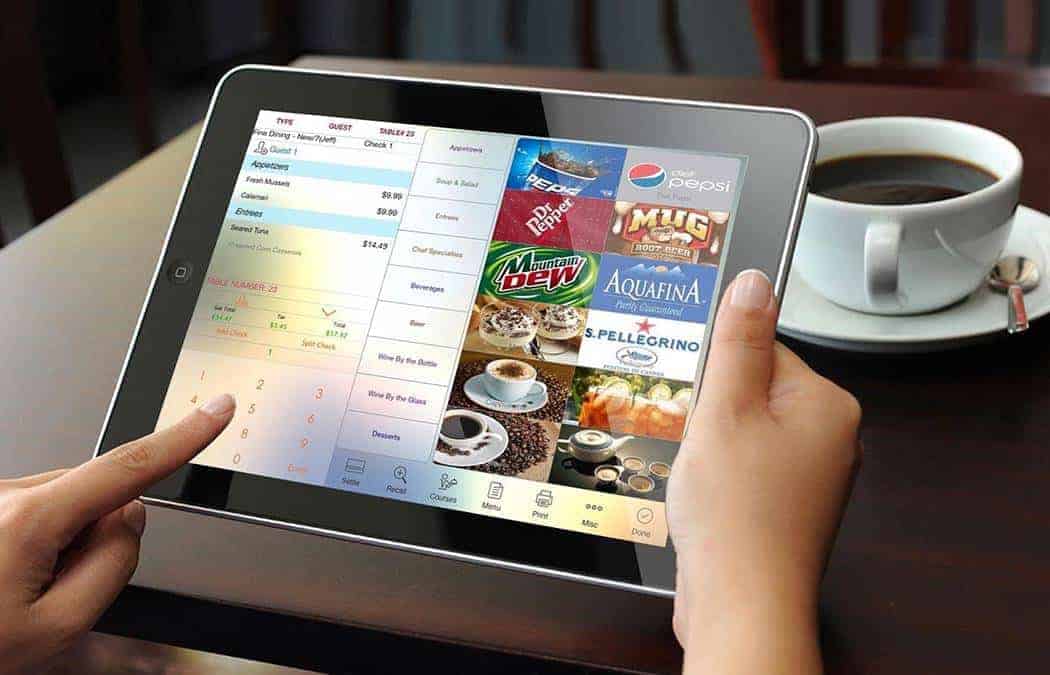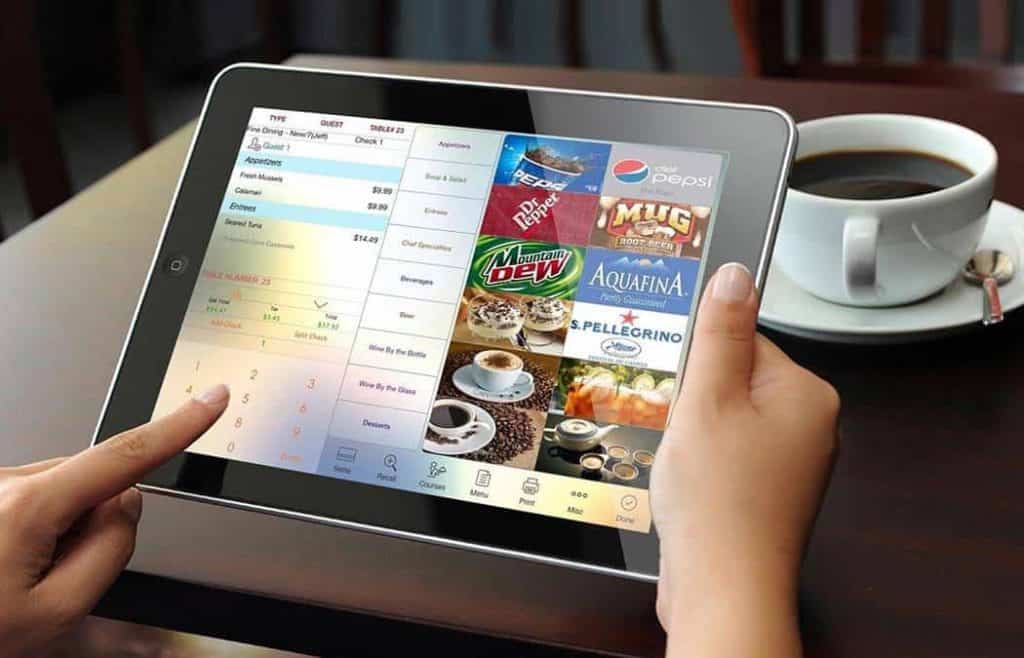 The majority of POS brands will not let you buy their license outright. You essentially "rent" the usage through a monthly subscription. The prices listed on the site are typically based on an annual pre-payment—although some brands will offer a no-strings-attached, monthly contract. This is always at a much higher rate.
iPad restaurant POS software costs an average of $50-$80 a month before add-ons and payment processing. This is for the first level of pricing that only comes with one register and limited features. The more you pay, the more access you have to in-depth features and types of hardware.
It should also be noted that the more affordable terms often require you to sign a two or three-year contract. These contracts favor the service provider with early termination fees and shady rate practices. You are essentially stuck with the brand.
In addition to subscription costs, there may be a fee for installation and onboarding. The larger your setup, the higher that will cost. It never hurts to call and ask, as installation fees can be astronomical (think $500+).
The Cost of iPad Restaurant POS Hardware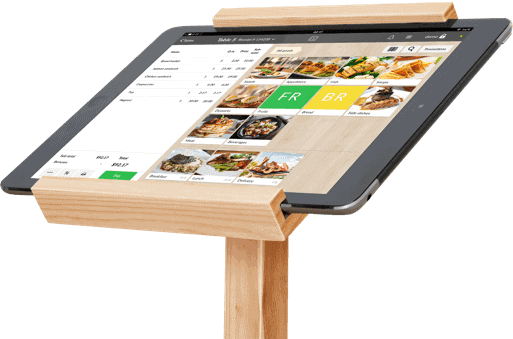 Many iPad restaurant POS providers have proprietary hardware that you must use with the system. Others will list out the partners and equipment the system can run on. For a restaurant owner, it's more cost-effective to find a brand that lets you use hardware you already have installed.
The cost of hardware varies greatly. If you are buying a POS bundle, expect to pay over a thousand dollars. If you're purchasing a credit card reader, they can run for as little as $15.
You should also expect to pay an additional monthly fee for extra terminals and/or handheld devices. The second register usually costs less than the first one and is added to the monthly subscription fee. If the POS software you choose charges per terminal, it can get pretty pricey when your business expands. 
How Much Can I Expect to Pay for iPad Restaurant POS Payment Processing?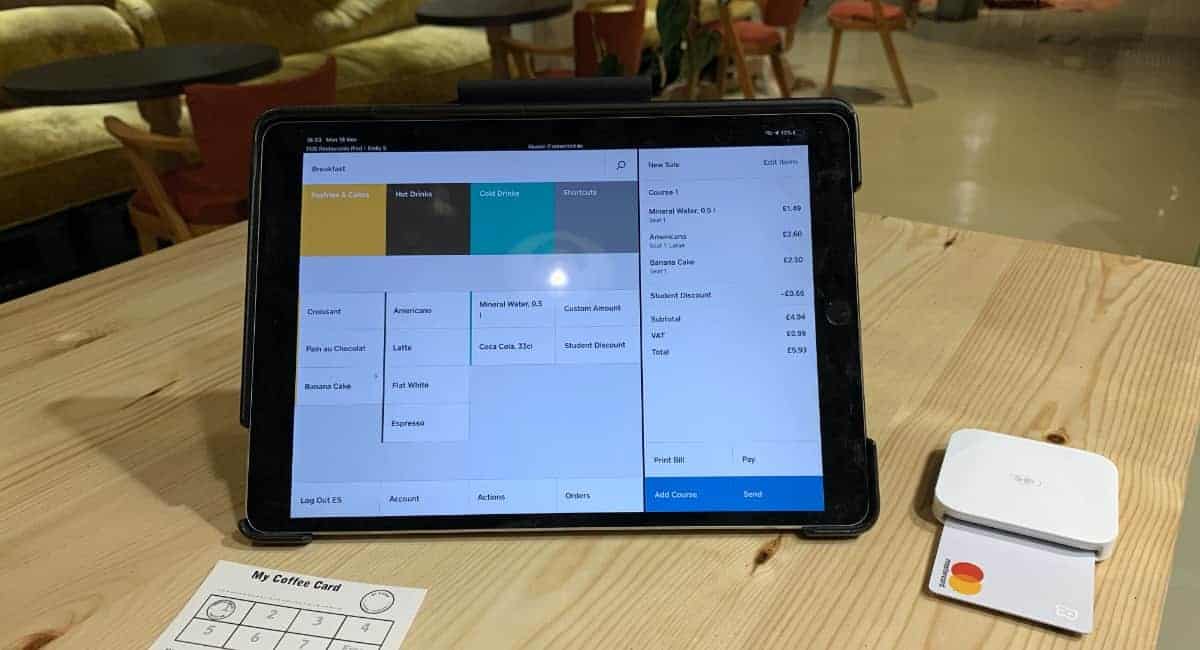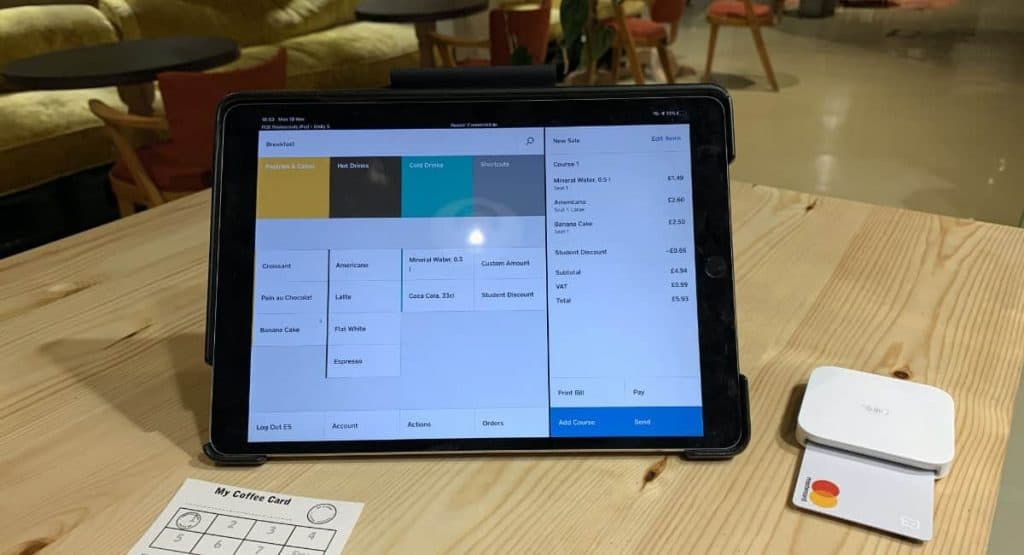 Over the long term, payment processing can be the most expensive part of a POS system. That's why some companies offer you software for free in exchange for a payment processing contract.
More and more providers are forcing restaurants to use their in-house processing rates. Although this is convenient when it comes to integration, it locks you into a fixed price that is usually higher than the market rate.
That's why it's wise to find a system that lets you use your own credit card processor. The best iPad POS system will integrate with the top payment processing brands, even if they offer it in-house.
Payment processing rates for iPad restaurant POS systems average from 2.5-2.7% + 5-15 cents per transaction.
The Cost of iPad Restaurant POS Add-ons vs. Integrations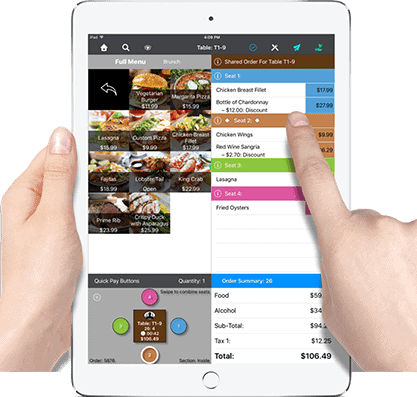 Just because the brand advertises features, it doesn't mean that they come for free. A lot of iPad POS companies will offer loyalty, marketing, gift card, and reporting programs at an extra cost. If you don't pay an additional fee, you pay for it at a higher-priced package deal.
The majority of add-on services are charged at an extra monthly cost which is added to your subscription. This can range anywhere from $10-$50 and can make up a substantial; percentage of what you're already paying to use the system.
Third-party integrations are a separate deal, but they're still going to cost you. If a POS lacks the feature you need to run the restaurant, you'll have to seek out another tool to fill the void. In this case, whatever that company charges for the service, must be added to your total POS system cost.
Choosing the iPad Restaurant POS That Fits
As you consider which system suits your business best, it's helpful to break down an iPad POS system for restaurants into the main components. Every solution on this list has these features at a minimum:
Menu Engineering with Real-time Updates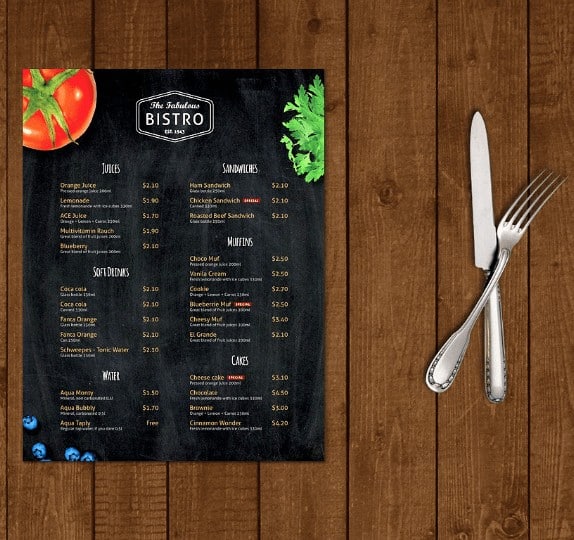 You need an iPad POS system that allows you to quickly update and edit your menu no matter where you are or what time of day. The changes will reflect instantly across the entire POS and on your website as well. Automated modifiers that prompt server upselling is also a useful tool.
Automated Inventory with Smart Replenishment
The POS you choose should have an inventory system in place that's consistently monitoring stock levels. If something runs low, it sends an instant alert. You can then reorder whatever is needed with the click of a button or allow the platform to do it for you. 
If a dish is 86'd throughout the night, everyone knows right away, without any miscommunication or disappointed customers. 
Staff Controls with Scheduling and Payroll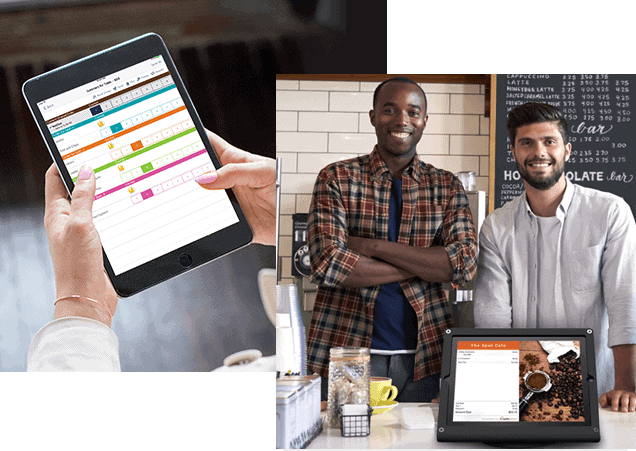 Any practical POS will give a business the means to manage staff. The restaurant industry can be particularly challenging as teams are large and shifts are short. The POS should double as a time clock, messaging center, and payroll portal for all employees.
The best iPad restaurant POS system will allow you to run performance reports on staff and schedule accordingly. That way you always have your best people running the toughest shifts. 
Detailed Reporting for Data-Driven Decisions
There's no way to gauge business success without collecting the metrics. You need a point of sale platform that can run detailed reports on everything from profit and sales to labor and food costs, employee data, and customer behavior. Any type of data you collect should be transformed into readable trending you can use for better decision making. 
Online Ordering and Delivery to Facilitate Orders and Drive Sales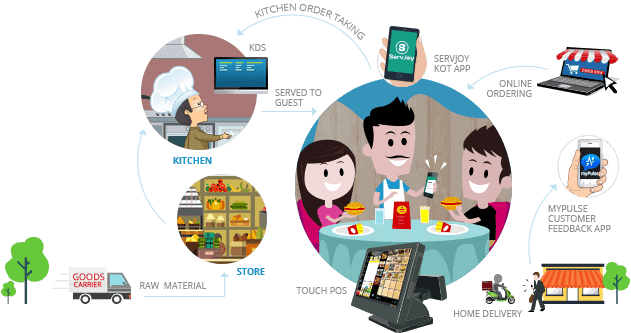 You need an iPad POS system that gives you a place to advertise and receive online orders. It should offer in-house delivery services or connect with a third-party app like UberEATS or DoorDash. All online orders must feed directly to the kitchen where they can be staggered or halted depending on workflow.
Offline Capabilities to Keep the Lines Moving
A good restaurant POS system will allow you to keep running transactions, even while offline. If you lose wi-fi connectivity, you're never dead in the water. Payments will always run through and the data automatically syncs up when you're back online.
Mobile Management with Real-time Notifications
If you're looking for a POS for the iPad, then chances are, you also want mobile capabilities. The best solutions give you a free app to download that enables mobile management from anywhere on the planet. You don't have to have full awareness of operations.
Which iPad Restaurant POS System Should You Pick?
No matter what happens in the world, the restaurant industry will always survive. Business has geared toward online and delivery services, so you should make sure the POS you choose has robust solutions for both.
Consider key factors like the size of your operation, volume of staff, amount of inventory, and type of floor plan. Do you need an iPad restaurant POS that runs in-depth reporting and analytics or offers customers self-service opportunities? 
Ultimately, you want a system that thoroughly addresses the main challenges a restaurant faces. Effective inventory management means less spoilage and waste. Comprehensive staff controls keep employees engaged, trained, and properly paid. Menu engineering with smart automation means upselling opportunities are never lost and human error is greatly reduced.
Before you purchase, it's also smart to take the systems for a test drive. Download trial versions, take advantage of free demos, and visit a webinar or two. Schedule a call with a company rep to get specific questions answered and put in your due diligence.
If you find a system that addresses all of your pain points, make sure the pricing model fits your budget. Taking the time to buy the perfect solution now, will align operations for future growth, elevate profit margins, and spark customer engagement that drives sales.