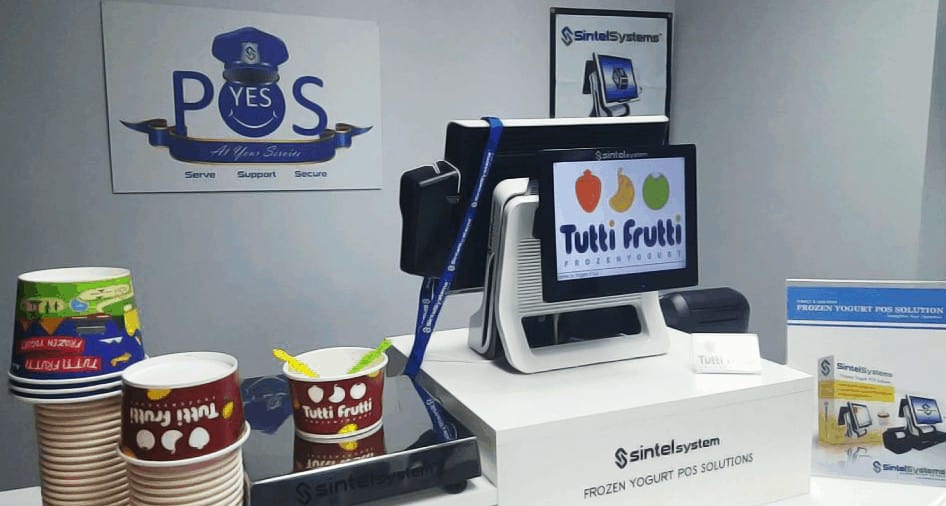 The best frozen yogurt shop point of sale system (POS) will allow for faster and accurate order taking, and payment processing.
The ideal POS solution should also help you understand and improve your margins. For enhanced customer service, you need a system that makes management more effective and allows the lines to move faster.
The right POS option should also allow you to keep customers' information secure and organized, manage the staff, and give you a detailed overview of the business. While shopping for the best solution, you should consider such aspects as scale integration, sales reporting, and inventory management.
Reviewed below are the top four POS solutions for a busy frozen yogurt shop.
Best Frozen Yogurt POS Systems
| System | Starting Software Costs | Hardware Costs | Key Features |
| --- | --- | --- | --- |
| Our pick! | Starts at $59/month | Additional terminals are $34/month | Great back-end reporting and forecasting, a la carte pricing options available |
| | $99/month per terminal | Onboarding and installation start at $649 | The first ever POS system for iPad |
| | $69/month for the software license | All hardware add-ons are quote-based | Customer accounts that track previous orders and promote best sellers |
| | Software + hardware bundles start at $99/month | Software + hardware bundles start at $99/month | Easy menu modifier tools, custom-branded web page that allows for online ordering |

Lightspeed is one of the most preferred POS systems among frozen yogurt shop owners and operators.
This may be attributed to its intuitive design, feature-rich back office platform, outstanding customer support, and reasonable pricing. The system has all the features and tools you need to ring up sales on weighed items fast and accurately.
This solution will ensure that your staffing needs are in line with demand. It will also ensure that all your management needs are well taken care of.
The preferred system for yogurt businesses, Lightspeed is a feature rich POS that allows users to manage inventory and marketing online. It also includes tools to make running a business easier with authentication services, payments protection, and customer support. Lightspeed also has a wide range of integrations, SEO tools, and multi-language support.
Its checkout screen is easy to use and makes it difficult for customers or staff to misread orders. It also provides the option to create a loyalty program with customizable discounts and a database to store customer sales history for future analysis. In addition, it lets you track employee time and performance, and offers a basic time clock for employees to punch in and out.
In the event of any issues, Lightspeed has a dedicated customer service team that's available to help 24/7. They can be contacted via phone or email and have an extensive searchable online help center. Their website is updated regularly with the latest news and features.
The company offers a number of different plans depending on the type of business and needs of the customer. The Lean plan costs $69 per month if billed annually or $79 per month if billed monthly, and includes one register, Lightspeed Retail POS software, integrated payments, and one-on-one onboarding and training. Higher-tier plans include e-commerce support, accounting integration, and omnichannel loyalty management, among others.
Other capabilities you will come to like about this system include:
Management Tools
Just like any other business, you need to manage your yogurt shop properly for enhanced productivity. The Lightspeed system for frozen yogurt shops is equipped with tools to make remote, and on-site management of your business easier. To begin with, the system will help you track employee hours.
The system will also generate detailed reports on various aspects of the business. The analysis of such reports will give you a better understanding of your profit margins, and how you can better them. Whether you are on site or away from the business, Lightspeed will ensure that you always get real-time sales reporting.
Affordable Payment Processor
This is actually one of the things that most of its current users love about Lightspeed. Basically, the provider offers negotiable rates, based on transaction volume. Regardless of your sales volume, the provider also guarantees that you will get the best rates in the industry.
The integrated payment solution on this system makes it easier, safe and secure for your customers to pay. With this system, you will be able to accept all forms of payment, including gift cards, cash, contactless payment options, credit, and debit cards.
Though affordable, the integrated payment processor by this provider has a horde of beneficial capabilities. For instance, it allows you to apply custom discounts, and make tax exempts while ringing up sales. With this processor, you will also be able to attach customers to orders, and even split tenders.
Lightspeed POS System Downsides
The system lacks table mapping capabilities and the inventory manager is rather limited.
Get A Free Quote
2. The Best iPad POS System: Revel Systems


According to the thousands of business owners and operators currently using the system, Revel is a versatile, and highly-customizable POS solution.
The system is packed with a myriad of features you will find beneficial to businesses within the hospitality industry. For instance, the solution will make weight-based checkouts Swift, and accurate.
In addition to this, Revel has a lot more capabilities to offer your business, including:
Always On Mode
Another thing you will love about this system is that it keeps going even when the internet is down. This way, the system will continue processing payments uninterrupted whenever the internet is down. As such, you will never have to miss a transaction.
Whether online or offline, the system will give you enhanced control over the cash flow, allow you to set employee permissions, and track activities in your business throughout the day.
Customer-Facing Display
In addition to the benefits the system has for your staff, Revel has a lot to offer your customers as well. The customer display system (CDS) offered by the provider allows for enhanced transparency between your customers and the business.
In this regard, the display allows the customers to see whatever you are compiling during the checkout process. Again, it allows the customers to tip and sign directly through the display. This has been proven to quicken the checkout process in frozen yogurt shops.
Revel Systems POS System Downsides
Although Revel does not require you to sign long-term contracts, the provider requires you to issue a 30-day cancellation notice.
Get A Free Quote
3. The Best Frozen Yogurt Kiosk POS System: TouchBistro

Ranging from the floor, and table management to Kiosk, customer management, TouchBistro has an array of industry-specific capabilities. The iPad-based system is specifically designed to boost sales and offer frozen yogurt shop customers the best service.
Additionally, implementing Touch bistro in your business will offer you business intelligence, and the vital data you need to make informed decisions. All these are aimed at improving efficiency, productivity, and customer service in the business.
TouchBistro is a great option for restaurants, bars, and food trucks that are looking for kiosk POS. Its software is easy to use and features a separate training mode that allows staff members to learn without interrupting normal operations. Its extensive security controls and access rights will keep important data secure. In addition to its POS system, TouchBistro also offers additional solutions such as gift cards and loyalty programs that will help boost sales.
While TouchBistro doesn't have a free trial or any kind of free plan, its pricing is reasonable and includes all software and hardware costs. The only add-on charges are the rates and fees for taking credit card payments, which are determined by the payment processor that you select. The company does offer flexible payment plans and a range of add-ons, including a kitchen display system and customer-facing displays.
The team behind TouchBistro is composed of former restaurant managers, so they are familiar with the challenges of running a business in the hospitality industry. This is reflected in the way they have structured their support and training services, which are available around the clock via email or telephone. TouchBistro's online help portal also contains lots of setup guides, user manuals and videos for staff, managers, and admin users. Overall, the company has a good reputation for customer support and service, which ranks it among top-tier POS providers in this category. Its support and customer care scores have been steadily improving over the years, and this is reflected in its Capterra rating of 4.2/5 stars.
In addition to these, here are other features that make TouchBistro stand out:
Menu Management
Not only does the menu management feature on this system allow you to craft the best menu possible, but it will also increase sales, cut costs, and boost customer experience. To begin with, the system has all the tools you need to craft and manage multiple menus as well as menu categories.
While at it, the system will allow you to include descriptions, ingredients, and preparation instructions. The solution is also capable of assigning menu items to different ticket printers. Again, your employees will have an easy time searching through orders by name, table, date or any other search criteria supported by TouchBistro POS.
Reporting and Analytics
Accurate business data is known to offer insights, allowing business owners to make informed decisions.  With the reporting and analytics feature on this system, you will be able to do much more than just view and manage reports. The solution will allow you to connect, personalize, and export valuable data.
The system will furnish you with more than 50 types of reports on your business in real time. In addition to that, the system will automatically generate a comprehensive end of day summary reports. Such reports may be emailed to the key members in the business.
TouchBistro is also capable of exporting reports to print, CSV and email. Through the Shogo™ partnership, the provider to upload this data to Xero or QuickBooks as well.
TouchBistro POS System Downsides
The customer support offered by the provider is somewhat unreliable. Again, the provider requires you to incur additional costs to get loyalty capabilities on your POS system.
Get A Free Quote
4. The Best All-in-One Frozen Yogurt POS System: Sintel Systems


Get your frozen yogurt shop a POS system that allows customers to select their preferred flavors and toppings with ease. In addition to this capability, the frozen yogurt POS by Sintel systems will make payment processing, and business management a breeze.
The feature-rich, yet affordable suite offered by this solution is specifically designed to help you keep up with the increasing competition. In this regard, here are some of the Sintel systems POS features you will need in your shop:
Register Tools
This system presents you with the tools you need to ring up frozen yogurt sales easily and swiftly. In this regard, the system features some of the most powerful menu items in the industry. To begin with, the system is equipped with easy to set up menu modifiers. Additionally, it also features a menu import wizard to make the set up even easier.
Sintel systems POS software allows you to integrate scales to the POS, making your sales easier and more accurate. With regards to faster checkouts, the solution features barcode scanner functionality for weighed items. Again, the solution also has a tare capability for multiple cups.
From this intuitive register, you will be able to offer customizable specials, and discounts to your customers. While ringing up sales, you will be able to serve menu items by category, SKU/UPC or by description.
Online Ordering
Allowing your customers to order online is not only convenient for them but will also increase revenue to your business. As such, Sintel systems gives you the opportunity to accept online orders in your shop. The provider offers you a custom-branded Web Page for your business, with a fully customizable menu.
The online ordering platform offered by this provider makes it possible for you to add photos to the menu items online. Again, you will also be able to alter item prices on the online menu in real time.
Sintel Systems POS System Downsides
The POS software by this provider only runs on proprietary hardware.
Get A Free Quote
Things You Need to Know Before Choose a Frozen Yoghurt POS System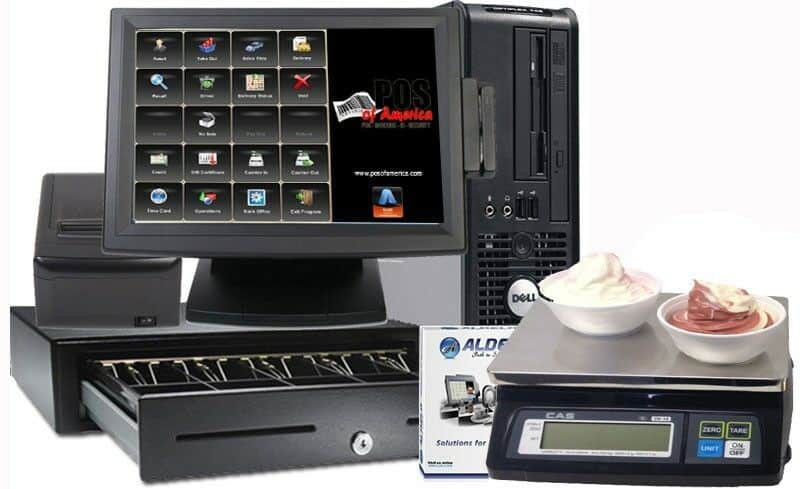 Your frozen yogurt shop must be able to accept orders for the various flavors you carry. Similarly, you also need to be able to process hundreds of transactions swiftly. While at it, you will also need to keep a keen eye on inventory levels and manage the employees effectively.
As you can see, all this is cumbersome to do on a day to day basis. In order to make it easier, swift, and more convenient, you need to get the right POS system for your business.
It is only a yogurt-specific point of sale system that will have all the capabilities you need to run the shop more efficiently. As such, there are several things you need to consider while shopping for the perfect POS solution.
Streamlined Ordering and Checkout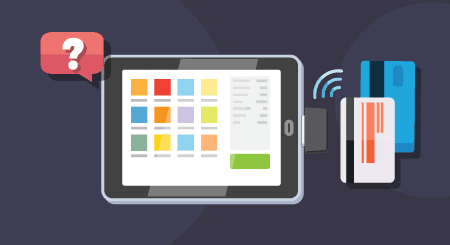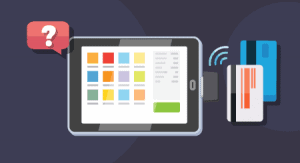 As you are aware, ordering and payment processing are some of the most important aspects of your business. This being the case, your preferred system needs to make such aspects easy, accurate and convenient for the business.
The POS solution you choose for your business needs to be able to accept orders for an array of toppings and flavors. Additionally, the system should have a short learning curve. This makes it easier for the employees to learn how to use the POS with ease.
Even if you offer self-ordering or kiosk capabilities in your business, you need to ensure that the ordering process is intuitive and precise. Again, ringing up sales at the register should easy and swift. The last thing you want in your business is long lines.
Customized Menu
Consider a system with price-per-unit capabilities. The system should also allow you to modify various orders to account for different add-ons and sizes. In addition to having yogurt-specific register tools, the system should be capable of processing payments while offline to prevent downtimes.
Scale Integration
Since you sell most of your merchandise by weight, you will need a system that implements accurate weights and pricing in the business.
As such, a frozen yogurt shop POS system that supports integration with scales will come in handy.  Having to weight the items and then input the values to the POS system manually is time-consuming and is likely to result in errors.
To overcome such challenges, it is advisable to implement a solution that allows for integration with POS scales. Integrating scales into your system will make things easier. With such components, the server only needs to place an item on the scale to weigh and automatically generate a label for the product.
In this case, the system will generate labels with such details as product price, weight, and a barcode in a faster and accurate manner.
Sales and Inventory Management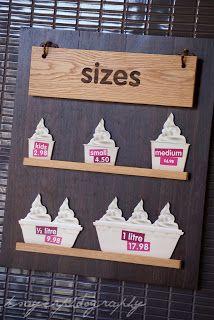 The best-frozen yogurt shop POS system should help you keep track of your business. For instance, you need to ensure that the inventory levels are regularly checked. When stocking the shop, you also need to understand which products are selling better than others.
With outstanding inventory management and sale, reporting will make it possible for you to keep track of toppings in the shop.
Many benefits more important than the frozen yogurt POS system's ability to track sales and inventory in real time. Again, this information will ensure that you restock the right amounts of each product. For example, you should restock more of the best-selling items and less of the slow-moving items.
Final Verdict
The popularity of frozen yogurt shops is currently on the rise. As such, a considerable number of businesses in this niche are having a hard time serving the increasing number of customers. Implementing the right solution will help you manage important day-to-day tasks and speed up the checkout process.
However, you just have to get a system that is specifically designed for frozen yogurt shops. In this regard, the four systems reviewed above are some of the best.
As you have learned, these solutions have an array of industry-specific features for streamlined operations and efficient management. With this guide, choosing the best-frozen yogurt PIS system will be a walk in the park.