(Last Updated On: June 27, 2022)

Whether you're a growing dispensary or manage an established cannabis business, Cova POS is the only retail point of sale system with advanced, next-level features like automated compliance, customer loyalty, and endless integrations.
Currently, Cova helps power more than 20,000 locations of various sizes. With virtually no downtime, Cova is undeniably the most robust cannabis retail solution.
Unlike other POS systems that compete in this space, Cova was built specifically for the cannabis industry. Cova offers such a scalable solution, which is why some dispensaries expanded with their service from just one location, to as many as 100 retail locations.
Additionally, Cova offers various integrations that are highly important in this industry. By partnering up with Weedmaps, Leafly, Headset, Dutchie, Onfleet, Springbig, and many more, Cova's software has the ability to help you reach more customers.
By using state-of-the-art tech and hardware, your dispensary will always be on the cutting-edge side of things, which ensures a fast and seamless checkout process.
If you want to learn more about how Cova POS can help you run your business smoothly, read our complete review ahead.

Five Reasons Why Cova Is The Best Dispensary POS
Built for compliance
Easy to learn and use
Reliable (offline mode and scalable on high-volume days)
Reports on demand (customizable and mobile)
Live in-house support (just 13 second wait time)
What Features Can I Expect from Cova?
Cova POS has all the features you need for a dispensary. Their solutions are perfect for boutiques with one location, all the way to enterprises with multi-locations who are also in several states.
Let's take a look at some useful features from Cova:
Watch Cova In Action: A Quick Software Demo
Inventory Management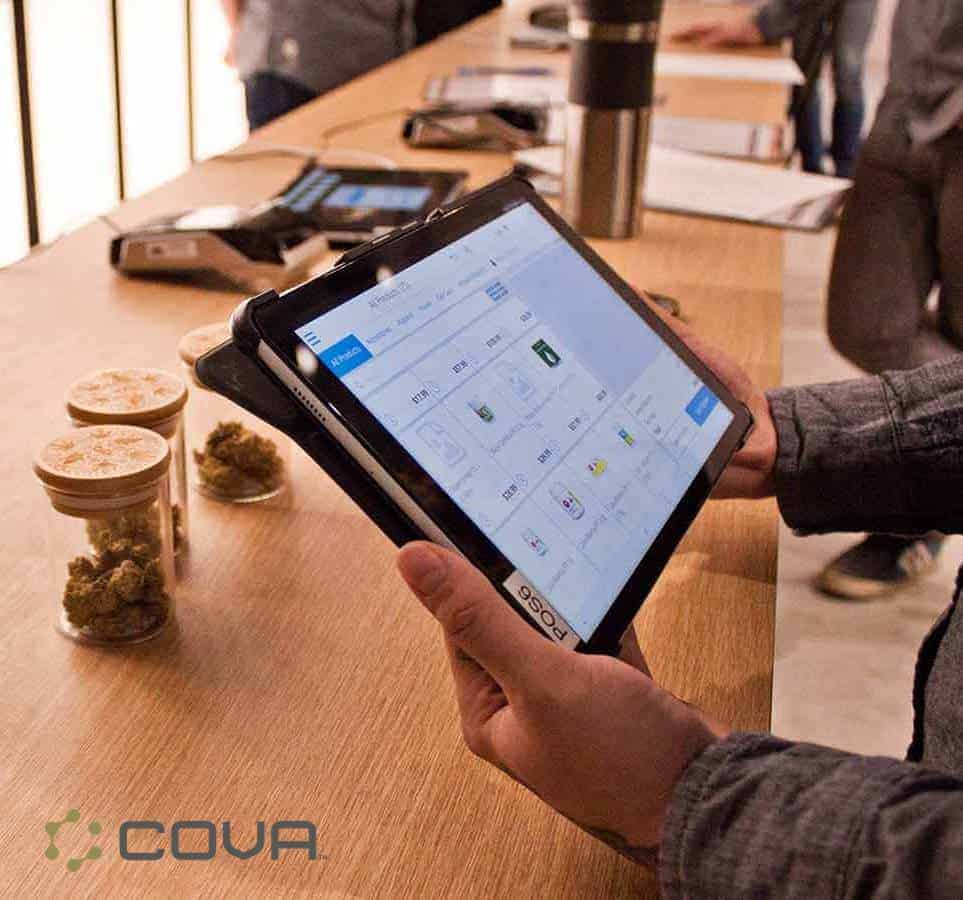 Cova offers an automated inventory system that helps you enhance customer experience and ensuring online menus are accurate and up to date. Getting inventory right is crucial, as you must report every gram or item you sell, or risk losing your license.
Before entering inventory in your system, Cova believes its important to first organize the data. Although it'll take time to setup initially, having a neat menu right from the start can be worthwhile in the long term.
With Cova, you'll be able to enter your product's name, description, image, SKU, your cost, retail price, supplier info, and your quantity. The more detail you have for each product, the easier it will be to track and monitor.
To avoid employee theft or other misconduct, Cova' software allows you to assign inventory management access to specific employees, such as a dedicated inventory manager and other management personnel.
Finally, Cova's system can help you track some pretty powerful KPI's, including:
Inventory turnover
Product performance
Lost sales
Day of supply
Gross profit margin
Shrinkage
Cova strong believes that having a solid understanding of how items are selling – and which items are sitting on the shelf, can help you decrease losses and maximize profitability.
Easy to Use Sales Screen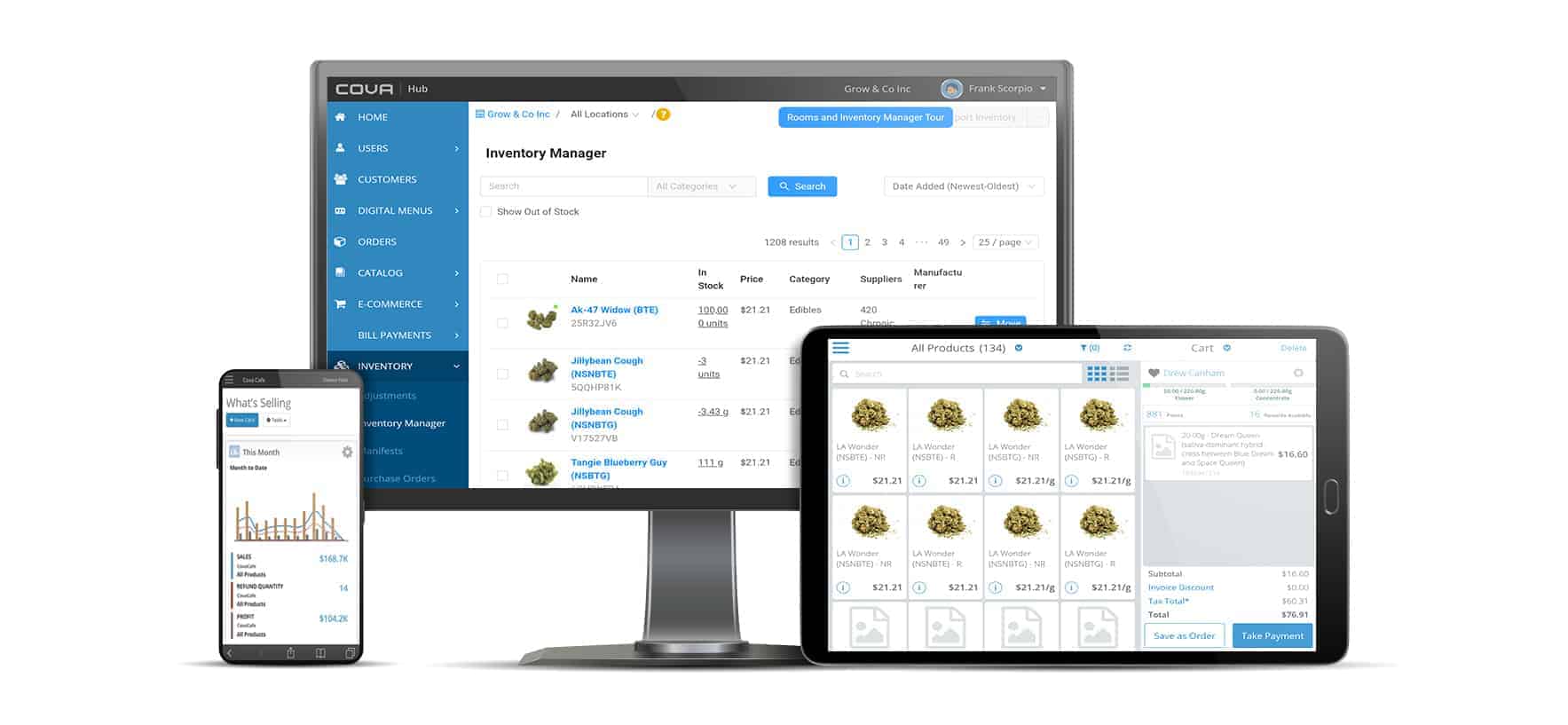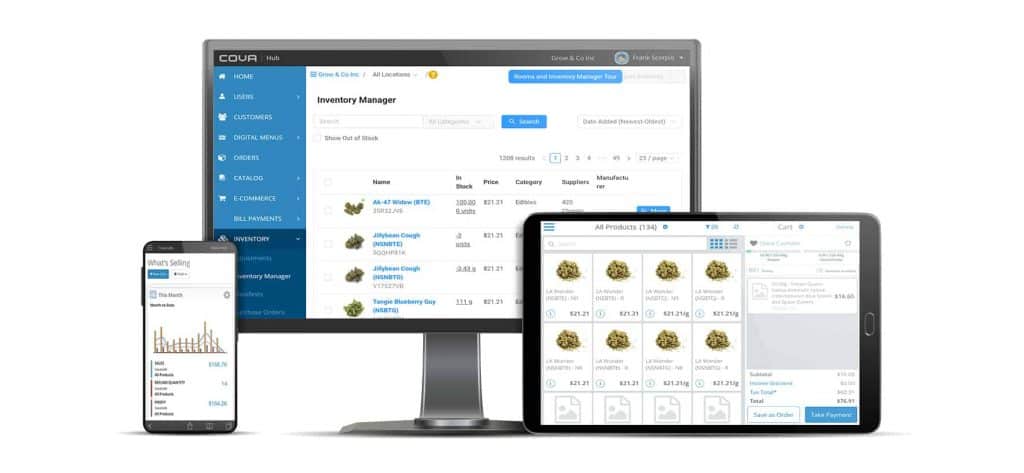 One neat feature we liked from Cova is their visual sales screen. Every product in the system has an image attached to it. As a new retail operation, you may have budtenders that unfamiliar with the industry or the market. Having that visual verification can help staff grab the right item from the shelf and decreasing the time it takes to process a sale.
Order Management
To keep all the sales and orders coming in, Cova developed a simple, yet clever order management dashboard. Orders are categorized by status; order placed, in progress, ready for pickup, or all on the same screen.
E-Commerce and Delivery
Drive higher revenue by offering delivery to your customers, on demand. By integrating your POS system in the store with online ordering, you'll be able to offer home delivery. Cova helps you make the shift to consumer behavior – even during unexpected events or a shift in industry regulations.


With this feature, your customers can call ahead or order online for store pickup, curbside pickup, or delivery. With Cova's software, you'll be able to track orders from various channel partners, all recorded in one dashboard. It makes things easy for your staff, offers convenience for your customers, and impacts your bottom line.
Even more importantly, Cova helps you acquire new customers by expanding your revenue channels. While customers are already looking for your dispensary on Weedmaps and Leafly, you can make changes to your menu or items and it'll update your availability on these outlets in real-time.

Customer Profile & ID Scanner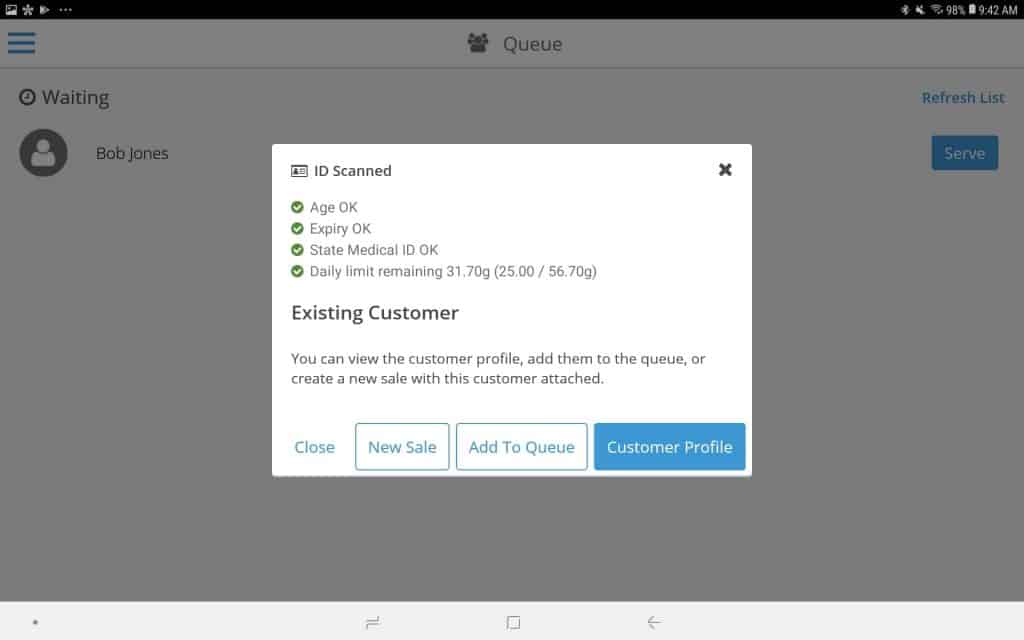 By accessing the Customer profile from the left-hand side menu, you can enter the customer's name, address, medical card information, pricing group, and more.
Next, you can use the integrated scanner function to scan a customer's driver's license. Once you scan the license, the compliance screen will come up which will help do three things; verify the age, expiration, and medical information.
Anti-Looping
More importantly, with Cova, you can avoid anti-looping. This can happen when you have multiple stores, and a customer tries to buy the maximum legal amount from store one, and then going to your second store to buy more product. avoid overselling to a customer, Cova's software has a feature that cross communicates with your other stores.
World-Class Support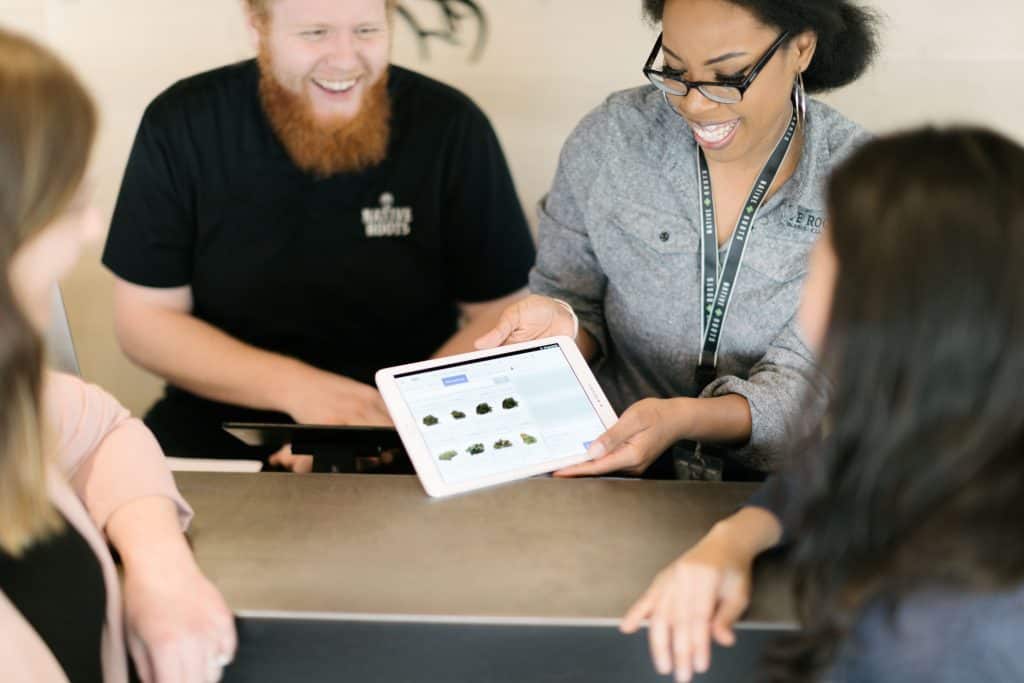 Cova's support team is dedicated to your business' success. With a friendly and highly knowledgeable support team, you can be rest assured that anything from changing your menu to pricing options will be completed in a timely manner. Cova offers phone or live chat support with a real human Monday through Saturday, from 10am – 6pm CST.
With an average hold time of under 1 minute, a rep will be with you in 'no time'. And, Cova representatives solve any operational issues in the very first phone call about 80% of the time. How's that for customer satisfaction? Which by the way, is at a remarkable score of 95.1% (higher than some of their competitors).
Pricing & Plans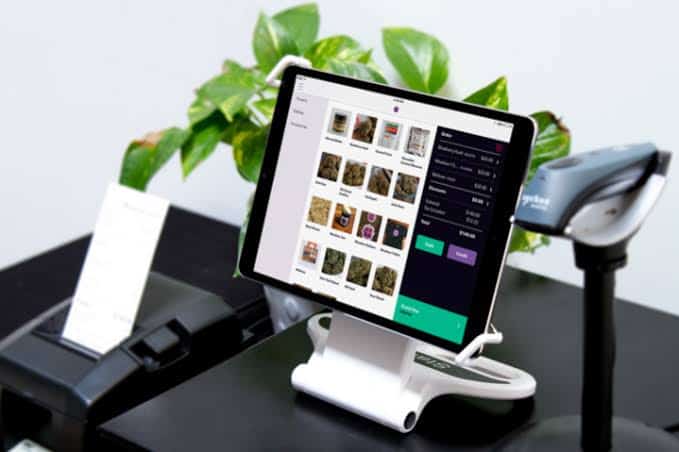 Cova offer three different pricing plans. Their entry plan, Boutique, is ideal for single-location retailers who conduct basic operations. Starting at just $349/month plus $60 for additional each additional workstation, this plan lets you start small until you are ready to scale up.
This plan includes the POS software, real-time inventory management, loyalty programs, branded gift cards, METRC and Biotrack integrations, one click compliance reporting, custom dashboards and reporting, and Leafly and Weedmaps integrations.
Next, the Powerhouse plan is for established single-store or multi-store dispensaries. For $549/month, 4 workstations are included, and you'll only have to pay $40/month for additional ones. This plan includes everything in the Boutique plan, plus multi-location management, and the following add-ons:
Express Checkout
Click & Collect
Delivery
Menu Boards
E-Commerce
Analytics
Security
CRM
The third option is the Enterpise-level plan, ideal for large multi-store retailers and franchises. For this plan, pricing is quote-based, and you'll only have to pay $35 per additional workstation after your initial four.
You'll also enjoy all the features in the Powerhouse plan, plus custom ERP integrations, priority API tech support, and a super user training program. Finally, you'll have a dedicated customer success manager assigned to your account.
Back by Case Studies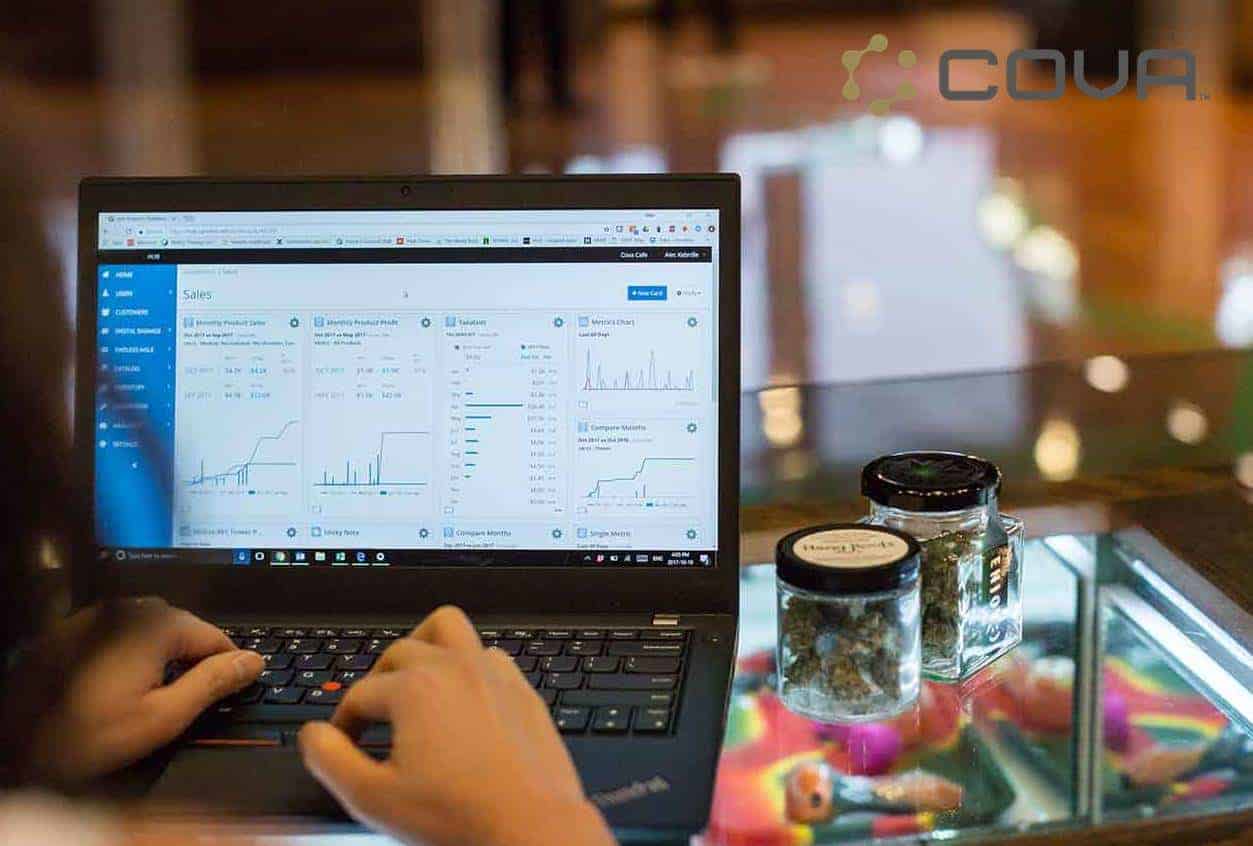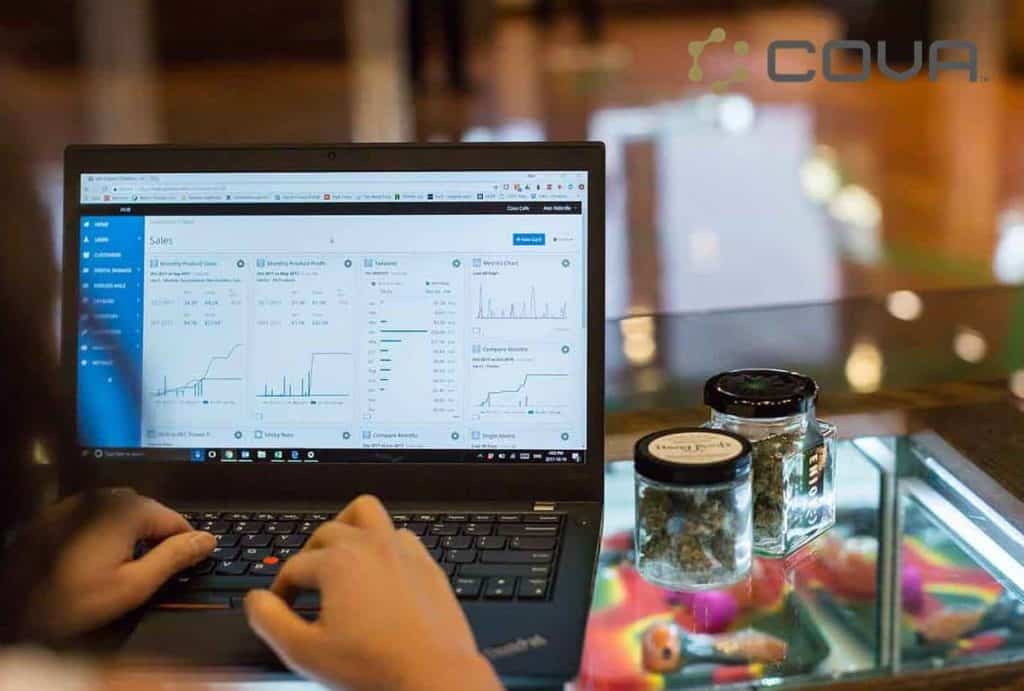 Native Roots, a marijuana dispensary in Colorado outgrew its previous POS system and expanded its enterprise with Cova. After their previous system crashed, they chose to migrate their entire solution in just three days. However, after implementation, they realized their solution wasn't adequate enough for their 17 retail locations.
What Cova Did That Other POS System Could Not
Setup of product and inventory from a global level
More API's to facilitate needed integrations
More accurate, compliance-mandated reporting
Task automation to save time and money
By reading multiple case studies about Cova, we learned that several businesses appreciated their 99.9% uptime, the ability to handle high-volume performance on days like 4/20, the compliance reports, the secure data backups, and ability to cater to multiple stores. Users even praised phone and live chat support, who are always friendly and ready to help.

Ready to Use Cova POS In Your Dispensary?
Cova understands that performance and customer service mean nothing with your license. This is exactly why their focus is first geared towards compliance. This provider built their entire platform on that premise.
This is not to say that Cova isn't feature-heavy. Some of our favorite features include real-time METRC reporting, internal reporting, inventory management, fast checkout, and more.
The ability to scan ID's and manage customer profiles is just the icing on the cake. Avoiding duplicate records is another function Cova offers, one that most competitors don't offer.
Finally, with Cova you can ensure that no one who comes to your store buys more product than they're supposed to. That alone shows us what kind of solution this point of sale provider offers dispensaries of all sizes.