(Last Updated On: June 28, 2023)

Point of sale systems are evolving fast. Companies are no longer looking to implement a solution but rather, how to upgrade what they have.
In addition to that, when looking at top customer preferences for a POS system, 79% of people want personalized services, 63% want good prices/offers, and 56% want a shared cart across channels.
That means, there is simply no way a retail store or quick-service restaurant can compete without some form of business intelligence. When it comes to a versatile and flexible POS product, uAccept is ahead of the game.

uAccept POS System Review – Company Overview
uAccept is run by Workwell Technologies. They are dedicated to helping other small businesses compete in a world where they are outgunned by large national chains that have a tech advantage.
Since 2005, Workwell has provided thousands of companies nationwide with a low-cost POS that has enterprise functionality.
The company really took off in 2010 with its popular product, uAttend Employee Management system. After seeing that platform to success, they set their sites on helping small retailers and restaurants across the country with their point of sale transactions.
uAccept POS Benefits
One set fee with no subscription fee or charge to run extra terminals.
All-in-one solution with software automatically integrated into hardware.
Real-time reporting with custom filters to analyze trends.
Robust SMS/text messaging capabilities with instant notification system.
Social media management with Twitter channel engagement.
Possible Drawback
Although uAccept is built for restaurants, the system does not allow for tableside ordering or tableside payment processing.
This might work for some quick-service restaurants, but not all. If you have servers, this may not be the best solution.
uAccept POS Pricing
The uAccept platform offers prices online for both hardware and software. The software will not function without the hardware and vice versa.
Here is a simple breakdown of their pricing:

| Product | Pricing |
| --- | --- |
| uAccept Account | $49/unit/month |
| Additional uAccept POS | $19/month |
| uText SMS Messaging | $19.99/month |
| POS System (8") | $449 |
| POS System (9.7") | $649 |
| Barcode Scanner | $129 |
| External Printer | $279 |
uAccept POS System Requirements and Capabilities
The way uAccept markets their point of sale solution is somewhat unique. Rather than lead with the software system, uAccept is proud to push their state-of-the-art POS hardware.
The all-in-one POS system includes two options and a monthly subscription.
Hardware
There are two separate setups for the uAccept POS solution. Neither of them will function without purchasing a subscription to the software. The two bundles include:
uAccept MB3000 Point of Sale System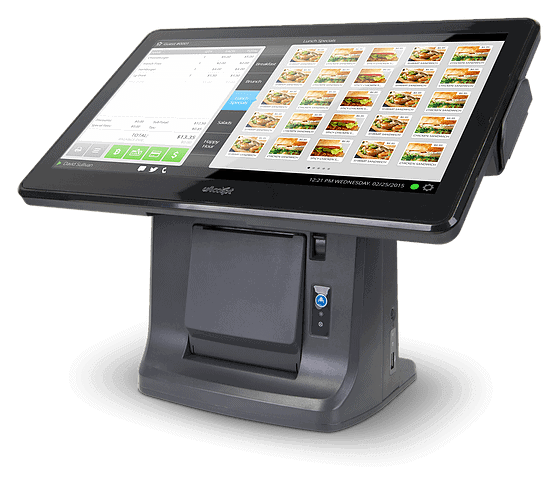 This system provides enterprise-class functionality from payment processing to text messaging and advanced analytics.
The bundle comes with a 9.7" touch screen encrypted card reader and an internal printer.
Other key features include:
5-bill cash drawer
Customer-facing display
Phone ordering
Integrated social media
Customer loyalty program
uAccept MB2000 Point of Sale System
This is the smaller and more affordable version of the MB3000. There isn't any variation in the type of hardware featured. The only difference lies in the size.
Features
The uAccept built-in POS software is a simple solution with a multitude of features. It's affordable, secure, and offers unlimited storage. The platform focuses on two types of business: full QSR (quick service restaurant) and retail stores.
You can easily add up to 20,000 products with innumerable categories. Whether you have one location or hundreds of stores, manage all your POS devices from one account. Some key benefits to the POS platform include:
Customer Loyalty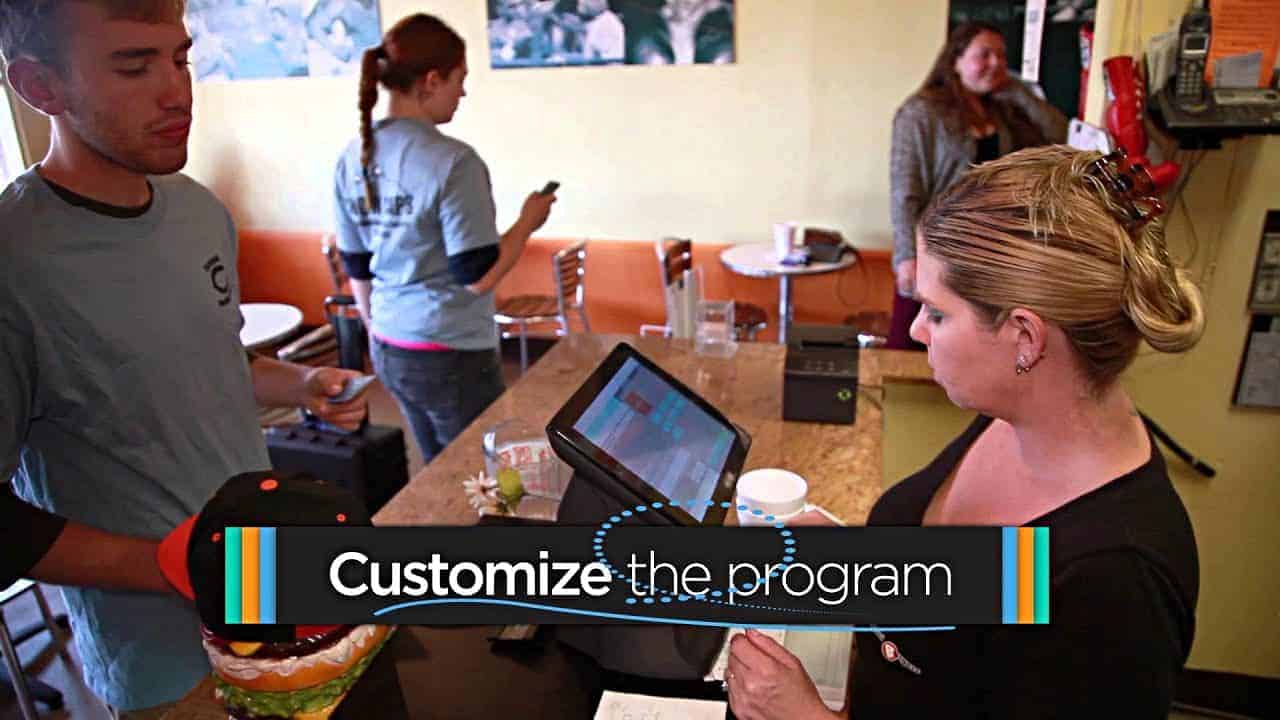 The uAccept POS system comes with a free customer loyalty program. Add new members directly from the POS terminal and remind employees to prompt customers to join.
A business can set up a program that rewards people by metrics like "total sales" or "number of visits."
People that opt-in to your program receive special access to deals and promotions as incentive. This is a great feature for building your mailing list and can also assist with marketing automation.
Social Media Management
Most POS systems on the market do not see the value in social media tools. The uAccept brand understands the power of word-of-mouth and influencer marketing. Especially in the restaurant and retail space. The POS platform enables a business to send customers tweets about products, specials, discounts, etc.
uText Integration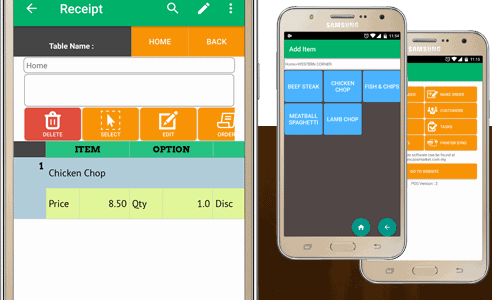 Customers can send text message orders directly to the POS. A company can use it to text customers a confirmation reply. You can also offer the convenience of emailing receipts.
uText integration allows you to connect all of your business apps and processes, simplifying workflows and making them more efficient. With this type of integration, you can send text messages to all of your systems and workflows automatically, allowing them to run without the need for manual input. This allows you to create a seamless experience for your customers and clients, as well as save time and effort for yourself and your team.
Your POS machine can use SMS to provide customers with a unique and secure method for making payments or checking the status of an order. This is an ideal way to ensure your customers' satisfaction and security, reducing the risk of data leaks or other potential issues. It also allows you to offer the convenience of text messaging to your customers, helping them feel more connected to your brand.
Strategic integration is a term that refers to the intentional connections between various skills and strategies in reading instruction. This includes a range of activities such as identifying the main ideas in texts, comparing and contrasting findings, performing synthesis and abstraction, and reaching generalizations or abstractions from multiple texts (e.g., Wineburg, 1991).
Text integration enables you to connect your existing email and SMS marketing channels in a single platform. With a simple integration, you can keep your Constant Contact and Text Request lists in sync with automatic imports of contacts, so you never miss a text opportunity. You can even decide which triggers from one platform lead to an action in the other and vice versa, ensuring that everything works together so your customer experiences a seamless and engaging relationship with your brand.
The monthly subscription is $19.99 and includes one phone number. It also caps at 2,000 incoming/outgoing text messages.
If the text messages aren't enough, additional blocks of 750 messages can be purchased for $9.99/block. If you have multiple locations, you can purchase extra phone numbers. Those cost $5/phone/month. The free 90-day-trial allows you to test the service with 200 messages per month.

Reporting
A recent report demonstrated that 61% of merchants believe a top factor influencing POS upgrades is the ability to use data to understand consumer preferences.
The uAccept POS system allows a venue to run reports for business analytics and to mine specific data. Set filters and analyze trends in real-time. View sales by day, week, or month. You can also run detailed reports on employee performance, inventory, and many other points of data.
Employee Management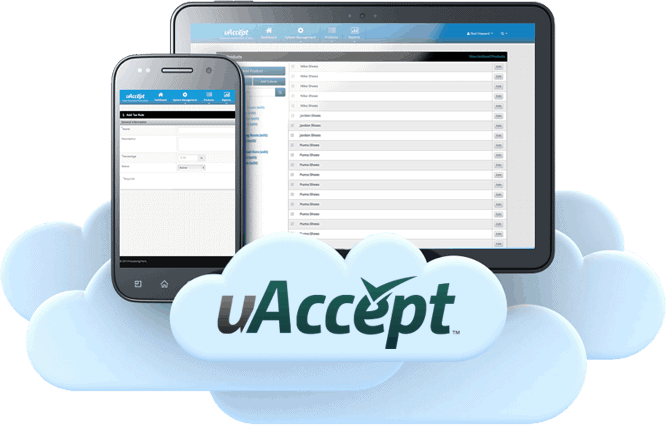 In addition to reporting, the uAccept POS platform also enables a business to add and authorize users on different levels.
You may only want to assign top-level tasks to management. There is no need for other employees to touch the data.
uAccept lets you segregate the dashboard and information according to seniority. Maintain complete control at all times over the security of your data.
Employee Management is the process of ensuring that employees meet organizational goals, which includes promoting and rewarding high performance, providing training and development opportunities, and responding to employee complaints and concerns. It also involves maintaining a good working relationship with employees, which can help create a positive company culture.
Studies show that employee management is one of the top factors for business success. It involves selecting and hiring employees, monitoring their performance, motivating them, and disciplining them when necessary. Effective employee management is the result of a manager's ability to encourage, communicate, and build trust with his or her team members. A manager can motivate his or her employees by setting goals that are specific, measurable, attainable, relevant, and time-bound.
When an employee feels that the goals they are working towards have meaning for them, they become more engaged in their work and will be less likely to quit or to be poached by competitors. A good manager can also connect with their team on a personal level to make sure they feel heard and appreciated, which will have a positive impact on the productivity of the entire team.
uAccept allows you to maintain a high level of security by giving employees various levels of permission. For example, you can give some employees admin access to your POS system while others only have limited privileges. You can also compartmentalize the user interface so that only a certain group of users can see certain menu items and products. This can reduce the chances of a security breach by limiting access to sensitive information.
Payment Processing
uAccept provides flexible options for credit card payment processing. You can use your current processor or sign up for a uAccept Merchant account.
If your business is set up to receive customer tips, uAccept uses the BridgePay gateway system. You may be charged a higher rate for cards that are manually swiped if you use Elavon, FDNashville, Global Payments East, or WorldPay processors.
For more information, including a request to switch your processor, contact uAccept sales or customer service.
uAccept POS  Customer Service & Support
Most of the uAccept customer support is offered through email. However, unlike a lot of companies these days, they encourage people to call and chat. Office hours (PST) for phone include: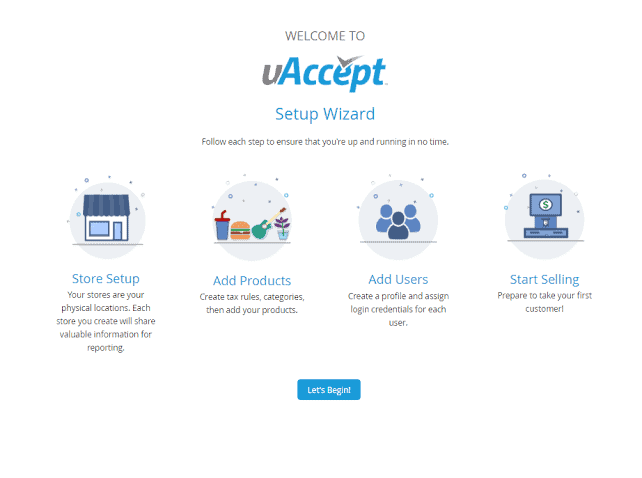 Sales hours:
Customer Service hours:
Mon-Fri, 5am–6pm
Sat-Sun, 7am–3:30pm
They also offer a uAccept reseller program for those interested in partnering.
In addition to phone and email support, uAccept has the following resources:
Free software upgrades
FAQ's
Dynamic video
Lifetime data storage
Schedule a free demo
You can always reach out to uAccept on their various social media channels.

The Final Say
It's not often you find a point of sale brand that has built their product with the entire solution in mind. While many POS companies are leaning toward functioning on a tablet, uAccept sees the convenience in building a singular unit.
The register, screens, and software are automatically integrated and then priced accordingly. There is no guessing or surprises for customers needing to purchase additional hardware.
You also don't often see a POS system that integrates with social media. However, given uAccept's focus on the retail and foodservice space, it only seems natural to have a social tool. After all, those are two things people discuss online constantly.
Overall, this is a simple and affordable system that has enough features to streamline any operation but is uncluttered and joyfully easy to manage. Restaurant owner may want check Leebro POS as well or Microworks POS.