(Last Updated On: March 28, 2023)
For restaurant owners looking to take their operations to the next level, Toast and Square are two of the most popular POS systems out there. Both enable you to streamline payment processing, accept payments on any device, integrate your menu and inventory, and improve your restaurant's efficiency.
Toast is a POS system built for restaurants specifically. This niche focus is made clear in the kinds of features that Toast offers: tableside service, cloud-based menu management with item availability countdowns, and various reporting tools to help you gauge performance across stores and menu items. Additionally, Toast offers an in-house delivery platform that allows you to accept online orders and dispatch drivers for delivery.
Square for Restaurants offers a number of powerful restaurant-specific features as well, including delivery app integrations, online ordering, gift cards and loyalty programs, and more. It also integrates with a wide range of third party integrations which allow for accounting, inventory management, order management, delivery, self-order kiosks, and other features not offered by Square directly.
In our Toast vs. Square comparison, the winner is clear: Toast is a better overall POS system for restaurant owners. Toast has been in the restaurant game for years longer than Square (2012 vs. 2018), they offer many more restaurant-specific features, as well as better payment processing costs.
Toast starts at $69 per month, with hardware bundles starting at $799. They also charge a flat credit card processing rate which they do not disclose on their website. Generally speaking, these flat rates run anywhere between $15 and $50 per month, depending on the specific provider.
Square, on the other hand, charges 2.6% + $0.10 per transaction, but there is no monthly licensing fee. However, that transaction fee will start to add up as you grow.
While there are more upfront costs involved, Toast definitely offers more value to restaurant owners than Square does. Let's take a look at the features, pricing, and support offered by each of these providers.
Toast vs. Square POS: Which Is Best for You?
Before we jump into our full review, let's answer the question: which system is best for your business, Toast or Square POS? We'll do so with a quick side-by-side coparison of various, capabilities, and pricing of Toast and Square POS.
| | | |
| --- | --- | --- |
| Price | $79/month + $50 for every additional terminal | $0-$299/month (depending on plan) |
| Payment Processing Costs | 2.49% + 15¢ per transaction | 2.6% + 10¢ per transaction |
| Hardware Cost | Starting at $999 | Starting at $1,082 |
| Cloud-Based | ✔ | ✔ |
| Operating System | Android | iOS |
| Payroll | ✔ | Paid Add-On |
| Online Ordering | ✔ | ✔ |
| Delivery Management | ✔ | ✔ |
| Loyalty Program | Paid Add-On | Paid Add-On |
| Customer Service | 24/7 support | 24/7 support |
Toast Vs. Square: The Software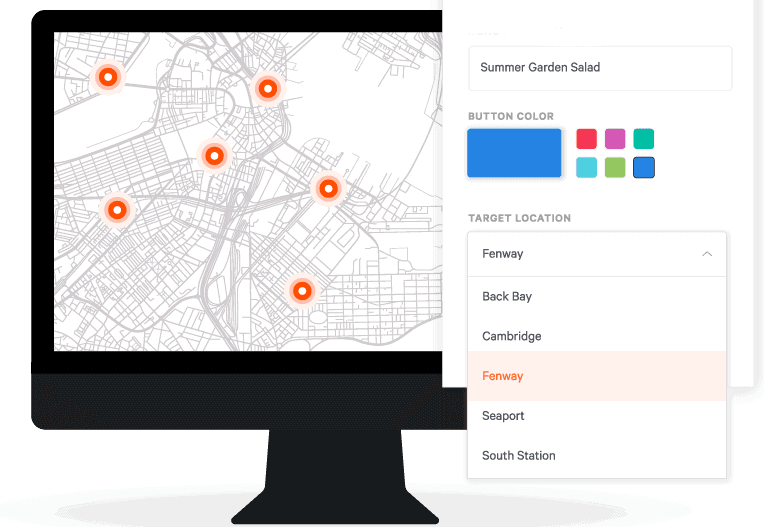 Toast's point of sale platform is powerful enough to run any restaurant. With Toast Now™, a restaurant owner can easily set up online ordering and e-gift cards. And, this feature doesn't require you to purchase hardware or a point of sale system.
With robust online ordering features, guests can easily place orders on your website from any device. Additionally, you don't pay any fees for that functionality.
Another neat feature is the Toast TakeOut app. By downloading and using this app, guests can order ahead, pay in seconds, and pick up their order at your restaurant. The benefit? Fast and accurate orders and your patrons never have to wait in line.
Toast Delivery Services
This newly introduced feature from Toast deserves all the praise. If you end up getting stuck with deliveries and no staff, this clever on-demand network can dispatch local drivers. Now that's a powerful way to streamline your delivery costs and help your business adapt.
Toast Delivery Service is an innovative idea that helps you take control of your food delivery costs. It enables restaurant owners to offer delivery at a flat rate, eliminating high third party commission fees that can be unpredictable and costly.
It's also a great way to build relationships with your guests. You'll capture their contact information with every order, allowing you to communicate directly with them on a one-to-one basis.
The new delivery service is a unique idea that is going to help you gain more customers while saving you money. Whether you want to increase sales through online ordering, contactless delivery or email marketing, Toast has you covered.
Easily Request for Local Delivery Service
You can easily request for local delivery service through Cartwheel Dispatch which automatically dispatches orders based on your rules (order value, distance, drivers availability). This helps you save on costs and increase repeat orders while streamlining your delivery process.
Make Your Menu Available Online & on an App
With Toast's online ordering product, you can let your customers place orders from anywhere. You can customize an ordering page that you can post on your website or any other online presence, and it syncs with your menu.
Unlike some POS solutions that are used for a variety of industries, Toast is specifically designed for restaurants and food businesses. This means it has hardware that's built to withstand spills and heat, and software that can handle complex demands for order modifiers.
Reporting and Analytics
Toast's software offers and level of business insights any restaurant can only dream about. First, you're able to access real-time data of your orders, sales, and more from anywhere, at any time. This way, you don't have to wait until the end of the day or the next day to review your statistics.
Each night, the system will also send you an e-mail with all the key metrics you'd want to know. And, all the insights are packed into one summary report, without you having to run extra reports.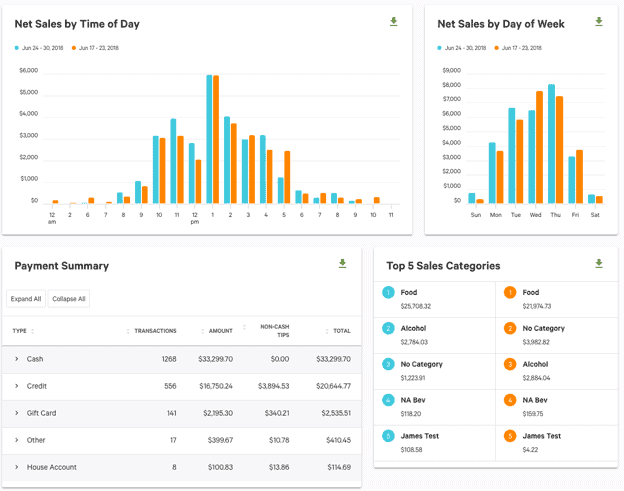 Toast POS provides insight into four different metrics, all in one dashboard
If you're on the go, you can also access your KPI's from any mobile device. With an easy to use interface, users like to use features like comparative reporting, where you can compare sales for your multiple restaurant locations in just one report. Finally, you're able to set a filter to track a specific product's sales or the sales for the day of the week.
With that said, Square for Restaurants offers these same functionalities. However, you're not able to view them all in one screen. Still, you can scroll through the tabs quickly to view the different metrics.
In this area of reporting and analytics, we score it as a draw.
Inventory Management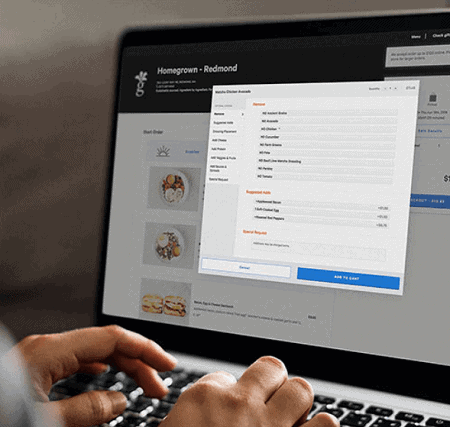 Toast's software offers you visibility into your inventory and helps you reduce waste. By keeping a tab on your inventory reports, you can understand which goods are used the most.
An inventory feature that Square's POS system doesn't offer is the ability to compare your actual performance against your theoretical performance, by analyzing your food cost percentage. This ability to predict your future usage can translate to substantial savings.
Furthermore, Toast has this feature built-in, while Square is dependent on SimpleOrder, which is a third-party integration.
Simply put, Toast wins in this category because they have a built-in inventory module that deals with everything. The last thing restaurant owners want is to deal with several add-ons from multiple vendors.
Other Software Features
Other features from Toast's software include email marketing, gift cards, payroll and team management, integrated rewards programs, multi-location management, and more. In these areas, Square is quite comparable to Toast, as their system has a big focus on marketing campaigns and complex management features.
The winner for Software? Toast.
Hardware Comparison
Square's Hardware Bundles
Right off the bat, we can tell you that Square will only have the Square Register available sometime in 2021. Other than that, here are the POS bundle options from Square:
Square Register Station: An all-in-one POS with a secondary customer-facing display. No iPad needed. Works with the Square for Restaurants Free plan.
Square Stand Station: Ideal for taking quick orders. This station comes with a USB hub for wired accessories.
WindFall Stand Station: Made to work with any server station or bar. Included are wireless accessories.
Square Stand Restaurant Station with Square Terminal: A complete POS solution with integrated payments. Plus, a terminal for tableside payments.
If you don't wish to buy one of these complete station kits, you can buy hardware components separately from Square. This includes contactless chips, stands, and more.
Toast's Hardware Options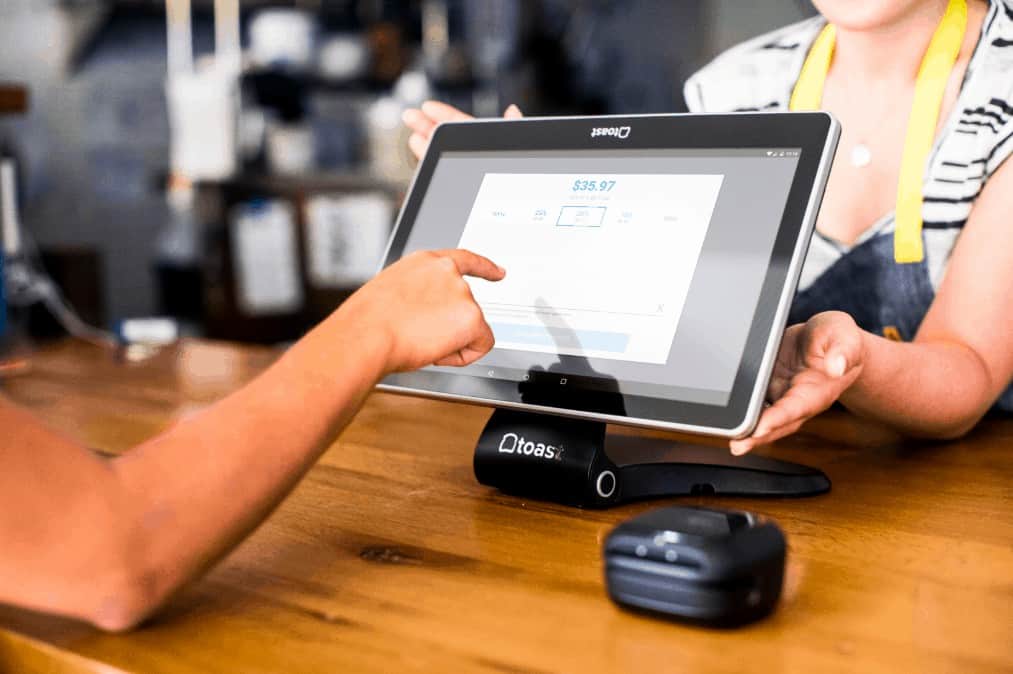 Given that Toast has been working with restaurants for the last decade, they have everything you need to run your restaurant faster. Toast also has spill-resistant hardware that can be customized to your restaurant's décor, where Square's hardware choices are fairly limited. Let's take a closer look at Toast's hardware bundles.
Toast Go®: Improve operations with a handheld POS device that fully integrates with your system.
Toast Flex for Guest: An easy and simple checkout experience. Ideal for quick service or fast-casual restaurants.
Toast Flex for Kitchen: Connects your front and back of house with high-level KDS.
Kiosk: Flexibility for your guests with an easy to use and friendly self-service kiosk.
Upon reviewing Toast's hardware on their website, we were amazed by the selection of hardware options. These include restaurant-grade card readers, impact printers, ethernet ports, cloud-enabled routers, cash drawers, various credit card readers, wireless access points, barcode scanners, scales, and more.
Most importantly, Toast has hardware options that offer seamless integration with the POS system. Specifically, Toast offers robust router options like the Cisco Meraki Z3, MX64, and the MX8, ensuring superior network coverage.
The winner for Hardware? Toast is the clear winner.
First Time Setup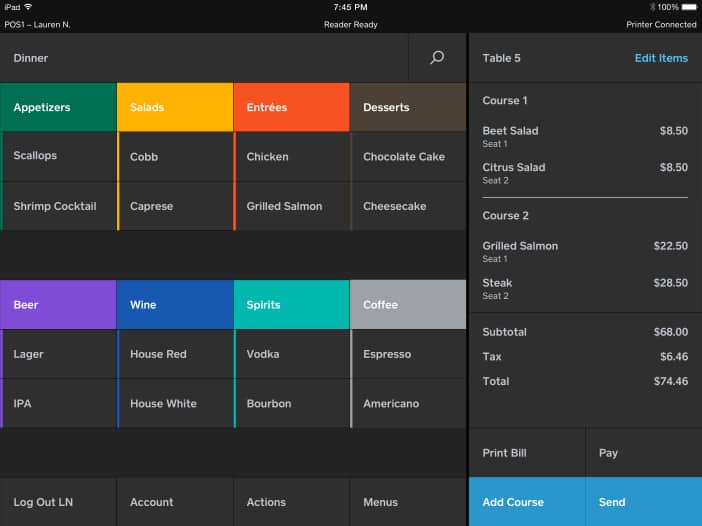 Setting up your restaurant POS system for the first time involves several steps, like router installation, setting up cash drawers, printers, and configuring terminals. Also, setting up your wireless network. Finally, you'll want to setup your menu, payment settings, and more.
Initially, it should take you about 2 hours to do the basic setup. After that, you'll be spending most of the time customizing menu items and playing around with other features.
After careful review, we found both systems were relatively easy to setup by following the knowledge center on each system's site.
If you don't wish to setup everything up on your own, Toast charges just $499 for an in-person or remote installation. We were not able to find any in-person installation cost or details for Square.
The winner for First Time Setup? A draw.
Integrations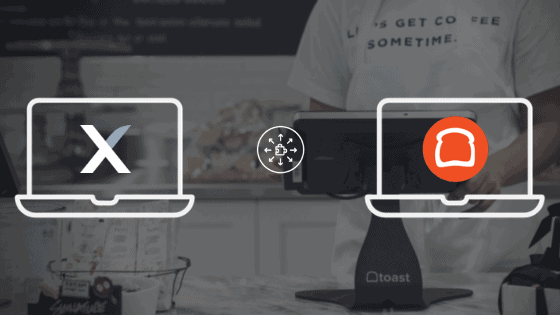 Both POS systems offer various third-party integrations. As far as accounting goes, both providers integrate with DAVO. However, we were surprised to see that Square for Restaurants integrates with Intuit QuickBooks and Xero, where Toast does not. Instead, Toast's other accounting partners are 7shifts and xtraCHEF.
Integrations
Both POS system offer integrations to third party apps, Both systems integrate with DAVO for accounting needs
As a business owner, you may need to integrate your POS with your online store. This will allow you to share inventory, sales and customer information between your brick-and-mortar and online stores. This will improve data collection and reporting, which in turn will help you improve your operations.
POS Integrations
Integrating your POS system with your online store is crucial to ecommerce success. It allows you to share product, inventory, sales and customer data between the two platforms so that you can have a comprehensive view of your business.
Integrated Calculus
There are two types of integrals in the integral calculus - Indefinite Integrals and Definite Integrals. The indefinite integrals are defined only up to an arbitrary constant, while the definite integrals are defined within specific limits.
When you calculate a function's integration, you add up the small pieces of a function to find its value. This is a powerful tool in physics and engineering, as it allows you to determine areas, volumes, and other quantities that can't be measured directly.
The concept of integration is very important in physics and engineering. It can help you find the area under a curve or the volume of a solid. In addition, it can also be used to find the gravity center and moment of inertia. It is also useful for calculating the force-driven work needed to lift objects.
When comparing inventory management integrations, Square only integrates with MarketMan, Peachworks, Yellow Dog, and Inventory DigitalPour. Toast, on the other hand, has all these and 11 more integrations, including Restaurant365 and Bevspot.
After reviewing each provider's delivery and order management integrations, we found both options to be comparable at first. Both providers work with GoParrot, Chowly, and others. However, upon further review, we found that Square only lists working with Postmates for delivery, Toast works with ItsaCheckmate for integration with third-party delivery platforms like GrubHub, UberEats, and 30 others.
Finally, when comparing management features, we found Square to work with many more providers, with the likes of TapMango, When I Work, TSheets, 7Shifts, Fresh KDS, and several others. Toast did not list any specific management integrations on their site.
The winner for Integrations? Toast. Even though Square held up their own in some areas, Toast has considerably more restaurant-specific integrations.
Pricing Comparison
While you may incur a higher monthly cost for each additional terminal with Toast, they make up for it in other ways (lower processing cost). Square charges just $40 for each additional terminal, while Toast charges $50 for the same.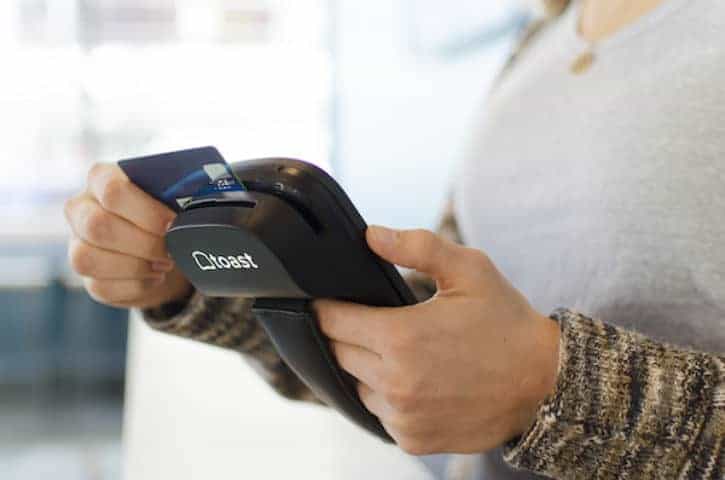 Payment Processing Costs
At just 2.49% and 15¢ per transaction, you're likely to save money by going with Toast. If you manage a small restaurant, you likely won't be able to tell the difference. However, if you were to process $1M of transactions per year, you're likely to save at least $1,000 with Toast.
For hardware, both offer similar upfront costs. While the cost of additional devices may vary for each provider, neither Toast nor Square are particularly expensive. Both offer generous hardware bundles, ranging from $999 to $1,559, depending on your number of locations and restaurant's needs.
What Does Toast Have That Square Doesn't?
Glad you asked. Toast routinely rolls out new product releases thoroughly cloud-based updates to support your restaurant. While Square is working to improve its overall platform, we found that its updates are not as frequent. At any rate, let's review where Toast shines.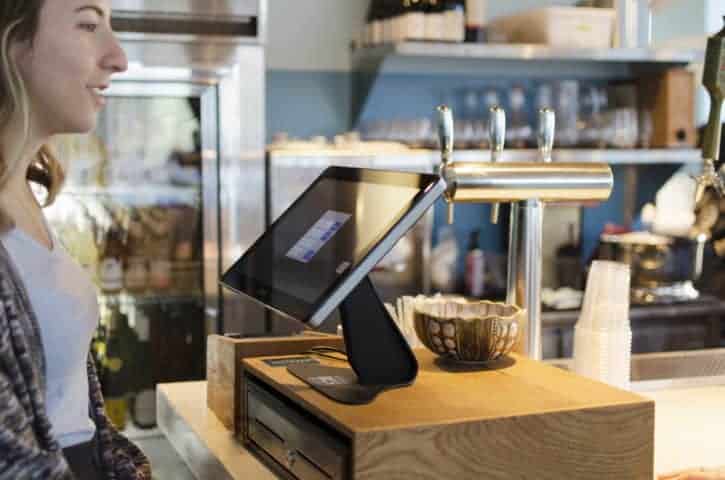 Scalability: Some restaurants outgrow Square as their operation grows. If you need more complex and custom capabilities, new digital ordering option, Toast is able to handle those better. Restaurant specific features like check splitting was not listed on their website.
Additionally, Square doesn't offer some of the software modules Toast has for handheld devices.    Also, while this feature exists for their retail POS solution, it's unclear if Square offers a multi-location management tool for their restaurant software.
Self-Ordering Kiosks: Toast's self-service kiosks have an easy-to-use interface that allows guests to place orders and get a text message when their order is ready. Such kiosks are synced with the POS, recording any changes. And, while Square partnered up with ZIVELO Kiosk Solutions to come up with software compatible for kiosks, Toast has their own software, carefully designed with up-sells and KDS integration in mind.
Synchronous Offline Mode: Toast offers industry-leading uptime through their cloud-based software. If Wi-Fi is down, Toast has switched to offline mode automatically. You'll be able to continue accepting credit card payments when offline. Square, on the other hand, requires you to enable Offline Mode. Additionally, some users complained about this feature not working.
Is Toast or Square Right for Your Restaurant?
For a growing restaurant, Toast is the obvious choice. With more restaurant-specific features, solid hardware, and more integrations than Square, Toast is able to cater to any size restaurant and grow with them.
Added to the lower overall processing cost, the choice is obvious. As a restaurant owner, you'll want to make a list of all the features you need in your business and watch a demo of both systems before deciding. Keep in mind that Square charges additional fees for certain add-ons.
However, if you're a small, quick-service restaurant, chances are you won't need all the complex features that Toast has to offer. In such a case, Square for Restaurants can save you time, avoiding the learning curve of a feature-heavy system like Toast.
To learn more about each POS system, take a look at our full Toast review and Square POS review.