Last Updated on September 28, 2021 by POS Quote Team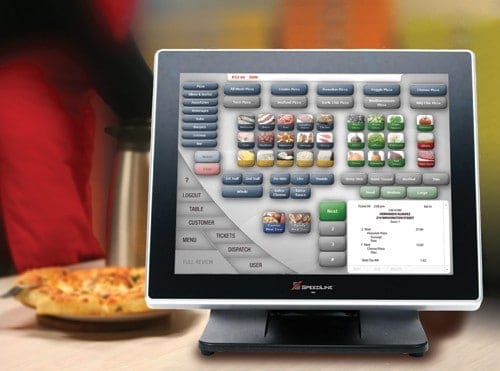 If you're looking for a serious delivery and pizza POS system, take a look at Speedline POS. Whether you're running a franchise, a large chain, or a family-owned pizza restaurant, Speedline can help you streamline pizza delivery and management.
With live mapping, custom delivery zones, visual dispatch, and pay at the door, you're able to provide superb customer service and managing your deliveries with ease. By using the customer message, you're able to let customers know when their delivery is on the way.
By using the web and mobile ordering feature, customers are able to order for delivery or pickup. Generate more sales without worrying about more fees. With Speedline, you can cap your monthly cost for the software and pay less processing fees than you would with other POS systems, like Square.
After an extensive Speedline POS review, we found it to be the best pizza POS system in the industry. With Speedline, you're able to customize your menu, integrate online ordering, set order reminders, offer discounts, set ingredient level tracking, and use a map based dispatch. All these features are specifically made for pizza parlors.
Whether you own a fast casual or a quick-service operation, let's take a look at how Speedline can help you automate tasks around the business and increase sales and profitability.

Who's Speedline POS?
Founded in 1990, SpeedLine POS established itself as a leader in the industry by creating one of the first specialized pizza and delivery POS systems. Over the years, the company expanded their offering to include solutions for independents, chains, or enterprise operations.
Based in Abbotsford, British Columbia, SpeedLine also has an operations office in Lynden, Washington. They have a tenured leadership team and built a company culture instilling accountability, continuous improvement, integrity, respect, and teamwork.
With almost 30 years in business, SpeedLine POS has constantly refined their products keeping pace with the changing needs of the restaurant industry and emerging new technologies. The company offers a seasoned solution that incorporates the latest advances.
SpeedLine POS Industries Served
Well known for its prowess in the pizza and delivery niche, SpeedLine POS also offers highly refined POS features and capabilities for the entire restaurant industry.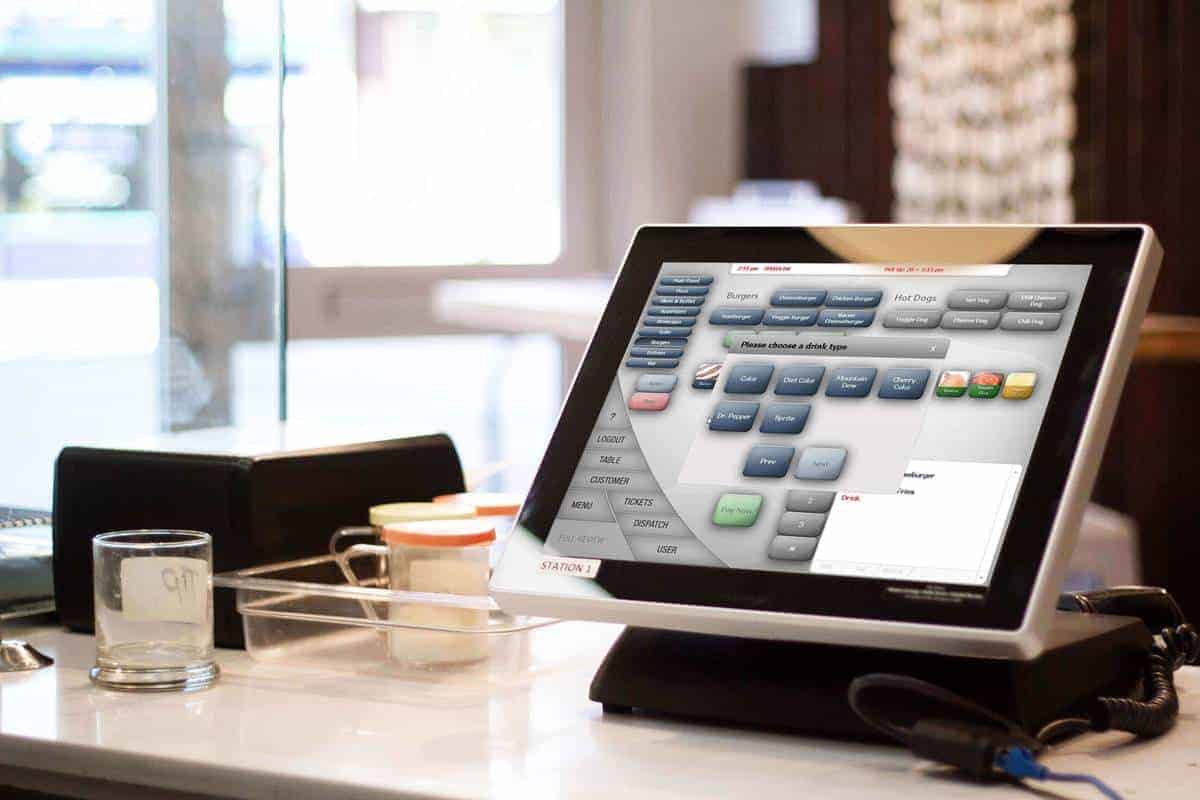 Pizza and Delivery POS: SpeedLine's pizza-specific software solution handles every aspect of pizza restaurants and pizza delivery. Streamline your in-store service, optimize delivery dispatch and driver management. Control your costs and inventory with powerful back office tools.
Quick Service POS: Speed and accuracy is the name of the game with Speedline QSR features. Counter service and drive-thru efficiencies are optimized for maximum efficiency. Your entire operation can be managed chain-wide from one, robust platform. Built-in marketing functionality and and back office tools provide all the needed tools and reporting for managers to increase sales and profits.
Table Service POS:  This version of Speedline POS improves customer experience the moment your patrons enter your establishment. The Table Dashboard maximizes table turns, proactively creates service cues, and measures server performance. It integrates directly with kitchen display systems and offers complete cash management and check processing.
Enterprise POS:  Allows your business to connect the POS system with all your organization's departments and all of your data. Reporting is delivered automatically. Generate sales and inventory reports, manage payroll, and other back-office functions. Menu changes and marketing promotions all are coordinated from a central command center.
SpeedLine POS Features
No matter which category your restaurant fits, all SpeedLine POS products offer the full range of features expected in a modern POS software solution.
Efficient Customer Service Tools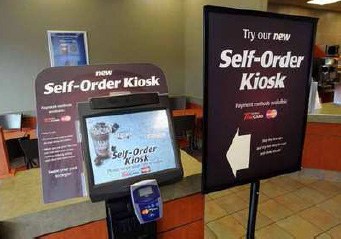 Fine dining operators and pizza delivery joints will appreciate the simplified ordering capabilities of SpeedLine POS. Delivery and carry-out functions are easily monitored from visual dashboards. Coupons, value meals, and other menu promotions are all executed by employees in an intuitive manner.
Additional features:
Upsell/add-on prompts
Quick keys
Self-service kiosk ordering
Order history recall for quick reorders
Menu Management
SpeedLine POS delivers a completely flexible ordering capability utilizing touch screen ordering. Your employees will be able to quickly navigate customized menus, check summaries, and open tabs.
Pizza and sandwich customizations are a breeze with SpeedLine POS. Buttons with on-screen images improve accuracy and ensure your customers receive accurate orders. Extras and substitutions can be done in any sequence.
All menu functions and customizations can be managed at a store, region, or chain level. Setup recurring specials that are automatically applied universally or to select locations. SpeedLine POS allows you the flexibility to manipulate your menu as you see fit.
Dynamic Delivery Capabilities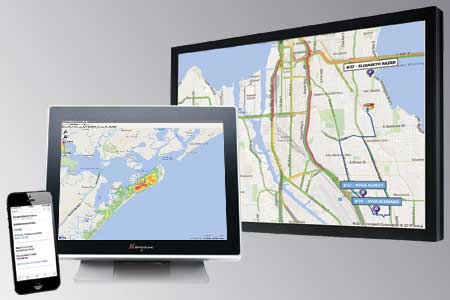 Theis functions are amongst the most powerful features within the SpeedLine POS software solution. All delivery concepts, not just pizzerias, will find these tools will increase efficiency in every area of your delivery process.
Visual dispatch includes LiveMaps features that allow your drivers to make more deliveries in less time. Customers will appreciate the quick turnaround time and food that is hot and fresh.
SpeedLine POS creates custom delivery zones and reports insightful metrics. Maps on screen track drivers and auto-send directions to their smartphones.
Order tracking is another strong suit of SpeedLine POS delivery features. The system calculates kitchen load times and communicates accurate delivery times to customers. Status update messages to customers eliminate call backs.

Mobile and Online Ordering
[email protected] the Door is a new feature in SpeedLine POS. Utilizing a mobile iOS or Android device connected to a Bluetooth EMV PIN pad, delivery drivers can accept a chip-enabled payment method. This reduces processing costs by as much as $0.14 per transaction and eliminates fraudulent delivery chargebacks.
*[email protected] the Door is currently only available in the United States.
Mobile ordering is fast and accurate with SpeedDine. Utilizing new cloud architecture from Amazon Web Services, this feature offers additional convenience for your customers, Speedline POS is also compatible with other third-party aggregators.
Powerful Back Office Controls/Reporting
Scheduling the right number of employees based on historical sales figures and other data eliminates guesswork. Inventory reports also reduce spoilage and help managers maximize margins while decreasing menu item cost. Speedline's backoffice enables your team to manage everything.
Employee Features:
Built-in time clock
Role-based system access
Employee labor law compliance
Communication/Scheduling
SpeedLine POS has created their own SpeedWeb app to allow your management team to access all your reports and dashboards from any mobile device. Enterprise-level functionality consolidates all of your operations to complete operational control over all of your activities.
Reports Available on SpeedWay
Hourly Sales
Coupon/promotion counts
Exception reports (voids, refunds, etc.)
Table service, kitchen, and delivery performance
Employees on the clock
Inventory Insights
Decisions around inventory are amongst the most complex and costly for any restaurant. SpeedLine Inventory allows monitoring of stock levels, portion control, and detect theft. The system can also create recipe matrices to reduce waste and calculate all your food costs.
Managing your suppliers and orders is also simplified with SpeedLine POS. Receive incoming stock with a few clicks. Eliminate paper packing slips with electronic files from major suppliers including Agar, McLane, and Sysco.
KPI Reporting and Data Analytics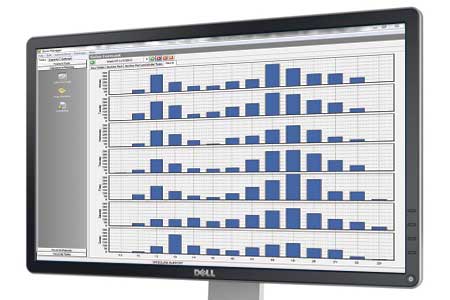 SpeedLine POS delivers all the financial facts you need to manage your business. The system includes many of the most common reports pre-loaded and creates customized reports as well. A report option wizard makes it simple to choose date ranges and other format options.
The automation features of SpeedLine POS make is simple to process and export your data on a daily basis. Send your information to an Excel spreadsheet or directly into your accounting software. Combine this function with payroll capabilities and your managers will save many hours every week.
Enterprise reporting is facilitated with the use of SpeedLine SpeedLink Enterprise. Use pre-loaded reports, customize your own Crystal Reports, or other third-party solutions.
Key Performance Indicators (KPI's) are presented in unique summary views that can be customized by a wide range of variables. Drill down into all reports to a granular level to gain additional insights.
SpeedLine POS Payment Security
PCI compliant transactions and contactless payment options make it simple and secure for customers to pay checks. SpeedLine's new [email protected] the Door function allows customers to pay with a chip-enabled card at the point of delivery. These features protect your customer's data and reduce your processing fees and chargeback risks.
SpeedLine POS Resources and Support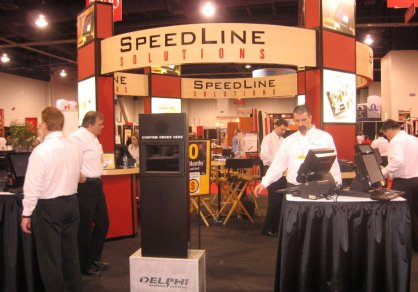 Busy restaurants can't afford to have any of their systems down for any period of time during operating hours. The front line of SpeedLine's support infrastructure is their live agents that are available 365 days a year via a toll free number.
If you require advanced troubleshooting, SpeedLine technicians can securely login to your system remotely to quickly diagnose and remedy problems. The company also has a customer support website with an extensive library of training tutorials and videos. A searchable knowledge base can provide quick answers to common questions.
SpeedLine POS also supports a discussion forum where other users can share best practices. The company blog addresses trending issues affecting the industry and highlights customer success stories. Case studies and other guides on the web site are also available.
SpeedLine Professional Services
In addition to world-class support, SpeedLine offers many value-added services including store management services. Large restaurant groups can take advantage of POS and menu management outsourcing services.
Store Management Services:
Menu changes
System settings/updates
Password updates
Inventory setup and recipe maintenance
SpeedLink Enterprise setup and hosting
Online menu management
SpeedLine POS Hardware
Partnering with industry-leading hardware providers allows SpeedLine POS users to have access to the latest and greatest technology in the industry. These are some of their approved devices and technology partners:
Devices:
POS Terminals
Fingerprint Sensors
Kitchen Displays
Payment PIN Pads
Mag Stripe Readers
Customer Presentation Displays
Cash Drawers
Kitchen and Receipt Printers
Touch Screen/Tablet Displays
Providers:
ELO Touch Solutions
POSiflex
Dell
Epson
CallerID.com
QSR Automations
Crossmatch
Delphi Display Systems
Goji Systems
APC
Ingenico
Touch Dynamic
D-Link
SpeedLine POS is compatible with most major POS hardware manufacturers.  Their technicians can confirm the performance capabilities of your existing equipment.
SpeedLine POS API Capabilities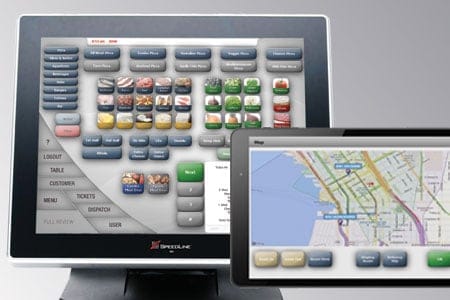 API's allow your business to take advantage of third-party innovations enhancing your SpeedLine POS capabilities.
Eventstream API
Speedlink File API
Speedline Connect API
SpeedLine POS Pricing
New customers are offered an extensive one-on-one demo as well as an exhaustive consultation. This is used to determine which configuration of SpeedLine POS will meet your current and future needs. All pricing is done on an individual quote basis.
SpeedLine POS Benefits
Specialized functions for Pizza and Delivery
Extensive training and support services
Gift card and loyalty programs
Caller ID features
Driving directions for delivery drivers
Online ordering functionality
Table management features
Scalable with Enterprise-level features
SpeedLine POS Drawbacks
No published pricing data
Can be more expensive than other POS solutions
Possible Alternatives
SpeedLine POS is a solid choice for a POS system solution. However, some possible alternatives to SpeedLine to consider include:
TouchBistro: TouchBistro is an iPad POS and integrated payments solution that helps restaurateurs put more money in their pockets and time back in their day. Powering over 16,000 restaurants in more than 100 countries worldwide. TouchBistro is a complete POS solution.
Upserve: Upserve's restaurant management platform is an all-in-one solution to successfully run your restaurant. Providing payment processing, point of sale and valuable reporting insights to boost margins while saving you time. The platform is easy to implement and use, reliable, and backed by 24/7 U.S.-based support experts.

Our Final Verdict
SpeedLine POS is one of the top POS solutions on the market offering many unique features setting it apart from other providers. Their pizzeria-specific and delivery capabilities are amongst the best in the business.
Independent operators and large enterprise organizations will all appreciate the functionality and reporting capabilities of SpeedLine POS.
The included automation improves employee efficiency, increase customer service satisfaction, and empower managers to make informed business decisions daily.
Deploy SpeedLine as your POS solution and watch your business grow to the next level.