(Last Updated On: October 4, 2022)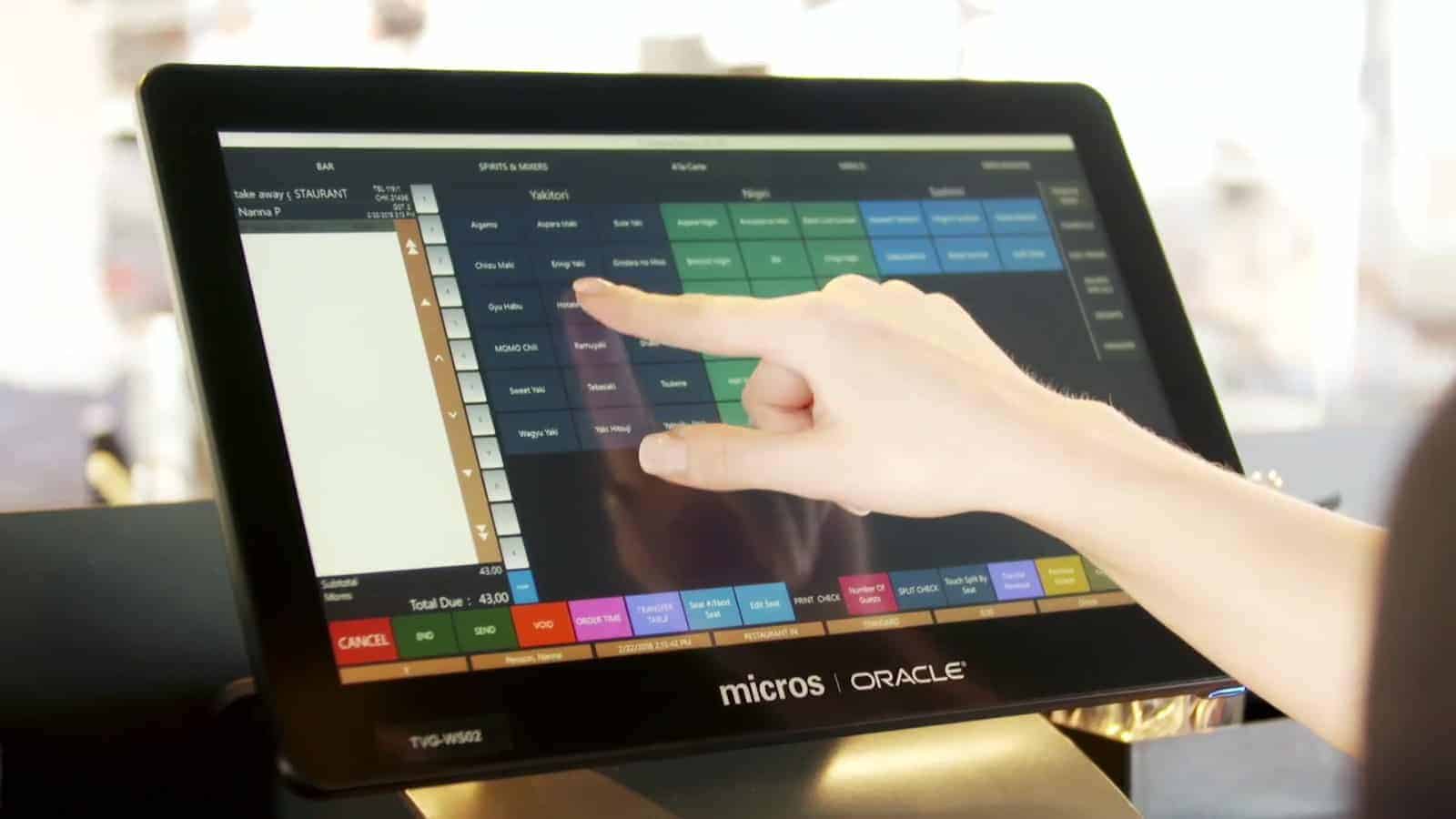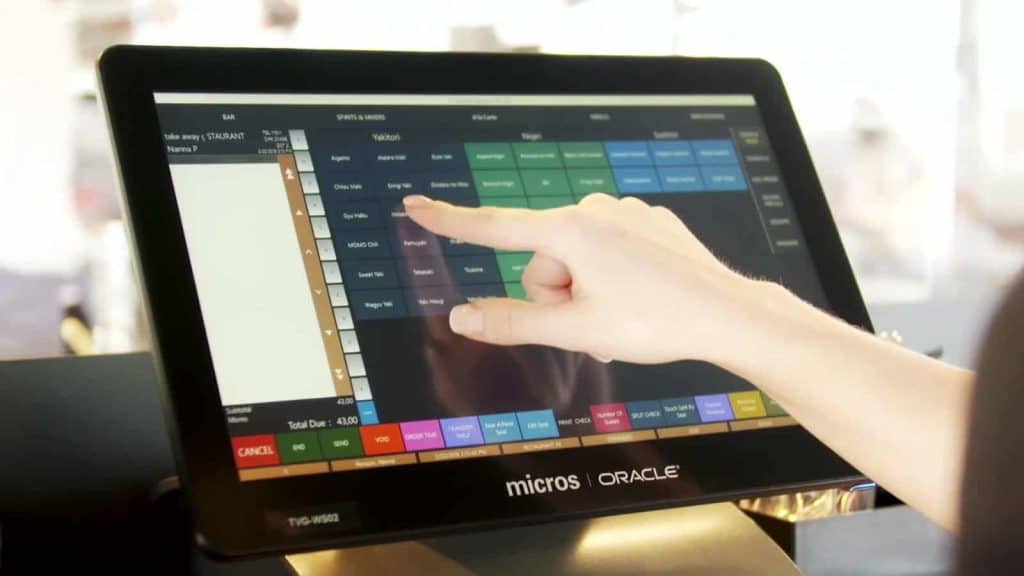 Simphony POS is one of the most powerful restaurant POS systems on the market. Powered by Oracle MICROS, it is a perfect solution for fine dining restaurants, quick-service restaurants, bars, and more.
With an engaging sales screen, you can view real-time information about your customers and employees. Communicate with your kitchen by sending orders from the front of house. With Simphony, you'll be able to set daily specials, edit your menu items, and create special promotions.
Take your menu online by using the online ordering and delivery integration. Update your menu in the POS system and sync it with your website. Through the software, you'll be able to let customers know when their order is ready for curbside pickup or that the delivery is on the way.
After our detailed Simphony POS review, the feature that stood out the most is the real-time table management screen. It allows you to improve the guest experience, improving efficiency as you turn tables faster. This will help you reach your sales goals and allow your staff to give each table the attention they need.
Is your restaurant full of patrons? Not a problem. Use Simphony's wait list feature to manage reservations, all from one screen. Add, change, or abandon requests altogether for your wait list. If you're running a quick service business, consider taking advantage of the Oracle MICROS self-service kiosks. This will help you reduce the overhead of staff and shorten lines and wait times.
And, if you want to reduce errors in your restaurant, use the latest kitchen display systems (KDS) and improve the speed of service. Finally, use various POS integrations with Simphony to fit the needs of your restaurant.
Let us show you how Simphony POS can help you reduce waste, forecast demand, and improve overall efficiency. This review will show you how Simphony goes beyond simple reporting and inventory management.

Who's Simphony POS?
The Simphony hospitality POS software and hardware components are produced by Oracle Hospitality. Though recently acquired by the Oracle Corporation, Micros Systems, Inc. was founded in 1977, and incorporated in 1978.
Based in Columbia, Maryland, United States, the company offers a range of POS software and hardware solutions. Oracle Hospitality is particularly renowned for its superior POS and property management systems as well as workflow application solutions.
If you are in the market for a restaurant management system, you might be interested in Simphony Hospitality POS. Its unique wait list functionality lets restaurant owners manage all of their reservations in one central screen. They can also add, change, or abandon requests as needed. Additionally, Simphony offers integrations with various POS systems, which can help restaurant owners reduce wait times and staff costs.
Simphony Hospitality POS is a cloud-based solution designed specifically for the hospitality industry. It provides real-time reporting and analytics, and comes with a variety of proprietary POS hardware. It also offers an open API and a marketplace for third-party applications. It is ideal for all types of food and beverage operations, no matter how large or small.
Simphony's restaurant inventory management tools ensure optimal stock levels and minimize waste. The software also connects with suppliers and vendors, allowing you to easily manage reorders and rewards. Lastly, you can easily engage customers with targeted marketing campaigns. By implementing Simphony, you will be able to streamline operations at your restaurant and meet the needs of your customers.
Simphony also provides powerful features that enable you to track sales data, inventory, and financial results. It helps you compare your sales and profitability against previous years and budgets. Moreover, its conversational ordering screen makes it natural for customers to place orders. Simphony's features also allow for cross-selling and upselling by encouraging natural conversation.
Top Features
Features reliable offline capabilities
The system is entirely integrated for enhanced accuracy and customer service
Improves kitchen communication and efficiency
Offers Cloud-based convenience with remote access to analytics and real-time reports
Supports Mobile POS, complete with mobile payment, digital menu boards, and online ordering
Multiple hardware options with Mobile-enabled capabilities
Rich user interface keeps customers engaged with live content
Easier and accurate cash management capabilities
Features a conversational ordering platform and a fluid workflow
Efficient and consistent kitchen management
Possible Drawbacks
With this provider, you may have to wait a while to get a response from the customer support team. You may also find the system to be a bit slow and bulky from time to time.
However, rebooting the POS system should restore everything back to normal. These are issues you won't find with leading restaurant POS systems like CAKE POS and Lightspeed Restaurant.
Oracle Simphony POS Pricing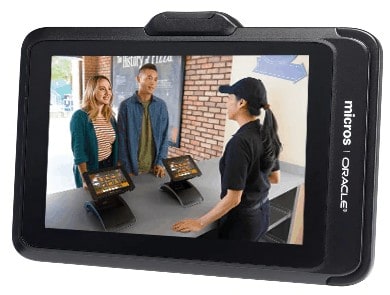 Depending on the size of your business and the number of outlets you have, this vendor will tailor its POS offering around your needs. The provider offers an assortment of point-of-sale software capabilities and hardware components.
The pricing of this solution is quote-based as you may have noticed. The actual cost will mainly spend on the number of business outlets, hence then a combination of hardware and accessories you need.
It will also depend on the POS software features and capabilities you would like to get. To get an accurate quote, you should contact the provider directly through the official Oracle Hospitality website.

Simphony POS Hardware Requirements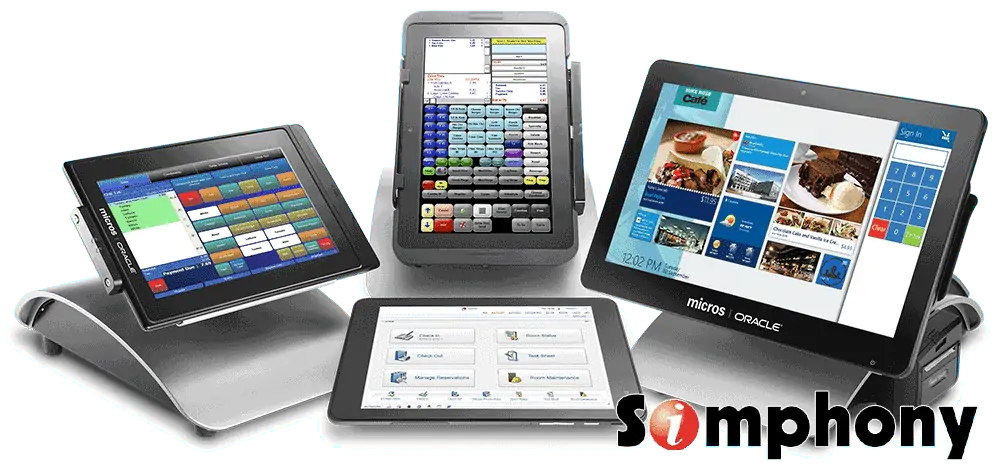 Although it follows in the success of its processor, the MICROS 9700 POS suite, Simphony offers a unique enterprise approach.
As a matter of fact, it is the very first enterprise POS solution by the provider that applies service orientated architecture (SOA).
The resilient and integrated POS system allows for easy scaling of its point-of-sale and back-office capabilities to support thousands of outlets.
Owing to its flexible configuration, the type of hardware you need to implement Simphony will vary from one business to another.
To begin with, you can have the system hosted centrally at Oracle's data centers or self-host the Simphony POS at your premises.
In either case, you will still need to buy the appropriate Oracle components, including the MICROS Workstation 6, Tablet 720, kitchen display systems, and peripheral devices.
Oracle Hospitality Simphony POS Key Features  
The Simphony Restaurant POS system leverages state-of-the-art technology by Oracle and intuitive service-oriented architecture.
It is the kind of system you need to achieve consistency in pricing, menu arrangement, and promotions across all your business locations.
The system is capable of managing multiple operation concepts, styles, and brands in the same organization.
Simphony also supports loyalty and loyalty programs and allows for easy inventory management and loss prevention.
All this is made possible by the numerous features and capabilities the POS system has to offer, including:
Real-Time Reporting and Analytics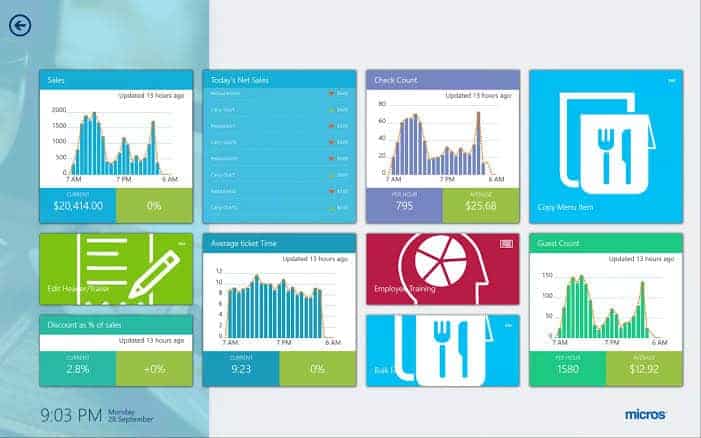 The Reporting and Analytics Advanced Cloud Service solutions by Oracle Hospitality will furnish you with up-to-date information on the business. In its functioning, the feature compiles and organizes operational, and financial business data.
This data is then presented in the form of dashboards and reports that are relatively easy to understand. Such a solution will consistently offer you analytic as well as operational insights into the business in real-time through the cloud.
Again, the system will make it easy for you to track how and when promotions are run in the business as well as their overall impact. You will also be able to compare financial results across all your locations against history or even budget. Such tools will come in handy when making business decisions.
Inventory Management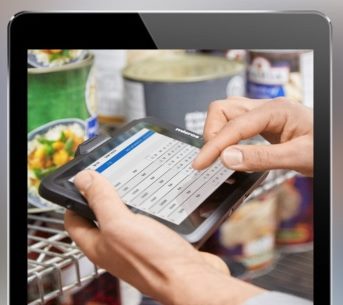 The Oracle Simphony Food and Beverages is equipped with an assortment if stock-taking tools.
These are meant to improve stock management and simplify workflow in your business.
The  Oracle Inventory Management Cloud Service will automatically keep track of the flow of inbound, outbound and warehouse items. One of the fascinating capabilities of the inventory manager is the Oracle Cost management capability.
This capability will help you capture, track, and analyze all costs associated with the inventory items. Users have also come to like the Oracle Supply Chain Orchestration Functionality.
This is essentially a powerful rules-based engine that was designed to manage the more complex supply and fulfillment activities. It may also be used to automate the execution of financial flow in internal trade between parties.
inMotion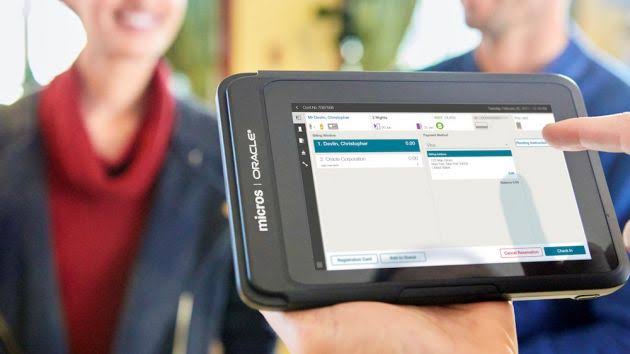 This is a Mobile App that cons as part of the Oracle Hospitality Reporting and Analytics Advanced Cloud Service.
With this application installed on your phone, you will be able to review the key performance indicators (KPIs) in your business remotely.
This, coupled with real-time reports and analytics, will help you know how the business is faring right from your phone wherever you are.
It will make it easier and faster for you to make informed business decisions regarding the business.
Fully Integrated Platform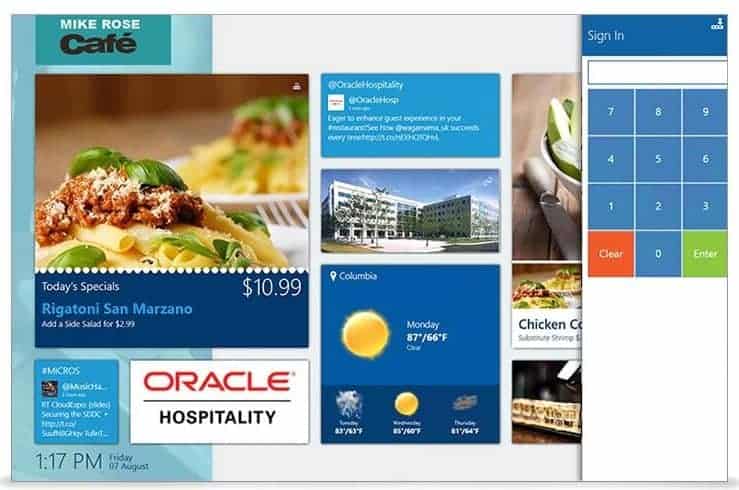 In addition to the superior Simphony POS software, the provider offers a range of proprietary POS Hardware components and accessories.
Such an integrated platform has been proven to save on IT costs.
The provider offers hardware suits that are tailored specifically for the hospitality environment.
Such hardware is then integrated with a myriad of Simphony applications for enhanced performance. You will also find the platform to be scalable, allowing you to extend its capabilities as the business grows.
In this regard, you will be able to add modules for inventory management, loss control as well as gifts and loyalty programs.
Labor Management
The Oracle Hospitality Labor Management Cloud Service is designed to offer you improved visibility into labor costs. Not only does this simplify staff management, but it also allows food and beverage businesses to maximize their profitability.
As a manager, the feature will equip you with the right tools to help you forecast data. As such, you will be able to create schedules that are optimized for guest experience and cost-efficiency. This is the solution you need to reduce manual administration in your business.
You are probably aware of what Labour management is, but what are the different types? There are several types of labour management, each with their own unique characteristics and benefits. Listed below are some of the most common types. If you want to get more information, read on! This article will discuss the differences between them. So, what is the best type of labour management? What are the benefits and drawbacks of each type? Which one should you choose?
It will also allow your staff to request time off and monitor schedules from their mobile phones or tablets.

Our Final Verdict
The Micros Simphony POS system is a comprehensive, intuitive and industry-specific solution for players in the hospitality industry. In addition to its POS capabilities, the platform features a range of back-office tools to simplify your daily operations.
This cloud-based hospitality POS system allows you to create guest checks, as well as additional menu items, service charges, discount and tender details into an existing check.
With this system, you will also be able to void a check or retrieve a summary of the open checks in one or multiple locations.
These are just some of the aspects that make Simphony one of the best restaurant POS systems.