(Last Updated On: October 5, 2022)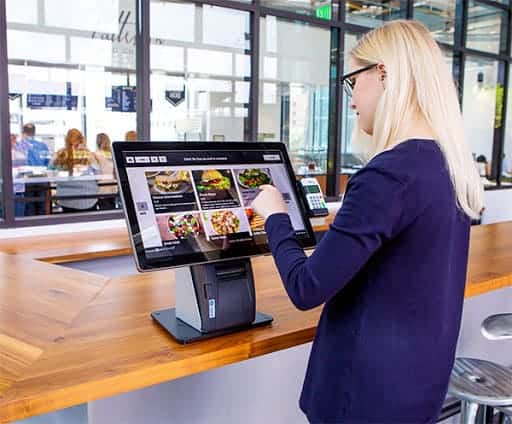 Today's shoppers expect more than ever. And with changing rules and regulations, the retail industry has been forced to adapt at an incredible rate. Luckily, there are POS solutions that make this easier. NCR Radiant for retailers is one of them.
While some antiquated retail point of sale solutions have done little to help their retailers adjust to the changing face of the industry, NCR Radiant has made it their goal to help small businesses adapt to shopper expectations and changing market conditions. And they can serve pretty much any business, from gas stations to shoe stores.
One way they've made this easier is with pre-configured solutions and out-of-the-box integrations. Retailers no longer have to wait years for a new POS system to be custom developed. With a vast stack of integrations, they can deploy new solutions in weeks.
In our analysis of the NCR POS review, we particularly loved how versatile the solution is by vertical. They can even serve stadiums and event centers. NCR helps events engage with attendees, sell online tickets, optimize lines, enhance the experience with digital signage, and manage gift shops and concessions.
And with their acquisition of Aloha, NCR now serves restaurants too. Self-ordering kiosks, contactless payments, kitchen management, and back-office management provide the essentials for restaurant operations.
NCR has even moved into the banking industry to help banks run seamless apps, self-service kiosks, and digital banking. As it moves beyond simply a POS system, NCR is quietly transforming what business software can do.

NCR Radiant POS – Company Overview
NCR and Radiant are two company names well known in the retail POS industry. National Cash Register is a titan of the industry with over 30,000 employees supporting businesses in 180 countries around the globe. NCR acquired Radiant POS in 2011 and processes over 700 million transactions every day.
Radiant POS was originally founded in 1950 and grew to over 500 employees supporting customers in 30 offices across the country. Over the decades, Radiant POS maintained their position as a leader and innovator of retail POS and payment solutions.
Combining resources with NCR gives Radiant a unique competitive advantage. Not only do they continue to develop advances in their software product, but they can now offer the most advanced hardware options to their customers from their parent company, NCR.
NCR Radiant POS Products
The company offers many unique solutions that are geared to specific industries that have unique operational needs. Each of NCR Radiant's POS solutions is tailor-made to streamline every aspect of your organization.
Petroleum and Convenience Stores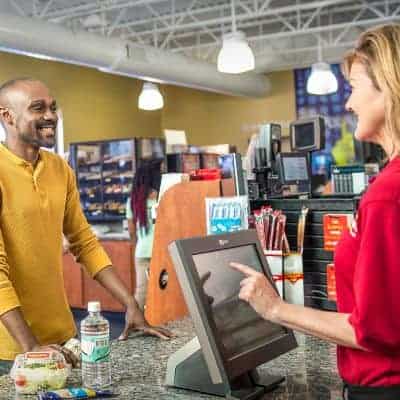 C-stores and gas stations are complex operations with a myriad of profit centers that all need to be managed and optimized. NCR Radiant POS simplifies tasks for operators and employees allowing you to focus on sales and profits.
Touchscreen displays with graphical ordering speed up service to customers. Integrated credit card processing and scanners allow you to keep lines moving during your busiest hours of the day.
New employees can be trained on the system in a short amount of time. NCR Radiant POS includes a real-time cash drawer auditing feature that can be combined with security cameras. Protect your business from fraud, theft, and shrinkage.
Key Features
Robust transaction management
Site management
Electronic payments and customer loyalty management
Fuel control
Centralized management
Open integration
Quick Service Restaurants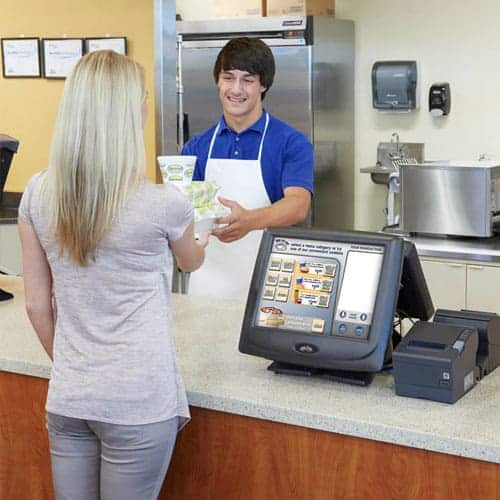 Customers expect fast and accurate service when they walk through your doors or use the drive-thru. NCR Radiant POS empowers everyone on your team to exceed expectations every time.
Workflows and menu configurations can be customized to manage complex item hierarchies. Combo meals, promotions, and customer modifications are all handled with ease. All of these options and more are managed remotely from the back office.
Quick Service Restaurants offer a variety of services. They can be drive-through or counter-service. Drive-through restaurants typically do not have tables, and orders are collected at a single counter. As a result, the food ordered is often standardized, and the customer does not have a choice over what they order. This type of restaurant depends on high footfall to stay in business. A key strategy for quick service restaurants is bundle pricing.
The six most popular quick-service restaurants in the United States include Subway, McDonald's, KFC, Burger King, and Starbucks. Other popular fast-food chains include Domino's Pizza Hut. The variety of foods offered is vast, and many quick-service outlets offer items for both adults and children. The best fast-food restaurants are designed for convenience. Despite their fast-paced nature, quick-service restaurants offer great food for a reasonable price.
There are many factors to consider when opening a quick-service restaurant. Regardless of location, there are many important steps to consider. A quick-service restaurant may be a franchise or a chain. Franchises are the most popular form of quick-service restaurants, and most of these types of restaurants are geared toward a fast-paced environment.
Quick-service restaurants are an alternative to sit-down restaurants. They are often cheaper than table-service restaurants, and you don't need a reservation to eat at one.
Reporting and inventory management are powerful features in the NCR Radiant POS software solution. Keep your finger on the pulse of every aspect of your operation to maximize sales, reduce overhead, and increase profits.
Key Features
Intuitive software reduces training time
Touchscreen interface
Integrated credit card processing
Built-in redundancy
Automated front-of-house reporting
Fully integrated to back-office reporting/controls
Includes a complete Kitchen Production System
Scalable to grow any way needed
C-Store and QSR Hardware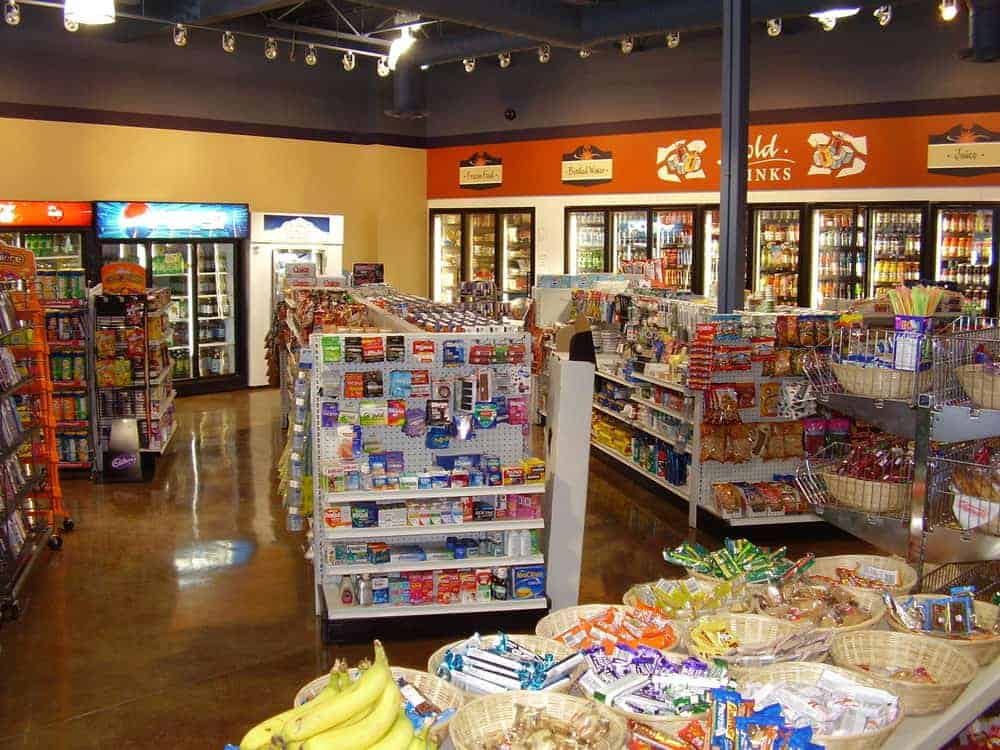 NCR Radiant POS offers innovative products that are up to the tough demands commonplace in 24/7 retail operations. Designed for simplicity and speed, NCR terminals are designed or a minimum 10-year lifespan.
All hardware offers the latest physical and digital security features needed to protect your customer payment information and all of your operational data. Many include advanced features such UV light modules to detect counterfeit cash and fake IDs.
POS Terminals
Electronic Payment Controllers
Kitchen Display Systems
Fuel Controllers
Drive-Thru Timers
Digital Menu Boards
Headsets
Video Management Systems
Printers
Power Conditioners
Servers
Peripherals
NCR Radiant Vitalcast Digital Menu Boards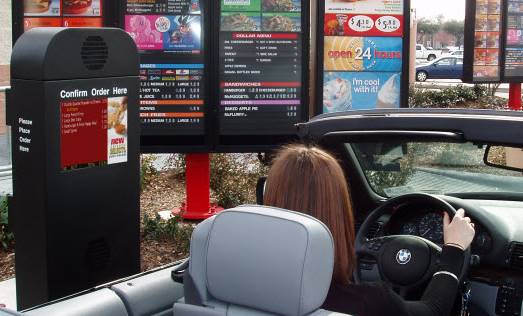 People have short attention spans these days. Vibrant menu boards in a digital format capture customer's attention and allow you to easily keep your menu and messaging current.
Bright LCD and plasma screens can be used inside or out to display menus, promotions, ads and other information. Live TV and local weather information can be incorporated into display configurations. Professional content and layouts are easily created from the Content Manager app.
Key Features
High-quality LCD/Plasma screen digital signboards
Easy-to-use, scalable platform
Uses NCR Vitalcast Content Manager and WAN/LAN
Create and deploy new content quickly
Manage global sites from a single workstation
Ideal for diverse indoor and outdoor locations
NCR Radiant Pulse Mobile Dashboard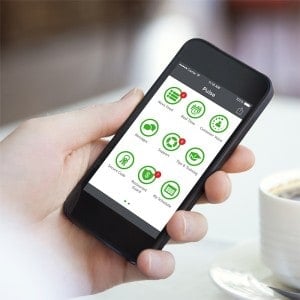 The speed of business is fast for convenience stores and quick-serve restaurants. NCR Radiant Pulse is a proprietary mobile app that takes real-time data from your hospitality POS system and delivers on a visual dashboard.
Radiant Pulse gives you access to:
Sales comparisons and forecasting
High-volume sales data
Sales categorized by type, hour, and register
Users access controls
Video monitoring
Transaction-level detail
NCR Radiant Pulse also lets you know when items are out of stock, and other exceptions such as refunds or voids. Fuel sales operators gain access to critical information about fuel flow rates, pump hardware or software failures, and tank inventory levels.
NCR Radiant Customer Self-Service Kiosk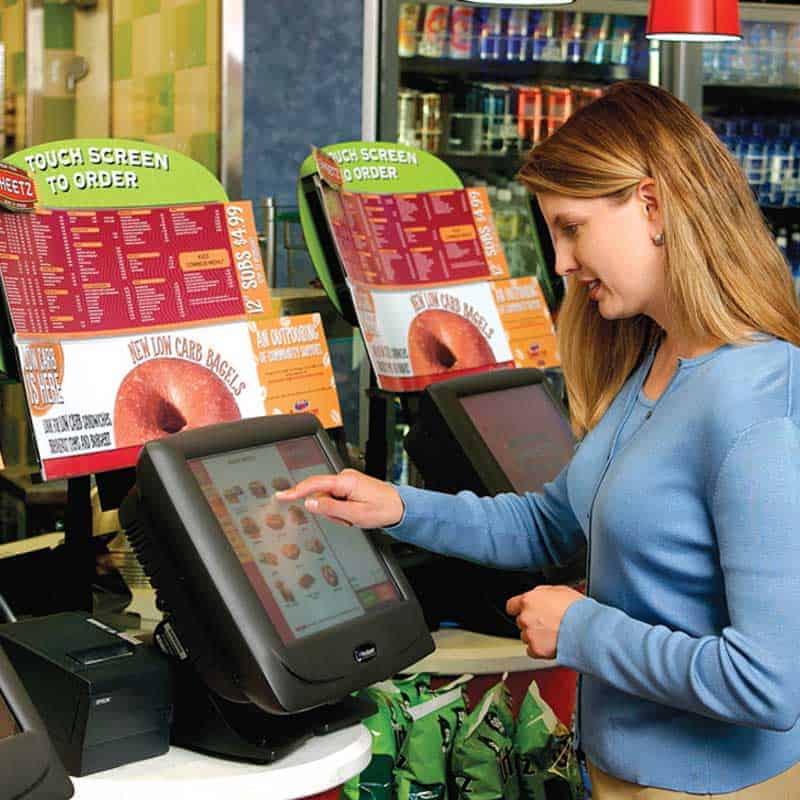 NCR was the first company in the market to provide a self-serve kiosk with a touchscreen. This option reduces labor costs and increases revenue and profits on every order taken. Automated upsell suggestions and add-on products increase the average checkout total.
Promote new items on vivid displays with enticing images and graphics. NCR Radiant POS will educate your customers about your latest menu items and other special offers. Direct your patrons to your higher-margin products and increase your profits.
NCR Radiant self-serve kiosks are intuitive and simple for any of your customers to use. Having a self-serve option reduces line abandonment during peak foot traffic. The overall speed of service and accuracy is increased due to the integration with kitchen production systems.
Self-service kiosks are a great place to increase customer loyalty and market to your customers. Launch new products, gather customer contact information, and allow your patrons to collect and redeem rewards program points.
Self-Serve Kiosk Back Office Integrations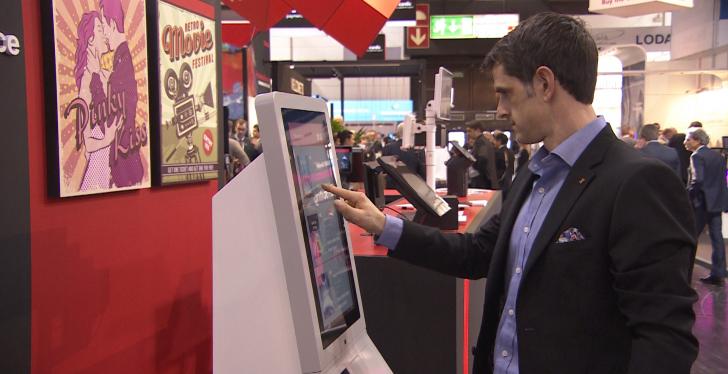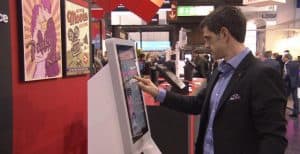 The NCR Radiant self-serve kiosk integrates fully with all your other store technology systems. Connection with recipe management, food costing, and inventory reporting gives your business vital intelligence to increase productivity.
All of your menu items, pricing and other options are configured and managed remotely. Push out changes universally to all stations within the configuration menu. The system also allows individual kiosks to have unique menu items, prices, or promotions.
Self-serve kiosks from NCR Radiant can also be customized by time-of-day or day-of-week.  Offer breakfast items until 11 am or all day. Set-up specials that are only offered on certain days and/or times. The menu configuration options offer maximum flexibility.
Improve the workflow in your kitchen with a self-service kiosk. NCR Radiant POS routes each item ordered to the appropriate preparation station. Video monitors allow staff and managers to proactively eliminate bottlenecks and increase customer satisfaction.
Self-Service Hardware Options
NCR P1560 Counter Kiosk
15-inch touch screen display
Compact footprint can be deployed in limited space
Intel Centrino Mobile Technology
NCR K660 Free-standing Kiosk
15-inch touch screen display
Stable, upright design with hardened enclosures
Integrated high-speed receipt printer
Clean installation options- no loose cables
NCR Radiant Kitchen Production System
Fully integrated with your NCR Radiant POS software, this system includes everything needed to streamline kitchen operations. Customizable displays keep all your staff working efficiently on the same page to swiftly deliver accurate orders to happy customers.
The NCR K1700 Kitchen Production Terminal is the brains of this operation. It's a single unit that includes a 17" LCD touchscreen display and retail-hardened electronics. No need for separate monitors and bump bars.
NCR Radiant ConvenienceGo Mobile Payments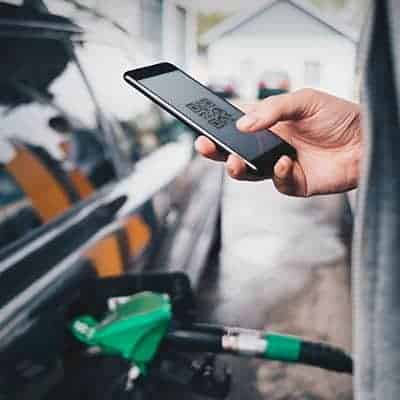 C-Go is a cutting-edge contactless mobile payment option that offers your customers convenience and security. No cards to swipe or PIN numbers to enter for debit transactions, patrons can quickly activate gas pumps and complete transactions.
This feature provides a range of payment option for customers to utilize in their mobile wallets. Shoppers can also add suggested items to their transaction, collect and redeem loyalty points, and receive e-receipts.
C-Go saves your customer's preferences and can send them targeted ads, promotions and messages. Loyalty is increased with personalized content based on their previous purchase histories.  Fast and secure, NCR Radiant C-Go mobile payments reduce transaction fees for everyone and increases the speed of service for customers.
NCR Radiant POS Pricing
All pricing for NCR Radiant POS is completed on an individual quote basis due to the wide array of service levels and hardware options the company offers. This includes an in-depth consultation to match your business with the ideal configuration.
NCR has acquired Radiant, a POS software company that specializes in the hospitality and specialty retail industries. In doing so, the company will be able to expand its market reach and strengthen its position in both industries. The company plans to lead the new line of business under Andy Heyman, NCR's Chief Operating Officer.
NCR Radiant has many features that can improve the efficiency of a business. The system is highly customizable and allows users to set specific parameters based on time of day, specials, and product line. It also has a video monitor that allows store managers and staff to proactively remove bottlenecks. This means that customers will be able to shop faster and spend more money. The company also provides comprehensive service and support and offers a range of hardware options.
Whether you have a single store or a chain of stores, NCR Radiant POS offers innovative products that help you meet and exceed customer expectations. Its user-friendly interface makes it simple for employees to learn how to operate the system. And with its real-time cash drawer audits, you can identify shrink before it becomes a problem. You can also integrate the system with a wide variety of third-party systems, such as payment processors and security cameras. NCR Radiant POS also complies with the strictest credit card security guidelines.
While there are several features that make this POS system useful for small-to-medium businesses, there are some drawbacks. While it offers a number of features, its pricing is high and requires a multiyear contract. Small to mid-sized businesses may not want to commit to a multiyear contract with a software company.
NCR Radiant POS Benefits
Intuitive software reduces training time
Touch screen interface with graphics delivers fast, accurate service
Integrated credit card processing with multiple payment options
Built-in redundancy eliminates data loss and POS system downtime
Comprehensive front-of-house reporting reduces time in back office
Integrated Kitchen Production System increases the speed of service and order accuracy
Modular, flexible design grows with your business
Hardware is durable and built to last
Global support infrastructure
NCR Radiant POS Drawbacks
Pricing for hardware/software solution not published
The total cost can be expensive upfront
Possible Alternatives
Our Final Verdict
NCR Radiant POS is a complete software solution compatible with a wide array of the latest hardware. It is a fully integrated system that will meet the demands of a busy convenience store and quick-service restaurant operators.
Industry-specific features give NCR Radiant POS a competitive advantage over other more general POS solutions.
Backed by an army of over 30,000 dedicated employees, customers who choose NCR Radiant POS will experience world-class support and continuous improvement and new innovations.
An investment in NCR Radiant POS is one that will pay dividends for business owners for many years to come.