(Last Updated On: September 27, 2021)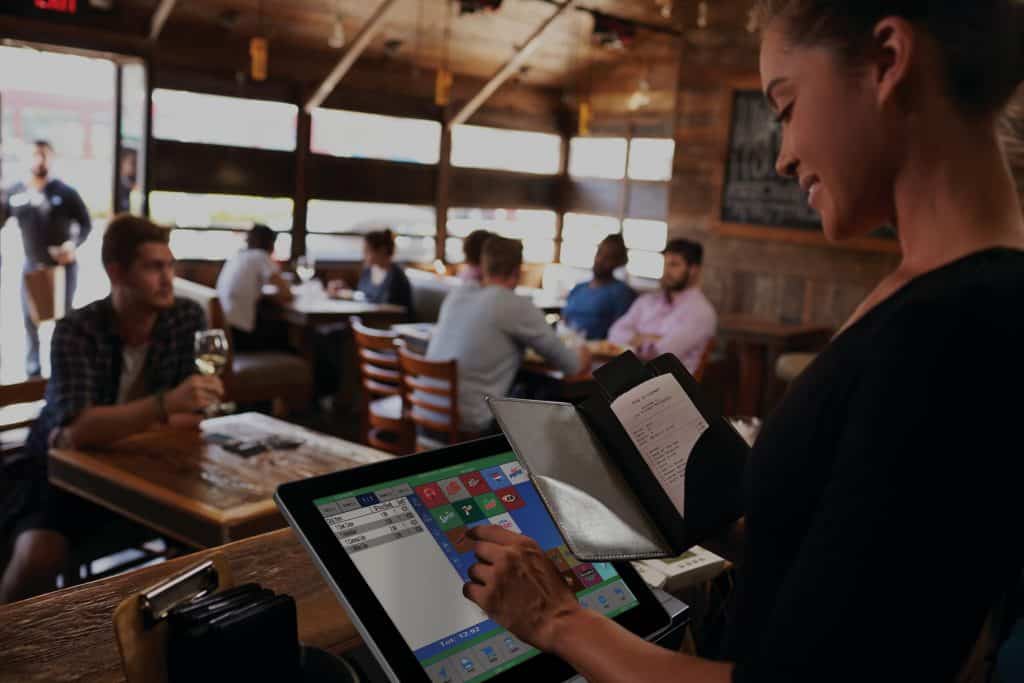 Both MICROS and Aloha are point of sale (POS) systems built by two leaders in the POS space. Because each is backed by a parent company with decades of experience, both are powerful systems for restauranteurs.
Restaurant point of sale (POS) systems are distinct because restaurants need unique features that retail stores (for example) do not. That's why retail POS systems don't feature dining room table management capabilities.
MICROS is exceptionally robust and can meet the needs of all types and sizes of food and beverage businesses. It particularly excels at data capture, storage, and reporting. But it's not cheap.
Aloha is a bit more affordable but is also built to meet the needs of all restaurant types and sizes. In fact, the company claims that "more restaurant employees are trained on NCR Aloha than any other restaurant software."
Our goal is to evaluate each system side-by-side. We aim to help you determine which of the two might be a better fit for your restaurant.
We'll start with a side-by-side comparison of the core aspects of each system.
MICROS vs. Aloha: Side-by-Side Comparison Summary
| | | |
| --- | --- | --- |
| POS Software Starting Price | Quote-based | Quote-based |
| Free Software Trial | X | X |
| Free Demo | ✓ | ✓ |
| Cloud-Based | ✓ | ✓ |
| System Accessibility | Windows installed & web-based app | Windows installed & web-based app |
| Customer Support | 24/7 Live Support | 24/7 Live Support |
| Ideal Customer Size | Small- to enterprise-level | Small- to enterprise-level |
| Produces proprietary POS hardware | ✓ | ✓ |
MICROS vs Aloha: Company Overviews
Both of these systems are owned by giants in the POS industry so it's important to provide context around that before jumping in.
MICROS Company Overview
MICROS was one of the first companies to produce POS systems. Founded in 1977, some of the first restaurant and retail POS systems ever used were manufactured by the American company.
It grew and became a household name before it was acquired by Oracle Corporation in 2014 (Source). Oracle is a multinational technology enterprise valued at close to $40 billion.
Once MICROS had Oracle's resources behind it, the brand's POS offerings began to improve rapidly. Today, MICROS offers a restaurant POS system (Simphony) that's as powerful as it is useful and effective.
More than a simple POS system, MICROS is a comprehensive restaurant management solution. It's designed to manage front-of-house, back office, and kitchen operations.
Aloha Company Review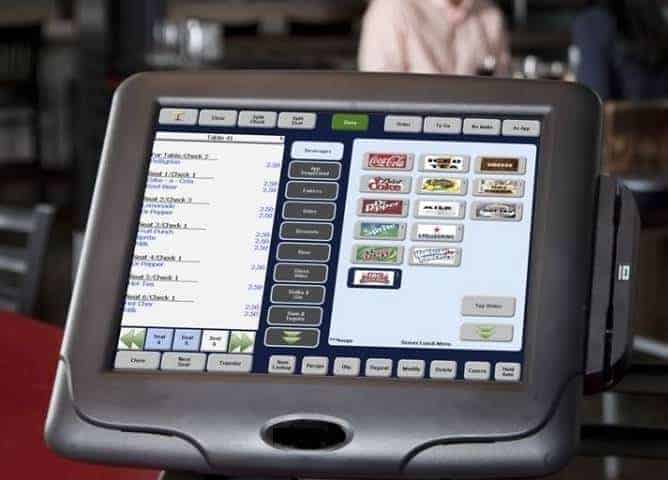 Aloha is manufactured by another giant in the POS industry with various offerings available: NCR Corporation. It was founded in 1881 and has helped businesses deliver a better customer experience for nearly 150 years.
NCR also offers various POS systems, and similar to MICROS, delivers an end-to-end restaurant management system. It is capable of managing everything from taking orders to analyzing results and providing insights to form business strategy.
It excels in many of the same areas as MICROS. Plus, it has more experience than most POS vendors and should have no problem stepping into the ring with MICROS. So, let's see how the two stack up against one another.
MICROS vs. Aloha: POS Solution Comparison
Both systems include tons of features and can be customized with addons to meet the needs of virtually any restaurant.
They are both priced on the higher end of the spectrum. But users claim the benefits and ROI generated far outweigh that cost.
Below' we'll look into various system capabilities as well as vendor services that impact consumers' purchase decisions.
Open API
An open application programming interface (API) gives software developers public access to a branded software system's code.
What does that mean? If you use a system with an open API, you can hire a developer to integrate it with third-party systems.
In short, an open API lets you connect additional software to your main system. Once integrated, they can interact with one another, share data, etc.
MICROS and Aloha both have open APIs.
Users can integrate third-party applications for any number of functions, allowing them to work from one system rather than 10.
Both systems' APIs are robust, easy to work with, and are strong selling points. This is especially true for larger operations with a greater need for customization and integration.
Therefore, MICROS and Aloha are neck and neck when it comes to their open APIs.
WINNER
We call this match-up a draw.
Front-of-House Features
Restaurant POS systems have features designed specifically for the "front-of-house," which refers to the restaurant's dining area. These are features used by servers, hosts, hostesses, bar staff, managers, etc.
Below we'll touch on each system's respective front-of-house feature set.
MICROS's Front-of-House Features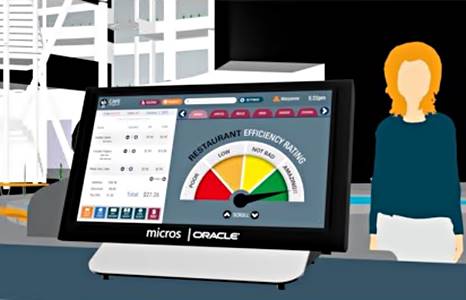 MICROS offers robust front-of-house features that make running a large, busy restaurant much easier and more efficient.
These features increase productivity, relieve various burdens from employees' shoulders, and lead to more satisfied customers. MICROS's entire feature set is extremely broad and diverse.
Among MICROS's front-of-house feature set, you'll find the following:
Online ordering capabilities
Curbside pickup
Delivery features
Payment processing with multiple methods of payment
Streamlined checkout features
Table management
Split and separate checks
Tips management
Self-service kiosks
Live order tracking
Waitlist management
Electronic signatures
Minimal user-reported system crashes or glitches
NOTE: Neither of the above nor below lists are comprehensive. But rather lists of the more important features for restaurants.
Aloha's Front-of-House Features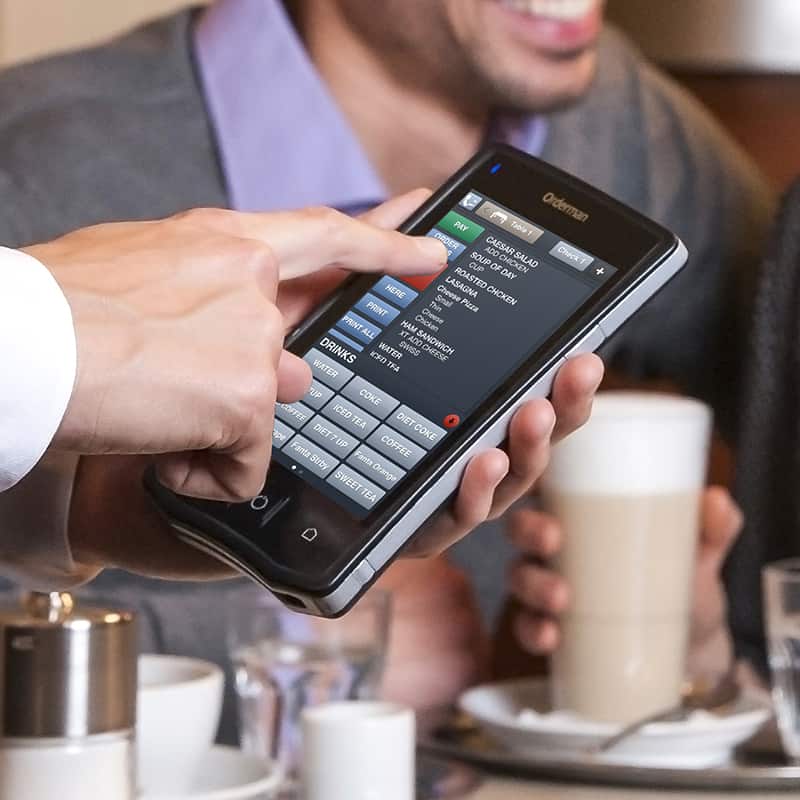 Aloha also delivers a broad feature set when considering the many options for integrations the system offers. Let's take a quick glance at some of its key front-of-house selling points:
Online ordering
Delivery order management
Curbside pickup features
Table management
Tableside ordering and payment via tables
Split and separate checks
Tips management
Self-service kiosks
Loyalty programs
Gift card management
SMS notifications to customers when their takeout order is ready 
WINNER
MICROS wins. Both systems come through on the front-of-house feature front. However, it's hard to compete with Oracle in virtually any business sense, including front-of-house features.
Back-Office Features
Now, we'll get into the overall restaurant management features that are essential to running a busy restaurant. These include features restaurant managers need such as reporting, inventory management, etc.
Again, both systems offer robust feature sets in this category. Let's see how robust each respective system's feature set actually is.
MICROS's Back-Office Feature Set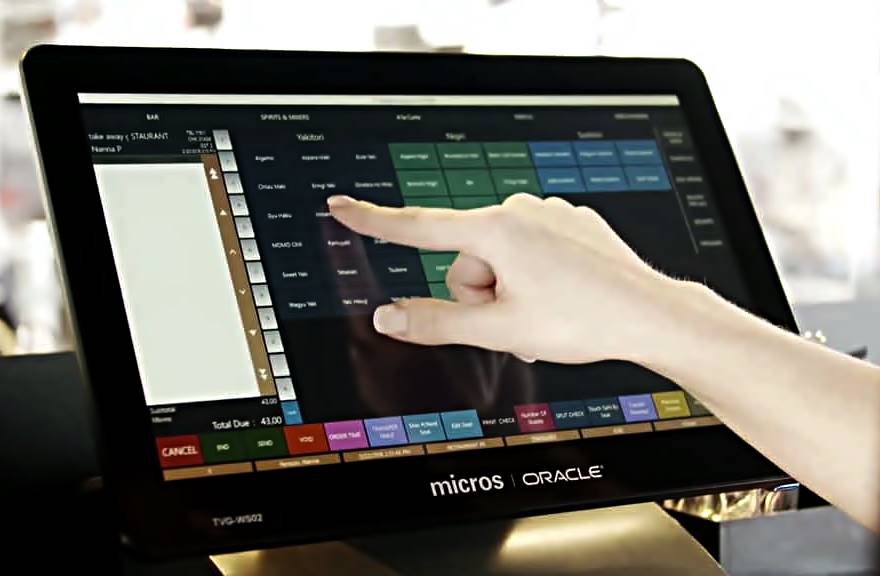 One thing Oracle does extremely well is capture, sort, and store data. When applied to a restaurant POS system, these abilities become incredibly handy.
They allow users to run data analyses they simply can't execute with most POS systems. In fact, MICROS arguably features the most robust, customizable reporting in the POS market because it's supported by Oracle.
In addition—and related to—reporting, MICROS delivers plenty of useful back-office features, including:
Inventory management
Employee management
Menu management
Forecasting around inventory, labor, etc.
Multiple location management
Mobile push notifications
Nutrition and allergy management
Built-in accounting features
Automated billing and invoicing
Aloha's Back-Office Features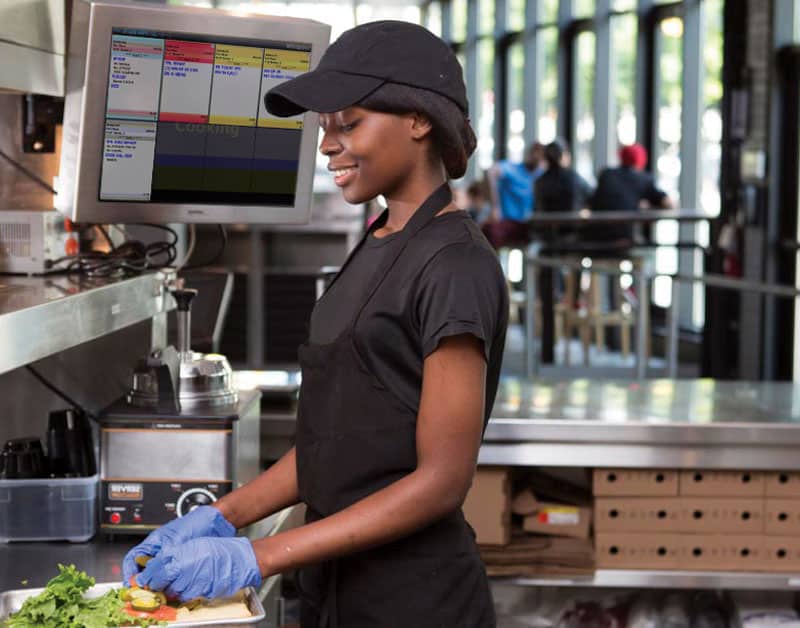 Aloha obviously doesn't have the superpower of Oracle behind it. It does offer the standard reporting you'd look for in a restaurant POS system.
But many users claim Aloha's reporting to be clunky and basic. Plus, many of them integrate a third-party solution to produce the reports they need.
Aloha does offer the back-office features most restaurants need, which include:
Customer profiling
Customer relationship management
Inventory management
Employee management
Menu management
Automated kitchen scheduling
Payroll tracking
Demand forecasting
Recipe management
Automated staffing recommendations 
NOTE: Unfortunately, many of the back office features listed above do not come with the standard Aloha system. They must be purchased as a bundled addon called "Back Office," which raises the price.
WINNER
MICROS wins due to powerful reporting that is included in the base fee for the system software.
POS Hardware
POS hardware consists of the components/peripheral tools you use to execute commands sent from the central software system. For example, if someone wants to pay with a credit card and your software has the capability to process that payment, it's impossible to do so without a POS hardware component: a card reader.
MICROS's POS Hardware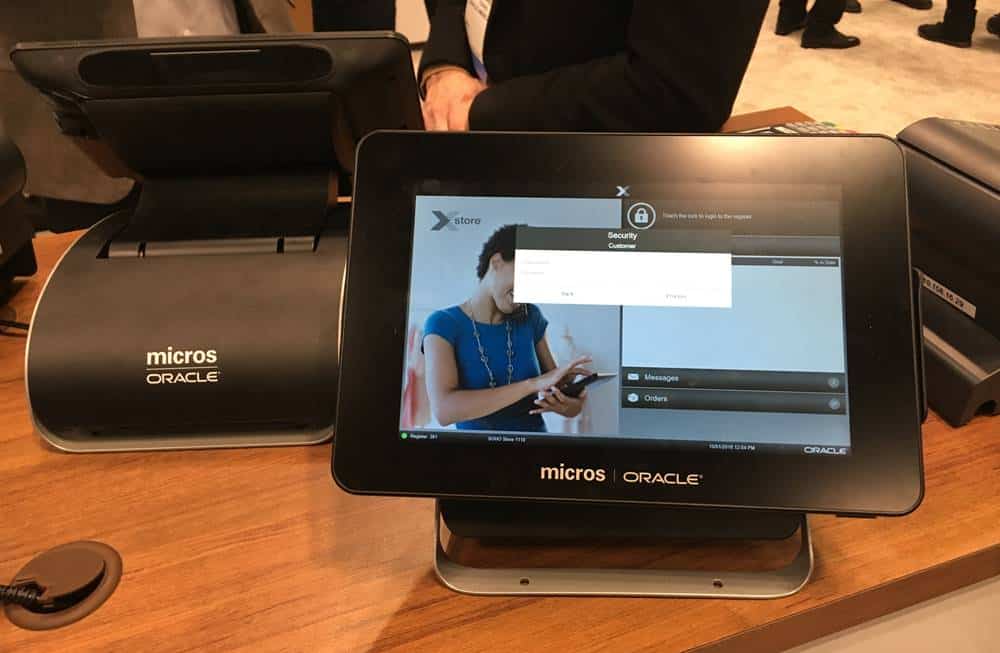 As mentioned above, MICROS manufactures its own POS hardware and has been doing so for decades. They sell close to 20 individual components that can all be connected to MICROS's signature workstations.
Its "Workstation 6" is the powerhouse of the family, with a widescreen display, embedded card readers and barcode scanners, etc. Plus, its POS hardware is built with a rugged design that allows it to withstand the rigors of a restaurant environment.
MICROS also offers kitchen display systems and self-service ordering kiosks, rounding out its family of POS hardware. MICROS does not publish hardware pricing on its website.
Aloha's POS Hardware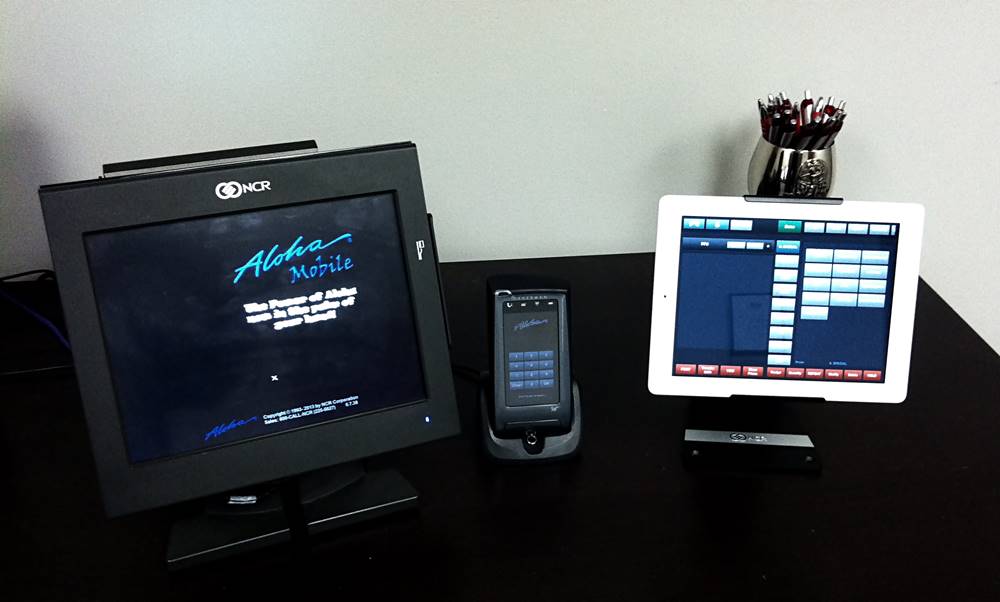 Aloha sells a much smaller selection of hardware, which is all produced by its parent brand, NCR. It sells POS terminals, front-of-house handheld devices, kitchen bump bars, kitchen touchscreen monitors, printers, self-service kiosks, and data servers.
Aside from that, Aloha doesn't list additional hardware on its website. Nor does it sell software bundles or list any hardware pricing on its site.
WINNER
MICROS wins.
Which System Would Best Fit Your Needs?
MICROS topped Aloha in three out of four broad categories above. But without available pricing information, it's difficult to call one system better than the other.
The best way to determine if one of these systems is a good fit for your restaurant business is to continue your evaluation.
Use your list of system requirements (if you don't have one, make one) to find the system that best fits your budget and checks the most boxes on that list.
Also, check out user reviews as they provide unique insight into how a specific software system acts on a daily basis. Although, be sure to take them with a grain of salt as you'll often come across outliers.
If you're ready to continue to evaluate these two systems, we recommend taking a look at our MICROS POS review. You should also check out our Aloha POS review. These articles provide deeper information and reviews of each respective system.