Just about everyone has at some point been served in a restaurant or hospitality setting by a business operating some version of MICROS Point-of-Sale (POS) software and hardware solutions.
MICROS POS delivers a turn-key solution designed for ease of use in a single store operation. The system offers complete scalability that can be implemented across an entire enterprise operation.
MICROS POS Review – Company Overview
Founded in 1977 in Columbia, Maryland; MICROS is one of the early POS pioneers in the restaurant and hospitality industry.  Since being purchased by Oracle in 2014, MICROS POS has also established itself as one of the leading technology innovators in the sector.
The Gold Standard in Reliability and Innovation
As one of the Restaurant POS providers who created the industry, MICROS has proven software and hardware solutions that are continuously updated with improved workflows, technology enhancements, and upgraded hardware performance.
Investing in a complete MICROS POS system will provide tremendous ROI to any operation in the form of efficient operations and delighted customers.
Here is an overview of the robust features of MICROS e7 Restaurant Management System, their flagship product, and details on their latest hardware offering, Oracle MICROS Workstation 6 Family.
Reviewing the Software
Operations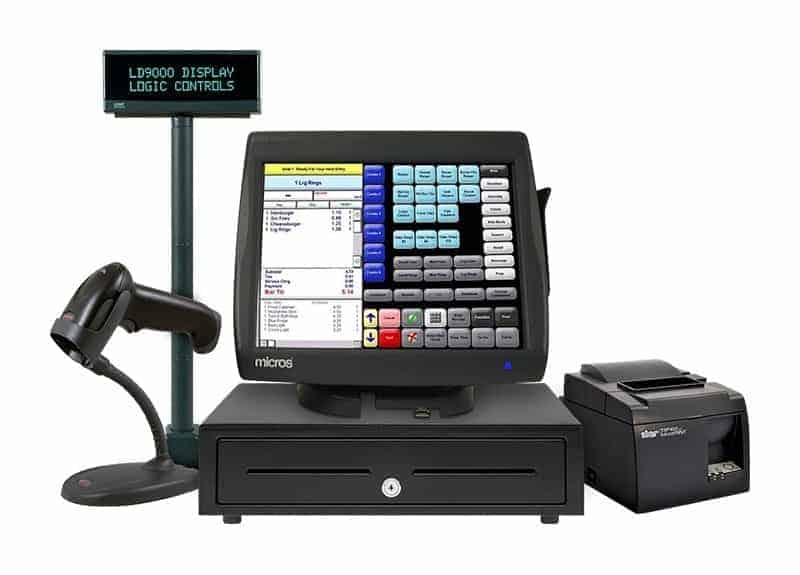 The operations module contains the two central dashboards.  These will keep your entire staff working with maximum efficiency to deliver a world-class experience to your customers.
The Front of the House dashboard primarily displays the current order status board for front-line employees interacting with customers.  They will always know the status of order completion in the kitchen.  This information also helps staff to manage the speed and volume of orders during peak time.
The Back of the House dashboard provides an overview of the Kitchen Display System (KDS). This ensures accurate and timely communication of orders to the kitchen reduces errors while improving the overall speed of service. Access to service alerts in real-time allows staff to proactively act to meet customer expectations.
Onsite Experience
This portion of the MICROS POS software is designed to handle every way your business interacts with your customers.  Whether you are a Quick Serve Restaurant (QSR) or Table Serve Restaurant (TSR), MICROS has expandable capabilities to meet all the ways you need to serve your patrons.
QSR Features
Loyalty Recognition/Enrollment
Countertop Ordering
Conversational Ordering
Drive Thru Ordering/Pickup
Drive Thru Self-ordering
Curbside Pick-up
Home Delivery
Kiosk for Self-Ordering
Bagger Display System
TSR Features
Loyalty Recognition/Enrollment
Table Management
Menu Presentation
Conversational Ordering
Order Taking Upsell
Pick-up Park and Pick-up
Home Delivery
Payments
MICROS POS payment options are fully integrated, making it simple to maintain PCI compliance and accept a wide variety of payment forms.
Whether someone is paying cash, using a coupon or loyalty points, MICROS payment options have you covered. MICROS does not require you to utilize their preferred credit card processors and is compatible with all major payment gateways.
Payment Features
Loyalty Enrollment
Earn Loyalty Points
Pay By Loyalty Points/Redeem Points
Cash Management/Cash Drawer
Mobile Payment
Digital Wallet
Gift Cards
Back Office
The back-office module is the real brains behind this operation.  This is where owners/operators can define overall operations and profitability metrics to maintain a healthy bottom line. Users can customize all reporting systems that provide role-based alerts and notifications to appropriate staff members in real-time.
Information is power.  In this world of Big Data, MICROS POS puts all your data at your fingertips allowing you to identify opportunities for increased efficiencies and revenues.  These robust back-office features will keep you in complete command of your operations.
Back Office Enterprise
Menu Engineering/Management
Inventory Management
Reporting and Data
Loyalty Program
Forecasting

Real-time Data Analytics
Inventory
Labor
Labor Management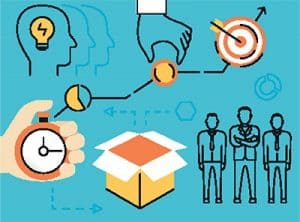 Your employees are on the tip of the spear in your quest to deliver memorable experiences to your customers. They also represent one of the most significant expenses in the restaurant and hospitality business. Every operation needs the right tools to properly hire, train and manage your Human Resources.
MICROS POS delivers a complete solution to allow your business to efficiently schedule employees and maintain control of your payroll expenses. Your managers will always have the right amount of staff to meet peak demand.
Labor Management Features
Employment Law Compliance
On the Job Training
Scheduling and Publishing
Timeclock Enforcement
Shift Pool Management
Payroll Processing

RealTime Payroll Cost Calculator

Forecasting
Allocation and Optimization
Where should I eat?
This is a question we all struggle to answer. In addition to all the great operation tools mentioned above, MICROS POS also has enhanced features that allow you to reach new customers and keep regulars coming back again and again.  From loyalty points and targeted offers, this solution has many tools to drive traffic to your door.
Pre-site Visit: OmniChannel Integration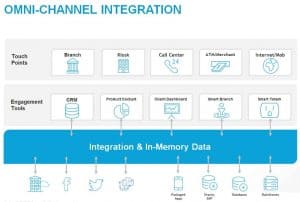 In today's world of constant connection via smartphones and tablets, businesses need to be able to interact with their customers through their preferred channel.
MICROS has integrations allowing you to enable a wide range of options to connect with your customers and take orders before they arrive at your store.
Mobile App/Ordering
Home Ordering
Loyalty Enrollment
Phone/Online Ordering Pick-up/Delivery
Detailed Reservations System
Post-site Visit:
Even after your customer leaves the restaurant satisfied, your work to create a loyal patron is not yet done.  Another part of the OmniChannel experience, MICROS POS allows you to target market customers with surveys, coupons, and other promotions.  These communications and offers reinforce brand loyalty and increase repeat visits.
Hardware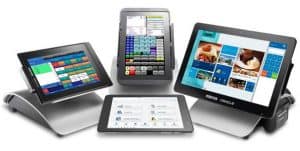 MICROS POS latest offering in hardware is the Oracle MICROS Workstation 6 Family.  With a sleek, modern look these components utilize the latest ORacle advancements and rugged design features able to withstand the most demanding environments.
All hardware comes preloaded with the latest version of Microsoft Windows 10.  Built as an all-in-one-unit, the displays are HD, wide-screen, LCD's with multitouch capability. These units also have the ability to be mounted flush on a wall or on a comparable stand.  These units look great and make a great impression on customers.
Built as one unit with no moving parts and an integrated magnetic card reader, these units are spill-resistant and can operate in temperatures, up to 122-degree F.
Key Benefits
Provides reliability and extended product life
Offers adaptability to changing operational requirements
Improves efficiency with simple, streamlined installation
Provides a modern appearance with its sleek look and feel
Enhances the guest experience with innovative customer engagement features
Key Features
15.6-inch wide-screen FHD display
Available in 3 different configurations: built with an Intel Atom processor, a Celeron processor, or a Core i5 processor
Microsoft Windows operating system
Adjustable stand to accommodate
power supplies and peripherals
Constructed with durable materials, including an aluminum alloy case
Wireless Connectivity
Integrated magnetic card reader
Service and Support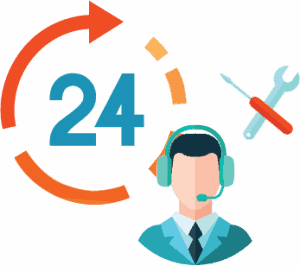 This is another area that MICROS POS excels.  They provide industry-leading support for both their hardware and software solutions. Certified representatives man a 24-hour customer help desk, 7 days a week.
Their training and support for owner/operators and their employees is also top-notch.  With many robust features, proper training will ensure that workers follow the proper workflow efficiently. Managers and owners can leverage reporting and data to improve operations and revenues.
MICROS POS Pricing
The total cost of a MICROS POS system will include monthly software costs based on service level and a number of users, hardware costs and credit card processing fees.
Due to the wide range of configuration and service levels, all pricing is provided on a quote basis.  All options can be customized for a single location with only one terminal or a 100,000-seat venue with hundreds of terminals.
MICROS POS Alternatives
Our Final Verdict
While MICROS POS is one of the more expensive POS solutions available in the marketplace, it is also one of the most robust options.  Your operation can leverage the management tools of this powerhouse system and realize a strong ROI.
Your business should more that make up for that expense in the form of more efficient operations and employees. The end result will be happy customers who will frequent your store again and again for years to come.
The following two tabs change content below.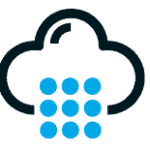 POS Quote Team
The staff at POSQuote.com is composed of industry professionals, experts, and current business owners. Through extensive research, we compile buyer's guides and review the best POS systems in the industry.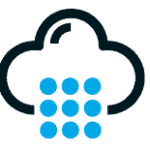 Latest posts by POS Quote Team (see all)