(Last Updated On: April 22, 2022)
With so many point of sale systems presently available on the market, it can be a herculean task to know which brand is ideal for you and your peculiar restaurant needs.
Not to worry, this article breaks down all you need to know about the Maitre'D POS system and how it stacks up compared to others in its league in terms of functionalities.
Maitre D POS is a feature-rich, cloud-based point of sale system that offers tonnes of capabilities for a wide range of restaurant businesses. 
It is an ideal solution built for small to mid-sized businesses in the hospitality industry, such as quick-service restaurants, cafes, nightclubs, and bars.

Maitre'D is a point of sale service system offered by technology company Posera with headquarters in Montreal and operations in Canada, the United States, and the United Kingdom. 
Posera, it should be noted, is a subsidiary of PayFacto Merchant Services, which majorly provides payment processing services to merchants.
Posera has an impressive range of solutions targeted at the hospitality industry in the payment processing niche, such as Kitchen Display System (KDS), SecurePay, and Databoard.
The Maitre D POS comes with PayFacto's proprietary payment gateway and Software as a Service point-of-sale technology.
Although it is cloud-based, you'll still need to install its software on a hardware device to use it. This points to it being more of a hybrid system since it incorporates two distinct processes. Its cloud-based feature is an essential component many users look out for when going for a POS solution, especially those running a network of restaurants. This basically means that you have nothing to worry about in terms of your data as it is safely backed up in the cloud.
It features tools that generally help to streamline operations, such as cross-platform sales reporting, check or item splitting, the possibility to integrate with third party reservation solutions, handheld tablets for order management at customers' tables, and many others, to its back office tools such as sales forecasting tools, reporting and business analytics, labour management, inventory management, cash management tools, loyalty programs, and an events manager.
The Maitre'D POS software also enables restaurants to easily build menus, manage inventory, and track progress across multiple locations.
Here Are The Features Of Maitre 'D POS
Choose Between Tablet And Traditional Kiosk Set-up
The Maitre'D POS bundle options gives you room to decide which type of set-up you want. EIther a tablet or the traditional kiosk setup or even both.
Ease of Use
When compared with other point of sale systems, it is fairly safe to say the Maitre'D POS has an easy-to-use interface. Navigation and menu options are easy to spot, adjust, and update.
Report Center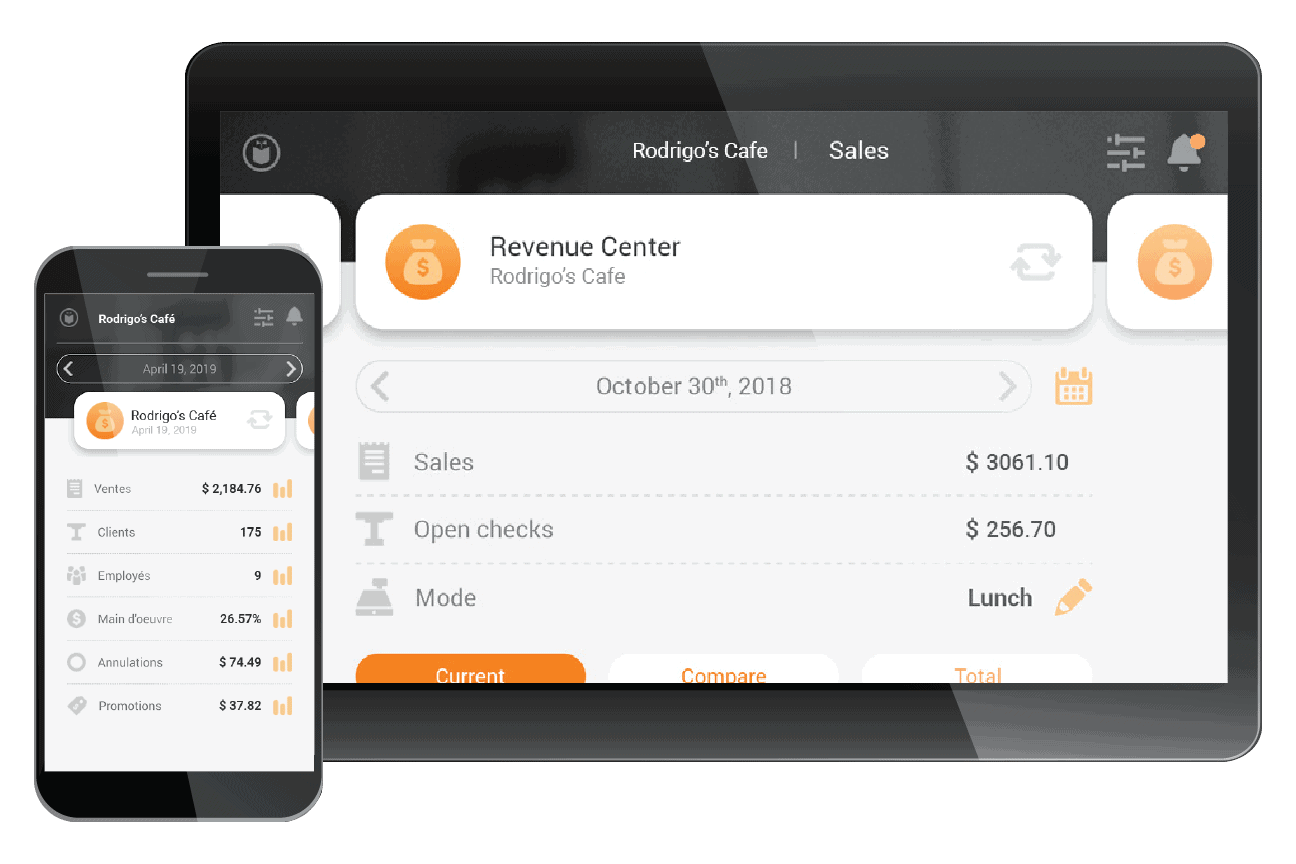 The Maitre'D POS offers a wholesome data overview with its report centre, which delivers operational support regularly. With this, you are enabled to make the best decisions for the business by acting on actionable data.
Payment Processing 
Payment on the Maitre'D POS is processed directly with PayFacto's EMV-certified and secure payment solution.
Table Management 
With the table management function, you are able to keep track of every table in your restaurant at any moment with its well laid out structure, which gives you a good overview of your restaurant layout. With this, you can see table availability and its status, as well as control the floor plan and guest flow.
Labor Management
With the point of sale's labor management function, you gain a real-time view into the cost of labour and can work out work schedules for every session of the day.
Loyalty and gift cards 
You can set up personalized rewards for customers and also accept gift cards.
Get Updates On The Go
With its various reporting features and mobile app that gives you easy access while on the move, you are able to keep track of developments, manage inventory and ensure you never run out of stock, and set up alerts.
A wide variety of data reporting features and a mobile app means you can easily access information when you're on the go.
Quick Overview of Key Features
Platforms supported
Web
Android
iPhone/iPad
Support options
24/7 (Live rep)
Knowledge Base
Phone Support
Email/Help Desk
Chat
Training options
Live Online
In Person
Documentation
Webinars
Videos
Components
Software
As noted earlier, the Maitre'D POS is cloud-based but also requires users to install software on a system in order to be able to use its provisions.
Hardware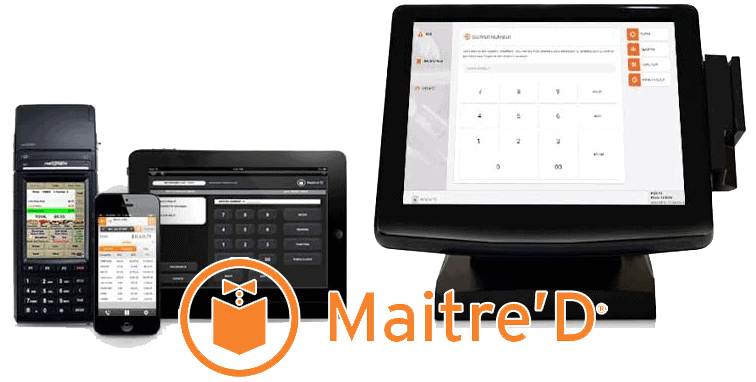 The Maitre'D POS hardware option is perhaps one of its best features, as it is extremely flexible in the area of hardware options. You won't get stuck at all since there are a number of popular hardware systems presently available on the market. This means you'll be able to make your choice in terms of hardware to use.
What's more, it supports both the iOS and Android mobile operating systems. You can use iPads and Android tablets, along with a wide range of touchscreen devices. You can also integrate printers and scanners as well.
Extra Add Ons Available Along With Maitre'D POS
To increase user experience and functionality, the company has a number of third-party hardware solutions that can help the POS system deliver much more. These include digital signage solutions, self-service ordering kiosks, online ordering and delivery, contactless dining, and liquor control devices.
In its bid to provide a wide range of functionality and ease of use, the company has partnered with some of the biggest names in the software industry, and these include: QuickBooks, Amadeus, Berg, BeerSaver, BMBC, Bevcheck, DataCandy, Chase Paymentech, Online Orders Now, and many others.
According to the company, extra add ons that have been made available along with the Maitre'D system, which can be added at any time, include:
Accounting interface

Accounts receivable

DataBoard for mobile devices

Delivery and dispatch

E-Global (enterprise management)

Inventory management

Kitchen Display System (KDS)

Online reservations

Pay-at-the-table solution

Integration of property management systems (PMS)
Quite interestingly, some users' reviews of the add-ons say they are not so easy to tweak to their specific needs.
Customer Rating
Customers rate it highly in the areas of ease of use, features, customer support, and value for money. It also has a 5.65%/10 likely to be recommended rating.
Customers' most loved features on the point of sale system are its reporting and analytics, mobile access, inventory control, delivery management, gift card management, kitchen and menu management, as well as reservations management.
How Does Maitre'D POS Stack Up Against Other Point Of Sale Systems?
According to GetApp, the top ten alternatives to Maitre D POS are GoFrugal, Lightspeed Retail, Vend, WooCommerce, Yodeck, Enlite POS, Megaventory, Bellwether PO and Inventory, EZOOfficeInventory, and ConsignCloud.
Let's see how Maitre'D compares with the first five on the above list.
Maitre'D POS VS GoFrugal
While they both compare nicely in terms of regular features, GoFrugal boasts way more unique features than Maitre'D.
GoFrugal has some unique features such as: access controls and permissions, routing, real-time notifications, and inventory tracking, which are not found in Maitre'D.
Both Maitre'D and LightSpeed have about 12 features in common.
While Lightspeed has unique features such as vendor management, data import/export, inventory tracking, and sales management, Maitre'D, on the other hand, boasts the following unique features: online ordering, wait list management, forecasting, and split checks.
Maitre'D VS Vend
While Vend boasts features like CRM, Multi-Channel Management, Discount Management, and Inventory Tracking Maitre'D's unique features includes Billing & Invoicing, Separate Checks, built-in accounting, and table management.
Maitre'D VS Woocommerce
Maitre'D stacks up nicely against Woocommerce as they both boast unique features peculiar to themselves, with not so many features lacking.
Woocommerce's distinguishing features include data security, multi-currency functionality, email marketing, and SEO management, while Maitre'D distinguishes itself with features such as separate checks, loyalty program, point of sale (POS), and its built-in accounting feature.
Maitre'D VS Yodeck
Both Maitre'D and Yodeck have four features in common, each with unique features.
While Yodeck has features such as its multi-screen support, image library, dual monitor, and scheduling function, Maitre'D also boasts unique features such as inventory management, loyalty program, and built-in accounting capability. 
Maitre'D POS Pros & Cons
PROs
Easy to install

It has an easy-to-use interface

Menu items can be easily managed and updated

It offers a wide range of hardware options to select from

It has a list of restaurant-specific features
Functionality can be increased by adding to its extensive list of add-ons.
Customer support is top-notch
It supports loyalty programs, inventory, and staff management capabilities
CONs
It requires you to sign up for a 3-year contract

High-end pricing
It favors PayFacto payment processor
There are reports of extended waits for support services
Back office system may not be accessible from the front office system
Maitre D POS Pricing
At the moment, Posera offers 6 pricing plans for the system, and these are the Maitre'D POS Solo Licence, Maitre'D POS Duo Licences, Maitre'D POS Advanced Package, Maitre'D POS & Payment Solo Bundle, Maitre'D POS & Payment Unlimited Bundle, and Maitre'D POS & Payment Advanced Package.
Maitre'D POS Solo Licence: Price starts at $109 per month and includes features such as 1 licence for Maitre'D POS, Time & Attendance, Back-office, Floor plan, Gift module, Latest software updates, Backup licence, Mobile Sales Analytics, Delivery, Online ordering integration, and Reservation integration.
Maitre'D POS Duo Licences: This plan starts at $169 per month and comes with all the Maitre'D POS Solo licence features as well as 2 licences 
Maitre'D POS Advanced Package: This plan goes for $75/month and comes with cloud reporting and cloud backup, accounting integration, accounts receivable, payroll integration, inventory management, bar integration, hotel integration, scale integration, discount manager, event manager, customer management, and Corporate communications module.
Maitre'D POS & Payment Solo Bundle: This POS and Pay Bundle costs $79/month with features including 1 licence for Maitre'D POS, Time & Attendance, Back-office, and Floor Plan. The most recent software updates, a backup licence, mobile sales analytics, reservation integration, and delivery are also included.
Maitre'D POS & Payment Unlimited Bundle: This bundle costs $149/month and comes with all the features of the Maitre'D POS & Payment Solo Bundle, unlimited licences and PayFacto integrated payment solution.
Maitre'D POS & Payment Advanced Package: This bundle goes for $49/month and comes with cloud reporting and cloud backup, accounting integration, accounts receivable, payroll integration, inventory management, bar integration, hotel integration, scale integration, discount manager, event manager, customer management, and a corporate communications module.
It's important to note that all bundle pricing is based on a 3-year contract for payment services, and the prices featured above are the company's current list and would last until June 30th, 2022.  You can catch up on any change in the pricing plan on their website.
Another important factor to also consider is the PayFacto Merchant Services processing rate which cost 2.49% and $.10/transaction.
Other rates to be incurred per transaction are:
Interchange surcharge

Visa/Mastercard 0.30%

$0.05 per transaction

Terminal leasing from $30 per month
Here's Our Verdict On The Maitre'D POS System
While it boasts a rich list of features, many restaurants will find it easy to use, but the tricky payment structure is a bit worrisome.
The individual bundle pricing can also potentially add up, especially when add-on subscriptions need to be considered for more functionality.
With the mandatory 3 year contract for its payment service, you may also want to consider the option well and ensure that it is indeed something you will find handy for the next couple years.
The flexibility of its service, however, is something that is endearing as it gives you a plethora of options both in terms of hardware and also software that can be integrated. Since it stacks up nicely when compared toe-to-toe with other brands in its league, it is a handy point of sale system that will serve any small to medium restaurant, especially those with multiple locations.
Where Can I Find Maitre'D POS?
A quote on the Maitre'D POS can be requested directly from Posera via their website or request via the PayFacto site.
This article was written by Wale Ameen and published on Wednesday, 20 April 2022.