(Last Updated On: October 5, 2022)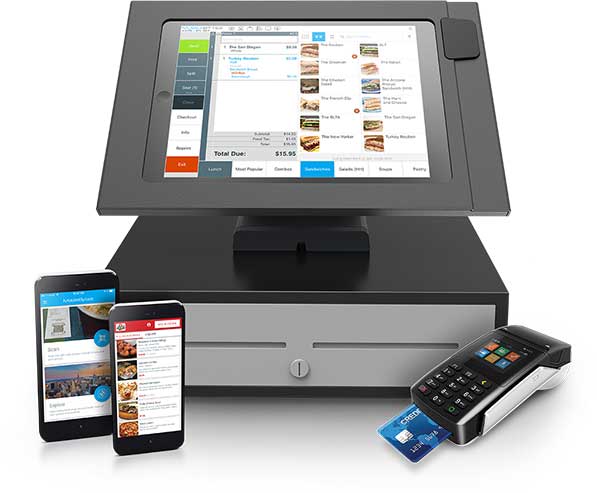 Retail and restaurant establishments need a POS system that can accept payments anywhere, manage payroll, engage with customers, manage inventory, offer gift cards, and more.
Whether you own a food truck or a quick-service restaurant, this cloud-based point of sale software can offer your guests accurate orders. By using hardware like kiosk ordering or online orders, customers can skip the line and get their food faster.
If you're looking for a point-of-sale system that's easy to use and can grow with your business, HeartLand POS is an excellent choice. This system can handle everything from taking orders to printing tickets - and it can even take payments. This helps you increase customer satisfaction, while reducing labor costs.
HeartLand has a range of POS terminals and services, including a cloud-based POS solution, eCheck payment processing, and mobile ordering capabilities. In addition, the Heartland Mobile Pay app allows you to accept payments in the field, such as at an event, with a mobile card reader. The application supports EMV, NFC, and magstripe cards. Although this is a convenient feature for merchants, it does have some technical issues when it comes to communicating with the Heartland payment processing network.
Heartland POS is a great choice for restaurants, because of its customizable features. The system makes it easy to manage your employees' schedules, as well as their hours. Employees can access their schedules from the app, request specific shifts, and check their time off balances. It also automatically calculates payroll and overtime expenses. It also supports two-tap ordering, which is essential for a restaurant.
Heartland has received a low number of complaints, with few claims of being a scam. However, it is important to remember that you should only work with a sales representative who you feel comfortable with. If you don't feel comfortable with a sales representative, you can always opt for a different company.
After an extensive Heartland POS review, we found it that it truly brings front and back-of-house operations together, by offering tableside ordering and minimizing contact. What's more, with preauthorization and two-tap ordering, Heartland's software is among the fastest in the industry when it comes to processing transactions.
For food delivery, Heartland integrates with various delivery services, including Uber Eats, Grubhub, DoorDash, and Postmates. And, if you want to avoid third-party fees, you can manage your own deliveries with the software's built-in features.
If you own a retail business, whether a clothing store or a gift shop, Heartland can automate various back-office and eCommerce orders. Manage the stock in your physical location on the fly. Track your best-selling items so you can restock with your suppliers and get alerts when inventory is low.
With more than 300 Heartland dealers nationwide, this POS solution fits the needs of various types of businesses and is widely supported. With more features than you can probably use, we found that Heartland offers faster setup than its competitors.
Finally, generate custom reports to see how your establishment is performing in real-time. Let's examine Heartland's key POS features, pricing plans, and how it can help you automate tasks around the business.

Who's Heartland POS?
Born in Austin, Texas, HEARTLAND POS is one of the easiest and most cost-effective restaurant POS systems on the market.
Their focus is on crafting superior customer experiences in high-touch venues with little room for error. The system is exclusively built for a fast-paced environment with unique operating needs.
Key Features
Customizable reporting for examining consumer data and gaining deeper insight.
Adaptable menu management with on-the-fly functionality.
Mobile payment system that empowers the consumer.
A loyalty program that includes customer profiles with personalized promotions.
Live 24/7 (365 days) phone and email customer service to support the busiest of times.
Offline capability is uninterrupted by network outages.
Possible Drawbacks
One possible drawback (that may also be considered a benefit) is that HEARTLAND consistently updates their system. Regular implementations require a degree of relearning, which can be inconvenient if you're running a busy office. Although the updates improve the overall efficiency, it takes some adjusting every time they do it.
HEARTLAND POS Pricing
The HEARTLAND POS pricing is subscription-based with a monthly cost of $49-$69. The contract period is a minimum of one year. Three terminals over a three-year period will cost a business $350/month. The company offers a free demo and full tech support throughout the entire customer lifecycle.
Processing Fees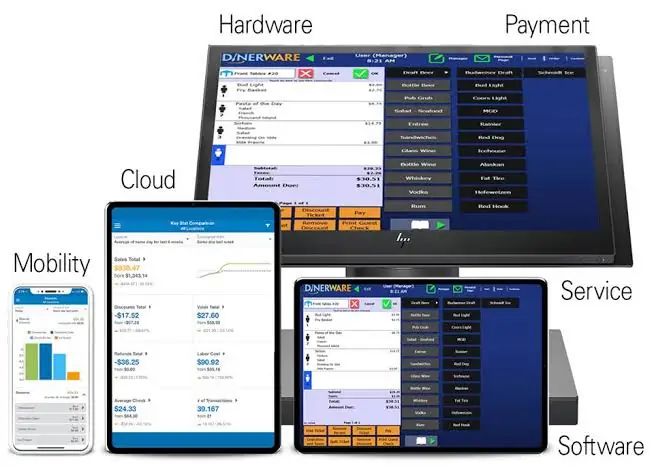 HEARTLAND has partnered with Gravity Payments for all credit card processing. On average, high-volume bars and restaurants are paying anywhere from $4,500-$12,000 every year. No matter the monthly card sales volume, HEARTLAND customers get a transparent, cost-plus pricing model that ends up saving money.
Credit card base fee + 5 basis points + $0.05 per transaction.
New changes with industry standards mean some establishments could be facing costly security upgrades. That's because SSL encryption is no longer a requirement. However, the HEARTLAND POS hardware, software, and payment technology are all 100% compliant with the new 2018 PCI rule. They stay ahead of the game with no additional cost to the customer.

HEARTLAND POS System Requirements and Capabilities
The HEARTLAND software platform is a cloud-based SaaS that runs on both iOS and Android mobile. It can also be installed on a Mac or with Windows.
Each HEARTLAND terminal and tablet has its own local database. To learn more about the hardware they offer, you must call for a free demo and quote. A POS expert will be available to assist you at any time of day.
HEARTLAND POS Key Features
The HEARTLAND POS mission is to not complicate your job with technology. They focus on aspects that support the busiest of nights and high-volume hospitality.
Here are some of the main features:
Manager Portal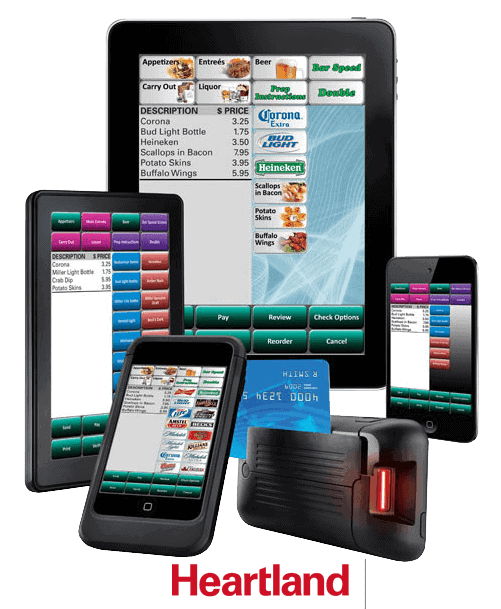 To keep shifts running smooth, managers and owners must always have their fingers on the pulse of the business. The Manager Portal is a highly customizable and user-friendly feature that can be accessed from anywhere, at any time.
Supervisors can work faster and make more informed decisions with the right data in hand.
Here are some benefits to using the portal:
Pricing Event Calendar – You can schedule specific event pricing, happy hour/s, or add any occasion to the mobile calendar.
Menu Button Management – Create, delete, and adjust buttons quickly with the easily-customized platform.
Hourly and Historical Data – Tab totals, sales, comps, voids, and discounts can all be accounted for in the Manager Portal.
The idea behind the portal is that it takes just seconds to personalize the system. In an environment where things move fast and change quickly, this type of functionality is essential.
HEARTLAND Tab
There's no longer a need for staff to hold a customer's credit card. It's an outdated practice that runs the risk of theft and fraud. HEARTLAND Tab empowers the customer to track their own tab throughout the evening with a mobile device.
A tab is opened as usual when using a card. The HEARTLAND app can then be downloaded from the App Store to display a live tab on their phone. Customers can tip and close out the check all within the program.
Some key advantages to this feature include:
Paperless receipts
Quickly settled checks
Live tabs
Easy tipping guide
A recent study by HEARTLAND found venues that utilize the app saw a 22% average increase in tips. The system is beneficial to the entire business, including keeping staff happy.
Customer Insights
Running a lean operation and working smarter only happens with good information. The HEARTLAND POS system offers keen insights. They provide useful tools and data that can make for a valuable addition to your team.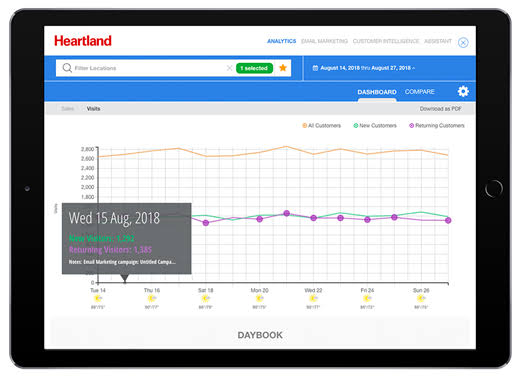 Some key advantages to the analytics feature include:
Customizable tools that are easy to adapt
Create reports based on:

Labor
Consumption
Inventory

Develop data filters for better segmenting
Additional Features
The HEARTLAND point of sale platform can also service your business with these:
eCommerce Integration
Commission Management
KYC (Know Your Customer) profiles and notes
Full EMV protection
Multi-location management
Although the HEARTLAND POS program is designed to help any venue in the foodservice industry, it still addresses niche solutions. Each caters to the specific needs of certain establishments.
The system is separated into three offerings (in addition to the basic POS): Restaurant Management, Bar POS, and Restaurant POS.
Here are some features to expect from each program: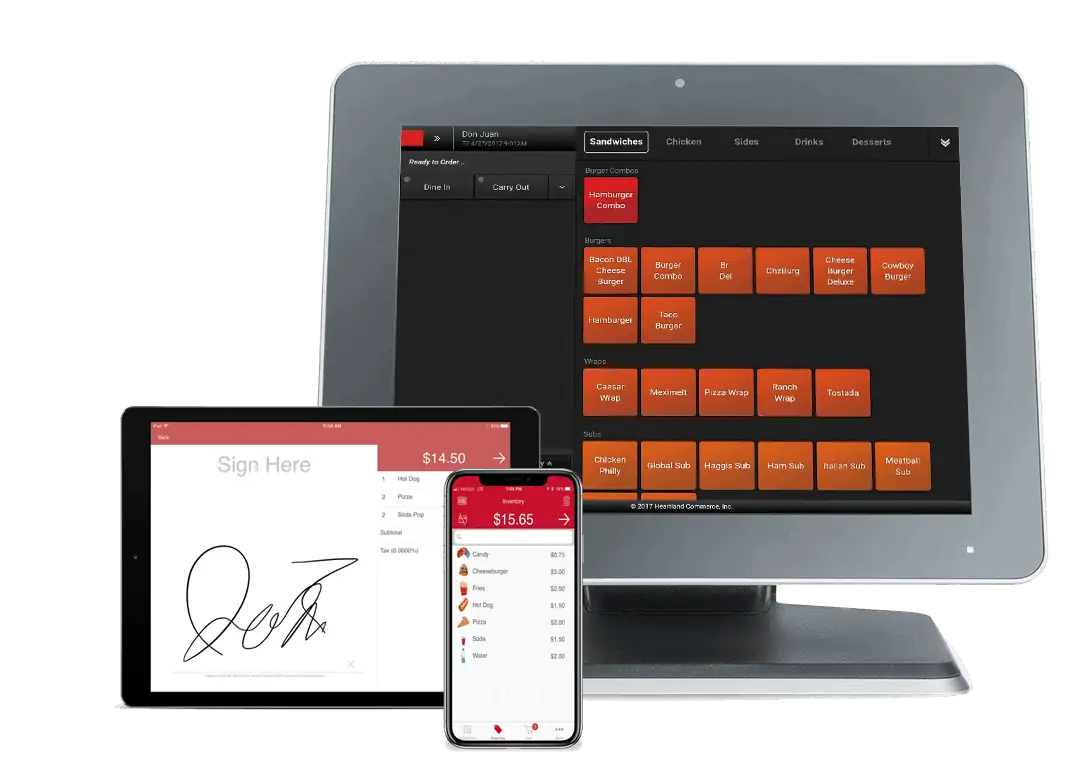 Bar Point of Sale
Employee scheduling and performance reporting
Separate and split checks
Cash drawer and tip allotment
Inventory control
Loyalty program and gift card management
Restaurant Point of Sale
Delivery management with mobile access
Table service with facilitated transactions
Customized reporting and analytics
Online ordering system with a loyalty program
Automated inventory and stock management
Restaurant Management
Built-in accounting with billing and invoicing
Kitchen management with inventory control
Reservations and waitlist automation
Menu management with instant customization
Table-side management with reporting options
HEARTLAND Customer Service & Support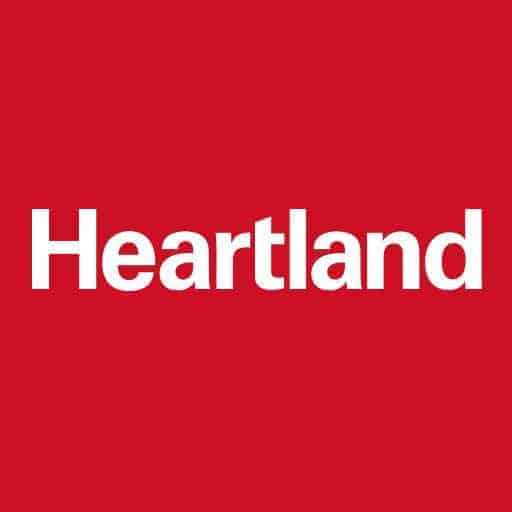 HEARTLAND POS is built by people who have experience working in the foodservice industry. Thus, they understand the need for a fully supportive team to address any issues that occur (at any time).
Restaurants and bars rarely close on holidays and many are open late hours. The Heartland customer service team is available 24/7/365.
Heartland Payment Systems has been accredited by the Better Business Bureau since 2004. The company holds an "A" rating and has received only 16 complaints over the past three years. That is a relatively low complaint number for a large processor. Most of the complaints are related to billing or collections issues, but there were a few that focused on product or service problems. The complaints were resolved in the merchant's favor.
In the past, Heartland adhered to ten merchant guidelines, but that doesn't mean anything anymore. They charge over two to five basis points more for monthly billing than other processors. In addition to this, they charge businesses $25 a month for "service" and regulatory fees. This is ridiculous.
Unlike other companies that offer similar services, Heartland's salespeople do not reveal their names and phone numbers to customers. Heartland also does not reveal the names of the business owners. Despite this, they have a high customer retention rate. That means their products and services will remain in the market for a long time.
Heartland Payment Systems is a preferred provider of payment processing and payroll services for the lodging industry. Additionally, the company has a long history in K-12 education. The company provides integrated software systems for schools that help them improve student wait times and increase efficiency. Heartland also provides in-person and online training to help schools use their systems more effectively.
They offer year-round email and phone support for the entire POS system. Whenever a business is in need of assistance, you can reach a live person.

The Last Dish
Although there are several restaurant POS systems, HEARTLAND is specifically designed for speed and efficiency. The QSR features it offers are similar to those of Zeus POS and Qu POS.
While it is mostly geared towards restaurants, Heartland can also be customized as a grocery POS system or Liquor Store POS
The product is streamlined to only offer what a business needs to succeed quickly while cutting out the rest of the noise.
There are no distractions with HEARTLAND. Customize it in seconds to adjust to last-minute changes. The equipment is simple, and the reporting is thorough.
Fees are transparent and some of the lowest in the industry. If you run a fast-paced restaurant or bar, this should be the first POS solution you consider.
It creates efficiency you can leverage for repeat customer satisfaction and a healthy ROI.