(Last Updated On: March 29, 2023)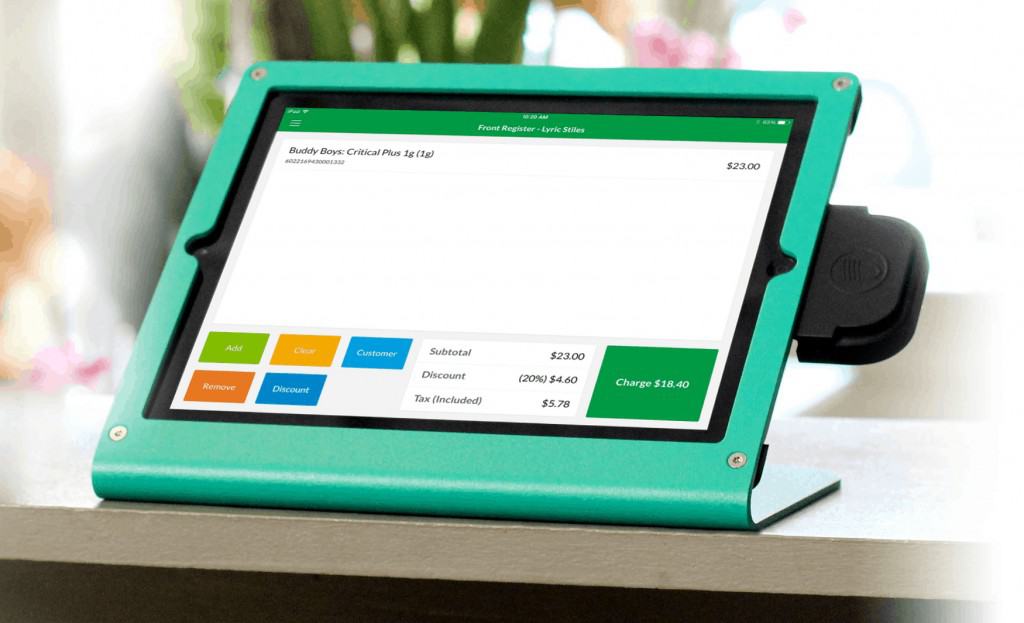 If you need a seriously reliable dispensary management software, look no further than Greenbits. If your goal is the ultimate reliability and up-to-date compliance, this POS system is the right solution.
Save time with a lightning-fast checkout system that lets you focus on your customers. With Greenbits, business owners and budtenders can focus on increasing sales, all while improving the experience at the store.
Reliable dispensary software that saves you checkout time by quickly processing payments
Green Bits POS is the best dispensary point-of-sale software available. It helps you keep extensive customer records, manage everything from anywhere and anytime, keep your data highly secure and much more.
It also supports a number of important features including menu generation, inventory management and many others that help your business run smoothly. It is also fully integrated with the compliance systems of each state and automatically submits compliance reports.
You can also integrate the Green Bits POS with Leafly Biz to sync menu data directly from the POS to the online platform. To connect the two platforms, you will need your Green Bits API credentials (see below).
The POS is easy to use for both budtenders and customers alike and has an intuitive design with automated compliance. It is also integrated with Dutchie's reliable internal payment solution to maximize budtenders' transaction volume.
Unlike traditional retail, cannabis is different and it's crucial that your POS is geared to the industry. Choosing one that is designed specifically for the needs of the cannabis industry will ensure you are meeting your legal requirements and staying compliant with government regulations.
A reputable POS will also provide you with valuable insights into your customers' preferences, and allow you to optimize your inventory and pricing strategies. This helps you increase your sales and give your customers a satisfactory experience.
The best POS system will provide a high level of security, a user-friendly interface and support. It should be affordable and include a host of helpful features, such as e-commerce integrations.
After an extensive review of Greenbit's POS software, we found it to be highly reliable, mainly due to its Emergency Mode feature. Even if your Internet connection goes down, you'll still be able to process sales and keep your lines moving. Another standout feature is automated traceability, which helps you remain compliant and avoid losing your license.
What's more, Greenbits integrates with industry-leading solutions like Leafly, Weedmaps, Baker, and more. With these integrations, you'll be able to update your menu in real-time and offer your customers the products they want to buy.
But your dispensary POS system won't be complete without the right hardware components. During onboarding, Greenbits will provide customer-facing tablets, barcode scanners, and receipt and label printers. Your budtenders will use these hardware components to interact with customers, verify age and ID's, and streamline the checkout process.
Let us show you how Greenbits can help you manage inventory with ease, simplify management tasks, and become your most powerful retail management and sales tool.

Green Bits POS Review: A Little Bit About This Software Provider
Green Bits Inc. was founded in 2014. The company is headquartered in San Jose, CA with additional offices in Portland OR. As a startup Green Bits raised over $20 million in venture capital.
The Green Bits POS system is deployed in thousands of businesses. The annual revenue for Green Bits is over $2 million, and it is estimated that Green Bits clients process over $2 billion in sales per year.
Setting the Stage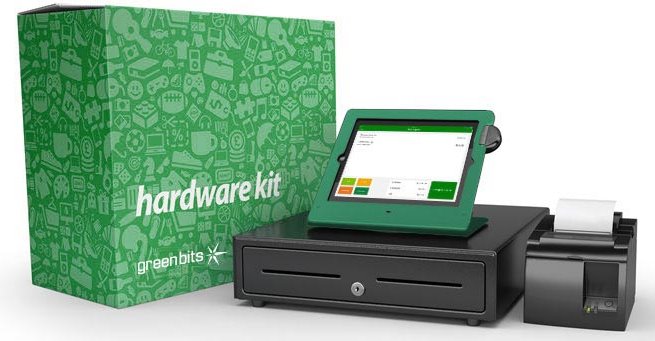 No more than a decade ago the sale or possession of marijuana for recreational use was not only a federal crime in the U.S. but was also illegal in all 50 states. A few states allowed the medical use of marijuana by prescription under strict supervision for conditions ranging from glaucoma to cancer.
Recently many more states have approved cannabis products for medical use, sometimes with restrictions that limit the form or the THC content of these products. A growing number of states, moreover, have decriminalized the sale and use of marijuana altogether; but this has come with strong regulation to ensure that sales occur only by licensed dispensaries, and the amounts available to an individual are strictly limited.
Green Bits supports the needs of medical marijuana dispensaries, while focusing especially on the growing recreational market.
All marijuana use remains illegal in the eyes of the U.S. government. However, so far federal prosecutions are rare in states that have begun permitting its use. This situation, though, has led to many special problems for the cannabis industry. Green Bits does its best to address these problems.
Green Bits vs Conventional POS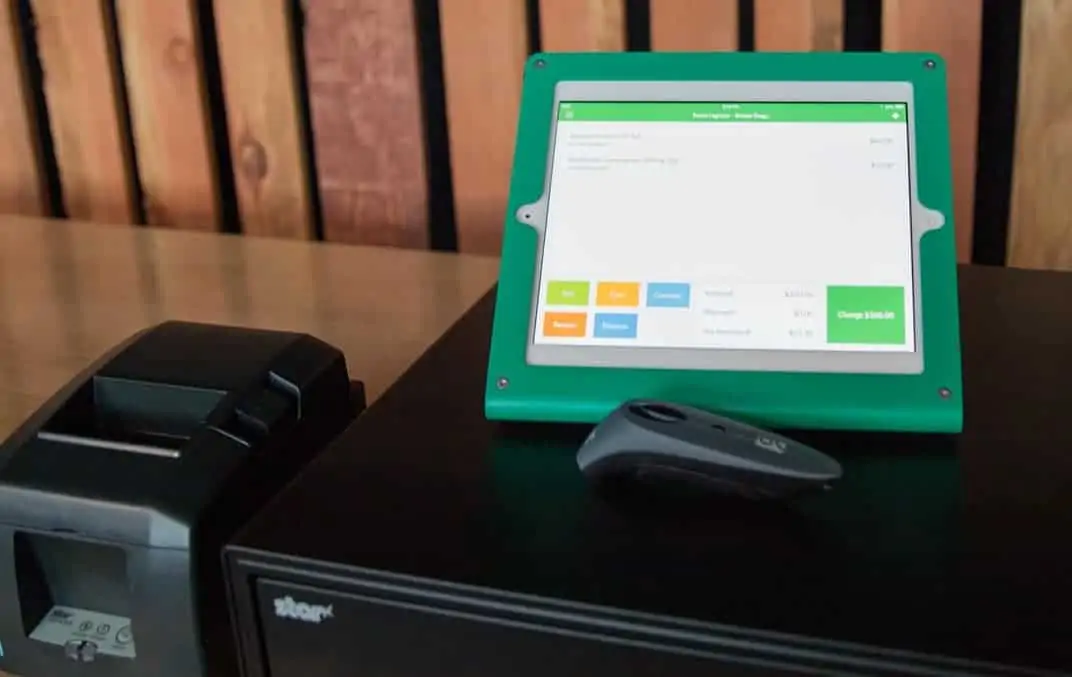 Unlike most Dispensary POS systems, Green Bits was designed from the ground up for the special needs of cannabis dispensaries.
Among these needs are state by state compliance, customer identification and transaction logging, strict inventory control, and support for mostly cash transactions.
State by State Compliance
One of the major challenges for a cannabis store is maintaining strict compliance with regulations that vary from state to state. Green Bits allows extensive customization of store policies and procedures to adapt to the requirements of the state in which each dispensary is located.
Just a few examples of the issues with individual states include:
In some states, such as Colorado, counties can permit or prohibit marijuana sales
Some states, such as Oregon, prohibit collection of customer information without written permission
Some states, such as Maryland, allow samples to be given away. Others do not.
Some states prohibit sales to non-resident visitors.
To adapt to differences like these, Green Bits can scan customer IDs to create positive identification; maintain customer profiles or discard information after each sale; allow sampling as an inventory option; and provide many other options.
Customer Identification and Tracking
All states require positive identification of customers. Green Bits supports scanning of IDs at the point of sale. Customer age must be verified, and residence may be a factor. Limits are imposed on the size of each transaction. In most states customer transaction history should be maintained. Green Bits maintains full records on customers and transactions unless prohibited by state law.
Strict Inventory Control
State compliance requires accounting for every cannabis-based item that enters the inventory. Items must be tracked by units or weight. Some states permit limited samples to be given to staff or customers, but all must be tracked. Product can be weighed out as sold, but total weights must be accurate to the fraction of a gram.
Green Bits supports full tracking of item properties, including weights and THC concentrations. Approved scales can be integrated to measure weights accurately at the point of sale or at a separate weighing station. Samples are logged to ensure that the inventory remains correct.
Cash Transactions
Most banks will not handle accounts for cannabis dispensaries, to avoid running afoul of federal law. Thus, the marijuana industry operates primarily on a cash basis or by using special processing companies.  Green Bits supports full cashier and cash drawer management with frequent drops and detailed reports.
It is also possible to price items in full dollar amounts, with taxes built-in, to avoid handling of coins.

Green Bits POS Overview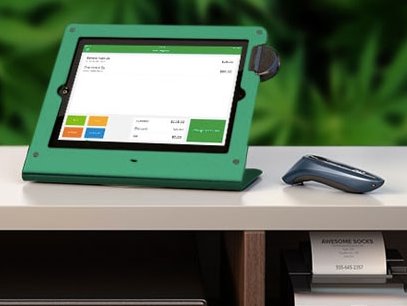 With the rise of the cannabis industry, many established suppliers of POS software developed add-ons intended to serve the needs of the new dispensaries.
However, it has proved difficult to shoehorn the unique requirements of marijuana retail into existing systems. Green Bits was born with the industry and designed for its special needs from the ground up.
The Green Bits system consists of two main components: POS software running on one or more Apple iPads ("Register") and a web-based inventory and management system ("Back Office"). The register is used to manage customers and to process orders and payments. The Back-Office handles inventory, staff management, reports, and other essential functions.
Customer Management
Customers may be checked in on arrival and assigned a place in the processing queue. Arriving customers must be identified either manually or by scanning their IDs. Profiles are optionally maintained for repeat customers in states that permit this, so basic contact information does not have to be reentered. Discounts and deals may be available for frequent customers. 
Orders and Payments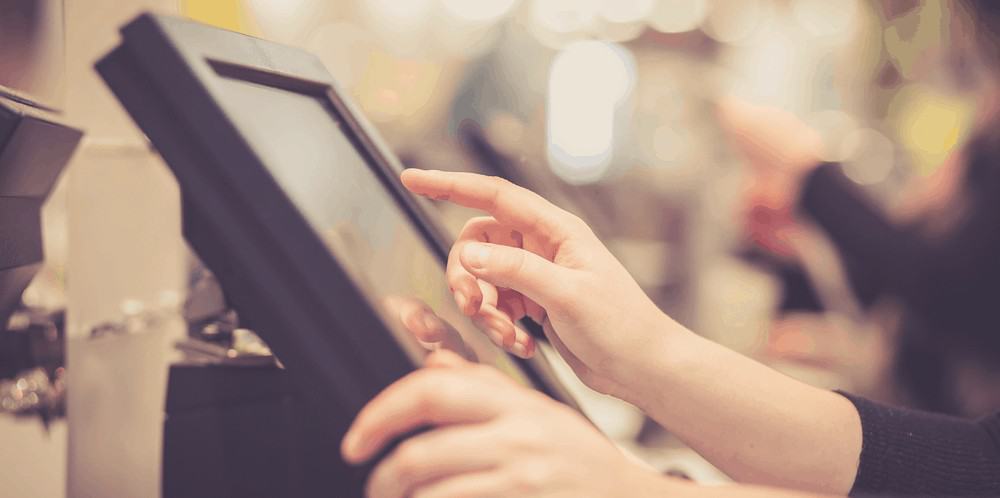 The register is used to take orders, weigh the product if necessary, calculate prices and receive cash payments. Other forms of payment require use of a third-party payment processor.
While some dispensaries will sell their products only in prepackaged form, many others support weighing the desired amounts on request. For this purpose, a scale can be integrated directly with the register for checkout. For larger stores, Green Bits offers a separate weigh station where the product can be weighed and packaged with labels that are automatically generated prior to checkout.
Register
A cash register is an essential tool for tracking inventory and sales. It's also a great way to take payments from customers, including gift cards and layaways. But, as you grow your business, it can become a complex system for managing inventory and credit-based payments.
Orders and Payments
Purchase orders and invoices are legally binding documents that are exchanged between sellers and buyers. However, they are often confused or mixed up, as both document the purchase of goods and their prices.
In the US, for example, money orders are a trusted method of paying for goods abroad. They are issued by a bank or other financial institution and are usually bought in the currency of the buyer's country.
International money orders can be redeemed at any location that accepts them, including ATMs. Alternatively, they can be used online to pay for goods.
Money orders are typically issued by a bank or other financial institution, and can be bought in any currency that the seller accepts. They are a more reliable and safer way to pay for goods than sending currency through the postal service.
A money order is a directive to pay a pre-specified amount of money from prepaid funds, making it a more trusted payment method than a cheque. Unlike cash, money orders are not always accepted by the recipient and can be difficult to process, especially in countries where the post office does not have a presence.
Inventory
the Back Office supports a comprehensive and highly customizable inventory system. Marijuana products can be organized and labeled by category (flower, edibles, etc.), by strain, and by brand. Test results (e.g. THC concentration) can be included if available. Bar codes are used to identify the properties and quantity of all prepackaged items. Appropriate pricing schemes can be attached to each item.
Most retail systems combine records for items of the same type. Marijuana laws require separate identification and tracking of product from each individual plant. In Green Bits all sales and inventory records are distinguished to the individual plant level.
Menus are generated directly from inventory records. The system can also be integrated with sites such as Weedmaps and Leafly. The integration enables these sites to present their visitors with up-to-date menus of products and pricing available from Green Bits clients.
Staff Management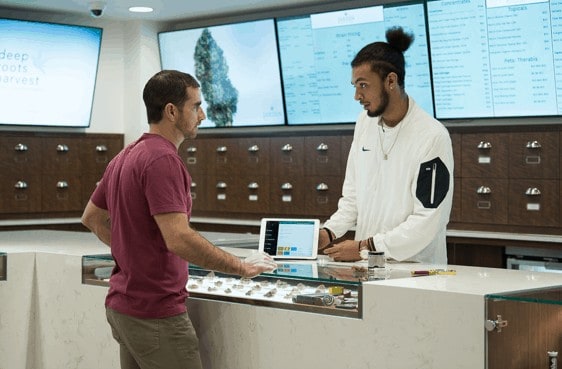 Green Bits maintains employee records and handles check-in and checkout for employees. Cash drawer reconciliation by cashiers is fully supported. Staff performance monitoring ranges from logging total sales by budtenders to keeping track of any samples that are given.
Reports and Compliance
Records are maintained in the cloud and integrated with the compliance systems of each state. Compliance reports are submitted automatically. In addition, a large number of report types may be automatically generated for management purposes.
Hardware and Software
The software provided to Green Bits clients consists primarily of the Register app, which is installed on one or more Apple iPads. The other principal software component, the Back Office, is accessed via the web using a standard web browser.
An iPad interface is the only required hardware component. However, this may be integrated with standard POS hardware including cash drawers, label and receipt printers, barcode scanners, and scales.
Features and Capabilities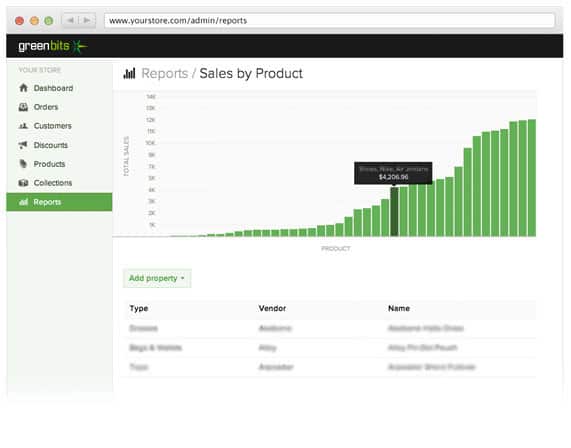 Green Bits provides the full order processing and register services expected of a point of sale system, including an integrated weight scale.
However, the system itself is designed for cash payments only. Clients who wish to accept credit and debit payments must work with a third-party payment processor.
Some other features of the Green Bits POS are:
Full State Integration. Green Bits is fully integrated with each state's compliance system and keeps up with updates in state requirements.
Customer Management, including check-in, positive customer identification and a customizable loyalty program for frequent customers.
Patient Management with required documentation for medical marijuana patients.
Transaction Limits to ensure that purchases and customers remain within legal limits.
Automated Discounts for product specials, happy hours, and more.
Online menus integrated into Weedmaps, Leafly, and Baker.
Employee Management including shift and drawer management and budtender performance reports.
Inventory Management in the cloud, with support for hassle-free audits.
Web-based Back Office to allow system management and inventory checking from anywhere.
Emergency Mode, allowing limited operation offline if the Internet is unavailable.
High Reliability, with a claimed uptime of over 99.9%.
Security
Green Bits provides secure access to all functions using a system of passwords, PINs, roles and permissions.
Clients are counseled to use a private, dedicated WiFi network for communication among their iPad register devices. Access to the Green Bits app requires entering a PIN number. This associates all use with a specific cashier and cash drawer. All cashier operations are logged.
Green Bits provides a fine-grained permission system with over 100 distinct permissions such as Manage Shifts, Receive Inventory, Create Discount Plans, and many more. Most of these operations require Back Office access. All access to Back Office functions uses standard Internet encryption and requires a username and password.
Registered users are assigned roles, which come with a default set of permissions. Default roles include budtender, shift lead, supervisor, and admin. Other roles may be defined as needed.
Green Bits Pricing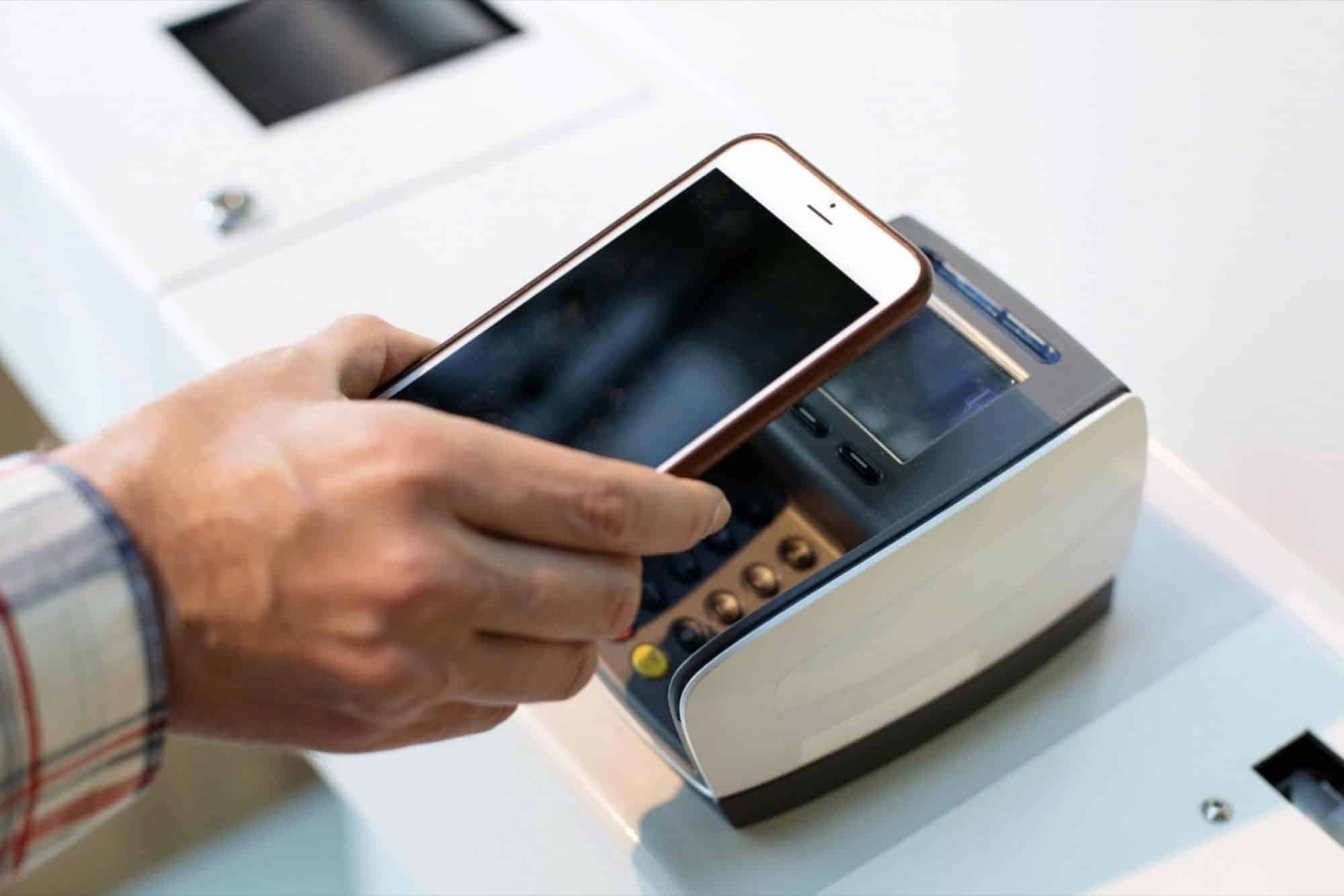 The pricing of Green Bits software is based on the scale of the dispensary, such as the number of distinct locations and the number of customers.
According to Green Bits, the average monthly cost as of 2018 was $500. In addition, a basic hardware configuration can be purchased for about $1500.
User Reviews
No user reviews of Green Bits are currently found on independent review sites. Several sites have developed lists and comparisons of top systems. Green Bits is consistently on these lists.
A number of testimonials are posted on the Green Bits website. All of these testimonials report a very good experience with the product. A few detailed case studies are also posted.  These reports suggest that Green Bits is flexible, reliable, and easy to use. These testimonials also include very positive comments about customer service.
Benefits
Green Bits is a well-established and widely used solution for managing inventory, operations, and point of sale in the retail cannabis market.  Many anecdotal comments indicate that the system is meeting the needs of its users. Few negative comments can be found.
Drawbacks
Although Green Bits offers comprehensive solutions to the needs of cannabis retail sales, it does not address the full seed to sales cycle. There is no support for the requirements of growers or processors. Green Bits begins when products are received into inventory, bar-coded, and determined to be ready for sale.
Other systems are needed to support the cultivation and processing phases of the life cycle. Some such as BioTrackTHC (see below) address all phases including retail sales, which could make a separate product like Green Bits unnecessary.
Specific pricing details for Green Bits depend on many factors, but the average cost of $500 cited by the company is somewhat high. A number of similar products are available for less, some as little as $99 per month.3

Possible Alternatives
Green Bits is well established as a major player in the Cannabis POS market. However, the field is highly competitive, and many other systems are available. Some possible alternatives to Green Bits include:
BioTrackTHC is a larger but older supplier of POS software, operating in all legal states and several foreign countries. BioTrackTHC offers support for all aspects of the cannabis lifecycle with products that support cultivation, processing, and POS.
WebJoint offers support for cannabis eCommerce. It provides comprehensive support for online ordering and delivery services, with full driver tracking.
mmjmenu, a small company now owned by Weedmaps, was formed in 2009 to provide software for the medical marijuana industry. The product continues to focus on medical marijuana and provides POS, inventory control, and patient management.
Our Final Verdict
Green Bits is a solid and well-established solution to the problem of managing cannabis retail dispensaries. Its thousands of users have generally expressed satisfaction. The product offers comprehensive solutions for a full range of dispensary requirements.
The pricing is a little steep but not unreasonable.  Within the scope that the product supports, Green Bits is a system that seems well worth considering.