(Last Updated On: December 30, 2022)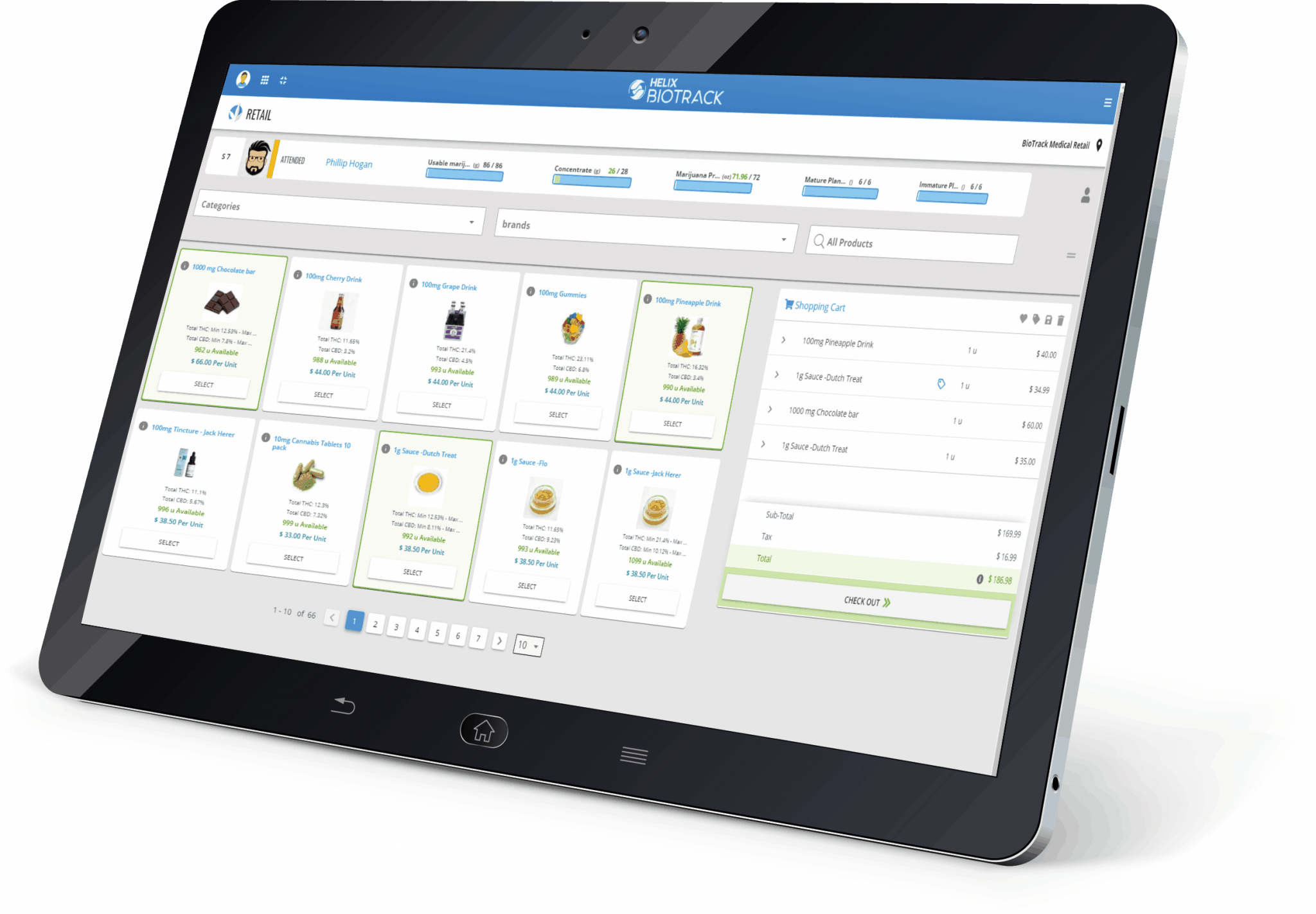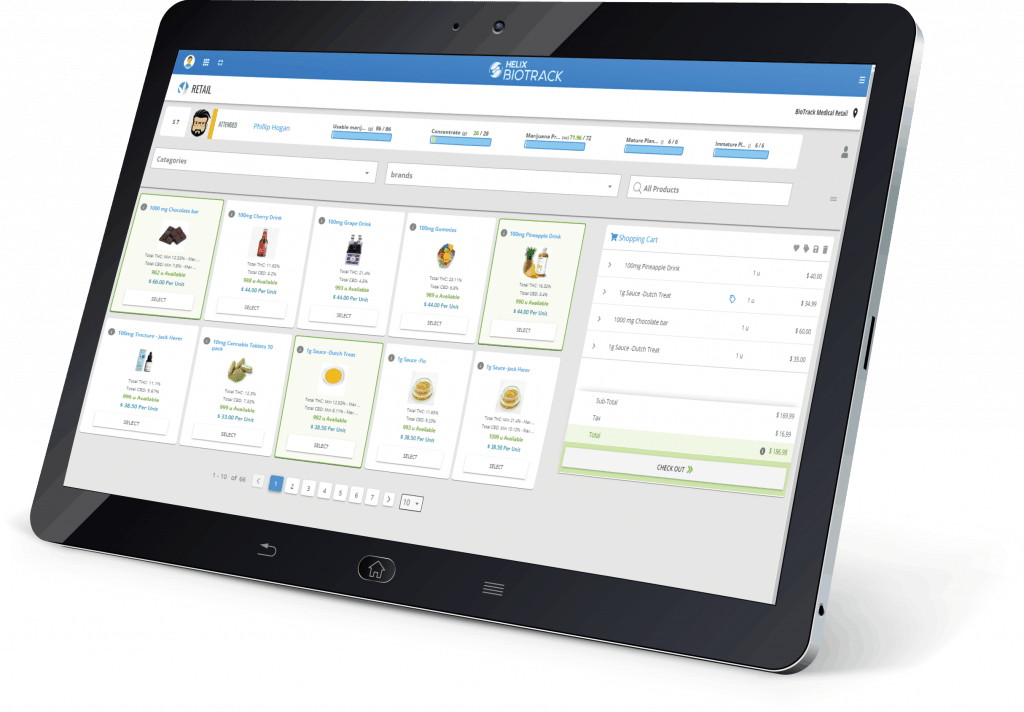 If you're looking for a seriously reliable seed-to-sale software, BioTrack is one of the most secure and easy to use POS systems for the dispensary and cannabis industry. With more than 2,000+ happy customers, BioTrack offers solutions for compliance and highly detailed reporting.
With automated reminders from the POS, you'll never forget your watering schedule or other tasks around your dispensary. Monitor your results and log the data into your POS system.
Out of the box, the CRM features and customer loyalty program allows you to enhance your business considerably. Send targeted email campaigns (and text) to your customers based on their favorite items and the last time they visited your store.
After an extensive review of BioTrack, our favorite features are the online ordering integration and detailed customer profiles. By integrating with BioTrack's integration partners, you're able to offer your customers a way to place orders online and pick them up in-store. Finally, create individual customer profiles and offer them reward points and other benefits.
What's more, BioTrack has its own proprietary data insight tools, Cannalytics. By taking a look at your business from the top, you'll be able to make smarter business decisions that improve your sales, customer service, and overall efficiency.
Let's dig deeper and see how BioTrack can help your dispensary excel. We'll examine the system's key features, pricing, and hardware components.

Who Exactly Is BioTrackTHC?
BioTrackTHC was founded in 2010 and is headquartered in Fort Lauderdale, Florida, with satellite offices in Denver CO, Olympia WA, Honolulu HI, and San Juan Puerto Rico.
Its software solutions have been deployed in more than 2,000 locations and has processed more than $18 billion in cannabis sales.
The company also provides track-and-trace (traceability) services to a number of state governments. The state of Washington was brought online back in 2013 to take advantage of the first seed-to-sale real-time traceability program.
Other states using BioTrackTHC services or supporting its business solutions for stores in their jurisdiction include New Mexico, Illinois, Hawaii, Arkansas, Delaware, Maine, New Hampshire, North Dakota, and Puerto Rico.
In 2018 BioTrackTHC was acquired by Helix TCS, a publicly-traded company that provides technology, compliance, and security solutions in the highly-regulated legal cannabis industry.
This merger will no doubt put BioTrackTHC's business solutions on the map for even more customers.
BioTrackTHC Benefits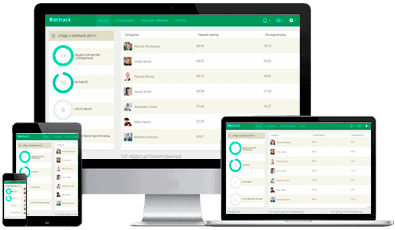 The fact that BioTrackTHC has been providing business solutions to the legal cannabis industry longer than most companies is significant. The company takes the time to understand the business model of each cannabis dispensary it works with. This is done in order to help them meet the regulatory burden and licensing application requirements needed to launch a successful business.
Online user reviews that praise BioTrckTHC mention how flexible the system is in terms of adjusting workflows in the software to match changing workflows of the business. Others have noted how they appreciate robust, granular settings and permissions.
Potential BioTrackTHC Drawbacks
The most common complaints about BioTrackTHC seen in online reviews from customers have to do with traceability, and also customer support. Some customers have noted that support staff don't know as much as they should about requirements in some states.
Others note the traceability actions (which are extensive for any cannabis operation) have a poor workflow is not at all efficient. The complexity of the system can be frustrating, but most users also recognize that the complexity is a necessary evil to deal with all the compliance requirements in a cannabis operation.
Some users have noted that after the software is updated, there are typically some random things that suddenly go wrong, such as users getting locked out of the system and so on.
BioTrackTHC Pricing
Because plans vary so much from state to state, the BioTrackTHC website contains no information whatsoever about pricing. People interested in learning more about what a BioTrackTHC POS might cost them are encouraged to contact the company directly.
BioTrackTHC Requirements
The company understands that every business is different. Some want a totally cloud-based system while others prefer a perceived higher level of control through a locally-hosted system. Both options are possible with the BioTrackTHC POS.
Its cloud-based option runs through Amazon Web Services (AWS). Its locally-hosted solutions can run from a Windows PC acting as a server (you don't need to have a big, fancy business server). Below are the minimal requirements:
Server/VPS Requirements
Must be a desktop computer, not a laptop.
Operating Systems: Windows Server 2016, Windows Server 2012 and Windows Server 2012 R2, Windows Server 2008 and Windows Server 2008 R2, Windows 10 Pro.
Processor: Intel i7 2.4 Ghz Dual Core or better.
RAM: 16GB or better (Based on 1-4 facility locations.
HDD (storage): 500GB SSD or 1TB HDD (7200 rpm speed or better).
Terminal Requirements
Operating Systems: Windows 8, Windows 8 Pro, Windows 10, and Windows 10 Pro.
Processor: Intel i5/Intel i7 2.0Ghz Dual-Core or better.
RAM: 8GB or better.
HDD (storage): 250 GB (7200 rpm speed or better).
Ports: 4 USB Ports for Peripherals (Not including keyboard and mouse), 1 Ethernet Port.
Tablets and all-in-one Devices:
Microsoft Surface Pro 2.
Any tablet/All-In-One that meets the terminal requirements will work.
Internet Requirements
Onsite Server:
Internet Access: Business-grade cable access or better.
Minimum Download Speed: 15 MBps or better.
Minimum Upload Speed: 5 MB or better.
Static Public IP address from ISP (required for offsite access).
Offsite Server:
Internet Access: Business-grade cable access or better.
Minimum Download Speed: 25 MBPS or better.
Minimum Upload Speed: 10 MB or better.
Static public IP address from ISP (required for offsite access)
Server Backup
External HDD (Hard Drive) 200GB+ as a secondary backup solution.
BioTrackTHC does not sell its own hardware, but is careful to list out the various companies that do sell equipment and hardware compatible with the company's software solutions.
These companies include Rocky Mountain Business Products, Stover Thermal Tags and Labels, StreamLine Global Labeling, Computer Revolutions, and Star Micronics. Everything a dispensary needs in terms of equipment is available through these companies.
The company website also takes care to say the following: "Please review the Supported Equipment, Integrated Hardware List, and Partners. BioTrackTHC cannot guarantee the integration of unsupported hardware.
While state or county compliance requirements will likely dictate your final equipment decisions, the specifications listed here will allow you to select equipment and integrated hardware partners that are needed to support the BioTrackTHC System."

BioTrackTHC Features and Capabilities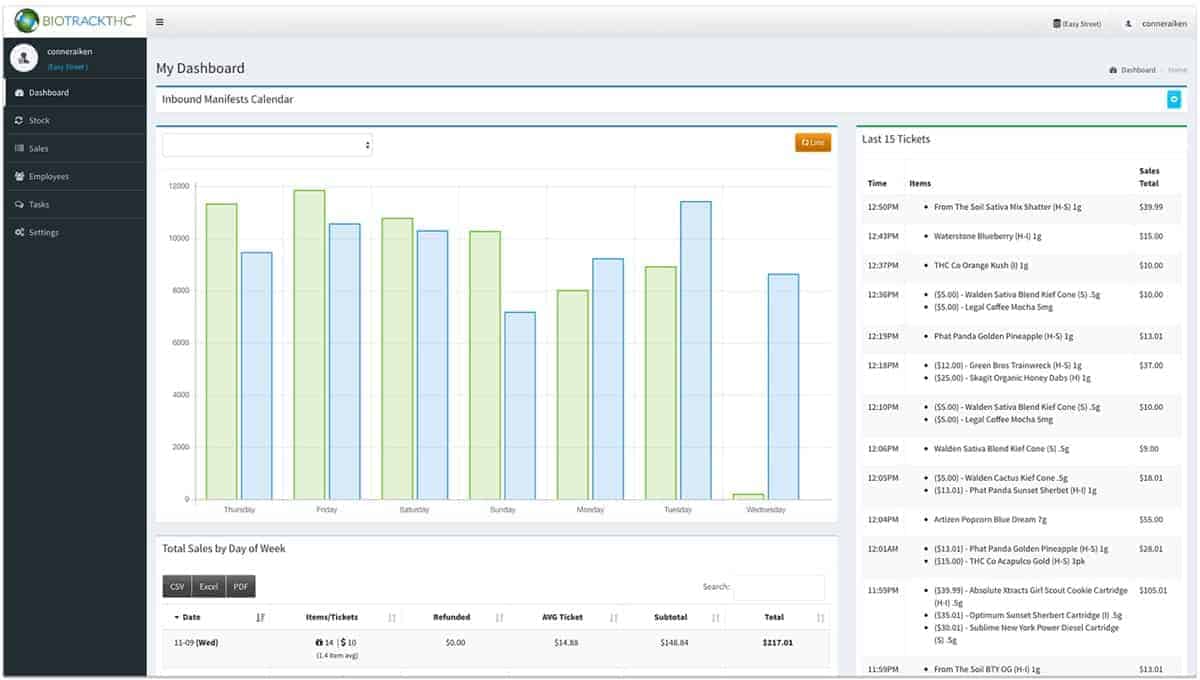 Running an effective and compliant cannabis business with a POS that can integrate with any state system and every type of license is the commitment BioTrackTCH makes to each of its customers. It accomplishes this with following POS features and capabilities:
Automated Data Entry for Sales
Reducing manual data entry in means fewer errors. Your hardware integrates with the POS so metrics are populated right on the screen. Weigh items and have the weight go directly into the system, and scan patient IDs to fill in customer profiles with a single action.
Customer Profiles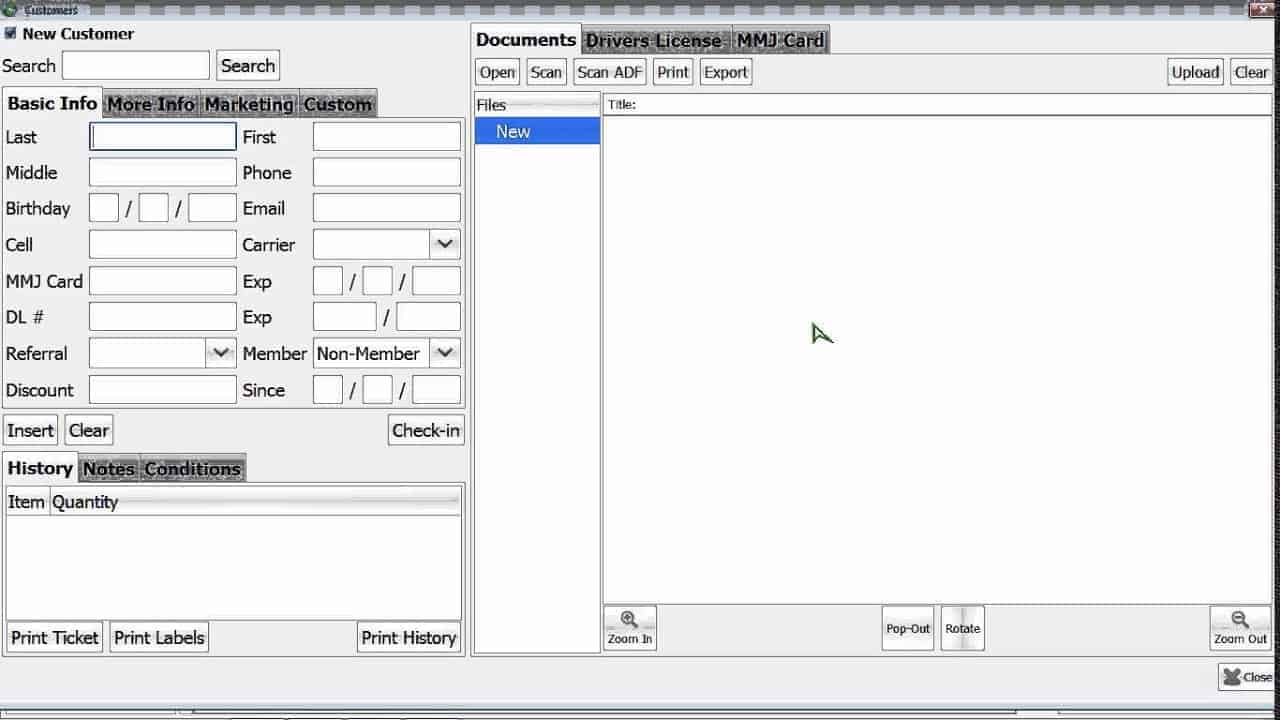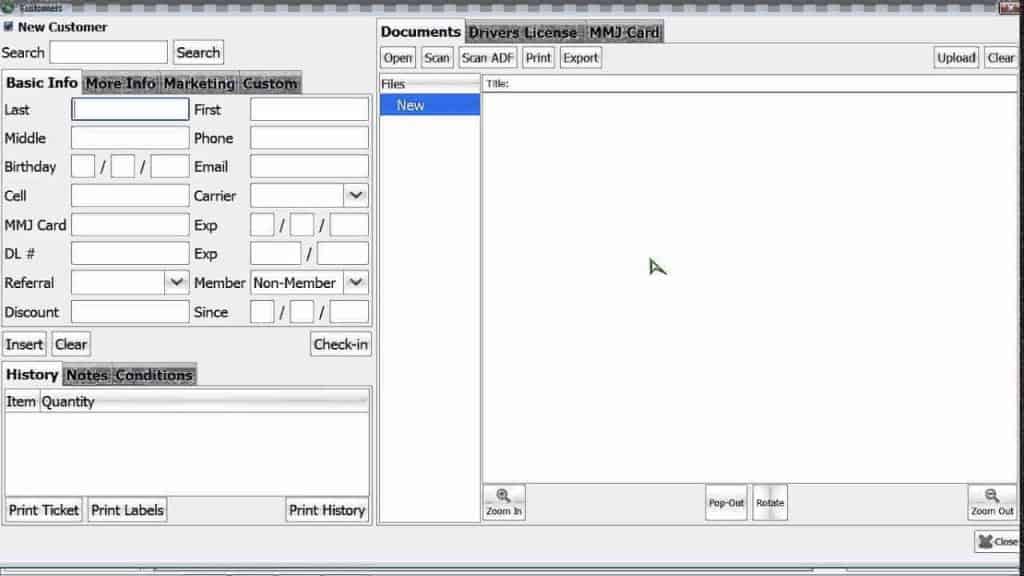 Creating individual customer profiles help syou treat all your customers like regulars. Track their special preferences, medical preferences, purchase history, rewards points and more.
Purchase Limits
There are many aspects of compliance that add up to a lot of stress and anxiety for dispensary operators. One of those compliance factors is avoiding over-dispensing. Set up each customer with limits based on type and equivalency.
Data-Driven CRM
The BioTrackTHC POS has out-of-the-box customer relationship management (CRM) capabilities so you can reward loyal customers and their referrals. Create targeted email and text campaigns based on each customer's favorite products, last visit date, purchase history, birthdays and more.
Discounts, Loyalty and Rewards Management
Discounts, loyalty and rewards management is enhanced and expanded through integration with Springbig. Discounts can be based on date, time, product, brand, along with employee weigh heavy and daily discount allowances.
Reward loyal customers with an exclusive loyalty points program or reward them through certain products/promotions. SMS messaging is a tactic you can use through Springbig. When operators make the most of these options, the results can be impressive in terms of increasing customer retention, visit frequency, and spending.
Loyalty programs offer several advantages. They make customers feel special, create brand loyalty, and help businesses retain repeat business. However, they can be expensive and challenging to manage.
While most loyalty programs focus on sales, the best ones are value-based. These programs create a deeper connection with customers by aligning with their values. For example, apparel retailer The North Face incentivizes members to earn more rewards.
Value-based loyalty programs donate a percentage of purchases to charitable causes. Customers can also redeem points for discounts and other perks.
Using discount and loyalty management can help you increase your customer's lifetime value (CLV). In fact, if you can improve CLV by 5%, you can boost profits by 25-95%.
You can also use loyalty management to reward your top clients. This can give you access to valuable data for marketing campaigns. Keeping track of customers can also enable you to cross-sell.
Lastly, you can charge a small fee to customers. Many consumers appreciate this tactic because it can help them save money.
Discount and loyalty management is a great way to keep customers happy. Make your offers easy for customers to redeem. Creating a seamless transaction and making rewards easy to earn are also important.
For more information on loyalty management and how to enhance your program, contact Springbig. They can provide you with customized solutions to fit your needs.
Whether you want to create a refer-a-friend loyalty program, track your inventory, or create targeted email and SMS campaigns, they can help.
Inventory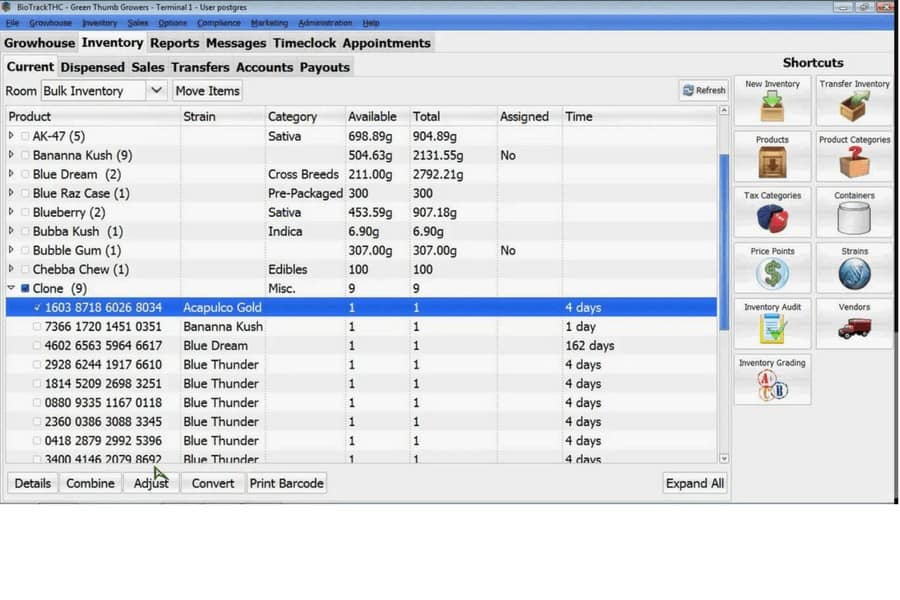 Track and manage thousands of products and/or plants down to the exact milligram and rapidly audit your entire inventory.
Online Ordering, Menu Displays, and CRM
Full integration with DataOwl allows for an in-store technology network tapped directly into the BioTrackTHC POS. Leveraging all the data you accumulate from your customers, products, and operations into actionable insights is the goal.
It allows for automated campaigns based on purchase behavior, digital menus updated in real-time with your inventory, and an online ordering solution to improve the customer experience and operational efficiency.
Compliance
Compliance has to stay top-of-mind at any legal cannabis operation or dispensary. It's much easier to stay compliant when you have a POS solution that covers all the bases by identifying the key data points where streamlining and optimizing inventory management can happen without sacrificing compliance needs and requirements.
BioTrackTHC excels in this area with the following capabilities:
Automatically report required data to state systems.
Custom compliance-focused reporting.
Track waste, destruction and account for conversion and moisture losses.
Transport manifests with all necessary information.
Real-time product recalls.
Compliant labels customized with your business logo, name, and so on.
Industry-leading security standards.
Custom Label Creation
Labels can be customized with your company information, logo, and more.
Customer Service and Technical Support
BioTrackTCH offers two different business consulting packages aimed at getting a new customer set up and ready to go:
On-site assistance package: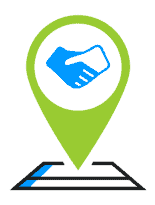 A BioTrackTHC representative can visit you on-site to walk you through setup, employee training, advanced reporting functions and anything else you're itching to learn about. Our field experts have helped implement custom workflows to hundreds of cannabis businesses in over 28 states.
BioTrackTHC is a provider of cannabis seed-to-sale software solutions, helping licensed operators remain compliant and run their business efficiently. Their technology enables businesses to manage their entire operations from seed to sale, optimizing inventory management, tracking production, and improving waste management. They also offer solutions for government agencies and individual licensees.
BioTrackTHC provides a suite of solutions that are tailored to the specific needs of the medical marijuana industry. The company's traceability system allows for real-time reporting of legal cannabis inventory, which helps local governments, law enforcement, and regulators prevent illegal sales.
BioTrackTHC also offers CRM tools and other services for cannabis businesses. For example, dispensaries can use the point-of-sale (POS) to create discounts for products based on price, date, or time. These discounts are automated, and help customers avoid overpaying.
BioTrackTHC's Enterprise System is an all-in-one solution for cannabis operations. Its cultivation, harvest, and processing operations components can be personalized to meet the needs of a particular state's regulations. Other applications include compliance, record-keeping, and sales.
Customers can register for a free version of BioTrackTHC or purchase a licensing package. There are also multiple levels of licensing for businesses that need only certain features.
Customers can contact BioTrackTHC for information on setup, on-site assistance, or employee training. BioTrack representatives can also provide insight on best practices for workflow analysis and operational efficiency.
BioTrackTHC has a proven track record of preventing diversion and ensuring transparency in the cannabis industry. They also have a team of knowledgeable and experienced professionals who have a deep understanding of the regulatory landscape and know how to navigate it.
They'll help you effectively utilize your BioTrackTHC system to allow you to analyze your cultivation yields, optimize retail inventory, and get the most out of your seed-to-sale cannabis software. Includes support with system troubleshooting and new feature training and implementation.
This is an on-site assistance package that a customer pays for, although the website does not say how much it costs. It does say this: Full (8) or half (4) day options available. Travel, lodging, per diem, food, etc. to be paid by client. Contact for rates."
Application support package: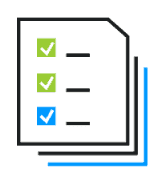 BioTrackTHC representatives can assist you in the process of completing and submitting the best cannabis business license application possible.
Our representatives already know your state's cannabis rules and regulations inside and out, so let us do the hard part by providing you with detailed outlines on how the BioTrackTHC system meets, and often exceeds, the regulations set forth by your state for cannabis traceability.
This is also referred to as a "package" like the other one, but doesn't say anything about rates. It is safe to assume, however, that it is probably not free.
On the company website's "contact us" page, there is a button for "contact customer support" which takes you to a page that says the hours of operation for support are Monday-Friday from 10am to 10pm EST, Saturday-Sunday from 10am to 7pm EST.
You log in a support ticket from that page or call the telephone number listed for technical support. The company's website also has a page with a number of video tutorials available for the POS solution.
Alternatives to BioTrackTHC
Ready to Use BioTrackTHC At Your Dispensary?
Given that BioTrackTHC has been in the business of providing software solutions to the legal cannabis industry for a decade, it's a shame they can't be more transparent on their website about pricing so potential users have a better idea of what it's going to cost them.
It would also be better if there were a more limited or clear set of bundled hardware solutions typically needed in a dispensary rather than wading through all the many options available, but differences by state and jurisdiction apparently make this too difficult for the company to establish.
In spite of those drawbacks, BioTrackTHC remains an industry-leader. Customers who utilize the company's POS solution are well satisfied with its features and capabilities.
This makes it a solid choice for any dispensary that is ready to operate and efficiently while maintaining compliance to all applicable regulations in their location.