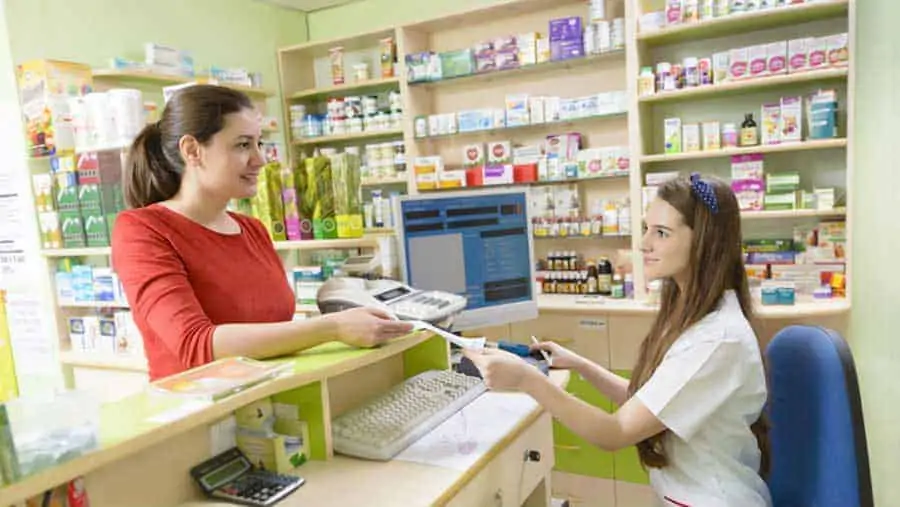 To effectively manage a pharmacy or a drug store, you'll need to automate tasks like inventory management, curbside pickup, and drive-thru orders. Couple that with electronic payment processing, signature capture, and Rx barcode scanning, and it becomes obvious that you can't operate efficiently without a POS system.
By using POS software, you'll be able to also manage patient prescriptions, charge for copays, and manage over-the-counter products. Need to keep track of your wholesalers? The POS system can do that, as well as offer delivery options for medication.
What's more, a pharmacy POS system will ensure you're complying with your state's regulations. Track all your transactions in one place for accurate accounting and compliance. Generate reports on the fly to monitor your current inventory levels and busiest days so you can schedule employees accordingly.
Want to skip right to the best pharmacy POS system? Take a look at PioneerRx. PioneerRx offers the best integration for medication synchronization, patient identification, automatic refills, and management features for reporting purposes. The system is also updated weekly, making it one of the most stable software choices in the industry.
Let's take a look at several pharmacy software choices and how they can improve your operations.
The Top Pharmacy POS Systems 
| POS SYSTEM | TOP FEATURES | SOFTWARE COST | HARDWARE COST |
| --- | --- | --- | --- |
| | Solid inventory management | Contact Vendor | Contact Vendor |
| | Fast searching for drugs and patients | $150/month | Contact Vendor |
| | Multiple sessions on the same workstation | Contact Vendor | Contact Vendor |
| | Automated purchase order processing | $1500 | Contact Vendor |
1. Best Overall Choice for Pharmacy POS: PioneerRx


With a mission objective of "Save + Revitalize Independent Pharmacy", PioneerRx is geared towards independent pharmacies rather than big retail.
Still, the goal of this POS solution is to provide smaller operation businesses with innovative tools to outperform their larger competitors.
So, what features landed PioneerRx the ranking of most installed pharmacy software?
Inventory Management
With endless different types of medications, it is quite obvious that pharmacies require a robust inventory management system in place.
One of PioneerRx's main features is its inventory management via shelf stickers. Instead of labeling the price of each item, this POS system generates shelf labels. This allows your employees to quickly see if an item needs to be restocked, or has been accidentally placed where it shouldn't have been.
Additionally, if the price of the product changes, the system will automatically charge the customer the displayed shelf sticker price.
Other features within the PioneerRx inventory management system include usage-based ordering, auto reorder, and an intuitive recommended ordering.
Reporting and Financial Intelligence
PioneerRx is all about customizing and personalizing. This system has the ability to customize your search from the layout to grouping or filtering.
The PioneerRx system allows you to report prescription data to pharmaceutical manufacturers. Also, create your own label changes and financial reports.
Other prominent features include setting up customer auto pay, third party reconciliation, as well as competitive cash pricing analysis. Although other systems provide similar features, some don't provide this level of reporting.
Security & Support
Without a doubt, PioneerRx has an outstanding pharmacy tech support team, available to assist with your needs throughout the day.
The data stored on the software is backed up on the server onsite, as well as on the mini Cloud within the system. The data is backed up automatically every 15 minutes, ensuring you will be up and running even in the event of a crash.
Moreover, this pharmacy software includes secure audited logins with biometrics capability. This goes a long way in ensuring that you are meeting industry and legal requirements.
Downside to PioneerRx POS
With a true commitment to innovation, PioneerRx has weekly updates. Some users have had trouble keeping up, and mentioned that more training should be included with such updates.
Get A Free Quote
2. Most Efficiency Pharmacy POS System: PrimeRx


Perfect for independent, retail and multi-store owner pharmacies, this software provides a customized workflow that is efficient and simple.
From automated prescriptions fills, billing, and processing claims, PrimeRx is your all-in-one software solution.
Automated Refill Management System
This system can fill prescriptions by reviewing the patient, prescriber and medication inventory.
The Dashboard includes scheduled refills, as well as missed or expired refills.
Additionally, this system includes RxSync which allows you to sync all refills to a specific date. Prescriptions that have not been picked up by the customer will be flagged, returning them back to the inventory.
Customized Workflow Management
PrimeRx is your all-in-one system as it offers bills reconciliation, customized drug ordering from wholesalers, automatically updated cost of prescriptions, and automated backup of data.
As you can see, from inventory management to stay up to date with costs and bills, this system provides just about anything your pharmacy needs.
This software doesn't come with any bells and whistles or high-end features. It is very straightforward and will be easy for your employees to use and navigate.
Customer Interaction and Updates
One noteworthy feature of PrimeRx is the Patient Status Board. Via this board, you can communicate with your customers as they wait for their prescriptions.
This allows customers to see where they are in the queue, and approximately how much longer they will have to wait. The customers won't have to bother the pharmacist or tech and are not left in the dark.
Downside to PioneerRx POS
Some users have complained of the system freezing or being slow at times. It is likely that these users likely nee to upgrade the memory on their device.
It is important to note that PrimeRx has an excellent customer service and are all about constructive criticism. They address every comment or concern posted by users.
Get A Free Quote
3. Best Up-and-Coming Pharmacy POS: BestRx


BestRx boasts a system that is rich in features at half of the cost of its competitors. With an opening line of "your search for the best pharmacy management software ends here", this company is quite confident in its product.
With a system that's straightforward and simple to use, as well as a name that is continuously growing, BestRx is the third choice on our list.
Document Management
Misplacing prescription or patient information is not only inconvenient, but it can actually lead to malpractice and legal issues. This is exactly why BestRx offers the perfect document management, by allowing your team to scan and import documents directly into the BestRx system.
Further, you can retrieve the documents at the touch of a button. The documents are backed up on an encrypted, HIPAA-compliant cloud server and are stored safely.
Electronic & Mobile Delivery Signature Capture
BestRx includes a signature pad where you can capture signatures electronically. This applies to prescription, HIPAA, and credit card signatures. The e-signatures are stored in the system and allow you to retrieve them when needed for audits or reporting.
BestRx also offers a mobile delivery system which allows the pharmacy to maintain digital records of all shipments received.
Patient Profile
With BestRx's comprehensive patient profile, you will no longer have to wonder who's who. Your employees will be able to refill, edit, transfer, and verify prescriptions directly from the patient's profile.
Moreover, prescriptions that have expired or are due for a refill will be highly visible in the system, alerting both the pharmacist and tech. This interactive tool will be sure to leave a lasting impression on your customers.
Downside to BestRx POS
There are not any particular downsides we are aware of. Still, BestRx is still making its name and in the pharmacy industry and is not as widespread. It is excellent for startups but may not exactly serve large retail pharmacies' needs.
Get A Free Quote
4. Best Established Pharmacy POS: DataScan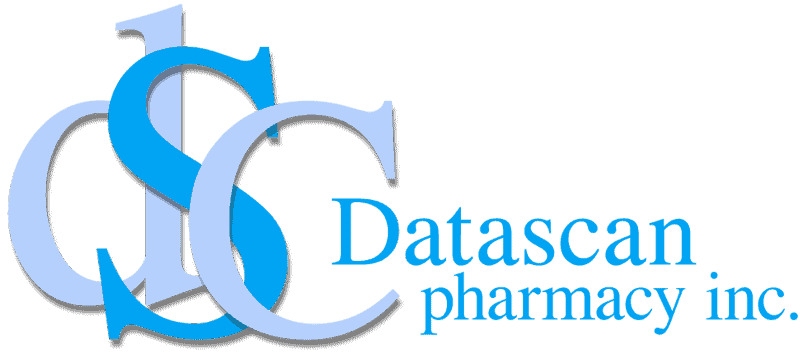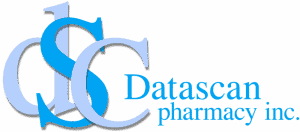 With more than 35 years in business, DataScan knows a thing or two about the pharmacy business.
Not only is this company knowledgeable, it is innovative as it keeps up with industry changes.
Founded in 1970, DataScan provides retailers with a choice of On-demand Self-Scan Inventory Solutions delivered via a Solution-as-a-Service model. They offer hardware (scanners) and software bundled together to match the needs of the business.
They also provide consulting services to improve retail inventory process and best practice implementation. This is a great way to save money and increase the speed of a company's operations.
Our Product Quickscan includes an insightful spider-diagram that highlights your current status within each aspect of your Data Management maturity – data vision & strategy, governance & organization, and data processes. This will help you focus on the key areas and get a step closer to success with your organization.
DBSCAN Algorithm: Explaining how it works
In order to define a cluster, the algorithm divides the dataset into n dimensions and then counts the number of data points in each dimension. Then, it forms a circle around each data point and determines if that point is in the cluster. If it is, it's a core point represented by the red color.
Next, DBSCAN calculates the distance between each data point and other points in the cluster. If the distance is less than epsilon, then it considers that data point to be in the cluster.
The next step is to iteratively expand the cluster. DBSCAN iteratively expands the cluster by going through each data point in the cluster and counting how many other data points are nearby. This is done until no other data points are nearby, and then DBSCAN starts to look for another cluster.
Training
DataScan not only values their clients' feedback, the company also ensures that their clients truly understand the product.
That is, they offer training via documents, webinars, in person, and online. Whether you want someone to come to you or you would prefer to do it right from your computer, you'll have access to training materials at all times.
Wholesaler Shopping & Sales Analysis
This software contains a system that can basically shop for you! It will find the best price for products across all wholesalers. Further, you can track a history of all results and sales history.
Financial Reporting & End of Day Reconciliation
Not only will the system keep track of your sales, it will also create financial reports for you and your accountant. In addition, you will have an end of day reconciliation statement to help you stay on track.

Downside to DataScan POS
Users have mentioned that they would like to see a more robust inventory system. This company is all about customer feedback and we can only predict this is something DataScan will certainly look into.
Get A Free Quote
Pharmacy POS System Buyer's Guide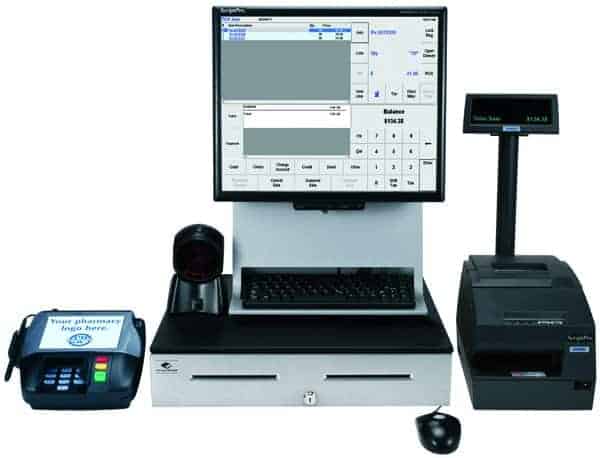 Most pharmacy POS systems have inventory management and customer profiles, but you need to look for a POS system with features that will maximize your pharmacy's sales and efficiency.

1. Image Scanning & Document Management
As mentioned earlier, document management is highly important for pharmacies. From prescriptions sent over from physicians to maintaining customers' information in a database, there is a lot of information to track.
A POS system that offers a scanning feature will expedite and simply your workflow. With ease, the pharmacist can scan and store prescription images, as well as store insurance plan information.
2. Cloud Backup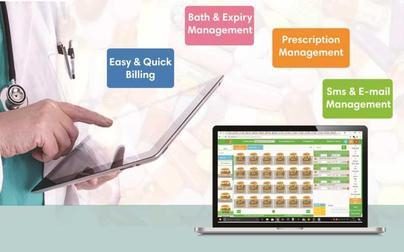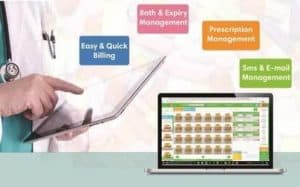 Maintaining data is one thing, but making sure it is stored and will be accessible even in the event of a crash is just as important.
After all, scanning and storing information with ease will not matter if it can be lost just as easily. Therefore, a good retail POS system should include cloud backup that is easy to setup and will constantly backup the data.
3. Patient Medication Synchronization
Another helpful and innovative tool you should look for is the patient medication synchronization. With this feature, you will be able to ensure that a patient's medication is filled at the same time of the month. This will promote medication adherence and in turn keep your customers satisfied.
4. Security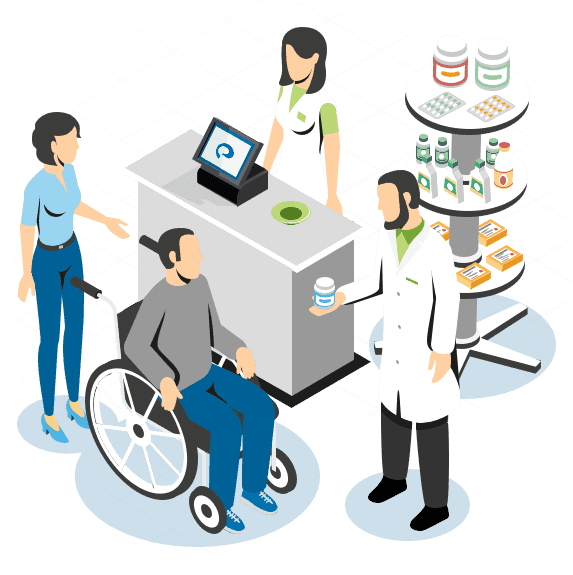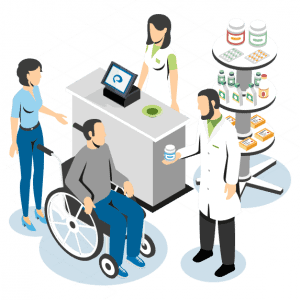 As a professional in the healthcare industry, you have access to customers' personal information such as their social security number, date of birth, medical history, and driver's license information.
Additionally, you have access to your customers' credit card information when they fill their prescription.
In order to protect their medical and financial information, as well as protect your pharmacy from malpractice and legal action, you should ensure that you have a secure system and virus protection.
You should consider investing in a system with a sophisticated permissions system. Such a system will allow you to set up limited access to users, based on their role within their pharmacy.
5. Loyalty Program and Marketing
At the end of the day, a pharmacy is a business and it operates for profit. As such, you should look for a system with advanced targeted marketing. By using email and text options, you will be able to attract new clientele and keep previous ones coming back.
Further, consider a POS software with a comprehensive loyalty program. Using your customers' emails and phone numbers, you can send promotions and manufacture coupons.

They'll appreciate the savings and will be sure to come see you again when they'll need their prescription filled!
6. Other Things to Consider
Ease of Use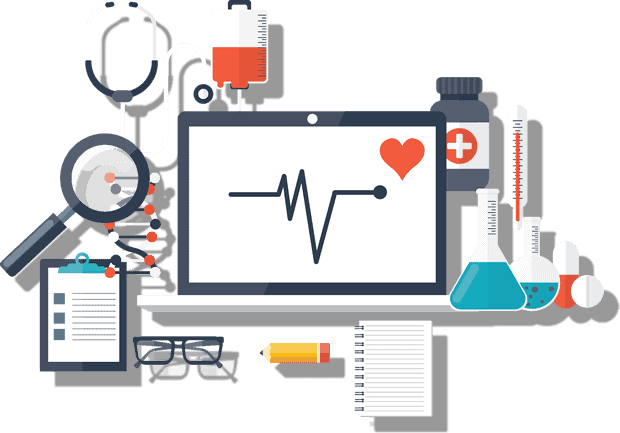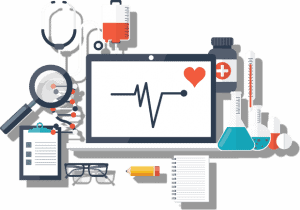 With endless different types of prescriptions and complicated names, the last thing you would want to deal with is a cumbersome system.
Look for a POS system that is easy to learn, use, and navigate. A system that will keep your inventory updated, your customers' information quickly accessible, and one that will keep everyone happy.
Training
You certainly want the POS system you choose to have the necessary updates and upgrades, so you can keep up with current trends. Additionally, you want a system that is fast so you can service your customers' in a timely manner.
Still, you should look for a software that provides continuous training. What good is a fast and innovative system if your staff can't use it? A company that stands behind a commitment to training is highly important.
Our Final Verdict
When considering a POS system for your pharmacy, make sure it has the features your business needs. As we mentioned before, some of these features may be document management, cloud backup, patient medication synchronization, security, and more. Keep in mind that laws and legislation in the healthcare industry change often.
Things to consider when choosing a POS for your pharmacy business
A good pharmacy point of sale (POS) system is a powerful tool that can help you streamline checkout and customer service, increase security, build relationships with your customers, and collect critical data. It will also help you strengthen your brand, automate your daily operations, and grow your business.
Ensure such covers what your business needs
As a pharmacy, you need a POS system that offers comprehensive inventory management and automation capabilities, including the ability to handle prescription, OTC, and merchandise sales, set reorder rates, and offer tools for serving customers quickly. It should also integrate with a pharmacy management system and insurance billing systems to ensure compliance with the Payment Card Industry (PCI) data security standards.
Legislation and laws that change often
Whether you have a community pharmacy or operate a specialty pharmacy, your POS software should include features that comply with regulations set by the IRS and state health care agencies. For example, you may be required to accept IIAS-compliant FSA or HSA cards, so make sure your POS supports them.
Document management, cloud backup, and security
Investing in a POS system that allows you to store your business's documents in the cloud can save you thousands of dollars every year. According to a report by Oracle, businesses waste 20-30% of their time managing paper records.
A POS software can also protect your business from cyberattacks, which is a growing concern among small businesses. A quality solution will also be compliant with the PCI data security standards.
You should certainly look for a system that will keep up with regulatory and compliance. A POS system is more than a cash register. It is critical to your operations and profit and that is exactly why you need to invest in one that is easy to use but provides weekly updates.
All of the four pharmacy POS systems reviewed here offer free demos. Also, check out Paladin POS, another pharmacy POS system we did not review here in detail. Take advantage of each company's demo to see its full software features.