(Last Updated On: September 28, 2021)
As point of sale technology is adopted by every industry on the planet, organizations are realizing there are many components to the system. According to a recent survey, 36% of companies consider hardware upgrades as a top priority. That starts with ensuring you have the right PIN pad integrated with your system.
What is a POS PIN Pad?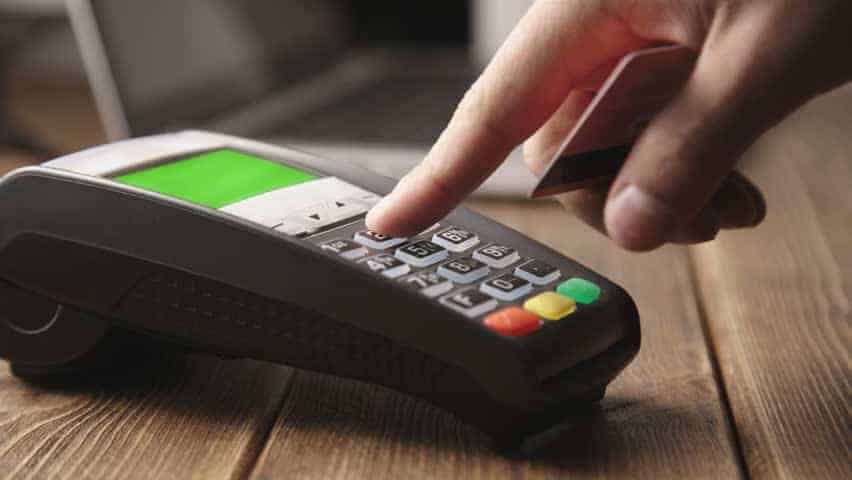 PIN pads are electronic devices that form a critical component to a point of sale structure. They are used in debit and credit transactions and are convenient for consumers who don't carry cash. PIN pads have both software and hardware capabilities to erase the security keys and PIN numbers immediately. This helps secure the data in the event someone tampers with the device.
There are a few different types of PIN pads you can purchase depending on your business needs. The simplest form only allows for PIN entry. There is no credit card swipe.
Signature capture PIN pads enable people to not only swipe their credit cards but sign their name electronically. These are the types you see at a grocery store or in retail. This PIN hardware helps prevent chargebacks. The digital screens where people sign can also project video ads when not being used. They have multi-function capabilities for digital signage.
Why do You Need a PIN Pad?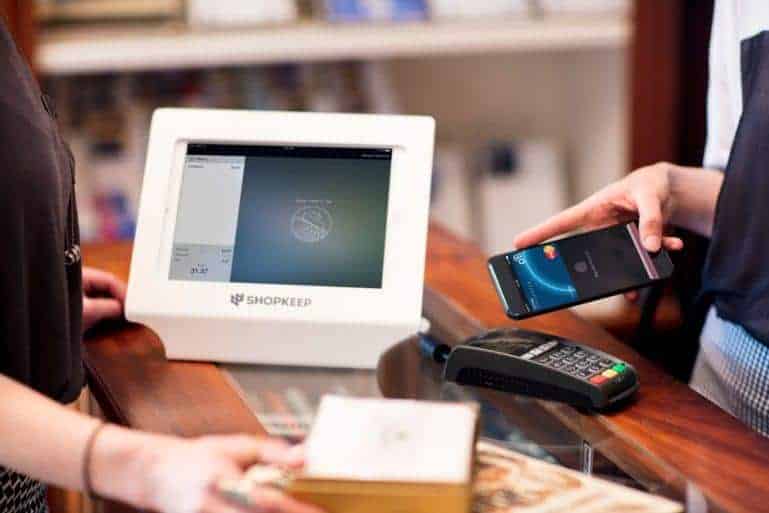 One of the most beneficial reasons for having a PIN pad is to reduce fees. This is because debit transactions are generally cheaper than credit transactions. Debit transactions charge a flat fee while credit card fees are based on a total transaction amount. However, there are no set rules since the merchant service provider always has the ultimate say on fees.
PIN pads also speed up transactions and reduce fraud. There is no need for the cashier to touch a customer's card. The customer has total control over the experience and exchange.
Top POS PIN Pads on the Market
Verifone seems to be one of the leading brands in the market but there are a few other PIN pads that make this list for many reasons. Here are the best POS PIN pads you can find right now:
Ingenico iSC Touch 250 – $629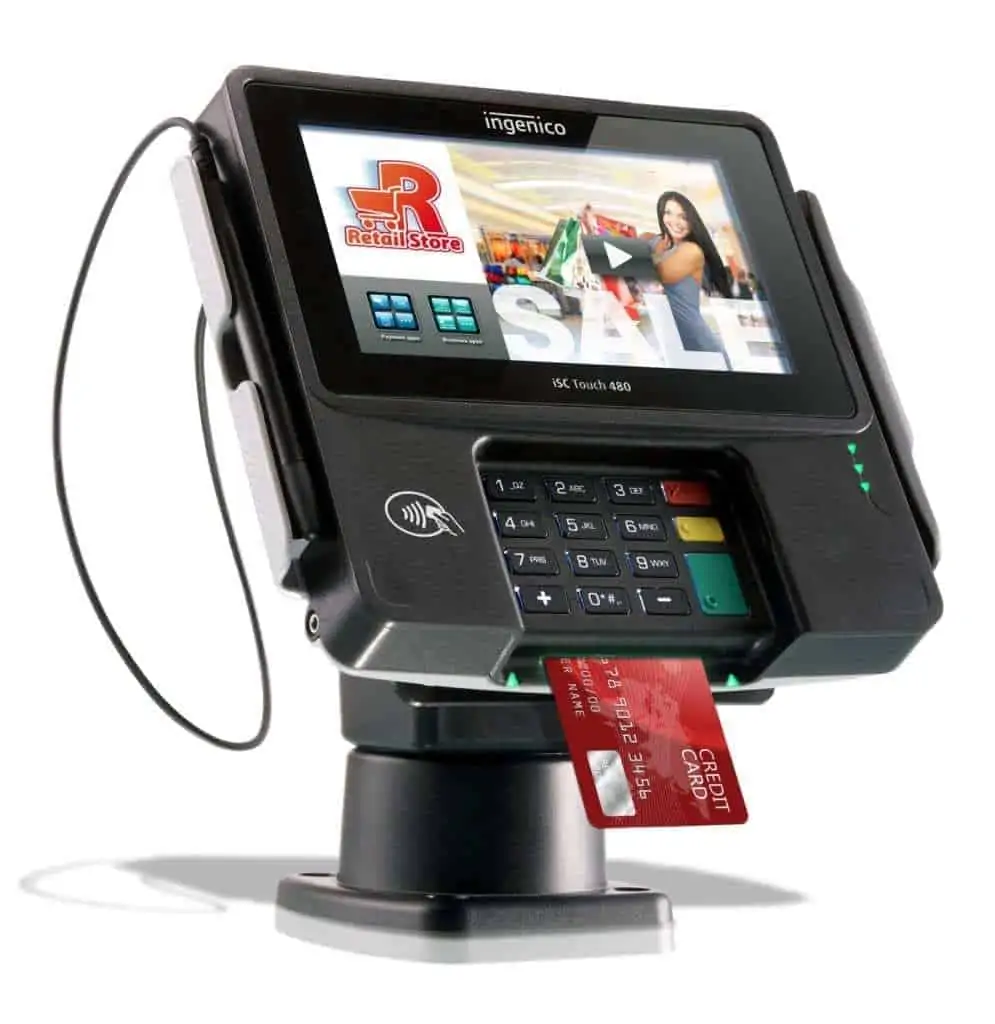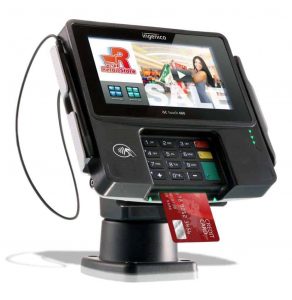 There's good reason why the Ingenico iSC Touch 250 is on the expensive end of this list. The hardware allows you to quickly and securely process payments in high-volume, multi-lane settings. The unit accepts all forms of payment, including:
EMV chip
PIN
Chip and sign
Magnetic strips
Signature capture
NFC
It's designed to support newer marketing tools like mobile couponing, QR codes, online wallet platforms, and NFC loyalty programs. It meets the industry's highest hardware and software security requirements and is PCI PTS 3.x and 4.x certified.
The system also allows for electronic signature capture with optional biometric authentication for higher security. The built-in memory of the iSC is optimal for receipt storage, enrollments, and business application confirmations.
Additional Features
Supports video and audio multimedia content
EMV chip pin/sign
Manages multimedia within internal file system
Contactless integrated reader
65k color display
Ingenico iPP 315 – $150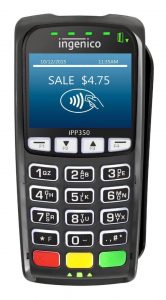 This is Ingenico's more affordable option for POS PIN pads. The multi-payment PIN pad simplifies checkouts. The PIN pad accepts a variety of payments that include:
EMV chip
PIN
Chip and sign
Magnetic strips
NFC
It should be noted, this option does not come with a signature capture. It does connect to Ingenico Group's iCT and Desk series terminals with a single USB cable.
The iPP315 is PCI-PTS 4.x certified. It meets all security requirements for the industry to ensure secure data and application management. This enables merchants to give their customers highly secure transactions (at minimal cost).
What makes the iPP 315 unique is that it's one of the world's smallest and lightest devices for the POS PIN pad market. It features a backlit keypad (4 navigation keys) and a vivid, 2.8" color display. This makes the payment operations and PIN entries highly visible and intuitive.
Additional Features
Processor is ARM 9 and ARM 7
32 MB of memory
Weight is only 9.52 ounces
Dimensions are 6.61 in x 3.26 in x 1.57 in
Clip-able PIN shield optional
Verifone MX 915 – $726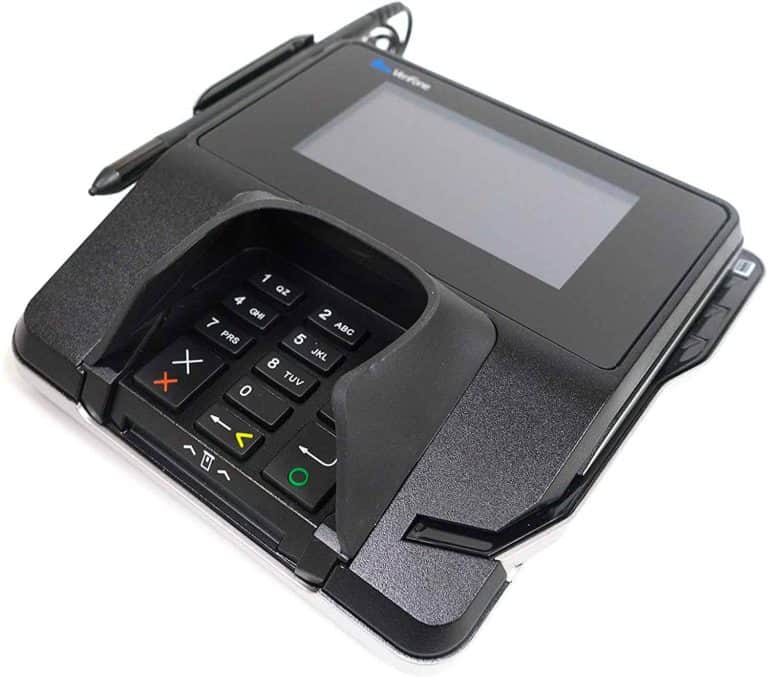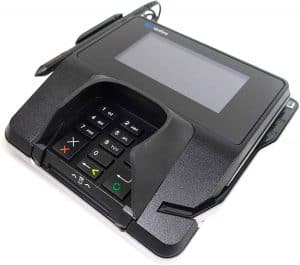 Accept payments while promoting your latest specials. The capacitive Gorilla Glass screen ensures it can withstand constant use. There is a large, 4.3" color display that gives you the option to collect electronic signatures, as well as branding, promotions, and scrolling activity.
The hardware is customizable. You can promote upcoming sales and special offers. A business can also run a loyalty program through this PIN pad to reward repeat customers. It's ideal for a variety of value-added services.
The equipment has a chip card reader, magnetic stripe card reader, and is NFC/contactless-enabled to support electronic wallets. The reader is a triple track bi-directional MSR with EMVCo L1 and L2 certifications.
Additional Features
PCI PTS 4.x approved
Audio is single speaker, line out port available for external speakers
Memory is 512 MB
Flexible connectivity I/O module for seamless integration
Sleek, modern, space-saving design
Verifone VX 805 – $196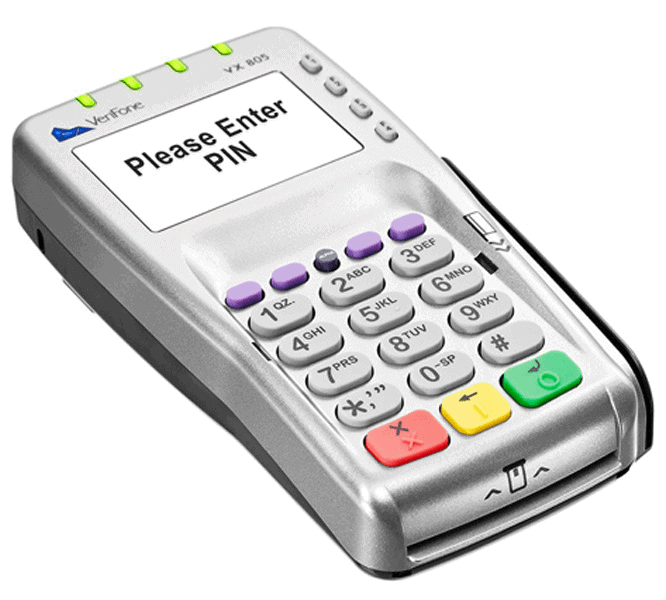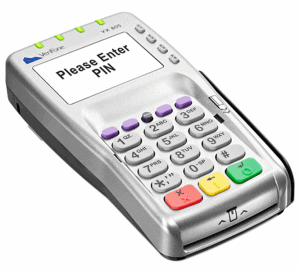 One of the more affordable options on the market, yet still reliable, the VX805 features an ergonomic design with an intuitive ATM-style interface. It simplifies the transactional experience for the customer and keeps the line moving.
The PIN pad boasts a blazing-fast processor that can streamline complex and demanding transactions with full functionality. Merchants can process a range of transactions through multiple connectivity channels, including NFC/CTLS.
The VX805 has an advanced user interface with a 2.6" monochrome LCD 128×64 color display, large keypad, and easy-to-use card inputs. It comes with a privacy shield and vast cable options.
Additional Features
Verix operating system
Communication is Ethernet RS-232
160 MB of memory
Security is PCI PTS 3.x approved
Processor is 400 MHz, ARM11 32-bit RISC processor
PAX S300 – $390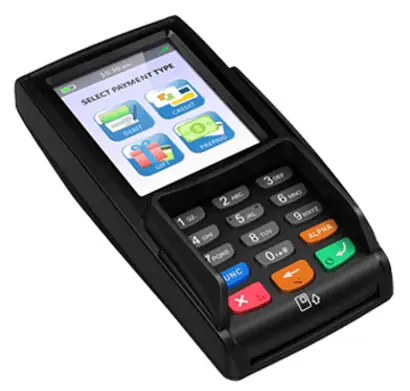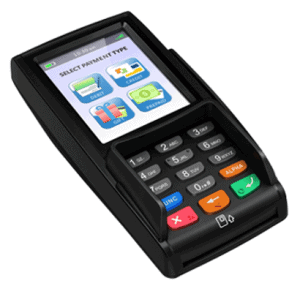 The Pax S300 is an integrated PIN pad solution that was designed for multi-lane merchants who want to offer high levels of transaction security. It even has a self-destruct mechanism if attacked. The system combines several forms of payment including:
Contactless
E-Signature
Magnetic stripe
Chip and pin
PAX S300 features state of the art levels of security design that include PCI PTS 3.x and SRED. It has a large, color touchscreen display (supports HD images and video) and a loudspeaker. It comes with a 32-bit ARM11 processor and a huge amount of memory for optimal multimedia performance.
The PIN pad has USB and LAN connectivity options and is fully compatible with MS Windows (Microsoft WHQL-certified). It has an open and flexible operating system with multi-task application management. There is plug-and-play on the site to extend functionality too.
Additional Features
192 MB memory
Magnetic car reader with track 1 / 2 / 3, bi-directional
10 numeric keypad with 5-function keys and backlighting
1 x multi-single peripheral port
Optional contactless card reader
Choosing Your POS PIN Pad
The cost to own and operate a point of sale system can vary by hundreds of factors. Some brands offer the hardware in bundle packages, but most will sell you pieces a la carte. That means, you can run into issues when it comes time to integrate your technology.
When looking for a PIN pad that aligns with your operations, it's helpful to ask questions like:
Do I want paper receipts or an electronic signature?
Do I need a touchscreen or is a normal display ok?
How many types of ways do my customers pay?
Am I looking to promote or run ads through a PIN pad?
Do I need to run a loyalty program at checkout?
The answers to these questions should help you know where to start. It's always important to research each product thoroughly. Some come with hidden fees or lack equipment for complete setup. Once you've got your eyes on the prize, installation should be a snap!