(Last Updated On: September 28, 2021)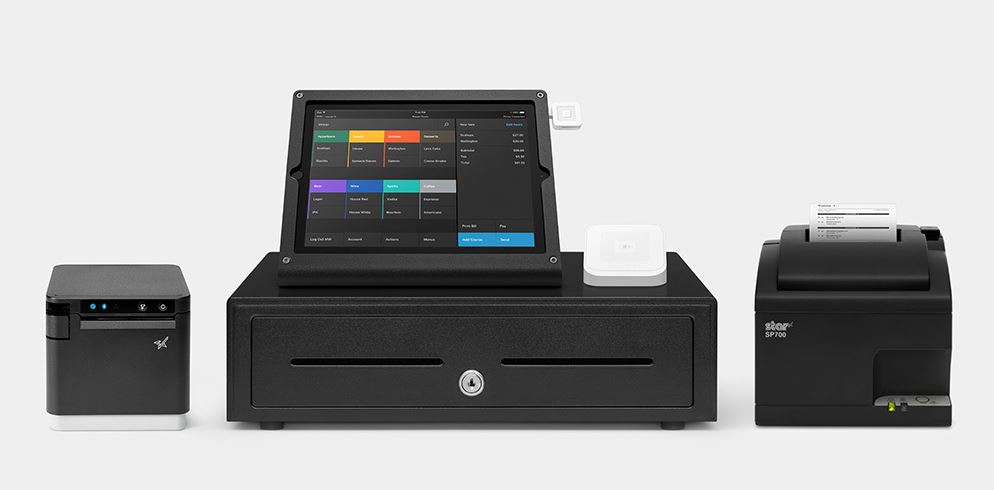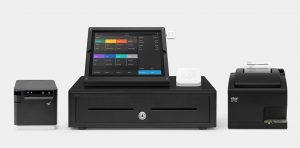 The best way to purchase any new tech solution is in a bundle or package deal. Most systems will require a combination of software and hardware depending on your industry and business needs.
The hardware is usually your largest cost but it's also a great necessity.
By the year 2025, over 60 billion dollars will be spent on point of sale hardware alone. It's a competitive market that continues to expand. That means the time to buy was yesterday.
When you are ready to purchase a point of sale system for your business, here are some of the top hardware bundles for sale.

Square POS Bundles


If you are just starting or ready to take your business to the next level, Square offers several popular and affordable choices for a POS hardware bundle.
Here are the top offerings suited for every type of environment and situation:
Square Stand Restaurant Station – $1,074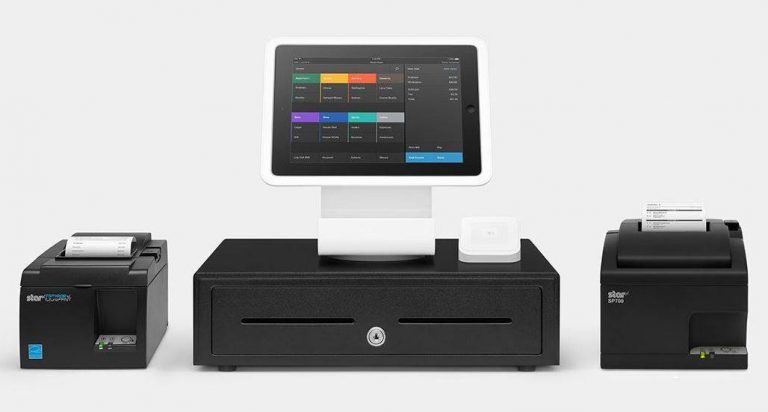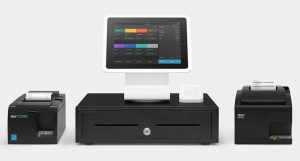 This program is a complete point of sale system that comes with integrated payments. The equipment is compatible with iPad 5th and 6th generation, iPad Pro 9.7", iPad Air and Air 2. It accepts payment types like:
Credit cards (EMV and magnetic stripe)
Apple, Android, and Samsung Pay
NFC cards
You can use your own iPad or add one to the package for $329. The model is an iPad 2018, 32 GB wi-fi in Space Gray. The bundle comes with a square stand for contactless and chip capabilities. It also includes the following hardware:
16 in. printer-driven cash drawer
Ethernet kitchen printer
USB receipt printer
Kitchen printer paper (25 rolls)
Receipt printer paper (25 rolls)
The total cost for this solution if you add the Square Terminal is $1,373.
Windfall Stand Station – $1,082
The Windfall Square station is a complete point of sale solution that's geared toward the restaurant industry. Like the Square Stand, you can add an iPad for an additional $329.
This bundle comes with the Heckler Windfall Stand for iPad (2017, 2018), iPad Pro 9.7", and iPad Air (1, 2). The package includes this additional hardware:
Square Reader for contactless and chip (and dock)
16 in. printer-driven cash drawer
Ethernet kitchen printer and receipt printer
Kitchen printer paper rolls and receipt printer rolls (25 rolls each)
Shipping on this bundle is free and arrives in 5-7 business days.
Square Register Kit – $1,329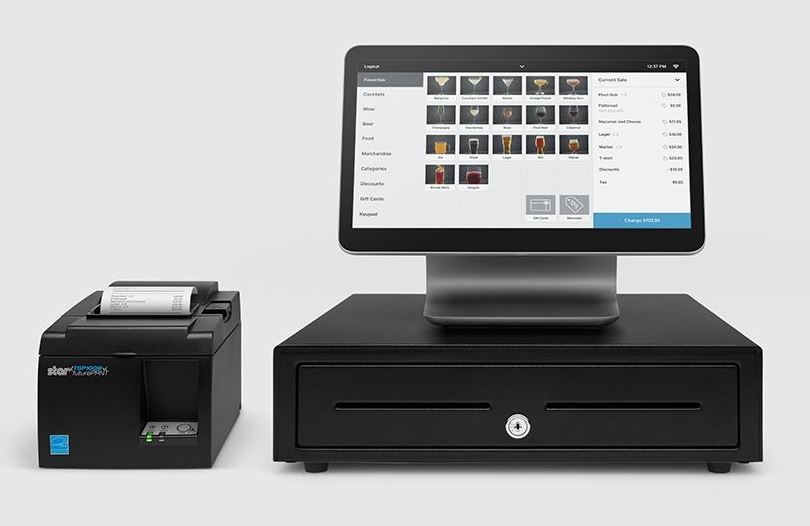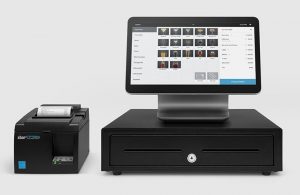 This Square solution can be utilized by any business type. It works great for retail and restaurant environments.
The system is set up to accept all major credit cards at a 2.6% + 10 cents per tap, dip, or swipe. Funds are added to your bank account between 1 to 2 business days. Other features include:
Square Register
16 in. USB cash drawer
Receipt printer paper (25 rolls)
USB receipt printer
The Square Register must be plugged into a power source at all times. It should be noted that the hardware does not currently support Bluetooth functions.
It does not have a browser or run additional apps. The system is an all-in-one package deal.
Square Stand Kit for iPad – $499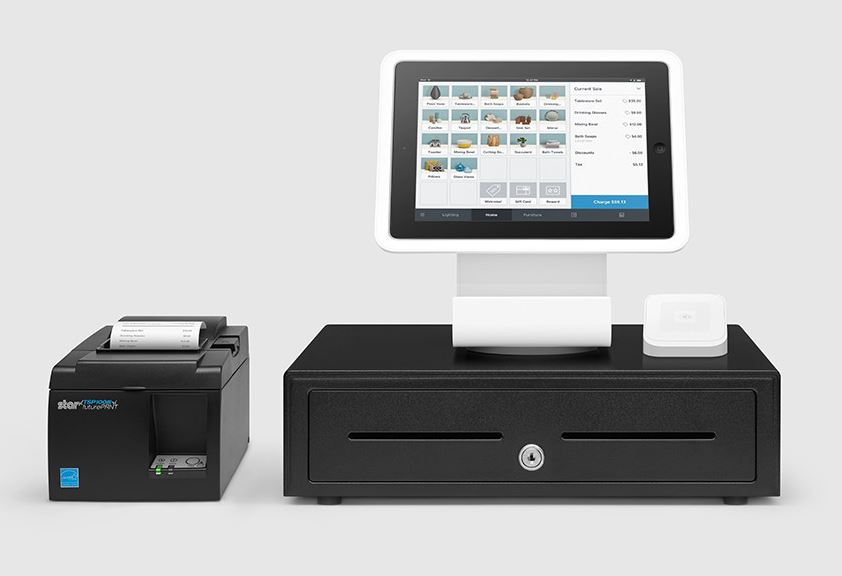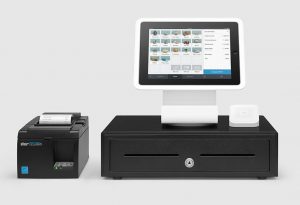 This is a complete POS arrangement that's designed for simple countertop sales. Set up is simple, you connect an iPad, download the Square POS software, and plug in the hardware.
That's it. You're good to go. With this bundle, you're ready to take payments right out of the box! This package includes:
Square Stand for contactless and chip functions
16 in. printer-driven cash drawer
Air 2 and iPad Air Kit
USB Receipt Printer
Receipt Printer Paper (25 Rolls)
This bundle also comes with a setup guide for the Square Stand for iPad (2017), iPad Pro 9.7", iPad Air 2, and iPad Air Kit.
Take note, this bundle does not currently support iPad 7th generation (2019) and iPad Air 3rd generation (2019).
Windfall Stand for Samsung Galaxy – $645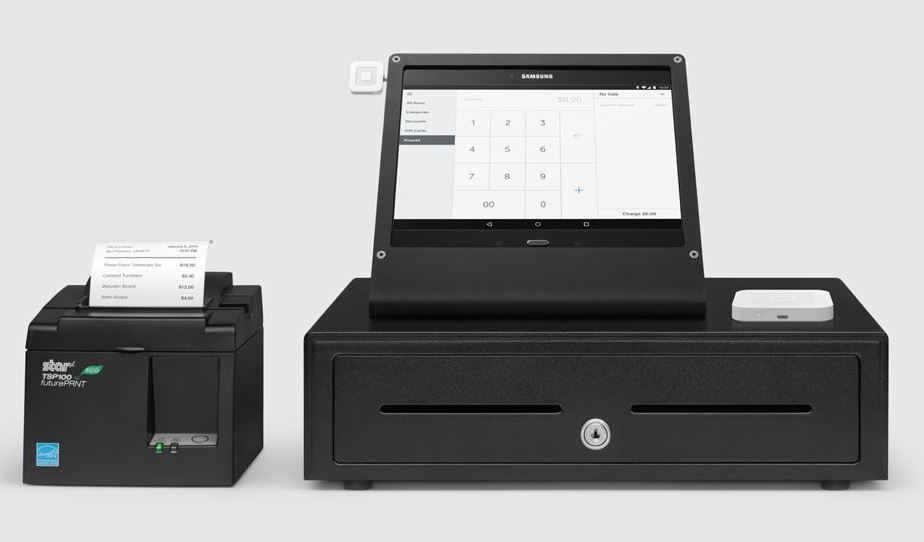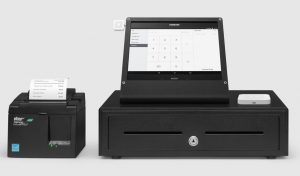 Not everyone deals with Apple equipment. This bundle is a complete POS system that's designed to work with your Samsung Galaxy Tab A 10.1".
If you do not own one, you can add it to the package for an additional $289. Here's what's included in this POS hardware bundle:
Heckler Windfall Stand for Galaxy Tab A 10.1″
Square Reader for contactless and chip capabilities
16 in. printer-driven cash drawer
Ethernet receipt printer (with 25 rolls of paper)
Setup guide: Windfall Stand for Samsung Galaxy Tab A 10.1″ Kit
All Square equipment has financing available if you're just starting out. They also have an excellent customer service department that works round-the-clock to iron out any issues.

Shopkeep POS Bundles


Shopkeep is a cloud-based, iPad POS brand that specializes in niche industries like restaurants and retail. Their simplified dashboard contains features that include detailed reporting, inventory management, and staff scheduling.
Pricing is quote-based but they are free and easy to retrieve online. Every bundle is tailored to the customer, so it's tough to price. However, the free quote online reveals the separate costs for each item. They are as follows:
EMV chip card reader – $329
Cash drawer – $109
iPad enclosure – $129
Receipt printer – $239
Barcode scanner – $379
Retail Hardware Kit
This POS solution will help a retail business speed up transactions and manage inventory in real-time. The kit comes with:
iPad enclosure
Cash drawer
Barcode scanner
Receipt printer
Credit card reader
The hardware bundle also contains a label printer in case you need to categorize or ID items.
Restaurant Hardware Kit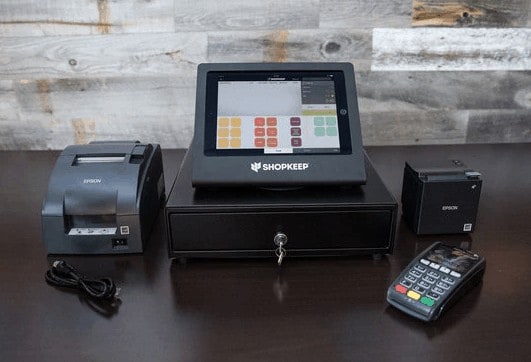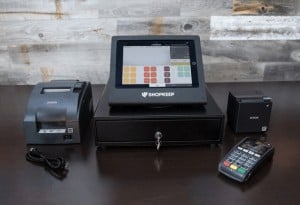 Keep tables turning without getting into the weeds. Know when something is 86'd without needing to run to the kitchen. This POS bundle includes:
iPad enclosure
Cash drawer
Kitchen printer
Receipt printer
Credit card reader
The restaurant hardware kit also comes with an ethernet cable for easy setup and connection.
Quick-service Hardware Kit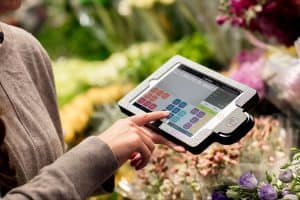 If you're running a foodservice business that requires speed, this is an ideal POS package. It has just the basics needed to hit the ground running. Features include:
iPad enclosure
Cash drawer
Receipt printer
Credit card reader
It should be noted that none of the ShopKeep bundles comes with an actual terminal. The entire system (both software and hardware) relies on the use of an Apple iPad or Mini iPad.
Software-Specific POS Hardware Kits
The best scenario when purchasing a point of sale system is one that includes everything needed to start running transactions. This happens when brands that develop the best POS software also offer equipment to go with it. Here are some software-specific POS bundles to save you time:
Cash Register Express Kit – $705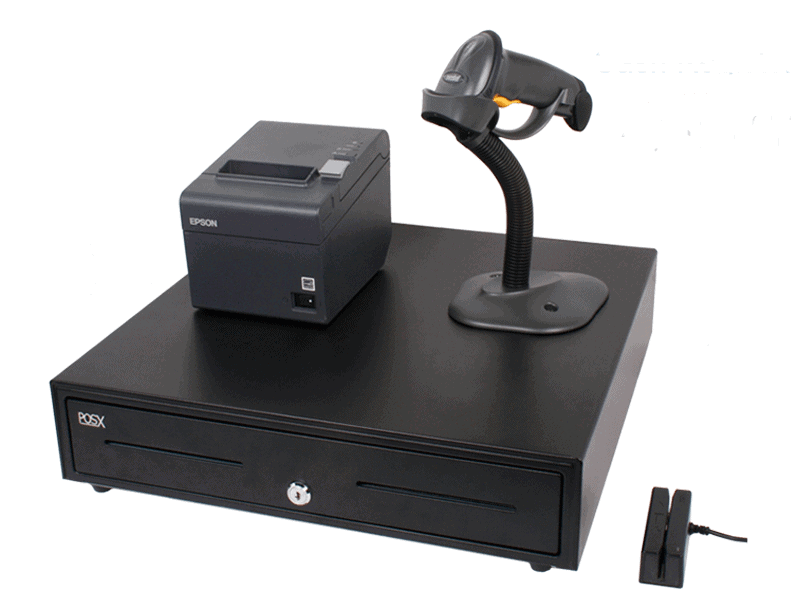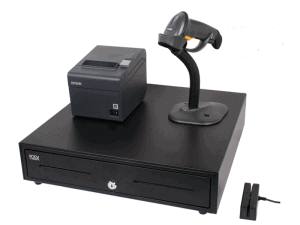 This is an excellent solution for day-to-day retail operations. The Cash Register Express (CRE) Kit allows you to manage back-office and front-of-store tasks from a single interface.
The system runs on Windows XP Home 32-bit and requires 512 MB of RAM with a 1.5 GHz Intel Celeron Processor (or equivalent). The bundle comes with the following hardware:
10-Pack of thermal receipt paper
Epson ReadyPrint T20 printer
Symbol LS2208 barcode scanner
POS-X EVO-CD 18″ cash drawer
POS-X XM95 card reader
It should be noted that although this equipment functions in conjunction with the Cash Register Express software, it still must be purchased separately. The cost for the PC America Cash Register Express software program is $649. That means the entire package will run you approximately $1354 (plus shipping and taxes).
QuickBooks POS Kit – $715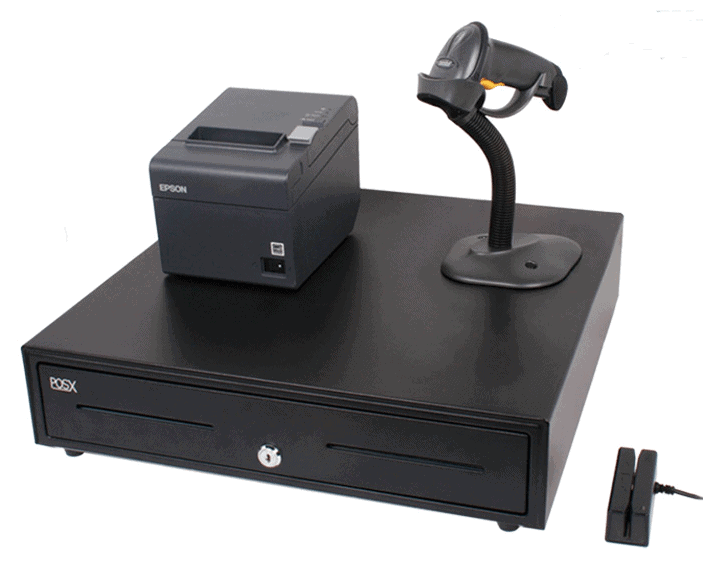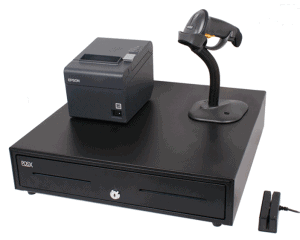 The QuickBooks POS kit is a perfect system for converting your PC into a retail POS machine. The Intuit-authorized kit includes hardware that supports QuickBooks POS Pro v12 platform.
The system requires Windows XP, Server 2003, Vista, or Server 2008 to operate. It needs 256 MB of RAM and a 1.8 GHz processor. You should also have at least 1 GB of disk space available.
The QuickBooks POS solution by Intuit has the following hardware:
Receipt Printer: Star Micronics TSP100
Barcode Scanner: Honeywell Hyperion 1300g
Cash drawer: MMF Val-U Line
Card reader: MagTek MiniWedge
This bundle also comes with extras like a GoPayment Reader and single roll thermal paper.
There are other vendors online that have put together packages to align with POS software. If you go with an outside merchant, make sure they have a thorough integration process available. You don't want to be stuck with a bunch of puzzle pieces you don't know how to put together.

Best Practices for POS Hardware Bundles
It's always a good idea to purchase your entire bundle upfront. Many brands will offer you the option of leasing. Just remember, you end up paying much more than the equipment is worth. It's best to start with the basics and build up.
Some companies also advertise "free" POS terminals when you purchase the software. This can also be more expensive than buying your equipment upfront. That's because a business usually requires signing a lengthy contract for its credit card processing service. If you close your account in these cases, you are required to return the equipment, regardless of how much you have paid.
If you are not super tech-savvy, a POS bundle is always the best choice. A package deal typically comes with everything you need to get up and get started in a flash. You can order most today and be transacting as soon as tomorrow!