(Last Updated On: September 29, 2021)
If you're running a busy restaurant or quick-service establishment, there must be an efficient means to transact with customers. That's what a point of sale system is for.
One of the top brands for restaurant POS software is Clover. In order for it to function effectively, you also need to know the compatible hardware. This is especially critical when it comes to a printer in the kitchen.
The Clover Platform


Clover is headquartered in Sunnyvale, CA and is a cloud-based Android POS program that was launched in 2012. With over 200 employees, the brand focuses on making payments safer and simpler for business owners in the foodservice industry.
The platform accepts all major payment types, including rewards cards and Apple Pay. They offer 24/7 dedicated support with flexible pricing.
Payment Processing – 2.3% + 10 cents per swipe
Flex – $499 (or $166/month for 3 months)
Mini – $749 (or $250/month for 3 months)
Features:
Manage employee schedules and payroll
Customer engagement tools
Detailed reporting and sales data
Faster orders and checkout
What is a Kitchen Printer?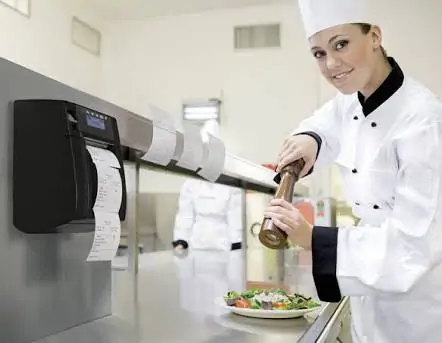 A kitchen receipt printer prints in dot matrix and uses a form of impact printing. It bangs a head or ink needle against an ink ribbon to print text. This means, the text doesn't get blurred, rub off, or bleed.
This type of hardware is purposely built for high-temperature and high-pressure environments like a quick-moving food kitchen. The last thing a busy restaurant needs is the printer failing to put through orders from the front of the house.
Kitchen Printers Compatible With Clover
When it comes to compatibility, there are always brands that will claim their hardware works with everything. For Clover software, however, there is only one company that will fully integrate. Star Micronics. That being said, there are only a few different models to choose from.
The Star Micronics 700 Series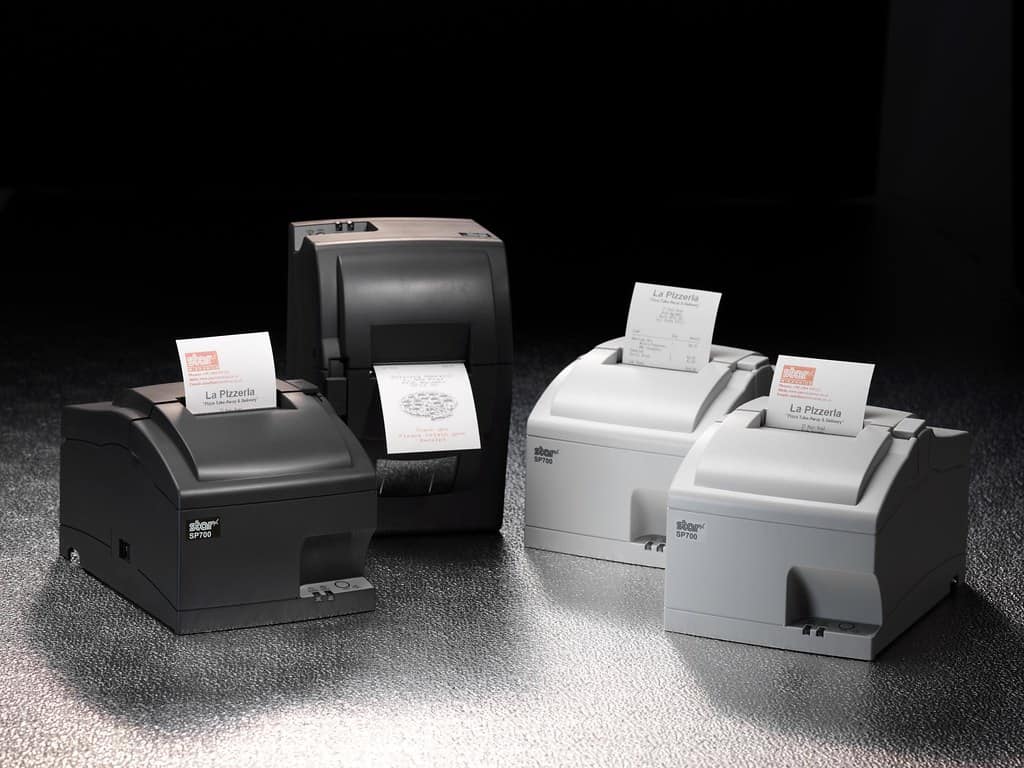 This is the series of Star kitchen printers that are compatible with Clover and integrate with these products:
Clover Station
Clover Mini
Clover Flex
Mobile devices
Mobile and Flex are via wi-fi only. The SP700 replaces the older Star Micronics SP500 series. It comes with a 3-year warranty.
The Star Micronics SP700 series is specifically built to function where heat and humidity typically erode the text on an order. The two-color printers have a crisp type for better viewing, a splash-resistant clamshell model for easy paper loading, and embedded power supply for space efficiency. It's designed to make installation, utilization, and ongoing care as simple as possible
The SP700 printers are ready to be used right out of the box and print at a speed of up to 13 tickets per minute (4.7 lines per second). The printer gives you multiple interface options (user-swappable for an easy upgrade) with a full driver suite included.
Additional Features:
Driver support for Windows 2000, XP, Vista, also Linux and Mac OS X
Interfaces include: Serial, USB, Parallel, wired, and wireless Ethernet (10/100 Lan Port (RJ45))
Drop-in and print paper loading
All accessories (except cable) are included
Can be mounted vertically or horizontally
Connections
The only versions of the SP700 series that function properly with Clover products are the ethernet and wi-fi models. In most cases, ethernet is recommended over wi-fi. It's more cost-effective and easier to install.
Using an ethernet gives a business the freedom to place the printer anywhere in the kitchen and it will still properly communicate. As long as the connection is on the same network as the Clover station, you are golden.
To integrate the Star printer with Clover, simply log into the app and it will look for the equipment. When located, just select it and let the printing begin. Remember, it must be ethernet. The Clover program has no way of knowing that a printer with a USB, Parallel, or a Serial connection is available.
SP742ML – $350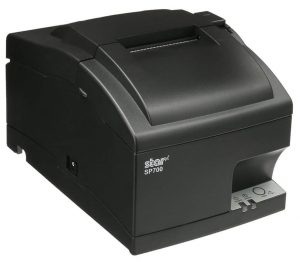 The ethernet version of this model is compatible with Clover. Features for this type include:
Ethernet (LAN) Interface
Putty color
Automatic cutter
The cutter is essential when pushing through tons of tickets to a back kitchen. It's very easy for orders to get lost when still stuck together.
SP742ME – $320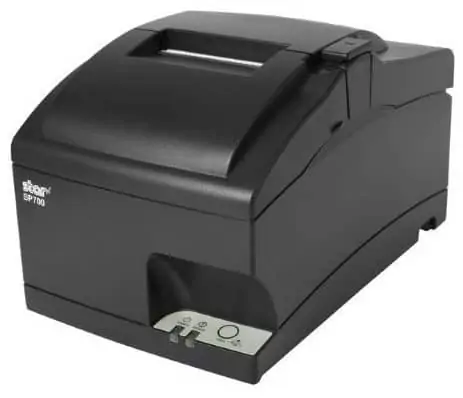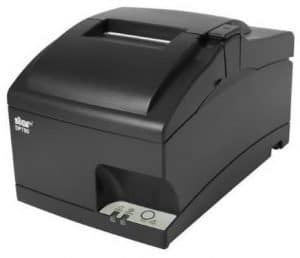 This high-speed and versatile model is slightly less expensive than the 742ML. It boasts these attractive features:
Ethernet (LAN) Interface
Grey color
Automatic cutter
Comes with power supply
In addition to Clover, the printer is also compatible with Shopkeep, Ambur, and Square POS platforms.
SP742MC – $250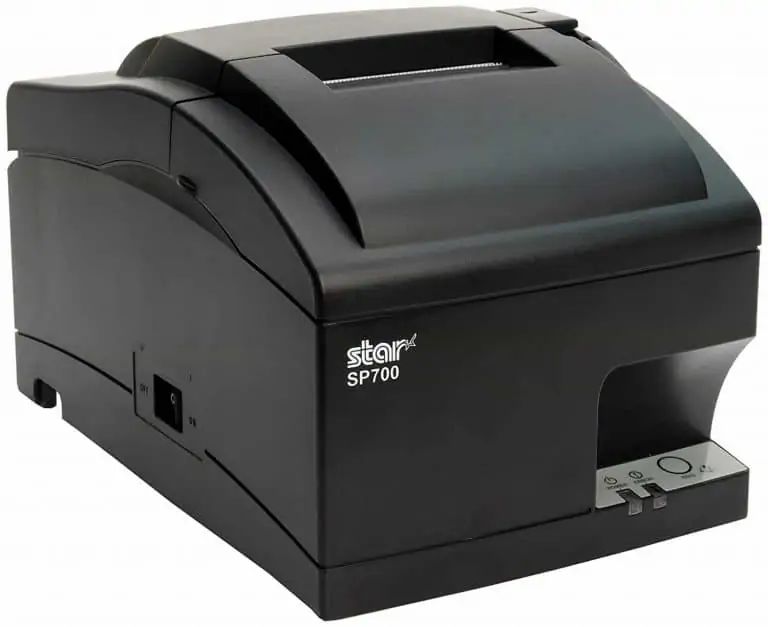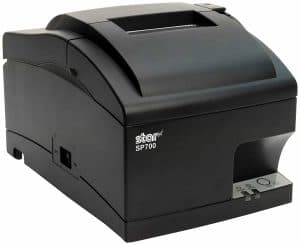 A much more affordable version than it's counterparts, the 742MC has a parallel interface. Additional features to note include:
Grey color
Automatic cutter
High-speed
SP742MU – $270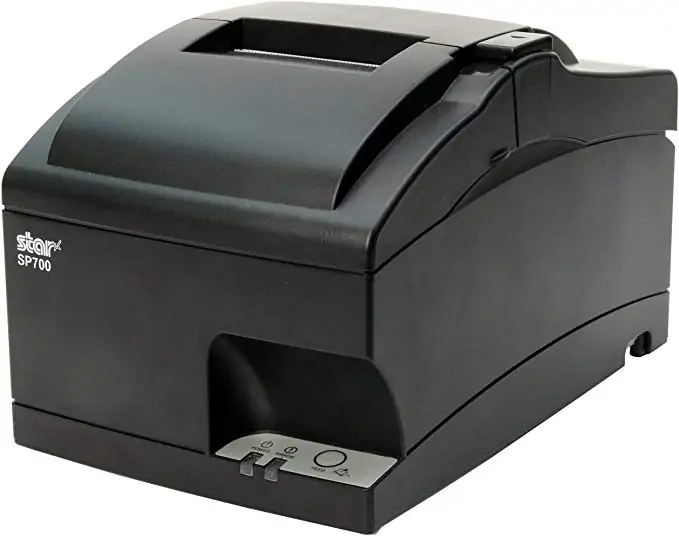 A little more than the 742MC, the MU has a USB interface as well as these specs:
Grey color
Automatic cutter
High-speed
SP742MW – $425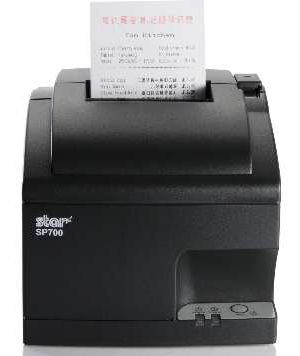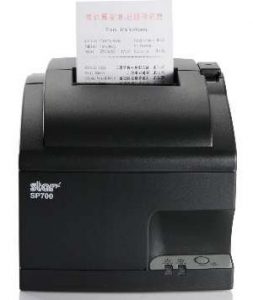 The cream of the crop for 742's, the MW model comes with an internal (space-saving ) power supply, as well as these features:
Grey color
Automatic cutter
WLAN (wi-fi) or Ethernet
USB, or two Peripheral USB
CloudPRNT
If you are not sure of your set up or plan on expanding the business, this kitchen printer is probably your best bet.
The SP742 printers can also be found under the current numerical part numbers: 39336532 (Gray) and 37999310 (Putty).
The "E" and "L" on the models are similar. Star Micronics switched from LAN to ethernet as a preferred description for the interface. The grey model is the only color available for the new "E" design. The older "L" models are putty color.
The "4" in the serial number always pertains to the auto-cutter. This partially slices the paper after each order and ensures your kitchen keeps the workflow moving. Kitchen printers should always have an auto-cutter over a tear bar to keep orders separate and make them easier to hang for the cooks.
Final Thoughts
As business technology continues to expand, finding POS hardware and software that are compatible becomes a tricky job. For Clover software, stay within Star Micronics to be safe. Specifically, the SP742 series. Once you've made a decision, your kitchen printer can be up and running in the click of a button.