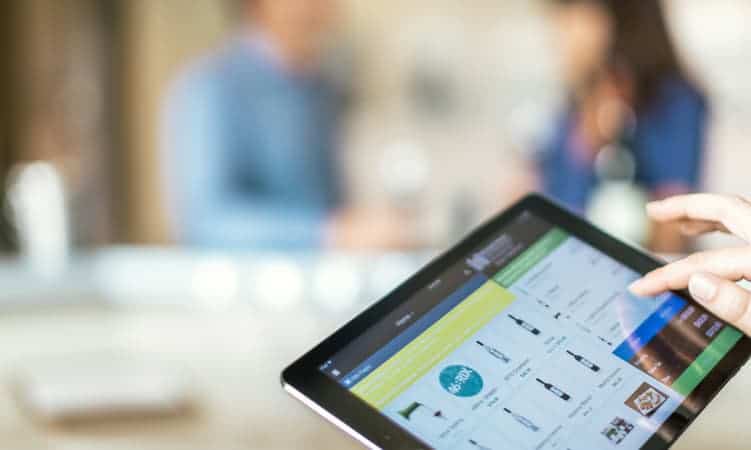 If you manage or own a winery and need a POS system that can automate various tasks around your business, look no further than WineDirect.
By using this mobile-first software, you can sell from anywhere by using an iOS device like a tablet or a browser. Manage your inventory and customers with the highly intuitive user-interface.
Provide customer service in the tasting room and take emails during the checkout process. This way, you can market to clients in the future, sending them promotions that'll keep them coming back.
After extensive research for our WineDirect review, we believe it's the best winery POS system due to its many features that other software doesn't have. Additionally, there are no per user fees and various marketing tools like up-selling, automated emails and a program with loyalty points.
As soon as you download the app, everything will sync through the cloud so all your sales and inventory data is updated in real-time. And, if you have a tasting room and a wine club, you can track your entire operation in one dashboard.
Ring up sales from anywhere, easily access customer data to provide VIP customer service in the tasting room and capture email addresses during checkout. When customers log into their account online, they can see their preferred member pricing and other benefits.
With a strong membership program and the most up-sell capabilities we've seen from winery software, let's examine other features and why else WineDirect deserves a closer look.
WineDirect – Company Overview
WineDirect was founded in 2002 with a singular focus on helping wineries sell directly to consumers in whatever ways work best for them.
This could be direct sales to people visiting the winery and/or online sales through a web store.
WineDirect has developed a whole suite of DTC solutions, including the following:
WineDirect POS
Wine Club software
Ecommerce to build a web store
Marketplace Distribution that connects to third-party platforms such as eBay, Vivino and many top travel and luxury loyalty programs
Fulfillment software
Integrated Payments
End-to-end DTC solutions for wineries that literally cover all the bases.
The company currently assists more than 1,800 wineries with their software tools.
WineDirect POS Benefits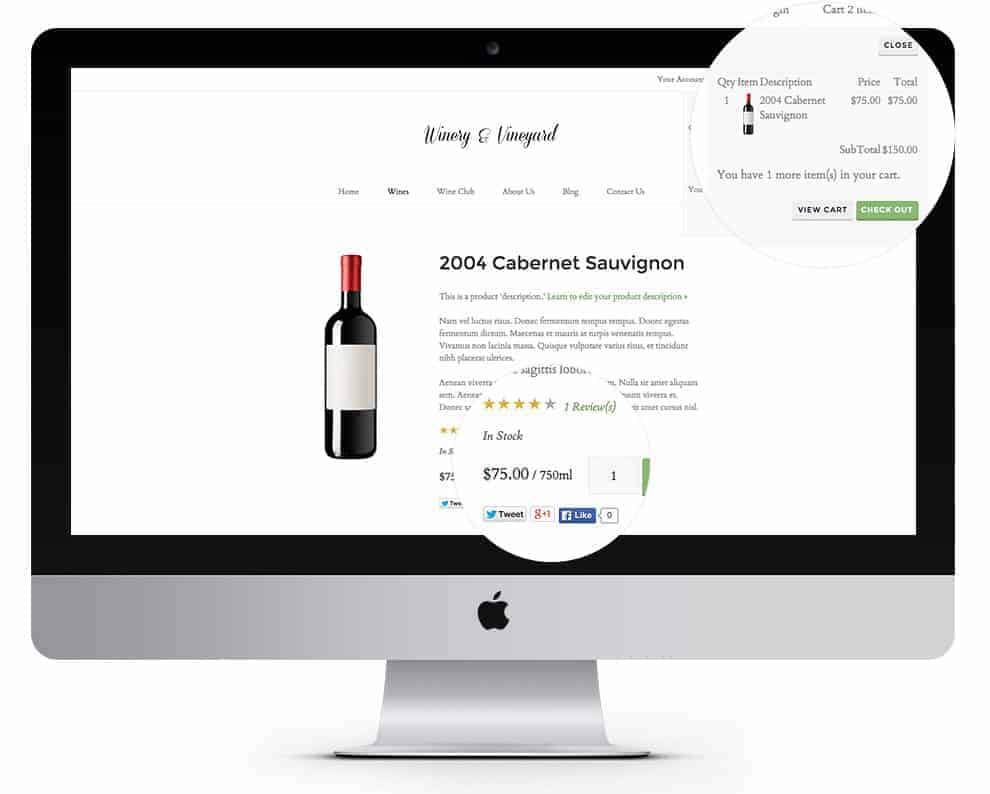 This mobile-first be accessed through any browser or any iOS device with a data connection or WiFi. The intuitive interface allows users to products, customers, and inventory. It provides easy access to customer data in order to create VIP customer service in a tasting room.
The checkout process can be used to capture email addresses to build a marketing list. It allows users to segment lists for targeted campaigns in order to drive repeat tasting room visits and purchases by sending personalized emails.
Satisfied users find all the transaction features of the POS to be very convenient in terms of making sales, processing returns/refunds, customizing the layout, and using their own photos. They find that it definitely enhances the overall functionality of a tasting room.
Potential WineDirect POS Drawbacks
What some users find lacking is the reporting function, which is not as robust or customizable as they'd like it to be, along with a difficult-to-navigate spreadsheet layout.
Some have also mentioned that the POS tools to work with a website/eCommerce are not as intuitive as the rest of the system. Other have noted that the lack of a PayPal integration is unfortunate.
WineDirect POS Pricing
There are three different price plans that include the WineDirect POS solution:
Lite
Pricing in this plan is $299/month plus a $999 setup fee and includes the following:
Website hosting and free website template
Annual sales up to $250,000
Integrated payment processing
Unlimited products and customers
Up to 10,000 marketing emails per month
Customer support via email and phone (premium support for an additional fee)
DTC educational resources
Invitations to regional events
Built-in marketing tools
Marketplace access (US only)
ShipCompliant integration
DIY fulfillment
Plus
Pricing in this plan is $549/month plus a $999 setup fee and includes the following:
Everything from the lite plan except annual sales can be above $250k and marketing emails are unlimited, along with the additions listed below: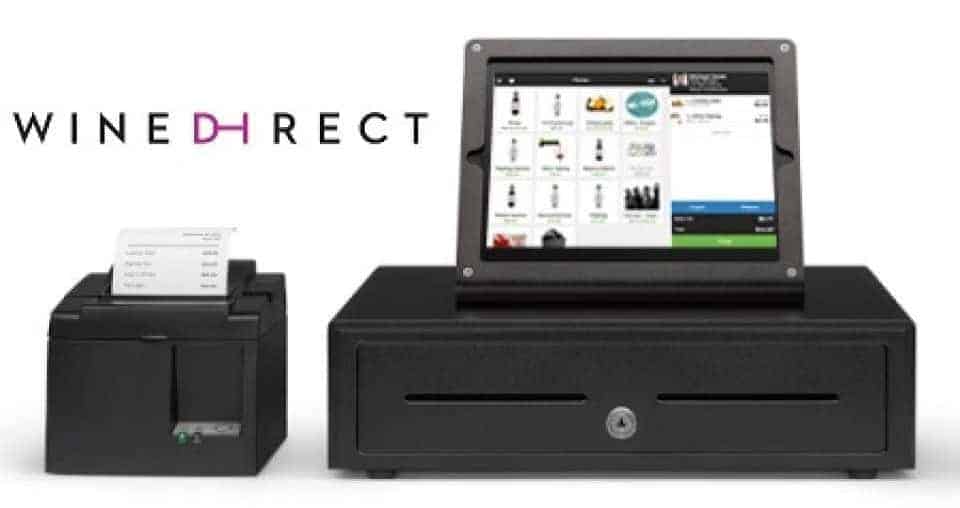 Credit card updater (US only)
DTC to China (US only)
SMS texting
Advanced reporting
API access
Enterprise
Pricing in this plan must be custom-quoted by the company and includes the following:
Everything from the Plus plan along with the additions listed below.
Premium support
Account manager
WineDirect POS Requirements
The company website is somewhat lacking regarding hardware and system requirements. It is a cloud-based system that can be used on any browser or iOS device with a data connection or WiFi.
WineDirect POS Features and Capabilities
The features and capabilities more than 1,800 winery operators enjoy with the WineDirect POS include the following:
Easy, Efficient Transactions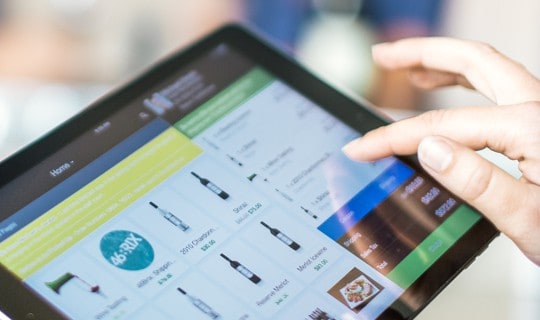 The WineDirect POS is known for having a highly intuitive user interface that's easy to use for all employees at a winery who need to use it.
As soon as the app is downloaded, users can jump right in a get started. Products, inventory, and sales are all updated in real-time and synch through the cloud.
The WineDirect POS solution combines all data from a winery's tasting room, wine club, and eCommerce site to give owners and operators a comprehensive snapshot into the entire direct-to-consumer (DTC) operation from a single dashboard.
CRM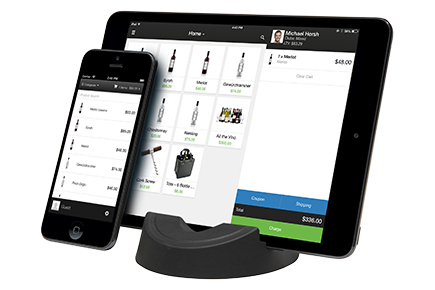 Anyone operating a tasting room and making sales to customers wants to cater to their customer's preferences and treat them to a VIP customer experience.
This is much easier to do when you can directly access customer data through the mobile WineDirect POS solution.
The data available for CRM can include notes, purchase history, club memberships, lifetime value, and more. Getting up to speed on each customer as quickly as possible in the moment allows wineries to provide highly personalized service to builds long-lasting customer relationships.
Mobility in Sales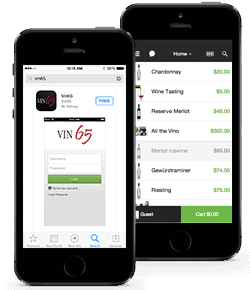 Few things are more frustrating than seeing customers in a long line give up and walk away.
This is when it really pays to have a mobile POS solution like WineDirect that allows you to make transactions with customers wherever they may be.
With a mobile solution, your customers could be in your tasting room, out on the patio, or in an event center.
You could be selling to them at community events and farmers markets, even out in the vineyard as long as you have an Internet connection and your favorite device with a web browser.
Marketing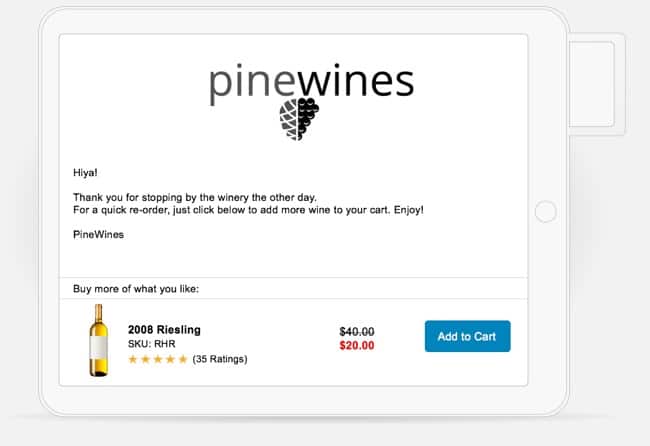 Every person who visits your winery and makes a purchase is a potential repeat customer. The WineDirect POS lets you capture email addresses during the checkout process.
And its integrated email tools can be used to send personalized follow-up campaigns to motivate future sales.
Use it also to alert them to specials running through your website to convert them into online shoppers, or let them know when and where they can next engage with your brand at special events.
Online Reservations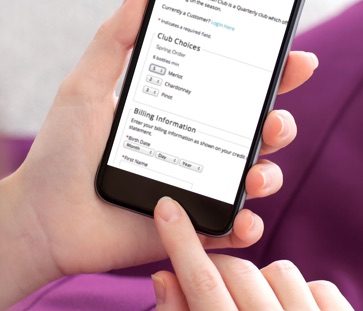 Wineries need to be able to make reservations for individuals to attend winery event or book groups of people who want to visit and/or attend a wine tasting event.
In order to accomplish this, WineDirect has partnered with Tock to provide seamless integration between the WineDirect POS and its reservation management solution.
The Tock integration makes the operation of your tasting room much more efficient. It also helps reduce no-shows and increases DTC sales, all while you focus on providing top-shelf VIP-style hospitality to your visiting customers.
Customer Service and Technical Support
WineDirect POS is supported through email and phone support, as well as documentation.
The Final Word on the WineDirect POS
Wineries in the digital era of the 21st century no longer need to be the unsung heroes providing their products from the outer fringes of the industry.
You can put your winery center-stage in the spotlight when you use the right DTC software tools to sell directly to customers at your winery or through your online store.
The WineDirect POS helps make this possible for wineries who want the flexibility of mobile sales using a cloud-based POS application that also provides CRM and marketing capabilities along with easy, efficient transactions.
The POS solution can be further enhanced by a suite of additional tools available through WineDirect to assemble an end-to-end solution for any winery. Lightspeed POS is the main competitor to WineDirect. However, If you are looking for brewery POS you probably shouldn't use this system.
Reader Interactions