(Last Updated On: October 4, 2022)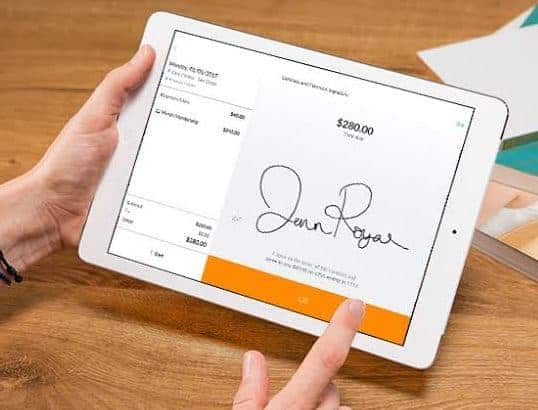 Mindbody is more than a POS system; it's one of the most powerful business management systems for salons, spas, and fitness centers. By using a single, highly powerful platform, you're able to focus on serving your clients instead of business tasks.
By using Mindbody's web-based platform, you can coordinate appointments, schedule staff, and manage your inventory effortlessly. Stay on top of what's selling best so you can restock these specific items faster.
By using the business app, you're able to run your salon from your mobile device, even when you're not present at your physical location. To encourage a contactless checkout experience, the system has the ability to collect payment and tip preferences when customers book initially.
With Mindbody, you can send texts for digital appointment reminders, waivers, or any other forms automatically. Customize the content of your text messages to deliver the message you want.
After our extensive Mindbody review, we found it to be much more unique than other salon and spa POS systems. Mindbody is the only software that turns missed calls into paying clients. When you miss a call from a client, they'll receive a text message from Bowtie's AI receptionist, assisting them throughout the booking process or answer any question they have.
Need to fill your calendar? No problem. Send targeted email campaigns automatically with special promotions that'll give clients a reason to come back. Easily request reviews by sending those clients a text message, helping increase your word-of-mouth advertising.
Simplify your payments and checkout process with Mindbody. Check out clients at your front desk or business app. This way, you'll reduce the work your staff has to do and streamline the entire checkout experience. Finally, sell gift cards on your sales page and increase your revenue.
Let's dive into what Mindbody can do for your business, the monthly cost, and the hardware components you'll need.

Top Features
Offers a robust feature set
Features alerts and notifications
Offers the convenience of automated scheduling, and appointment scheduling
Customizable class scheduling, employee scheduling, and Facility scheduling
Supports group scheduling
Reliable and responsible customer support 24/7 through multiple channels
Equipped with a range of room booking management tools
Allows for resource scheduling as well
Multi-location support
Schedules can be altered, added or removed in real-time
Possible Drawbacks
As compared to alternative systems, MindBody is relatively costlier and features a steeper learning curve. You may also find the software to be somewhat buggy.
MindBody POS Pricing
Just as is the case with most of the best appointment booking POS systems, MindBody offers a free trial period. Additionally, you will also get a 20-minute guided demo of the system by a knowledgeable MindBody customer service representative.
For enhanced flexibility and affordability, the provider offers three main software price plans. The three plans offer a range of MindBody Apps for you and your clients.
The plans also feature innovative scheduling, client management, autopay billing a as well as access to unlimited support and business management courses.
The Mindbody POS system lets you run your business from anywhere with a computer, mobile phone, or tablet. Whether you have an Apple or Android tablet, you can connect to Mindbody's cloud-based service. The system also allows you to accept payment from your customers and maintain a record of transactions. The software also makes it easy to adjust prices and inventory levels.
Mindbody offers a number of packages that suit different types of businesses. The Starter package offers a basic set of tools for running a business, while the Accelerate package offers additional tools for working with customers, such as smart contact lists. The Ultimate Plus plan also includes unlimited automated email marketing and customer feedback.
The Mindbody POS system comes with its own business app, which works on iOS and Android. It is also compatible with branded mobile applications and can be integrated with payment processing systems. Mindbody POS pricing is calculated based on your transaction volume. For businesses processing more than PS25,000 per month, the POS software charges 1.99% plus PS0.2 per transaction.
Mindbody pricing differs greatly depending on the plan. The Starter package costs $129 a month. You can also sign up for a free trial and pay as you go. However, you must be prepared to pay an additional fee for calendars. If you plan to hire front desk staff, you can purchase the Ultimate plan, which also includes email templates, two-way text notifications, and a referral program.
These are the three MindBody Price plans you need to consider:
Essential Plan ($149/month)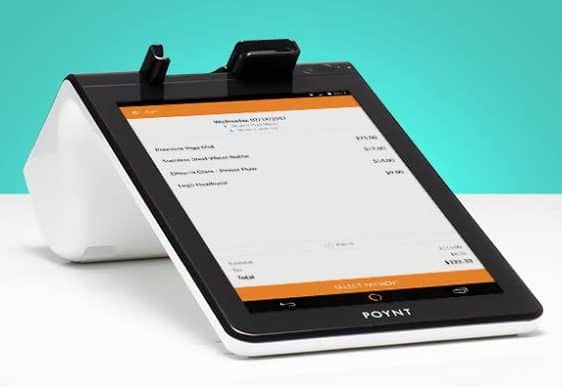 The essential MindBody plan offers is equipped with all the capabilities you need to sell services, manage your schedules and streamline everyday business operations. Being the most affordable MindBody POS system plan, it only offers the basic features and capabilities.
With this plan, you will get such features as Appointment, Class, Event, and Workshop. You will also get Free MindBody Web listing and App, point of sale capabilities as well as responsive branded Web widgets.
With regards to reporting, the essential Plan allows you to crunch numbers, and track trends on clients, sales and staff with a capacity of up to 35. The provider will also offer you one-on-one onboarding and 24-hour customer support.

Accelerate Plan ($269/month)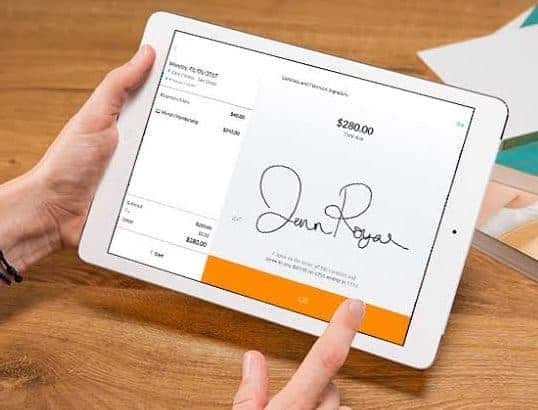 With the Accelerate MindBody subscription plan, you will be required to pay $269 per month. This plan offers all the features and capabilities of the Essential plan discussed above.
However, the reporting feature of this plan allows you to monitor up to 90 different variants.
This plan also features an Email campaign builder and templates, allowing you to build a Smart contact list and send out effective email campaigns.
This helps you build good relationships with your clients and keep them coming back.
Ultimate Plan ($389/month)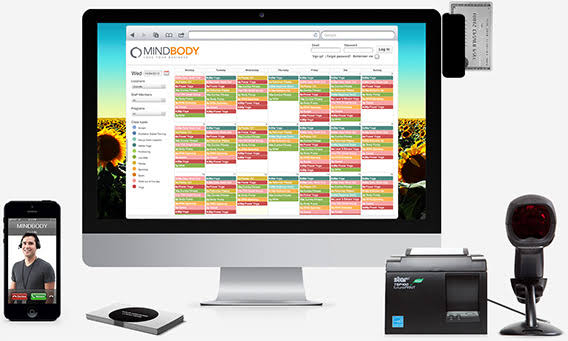 This MindBody subscription plan is designed to equip you with advanced marketing tools, analytics, and automation. In addition to the features offered by the Accelerate plan, the Ultimate plan also features a customer referral program.
With this plan, you will also get automated email and text campaigns as well as customer ratings, feedback, and review capabilities.
MindBody POS System Key Features
At first glance, you may find MindBody to be a bit overwhelming, featuring numerous tabs and sub-menus. Most of the tabs and sub-menus populating your MindBody screen are self-explanatory. However, it will take you a considerable practice and training to wrap your head around the entire scope of the system.
One of the things that make MindBody stand out from its competition is a wide range of useful features and capabilities. Discussed below are some of the performance and convenience capabilities you will come to like about this scheduling software:
Business Automation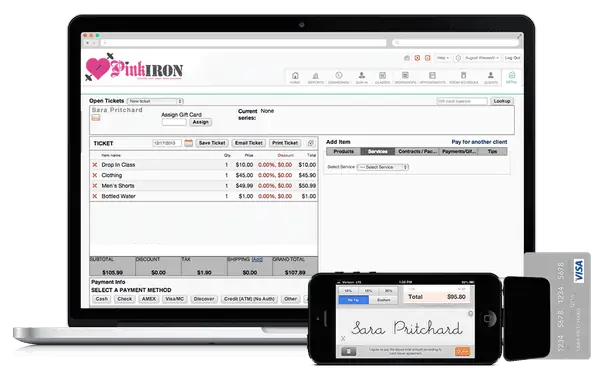 Most service-based businesses require you to repeat quite a number of things every now and then, often on a daily basis. If this were to be carried out manually, it would be cumbersome and time-consuming.
To save you time, MindBody will automate more than 110 tasks in your business. For instance, the system will automatically send text or email confirmations to your clients or through the MindBody mobile App.
The confirmations will be sent once the client has booked and when it is almost time for them to come in.
Other Automation capabilities of the MindBody POS system include:
Automatic Refill of Spots
This capability only requires you to set the maximum allowable number of people. Thereafter, the system will allow your clients to join a waitlist for any class. It is also capable of adding a new member if someone cancels.
To allow for faster processing of customer payments, the system will allow you to set up recurring payments, where applicable. In this regard, you will be able to decide You can decide how often payments recur, across the price ranges and membership options you create.
MindBody Online Booking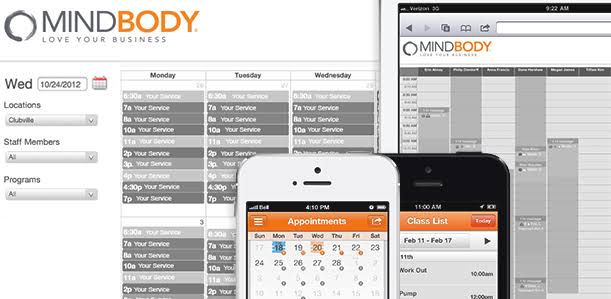 For enhanced convenience, the MindBody Online Booking platform allows your clients, to book from your website, their Mindbody mobile Apps or Facebook.
It features an assortment of branded Web tools, allowing your clients to view your schedule, book and make payments right from your business website.
Similarly, the provider offers a range of branded web tools that may be integrated into your Facebook page. As such, your clients will be able to schedule directly from the Facebook page.
In addition to giving the platform a theme similar to your website, these tools will also update your schedules in real-time.
Payment Processing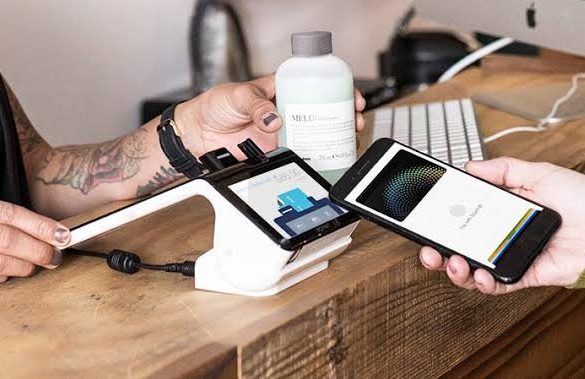 MindBody Payments allow you to process transactions and accept payments right through the POS software. It will give you the flexibility and convenience of accepting payments at the front desk, online or even remotely.
The system is specifically designed to power all transactions using a single synchronized point-of-sale system, including integrated hardware.
This makes it possible for you to accept cards as well as store payment details within the software. Such capabilities make it convenient for your clients to pay using whichever method they prefer.
Again, it is designed to store credit card data at PCI I Standard Data Security. The software will also make it possible for you to keep track of everything in real-time.
MindBody Payment Processing is a flexible and customizable membership billing software that allows members to pay their dues online and via mobile devices. The app also allows for the automatic recurring payment feature, which eliminates the hassle of collecting dues at the beginning of each month. The application also allows salons to accept payments through mobile devices by entering client billing information and an e-signature. The software also processes payments in accordance with modern data security standards.
The service charges start at 2.75% but may end up being much higher. With hidden charges, it's hard to know how much your clients are paying for their memberships. Using Mindbody means that you're not in control of the credit card information provided by your clients. Bookee, on the other hand, uses an account with Stripe, the world's largest payment provider. Unlike Mindbody, Stripe does not require you to store credit card information, which is a big benefit for businesses.
Mindbody also offers tools to attract and retain members. It offers features to promote your business on the Mindbody app, which eliminates the need to manually sort through your database. You can also set up automatic messages and text messages to keep your clients informed about new classes and deals. You can also use the app to advertise on Google and to make reservations with your clients. In addition, it is a cost-efficient solution, as you won't be charged a marketing fee until someone actually spends money at your studio.
Client Tools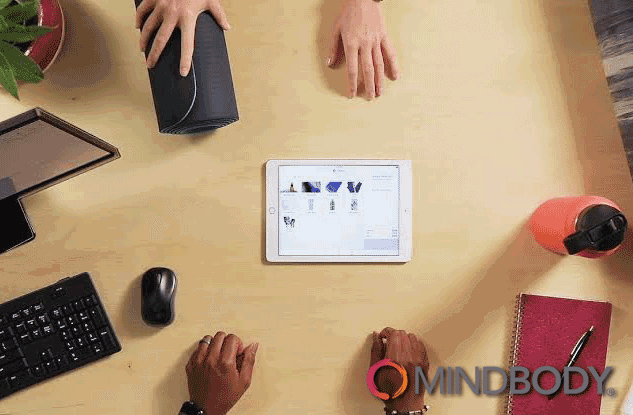 Comes equipped with a range of client management tools to save you time on each interaction you have with your clients. To begin with, the software allows you to create a single profile for each client.
By saving each Clint's important information in a simple profile, MindBody makes it easily accessible on subsequent visits.
On each profile, the system will capture and display such information as payment information, contact, schedules, and visits remaining.
You will also be able to connect profiles of family members, allowing them to schedule or pay together. The system will keep you updated on each client's status and let you apply gift cards directly to a client's account.

MindBody POS Alternatives
POS System

Most Affordable Price Plan

Best Aspects



MindBody




$149/month

Allows for appointment booking through social media platforms.

Offers a marketplace of compatible integrations as well as custom API access for third-party developers.

Zen Planner




$117/month

Features automated billing, payment processing, and iPad self-service Kiosk App, and Staff App.

Offers one-on-one training sessions for their new customers on how to use the POS system


Vagaro




$25/month

Features an integrated solution for managing bookkeeping, payroll, client databases, and inventory management.

Allows you to create custom web pages to showcase upcoming events.
Wellness Living



$39/month

Discounted credit card processing as low as 1.49%.

Native marketing tools and reliable communication options
Our Final Verdict
MindBody offers you the convenience of managing your business, sales, and clients from anywhere in real-time. The system is packed with all the tools you need to attract more customers to your business, keep them engaged, and grow your revenue over time.
By connecting millions of people to businesses across the globe, MindBody has been proven to break communication barriers for wellness professionals. The branded mobile apps offer by the provider will enhance client connection experience in your business.
These, in addition to the built-in payment capabilities, make MindBody one of the best club management and scheduling POS software.