(Last Updated On: December 31, 2022)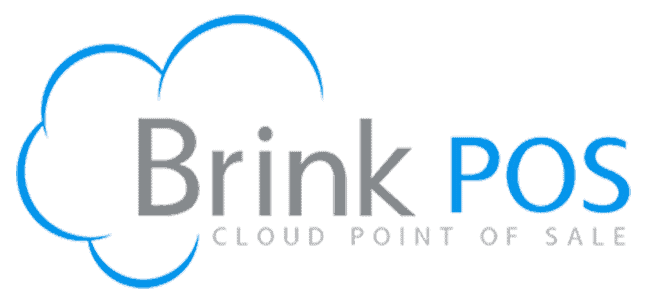 The Brink POS system is an entirely cloud-based Point-of-Sale system for restaurants. While a single location restaurant or chains with few locations could utilize this POS system, it is really built for larger restaurants with multiple locations.
Brink POS offers is a highly scalable system that includes loyalty management, compatibility with drive-thru if a restaurant offers that, online ordering and even enterprise reporting.
Brink POS is a cloud-based point-of-sale system for restaurants. It provides a full-featured restaurant management solution with an easy-to-use dashboard and comprehensive reporting. Restaurant owners can easily customize the system to meet their unique needs. The system has multiple payment options, including Visa/Mastercard/American Express gift cards.
With a POS system, a restaurant owner can improve sales and streamline operations. They can monitor the performance of all their locations in real-time, allowing them to make informed decisions. A restaurant can also collect customer data for their loyalty programs. This gives customers the chance to earn rewards at any location.
With the cloud-based system, restaurants can access their data from anywhere. Data is secured with encryption. It also allows restaurant owners to easily integrate other software applications. Some of the most popular third-party integrations include Open Dining, HotSchedule, and Microsoft products.
Brink POS eliminates the need for costly hardware. Using the cloud reduces the amount of time and money that a restaurant has to spend on maintaining their hardware. Additionally, the software makes updates automatically. And with a responsive support team, restaurants can have peace of mind in the event that they have any issues.
Brink POS's robust reporting system allows the management to generate reports for all of the restaurants' locations in one place. Each report includes daily totals, as well as all comps and discounts. In addition, the reporting system compares kitchen performance in real-time.
Another advantage of using the cloud-based system is that Brink POS does not require a back-end server. With the software's cloud-based architecture, restaurant owners can easily scale up for multiple locations.
What's nice about the software from Brink is that it's entirely cloud-based. This, in essence, means a restaurant doesn't have to have a back-end server that is housed at one or more locations. This is what makes the system so easy to scale for multiple locations. There isn't any physical, on premise hardware that runs the POS system.

There are a lot of automatic features that many customers love about the Brink POS system. Updates that need to be made to the software are automatically handled by the company.
However, one of the potential downfalls to this is all of a restaurant's locations will have to have reliable high-speed internet service. If they don't, the system won't be able to run.
Let's take a more in-depth look at various aspects of the Brink POS system and whether it's a good fit for your company.
Who Does Brink POS Serve?
The Brink POS system is provided by PAR Technology Corporation, which is based out of New Hartford, New York. According to the company's website, they are a leading provider of cloud-based Point of Sale, Payment and Food Safety software, hardware and service solutions to restaurant chains and food retailers.
The company has more than 100,000 POS systems in restaurants. They have been providing services for more than 40 years, giving the company a leg up on some of their competition. The company focuses on five core values – authenticity, dreaming, awareness, people and perseverance.
PAR says these core values are what drives the company in everything they do. A lot of that can be seen in how they deploy the Brink POS system. The cloud-based nature of it is a strong tip of the cap to the perseverance value especially. The focus on helping restaurants does well to focus on people.
Combine Software and Hardware for a Great Solution
Brink POS provides and deploys both software and hardware solutions to the restaurant industry. In fact, a restaurant can get an all-in-one POS solution from Brink Their POS platform can run seamlessly on the hardware they can provide.
This is a great added benefit for the company, as a restaurant won't have to worry about purchasing other hardware and then configuring the software to run on the devices they already have.
Brink POS also offers a number of third-party applications that can integrate with its software. In fact, they offer an open API that is built right in. While Brink offers a number of off-the-shelf solutions, they also offer custom features and functionality for any customers that might need more.
Brink POS Benefits
Cloud hosting of data keeps everything safe, secure and accessible
Automatic updates to software means it's easy to stay current
Online ordering and menu functionality can be deployed
Boundless payment options can be integrated with the hardware
Easy to deploy over multiple units since the system is based on the cloud
Can create a customer loyalty program
Excellent enterprise reporting and analytics
Allows for staff management and time schedules
Ordering sent directly to kitchen for preparation
Brink POS Drawbacks
Some users complain about outdated look of the software
Can sometimes be difficult to deploy without significant support
Brink POS Pricing
PAR does not publish pricing for its Brink POS system on its website. There are so many different customizations as well as available hardware purchases. The company wants potential new customers to reach out to them for a demo before they provide the potential costs.
Searching around other sites, you can find that Brink POS has an entry-level plan that costs $90 per month. This plan would give you one terminal location, but if you want to add more terminals you can at a cost of $50 each.
The company does offer monthly payment plans, which is nice so that you don't have to outlay a huge upfront expense.
For the Brink POS single enterprise plan, all customers will be provided with the following basic features:
A kitchen video system
Automatic updates to the software
A loyalty program
Online order processing
Mobile ordering functionality
Enterprise reporting
Management of multi-units
Data hosting on the cloud
Integrations with third parties
Workforce management tools
Brink POS can handle bank deposits, payment processing, provide device status, role-based security, central reporting, complex coupons, an easy-to-use dashboard and a highly-configurable system. In addition, the system will work offline in the unfortunate scenario that the internet service goes down.
Some of the more popular third-party integrations are with Verifone, Microsoft products, Omnivore, Open Dining and HotSchedules.
If you want more information about pricing and features, the best thing to do is to contact PAR directly to schedule a demo.
Brink POS and Hardware Requirements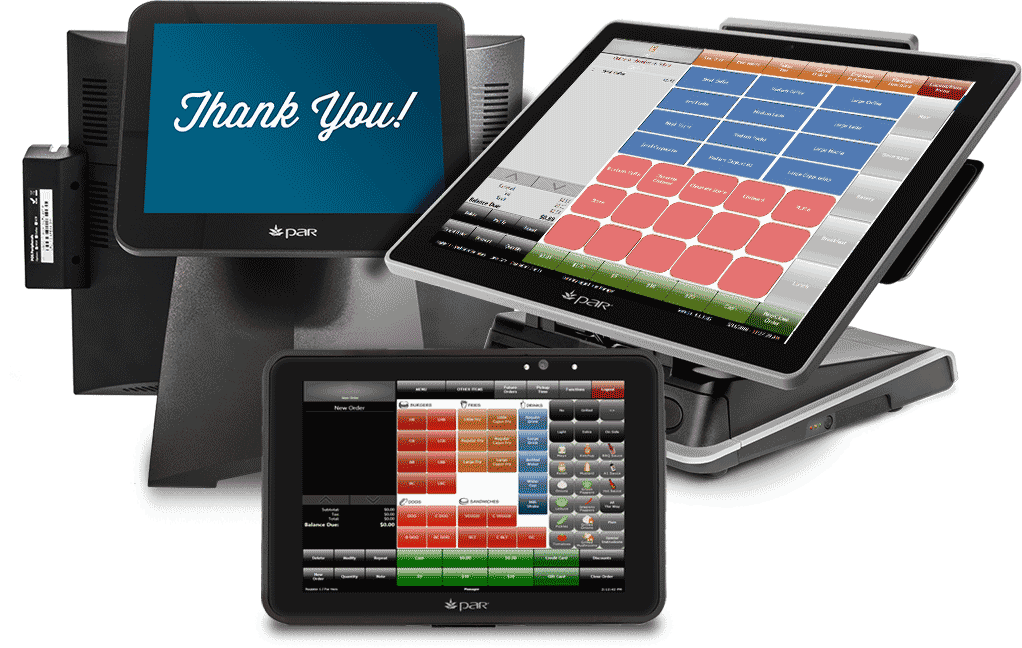 The Brink POS system is supported on just about all of the popular devices and platforms. This includes:
Windows
Mac
Linux
Android
iOS
Windows Mobile
Web-based systems
In addition, PAR offers five different hardware solutions that you can integrate with the Brink POS software. They are:
EverServ 8000
The EverServ 8000 is the company's flagship POS terminal. It's a terminal that is built to last and evolve with your restaurant. At the same time, it offers quick ordering from the counter, customization and integrated payment abilities.
EverServ 600
The EverServ 600 is a sleek, simple and sophisticated hardware solution that was designed with the restaurant guests in mind. It has a versatile design and supports multi-chain restaurants to small and local restaurants as well.
EverServ Tables
The tablets are an option for restaurants that desire a mobile POS system. They are enterprise-grade tablets that are built to meet the needs and withstand the rigors of busy restaurant and retail operations. They allow servers and restaurant personnel to move about the facility with the system in hand. 
Kitching Display System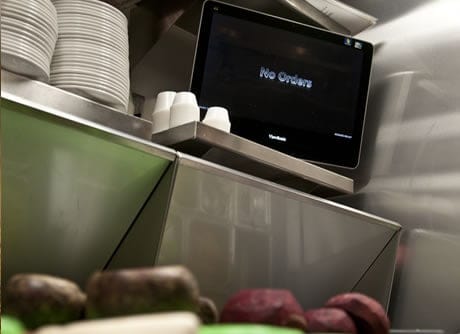 This is the built-in Kitchen module for the Bring POS system. It's a highly customizable component that is built on durable KDS hardware, helping to improve the efficiency of the restaurant's operations by linking communications between the front and back of house.
PAR POS Peripherals
PAR also offers a wide variety of peripherals to complement whatever hardware and software solutions you choose for your restaurant. Just some of these peripherals include:
Back office systems
Coin changes
Kitchen video systems
Brink Features and Capabilities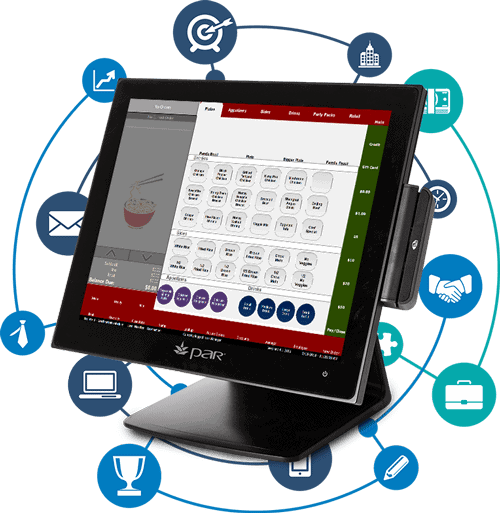 Brink POS offers quite a number of features and capabilities that restaurants will find useful. A complete list of the features and capabilities can be found on the PAR website. You can even request a demo to see a walk-through of the software system and how it would work.
Among the top features and capabilities of the Brink POS system are:
1. Data Security
One of the most important things any company must do is ensure they not only collect their data in a timely way and centralized location, but keep the data safe and secure from potential bad actors. This is especially true for restaurants that store and collect data on their own employees. Restaurants also do the same on their customers and payment information.
The Brink POS software automatically encrypts all the data that it receives on the cloud. It also has safeguards in place to protect the company's vital information.
2. Data Hosting on the Cloud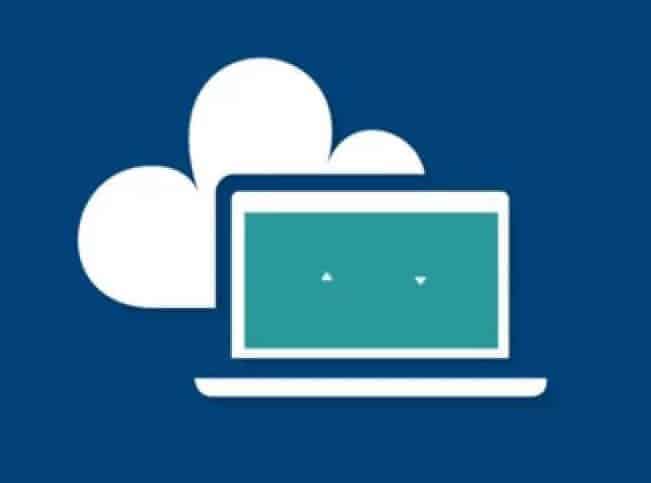 Hosting the data on the cloud means there is no need for bulky and expensive hardware back-end systems. While this is attractive for even smaller restaurants and local chains, it becomes extremely important for larger chains that have to integrate multiple locations.
This not only eliminates the need for extra space in a back office somewhere, but it also eliminates the need for an IT team to constantly monitor, fix and update the system as time goes on. Brink POS even makes updates to the software part of the system automatically.
Another great benefit of being on the cloud is that when a change or update is made, it is pushed out to all terminals. There is no need to make an update to each terminal individually, as it is pushed out automatically.

3. Online Menu and Ordering
Online menu searching and even online ordering is becoming more and more popular today with customers. It has almost become an essential feature for all restaurants to offer their customers. A nice feature about the Brink POS system is that it provides the ability to do both from the same system that is used by the in-house staff.
Now, one person can easily make changes or updates to the menu in an easy-to-use back-end management area of the software. When those changes are made, they are automatically pushed out to not only the online menu, but also to the POS terminals as well.
The Brink POS system has integration capabilities for mobile ordering. Customers will be able to use this feature to place an online order from their desktop, laptop or any mobile device.
4. Kitchen Operations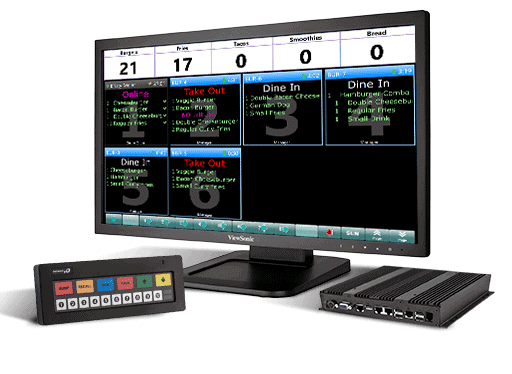 The Brink POS system has a built-in system to help the kitchen run smoothly as well. Once orders are placed, they are sent directly to the kitchen for preparation.
This significantly reduces the time from the order being placed to the order being prepared. It also helps cut down on mistakes that can be made by handwritten order slips or misplaced order slips.
The kitchen can bypass printers of order slips altogether if they wish. This saves counter space time, paper and other unnecessary items in the kitchen.
5. Customer Loyalty Programs
Customer loyalty programs are becoming more popular. If you would like to begin or run your loyalty program, you can easily do so through the Brink POS system. The feature is easy for restaurants to configure and then push out to all their locations, so customers can earn loyalty points and use rewards they earn at any location.
The restaurant is also able to easily customize the rewards that are offered and how points are earned. The other great feature is that a restaurant can manage an email and survey system through the loyalty program to keep in touch with their customers directly and entice them to return.
6. Payment Capabilities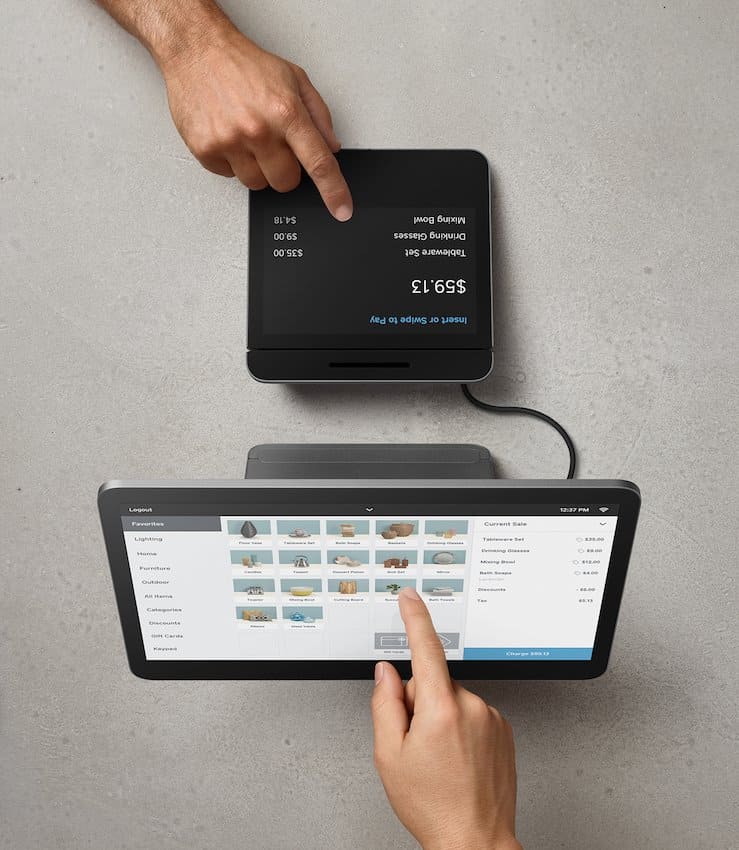 The Brink POS system also allows for a variety of payment options to be taken right from any of the devices on the system. In addition to accepting credit and debit cards, the system can process restaurant-specific gift cards or Visa/Mastercard/American Express gift cards as well.
7. Supervision of Restaurant Staff
Think POS systems are only for ordering and menus? Think again.
The Brink POS system also integrates staff supervision capabilities. The software allows restaurant employees to log time right through the software, which helps management easily monitor attendance of all their employees. But that's not all. The software has the ability to integrate with payroll systems so there is no more need for manual payroll processing or transferring this time log data to another system.
This staff supervision aspect of the software gives management an overview of how the staff is performing, whether they are showing up to work on time and how their expenditures are measuring up against their revenue.
8. Impressive Reporting
The Brink POS system has a robust reporting and analytics system that aggregates all of the data that is collected throughout the day and spits it out into clear, easy-to-read and digest reports. The best part about this is the software does this for every location that is on the system. This means that management can run reports for one location, a few locations or the entire company's chain of restaurants all at once.
Brink POS is a cloud-based system that enables restaurants to enhance their operations. It provides a platform for restaurants to streamline their employee management, manage their menu, and improve their customer experience.
Brink POS is suitable for restaurants that offer fast-casual or QSR food and service. It offers customizable features, a flexible design, and multiple payment options. Additionally, it allows managers to easily manage their staff scheduling. The software has a robust reporting system that helps companies measure their performance.
Brink POS is a cloud-based service that offers a range of third-party integrations. Some of these include HotSchedule, Omnivore, and Microsoft products. These integrate with Brink POS and allow employees to make reservations and orders from their mobile devices.
In addition to these services, Brink POS supports loyalty programs based on visits and items. Automated emails remind customers to return. Customers can also place orders online.
With Brink POS, restaurants can easily monitor the labor cost and efficiency of their kitchen. The system also includes an advanced guest survey component. Using the system, a restaurant can send instant rewards to customers for taking the survey. This increases the response rate.
Brink POS can be used in a single location or in a chain of restaurants. It provides a simple dashboard that enables management to run reports for all locations.
Brink POS offers flexible payment options, including monthly payment plans. Brink POS has PCI-compliant data security to protect important information. Using a secure data center, Brink eliminates the need for printer paper.
Our Final Verdict
The Brink POS system is popular among so many restaurants for obvious reasons. In addition to the robust features, the company also makes it easy to deploy with the availability of purchasing their proprietary hardware.
Perhaps the best part of the POS system is it is hosted on the cloud, which provides not only easy access and deployment from multiple locations, but provides top-notch safety and security of an important company, employee and customer information.
What's more, the most basic system PAR offers for the Brink POS system only costs $90 per month. The Brink POS system may be a better fit for larger or even regional restaurant chains.
While it can get costly if a restaurant needs multiple terminals at multiple or needs additional features, a POS system is central to improving operations and revenue. Still, there is a fit for the Brink POS system at restaurants of just about any size, shape and location.