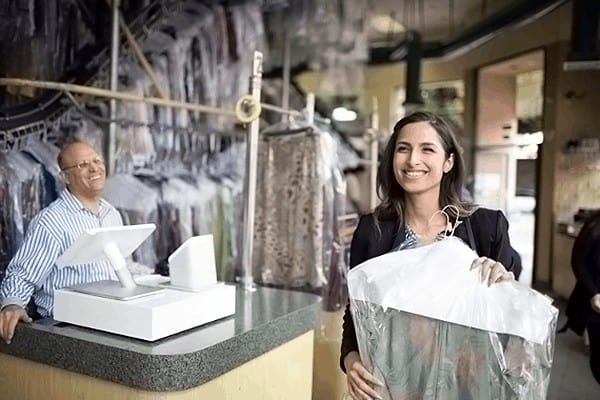 Over the past 20 years, the dry cleaning business has drastically changed. People work remotely, so there's less need for professional cleaning. Stringent environmental regulations and on-demand services have tightened profit margins and limited operations. 
To iron out problems, dry cleaning companies are trying several new strategies. Smart technology like a dry cleaners POS system is one of them.
The dry cleaning industry is taking a hit. Nationwide revenues are expected to drop from $9.1 billion to $8.7 billion by the year 2022. A key growth area is clean-and-fold laundry, which changes the business model. This type of development can be handled with a practical point of sale platform.
Unique industry challenges include the need to automate machine maintenance, scan heat labels, and track garments through the supply chain. 
If a business offers delivery, you'll also need a system that allows customers to schedule a pickup, monitor driver whereabouts, and track orders. A store needs to manage the cleaning workflow for multiple locations in a central database, with mobile capabilities.
The best dry cleaners POS systems will automate daily processes like maintenance, delivery, and reporting. It will address industry-specific challenges that include garment scanning and tracking, assembly management, and locker integration. The POS will provide an online site with an app for drivers and customer orders.
Here we've compiled the top five dry cleaners POS systems that cater to the specific needs of the laundering business. Don't let these get lost in the wash.
Here Are the Top Five Dry Cleaners POS Systems:
CleanCloud – The Best Overall Dry Cleaners POS System
Geelus – The Dry Cleaners POS System for Customization
Enlite POS – The Dry Cleaners POS for Mobility
Cleantie – The Best Dry Cleaners POS for Customer Service
Spot POS – The Dry Cleaners POS to Drive Sales
Comparing the Best Dry Cleaners POS Systems
| System | Starting Software Costs | Hardware Costs | Key Features |
| --- | --- | --- | --- |
| | Basic plan is $50/month, Standard Plan is $65/month and Professional Plan is $80/month | Hardware is bundled | Features that make inventory management highly organized such as rack locations and individual garment tracking |
| | Starter Plan is $9/month for unlimited customers and stations, Medium Plan is $89/month, and Large Plan is quote-based | Starter Plan is $9/month for unlimited customers and stations, Medium Plan is $89/month, and Large Plan is quote-based | Entirely customizable with robust employee management features |
| | Pricing starts at $49/month per location | Quote based | Mobile app allows customers to interact with your business online |
| | Premium Plan is $45/month, Professional Plan is $60/month and Enterprise Plan is $100/month | Premium Plan is $45/month, Professional Plan is $60/month and Enterprise Plan is $100/month | Driver app with real-time delivery updates and order status |
| | Starts at $25/month | Quote based | Specific customer data information provided to enhance marketing efforts and drive sales |
1. CleanCloud –
The Best Overall Dry Cleaners POS System
Grow your dry cleaning and laundry business with the number one POS for pickup and delivery apps. CleanCloud is an all-in-one solution that works with a PC, Mac, iPad, or Android. The software aligns with all the dry cleaners POS devices you need including a barcode scanner, printer, and payment processing. 
In this article we will review CleanCloud's benefits for small and medium-sized businesses. Among other things, it helps businesses increase customer satisfaction, improve staff efficiency, and manage the business more efficiently. Users of CleanCloud report significant revenue and order increases. The CleanCloud platform is available in both Java and PHP. CleanCloud users are able to use the API to integrate its features into their own applications. The following is a brief overview of its features.
CleanCloud offers a comprehensive security management solution with multi-cloud views, a CSPM product for AWS, and a free service called Trust DNS for free online privacy. The service boasts a strict no-logs policy, and is available for free on the AWS marketplace. It is a great way to protect freedom of speech and browse privately. And what's more, it only requires changing your DNS server once. And it is available in over 70 countries.
In addition to cloud-based POS software, CleanCloud is an app for iOS and Android devices. It features pickup and delivery management, payment support, and performance metrics. It has over 2 million users worldwide. CleanCloud is available for both small and large businesses in a number of countries. The app is available in English, Spanish, French, and Italian. CleanCloud claims it has increased its revenues by tenfold since it launched. So, why wait?
PosBytz is an iPad POS solution that allows businesses to manage orders, payment, deliveries, and inventories. The software also allows business owners to create individual accounts for staff members and assign permissions based on their preferences. CleanCloud also provides an integrated payment platform, PayXpress. It is used to process payments via eWallets and pre-paid cards. It features secure data encryption, card scanning, and remote access. Businesses can process payments through this platform and can even send email receipts to customers.
Integrations are available for both online and in-store payments with key system features like:
Inventory Management with Garment Tracking and Rack Location
An organized inventory is crucial to streamlining your dry cleaning operations. CleanCloud assigns rack locations and notes when an order has been serviced. 
Individual garments can be tracked as they move through the workflow. When something is running low, the system will send an automatic stock alert for replenishment.
You can also manage inventory via media. Upload photos of garments and keep track of the condition or any stains.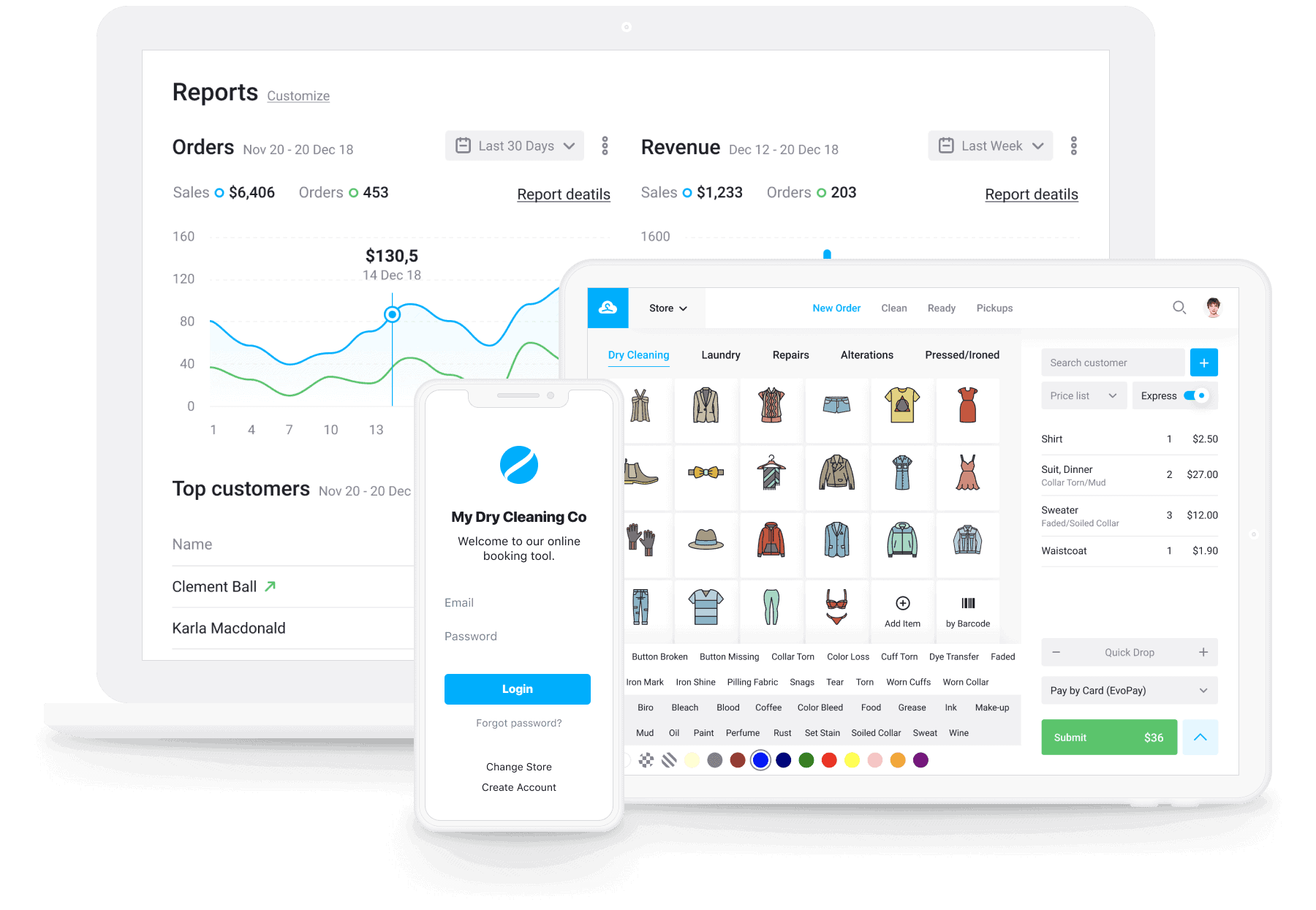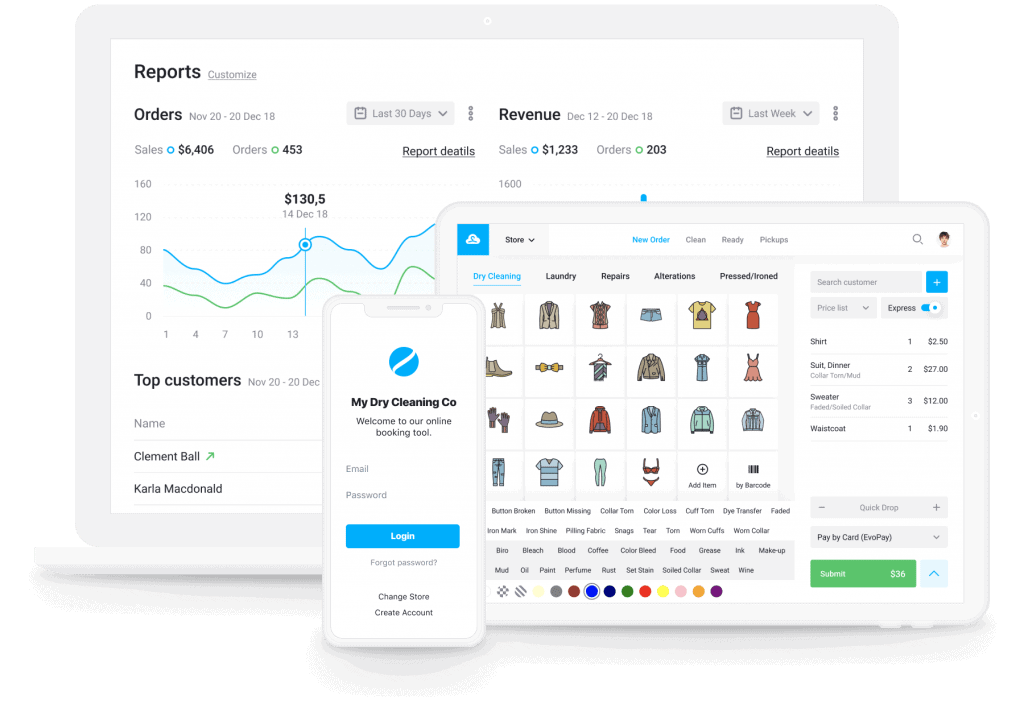 Assisted Assembly to Keep Things Moving
CleanCloud ensures a business keeps the production line moving with assisted and auto assembly. The system supports assembly both in-store and at your plant or central cleaning facility. Scan heat seal barcode labels on garments and they will be automatically assigned to your rack locations. 
The platform integrates with top brands like MetalProgetti and QuickSort for the fastest assembly options available.
Pickup and Delivery with Route Planning and Driver Management
CleanCloud comes with a branded iOS or Android app so customers can easily book pickup and delivery orders. You can also embed a web-based order tool into your site with one line of HTML code.
The driver app comes with location tracking and signature support. The route optimizer tool ensures drivers are using the best roads on their rounds. Assign GeoFences to prevent incorrect customer signups and offer promo codes to drive new customer acquisition.
Additional CleanCloud System Features Include:
Free website with SSL certificate, automatic plugins, and email forwarding

Multi-store workflow management with a central database and metrics overview

Integrated locker program with a customer app to drop off and pick up orders

Cash Up Calculator to ensure staff reports the correct amounts at end of shift

Automatic sync with QuickBooks, Xero, Listo, and other accounting apps
Get A Free Quote
2. Geelus –
The Dry Cleaners POS System for Customization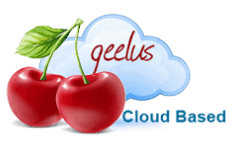 Geelus was designed to provide the ultimate level of customization for a dry cleaners POS system. From automated actions to multistore reporting and fully configurable roles, the platform has a user-friendly design that's easy to use and quick to pick up. 
Keep an eye out for system features like:
Employee Timesheet and Reports for Performance Management
Geelus lets you keep track of staff with a simple clock in/out feature. The system will track work hours, entry/exit times, breaks, and the number of hours per day, week, month, and year. 
You have the option to set the minimum break per day and Geelus will automatically deduct that from the total worked that day. There's no clocking in/out necessary. This also means you're always meeting labor laws and regulations.
Account Management System to Better Control Cash Flow
Whether you're working with a hotel or a single individual, Geelus enables a dry cleaners to control the flow of money through easy invoicing and account management. At the end of each month, account customers pay online or you can send an invoice.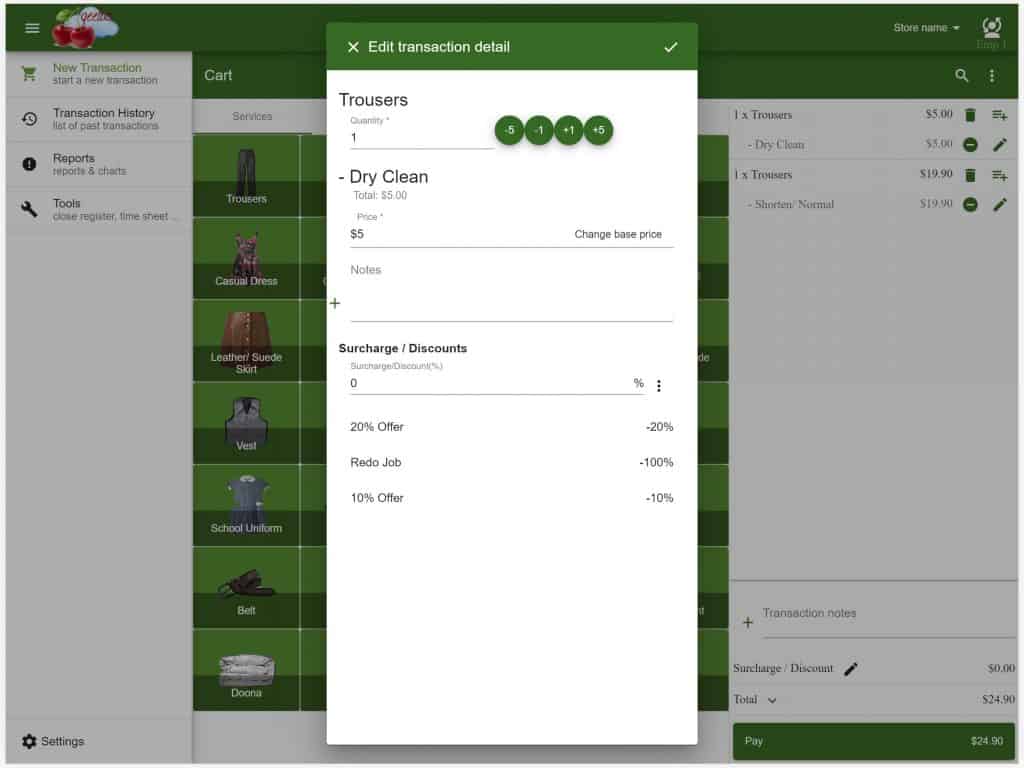 Fully Customizable to Meet Your Needs
Every Geelus system comes with a pre-defined set of configurations tailored for the dry cleaning industry. Designed to provide the ultimate level of customization, you can modify a workflow and decide which tasks you want to track. Other things you can customize in the system include:
Items

Themes

Templates

Layout

Categories

And more…
Cloud-based Technology for Access Anywhere, At Any Time
Geelus is a cloud-based dry cleaners POS system that will still operate offline. There is never a loss of data from a hard disk crash. You can still run transactions without connectivity and keep operations moving. The system will sync all data when back online. 
A Few More Value-Added Features to Look At:
Powerful surcharge/discount management tool with built-in analytics

Works on all iOS and Android devices supported by Mac and Windows

Role-based authorization to keep data safe from unauthorized access

Transaction-ready notifications with SMS and email reminders to customers

Barcode support to speed up transactions and assign searchable IDs
Get A Free Quote
3. Enlite POS –
The Top Dry Cleaners POS for Mobility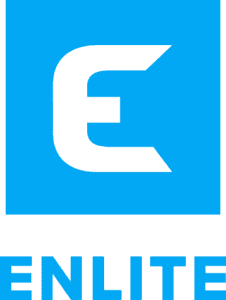 Enlite POS is a system built specifically for the challenges faced in the dry cleaning industry. The intuitive design allows staff to take customers from drop off to payment in no time at all.
The pricing plan is simple with unlimited stations per location. It supports all functions of your dry cleaning business and boasts key features like:
Mobile App to Facilitate Customer Engagement and Update Orders
If you're thinking about bringing your business mobile, Enlite POS is a good start. The mobile app was developed to give customers unparalleled access to your business, including:
View and open past orders with details

Receive push notifications regarding order status

Pay for orders directly through the app
Enlite POS supports a growing number of payment providers to give people a variety of payment options.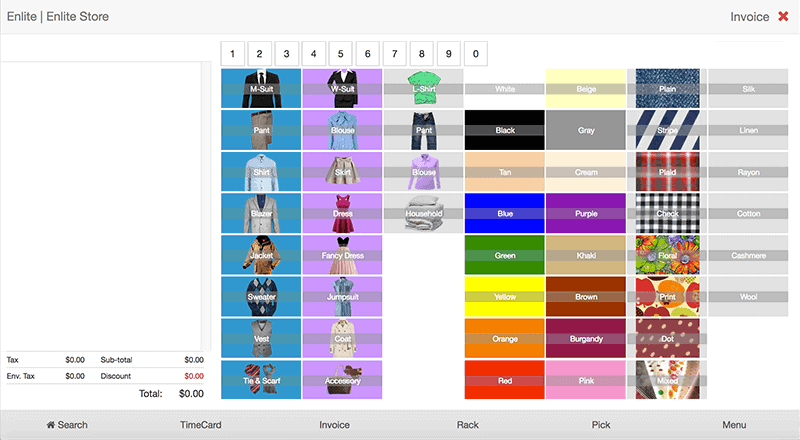 Seamless Routing and Delivery to Drive Sales and Increase Customer Retention
As the dry cleaning industry struggles, one solution is to bring more of the business to customers. That means meeting people on their doorsteps. Enlite POS' routing and customer management features allow you to manage routes and add customers from multiple screens. 
Setup as many routes as you need and quickly see which customers are on what route, the stop number, and how many invoices are ready to be delivered for each run. Key routing and delivery features include:
Manifest record of each run completed on a route

Reports on route results (i.e. delivered, returned, lost, etc.)

Driver mobile app with turn-by-turn navigation

Real-time updates of driver location and items delivered

Bulk select and assign invoices by run.
Latest Technology in Garment Management for Assisted Rapid Assembly
L.A.R.A. stands for LED Assisted Rapid Assembly and is the technology Enlite POS designed to facilitate garment management. Cut assembly times and minimize human error with an automated system that tracks garment tags with assembly pieces. 
With visual cues provided by the LARA garment hanger, staff can assemble hundreds of items in a fraction of time. This means reduced labor costs, increased productivity, and better-trained staff.
Other Important System Features:
Barcode rolls and heat seal printers provided to easily track orders

A variety of integrations for accounting, marketing, and social media

Customized dashboard buttons with a color-coded system for service categories

Bill by a specified item or unit to tailor your workflow

Customer loyalty program managed by punches, points, or visits
Get A Free Quote
4. Cleantie –
The Best Dry Cleaners POS for Customer Service 

The Cleantie platform helps modernize your business with an intuitive design that's easy for anyone to use. It works across all devices, including a PC, tablet, or smartphone, and offers a comprehensive suite of tools that drive success.
Keep an eye out for important features like:
Driver App with Real-time Delivery Data and Order Status
The Cleantie driver app offers a complete route planning system that cuts down on operational costs, reduces mileage, and optimizes deliveries. Monitor times, track the number of deliveries, and check things like:
Ratings and reviews of drivers

Order status (canceled, delivered, delayed)

Traffic conditions 

Estimated travel times

Distance between two points
The driver app lets customers know when a delivery has started and when it's arriving, with automated SMS and push notifications.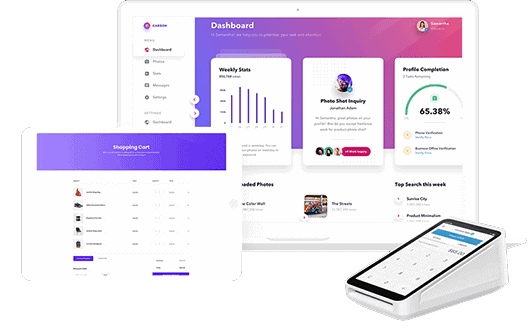 Customer Service with Interactions that Utilize Automation
Any smart point of sale system will use automated tasks to increase customer engagement and bolster retention. Cleantie has a robust customer service program that captures client data and tracks useful details. 
In customer profiles, you can set up a price list, assign discounts, make special requests, and add notes or urgent memos. Track each incident or customer complaint to ensure the business is always striving for better. 
Details like birthdays and anniversaries can be added to customer profiles for loyalty program details and marketing campaigns.
Intuitive Layout and Universal Dashboard for Easy Management and Training
The Cleantie intuitive dashboard makes employee training a cinch. Provide uninterrupted service with a dashboard that shows the most valuable metrics down to the minute. Gain insight into the performance of your store, staff, and service. The metrics are mostly shown in graphs for digestible data you can do something with.
Look at These Other System Features:
Hundreds of integrations for delivery, order management, inventory, accounting, etc.

Update the menu with bulk additions for seasonal swaps and events

Advanced discounts that are automatic and repeatable

Cleantie dispatcher app for complete control over the pickup and delivery process

Integrates with world-leading tools like QuickBooks, Laundroworks, and Verifone
Get A Free Quote
5. Spot POS –
The Dry Cleaners POS to Drive Sales


Spot POS offers an impressive feature set that caters to the needs of a dry cleaning business. They offer advanced tools to automate a single store or large enterprise with offline capabilities, mobile management, and in-depth security.
SpotOn offers a POS solution for food trucks and a mobile POS solution called the SpotOn Sidekick. The service charges a one-time setup fee, but you can request a demo to test the features before you buy. The company offers a range of POS plans that fit any budget.
This POS platform is also able to integrate referral sources and promo codes. It also lets you check gift card balances without the need for a separate login. With its powerful reporting feature, SPOT can track over 120 activities by time, date, clerk, workstation, or screen. SPOT offers comprehensive support with videos and step-by-step instructions to help you get the most out of the software.
Spot POS has three main functions: customer management, inventory management, and employee management. This software also helps you track sales and productivity. While it has several software components, you'll still need physical equipment for it to work efficiently. These include a tablet for employees to view sales reports and clock-in information, a barcode scanner for customers to see product details, and a credit card reader to accept secure payments. It also features a cash drawer so you can keep cash safely.
Spot POS is available on a monthly subscription basis. There are no annual contracts and the fee for using the system is 1.99% of the total sales, plus $0.20 for each transaction. However, the company offers custom rates for businesses with a high volume of transactions.
Look for features that include:
SpotTrac Mobile App for Managing Daily Operations
From garment image capture to optimized scanning, the SpotTrac mobile app helps a dry cleaning business manage daily operations. Compatible with iOS 10 or higher, the app has super-fast and efficient scanning with manual, auto, or preset scan modes. 
The system provides real-time scanning updates on a wi-fi or device data plan connection. The "swarm inventory" option uses multiple devices to facilitate inventory controls and reduce human error.
Data-backed Marketing Campaigns with Automated Messaging
If you want to drive sales, you need to personalize your messages. Spot POS enables a dry cleaners to review key data points before creating a marketing campaign.  This includes information like:
Spending habits

Visit frequency

Trends

Departmental actions
As with all Spot POS reporting, you have the option of an on-screen display or hard copy printing.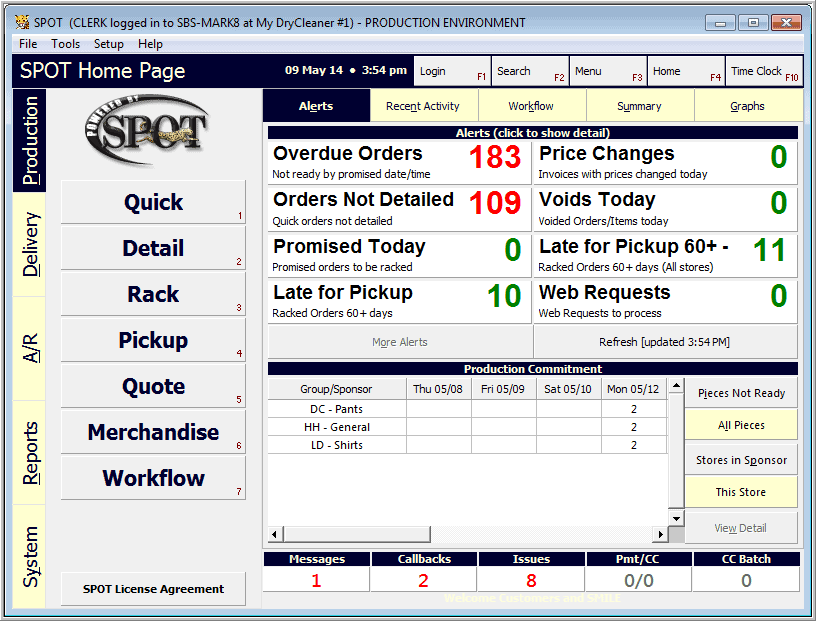 ProductionTrac for Real-time Location Trail and Garment Tracking 
Spot POS offers an app to monitor and track garments and instantly report on PPOH at the press. Create item-level process steps that integrate with the lot manager program. This tool not only enhances production, it increases customer service, and improves quality control.
View process date, time, and presser information with current goal and production counts. Give on-screen feedback to the production floor at the device based on item, customer, or order.
Check Out These Other Important Features:
Subscription-based laundry services with recurring billing

Detailed reporting with instant notifications for production issues

Credit and gift card management through third-party Clearent

Customer relationship management with web and mobile apps for order updates

RouteTrac mobile app to optimize delivery, validate pickups, and assist drivers
Get A Free Quote
Choosing the Right Dry Cleaners POS System for Your Business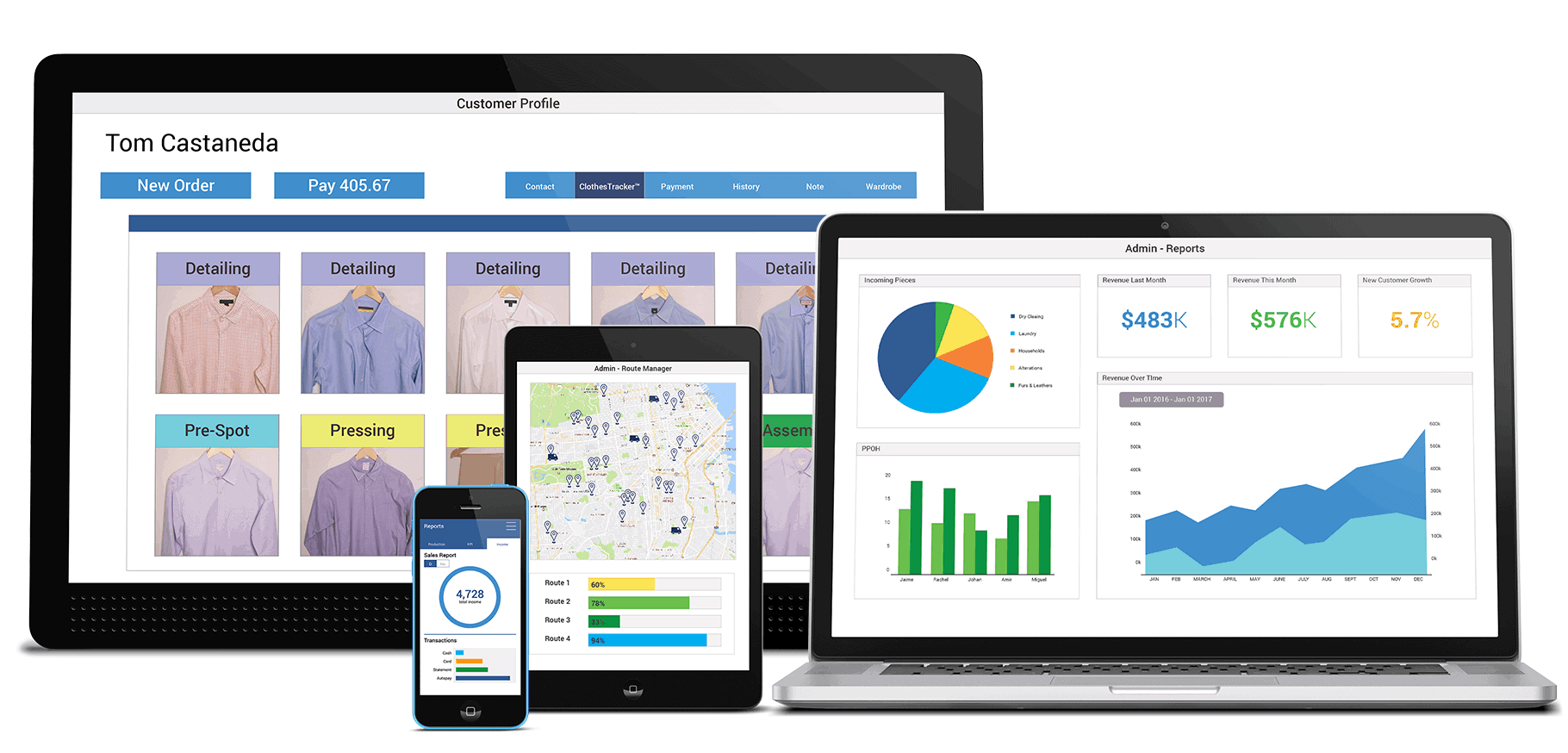 In addition to the obvious factors of price and implementation, there are a few things to consider when buying a dry cleaners POS system. 
Assembly Tools with Smart Automation
A major task for dry cleaners is managing the assembly line. This includes checking garments in, taking images, scanning/labeling items, monitoring progress, and so forth. You need a POS system designed with assembly features to automate key processes and report on the progress.
It should support both in-store and plant services with robust metrics to gauge performance, reduce labor, and simplify operations.
Delivery and Routing with Real-time Alerts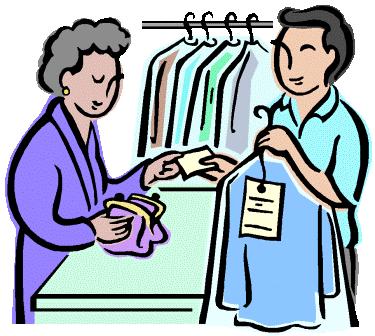 As the industry slides towards mobile management, your POS should have tools in place for delivery and routing. This includes everything from tracking the order to guiding the driver. The more data you have to communicate with customers, the happier they will be.
The best dry cleaners POS system will have location tracking and signature support. You should also be able to assign GeoFences to keep your customer base relevant and everyone satisfied.
Inventory with Media Management and Instant Notifications
A dry cleaning business needs a modern way to manage bulk inventory quickly. When an order has been serviced, the system should assign a rack location. 
A picture can be uploaded to track individual garment progress (i.e. stains) and when something is low (like cleaning supplies), an automated alert is sent out. Instant replenishment controls means you never lift a finger to restock.
A POS for retail management is also a good system to look into if your inventory levels are nearing unmanageable.
Mobile App for Everyone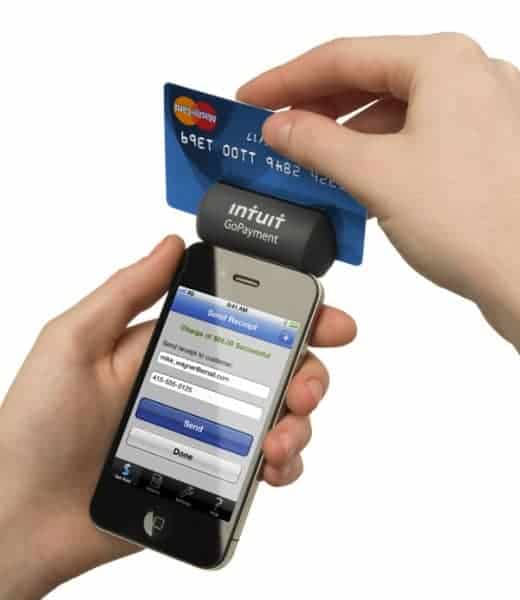 From drivers to customers and management, there should be an app for everyone. Drivers need a system that integrates with your POS for order updates, directions, and payment processing. 
Customers can utilize an app for scheduling orders and monitoring the progress. They can also take advantage of personalized discounts and promotions you send out. 
Lastly, the dry cleaning business itself can utilize a mobile app for daily operations and instant reporting. You should be able to access data from anywhere, without being present in the store.
Employee Controls with Performance Reporting
Look for a POS system that enables employees to check in/out every shift. It should track hours worked by the day, week, or month and capture data on sales, speed, and accuracy. The more robust POS systems will also allow you to run payroll or integrate with a third-party accounting tool.
Our Final Verdict
Laundry service automation software needs to offer more capabilities than just front counter and credit card processing. The system you choose should make management, garment tracking, delivery, pickup and routing easier.
As you may have realized, only an industry-specific solution will offer you such capabilities. The four systems reviewed above will help you manage your dry cleaners' business much more smoothly and allow you to focus on the operations side. Some users asked if lightspeed POS can be used, we found that the software needs too much customization work to be worthwhile for dry cleaners.