Your business is always on the move. There is no way you can lug a clunky 8-pound printer along with the rest of your point of sale equipment (typically a phone and card reader). You need something that is built to function on the road, but still has the capability to perform a variety of tasks.
A mobile POS printer will be your best return on investment in this instance.
What is a Mobile POS Printer?
Mobile printers are used by a business for quickly printing things like:
Receipts
Labels
Barcodes
Food orders
Credit card slips
Anything you would need a larger printer for, only in a mini version.
The Cost of a Mobile POS Printer
The budget you set aside for a mobile POS printer should be representative of the kind of features the business needs. Most mobile impact printers range from $50-250. However, the cheaper you go, the longer these may take to print.
So, if you're running a food truck or other business that has to do with urgent delivery, you may want to spend a little more. Other things that can affect cost include:
The type of cutter
Length of receipt
Size of device
Connectivity options
Terminal compatibility
Top Mobile POS Printers
Epson
Epson is focused on innovative mobile POS solutions. They offer two of the best tiny printers on the market. The compact and industrial designs of the 2" and 3" receipt printers were engineered with an mPOS infrastructure in mind. Both printers have a flexible configuration (top or front load) and are:
iOS, Android, Windows mobile, and desktop PC‑compatible
Connectivity includes:

USB
Ethernet
Wireless
Bluetooth
NFC1 touch‑to‑print
TM‑m10 – $90 – $120
This is the industry's smallest POS receipt printer. Coming in at just 2 inches, the capabilities of this printer are powerful. The modular casing is ideal for most environments with easily switched configuration. So, if you run a small food truck or farmers market booth, space for the printer is never a concern. It can sit on a countertop or under a register.
ePOS print technology makes for simple setup. The printer comes with a user's manual and a USB cable. It also includes wireless installation with SimpleAP.
TM‑m30 – $200-$300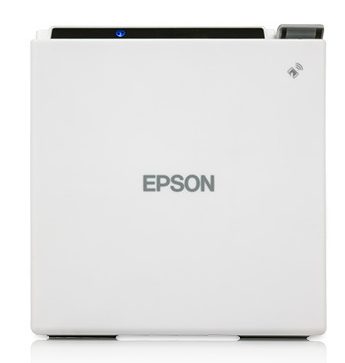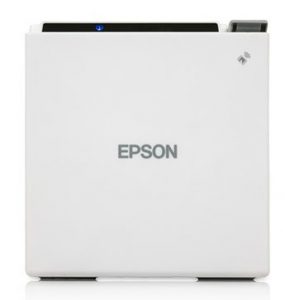 Slightly larger than the m10, and definitely more costly, the m30 offers a lot more versatility. Print 3" receipts from a top or front load and easily integrate with mobile POS environments.
The printer boasts intuitive functionality and advanced connectivity. An added convenience is that a business only needs to use one power source for your terminal and printer. This is an exclusive feature to the Epson brand you won't find with other mobile printers.
These mobile printers are built with durable materials that are made to withstand drops, falls, smashes, and bangs. The more you move around, the more essential these types of materials are for hardware. You need the equipment working at all times and could lose a mobile sale if it goes down.
MUNBYN
Established in 2015, MUNBYN is a fairly new company that has emerged as a leader in mobile print technologies. They specialize in POS related products that include POS terminals, thermal printers, and barcode scanners.
IMP017 – $60-$90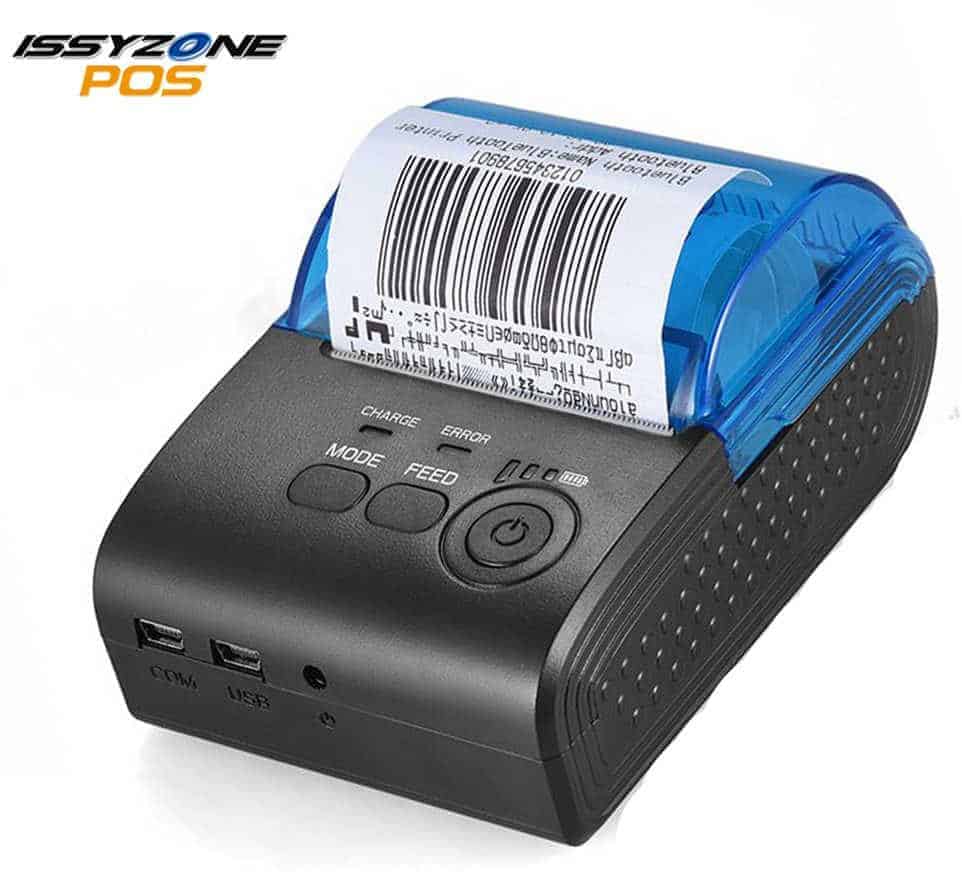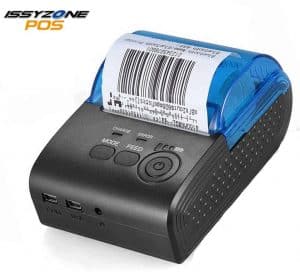 MUNBYN's tiny, thermal Bluetooth printer is ideal for a company that spends a lot of time on the road. The mini wireless printer is only 2 inches and can be held in the palm of your hand. It boasts continuous printing with up to 120 pieces per thermal roll, so there is no need to change the paper frequently.
The printer is compatible with Android iOS and Windows for Small Business. In addition to Bluetooth, the connectivity also includes USB and RS-232. The system comes with a demo app for basic printing but nothing for invoices or receipts.
It is also limited on the POS software platforms that can integrate, so it's always best to check. The IMP017 is not compatible with Square, a very popular mobile POS platform.
IMP029 – $115 – $180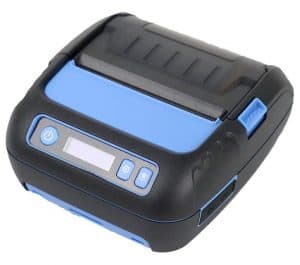 The MUNBYN IMP029 is a slightly larger mobile POS printer with Bluetooth and USB connectivity. The 80mm thermal device can print shipment labels, thermal receipts, and market tags from anywhere, at any time.
The printer runs on a 2600mAh rechargeable lithium-ion battery with a standby time of 7-9 days. It comes with an insulation paste, so remember to peel it off before use. This is what makes the model suitable for outdoor conditions.
The PC driver is downloadable and easily integrated. The mobile printer runs on both Android and Apple products for improved flexibility and can hold a variety of paper sizes. From food distribution to warehouse management, the mini printer offers superior mobile functionality in any environment.
LOSRECAL
A popular brand on Amazon, LOSRECAL sells a variety of POS hardware devices like scanners, terminals, and mobile printers. Their prices are some of the most competitive in the market and shipping is uber quick.
IMP034 – $50-$75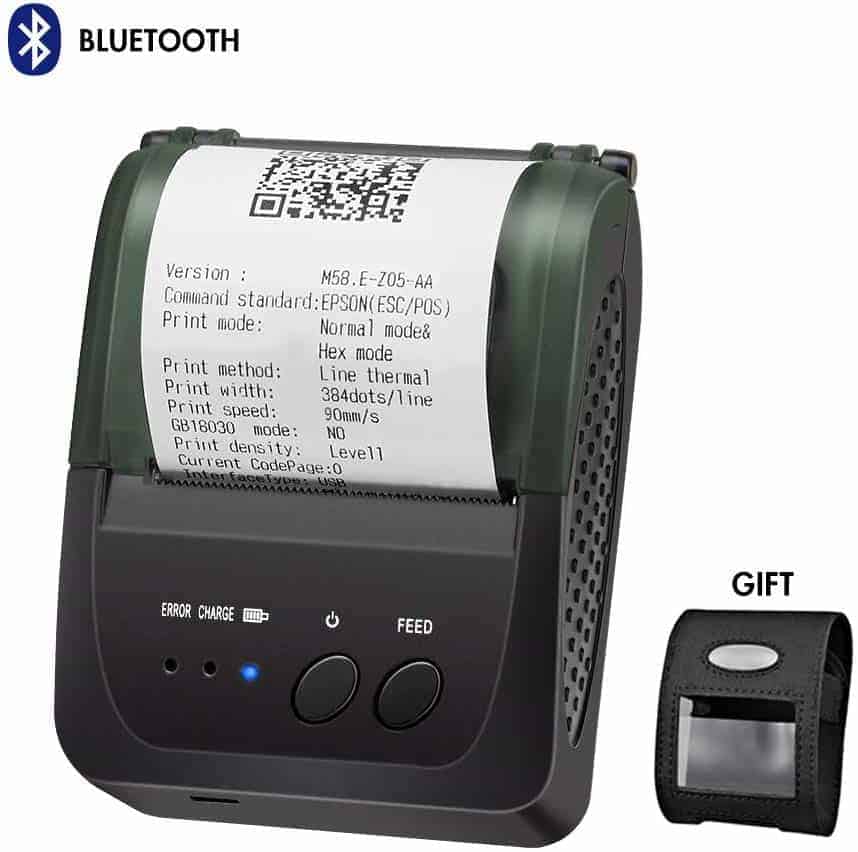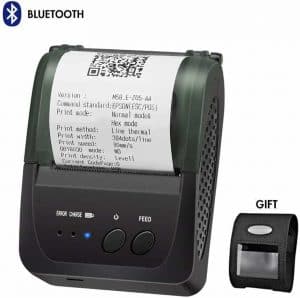 The IMP034 is a Bluetooth connected, thermal POS printer that goes anywhere your business does. The mini wireless printer is only 58mm and comes with a carrying case for extra protection. The device is compatible with both Android and Windows operating systems.
The mobile POS printer supports ESC/POS print commands and performs at a high rate of speed. This is particularly critical when selling things items like food or tickets. It also busts up long lines and increases customer satisfaction.
The printer has a 2000mAh long-lasting battery with a standby time that can reach up to 7 days. That means, if you forget to charge it the night before, it is unlikely to die on you during a shift. It doesn't lose much power when sitting idle.
To save electricity, there is an "auto sleep" and "auto save" feature as well. If the battery is low, you will know. The printer has an LED charge indicator to show the battery status.
A lightweight printer, maintenance on the IMP034 is easy and performance is reliable. Other key features include:
Supports multiple languages for international business opportunities
Widely applies to peripherals of mobile products
Works well in outdoor conditions
USB charging function
Various barcode and QR code types printing
The printer supports a ton of POS brands but there are some it will not integrate properly with. Prior to purchasing, it is always in your best interest to call or send an email and check. It's better to ask than have to return equipment that won't work. You could lose precious time and money that could be spent growing the brand.
Final Thoughts
There are no ink ribbons with these types of printers which equates to a lower operating cost. However, due to the size, they can be one of the most fragile pieces of POS equipment to carry. If you work in a business environment that is high-pressure, consider investing in a more durable model.
You also want to make sure every link in the chain connects. Do your due diligence about integration before you buy anything. The good thing about mobile devices is convenience. Once you decide, printing receipts and labels should be a snap.
⛅Long Working Ability● Equipped with 2000mAh large-capacity rechargeable battery. The standby time up to 7 days. Continuous working time up to 3 hours.With lighting indicator to show battery capacity. Auto sleep & awake, save electricity. 👉Online Manual, Driver and SDK: http://bit.ly/LR-IMP034
⛅Strong & Compatible● The receipt printer built-in Bluetooth 4.0. Supports the connection of BT/USB. Compatible with Android/Windows. Supports Loyverse/iREAP/CasierStock/Kyte/Pozool/Cash sale POS/ExpressExpense etc POS Softwares.
⛅Low Operating Cost● Direct thermal printers use heat instead of ink, no ribbon or cartridge are required, only need a roll of thermal paper to work. And are typically smaller, quieter, faster and more energy-efficient than dot-matrix printers.