(Last Updated On: January 2, 2023)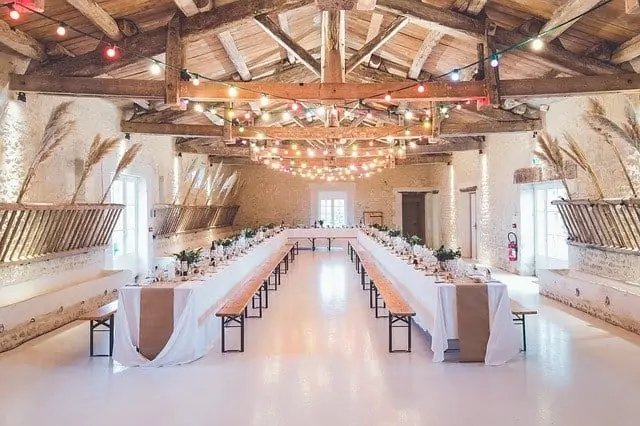 If there is one industry that has grown exponentially more expensive in recent years, it's the wedding industry. Weddings are increasingly lavish and are now becoming a mainstay in culture. The more lavish the wedding is, the happier the couple. So, why not help newlyweds out with 
To start a wedding rental business, you will need to have a business plan, a business license, insurance, an accounting system, a storage venue, as well as equipment that you want to rent out. You may also need a company car and multiple employees.
Wedding rental services are not exactly easy to handle, especially when you're just starting out. This guide will tell you what you will need to do. 
Write Your Business Plan
One thing that always amazes newbies to the industry is how much stuff can get rented for a wedding. To ensure that you keep your eyes on the proverbial prize, it's best to write a business plan. Here's what it should include:
Your Rentals.

What kind of equipment do you want to rent? Do you want to rent seats and chairs, or are you looking to rent a photo booth? How do you pay yourself? There are tons of different things you can rent, so it's best to have a good idea of the menu you want to offer.
Package Designs.

Most wedding rental companies have a package offer set that they push. You need to come up with packages that would be attractive to people setting up weddings of all sizes, and also come up with their prices. 
Startup Costs.

The range of startup costs for a wedding rental business can be anywhere from $6,600 to $65,000 according to the most recent statistics. This includes everything from POS terminals to the actual rental items themselves. 
Advertising And Marketing.

You are going to have to get the word out somehow. How will you get your customers? Most people will want to have at least $5,000 to generate traffic to a site. 
Rental Methods.

How are you going to get to the venues? How many people will you need? What will your price structure be like?
Money Sourcing.

Funding a wedding rental company is going to take some serious cash. You will need to figure out how to get that money. If You don't have a need to fundraise, you can ignore this step. 
Get A Business License
Obtaining a business license isn't only about making sure that you can pay the IRS. It's not even just about making your business official. It helps you keep your business name as your property, and also will ensure that you can get all the other basics that you need to run your company well. 
You can get a business license by registering your company with the IRS. When you do, make sure the business name you want is not taken online, on social media, or on the company registration site. 
Do you need to get a sales tax license?
Technically, rentals are considered to be a purchase by most states. However, not all will require you to charge sales tax. If you live in a state where rentals are considered to be a purchase, it's very likely that you will need a sales tax permit. 
A chat with a lawyer can help clear up what your tax and permit requirements will be. Thankfully, this is not too bad an issue and can usually be resolved with an annual fee. 
Get Business Insurance
Anyone who's ever been to a bad wedding know that weddings can go terribly, horribly wrong. Rental employees can get injured, stuff can break, and sometimes, even car accidents can happen. This is why it's usually mandatory to get business insurance. 
Business insurance will shield you from liability suits if someone gets injured while you're on the job. This also can help you avoid lawsuits that occur as a result of malfunctioning gear or accidents that happen when you're traveling to a location. 
Do you need to insure the items you want to rent?
Absolutely. The rental items that you are shipping from place to place are your bread and butter. That's why it pays off to have a generous insurance policy on each item. The more expensive the item is, the more insurance you should have on it. 
Chances are that you will. Busine
Do you need specialized car insurance for your delivery truck or car?
ss insurance companies will be able to refer you to an insurance company that specializes in corporate/company cars. Insurance for these cars will cost more, since there are multiple drivers that will be using them. However, it's legally mandatory if you want to have a company-only car with multiple drivers.
Open A Bank Account
Opening a bank account will help you keep your personal and business funds separate. It also will be the place where paying your employees will happen. Most major banks will have a business account program that you can enroll in, even if you're brand new to business.
Do you need to open a business line of credit for a wedding rental company?
Yes. Like most other party rental companies, there are a lot of unexpected expenses in the world of wedding rentals. A business line of credit is a good way to make sure that you have a way to cover those expenses and also track your business spending. 
Do you need to hire an employee services company?
Employee services/business services is a term that is used for companies that are in charge of filling out paychecks and keeping taxes from peoples' paychecks. If you want to hire people to help ship the items in question, then you should look into getting this type of service. 
These companies tend to help with things related to HR Since most rental companies tend to have at least five employees, it makes sense to look into it. 
Put Together An Accounting System
One of the most important things you are going to have to figure out is your cash flow. The traditional way of doing this is to have an accountant on staff, but you don't always have to do this. Tracking your expenses throughout the year is doable with the right point-of-sale terminal system, but we're going to get into that later.
Get The Right POS System
POS systems allow you to do most of the things that businesses need to do in order to function. This includes accepting credit cards, tracking expenditures, noting refunds, as well as taking orders online. Some options even allow you to advertise through the POS and check out the analytics behind your business!
It's remarkable what a POS system can do for a wedding rental business. Along with tracking expenses, it can help you create a discount program, do online booking reservations, help you keep an eye out on employee hours, and even create gift cards for "frequent flyers." 
The best way to explain how much a POS can do is to say it does it all. A typical point-of-sale system capable of handling these tasks will cost between $100 to $200 per month. When putting together your business plan, you need to keep those costs in mind.
Get A Storage Venue/Delivery Truck
A typical wedding rental company will need at least two major items aside from the equipment they want to rent out: a truck to ship the goods with, and a place to store the goods when they are not in use. Here's what you need to be aware of for both:
Your delivery truck (or car) has to be capable of secure delivery.

You can't have stuff banging around willy-nilly, so tie straps are a must. 
The storage venue should have a decent amount of security.

Cameras are a must, as is a good locking mechanism. If you can, get an alarm. 
The storage venue, truck, and equipment should all have special insurance policies on them.

If anything happens to them while you're renting them out, the insurance policy is what you'll rely on when things hit the fan. 
If you can, get some branding on the truck and a sign in front of your venue.

Sometimes, it's a good way to advertise. 
Hire Employees
If you want to get employees for a wedding rental company, most of the time, getting people from moving companies works. They have a proven track record when it comes to hauling goods from Point A to Point B. You should also consider having a well-dressed, sociable salesman to help with client acquisition.
Most of the equipment that's used in weddings won't require special certification or training to set up. After all, it's usually stuff like chairs or a photo booth. However, if there are certain things that require advanced setup, it may be worth getting OSHA-certified employees on board. 
The right way to get your employees is to hire the right people. Your company culture will influence the types of skills and talents you want to attract. You will also need to hire employees who exhibit the right behavior and cultural traits. When you are ready to hire your first employee, here are some things to keep in mind:
What should you look for in rental drivers?
The one major issue that you should look for in rental employees is a driving license. Since there is a lot of driving and transportation involved, most of your employees should know how to drive. Moreover, they have to be able to drive well, too. 
Due to the liability issue that comes with a stained driving record, it's best to stick to hiring employees that do not have accidents on their record. To ensure that you don't end up with bigger fees from insurance companies, you should also seek out people with a clean criminal record.
Advertise Your Rentals
Advertising your rentals the hardest part of this business, since the wedding industry has a famously sky-high competition problem. You need to figure out ways to stand out. Thankfully, there are some fairly easy ways to do this…
Social Media.

Instagram, Facebook, Twitter, and Pinterest rule the wedding scene online. Most people who are planning a wedding do so via social media. Having sponsored ads and highly engaging photos will help market you more than most other venues. 
Party Planner Partnerships.

Professional wedding planners can help connect you to people who need your services. You may have to sell your rental services at a discount, but it can be a fairly smart way to drum up steady services. 
Website SEO.

Another important thing to do is set up your own website. This will give you organic traffic to your site through search engine results. A good POS terminal can also help you book appointments through your site, so this can be a fast way to streamline orders.
Wedding Conventions.

So many couples come to these, all with the purpose of meeting vendors to help them with their weddings. It's a must!
Magazine Ads.

Many bridal magazines have full sections for advertisements and classifieds relating to wedding services. This includes wedding rentals. If you are willing to give the ads a shot, it may work. These usually work better for a statewide service.
Google Ads.

People who are planning their own weddings tend to search up what they need on Google. As a result, these ads tend to be a good option. After all, they launch your site right to the top of Google's results. 
Should you hire a marketer or marketing company to handle your ads?
This is a highly competitive field compared to most other industries out there. Due to the extreme competition that new businesses face, it sometimes makes a lot more sense to have a marketing company take care of it. If you do not have a lot of experience and have the extra money, it may be wise to get a specialized marketing company to do the work for you. 
Starting a wedding rental business can be a lucrative endeavor. If you're interested in starting one, you should have a few key considerations in mind before diving in.
First, you will need to identify the best name for your new venture. You can ask family members or friends to recommend a suitable name. Also, do your homework and research the competition.
It's also worth noting that the best place to start is your local area. This will affect how much you'll pay in rent, taxes, and other costs.
Getting the right equipment is also a vital part of running a successful wedding rental business. A large inventory will help you keep customers happy. Make sure you have the latest tools and technology.
When it comes to advertising, Facebook Ads and Google AdWords are the most popular platforms. You may also wish to consider using a website builder to design and maintain a website for your new business.
A good marketing plan is essential to any new venture. Identifying and understanding your target market is critical to the success of your new business. Once you have a clear understanding of your customers, you can begin targeting your potential customers with appropriate advertisements.
Keeping in mind that weddings are an extremely important occasion, you will want to have an eye on the competition. Be sure to offer unique products and services, like a more comprehensive collection of linens, better rates, or more options.
Help People Have The Most Beautiful Day Of Their Lives
Being in the wedding industry isn't something that you should do if you aren't passionate about weddings. It takes a very specific type of person to avidly pursue this line of work—a person who truly falls in love with the idea of romance. After all, being a wedding rental company owner means you need to be able to put yourself in your clients' shoes. 
The good thing about being in the wedding industry is that you'll never be low on romantic stories, nor will you ever be low on wedding attire. Should you choose this industry, you will be able to find yourself watching hundreds of couples set off in life together. If you ask some of us, that's one of the best job perks you can get.