(Last Updated On: October 4, 2022)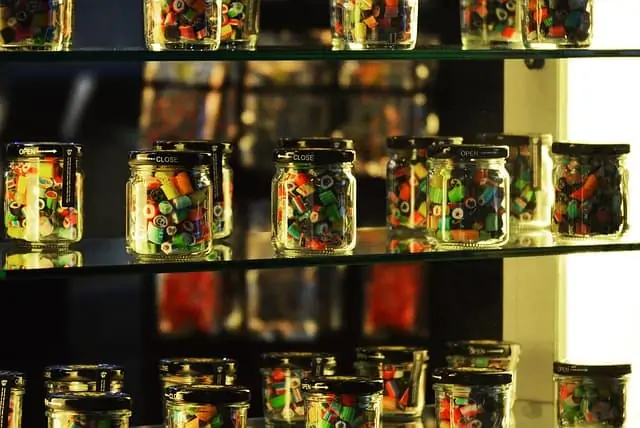 They often say that owning a business can lead to a sweet life, but can it get any sweeter than owning a candy shop? We think not. The demand for sugary goods is at an all-time high, especially among people who love novelty foods. Getting your own candy store is a great investment. 
Starting your own candy store business requires a business plan, a tax identity, business insurance, a bank account, a venue and an accounting system. Once you have all that, you can find the candy sellers you want to work with, hire employees, and get a marketing campaign started. 
If you have a serious sweet tooth, then this is going to be one of the most exciting potential businesses you could consider. But, what exactly does it take to run your own sweet shop? Our guide will coach you through each of the major startup steps.
Start By Writing A Business Plan
Sweet shops are fairly straightforward, but that doesn't mean that you can go without a plan. This is what a basic business plan will need for a candy store:
Startup Costs.

Candy stores tend to be fairly whimsical in appearances. Thankfully, this doesn't mean much in terms of startup costs. You should expect to spend between $20,000 to $75,000 to make it work. 

Candy Sources.

Each candy shop will have its own candy brands that it focuses on. Are you going to go for the mainstream? 
Marketing Plan.

How do you intend to market your business online and in-person? Moreover, what are going to be the things that set your candy store aside from others like it?
The Price To Break Even.

Along with calculating out each item's price, you need to know how much you will have to sell in order to break even. 
Create A Business Entity
A business entity is a legal registration of your company with the IRS. This is going to be the official name that you use for your business. You can register it online, with a fee that can range between $30 to $200 depending on your state. When you're putting your brand together, you need to make sure the name you choose is free on each of these arenas below:
The Registry.

It should be fairly obvious,but you cannot register a business name that's already in use elsewhere.

Social Media.

You will need to have your candy store's name (or something similar to it) on social media outlets like Pinterest and Twitter. When you register your company, make sure that you get all the social media handles you need on the same day.
Domain Names.

These days, you need to have a website to succeed. Besides, how else will you get online orders?
Buy Business Insurance
Since you are going to be opening a retail store, you will need to buy business insurance. You're legally required to insure your business, since there is a risk of injury to both workers and customers alike. 
Business insurance sounds pretty rough, but it's a godsend. It's going to be what keeps you from having to close shop if you get sued in most cases. You should expect to have your business insurance cost between $3,000 to $5,000 every year. 
Open A Business Bank Account
A business bank account acts as the foundation of your company's ability to thrive. You need to open an account in order to separate your personal and professional finances. This is going to be the account where your employee's paychecks come from, and the account that is going to track how much money you make. 
You need a bank account. Thankfully, most major banks will have services that you can use to ensure that you get the help you need setting it up.
If you are a nonprofit organization, you may be interested in opening a bank account. However, there are certain requirements that must be met before you can open an account. First, you must have proper documentation. This can include an IRS tax exempt letter, 501C letter, or other documentation that proves your organization's status. In addition, you must have your bylaws and meeting minutes. You must also find a bank that offers special resources and has experience dealing with nonprofit organizations.
There are different types of bank accounts for small businesses, so you should know exactly what your needs are before choosing a bank. For instance, if you need to make a lot of debit purchases, you should consider an account with a low monthly fee. To further simplify the process, you can select a bank that allows you to make debit purchases without any daily limit.
If you are a foreigner without a passport, you can also open a bank account in the US by partnering with someone based in the United States. Many people have family members and friends in the US who can help them open a bank account. However, you should make sure that the person you partner with is reliable and trustworthy. This person will have access to all of your business' funds and will be the sole authority for blocking or closing your account.
Depending on the nature of your business, you might also need other forms of contact information. For instance, a bank may request the website address of your company. It may also ask for your personal Social Security number. Moreover, you may need to provide a copy of your Social Security card. Also, many banks require that you have a valid driver's license. Other banks may require additional forms of identification, such as a passport or a copy of your passport.
Do you need to use an employee check service?
Most candy stores will have more than one employee, but less than five. This means that you have a little flexibility when it comes to paychecks. Most of the time, it's easier to go with an HR/employee check service company. However, if you are low on funds and can do your own tax calculations, then you might want to go for it on your own. 
Do you need a business line of credit?
Because candy stores rarely have any sort of unexpected expenses, getting a business line of credit is purely up to you. You will always enjoy the fact that you can cover things if you need it, but this isn't as urgent or pressing as it would be with other ventures.
Get A Venue
Out of all the types of ventures that you can choose to do, having a candy shop is one of the easiest to find a venue for. Most landlords are totally fine with renting to candy stores because they are low-risk and fairly regular on their payments. With that said, successful candy shop owners would be wise to find a venue that has the following traits…
You will need to find a venue with a lot of foot traffic.

Candy is an impulse buy to the max, which means that getting customers is going to be a cinch if they're walking past your store. Malls, strip malls, and busy streets are all good for this. 

Venues that have a known pest problem are not compatible with candy stores.

This is particularly true when you're talking about mice, since they can chew through packaging. This can actually get your store shut down. 
Try to seek out a visually pleasing storefront and interior, if you can.

For some reason, people tend to associate candy stores with a certain type of aesthetic. Candy ad prettiness go hand in hand, so this can help you market your wares.
What kind of fixtures do you need for a candy shop?
A deli needs several fixtures in order to work out well. The most common fixtures found in a deli include:
Display Cases.

You need to be able to display the candy that you want to sell. This can be done through candy vats, shelving units, or fancy "behind the counter" cases. 

A Beverage Refrigerator.

When people eat copious amounts of sugar, they tend to get thirsty. Having a fridge with some drinks can help rake in cash. These refrigerators are also good for candies and sweets that are temperature-sensitive, such as chocolate-covered strawberries.
Candy Making Supplies.

If you want to make your own chocolates in-house, then you will need to get industrial-grade candy making supplies. 
A POS Terminal.

Most people do not pay for deli meats with cash anymore. Having a terminal allows you to accept credit cards. 
Do you need to have furniture in your candy store?
The vast majority of candy shops do not have any furniture to speak of inside their venues. This is because they're retail stores, not restaurants. You shouldn't have to worry about tables and chairs in most cases.
Get An Accounting System
Retail stores have to have a solid accounting system to track all their inventory, sales, refunds, losses, and expenditures. A good accountant can help you set up the system pretty easily, but it's better to have a "set and forget" type of setup. This is where a good POS terminal can come into play…
Get A POS Terminal For Your Company
Everyone has seen a point-of-sale terminal in action. It's the little thing that accepts credit cards, debit cards, and gift cards. However, that's not all a good terminal can do. Getting a terminal that's right for your business can help you run almost all aspects of your company.
In fact, it's not unheard-of for terminals to do everything from track employee work hours to offer up analytics on your best-selling sweets. Some allow you to do online marketing through them, and even help you set up your own online store. Analytics can also give you a heads up about the best possible moves for your company's stock. Oh, and inventory? Fugettaboutit.
It's clear that getting paired with the right point-of-sale terminal is a smart move. It's an investment that will save you both time and money. To ensure that you are able to afford the type of terminal you need, set aside between $100 to $200 per month. 
Get All The Required Permits
Candy stores can require a lot more permits and certifications than you might initially believe. Getting the right certifications can prevent lawsuits as well as state-mandated shutdowns. To do this, you will need the following items:
A Sales Tax Permit.

The vast majority of states require businesses to have a permit to charge sales tax. Before you can sell a single sweet, you need to find out if our state wants you to have a permit. Then, you will have to get a permit to make sure you're still compliant.

A Reseller Permit.

The IRS and several other boards tend to want to see that you are allowed to resell items that you bought at a wholesale price. This is a must.
A Certificate of Occupancy.

If you have a venue, then you need to have a certificate of occupancy. This is a legal document that shows that your building is totally up to code and safe to enter. 
ServSafe.

This is the standard certification that shows you know how to store food safely and that you can serve food properly. You need it if you want to make your own candies in-house.
Sign Permits.

If you want to hang a sign outside your candy store, you will need to get a permit in most towns and cities. To get a permit, check with your local court.
Hire Your Employees
Most candy stores will require between two and eight employees to successfully run the store during regular business hours. The good news is that most employees will not ask for more than minimum wage, and that you can usually get people who have fairly low qualifications in most situations. 
However if you want to make candy on-premises, you may need to get someone who is well-versed in the culinary arts. Moreover, people who are going to be handling food need to be certified in safe serving practices according to your state code.
Advertise Your Candy Shop
Candy stores are known for having chic, cheeky, and trendy marketing campaigns. Considering how popular they are, they need to show that they're the coolest place in town. Most stores will start their marketing and advertising using these methods below:
Online Presence.

Every successful candy store is going to have a solid online presence. This includes a visually-appealing website with an online store portion, a registry with Google Places and Yelp, and more. You want to make your store

Social Media.

Instagram has become the immediate go-to for people who want to flaunt their candy store's goods, and rightfully so. It has the highest rate of consumer responses. Lots of candy-based memes and cool shots of your newest candies will help bring people to your door.
Groupon.

While it is not the most common way to advertise, some candy stores are using Groupon to offer discounts on candy batches. This gets more people at the doors of your stores.
Street Fairs.

Having candy at a street fair is an all-American tradition. It's not surprising to hear that many candy shops find their next batch of clients at these classic hallmarks of American excitement. Since you can vend at these fairs, it's a good idea to set up a stall whenever you have a major fair inside your town. 
Coupon Mailers.

Though coupon mailers are not as popular as they were in the 90s, they can still pack a powerful punch with the right crowd. Offer a good deal on a bag of candy, and you might see some serious improvement. 
So you want to open a candy shop. There are several factors to consider. However, you should not try to make money on the business without a good plan. Here is some advice on how to start your own candy shop. Read on to learn more about the business. There are many benefits of owning a candy shop, including being able to work from home, which you will love. Aside from making good money, owning a candy shop will allow you to help others.
It's A Sweet Life As A Candy Store Owner!
Owning your own candy shop is a great investment that is bound to pay off in lots of different ways. It's a good way to get your name out in the community, a way to ensure that you get the financial stability that you've always wanted, and a sweet way to get access to the hottest new sugary treats before everyone else does. 
If you want to give your candy store a fighting chance, you can always do so by doing a little research. So, don't be afraid to sink your teeth into more information as it comes by.