(Last Updated On: September 16, 2021)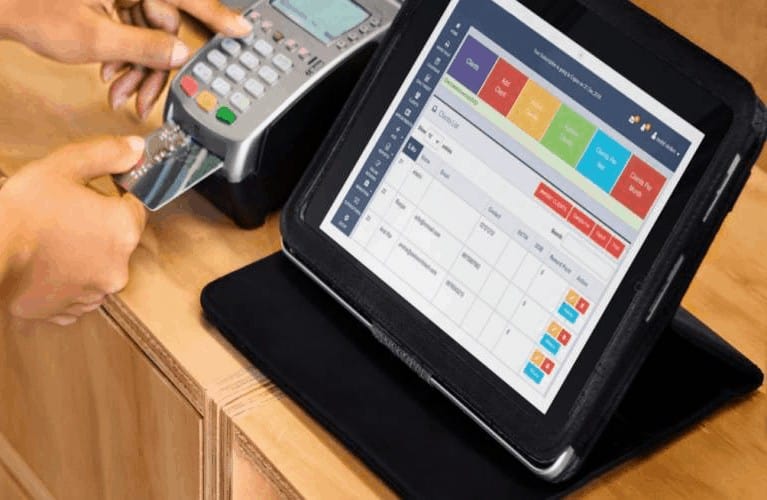 If you're looking for a POS system for your appointment-based business, Vagaro and Square are excellent options. Both allow you to easily schedule appointments online, track your inventory, and automate notifications, reminders, and marketing campaigns.
Square is a POS giant for good reason. It is extremely quick to set up and accepts payments with ease. Because its out-of-the-box features are limited, Square is generally considered a POS system for small businesses. However, they provide a number of integrations that help expand their functionality to businesses of all sizes.
Vagaro, on the other hand, focuses on a single vertical: appointment-setting businesses like salons, spas, fitness centers, and more. Features like estimated arrival times, in-app directions, calendars, notifications, and memberships make this a stronger choice for this specific vertical.
In our research for the Vagaro vs. Square comparison, we found that Vagaro is the better option, because it is built for appointment-setting businesses first. Top features include more comprehensive inventory management, built-in travel assistance features, integrations with Instagram, Yelp, Facebook, and more, marketing features, loyalty programs, and more.
Square is a free POS system, while Vagaro starts at $25 per month. However, Square charges for each add-on, like marketing campaigns and loyalty programs, but Vagaro comes with all of these features built-in.
Square charges 2.9% + $0.30 per transaction for swiped, chip, or contactless payments. Vagaro, on the other hand, charges 2.75% per transaction for swiped credit cards, but chip and contactless payments are free if you use their free reader.
While both offer solid options, the fact that Vagaro is built specifically for appointment-based businesses sets it ahead of Square. Here's our full comparison of Vagaro vs. Square.

Vagaro vs. Square Appointments: Side-by-Side Comparison
POS Software Starting Price

User-based pricing
$25 per month (1 user)

* Prices rise as you add more users

User-based pricing
Free (1 user)

* Prices rise as you add more users

Billing Method

✘

✘

Contract Required

Billed monthly

Billed monthly

Payment Processing Fees

• 2.75% per in-person transaction
• 3.5% + 15 cents per manually-entered transaction

* Prices drop for larger businesses

• 2.6% + 10 cents per in-person transaction
• 3.5% + 15 cents per manually-entered transaction

* Prices drop for larger businesses

Free Trial

✓

✓

Cloud-Based

✓

✓

System Accessibility

iOS app, Android app, Windows phone app, and web-based app

iOS app, Android app, and
web-based app


Customer Support

24/7 Live Support

Live support during business hours,
Monday through Friday

Ideal Customer Size

Small to mid-size businesses and startups

Small and medium businesses
Vagaro vs. Square Appointments: System Overview
Let's take a moment to glance at each system from a high-level perspective.
Vagaro Overview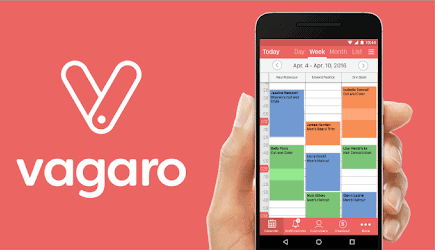 Vagaro was founded in the US in 2010. It combines appointment scheduling and POS functionality to deliver a solution stuffed with the features needed appointment-based busineesses.
Vagaro delivers loads of benefits to users and has a respectable mission and vision as a company. It prides itself on three primary company values:
Being awesome
Full transparency
Empowering users
Square Appointments Overview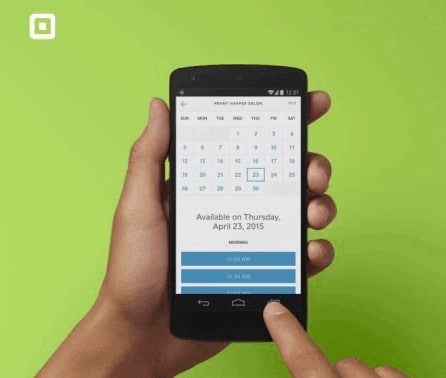 Square, Inc. was founded in 2009, in Canada, as a payment processing company. In 2013, Square launched its first POS software alongside the launch of its Square Stand hardware component (Source).
Since then, Square has expanded its offerings. It now delivers POS systems for various industries, such as retail, appointment-based businesses, and restaurants. The company launched Square Appointments in 2014 and has been supporting appointment-based businesses ever since (Source).
Square is now the largest POS system provider in the world, with over 2,000,00 customers worldwide. This is likely because its base POS system is free.
Vagaro vs. Square Appointments: POS Software
Each system has its strengths and weaknesses as far as software goes. One primary difference is that while Vagaro is a single system, Square Appointments is typically used alongside Square POS.
The two Square systems integrate and are used as a single system. Because of this, the combined solution leaves out a few features that are included out of the box with Vagaro. Let's see how each system's software stacks up.
Online Appointment Scheduling
Online scheduling is a key feature that drives appointment-based POS systems. Each user has their own personal online calendar and can block off times when they won't be available.
Then, they send that link to customers, place it on their website, include it in their email signatures, etc. A customer clicks the link, can view open time slots, and book their own appointments.
Users can also pre-charge customers when they book online, reducing revenue loss from cancellations.
Both Vagaro and Square Appointments provide the capabilities above.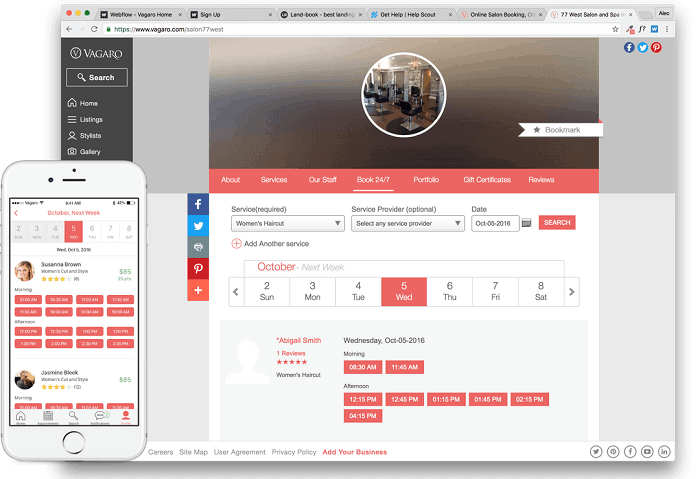 Vagaro Online Scheduling Features Not Provided by Square Appointments
However, Vagaro goes above and beyond by including additional online scheduling features that Square Appointments does not. Those include:
Built-in travel assistance features that let customers view estimated arrival times and receive directions to the user's shop
Integration with Instagram, Facebook, and Yelp, allowing customers to book appointments through those apps
WINNER
Vagaro wins for added online scheduling features not provided by Square appointments.

Inventory Management
Even appointment-based businesses need inventory tracking features. Most of them sell merchandise in addition to services. They must also keep the materials used in service delivery in stock.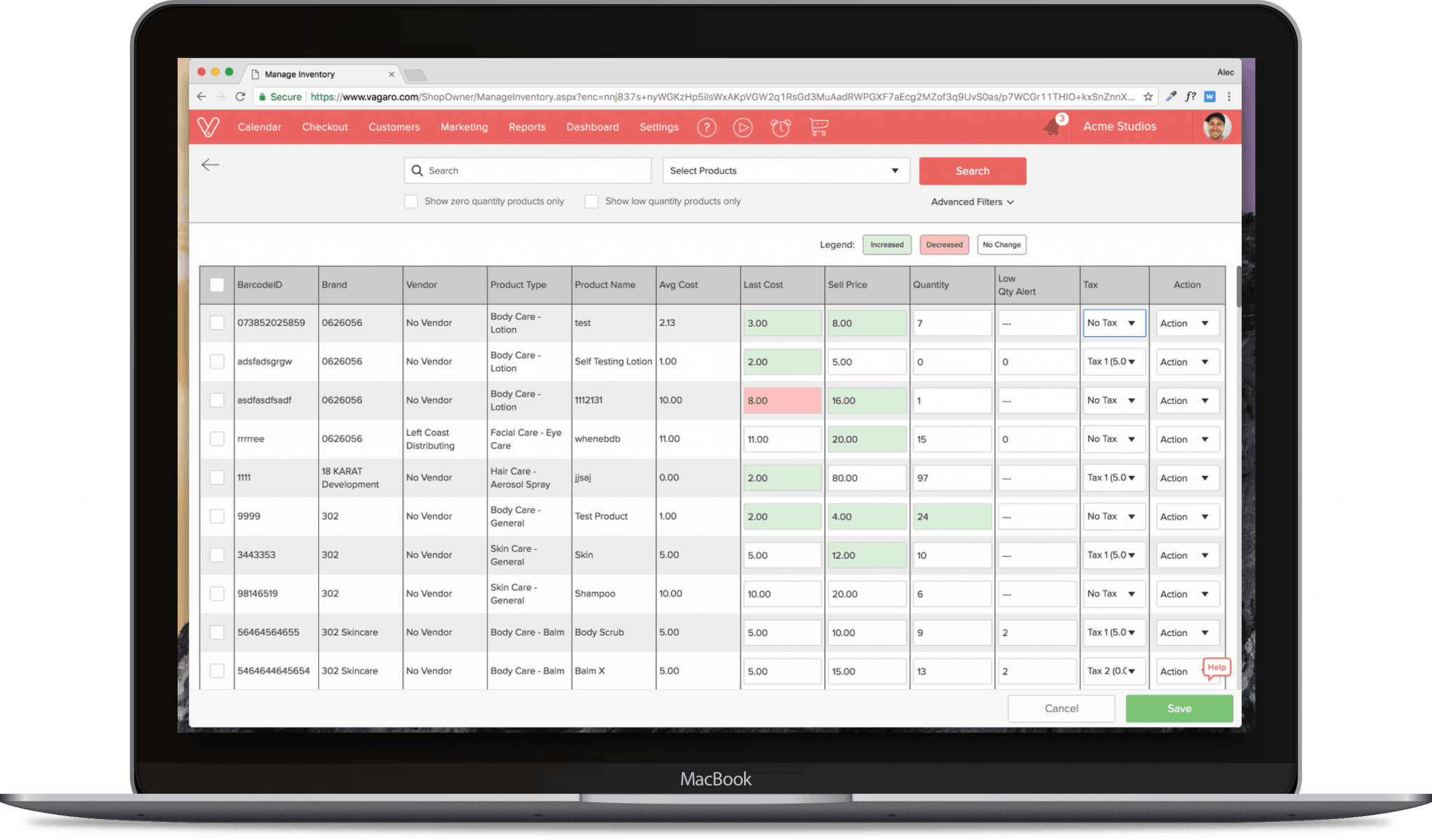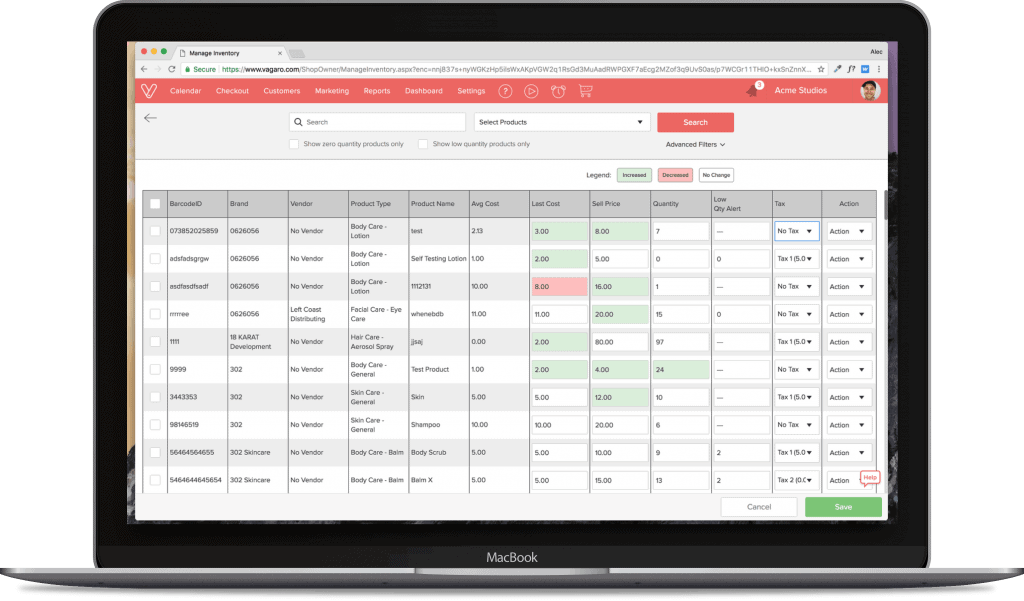 Vagaro allows users to track inventory, with the ability to drill down and track individual items.
Inventory reports allow users to maintain a constant view into which items are selling, which are not, and inventory trends.
Plus, you can set low stock level limits. When an item's stock count drops below that level, Vagaro automatically sends a purchase order to your vendor of choice.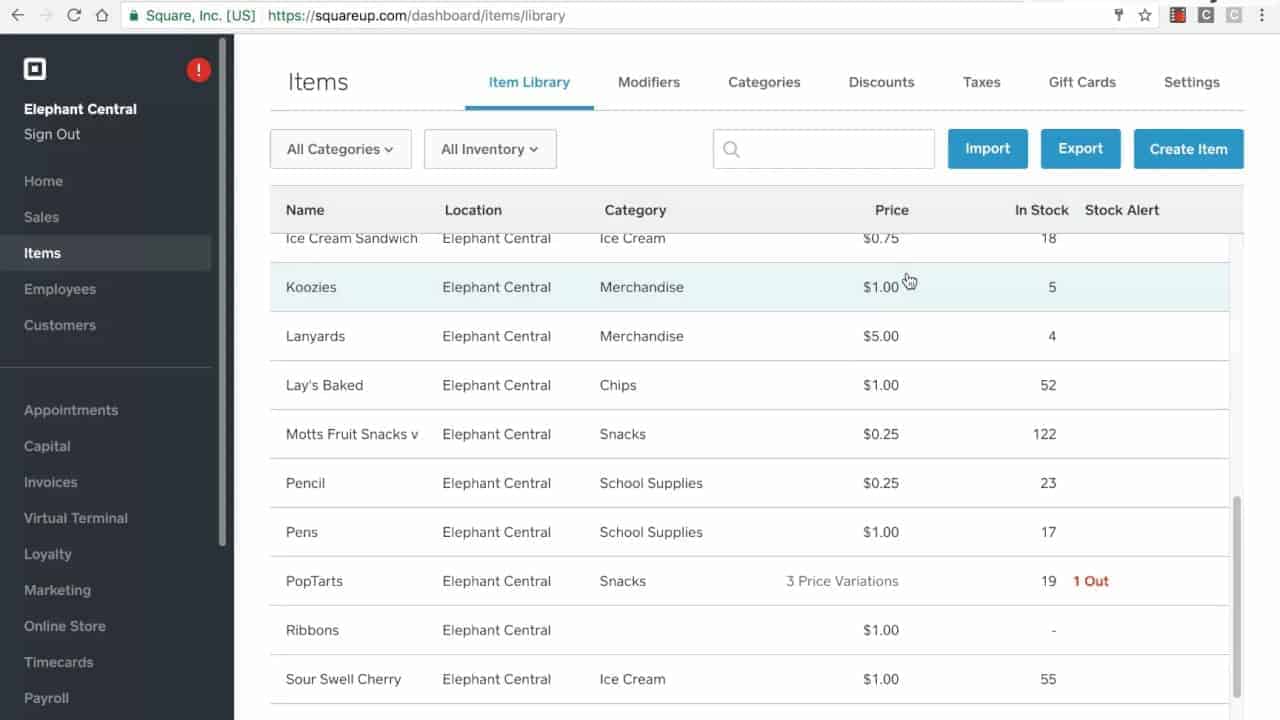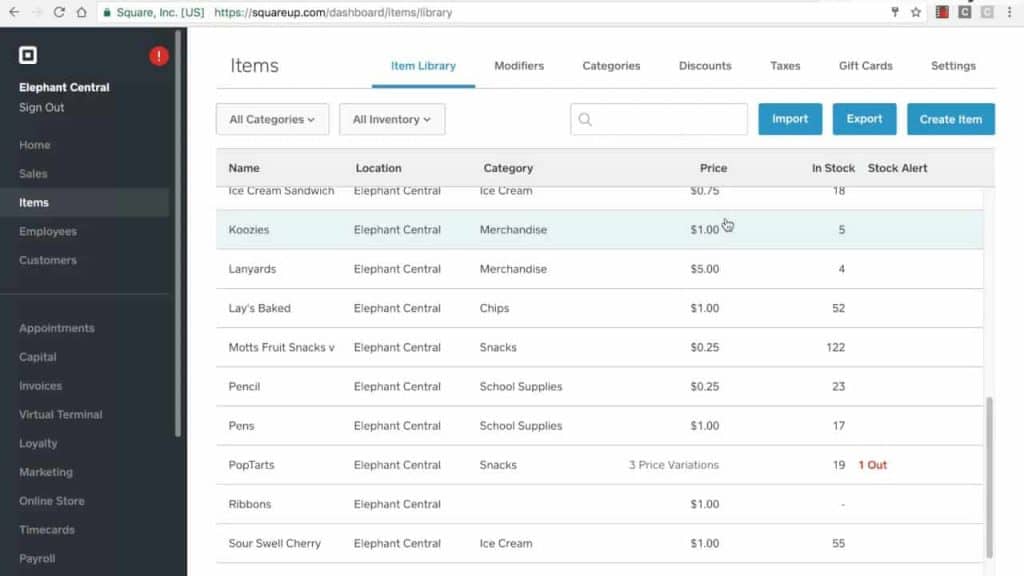 Square's inventory management features are only available if you integrate Square Appointments and Square Point of Sale.
Users can track inventory levels and set up low stock alerts that notify them when an item's count is running low. However, it does not allow for automatic purchase order routing like Vagaro. Orders must be placed manually.
You can also view real-time inventory metrics for individual items, just like Vagaro. However, all things considered, its inventory features don't quite meet the level of quality delivered by Vagaro.
WINNER
Vagaro wins for having more comprehensive inventory management features.
Notifications and Reminders
Each system allows users to set automated reminders that can be sent via email or SMS text message. Notifications are automatically delivered at specified times prior to appointments.
These notifications are sent to both users and customers, ensuring neither party misses the appointment. This dramatically reduces no-shows and last-minute cancellations, which reduces unnecessary revenue loss.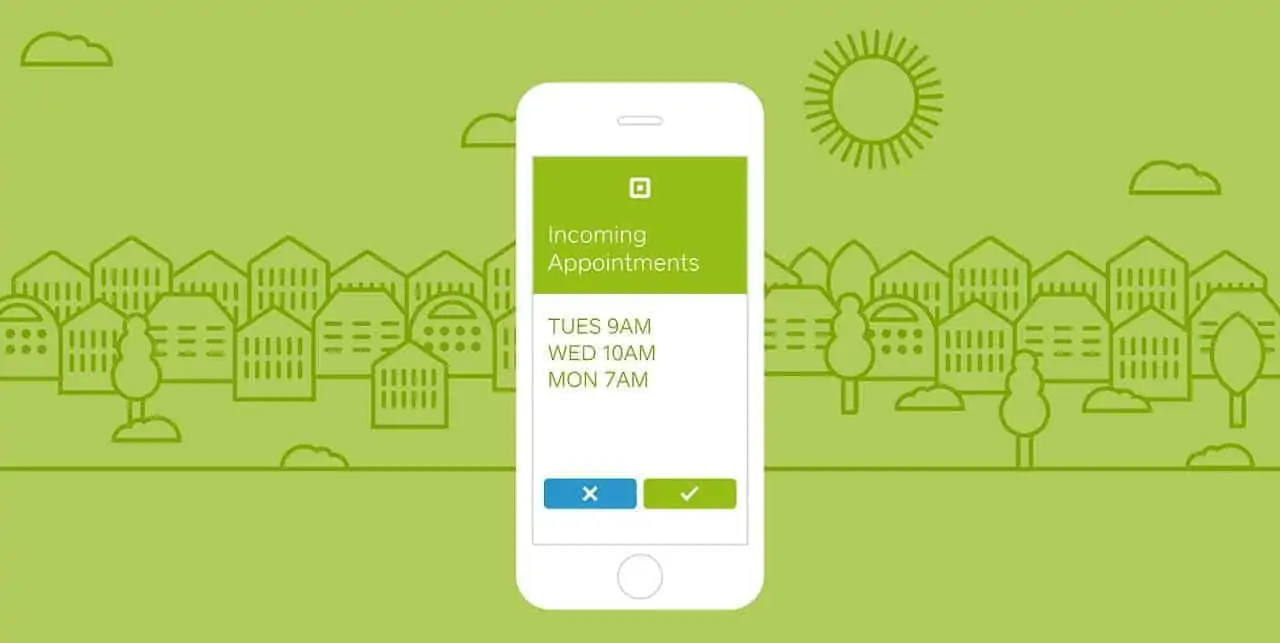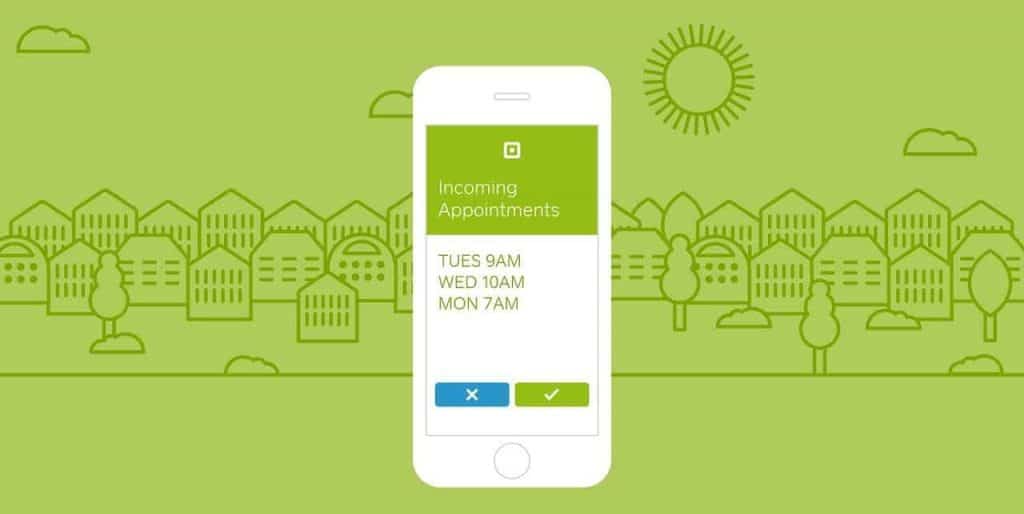 Both systems provide this feature with settings and options to customize the sending of notifications and when they are sent.
WINNER
We call it a draw.
Marketing Functionality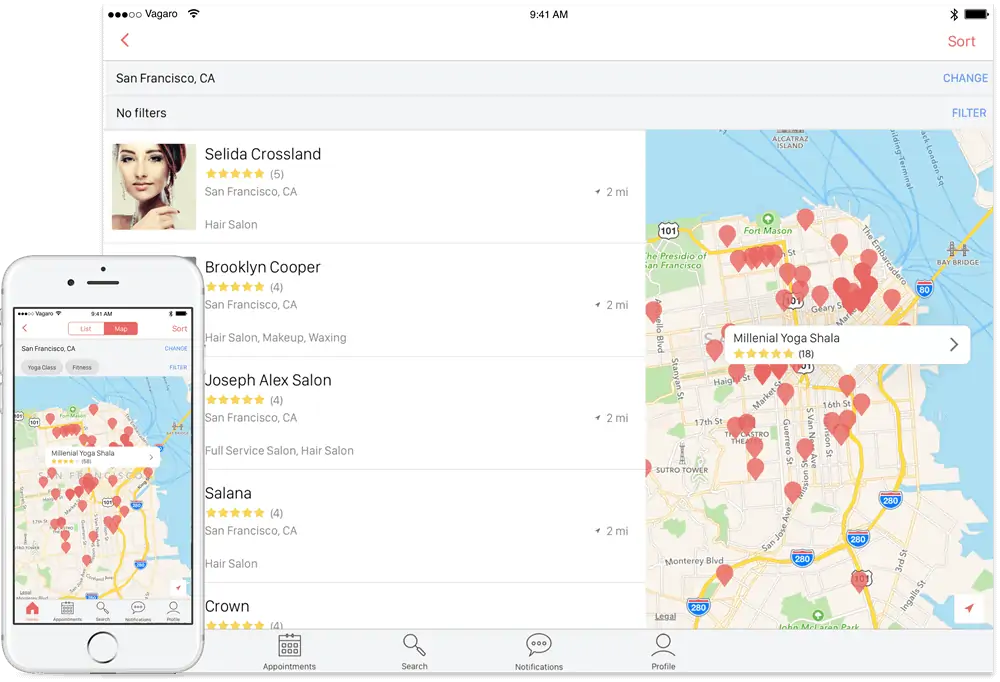 Marketing is important for virtually all businesses and service-based businesses like salons and gyms are no exception.
To secure repeat customers—which are ideally the foundation of your business because they provide recurring revenue—you need marketing.
Vagaro delivers built-in marketing features with its core package (which includes every feature the system offers). These include automated email marketing, customer rewards, daily deals, a landing page builder, and a free customer-facing app.
Square Appointments does not include any marketing features. Users can add an email marketing module to their system for $15 per month. (Square Point of Sale is required to add this marketing module.)
WINNER
Vagaro wins for delivering more features at no additional cost.
Loyalty Programs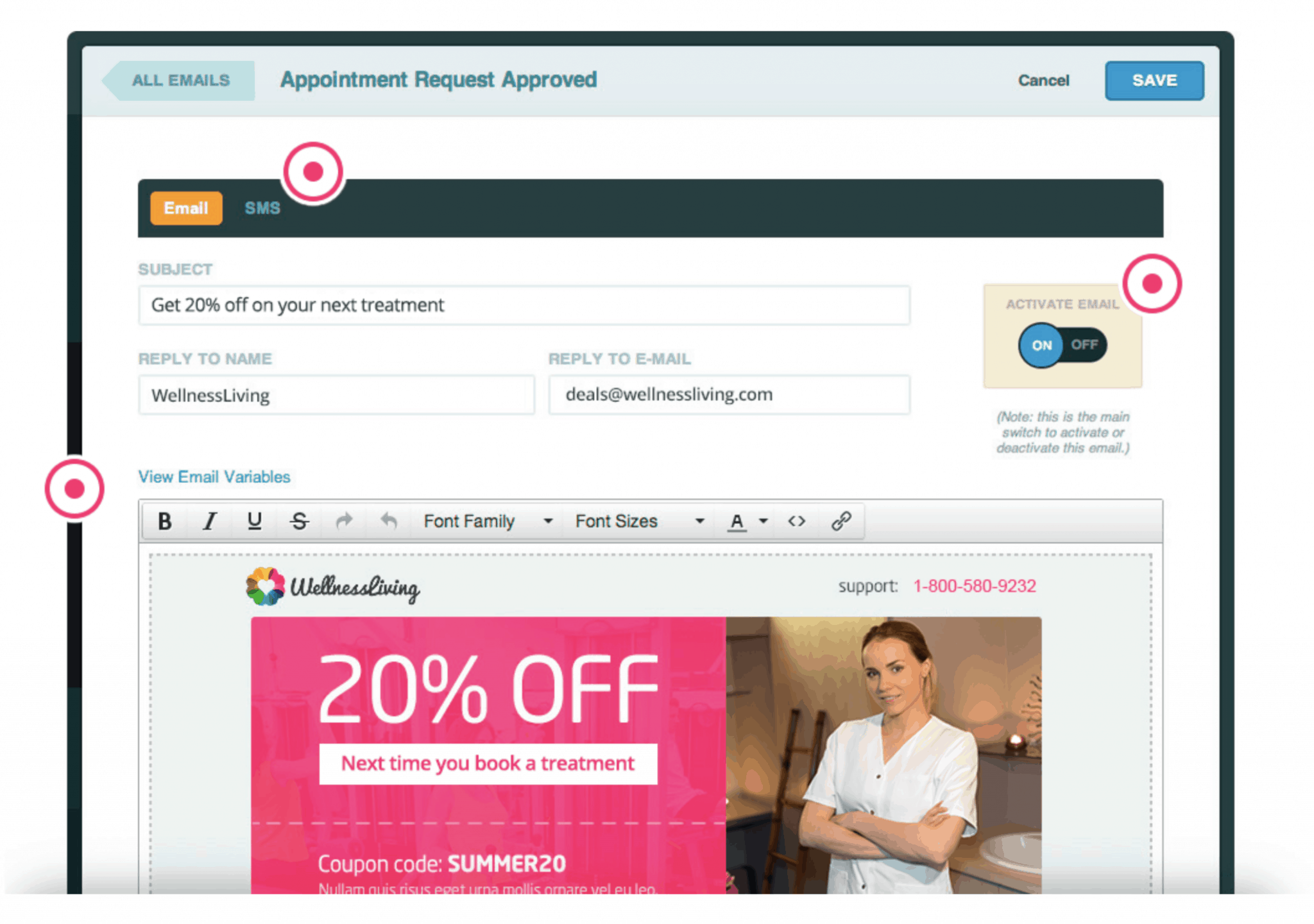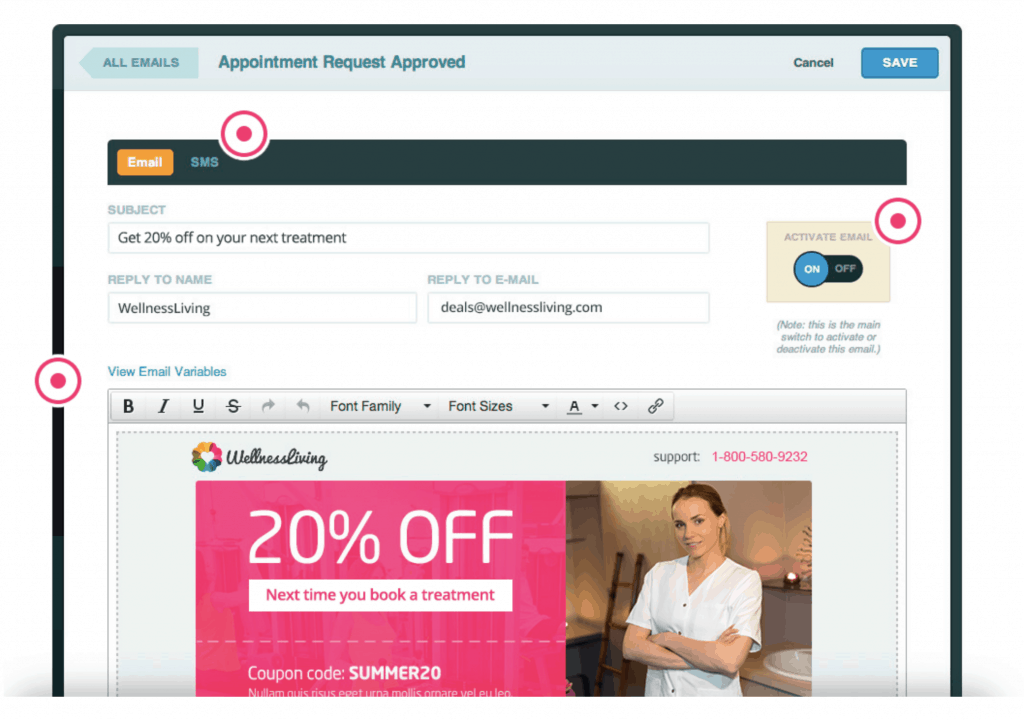 Loyalty programs are particularly important for service-based businesses because they rely on repeat business to keep the lights on.
Vagaro delivers built-in loyalty program features that allow you to award points to customers for each purchase. Customers can redeem these for services or merchandise. Vagaro's customer loyalty functionality includes additional features as well.
Square Appointments does not include any customer loyalty functionality. However, you can purchase loyalty program functionality for an added fee.
Starting costs are $45 per month and increase based on the number of loyalty visits a store receives each month. (Square Point of Sale is required to add the loyalty program module.)
WINNER
Vagaro wins again for delivering features that Square charges a significant fee for.
Vagaro vs. Square: User Sentiment
We often source hundreds of user reviews and ratings from prominent software review sites. We compile user ratings in various categories, from these sites, to come up with an aggregate score for each category.
With that data, we provide insight into actual system users' experiences with various system and vendor attributes. We score categories on a scale of one to ten, with one being very dissatisfied and ten being very satisfied.
Overall System Rating
Vagaro Rating: 9.2 / 10 possible points
Square Appointments Rating: 8.8 / 10
WINNER: Vagaro
System Ease of Use
Vagaro Rating: 9.0 out of 10
Square Appointments Rating: 8.97 / 10
WINNER: Draw
Customer Support
Vagaro Rating: 9.0 / 10
Square Appointments Rating: 8.6 / 10
WINNER: Vagaro
Overall Functionality
Vagaro Rating: 9.1 / 10
Square Appointments Rating: 8.1 / 10
WINNER: Vagaro
Value for the Money
Vagaro Rating: 9.0 / 10
Square Appointments Rating: 9.0 / 10
WINNER: Draw
Vagaro vs. Square Appointments: POS Hardware
Both vendors manufacture POS hardware. Vagaro manufactures more components than Square, while Square sells significantly more hardware than Vagaro.
Vagaro sells a surprisingly limited amount of hardware—three hardware bundles to be exact. The company does not sell individual hardware components.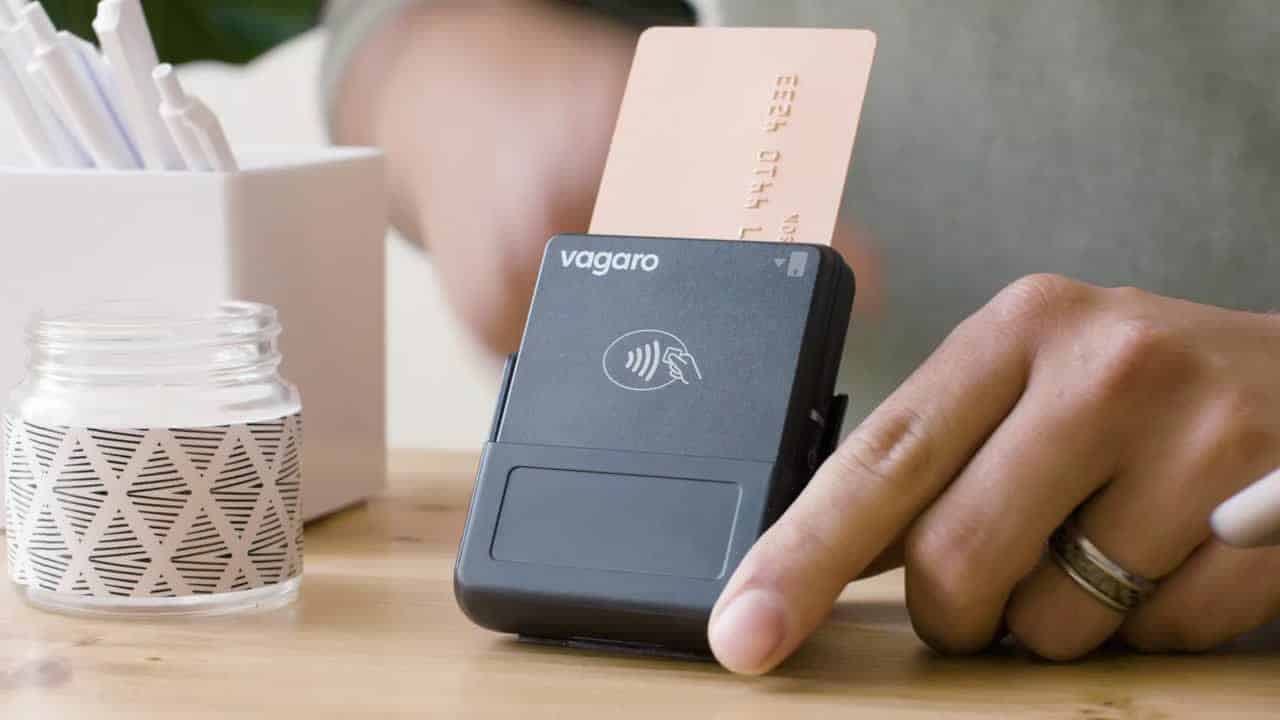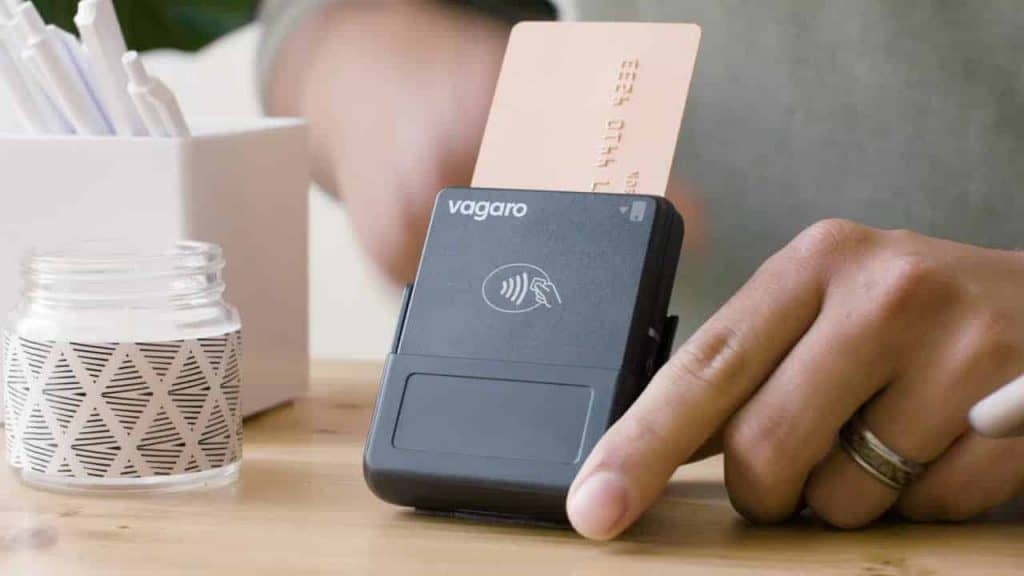 Its first bundle costs $149 alone, or $79 if you sign up for Vagaro Merchant Services.
The second bundle cost $503 ($428 with Vagaro Merchant Services).
The third bundle costs $622 ($547 with Vagaro Merchant Services).
Square sells nine hardware bundles ranging in price from $526 to $1,343. Individual hardware component pricing depends on the device and brand you select. Their selection is broad and comprehensive.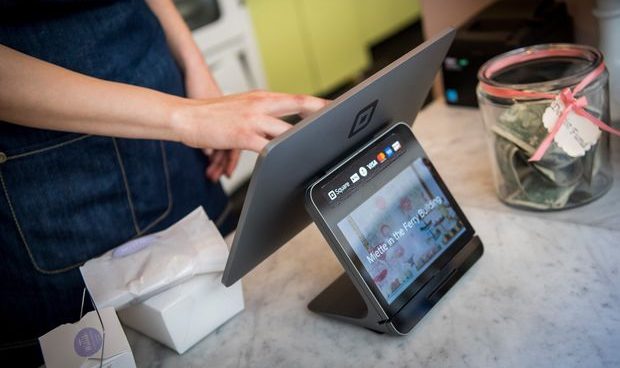 WINNER: Square wins for the extent of its offerings.

Which Is a Better Fit for Your Unique Business?
System users certainly rank Vagaro higher than Square Appointments and that is important to consider. Those who use the system daily provide unique insight that is highly-relevant to your own situation.
Vagaro also beat out Square Appointments in four of the seven additional categories we covered above. Square won one (POS Hardware) and the sixth ended in a draw.
That doesn't mean Square Appointments wouldn't be the best choice for certain businesses. Its software is free if you only have one user. It would be a good choice for independent hair stylists, small medical practices, independent yoga instructors, etc.
Vagaro is cheaper in the long run (discounting Square's free version) and delivers more features. It is also more scalable, making it a better choice for larger and quickly-growing appointment-based businesses.
Only you can decide which system best meets your needs. Take your time, consider your requirements and budget, and you'll be booking appointments online in no time.