(Last Updated On: October 3, 2022)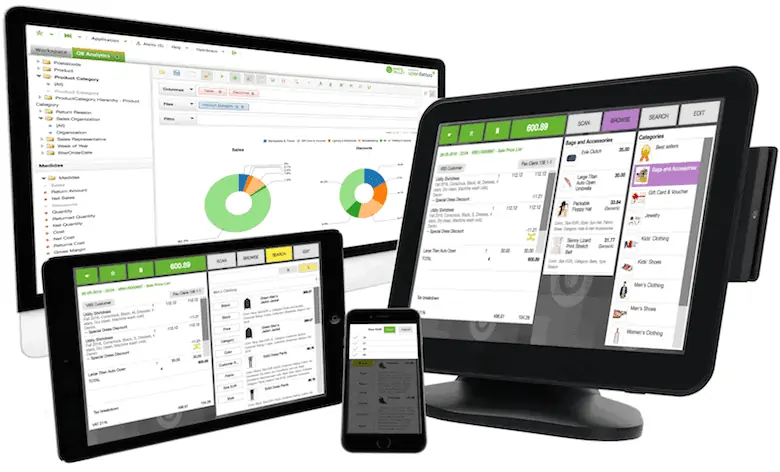 To truly succeed in a retail or hospitality business, you need a POS system that keeps up with changes in your industry. uniCenta oPOS does that, and much more.
Whether you own a bike shop, a café, a bar, or a restaurant business, this install-based POS system can help you automate inventory management, process sales quickly, generate reports, and collect customer data so you can market to them later.
Set various access levels based on users, whether managers or bartenders. If you own a retail business, assign specific customer account to a sale. Lookup customers, set discounts, and offer layaways.
With uniCenta, you can make reservations, split receipts, and manage your tables with ease. If you have inventory, you'll be provided with barcode scanners so you can efficiently manage your stock.
Use the supplier module to manage accounts, request an order, check credit limits, and keep tracks of your deliveries. Pull up any previous orders or sales to monitor your past orders.
uniCenta POS also offer features like offline transaction capabilities and customizable data fields. Again, it comes with a complete set of reporting tools, inventory tracking, sales analytics, and purchase reports. 
To see how uniCenta can help you manage transactions, orders, and the efficiency of your business, read our detailed review below.

Key Features
Features data in Port and export capabilities

Comes with an intuitive Dashboard and convenient notifications

Offers an assortment of customer management tools

Features a secure and affordable payment processor 

Supports external integrations and has an open API
Possible Drawbacks
Customizing reports and special discounts on the uniCenta POS system is difficult, often requiring a certain level of software and programming knowledge. 
UniCenta OPos is a retail management software system that features advanced inventory management, barcode scanning, and employee management. It also allows for customized settings. While the company has not published any reviews on popular review sites, it does have some good reviews from editors. It also has a good user rating of 6.5 stars, based on 13 user reviews.
This software is suitable for both small and large businesses. It has a customizable GUI and features that streamline managerial tasks. It supports the management of VIP customers, discounts, and inventory, and enables users to manage their sales staff and suppliers. It also supports payments with credit cards. The interface is flexible and customizable to meet your needs, allowing you to control user access levels and even change the language and units of measurement.
UniCenta oPOS is a point of sale system that allows businesses to track inventory, process payments, and manage customer data. With the software, you can manage customers and track sales in real-time. You can assign specific customer accounts to a specific sale and set pricing, as well as offer layaway.
One of the most notable benefits of uniCenta OPos is its ability to be installed on Windows, Linux, and Mac OSX. With its flexibility, it can scale from a single PC to ten or more POS terminals.
UniCenta POS Pricing 
The uniCenta OPOS software is licensed per GNU GPL3 and happens to be open-source software. As compared to other retail POS systems, uniCenta offers great value for money. The provider offers two main subscription plans for the software, as discussed below:
Base Plan ($78.42/ annum)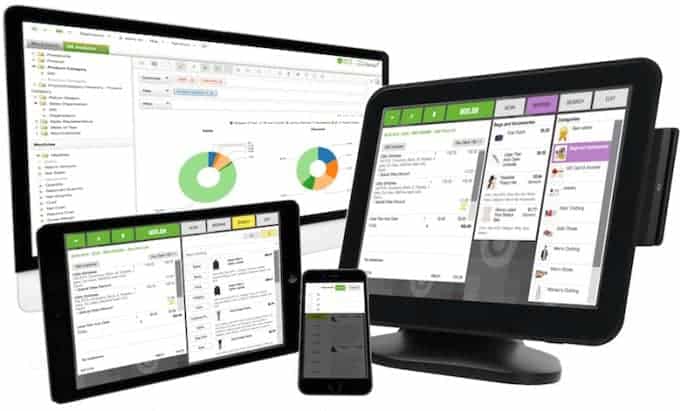 The uniCenta base Plan is suited for small or medium-sized businesses. The subscription is priced at £60, which is equivalent to $78.42 per year. For this much, you will get regular uniCenta OPOS updates, user guides, all source codes and access to the uniCenta expert online support, and knowledge base. 
Some of the appealing capabilities offered by this subscription plan include web reporting, remote order display, standard forum support, developers guides, and support. 
UniCenta Plus Subscription Plan ( $178/annum)
Priced at £136 ($178), the uniCenta plus plan is suited for tech-savvy businesses and POS resellers. With this plan, you will get access to a knowledge base by the provider to help you install and customize the system to your requirements. In addition to the software download and updates, this subscription offers all the capabilities offered by the Base plan described above.
Additionally, you will also get priority forum support, rate discounts of up to 15%, and limited developer support. 
uniCenta POS Hardware and System Requirements 
The uniCenta OPOS system is designed to run on almost any third-party software, saving you a considerable amount of money on hardware costs. However, the computer you intend to install the software on needs to have at least 512MB of RAM memory, hard disc space of at least 70MB. 
If you will be running the software on Windows XP SP3 32 bit or 64bit, you need to have  Java 1.7 JRE. If you will be installing it on 32bit or 64bit Windows 7 or 8, you need to have Java 1.8 JRE installed as well. 
uniCenta POS System Key Features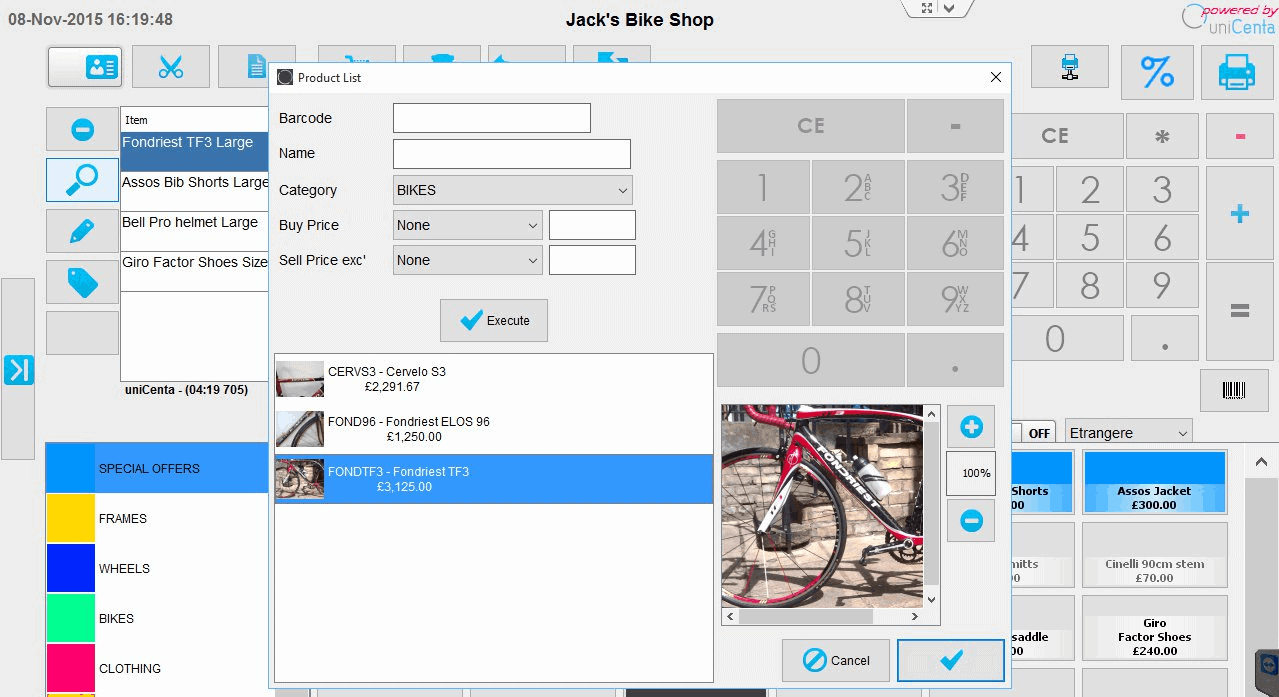 uniCenta features a customizable GUI that offers superior customer display. With this system installed in your business, you will also be able to customize receipts. The sales feature of the uniCenta OPOS system offers access levels, account sales, account settlement and the ability to edit sales. 
With the supplier tools of the system, you will be able to manage accounts, obtain important details like addresses and assign products. Despite being one of the most affordable retail POS solutions, uniCenta OPOS is packed with a myriad of beneficial capabilities, including:
Sales Monitoring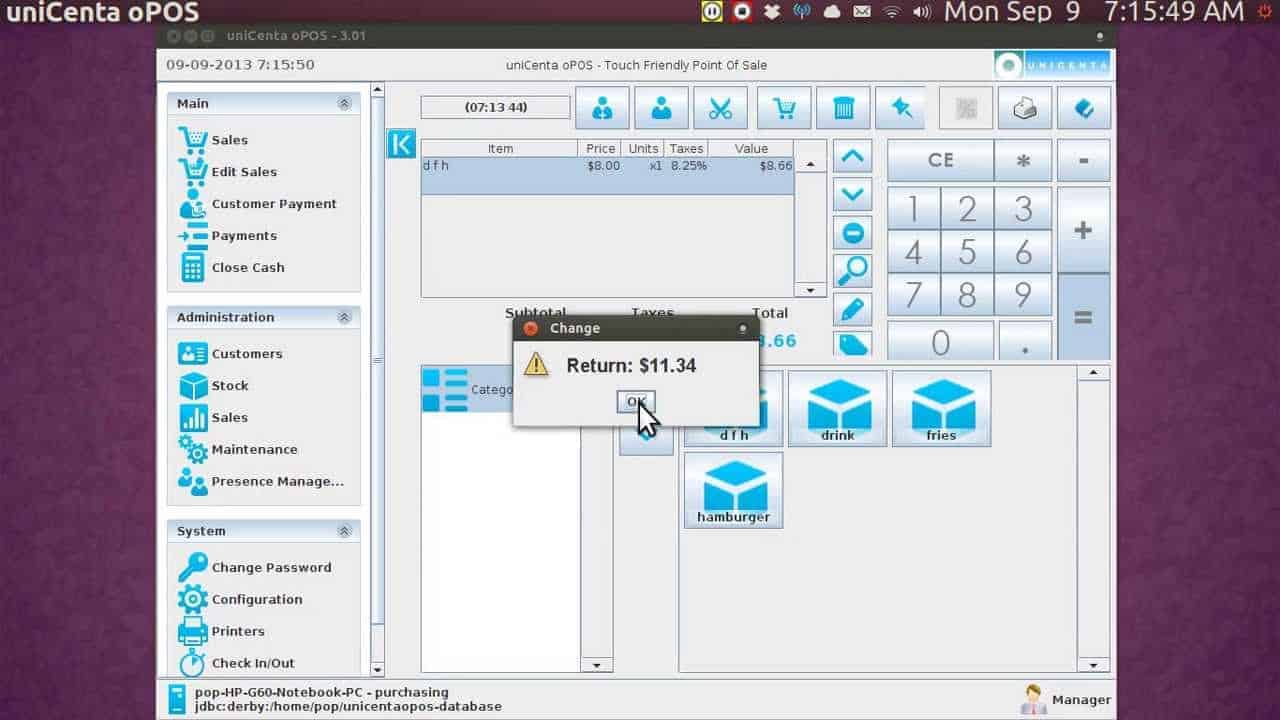 The sales feature on the uniCenta POS system is all about payments, orders of items against the inventory, and availability of stock. This makes it easy for you to monitor the stock as well as sales in your business. The feature offers account management and access levels as well. 
With regards to account management, the system allows for two types of users: Admin and Customer accounts. The customer accounts allow your customers to browse the store inventory, reserve items as well as make online purchases. Using the admin accounts, users will be able to keep track of the inventory and coordinate with the store staff in a more efficient manner. 
This makes it easy for you and your customers to check details about the items you are offering. The system even accepts partial fees if you allow it, and makes it easy for customers to ask for refunds. Admins are also capable of checking their customers'  accounts. This gives them insight into customers' shopping history and previous purchases. 
Operation and Interface Suite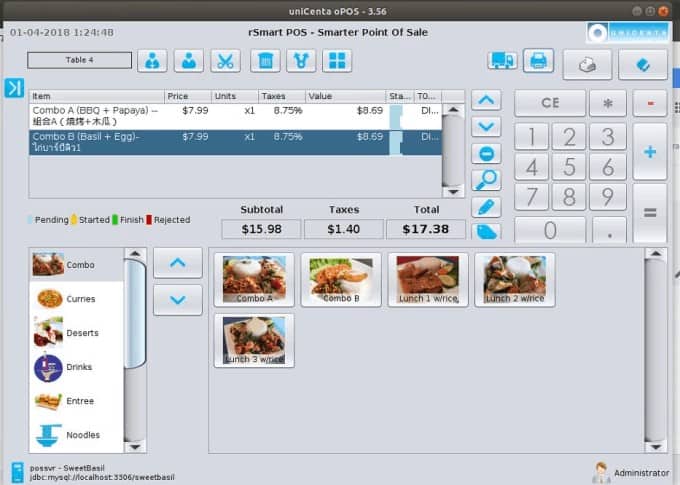 It features an assortment of tools that are meant to streamline managerial tasks for you. With such capabilities, you will be able to digitally register and log data into your databases. With uniCenta, you will be able to register any scanned barcode and display the price for each item. The system can also accept credit, and debit card payments. 
UniCenta allows retailers to customize the user interface to their specific storage needs. It allows you to change such things as tax rates per location, language, units of measurement for unique items and services, as well as payment methods. You will be able to install the uniCenta Dashboard on several devices and add several accessories to suit your storage needs. 
It comes with three unique modes, including restaurant, retail, and supermarket modes. The restaurant mode allows you to add menus, seating, and prices per meal. The supermarket model focuses on the price per item and price per measurement. The retail mode, on the other hand, focuses on price per package or single item, inventory, and original price of an item.
Inventory and Supply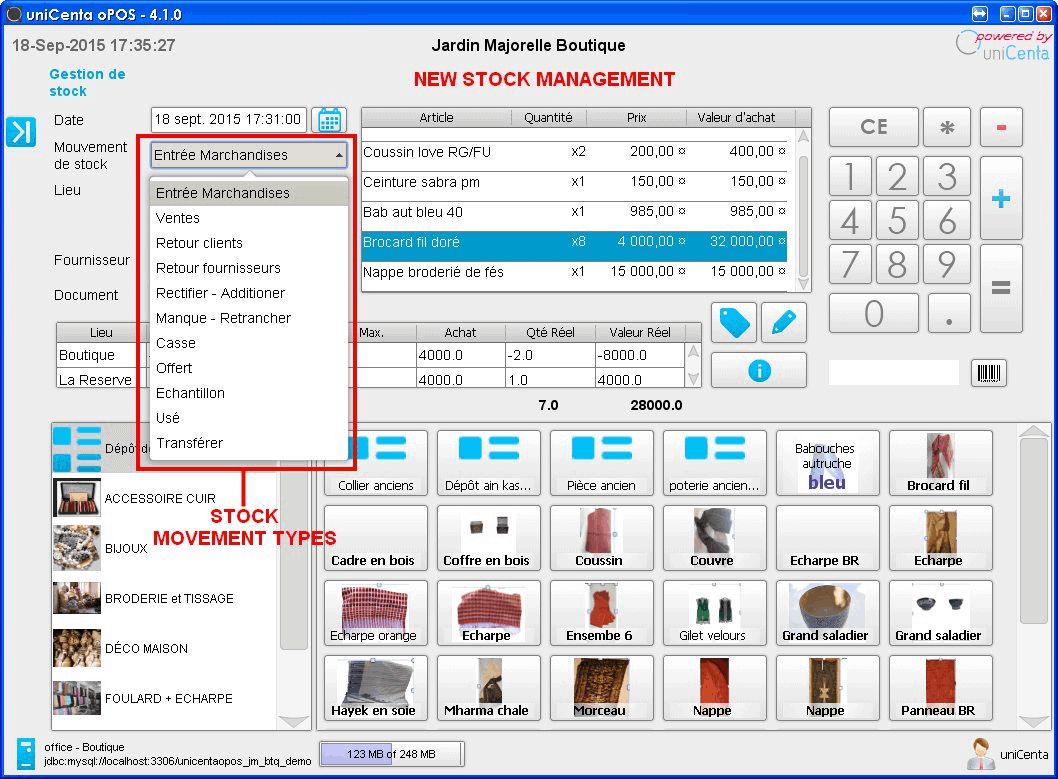 The inventory suite on the uniCenta retail POS system is packed with an assortment of features to help you monitor the available merchandise in your business. The feature will ensure that your customers have a steady supply of what they need at any given time. 
In its functioning, the feature allows you to segregate your inventory into categories. This makes it easier and faster for you to sell to interested buyers. You can attach various attributes to your inventory items for your customers to assess through reviews, suggested alternatives and ratings. 
The system allows you to preconfigure maximum and minimum inventory levels for each item in stock. The system will display stock levels in real-time, giving your customers a sense of urgency. You can also assign specific keys to let the customers select items or cancel orders with ease. 
Employee Directory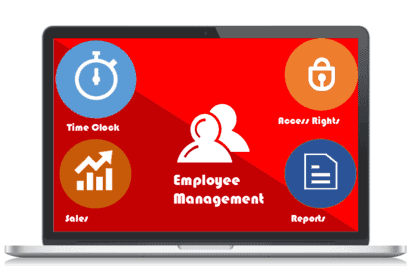 The system features superior employee management features as well. These tools will let you keep track of the performance of your staff members, restrictions access levels and monitor employee behavior. You can restrict employee access to the POS system based on their positions and roles. 
Employees in the Human Resources Department have many responsibilities. Among these responsibilities are coordinating written requests and ensuring that the requested dues have been paid. These requests will then be forwarded to payroll for final processing. Depending on the circumstances, the Director of Human Resources may also be responsible for approving non-disciplined terminations for employees who are unable to perform the essential functions of their position.
The Director of Human Resources will conduct an investigation if an employee alleges unlawful harassment in the workplace. In addition, the Director will interview the employee and any other individuals with knowledge of the incident. The alleged wrongdoer will also be given the opportunity to respond to the allegations. Upon completion of the investigation, the Director will brief the respective Directors and the City Manager's Office about the matter.
The system will display each employee's information on his/her account. The displayed information includes the period they have been working for you as well as their position and responsibilities. This will come in handy during evaluations to retain only the productive employees in your store. 
UniCenta POS System Alternatives 
| POS System | Monthly Software Subscription | Training Options Offered |
| --- | --- | --- |
| UniCenta POS | Starting from $49.00 | iOS and Android |
| Booker | Starting from $129.00 | iOS and Android |
| Shopify | Starting from $29.00 | None |
| LightSpeed | Starting from $69.00 | iOS |
Our Final Verdict 
The uniCenta OPOS happens to be one of them aren't retail management solutions for hospitality, SME, and retail businesses. It features advanced inventory management, barcode scanning, customer and employee management to capabilities. 
Having been designed for hospitality and retail businesses, it features such management capabilities as checkout, sales, supply, inventory, and customer monitoring. The system may also be used to accomplish several tasks, such as printing receipts, editing product prices, assigning barcodes as well as adding address and contact details. 
Despite having so many features and capabilities, uniCenta is still one of the most affordable retail and hospitality POS systems you can get.