Thrive is a point of sale (POS) system that is tailored to the unique requirements of restaurant and pizzeria businesses.
The POS solution is essentially designed to help such businesses leverage advanced technology and gain the very best Cloud POS has to offer.
Thrive POS software features a sleek, modern interface and is flexible enough to address the special needs of pizzerias and delivery restaurants. According to research findings by FESMag, about 37% of restaurant sales carried out in 2018 were off-site purchases.
This trend is expected to continue through 2019 and beyond. As such, you should get a POS system that offers the best takeout service and delivery app features will come in handy. Thrive restaurant POS system is one such system.
In addition to Mobile and Online ordering capabilities, Thrive also offers superior reporting, marketing, and restaurant management tools. Throughout this Thrive POS Review, you will learn exactly what makes the solution stand out.
Thrive POS System Alternatives
POS System

Subscription Cost

Best Capabilities

Customer Support Options


Thrive POS



Quote-based




Innovative Pizza and Delivery technology

Email, Phone, Live Support, and Training



TouchBistro




Starting from $69/month

Floor Layout, Loyalty Programs, and Tableside ordering features

A broad spectrum of features to cover both basic and advanced options for venue-specific software.




Email, Phone, Training, and Tickets



LightSpeed




Starting from $69/month

Offers a comprehensive business management platform

Supports a range of third-party integrations




Email, Phone, and Training



Square POS




Starting from $60/month

Real-Time sales and Inventory management with item tracker

Menu customization, customer feedback, and layout management capabilities




Email, Phone, Training, and Tickets
 Thrive POS System Benefits
Platform agnostic software, capable of running on iOS, Android, Windows and Mac devices
Training is offered through Webinars, Live online, documentation, and in-person
Reliable customer support 24/7
Flexible, and modern restaurant-specific software design
Offers superior Online and Mobile Ordering capabilities
Generates enterprise-level reports that are tailored to your pizzeria needs
Features an integrated delivery management platform
Comes with intuitive marketing and loyalty programs capabilities
Offers a diverse range of features within a modern tablet interface
Offers affordable, and secure payment processing
Possible Drawbacks
You may come across various printing errors while using the Thrive POS system, especially for time slip printouts.
Thrive POS Pricing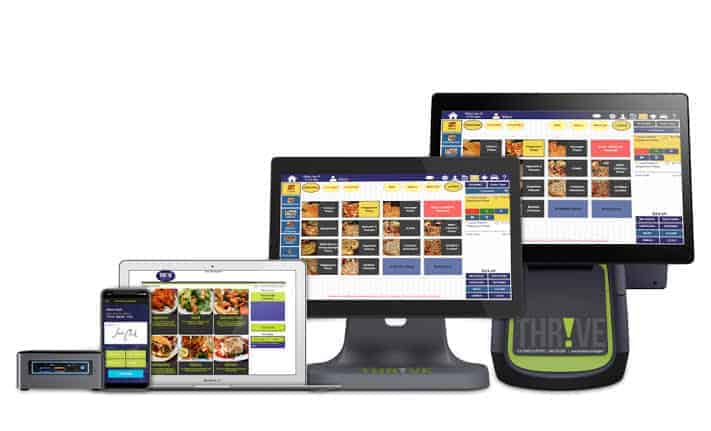 The Thrive POS provider offers customized quotes, hence flexible and affordable pricing plans built for every restaurant type and size.
The provider will work with you to ascertain your POS requirements and come up with the best-suited quote.
According to its current users, Thrive POS system pricing starts at around $149.50/month.
All you need to do is contact the provider directly through its website to get an accurate quote. Basically, the provider offers several price plans, all of which may be tailored to your needs.
Some of the Thrive plans you should consider include:
Thrive Software and Hardware Plan
This is a bundled POS product that presents you with all the hardware components and accessories to run a traditional POS terminal. However, to also have the option of running the POS software from a tablet device for enhanced flexibility and affordability.
The pricing of this plan will be scaled to the number of POS stations you require.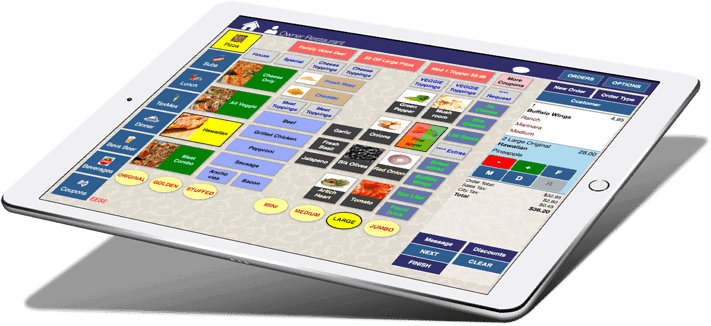 This is essentially a revenue-boosting module that is designed to integrate fully with your system.
Not only does this optimize the power of your POS system but it will also reduce the need for third-party POS apps.
With this suite, you will be able to integrate with such Apps as Loyalty Marketing, Online and Mobile Ordering, and Enterprise Reporting. You will also be glad to learn that the provider offers flexible financing and payment plans for its hardware and software solutions.
Thrive POS System Key Features
As you may be aware, pizzerias and delivery focused restaurants tend to have special needs when it comes to POS features and capabilities. In this regard, Thrive offers a comprehensive technology solution to address your special needs right from dough to doorsteps of your customers.
Some of the capabilities that make Thrive one of the best restaurant POS systems include:
Online and Mobile Ordering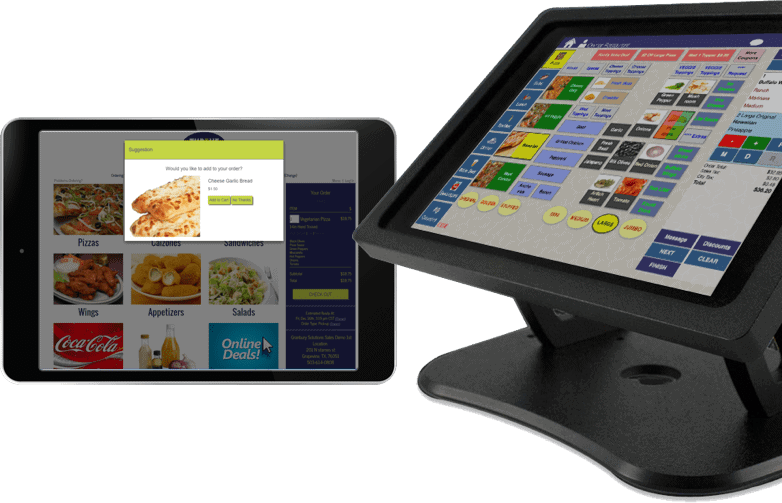 Thrive has the tools and capabilities you need to get more food to your customers in a faster and more efficient manner.
The provider offers powerful, simple, and highly profitable mobile and online ordering platforms to boost your bottom line.
Control the customer experience and deliver a great online ordering experience right on your website, which will be fully customized to match your brand and your menu.
The website is relatively easy for your guests to navigate and is entirely mobile responsive. The website features the colors and pictures of your brand.
It is designed to automatically update prices, menu, and coupons right from the POS system in the restaurant. The website also integrates powerful suggestive selling to boost ticket averages in your business.
Pizza and Delivery POS Technology
The Thrive Pizza POS system offers independent pizza restaurants the ability to leverage the same advanced technology at an affordable price. It comes in the form of a modern, flexible and sleek POS design that addresses the special needs of a delivery restaurant.
Some of the aspects you will come to like about this system include:
Complete Integration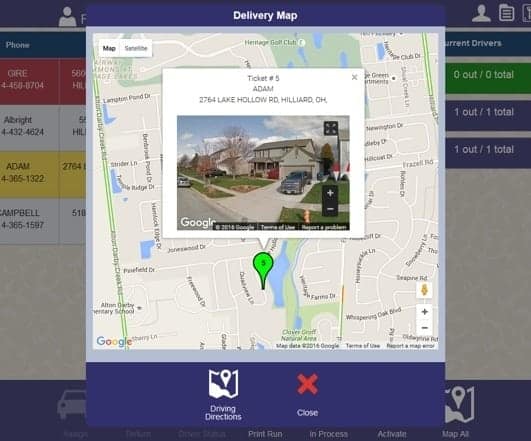 The POS system integrates seamlessly with other Thrive Apps that are designed to make it easier for you to run the establishment.
For instance, it integrates with the online and mobile ordering platforms to help boost sales.
Additionally, you can also integrate your Pizza POS system with Loyalty Marketing programs and payment processing by the provider.
You will also get reporting that has been tailored to address your pizzeria and delivery requirements.
 Delivery Management
Thrive offers one of the most sophisticated pizza delivery software solutions in the hospitality industry. This platform will offer you complete accountability and many ways to pay drivers, including Google-calculated mileage reimbursement and automatic tip credit wage while on the road.
You will also get optimal security and control over drops, runs, and who gets to take what delivery when. With this solution, you will also be able to keep track of expected coupons as well as compare performance with the extensive driver reports generated by the system.
You will also like the driver mobile app that comes with the software. This is designed to keep your delivery drivers informed. It will also help you track their location, and will let you know exactly when that delivery is made.
Integrated Payment Processing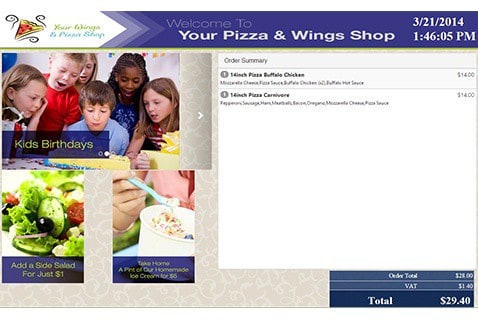 Ringing up customer transactions has never been easier than it is with the Thrive integrated Payment processor.
Although Thrive is not a credit card processor, the provider uses its buying power of thousands of merchants nationwide.
This guarantees you a group negotiated rate that is affordable at all times.
The integrated Payment processor offers a secure, reliable and affordable credit card processing experience.
The solution is meant to offer a simple and reliable checkout process that is part of the entire ordering process.
In this regard, it has been designed to offer high-speed processing, competitive rates, and advanced security features. In essence, you will be able to accept typical authorization payments in less than four seconds.
Final Verdict
The fully-featured, fully integrated Thrive restaurant POS system will give you all the competitive advantage you need to compete with larger businesses. Right from order taking to kitchen management and delivery, the system has all the tools you need to run a successful venture.
It offers you technology that is intuitive, both in-store and online. Easy and seamless integrations with valuable restaurant and pizzeria management Apps is another thing that sets Thrive apart. It is more than just a Pizza POS system, the Thrive Suite gives you all the tools you need to work on your business, not in it.
Do not be left behind, spruce up your in-store image with sleek, affordable iPad POS terminals, or stick with traditional touch screen POS stations – whatever works best for your operation.
The following two tabs change content below.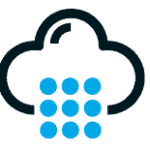 The staff at POSQuote.com is composed of industry professionals, experts, and current business owners. Through extensive research, we compile buyer's guides and review the best POS systems in the industry.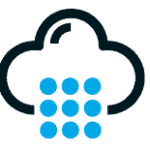 Latest posts by POS Quote Team (see all)
Reader Interactions