(Last Updated On: October 3, 2022)
If you're looking for a simple, easy-to-use POS system for your small business, both SumUp and Square are solid options. Both systems will help you accept payments faster, build loyalty programs, and, ultimately, increase your profitability.
SumUp and Square are both low-cost payment solutions that allow merchants to accept credit cards at their stores. However, there are a few differences between the two. Although they offer many of the same features, SumUp has a lower price tag and offers fewer add-on features.
Both SumUp and Square are available in different countries. While Square is best for businesses that conduct all of their operations on-site for clients, SumUp can be a better option for businesses with remote locations. Both companies offer mPOS and POS systems. For small businesses, SumUp is the best choice.
In addition to hardware, customers should consider customer support and payment options. Fortunately, both SumUp and Square accept popular credit and debit cards. The SumUp POS system also supports Apple Pay and Google Pay. Square also supports Android Pay and Apple Pay. Both systems also offer customer service through phone or email.
SumUp offers a free trial period and no monthly fees. The software includes a smartphone app and mobile card readers. The app can accept Visa, MasterCard, Maestro, American Express, and VPay. SumUp also supports Apple Pay, Google Pay, and VPay. For more advanced features, choose the SumUp Plus.
SumUp is a German company that offers a low-cost card reader. It also offers online payment solutions, a virtual terminal, and payment links.
SumUp is a basic payment processing system geared toward new and small businesses. They offer transparent pricing, a number of reliable hardware options, and a painless setup process. They offer gift cards and payment links, as well as the ability to accept all kinds of payments: credit, debit, EMV, contactless, and more.
Square is one of the most widely used POS systems on the market, due to its quick setup and ease of use. Square is known as the POS system for small stores and operations, as it doesn't offer too many features out of the box. However, in recent years, Square has upgraded their offerings and tools and aim to cater to businesses of every size.
In our research for the SumUp vs. Square comparison, we found that Square outperforms SumUp due to its more expansive features: menu or catalog management, custom receipts, on-site refunds, and a customizable dashboard and screen.
When it comes to pricing, SumUp offers a competitive rate of 2.75% per swipe, chip, or contactless payments, with higher rates for remote payments or invoicing. There are no monthly costs to use their payment processing service, although they charge a $19 one-time cost for a card reader.
However, Square gives you a better bang for your buck. They charge 2.6% + $0.10 per transaction. The platform itself, as well as the initial hardware you need to get started, is offered free of charge, although there are plenty of options to upgrade your hardware.
Both platforms are solid payment processing systems, although Square will offer you more POS features. Let's dive into each provider's features, pricing, and support.

Quick Overview of Each Provider
SumUp and Square are both highly popular mobile POS providers that drive business in the UK and the United States. Both are known for straightforward fees, a user-friendly environment, and mobile payment processing.
Although Square has virtually cornered the American market for a decade, SumUp has expanded into the space to compete. Each platform is a separate payment service provider, which means they allow business owners to process payments without the need for a merchant account.
The funds are then distributed to each individual bank account accordingly. This makes it easier and faster for a business to sign up for an account and start accepting payments.
SumUp


The leading mobile point of sale (mPOS) platform in Europe, SumUp was created as a way to "wake up the entrepreneur within you." Launched in 2012, the company has an impressive global reach into 31 countries and is backed by American Express, BBVA, Groupon, and other financial conglomerates.
Today, hundreds of thousands of companies around the world rely on SumUp to get paid.
Square


Based in San Francisco, CA, Square was established in 2009 to fill the niche of small business mPOS needs. The idea came from the founder of Twitter, Jack Dorsey, when a friend could not accept his credit card payment. The name "Square" is derived from the company's FREE square-shaped card readers which is what led to its popularity in the first place
SumUp VS. Squre: Side-by-side Comparison
POS Software

$0 per month.

$0 per month for standard
but options available for a fee.

Payment Processing

2.75 % per card payment
(2.95% + 15 cents per virtual terminal).

2.6% + 10 cents
(3.5% + 15 cents for manual entry).

Hardware

$19 for SumUp Card Reader with free shipping.

Magstripe reader is free (additional hardware starts at $49).

Operating System

iOS or Android

iOS or Android

Analytics and Reporting

Yes

Yes

Employee Management

Basic employee accounts.

Accounts, time tracking, payroll, exports, and more.

Customer Service

Phone and email.

Phone, email, and live support (chat).

Integrations

No

Yes

Security

PCI Data Security Standard (PCI-DSS).

PCI Data Security Standard (PCI-DSS).
KEY FEATURES
SumUp Features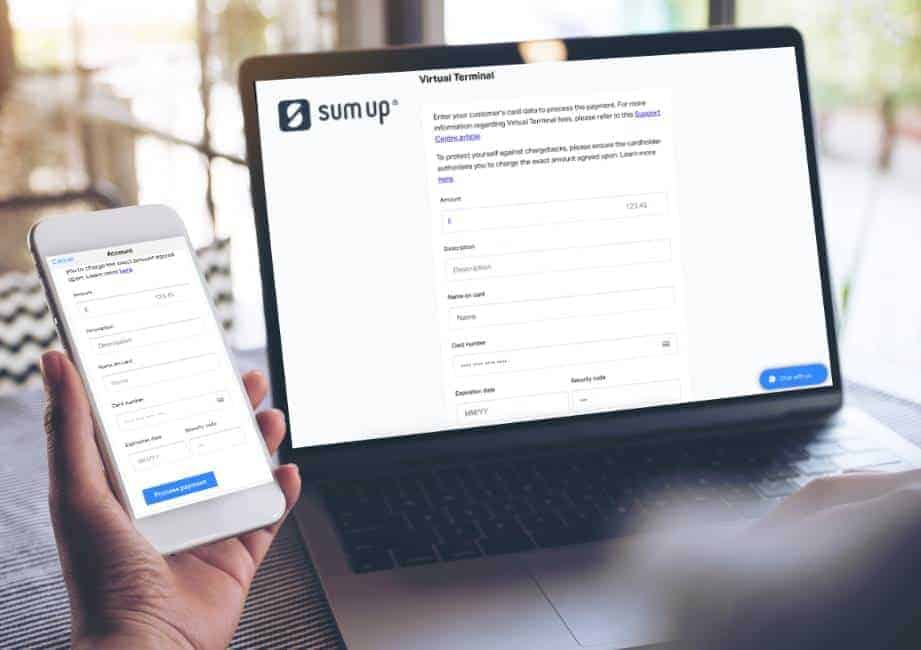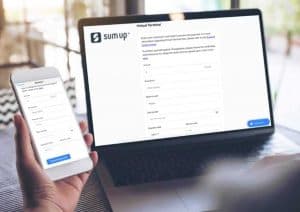 SumUp is simple software that offers a singular solution. The platform processes payments from:
Magnetic stripe
EMV chip
Apple Pay and Google Pay
Contactless (NFC)
SumUp is a top financial solution in European countries. It boasts a straightforward mobile app that allows a business to accept payments, track sales, and take orders in an all-inclusive EMV terminal and single POS platform.
Square Features
Although Square offers several POS and payment processing products, the free system has a viable approach to basic business management. The additional countertop-based hardware enables business owners to operate their POS system like a traditional register setup.
Hardware
SumUp and Square both offer unique options for hardware.
SumUp Hardware
SumUp makes it slightly easier by offering one terminal to process all card types. The company has handled chip payments for years and their EMV experience shows in the hardware.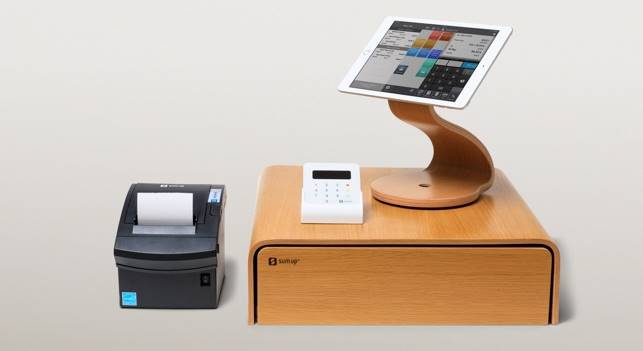 Tap, swipe, and chip with the SumUp Card Reader to get paid every time. The hardware connects with any mobile or tablet device using Bluetooth technology. The system can process over 500 transactions on a single charge and accepts all major debit and credit cards.
The card reader is the first fully certified EMV mobile POS system in the world and comes equipped with NFC and an integrated Li-ion battery. You can accept international cards that display one of the four major network logos. This will require the cardholder to pay a currency conversion fee as well.
The mobile card reader is PCI compliant and can be charged using a micro USB cable. You can also continue running transactions while the device charges. You even have the option to manage multiple readers under one SumUp account.

Square Hardware
To date, Square has launched over 5 different devices for card payments. Two of these will only accept the Swipe platform: Square Stand and the original magstripe Square Reader. Here are your options for hardware:

Square Reader for Magstripe – Accept swiped card payments via iOS and Android.
Square Reader for Contactless and Chip – This is the most comparable to SumUp equipment. Accept chipped, tapped, and swiped payments.
Square Stand for Contactless and Chip – Built to support an iPad and includes the Square Reader.
Square Terminal – An all-in-one POS solution that accepts all payment types.
Square Register – Fully functional POS system that includes a touchscreen and stand.
The Square hardware ranges in size and functionality and is designed to accommodate a range of businesses.
It is important to note, the card reader must have access to wi-fi to work. It will not process transactions while offline.
Software
SumUp Software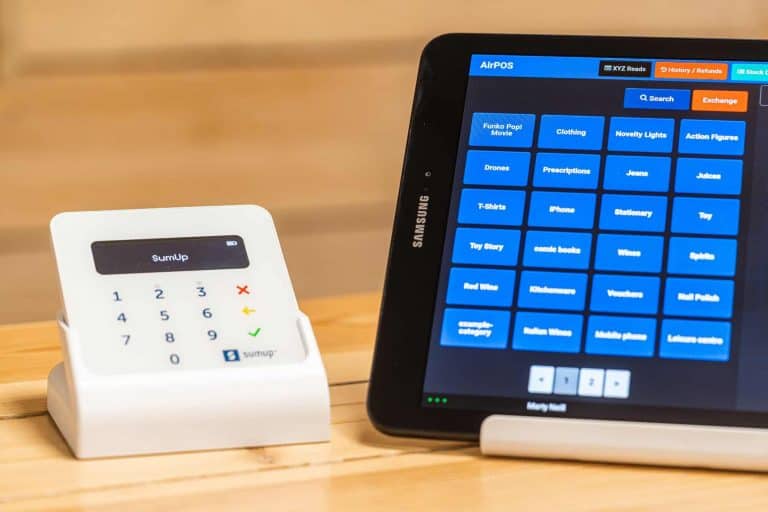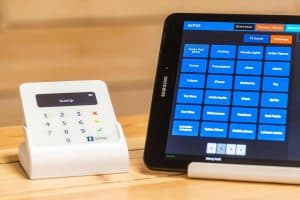 When it comes to software, SumUp only offers a single point of sale option that can be downloaded on iOS and Android devices. This includes smartphones and tablets. The app connects directly to the card reader so a business can immediately start processing sales. The software also enables you to perform tasks like:
Accept and track cash payments
Create, manage, and customize inventory (including a product catalog)
Set up and manage tax rates
Refund transactions
Send customer receipts
The system also allows a company to create and track employee accounts, download custom reports (like sales and revenue), and view transaction/sales history. You can even accept "card not present" payments using the virtual terminal.
Square Software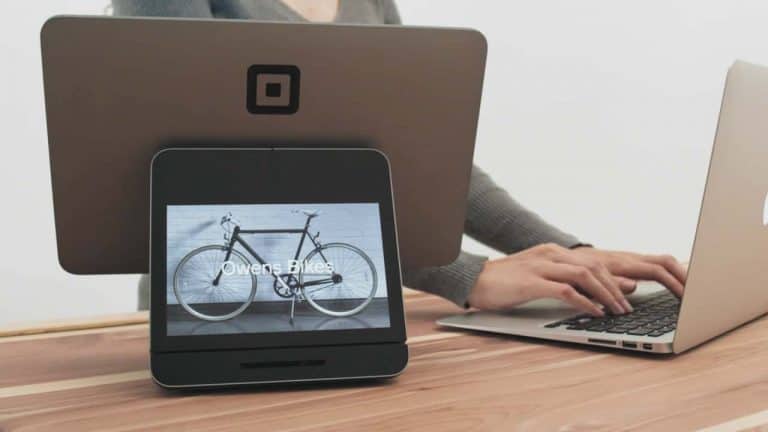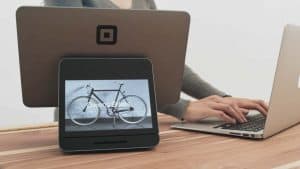 The basic Square software platform can be downloaded on both iOS and Android devices and can be used in conjunction with any of the Square hardware options (other than the Register which has software built-in).
Compared to the SumUp app, the Square platform is much more expansive in terms of features, tools, and functionality. This is what makes it work for a business of any size. It can be used for everything from processing sales to tracking and managing inventory.
Additional features include:
Create a menu or catalog with custom categories
Customized text, email, and printed receipts with an option for feedback
Accept swiped card payments offline or enter them manually
Process refunds, send custom invoices, and store cards on file
Completely customize your dashboard and checkout screen
The Square app also allows a business to effectively manage inventory, view advanced analytics, and integrate add-ons for team management.
Ultimately, the SumUp app provides the basic capabilities needed to accept orders and process payments. The Square POS platform offers extensive features that a smaller business may not need.
Cost
Here is a breakdown of SumUp vs. Square costs:

| | | |
| --- | --- | --- |
| Card reader | $49 | $39 |
| Charging dock | $29 | – |
| Swipe, insert & tap fee | 2.6% + 10¢ | 2.75% |
| Keyed transactions | 3.5% + 15¢ | – |
| Invoice payments | 2.9% + 30¢ | – |
| Instant transfers | 1% added to card fee | – |
| Chargebacks | Free | $10 each |
| Refunds | Free | Free |
| Monthly costs | 0 | 0 |
Square Costs
The cost of using Square can be complex depending on the hardware you use, and the features added on. For hardware, it breaks down as such:
Square Reader for Magstripe – Free
Square Reader for Contactless and Chip – $49
Square Stand for Contactless and Chip – $199
Square Terminal – $299
Square Register – $799
Processing Fees
2.75% + 10 cents for any transaction that is:
Contactless payment
Swiped magstripe card
Swiped or inserted chip card
Prepaid gift card
Swiped using the virtual terminal
3.5% + 15 cents for any transaction that is:
Manually entered
Made with a card on file
Manually entered in the virtual terminal
2.9% + 30 cents for any transaction that is:
Square invoices
eCommerce products
SumUp Costs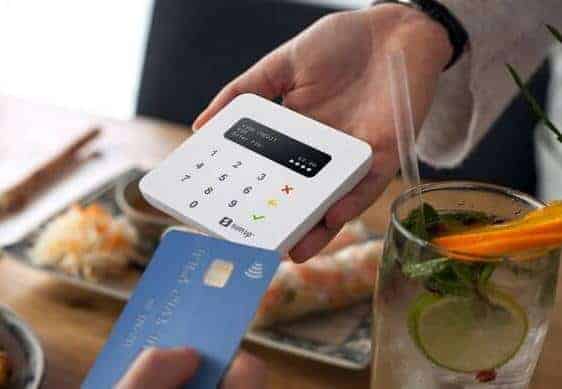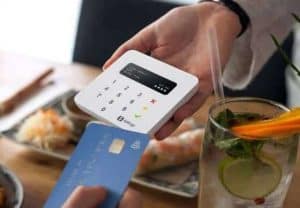 The SumUp Card Reader costs $39 with a simple 2.75% processing fee. Neither SumUp nor Square have additional fees for foreign cards. Unlike Square, however, you cannot manually key in entries with the SumUp app.
Square offers chargeback dispute services for free while SumUp costs $10 per chargeback. This is lower than the average industry rate of $25.
When it comes to refunds, they are free for both platforms when done straight away. Square is free for up to 120 days while SumUp will keep the transaction fee.
Customer Service and Support
Since Square is a larger company, they tend to have more complaints online than SumUp. There have also been some issues with the way Square handles account terminations. If they close your account, it is sent via email with no option to appeal the decision.
Both platforms offer phone, email, and chat support, however, Square makes a business go the extra mile to get someone on the phone. Unlike SumUp, Square offers an extensive self-service knowledgebase, Twitter support, and a community forum.

In Conclusion
Whether you choose SumUp or Square depends on a variety of factors. SumUp is designed for a smaller business that may not require all the bells and whistles Square offers. Although the platform doesn't have as many resources as Square, their customer service seems to be much more on point when resolving issues.
The conclusion of a business plan should make a strong impression. It should include facts, data, and statistics that support the conclusions presented throughout the document. This makes the document more persuasive and demonstrates that the forecasts made are not based on vague assumptions. It should also use a professional tone that will leave a positive impression on the reader.
The conclusion of a business plan is the final section of the document. This part is meant to summarize the most important points of the document and persuade the investor to invest in your business. It may differ from one company to another, but in general, the conclusion should focus on reviewing key metrics and emphasizing the company's strengths.
A good conclusion encapsulates the key message contained in the business document. It also summarizes the main findings and key decisions made in the document. The length of the conclusion varies, depending on the length of the document. A conclusion should provide the reader with a clear understanding of the key pain points. It also gives the reader the impression that the main purpose of the report was achieved.
If there is no need for complex processes, SumUp is your answer. However, it is not an easy platform to achieve growth. If you plan on building and driving business, Square might be a better option.