(Last Updated On: October 5, 2022)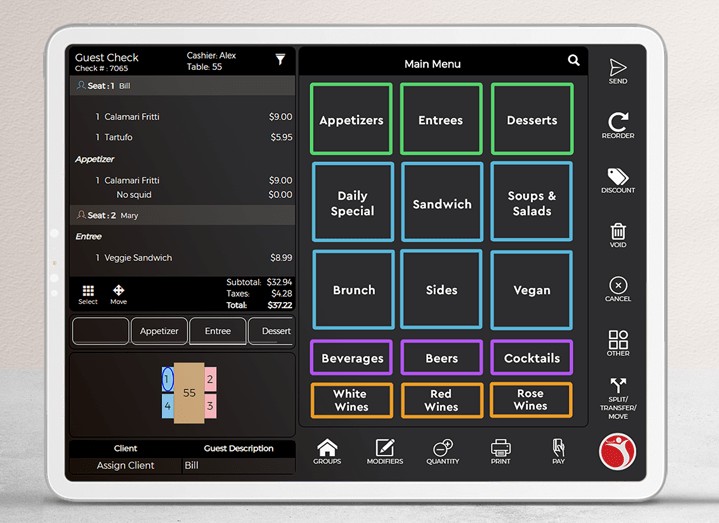 The hospitality industry has always faced unique challenges. And with new seating regulations, increased demand for online ordering and delivery, and more contactless interactions, new challenges have certainly arrived. Silverware POS is a trusted hospitality point of sale solution for restaurants across the globe.
Like Cake and Linga POS, Silverware works hard to continually adapt and develop new software features. It's developed table side orderings built for the busiest of restaurants and fast casual establishments. Splitting checks and customizing orders is fast and painless.
It's also integrated with OpenTable, the leader in online reservations. The reservation system automatically synced with each POS terminal for seamless, real-time guest management.
The top feature in our Silverware POS review is its mobile ordering app. Connected through a Clover or iOS device, the app can accept EMV payments from any location to ensure uninterrupted ordering.
Silverware also makes bar ordering a breeze with custom features. Itemized bar tabs give bartenders speed and control, rapid reorder buttons make the busiest shifts easier, and CRM integration lets you start tabs with a credit card or license.
At the end of any shift, Silverware also allows you to break down revenue and costs in simple reports. All reports can be broken down by employee, station, and service type.
For a proven restaurant POS solution, Silverware offers an intuitive and thorough software that is well-integrated with the industry standards. It doesn't offer the extensive functionality that we've seen, but it serves as a complete system for most restaurant types.

Pros and Cons of Silverware POS
Silverware has some mixed reviews, but they do a nice job of addressing any issues that customers have found. Overall, there are more positive reviews than negative across numerous prominent review platforms.

PROs

Ease of use and training

Seamless integrations with vertical-specific software

Versatile solution for any restaurant type

Good for operations that have large volume sales

Great integrations for hotels

Price adjustments, menu management, and specials are simple to implement

CONs

Lacking customer support

Long wait times for assistance

Limited reporting features

Bulk operations are difficult to use

Accusations of "technical issues" and "bugs"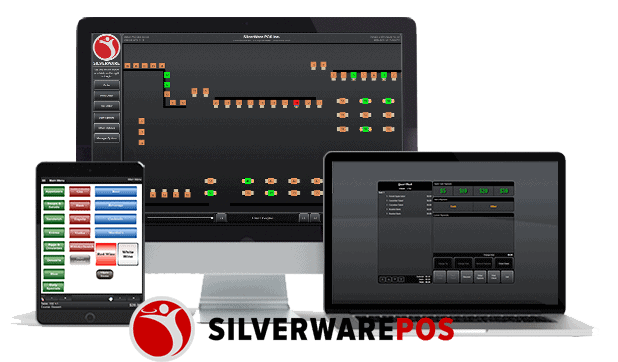 Don't have time to read our full review?
Skip all the nitty-gritty details about this POS system. Easily customize a point-of-sale solution for your restaurant in just 60 seconds by
clicking here
. If you're not in a rush, read our comprehensive 5000+ word guide on the
top 20 restaurant POS systems
in the industry.
Pricing Plans
Like most modern POS solutions, Silverware offers a subscription-based cloud solution at a flat monthly rate. Unlike most modern solutions, it starts at a highly competitive $49/month.
There is not a free option for smaller operations. Unlike some competitors that only charge for credit card processing, Silverware only offers a selection of paid plans.
Standard ($49/month)
For small venues and restaurants that don't need much other than sales processing, Silverware Standard is $49 per month per POS station. There are no discounts for annual subscriptions, or for operations with multiple terminals.
This monthly plan includes a 24/7 help desk, software updates, unlimited users and menu items, and real-time alerts and analytics. It's a truly bare bones plan but one that is sufficient for the simplest of operations, providing a nice entry option for such merchants.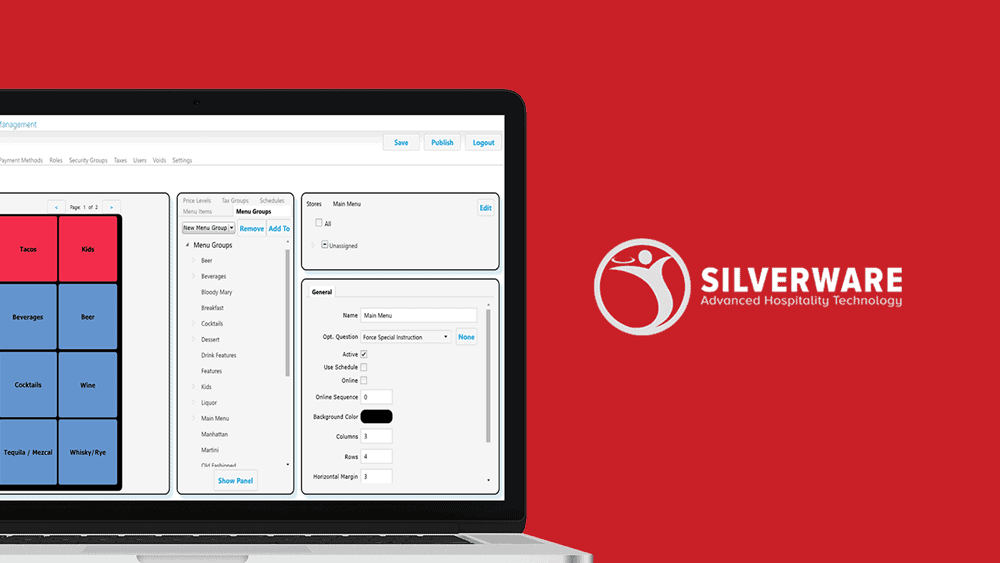 Premium ($69/month)
For larger businesses or smaller businesses that require more features and reports, Silverware offers their Premium version.
Any multi-location operation would require at least a Premium subscription. This offers the following features In addition to each of those listed in the Standard subscription:
Real-time cloud reporting

Data backup

System failover

Gift cards 

Basic loyalty system
Enterprise ($89/month)
Lastly, for all larger operations, particularly franchises and hotels, Silverware brings its Enterprise solution. For the additional $20/month users are able to access their cloud CRM system. This feature is particularly essential for multi-store operations that offer memberships, loyalty, or rewards systems.
Though the Enterprise solution doesn't cost a whole lot more than the Premier plan, it doesn't come with enough added features for truly enterprise businesses. On the plus side, this plan does provide an affordable cloud-based loyalty program, whether you're an enterprise business or not.
Demo Video

Key Features
Silverware has developed features intended to serve restaurants, bars, quick service operations, hotels, resorts, and institutes. Combined with key integrations, Silverware POS brings a solid hotel and restaurant point of sale solution to the market.
Ordering and Inventory
Silverware's inventory manager keeps track of every item in your kitchen or bar down to the recipe. Users can count by case or other unit, set par levels, and import from a mobile device. Better yet, the system calculates your potential profits based off of your menu prices and inventory costs.
Ordering and Inventory are both important aspects of a successful business. While smaller businesses can manage these processes manually, larger organizations will need more sophisticated systems. For example, a small grocery store will have a clerk in the storeroom who will track purchases and sales. This process is often linked with barcodes and scanners, giving managers a better idea of what they have on hand and how much they cost.
One way to improve order management is to establish buying standards. This will help buyers buy materials in optimal quantities. This can be done by setting minimum and maximum quantities. You can also establish par levels, which define the amount of a product that an operation needs. Buyers will use this information when placing orders. This will keep costs down.
The process of receiving deliveries is another important part of ordering and inventory management. Waiting for delivery people to make sure everything is correct is time consuming. Make sure to check the condition of the items, and put them in their proper places. Then, keep track of all incoming inventory. This will ensure that your inventory stays consistent and accurate.
Ordering and inventory are important aspects of managing a foodservice operation. A restaurant's purchasing process is led by the chef and sometimes the foodservice manager/director. A large hotel may even have a purchasing department. Regardless of the type of foodservice business, a kitchen will have an inventory list and contact information for suppliers. The kitchen will also use order sheets to ensure that supplies are kept at par. Sometimes, special events require the ordering of special items.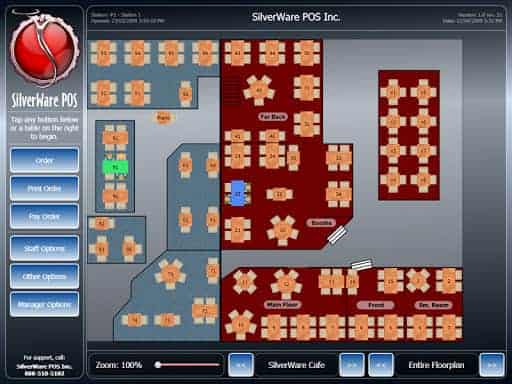 Table Service
Communication between mobile and stationary POS terminals is seamless. Servers can order by the seat, course, sharing, and check. Staff can make easy order customizations. All orders contain the time the order was sent. Plus, the front-end offers a visual menu, item search, and drag & drop bill splits. All tables can be labeled as occupied, printed, paid, or in need of service in real-time.
OpenTable and Online Reservations
With their OpenTable partnership, Silverware offers restaurants access to the most popular online reservation system. OpenTable also brings restaurants in-depth information on each of their customers. Managers and hosts can create guest profiles, make notes, add allergies and preferences, and help servers personalize the experience.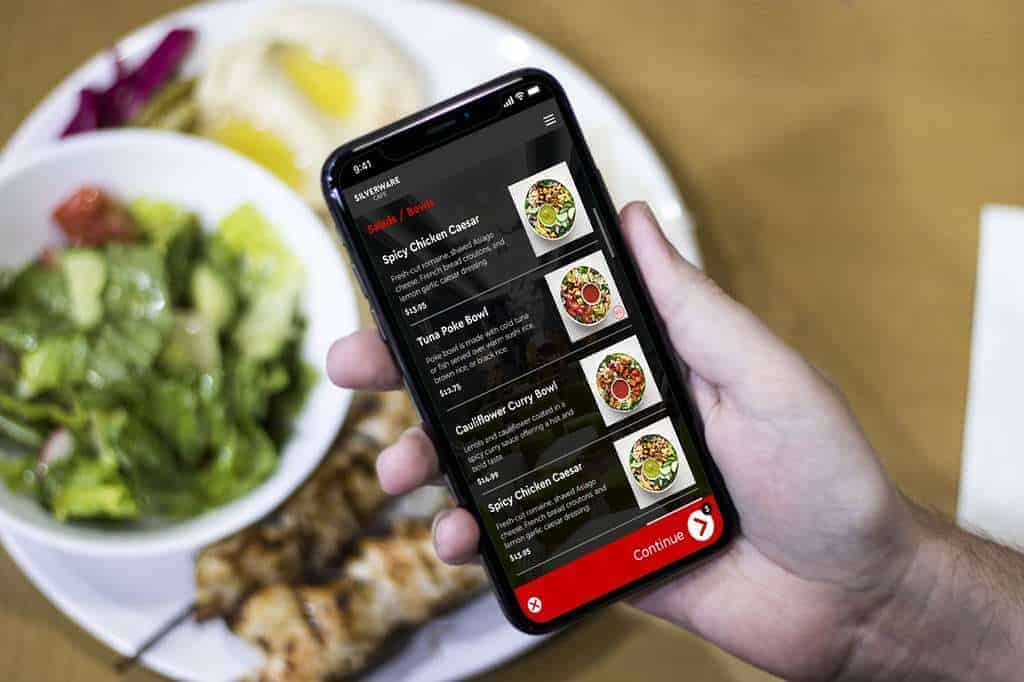 Bar & Kitchen Features
For the floor, bar, and kitchen, Silverware does a great job of creating an intuitive design and user experience for all front and back-of-house staff. It's efficient, customizable, and processes transactions quickly.
Carry over tabs from bar to table, expedite service with reorder buttons, start tabs by simply swiping a credit card or Driver's License. Silverware also provides restaurants with seamless communication with the kitchen. The display system improves accuracy, reduces waste, and improves ticket times.
Industries Served
What Silverware lacks in the retail sector it more than makes up for in the service arena. The solution is specifically advertised towards restaurants, quick service establishments, bars, hotels, resorts, educational institutions, and membership operations.
While it does market to this wide variety of businesses, Silverware seems to be best fit for small to medium-sized full-service restaurants. It comes with several key integrations and has developed impressively seamless communication tools between hosts, servers, bartenders, and kitchen staff.
The software does come with features to help manage multi-location and enterprise-level businesses. Their cloud CRM system is especially critical for museums, universities, hotels, and similar operations.
While Silverware does not provide additional features that many larger operations require, like a Kitchen Display System (KDS) or Property Management System (PMS), it does integrate with key solutions. This enabled more streamlined operations even if it's not all native.
Overall, we found that Silverware was best suited for casual and fine-dining restaurants and bars. But it's also a viable solution for hotels, resorts, universities, and similar businesses so long as additional software is connected. This, of course, will come at significant additional costs to the simple monthly base rate Silverware advertises.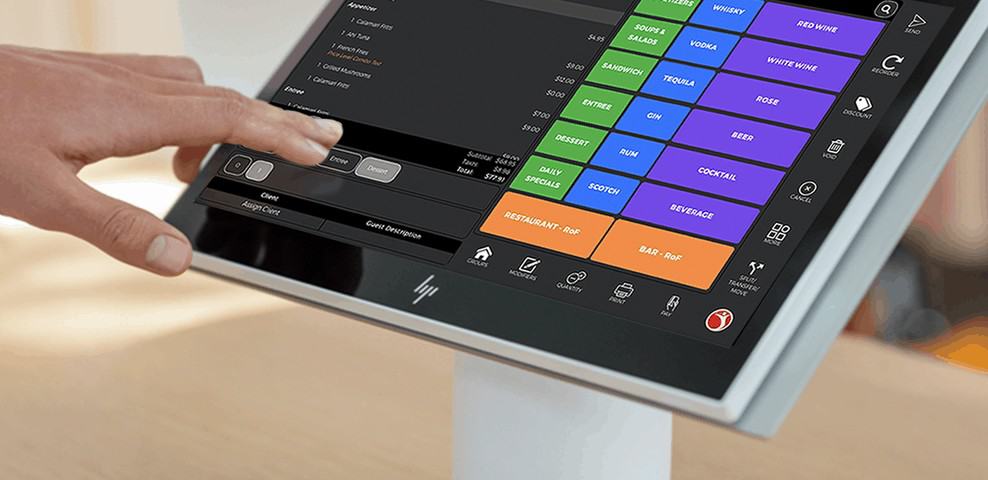 Deployment Type
Silverware point of sale is a hybrid legacy and cloud-based solution. The cloud is powered through an app that must be locally installed. Like most modern POS solutions, this software subscription service enables remarkably easy deployment.
For non-custom solutions, the system will be ready to use out of the box. Once the subscription and any appropriate hardware are purchased, Silverware ships it on-site and the user need only turn it on to get started.
Custom solutions with in-depth integrations to third-party software may have a broader set up that can require additional pre-built integrations, on-site set-up and training, or other supplementary deployment options.
Though Silverware does not advertise extensive set-up and training options, their standard packages are straightforward, intuitive, and shouldn't come with any significant learning curve.
Plus, throughout the initial installation process and once a business is live, Silverware includes 24/7/365 support, as well as extensive video tutorials. All common issues can be solved by chat or phone quickly.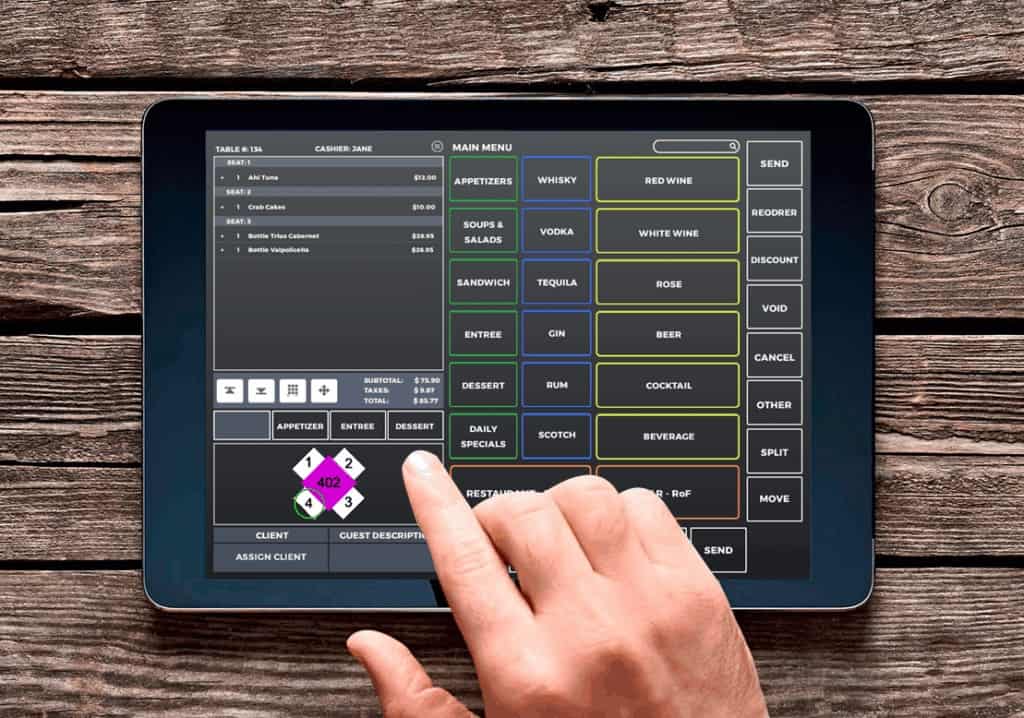 Ease of Use
Silverware POS gets high marks across the board on ease of use, particularly in its restaurant ecosystem. In fact, according to customer reviews, its usability is its defining characteristic. The software connects all facets of a restaurant operation, streamlines front-end use and checkout processes, and quickly produces back-end reports.
Seamless Communication
The seamless connectivity between all working parties of a restaurant operation is the most important facet of the user experience. Hosts communicate with OpenTable, which communicates on server and bar terminals. In turn, those terminals automatically update host and kitchen terminals in real-time. Together, the solution enables detailed and constant communication.
Customer UX
From the customer side of things, Silverware offers a native customer relationship management system. Though the CRM is not a feature frequently used by Silverware's businesses, the option does add to the overall customer experience, particularly for chains and franchises.
Mobile Design
Additionally, their mobile and contactless options make the ordering and checkout process simple and quick. Servers can take orders on mobile tablets and run cards on mobile payment terminals. Plus, guests can view menus, place orders, and pay all through their own mobile phones.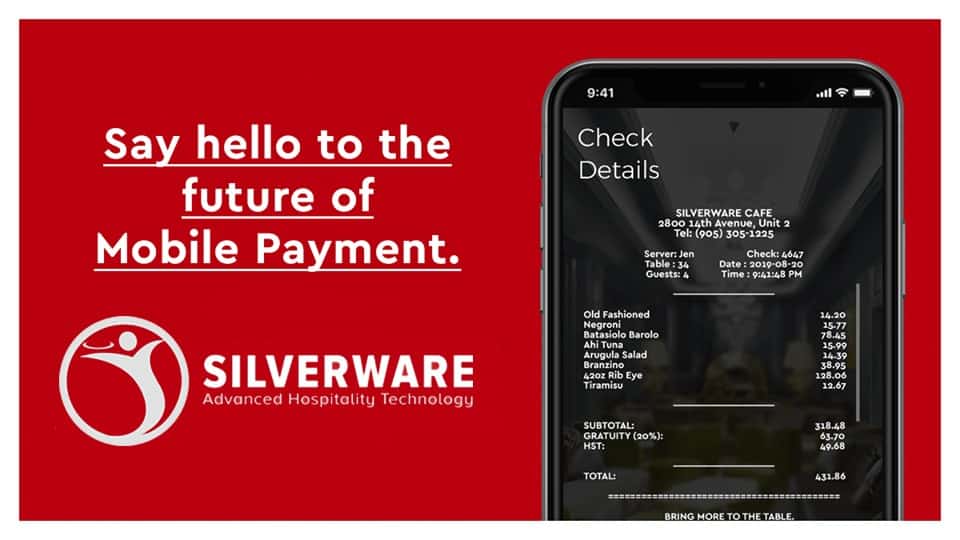 Clover App
Finally, Silverware offers a custom app through Clover that manages each guest's experience from start to finish. The device includes credit card processing and a printer in addition to all front-end features the server needs for taking orders, adding customization, messaging the kitchen, or splitting bills.
Hardware
As mentioned earlier, Silverware is a hybrid legacy and cloud-based solution. This does lend it some additional flexibility with hardware options. Businesses can use Windows, Android and Apple devices.
Silverware has made a strong effort to go more mobile with its hardware, too. Restaurant hosts and servers typically use iPads or Android tablets for seating, serving, and checking out customers.
They've also integrated to and partnered with Clover. The native app is accessible on a mobile Clover Flex device, which starts at just $57. From here, the hardware contains all Silverware features by using WiFi with a cellular backup.
For hotels, event centers, resorts, etc. Silverware also integrates with desktop solutions. Still, these will connect to all mobile devices within the operation for use at the pool, on the golf course, or at the cafeteria.
Because Silverware offers its users such a wide range of hardware options the pricing varies. Their Clover devices start on the lower end with a full station including all peripherals priced at just $400. More robust stationary terminals or kiosks can be as expensive as $4,000-5,000.
Overall, the flexibility the solution provides its users when it comes to hardware is a big plus. It makes it better able to adapt to individual business types. And its integration with Clover gives businesses an affordable and modern solution for mobility and convenience.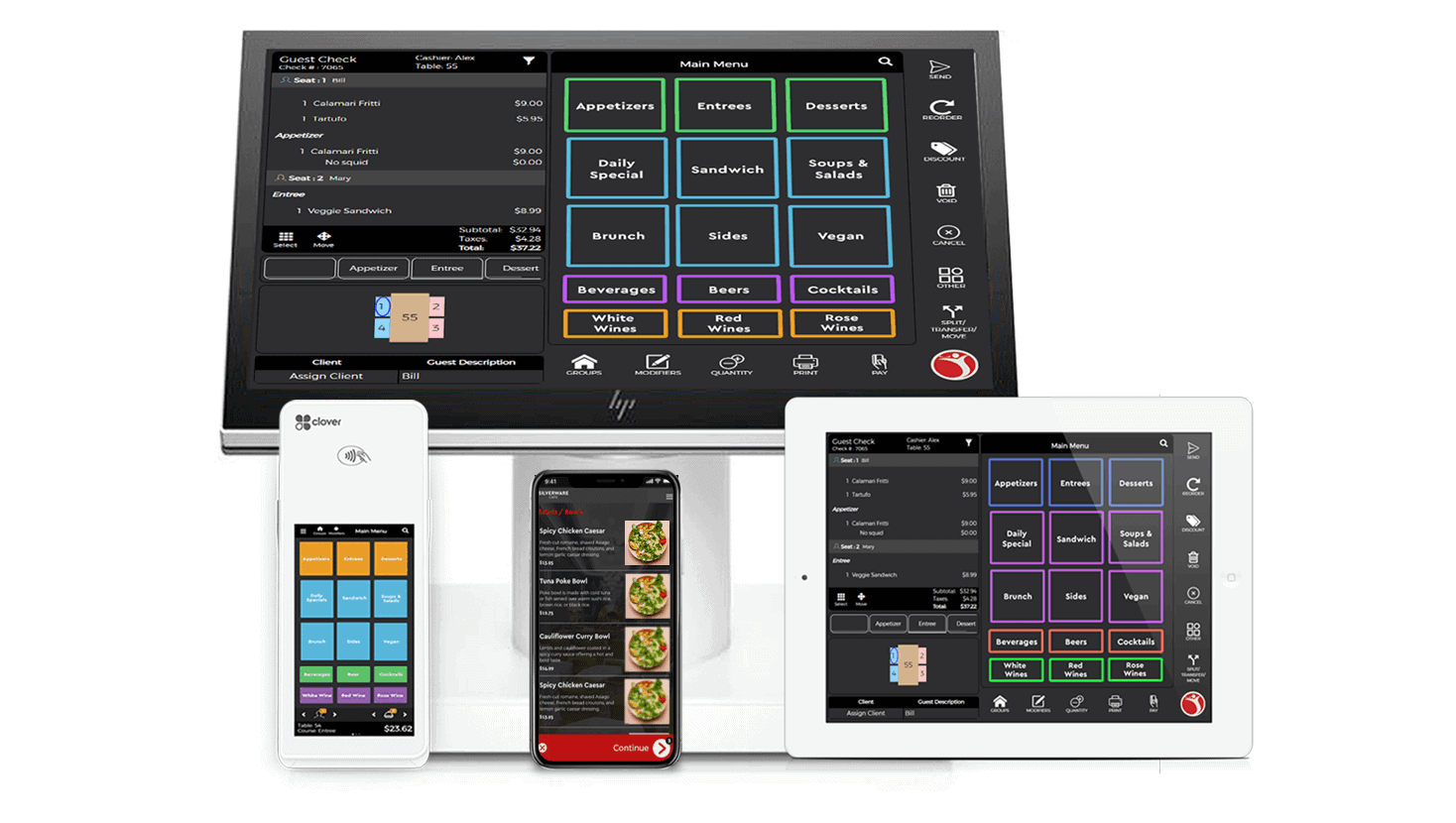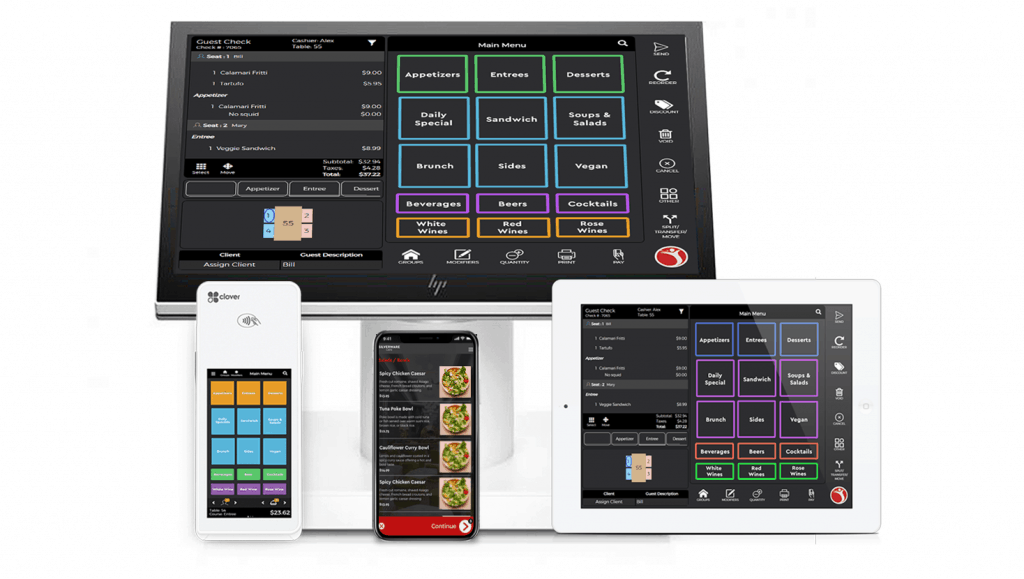 Integrations
Like any modern software solution, Silverware has put a big emphasis on product integrations to provide each business with the convenience of an all-in-one solution. They provide at least a few options for each major category of software integrations.
Accounting

– Connect all sales in your POS to your favorite accounting platform including Quickbooks.

CRM

– Its Venga integration provides a robust restaurant CRM.

Digital Menus

– Digital menus give customers access through their phones.

Inventory Control

– A wide array of partnerships include some industry-specific options.

Kitchen Display

– KDS keeps communication open through their QSR integration.

Employee Management

– Keep track of shifts, vacation, and hours.

Online Ordering

– Allow guests to order ahead of time.

Payments

– Various payment integrations give businesses more choice.

Payroll

– Connect payroll with your accounting app to save even more time.

Property Management

– For hotels and resorts, Silverware integrates with many PMS solutions, including Maestro.

Reservations

– Most importantly, it partners with OpenTable.

Reporting

– Various reporting integrations bring more in-depth reports.
The biggest downside of Silverware's integrations is that competitor solutions offer native features for some of these categories. With Silverware, each of these will come with additional monthly costs.
Credit Card and Payment Processing
Unlike some of its most popular competitors in the restaurant world, Silverware offers businesses transparency and choice when it comes to their processing decision. There is a broad range of integrated merchant service options available to both U.S. and Canadien businesses.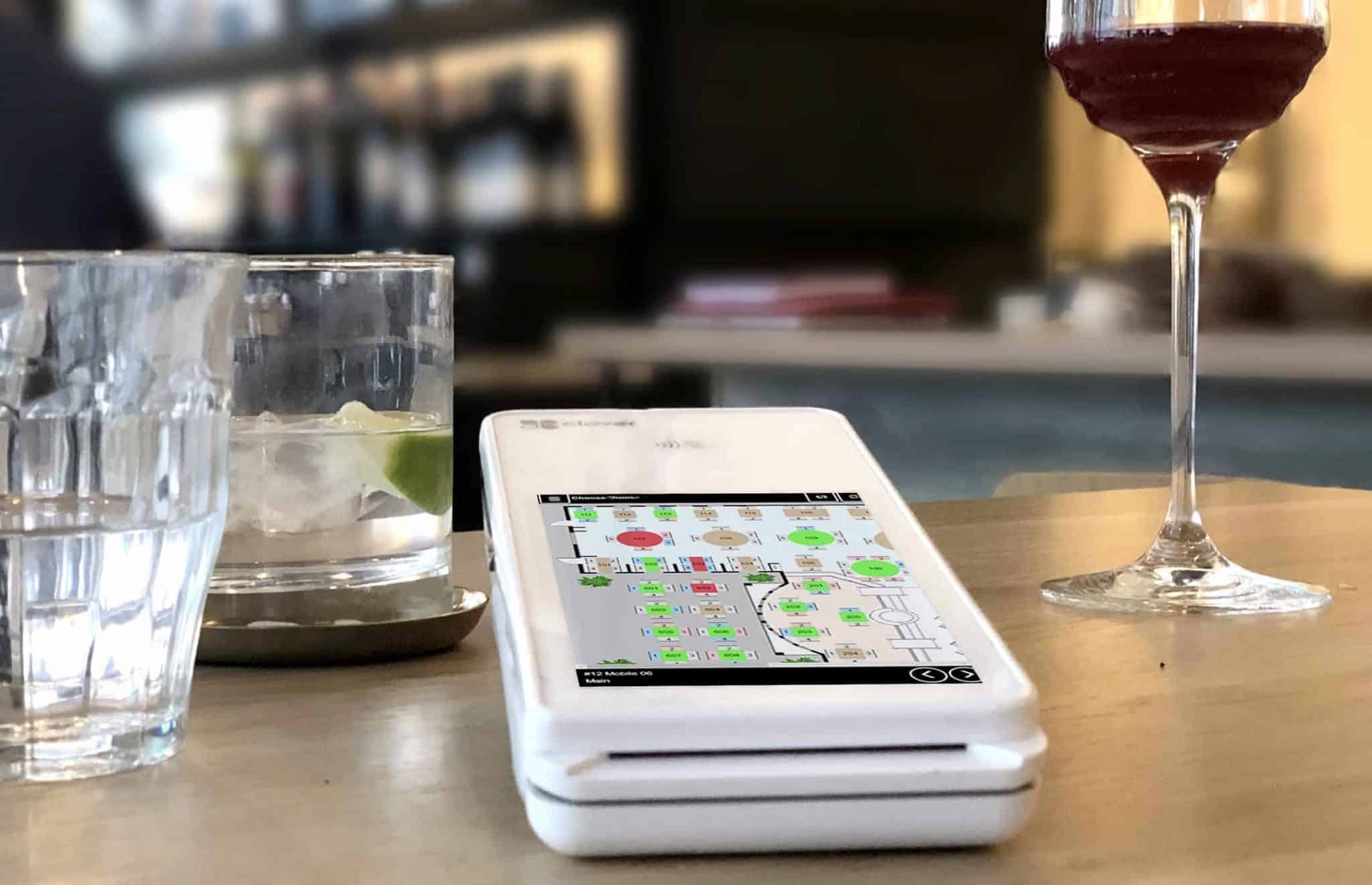 Added Payment Security
With its vast processing integration options, Silverware brings its users an array of associated hardware devices. These include EMV payments with layered security through encryption and tokenization. By keeping payment information out of the merchant's data ecosystem, there is less room for costly breaches.
Downtime Backups
Devices can also be connected through USB, serial, ethernet, Bluetooth, and WiFi. These options add backup ways of processing payments when wireless devices are down.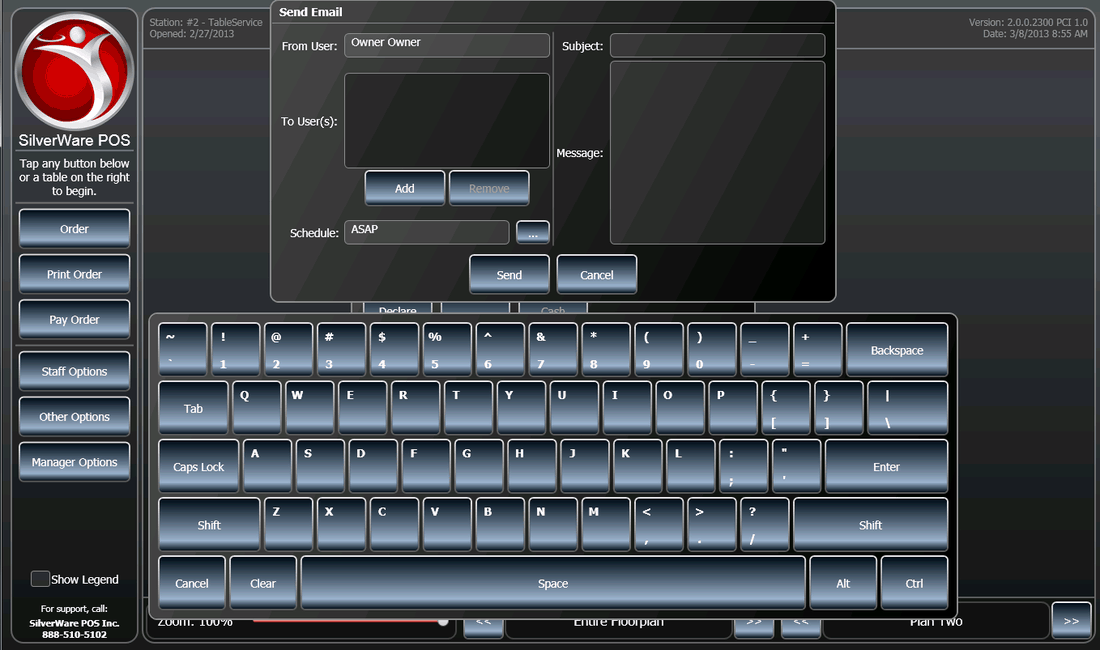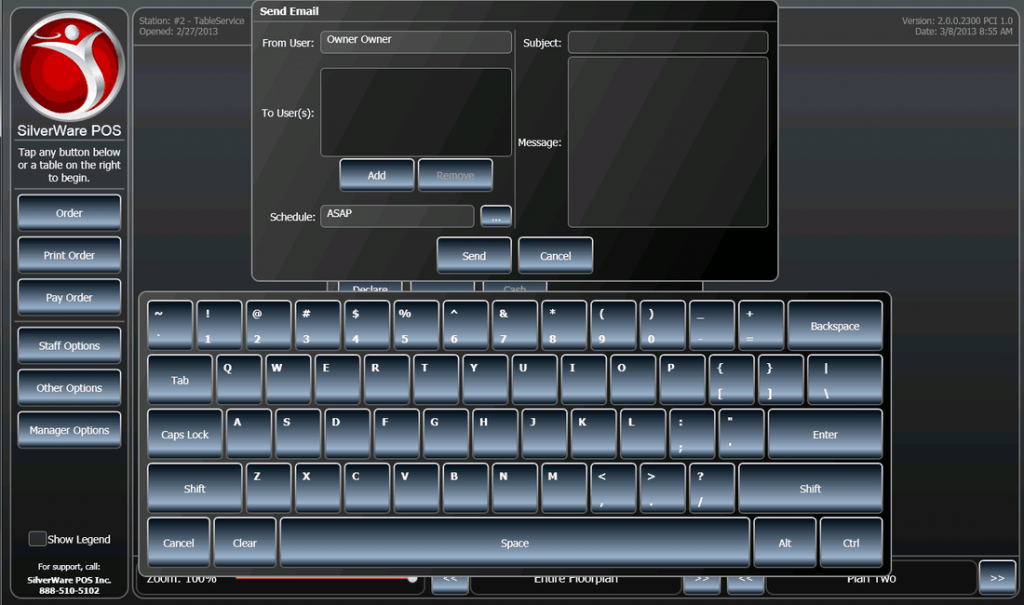 Processing Agnostic
Silverware seems to do a good job of helping new businesses find the right processing fit. Having as many options as they do is a great starting point.
They do lack basic educational material on their website and blog, however. An additional red flag is their Clover integration. Businesses that opt to use Clover devices save money on the hardware up front but end up paying for it in the long run with elevated processing fees and long-term contracts.

Conclusion
Overall, Silverware has done an impressive job of transitioning to the modern era of POS systems. It was founded in Canada as a legacy system in 1992 but has made aggressive improvements to create a highly workable modern cloud-based solution.
Most impressively has been its speed of adapting to a more mobile and contactless world. Its functionality for reservations, online pre-ordering, table management, digital menus, customer loyalty, mobile contactless payments make it a highly competitive option for any small or medium-sized restaurant.
The conclusion is the final paragraph of your essay. It needs to be compelling and persuasive. There is a general pattern to follow when writing the conclusion. It begins with a general introduction, moves to a specific analysis, and concludes by placing your research into a larger context. In general, the conclusion should summarize the main points of the essay.
The goal of a conclusion is to make the reader glad they read the paper. It should give the reader something they can take away and build on. The goal is to make the reader feel that the ideas expressed in the paper have significance beyond the scope of the assignment. It should also be an opportunity to explore new ideas, make connections between ideas, and elaborate on what the paper has found.
A projective conclusion is a good choice for expository or research papers. In this form, the author predicts the outcome of the essay. It can address both the positive and negative outcomes of a situation, and can even provide recommendations. For example, if your essay discusses a potential threat to humanity, you can use the projective form to suggest possible solutions or state the need for more research.
A research paper's conclusion is crucial to the overall quality of the research. It brings the research paper together in a logical manner and provides a clear interpretation of the research findings. It also stresses the importance of the research. While the body of the research paper presents the findings and the methodologies, the conclusion gives a comprehensive picture of the entire study. In this way, readers can see the paper as a whole.
Though Silverware markets to a wide array of business types, it does seem to fall short when it comes to bigger operations. It does make up for its lack of native features with vast integrations, but this comes with a significant risk of long-term problems and a much higher monthly cost than advertised.
Adding to our concern is the solution's overwhelmingly negative reviews regarding customer support. Across multiple review sites, the number one user complaint was poor customer service. Robust support is essential, especially when starting a new system.
Silverware doesn't offer a free trial but they do encourage users to set up a free demo. Be prepared with the right questions and clarify exactly what type of integrations you will need to operate the system successfully at your individual business. This will be the major factor affecting cost.
Nevertheless, we feel that Silverware offers a solid point of sale solution with a clear emphasis on bringing it up to speed with modern trends.