Restaurants and bars need a point of sale system that supports their needs. Functions like dining room management, tableside service, kitchen communication, and online ordering are all integral to successful restaurants.
Throw in more advanced features like eCommerce and streamlined ordering, and you're starting to see what Rezku brings to the table.
In this review, we'll break down Rezku POS and what it offers to restaurants and bars. The marketing features, easy kitchen communication, advanced ordering for specialty menus, and complement the core features that restaurants need.
Rezku POS Review – Company Overview
Rezku started with founder Paul Katsch, who wanted to develop a POS system for restaurants that "actually work like they should."
What this means is that the POS would handle the unique needs of restaurateurs from top to bottom.
More so, Rezku wants to treat owners who use the POS like partners "with the respect and dignity they deserve."
The goal, according to the Rezku site, is to produce a POS that makes operating a cutting-edge restaurant easy without sacrificing quality or speed. This includes small cafes and bars to the most sophisticated food service operations in the world.
Rezku has been in business since 2014 in Sacramento, CA, to serve the local food market. Rezku development started with the launch of the "Rezku Prime" product. They then spun off the iPad version called "Tablet" (now Rezku Reservations) and "Waitku" (now Rezku Waitlist).
Rezku Benefits
Rezku has several benefits tied to its more advanced, cutting-edge development mentality (gained from its proximity to Silicon Valley).
Rezku is a hybrid-cloud system, working specifically with iPads. They push functionality like tableside ordering and digital Kitchen-Display Systems (KDS).
Of course, it also offers the kind of reporting that a restaurant POS should have, including reports on inventory and sales as well as daily email reports.
Maybe most importantly, Rezku tailors its benefits for large and small businesses.  This system has the functionality to be considered brewery POS, nightclub POS, and cafe POS.
Some of these functions cross over into multiple business categories. Others, like table management, are specialized based on the business type.
Some additional benefits and features include:
Free Menu Builders
Free KPI Calculator
Free Food Cost Calculator
Cloud operation and off-site data storage
Report access from anywhere
Advanced tab and ticket management
Online ordering
This is the feature list for the POS product. They do, however, offer several other complementary products like Rezku Reservations, Rezku Prime, and Rezku Waitlist with their own sets of features.
Potential Drawbacks
Rezku is very functional for a POS, but some customers have had some issues working with customer service to adapt to their specific businesses. Some other users also described having some issues with the complexity of the software.
Rezku Products
Rezku POS is part of a multi-platform package that you can sign up for on a per-platform basis. If you run a restaurant, the only piece of software you would need would be the core POS software.
However, if you want to expand your capabilities with some other Rezku offerings, they have several products that could fit your needs.
Rezku Reservations. This advanced reservations app gives you plenty of flexibility to manage your reservations by controlling what tables are reserved, and by whom. Make special notes regarding events or allergies. Keep track of all table reservations so that you never double book or force people to wait.
Rezku Waitlist. This tool helps you manage your dining room from behind the host counter with mobile table management. With this software and an iPad, your hosts can seat customers immediately from their device and provide accurate wait times, depending on how busy you are. It also includes CRM for repeat customers.
Rezku Prime. Rezku Prime is an expanded table and dining room management tool that combines functionality between Reservations and Waitlist. Prime allows you to connect reservation services to table management so that you can micromanage table availability. Rezku Prime brings tons of personalization tools so you can track things like customer names, special events, and allergies in a visual layout. This is a great tool to help if you have overbooking problems on busy nights.
These tools complement the core functionality of Rezku POS by integrating advanced restaurant management into your POS solution.
Plans and Pricing
Rezku doesn't offer any clear pricing on their website, instead of inviting their customers to get a free quote.
Most sites report that the base package (whatever that might be) starts at $69/mo. The idea is to customize your POS experience so that you don't pay more for features you don't need. 
Other Rezku products are priced similarly. Rezku Prime (table management software) also requires a quote from Rezku to get pricing.
Rezku Reservations (reservation software), on the other hand, offers two tiers of pricing with a free 2-week trial.
Both plans are the same, but if you pay annually ($59/mo) instead of monthly ($69/mo) you save about $120 per year.
Rezku Waitlist is much the same. Pay annually at $49/mo and save $10 per month over a monthly plan at $59/mo.
They also do not provide any information on payment processing, but their integrations page shows payment processing partners such as Worldpay.
Hardware and System Requirements
Rezku has a list of hardware that you can use with your Rezku system. While they do sell these hardware systems as part of their monthly packages (integrated with their software), they do not offer prices for them.

iPads
Rezku sells iPads as their primary POS hardware platform, as Rezku is a tablet-based POS.
Their website lists the following models:
iPad Generations 6, 5, 4
iPad Air and Air 2
iPad Mini Generations 4, 3, 2
Any iPad Pro model
While they sell iPads as part of their solutions, it isn't clear if you can use your own devices without additional setup with the company.
They do, however, also sell iPad stands for the counter, kitchen, and tableside use.
They sell three different models of stands from Heckler Design:
Stand Prime for iPad and iPad Pro 10.5"
Stand Tall for iPad Pro 12.9" and 9.7"
Duo Tall for iPad Air and iPad Pro 12.9"
Feasibly, you could use stands from third-party designers that fit your iPad model. 
Printers and Registers
Rezku does use separate dedicated printers for kitchen use and receipt printing from the front of your restaurant. They offer models from Epson ™ and Star Micronics.
For receipts, they offer the following printers:
Epson ™-T20ii
Epson ™-T88V-i
Epson ™-M30
Star Micronics TSP-65011
Star Micronics TSP-143
For Kitchen use, they offer these printers:
Epson ™-U220B
Star Micronics SP700
Rezku also only offers two different cash drawers:
A "Standard" cash drawer connecting to the receipt printer.
A "Bar" drawer with stacked drawers for multiple users.
Readers, Scanners, and Accessories
Rezku also offers a single scanner, the Honeywell Hyperion 1300g USB model. They do, however, offer multiple scanners that work on their own or connected to an iPad with Rezku.
This includes a Magtek iPad card scanner and several independent card swipers and scanners.
Additionally, Rezku does offer a food scale for businesses that sell or track inventory based on weight.
Features and Capabilities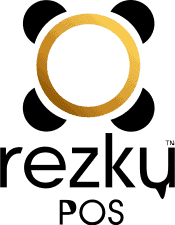 Rezku prides itself on having built a platform for restaurants and businesses in the food and drink industry.
As such, the majority of its features are geared towards supporting food service, nightlife, drink orders, or some combination.
Payment Flexibility Security
Rezku leverages mobile and wireless payment processing with tight security measures. The platform includes end-to-end encryption to protect customer card data.
This comes with Rezku's 100% PCI-compliant payment system and reduced scope of data collection. Rezku also supports hardware using EMV technology for chip readers.
Rezku also offers several ways to take payments. This POS makes splitting checks and adding suggested tips easy. If you run bar service, it's also simple to create an ongoing tab for customers and attach it to a food bill.
Hybrid-Cloud Service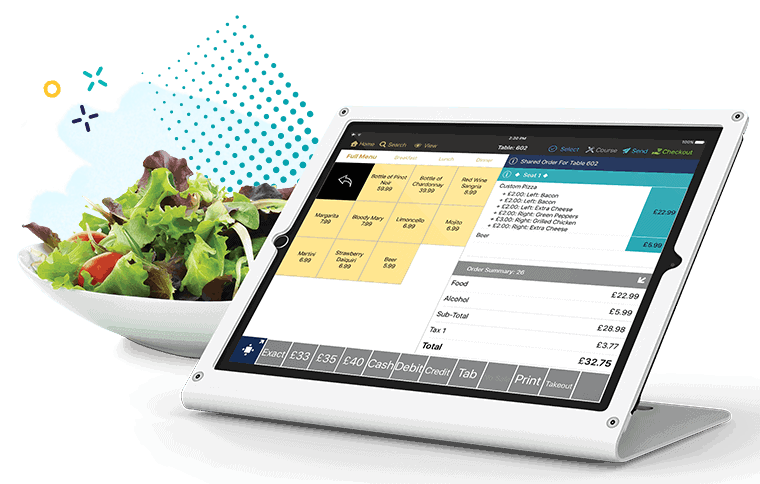 Rezku in 100% cloud-based, which lends to its use on iPads. However, Rezku also runs on your devices even if the cloud network is down.
That means you can still ring orders and send them to your kitchen until your connection is up and running again.
Offline access even extends to payment processing. If your system goes offline, you can still collect payments through a credit card reader and count on the system to reconcile your books when you are back online.
Tableside Service
More restaurants are switching to tableside ordering to cut down on time and miscommunication between the front-of-the-store and kitchen staff.
Using an iPad, your waiters can take orders as they get them, notating for special items or customer needs. These orders are immediately sent to the kitchen once finalized and allow for easy adjustment afterward.
Tableside ordering also makes specialty menus easier to implement. For example, if you want to offer multi-course meals, then tableside ordering makes it simple.
Your staff can simply follow up with customers as they complete courses, and signal to the kitchen that they need to prepare the next course with a simple tap.
Online Ordering and Reservations
Customers like to order online. If your business provides delivery or carryout dining, then Rezku provides partner tools to give you plenty of online ordering options.
Some Rezku partners include:
Zuppler
Brandibble
9Fold
Grubhub
Uber Eats
And more. With Rezku, you can give your customers an easy way to make reservations online or via phone and integrate it into a single, simple system.
If you use Rezku Prime, Reservations, or Waitlist, you can also streamline those orders and reservations across your entire operation.
Kitchen Display System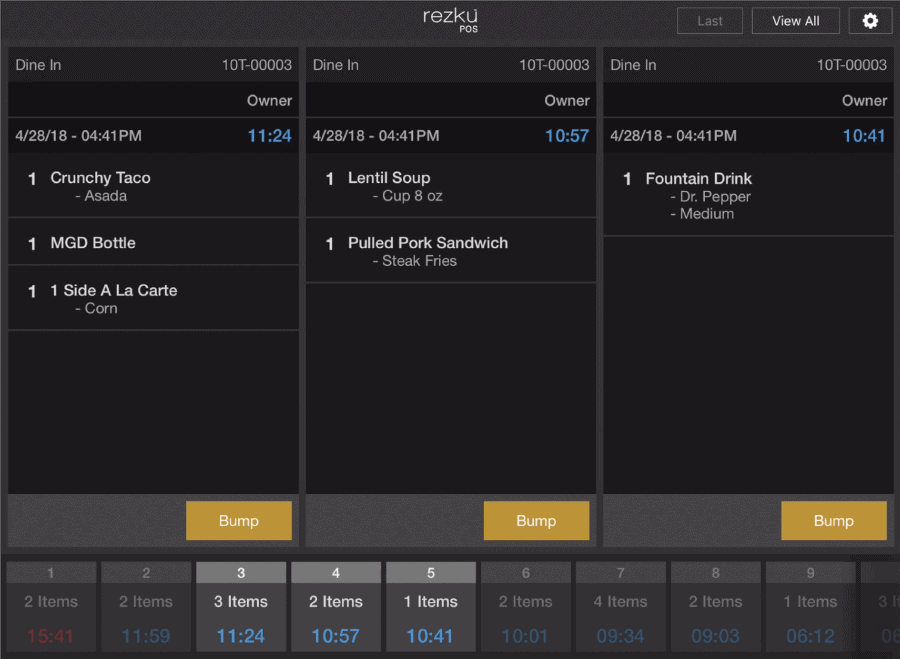 Rezku favors digital, paperless tech… and that is apparent in their Kitchen Display System (KDS).
Digital KDS software allows nearly instantaneous communication between wait staff and line cooks by automatically organizing orders as they come in.
Rezku leverages KDS technology alongside their mobile-focused POS to make ordering a nearly instantaneous event: just type in the order, submit, and the kitchen knows what's next.
Some of the advantages of using Rezku KDS include:
Easier coursing. Multi-course meals can track through the KDS system and trigger based on inputs from the wait staff.
Tough hardware. While Rezku uses iPads for their operation, they also sell cases and stands that are meant to withstand rugged kitchen use. That means that kitchen staff gets a tough tech that also uses intuitive touch navigation.
iPads are flexible, and you can put one at every key kitchen location. Food that requires multiple components from different stations can be coordinated easily.
Alternatives to Rezku POS
Rezku is the Flexible POS that Your Restaurant Needs
Rezku is a rock-solid POS purpose-built for bars and restaurants. What that means for you is that you get customizable software that works with mobile devices without sacrificing the functionality of a restaurant POS.
The cloud features and basic reporting are nice, but where this POS shines is how it modernizes customer interaction.
From waitlists to reservations and ordering, your wait staff can take orders easily with a little communication breakdown between themselves and the kitchen staff. Of course, all of these features are centered around a guiding principle of food service, and it shows. The interface for table management is beautiful and customizable.
Payment processing is easy. All your POS interactions work through iPads, so you can remain mobile and strategic in where you want your POS stations. If you run a bar or restaurant, you do yourself a disservice if you don't at least check out what Rezku has to offer.
The following two tabs change content below.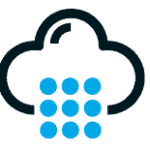 POS Quote Team
The staff at POSQuote.com is composed of industry professionals, experts, and current business owners. Through extensive research, we compile buyer's guides and review the best POS systems in the industry.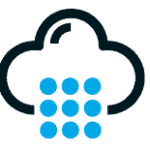 Latest posts by POS Quote Team (see all)
Reader Interactions