(Last Updated On: April 8, 2022)
So you have just opened a restaurant or integrated a mobile food truck to your restaurant business and are wondering what point-of-sale machine is best for you?
We live in an ever changing and dynamic world, and the restaurant business and technology are no different. 
The Rezku POS solution offers a brilliant way to stay in tune with the latest technology while still being flexible and adaptable.
Rezku POS solution empowers restaurants with the latest technology and an easy-to-use interface. It's easy to learn and anyone would get around its basic features and be ready to go in a few minutes.
It is a cloud-based iPad POS solution for various types of restaurants, such as quick service bars, night clubs, coffee shops, and food trucks.
Read on to find out all that the Rezku POS machine has to offer and why it is probably the best option for you and your business.
About Rezku 

Rezku is a leading brand in the food and beverage service industry with headquarters in Sacramento, California. It was founded in 2012 by restaurateur Paul Katsch.
Rezku POS is an offshoot of the parent company known as Guest Innovations' reservation software.
The name 'Rezku' is said to be a play on the term 'reservations queue' – res-que, you dig?
Top Features That Stand Rezku POS Apart
The Rezku POS boasts a rich set of features which include:
With Rezku POS, managing employee roll calls is easy and seamless.
Advanced menus
Rezku POS boasts an advanced menu that easily ticks the boxes for many restaurants. Some of these include offline processing, gift card and loyalty programme capability, an interactive customer-facing display, and about 300 other features.
QR codes
Rezku POS offers QR code capability, which enables your customers to simply scan your code to order and pay using their own device. This goes a long way toward simplifying the customer experience and speeding up your service.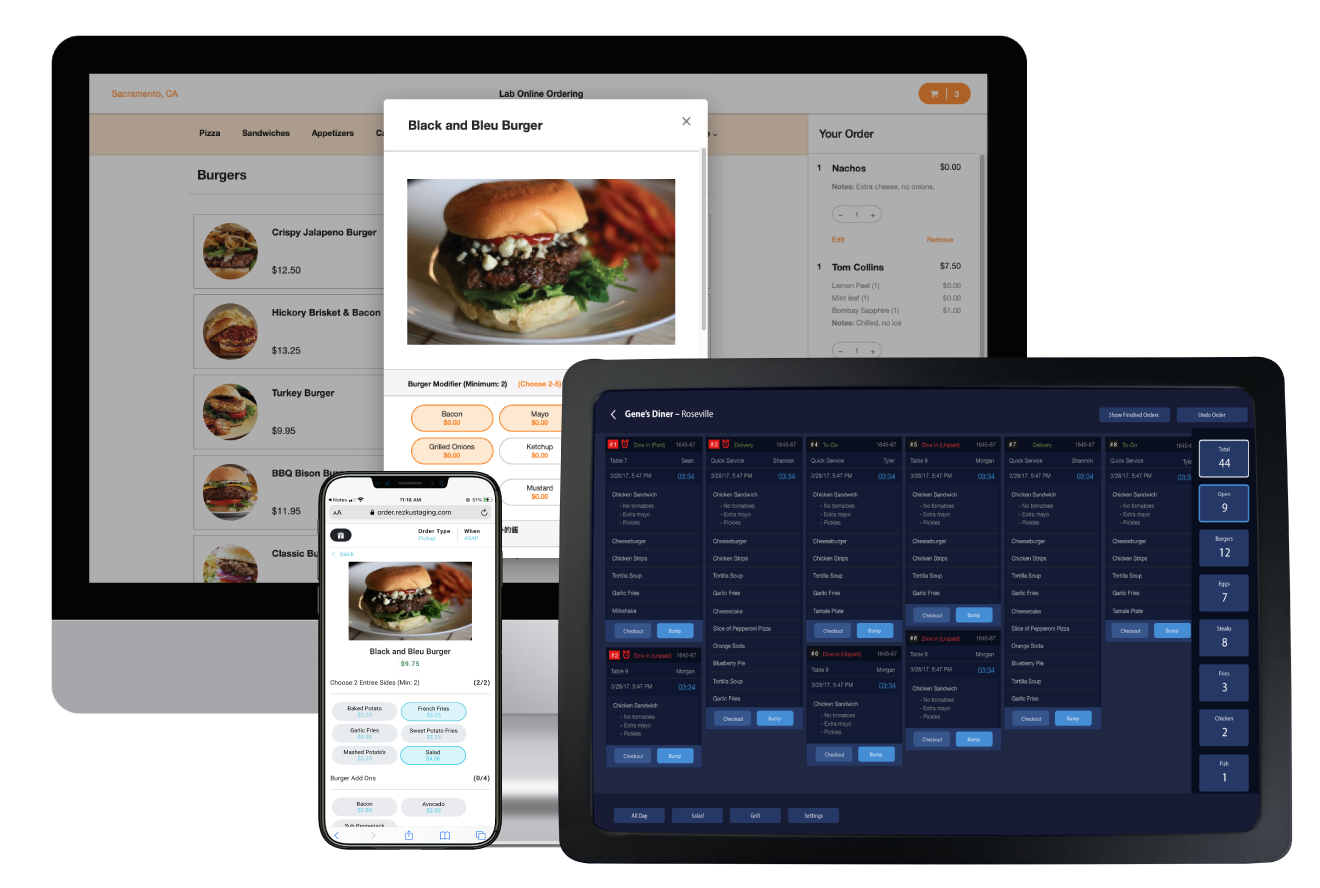 With Rezku's inventory management, you are able to stay on top of the situation in your restaurant, as this gives you a bird's-eye view of the entire operation. 
Rezku's inventory management thus ensures that you are making a profit with its ingredient level inventory management that adjusts every sale with stock of raw ingredients.
What's more, you receive daily email reports that keep you in the know and ensure that you never run out of stock.
Other features include:
Timed promotions

Tableside ordering  

Online ordering with delivery

Third party online ordering

Smart kitchen display system

Rezku Manager App
Why You Should Consider Rezku POS
Fraud Proof
Rezku POS is PCI-compliant with its end-to-end encryption. This means your payment is secure.
Built-In Payment Processing
Rezku POS comes packed with its own payment processing capability.
No Charge Backs
Rezku's system allows for limits to be set for offline payment, its card readers are also EMV-compliant. 
Multiple Payment Processing Options
Rezku supports a number of payment processors, such as Apple Pay, Google Pay Send, and NFC Payments.

Durable and Affordable Hardware
Rezku POS makes use of MegTek card readers, thus ensuring durability.
Ideal Rezku Use Cases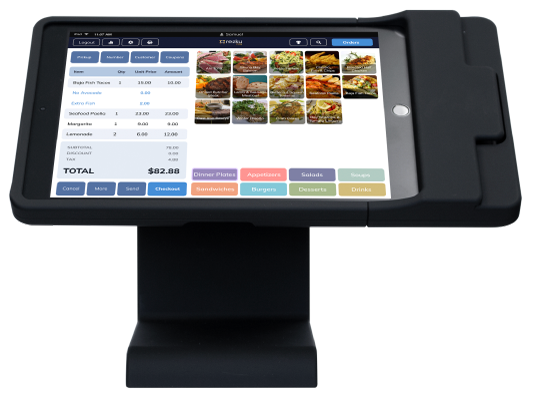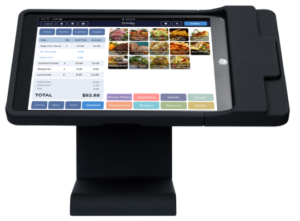 The Rezku POS solution is an ideal fit for restaurants such as:
Small restaurants looking to make a transition away from cash register

 
The Rezku POS is an ideal fit for small restaurants whose desire is to move from a cash based register to an automated payment system.
The Rezku all-in-one, easy-to-use reporting system with its feature packed dashboard makes it an ideal choice for any restaurant looking to make that upgrade.
Wineries
The Rezku POS is an ideal system setup for wineries that want to process orders quickly.
Scenarios Where The Rezku Isn't An Ideal Fit
Heavy analytics reporting: If your restaurant's reporting requires some heavy and detailed analytics, then the Rezku POS may not be an ideal fit. Instead, you can read our review on Best Restaurant POS Systems for 2022.
Multi location reporting: If your restaurant is one with multiple locations and you need a solution to streamline reporting from these individual locations, then Rezku may not fit in, as it is still a growing brand. 
Pros
Easy to use: It is very easy to use both at the back and front of the house. It can be easily and quickly configured. Changes to products, pricing and quantities are easily spotted and changed thus mitigating service issues.
Easy to use interface: The POS and reporting interface are quite friendly and easy to use and navigate.
Functions such as online ordering, CRM, as well as loyalty functions are included in the system.
Excellent customer service: Rezku POS boasts excellent customer support that can instantly handle queries or issues that arise. Many customers have testified to their queries being seamlessly resolved by the company's customer care officials.
Cost-effective: The Rezku POS is cost-effective as it doesn't cost an arm and a leg. It also offers tons of features at a reasonable price.
Cons
Some of its cons include:
Limited reporting: It has limited reporting features. 
Pricey Add-on: While the machine itself is not prohibitively expensive, the cost of the add-ons can quickly add up.
Possibility of bugs: Since it is a cloud based service, there is the possibility of the occurrence of bugs coming into the picture. Also, with the introduction of newer systems, this can creep in.
Should you need to integrate vendor management, additional costs might be incurred as it requires a third party integration.
Pricing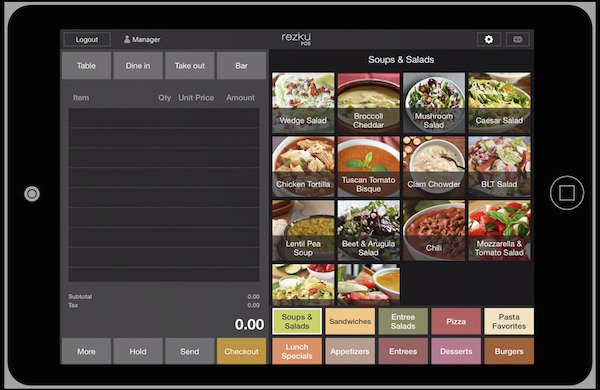 The Rezku POS Starter Pack comes free with two terminals, while its Established plan which comes with unlimited terminals, goes for $99 monthly for software fees. These plans all come with online ordering, QR code ordering, loyalty rewards, gift card programs, inventory management, reporting, and analytics, as well as real time remote access, plus tons of other features.
The pricing also comes with:
Custom quote: There is the option to build a custom POS bundle to include desired add ons.
Add-ons: There are built-in modules such as Waitlist and Reservation management. Accounting, vendor management, and third-party delivery platforms can also be integrated.
The brand also offers several hardware-only bundles. These are hardware configurations that have been pre-built. They include iPad stands, kitchen printers, receipt printers and card readers.
These 'standard' configurations start at $495 but without the iPad.
For the stationary hardware which consists of a metal stationary terminal along with printer, card reader and an optional cash drawer, this goes for $1,193.
Its Real Value For Money
For its price, the Rezku POS really gives a lot of value. Its nearly 300 features, which include online ordering, loyalty, and gift card programs, make it a good value for money.If you're ready to adopt the Rezku POS, simply head on over to their website, sign up, and get started.
This review was written by Wale Ameen and published on Friday, 8 April 2022.