(Last Updated On: October 3, 2022)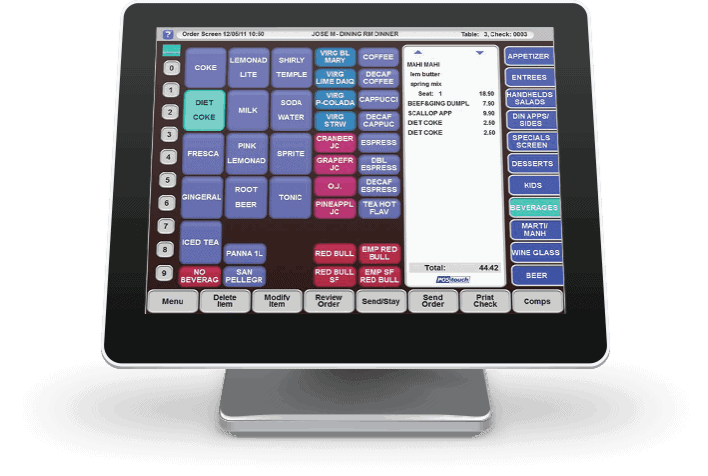 If you're looking for a near-perfect solution for bars and restaurants, POSitouch is the POS system to consider. Whether you're looking to run one terminal or various selling points around your business, POSitouch can customize a solution that works for you.
After our POSitouch review, we found that the flagship point of sale system is ideal for quick-service restaurants, bars, nightclubs, and more. By using their cutting-edge mobile technology, you're able to improve mobility around the restaurant with tablets and other handheld devices. This, in turn, will improve your customer service and overall restaurant efficiency.  
One of these solutions is SkyTab, POSitouch's pay at the table solution that integrates seamlessly with your POS system. Split checks, add tips, and accepts payments swiftly and securely with this device.
When a customer pays their bill at the table, they'll be prompted to add their name and email address to receive special discounts and offers. Collect customer data and keep them in your database so you can send them coupons (keeping them coming back to your establishment).
By using POSitouch's customer feedback system, you can prompt customers to leave feedback about your restaurant or business. If the rating is low, management will be alerted so they can solve it directly with the patron. This will help you avoid bad reviews on platforms like Yelp.
What's more, you can use POSitouch to manage your floor plan, kitchen orders, your staff, and inventory down to the last ingredient. Finally, build an employee schedule, set a forecast or budget, manage tips, and coordinate online and delivery orders, all within the POS system.
With competitive processing rates and intuitive sales reports, let's see why POSitouch deserves your attention.

POSitouch POS – Quick Company Overview
The POSitouch brand was established in 1985 and has now been installed in more than 50,000 locations throughout the U.S., Canada, Europe, South America, and the Far East. The brand strives to provide state-of-the-art point of sale solutions that encompass a large spectrum of services.
The POSitouch client base spans from small independent contractors to some of the industry's largest multi-chain brands. Their premium software suite has features and functionality that can support a restaurant of any size.
If you are looking for a POS system for your restaurant, you may want to look into POSitouch. Although this POS system has many great features, it also has some major drawbacks. Compared to other POS systems, POSitouch is not very scalable, and it lacks some key add-ons that other systems have. This makes it difficult to scale your business without paying extra money. Luckily, you can find POSitouch reviews online and decide if it's right for your needs.
POSitouch is a Rhode Island-based company that was founded in 1985 by two restaurateurs. Their goal was to create a POS system that would cater to the needs of restaurants of all sizes. As a result, POSitouch has clients ranging from independent operators to multi-unit chains. As a result, POSiTouch has become a highly popular point-of-sale system for restaurants.
The POSitouch system can be run on Android or Windows devices. It has several benefits for a restaurant, including easy installation and maintenance. Its database allows you to manage information centrally, reflecting differences in products, menus, prices, taxes, and hardware configuration. It also has an app store that allows you to buy third-party software for POSitouch.
POSitouch can accommodate multiple servers and handheld touch screen units. It also allows you to do credit-card processing from a single unit. These features help you increase customer satisfaction and improve overall revenue. However, it is important to consider the pros and cons of POSitouch before making a final decision.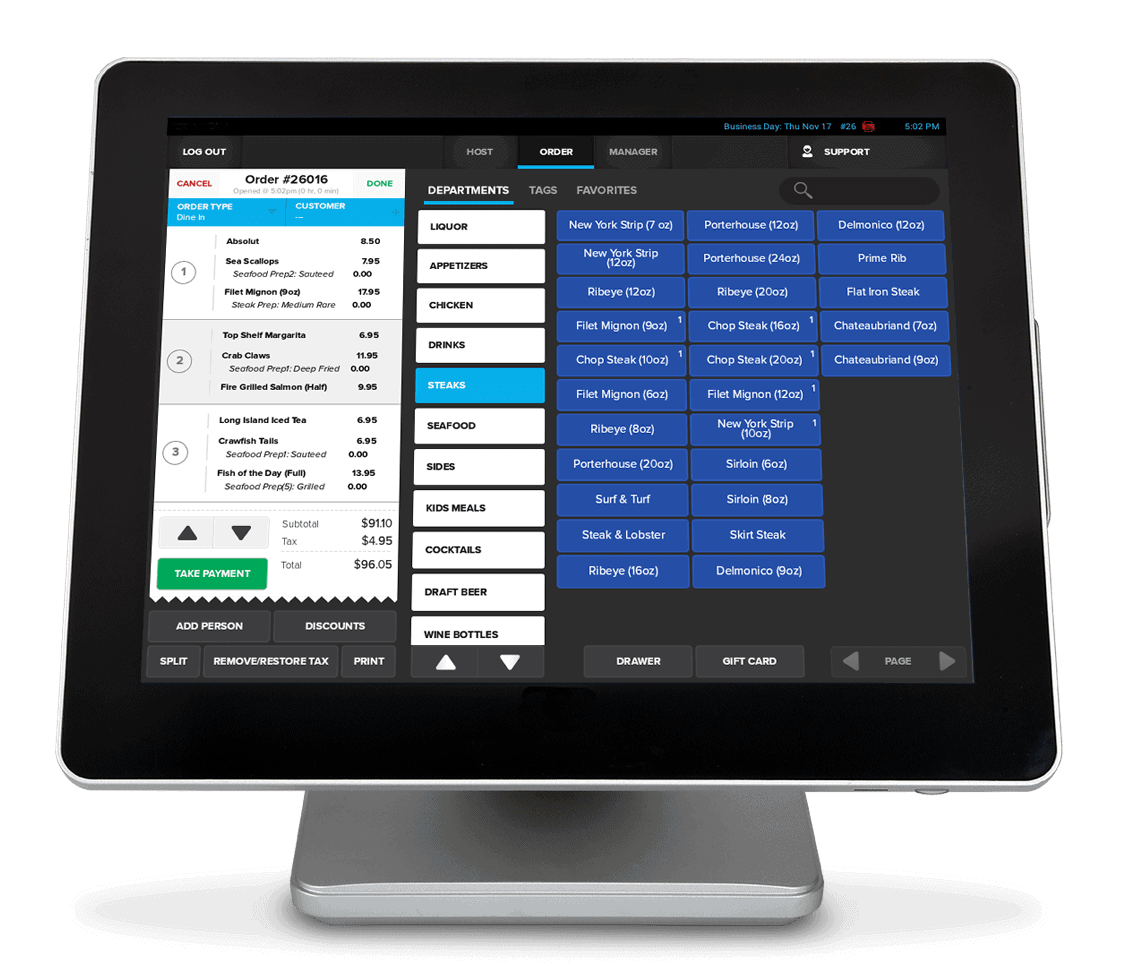 Key Features
Cloud-based infrastructure to work offline or online.
Custom mobile options for tableside ordering
Kitchen monitor for real-time order management.
Ability to integrate with third-party applications and equipment.
Detailed reporting and analysis to gain deeper insight.
POSitouch POS Pricing
Some review sites online list the minimum price at $1,074, which we might assume would include both the hardware and software. However, from POSitouch themselves, they insist on a quote-based pricing model. The idea is that they can then personalize each solution based on the customer's needs.
POSitouch POS System Requirements and Capabilities
Unlike many restaurant POS system, you can't just use any type of hardware. The company has very specialized solutions and they usually insist on installing the equipment with a POSitouch professional. Here are the different types of hardware available.
Hardware
POSitouch offers two types of systems, a countertop and a mobile POS. Both are through the brand Harbortouch. Only the countertop terminal comes with the full set of features.
SkyTab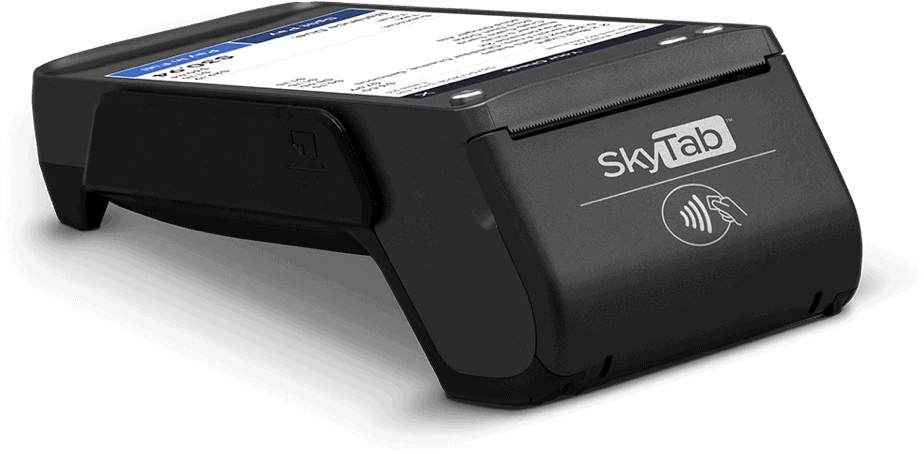 The system uses SkyTab. It's a cutting-edge pay-at-the-table solution that will integrate seamlessly with the POSitouch system.
This is the handheld terminal with a built-in magstripe, EMV, and NFC card reader. It is intended for tableside ordering and when you sign up, payment comes free. Although SkyTab does not have all the features of the regular terminal, it does come with things like:
Check-splitting
Order management
Customer payment interface
Email/text receipts
Save customer data
You can also include tipping suggestions and ask customers to rate their experience. Right from the handheld.
POSitouch Terminal
This is the hardware that comes with the POSitouch POS solution. The equipment has the features and functionality to support a restaurant of any size, from small locations to national chains. Whether your business needs one terminal or 50, POSitouch can quote you today.
CirroTouch
Cirro is the countertop terminal that comes with POSitouch's full range of features. Like all of their pricing, this solution is sold by quote only and must be installed by a POSitouch representative. The equipment can be configured for either a quick-service or full-service establishment and is completely cloud-capable.
Kitchen Display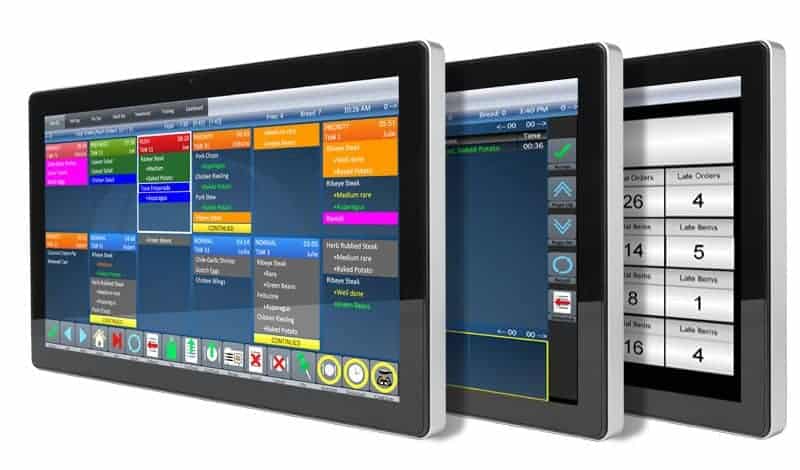 One other form of equipment that POSitouch sells is kitchen displays. This is something that can be mounted to easily view orders in action. It helps to identify tables/orders with long prep times by using color-coded messaging. It will also alert staff when check times are overdue. This gives a better overview of how the business is doing.
Additional Hardware
Unfortunately, POSitouch doesn't sell any additional hardware like barcode scanners or receipt printers. However, the system is highly compatible with a variety of third-party tools like:
Thermal or impact printers
Infra-red, capacitive, and resistive touch technology
Single and dual cash drawers
One, two, and three-track magnetic card readers
Barcode scanners
There are plenty more options, so if you're not sure, just ask a POSitouch customer service agent. The last thing you want to do is go out and buy something you don't need.
Features
POSitouch offers a variety of features that will benefit a business of any size. Here are just a few:
Table Management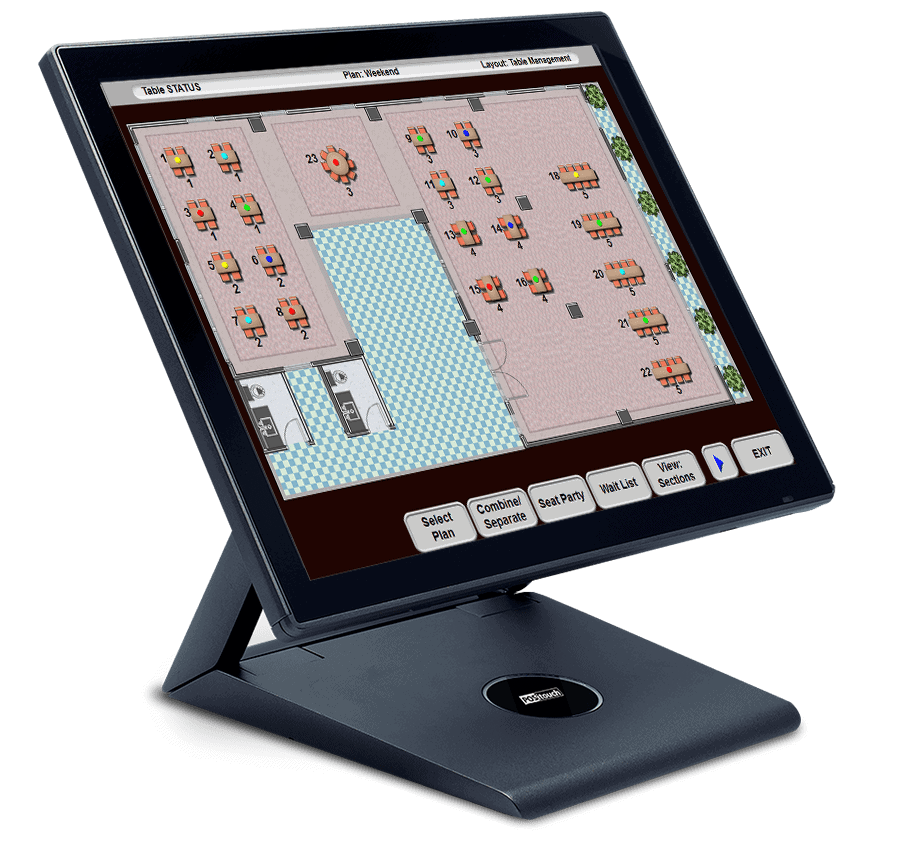 POSitouch's table management functionality is one of the most important and applicable to the restaurant business. It gives you the ability to view a representation of your dining room in three separate ways. These are:
Time: View the amount of time a table has been waiting since ordering each round. You can also view it by when the check was printed.
Server: See who is assigned to what table.
Section: Know what tables are part of which section. These can be changed by day and meal period.
This feature also gives you the ability to add names to a waitlist or make a reservation for the day.

Mobile Solutions
Over 6% of total restaurant orders are now placed via a smartphone or app. POSitouch offers cutting edge mobile technology that allows a restaurant to use wireless tablets and handheld devices as full-service terminals. They run on either Windows, Windows CE, or Android and provide the exact same experience as the regular interface.
Inventory Management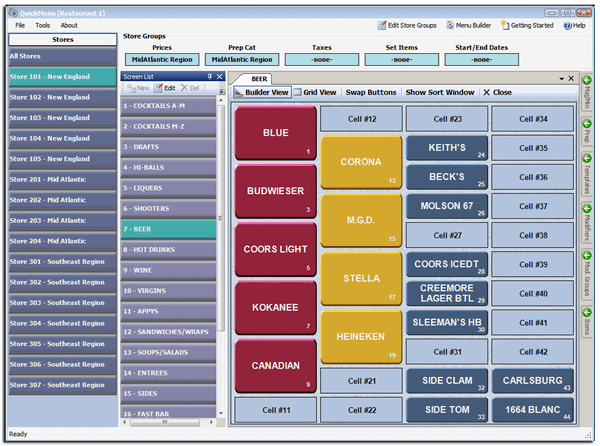 The inventory feature allows a restaurant to control and track raw materials that come in. This enables you to evaluate profits for each guest. Recipes can be created for every menu item which means better tracking of ingredient usage.
The system will also automatically generate purchase orders based on inventory levels and minimum order quantities. You can also receive and send electronic invoices straight from the POS dashboard.
Employee Control
The employee management feature enables a business to track the time and attendance of all staff. You can also perform other tasks like:
Manage new hires
Generate payroll reports
Validate employee clock in/out
Build schedules
Transfers and terminations
You can create schedules based on budget, forecast, or template. This feature is available for both full-service and quick-service restaurants.
Delivery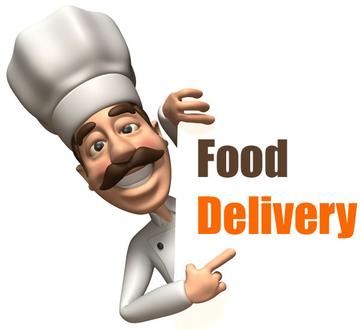 POSitouch gives a business the option to manage deliveries. This means things like delivery customization and guest order history. The system also empowers a business to perform tasks like:
Order timing
Multiple accounts for one delivery address
Caller ID
Database for notes
Integration with video display and/or printers
Customer Relationships
The POSeReserve feature is an additional fee but allows a business to account for in-store and online reservations. You can also manage waitlists and customer relationships. This includes the ability to track guest preferences and past dining history.
You can send customer emails and text message reminders through the tool. Additionally, POSitouch provides the option to sell gift cards and create a customer loyalty program. It comes with a text-to-join option and allows customers to earn redeemable points.
*Note the eReserve feature is only available for full-service restaurants.
Meal Pacing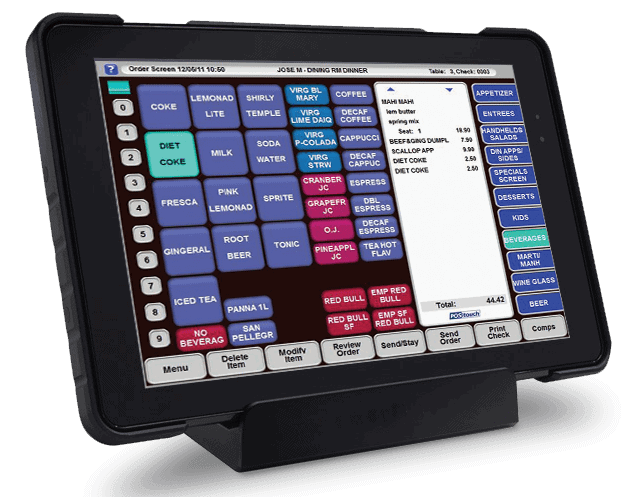 One of the most useful features of POSitouch is the ability to time orders sent to the kitchen. Certain items can be sent to specific prep stations based on the length of time the task will take to accomplish. The items with longer prep times will appear first and those with shorter times will pop up a little later.
Additionally, individual prep stations can view the items they are only responsible for. By the time an order is complete, it will turn green and bump to the top of the line.
Reporting
The back-office capabilities of POSitouch include about 50 standard templates. The types of reports vary depending on the data you seek but can include:
Efficiency Reports: Know the efficiency of your kitchen and who the top servers are.
Sales Reports: Understand when and what was sold. That includes server productivity reports.
Auditing Reports: See what your coupons, comps, and discounts are for a day, week, or arbitrary period.
Time and Attendance Reports: All payroll-related data and sales-related stats.
All reports can be previewed, exported, and printed in various formats, including email. Also, frequently used reports can be named and pre-configured.
Quick-Service Functionality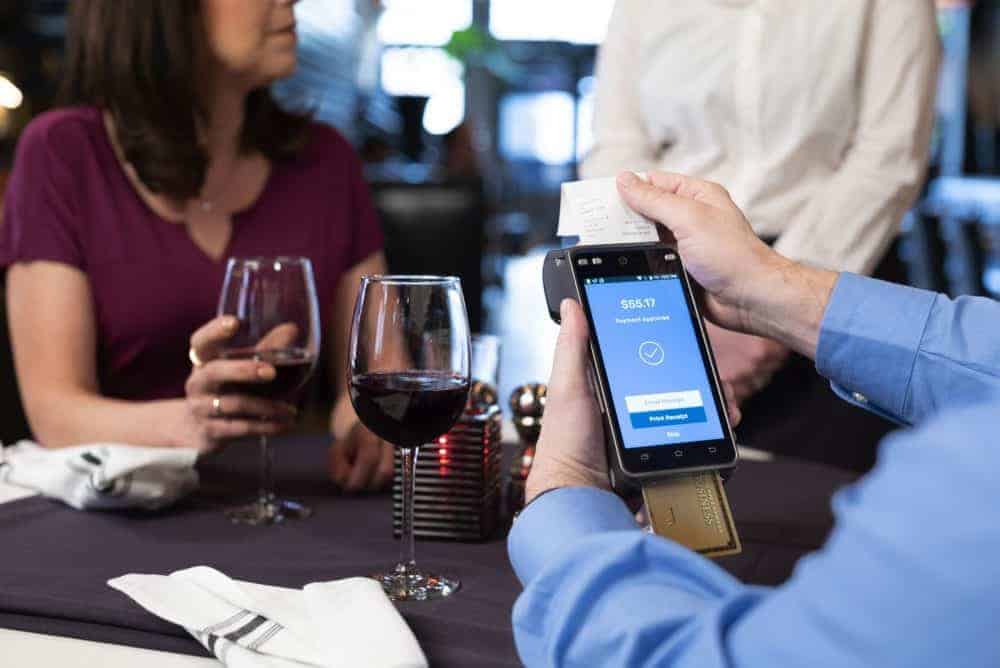 POSitouch understands the industry and that a quick-service set up may have different needs than a full-service location. That includes things like conversational ordering options and coupon capabilities. You can pre-set meal deals with both auto-combo meal detection.
There are multiple options for sorting and consolidating options on kitchen displays and prep slips. There is support for single and dual drive-thru setups and product projection for preparation. The system also banks and skims for cash accountability and alerts.
Lighthouse Business Management System
This third-party integration offers numerous reporting and engagement tools with a variety of management features. It's available on any computer or mobile device and allows for remote menu management. Other key features include:
Online reputation management
POS management
Social media management
Reporting
Employee scheduling
The system includes a variety of third-party apps that seamlessly integrate with your POS system for additional functionality. These apps include things like:
Online ordering and reservations
Accounting and payroll
Capital
Loyalty programs
And more….
POSitouch POS Customer Service and Support
POSitouch will provide a free, no-obligation demo at your request. Once you purchase the product, a business is entitled to in-house customer support via phone 24/7. Full-service restaurants get on-site installation and configuration of the system.
POSiTouch POS is a premier point-of-sale system for restaurants and bars. It offers premium functionalities and advanced reporting. Moreover, it provides a business management system and a feedback system to help management deal with customer issues. With these features, POSitouch POS makes it easy to automate processes that were once manual.
POSiTouch is a company founded by two restaurateurs in Rhode Island that specializes in POS solutions for the hospitality industry. The company's premium software suite supports restaurants of all sizes and is easy to install and maintain. Its customers range from independent operators to major chain restaurants. The system features a powerful feature set for small and mid-sized establishments, including an extensive database that can be managed centrally. In addition, it supports a variety of integrations, including payment systems, loyalty programs, and accounting.
POSiTouch POS Customer Care Support provides live help for POSitouch customers. It provides a complete database for employees and integrates with third-party applications like online ordering and reservation services. It also allows users to create a loyalty program by creating points for customers.
POSiTouch POS Customer Care service also provides technicians to provide technical assistance for restaurant concepts. These technicians provide support over the phone, email, or remote control access. They also conduct trainings and help users understand the software.
Our Final Verdict
POSitouch is the perfect system for a business that needs a little assistance with their point of sale setup. The customization and installation of the program enable you to focus more on driving growth and less on administrative tasks.
The right platform will provide a restaurant with the type of automation that allows a business to redistribute labor and optimize revenue streams.
You wouldn't build a house without a hammer. Sometimes having the right tool makes all the difference in the world.