(Last Updated On: September 13, 2021)

With over 11 years' experience serving hundreds of concepts, Ovvi provides a comprehensive point-of-sale (POS) solution for both restaurants and retailers.
Ovvi helps business owners gain relevant insights to make effective bottom-line decisions. Their software helps to provide operational efficiencies, customer-loyalty programs, flexible business reporting, and more.
Here is a brief review of the Ovvi POS system, covering their key features, functionality, and benefits to your business. 
OVVI POS Company Overview & Key Benefits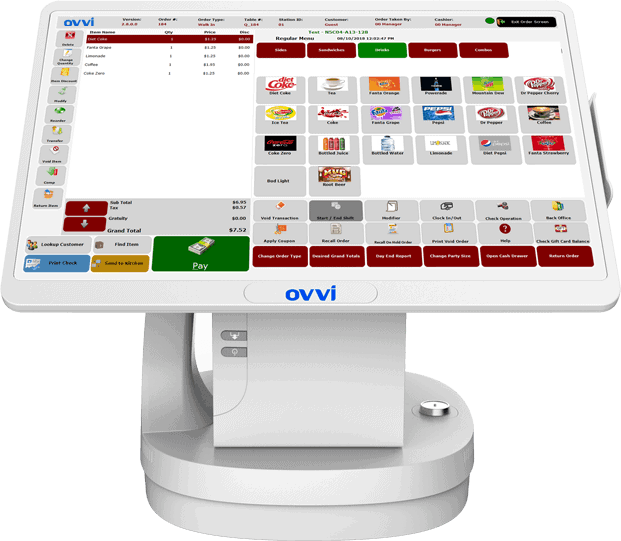 Headquartered in Stafford, Texas, Ovvi specializes in all-in-one POS software and hardware systems to meet restaurants and retailers' needs.
Ovvi provides two distinct solutions for restaurants and retail, each containing tailored features and functionality. These include a pizza-building module for restaurants vs. a style matrix for clothing retail. However, the overall benefits are the same across both solutions.  
Efficient Order-Taking
First, Ovvi speeds up the checkout process through an intuitive order entry system. Quickly scan products, customize orders, and apply both standard and custom discounts. Ovvi also allows you to set up online orders, gift and loyalty card programs, and accept EBT payments. 
Integrated Inventory Management
Additionally, Ovvi provides integrated inventory management, updating your inventory in real time as a purchase is made. Manage and maintain items with multiple SKUs, barcodes, and pricing options. You can also integrate with DigitalPour to track real-time data for liquor, kegs, or beer tap systems. 
Easy-to-Use Employee Management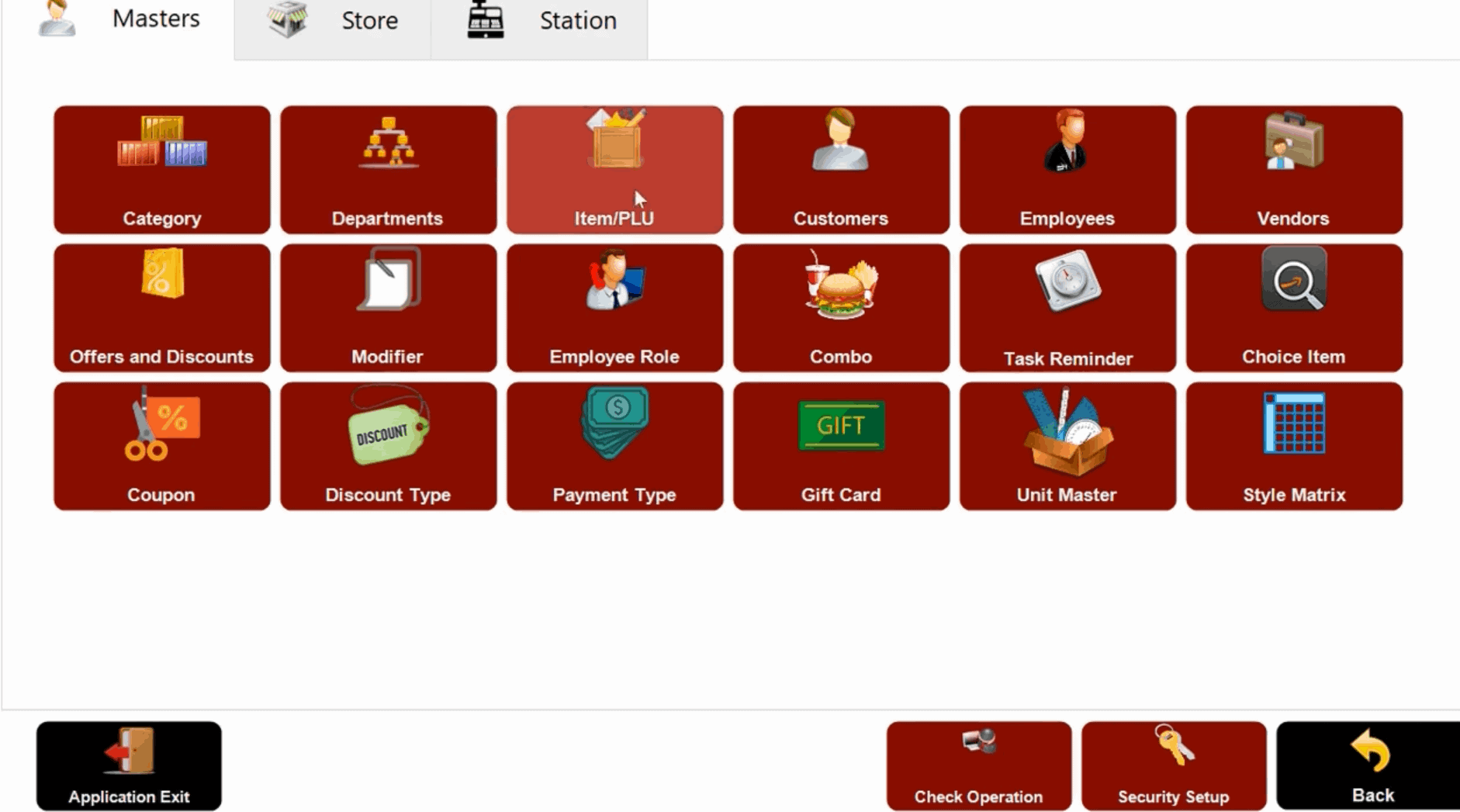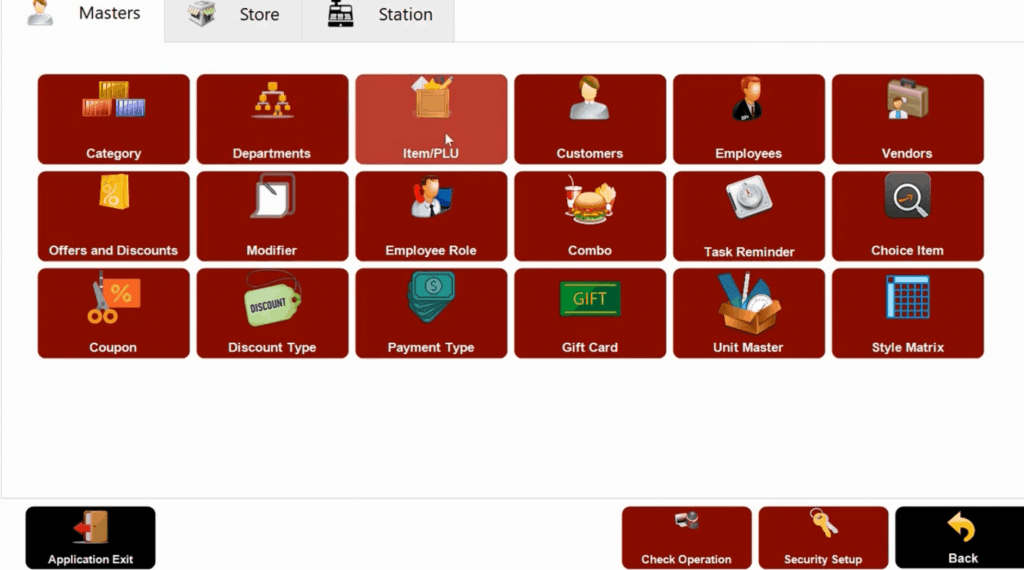 Manage employees hassle-free with Ovvi by tracking hours worked, wages, and set permissions and tip features among your team. 
Powerful Software Integrations
Ovvi also integrates with hundreds of other systems, including accounting and payroll software, and mobile delivery apps.
Reporting & Analytics
As you evaluate and analyze your sales, Ovvi offers rich reporting features that you can review from anywhere in the world.
Ovvi POS Pricing
Ovvi's pricing is simple and straightforward. It breaks down into four categories: software, hardware, installation, & credit card processing.
CATEGORY

PRICE

DESCRIPTION

Software

$69/month (when billed annually)

Includes the full restaurant and retail software
with 600+ features and functionality.

Hardware

Quote-based

Includes the all-in-one POS solution
with a J1900 Quad Core Celeron Processor,
4 GB RAM, 128SSD HDD, a 15.6" Touchscreen monitor,
a 3" thermal receipt printer, cash drawer,
and is available in both white and black.

Installation

$75/month per station (one-time fee)

Includes easy remote installation, comprehensive training,
EMV terminal setup, GoLive support, and 24/7 tech support.

CC Processing

$0.05/transaction

Includes pass-through interchange,
EMV/Chip Card PIN pads, and next-day funding.
POS Hardware & Software Requirements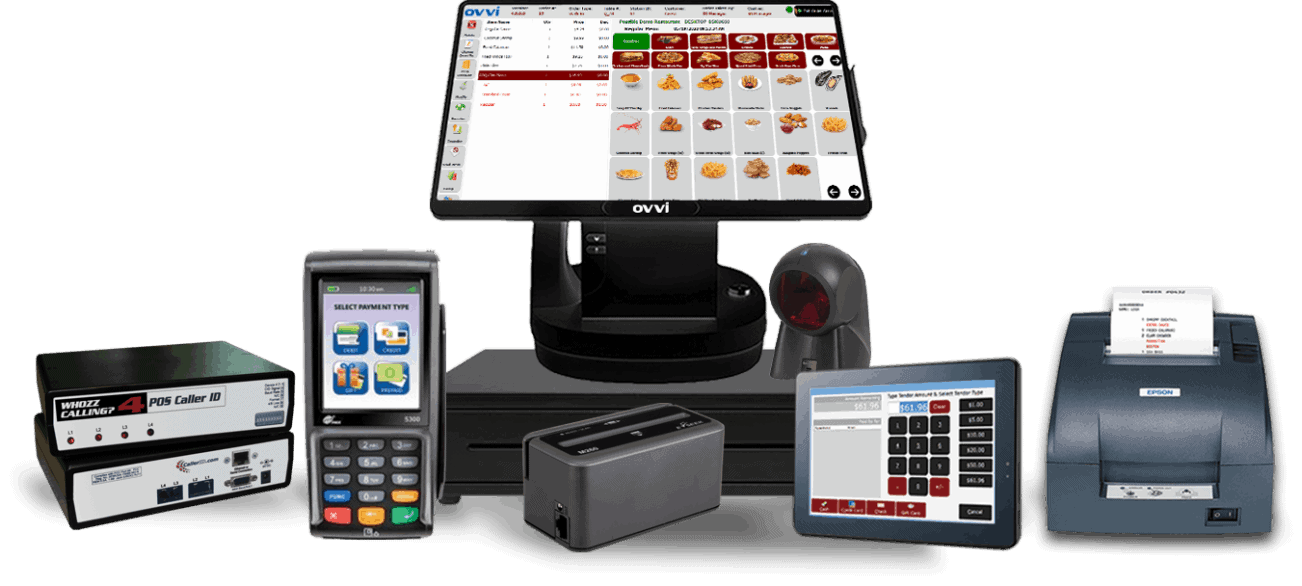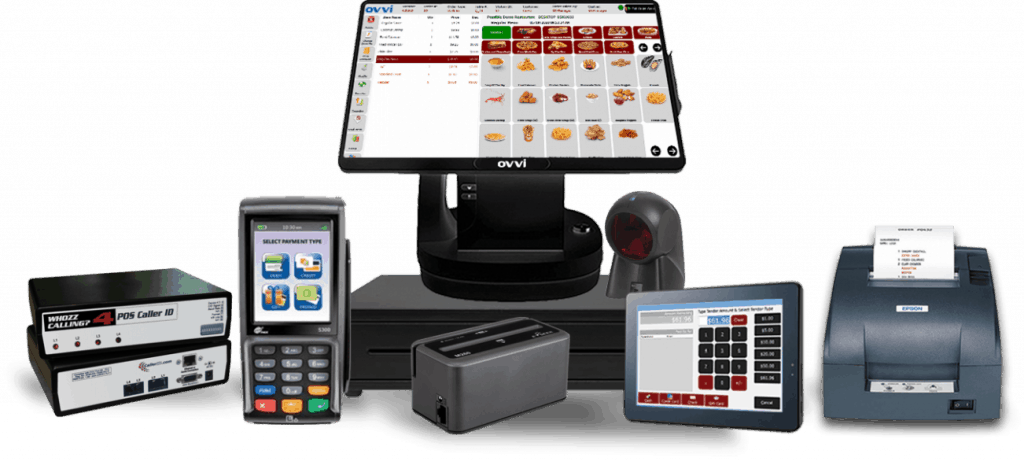 All Ovvi platforms operate on devices that run Windows 7 or higher, have a dual core processor and a minimum 4GB of RAM. Unfortunately, Ovvi does not support Mac or iOS devices.
Although they aren't required to use Ovvi, users have the option of purchasing touch screens, thermal receipt printers, and customer displays.
Ovvi uses PAX S300 pin pads with ethernet connection, PAX D220 pin pads for wireless connection, and Verifone VX 805 pin pads with a USB connection. The USB option requires a DataCap payment gateway connection. 
POS Features & Capabilities
Ovvi's Restaurant & Retail POS solutions are each designed to provide the user with the exact features they need to better manage their businesses and serve their customers. 
Restaurant POS Features
Simple Ordering Process & Inventory Management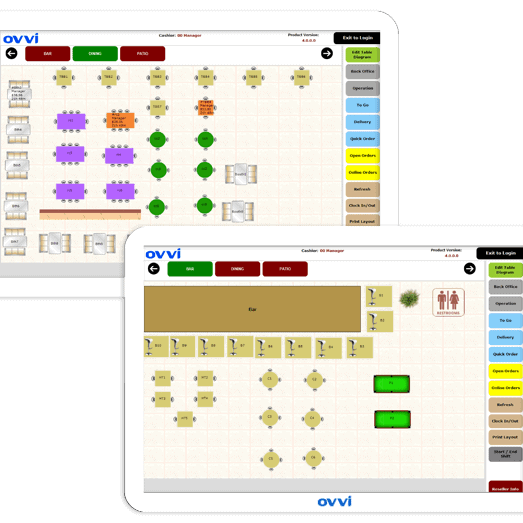 Ovvi features an intuitive menu design that makes ordering easier, checkouts faster, and multiple split check capabilities. Manage tickets and route, order histories, refunds and returns. 
Customize your menu with modifiers, choice items, combo meals, recipe management, ingredient tracking, tax options, and more. Track all of your ingredients to ensure your kitchen is always stocked. Easily reorder items from multiple vendors through Ovvi's one-touch purchase order solutions. 
Easy Floor Plan Layout
Use Ovvi's table layout screen to create floor plans with multiple sections, view open and seated tables, open orders, and assign tables to servers. Floor plans can include tables, chairs, booths, walls, restrooms, and even pool tables and bowling lanes.
For each table, click to find the assigned server, how long it has been open, and the total ticket amount. 
Pizza Builder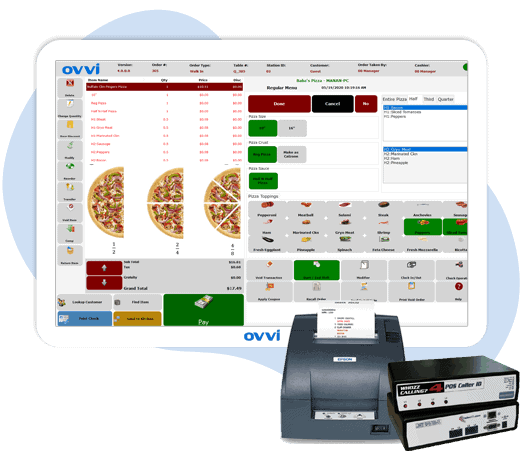 Select multiple order types (delivery, carry-out, or dine-in) and use the Ovvi pizza module to add multiple sizes, crusts, sauces, toppings — all from one easy layout. 
Tableside Ordering & Payments
Speed up the order-taking process by using tableside mobile tablets. Orders go to the kitchen in real-time, reducing turn times and increasing staff productivity. 
Kitchen Display Solution
Use Ovvi's kitchen display automation to display customer name along with order destination, ensure guest safety by accommodating dietary restrictions and modifications, filter orders based on station function, display order arrival time, monitor prep time, bump, select, and recall orders, and much more. 
EMV Payments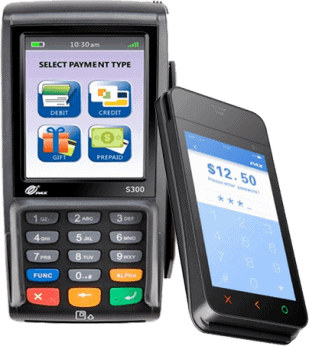 Ovvi allows you to accept all payment types — including Apple Pay and Google Pay — whether in-store, online, or mobile. The POS system is compatible with many payment processors, including First Data, TSYS, Global Payments, Worldpay and more. 
Multi-Store Capabilities
Ovvi is a semi cloud-based system with an integrated partner network, enabling you to manage and grow and scale your business. These features included multi-store analytic reporting, inventory control, food cost analysis, forecasting, and more. 
Self-Ordering Kiosk
Available in 21.5″ floor stands and table or wall mounts, Ovvi offers next generation kiosk design, projected capacitive touch screen in portrait mode, and integrated design with a built-in epson printer.
Reporting & Insights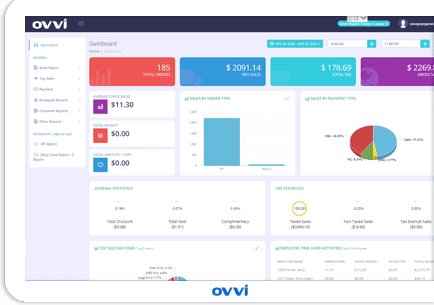 Ovvi offers numerous reports and dashboards — including KPIs, sales summaries, top selling items, and more — to track sales and see what's driving your business. These reports are fully customizable and can be emailed to you daily. 
Multi-Language Support
Ovvi's Restaurant Software is available in 9 languages. Including: English, Spanish, Korean, Chinese, Vietnamese, Japanese, Thai, French, and Hindi.
Retail POS Features
Simple Order & Checkout Process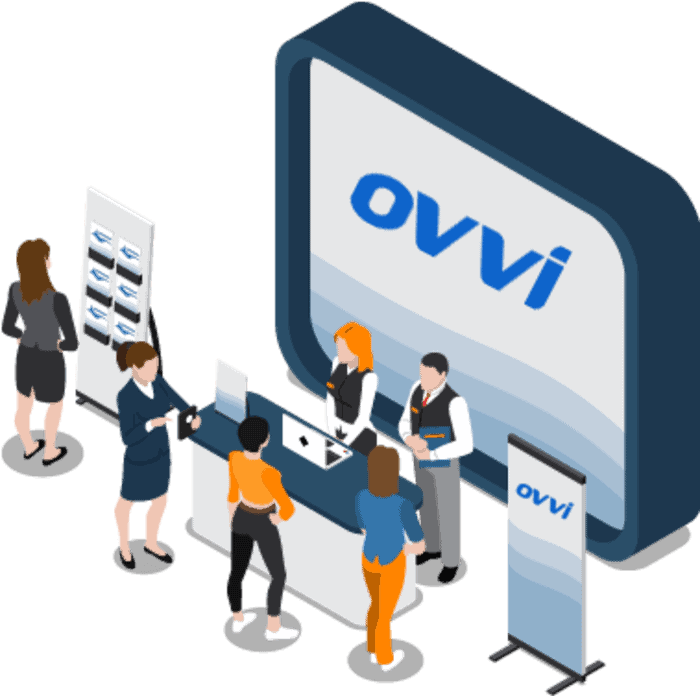 Quickly scan barcodes, customize menu items to allow for easy access, search for items, select multiple packaging sizes, and more. Ovvi allows you to create your own gift card or loyalty program, and accepts all types of payment, including Apple Pay, Google Pay, and EBT. 
Return Item Process
Process itemized exchanges and returns in a single transaction with a simple barcode scan. Track all return items in detail, and replenish inventory automatically. Ovvi also allows you to print a unique barcode for store credits, so you're always bringing customers back into the store. 
Inventory Management
Manage & maintain inventory items with multiple SKUs, bar codes and pricing products — all in one place. Inventory is automatically updated when you ring up a purchase, so you always have a real-time picture of what's in stock.
Add unlimited items, multiple barcodes for one item, categories taxes for specific items, mix-match pricing for multiple items, and more. 
Scale Scanners and Meat Market Scale Integrations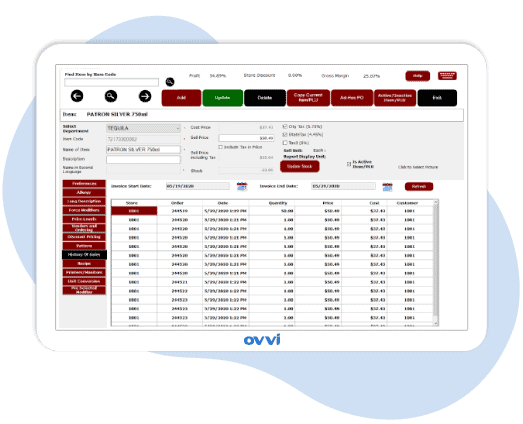 Ovvi can scan multiple products and weigh produce and meat in a single layout, read price or weight embedded barcodes in UPC, EAN- A and EAN- B settings.
Style Matrix for Clothing & Shoe Stores
Ovvi's unique style matrix can help you optimize customer choices by creating multiple combinations of product attributes with unique pricing. 
Reporting & Analytics
With Ovvi, you have numerous reports — KPI, sales summaries, top sellers, and more —  to gain the most relevant insights on your business performance.
OVVI POS Integrations
Accounting & Payroll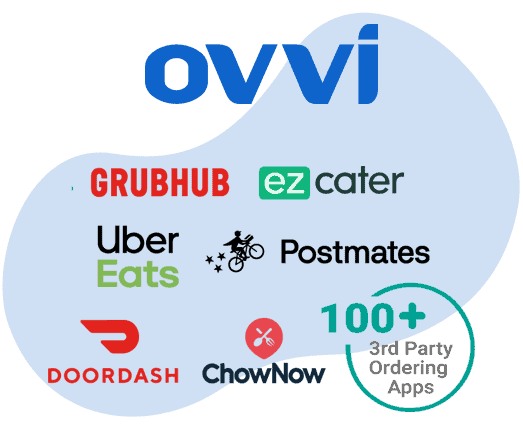 Get quicker access to accounting & payroll data through Ovvi's direct integration with Quickbooks, Microsoft Dynamics, ADP, and dozens of platforms. Cut back on time & labor cost, reduce human error, securely transfer data, and automate EOD reconciliation reports. 
Mobile Order & Delivery
Ovvi integrates with 100+ online delivery apps, including UberEats, Postmates, DoorDash, GrubHub, and more. Orders are accepted and sent directly to the POS and kitchen printer. 
Customer Support
Ovvi's competitive support package includes comprehensive training, GoLive support, and 24/7 tech support. 
Are You Ready to Use Ovvi POS in Your Business? 
If you're looking to improve efficiency and increase sales, Ovvi provides a compelling solution. Whether you own a restaurant or retail operation, their POS system can meet your needs with specific, powerful features. 

To learn more about the product and schedule a demo with the Ovvi team, click here.