The search for best POS solution to meet your business needs is one of the most important tasks you take on as an owner or manager.
There are hundreds of POS solutions available today and sifting through them to come up with your own short-list could easily become a never-ending exercise in frustration.
Here at POS Quote, we provide you with the information you need to speed up the process of POS selection.
Our reviews of various systems offer a concise summary of a given system so you can easily decide whether or not it is worthy of closer examination. Quickly weeding out inferior solutions is a part of that process.
Company Overview – Mynt POS
It's worth noting up-front that describing Mynt POS as a company is difficult because of a near-total lack of information. There is none of the usual information about the company website you would expect to find.
There is no "about us" page that describes the company or its history. There is no listing of the leadership team. There are no links to active social media accounts. In short, it doesn't present itself as much of a company at all.
Mynt POS Benefits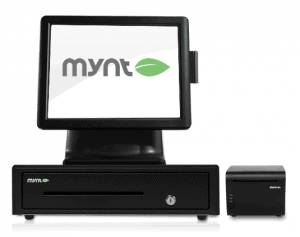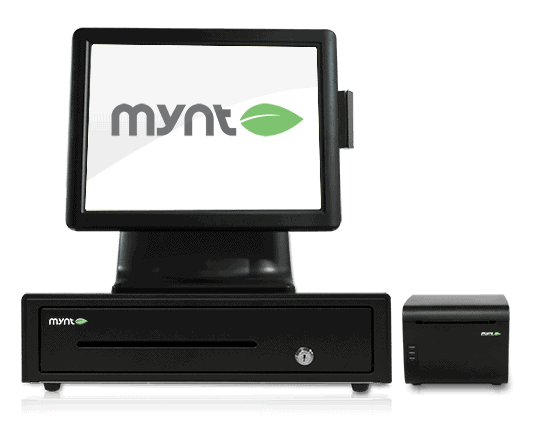 The Mynt POS appears to come in two different versions. One would be a standard POS solution that could be used in restaurants or retail environments with six broad categories of functionality: Payments, seating, items, reporting, back office, and printing.
But another page of the website speaks of an "enterprise" solution for serious restaurants that is powered by Auphan software (a Canadian company offering various solutions, including a POS solution).
Mynt Enterprise is positioned as a POS solution for multi-location, franchise QSRs and traditional table service restaurants. Its more modern features include online ordering, digital signage, mobile ordering and payment, loyalty/gift cards, time clock and scheduling, reservations management, and inventory management.
Potential Mynt POS Drawbacks
There are next to no user reviews of Mynt POS available online. One did mention being dissatisfied with the product because of poor onboarding and configuration support.
When the user decided not to move forward and returned the system, there were "numerous return charges."
Mynt POS Pricing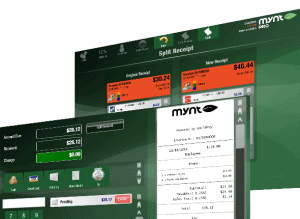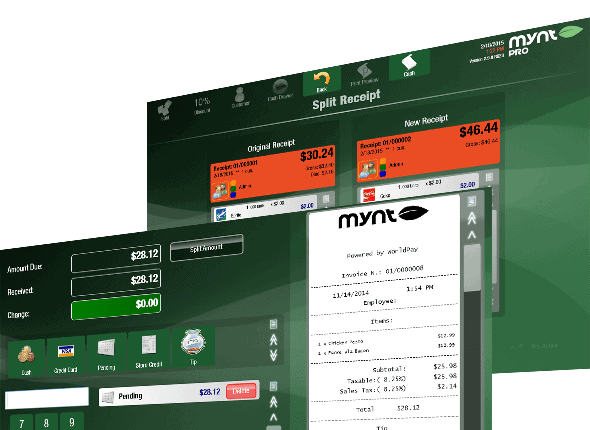 The Mynt POS website says the company believes in 100% transparency and no hidden fees. It positions its pricing as a simple, straightforward monthly subscription-based solution.
However, in the FAQ area of the pricing page, it notes that a 1-year commitment is required. Actual pricing information is not provided, so potential customers would want to contact the company directly.
Mynt POS Requirements
The company website for Mynt POS notes that everything needed is provided, including the software, an all-in-one terminal, integrated MSR, integrated thermal receipt printer, and a heavy-duty cash drawer. All hardware comes with a lifetime warranty on active accounts.
Perhaps the most important thing to note, given that the website does not go into details about requirements, is this clearly-stated FAQ note: "all Mynt POS systems require an active internet connection to function."
Mynt POS Features and Capabilities
The division between a standard Mynt POS and Mynt Enterprise is not a clear one. The first six features listed below appear to apply to the standard POS offering, followed by a single-entry listing of features that appear to apply only to the Enterprise solution.
Payments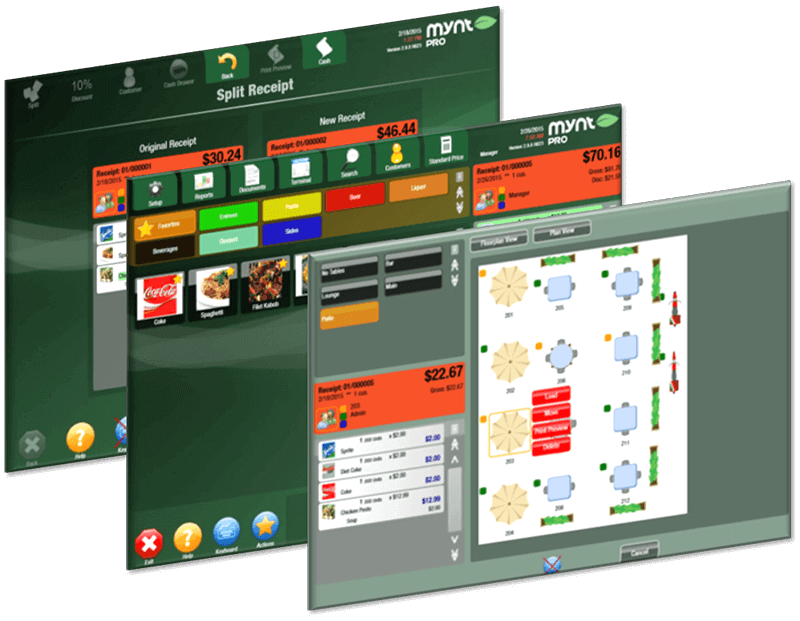 Tips are easily accepted on credit card payments, or you can opt for an automatic gratuity charge based on the number of guests at a table. An unlimited number of payment types can be created to cover all the bases (checks, vouchers or gift certificates, and so on).
Checks can easily be split among multiple customers. Charge accounts can be set up for regulars. Discounts can be set up as a percentage of a total sale or specific dollar amounts and configured on the fly. Checkouts can be done in a few as 4 taps of the screen, or in a matter of seconds using the custom Quick Tender button.
Seating
Table layouts can be customized to match a restaurant's physical seating areas. The table layout view shows available tables, occupied tables, and what has been ordered at occupied tables.
Specific seating areas can be set up with their own custom pricing if desired. Tabs can quickly be opened for each customer, and even shifted between tables when needed.
Item Creation and Customization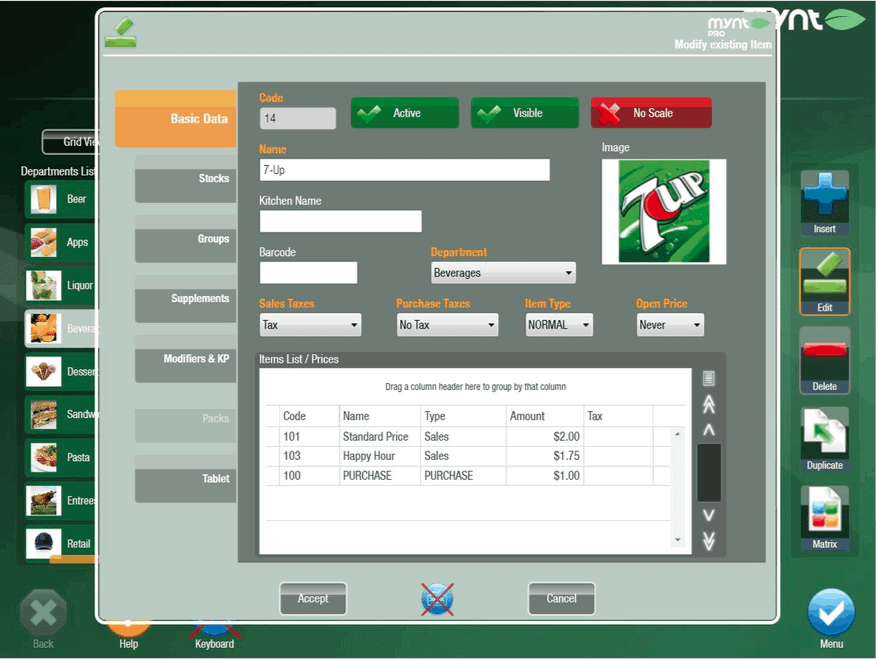 Items can be created or modified from any Mynt POS station and the change automatically roll out to all stations of a given location. Include add-on items for any item in order to drive up-sales.
Use item modifiers to customize orders to suit customer requests and inform the kitchen staff how to prepare an order. Items can be color-coded or include custom images so staff can find items easily to speed up taking orders.
Tax rates can be customized for standard percentage sales tax, per item tax, or even based on the volume of the item. Grouped taxes functionality means multiple taxes can be grouped together, allowing it to handle complex taxes for items such as liquor or glass bottles with multiple taxes beyond standard sales tax.
Reporting
20+ standard Mynt POS reports can be run on any desired date range (daily, weekly, monthly, quarterly, yearly, or a custom date range). The end of day report includes daily sales and an optional list of items sold.
Receipts can be searched for reprinting purposes or for refunds. Any report can be exported as a PDF or an Excel spreadsheet. Built-in graphing helps you visualize key data. User accounts mean you can run individual employee performance reports.
Backoffice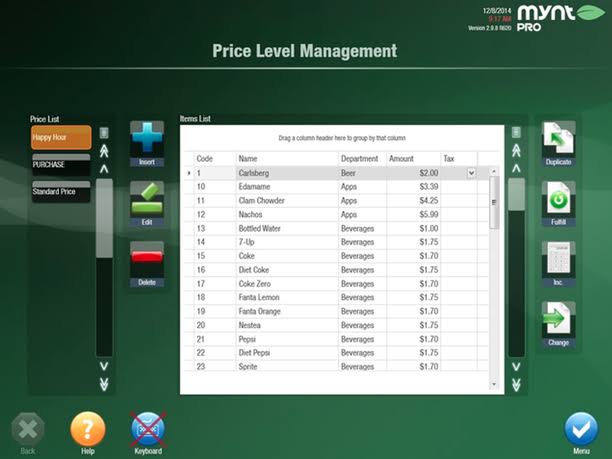 The Mynt POS backoffice functions are supported in 10 different languages. A few taps allow for switching from standard pricing to special pricing (such as for happy hour). Managers can bring up any past transaction to void the sale and reverse charges, including completed sales.
Set user permissions to control how much any given employee can access the system. Inventory tracking can include automatic purchase order generation based on items sold.
Printing
In addition to the standard receipt printer, the Mynt POS allows for using up to six more remote printers. You can specify what items will print where, and even have items print at multiple printers.
Add notes to order to make sure kitchen staff understand guest requests. You can specify which payment types get a printed receipt to save paper. Printed receipts can include your company logo as well as a customized message at the top or bottom of the receipt.
Mynt Enterprise Features
The Mynt Enterprise POS solution appears to be a higher-powered version, though details are scarce beyond simply listing some features without any further detail.
These include online ordering, reservations management, digital signage, mobile ordering and payment, inventory management, time clock and scheduling, and loyalty/gift cards.
Customer Service and Technical Support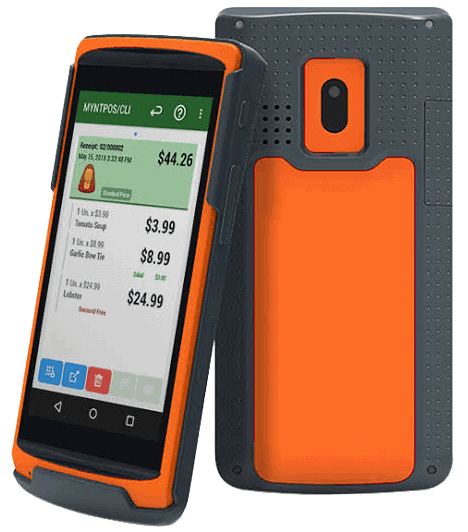 On the "buy" page of the website, the FAQ area notes "all active accounts receive free 24/7 technical support." However, when you visit the support page of the website, you'll first see a variety of online resources for Getting Started, Support Articles, Software Configuration, and Common Questions (with a grand total of six minor questions).
If you click on "contact support," you can get support via chat or telephone. It also says normal business hours support is M-F 6:00am-4:00pm PST and that "After hour support is available for emergency purposes."
The telephone number listed is not a toll-free number. The Mynt Enterprise version of the POS says it comes with 24/7/365 USA-based technical support.
The Final Word on Mynt POS
It would be difficult to justify putting Mynt POS on any short-list of viable POS solutions. The near-total lack of key information is of serious concern. Conflicting information about customer and technical support availability is a concern.
In the final analysis, what you're left with is a long list of concerns rather than excitement about a robust POS System.
The following two tabs change content below.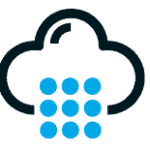 POS Quote Team
The staff at POSQuote.com is composed of industry professionals, experts, and current business owners. Through extensive research, we compile buyer's guides and review the best POS systems in the industry.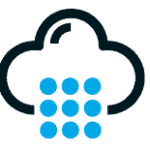 Latest posts by POS Quote Team (see all)
Reader Interactions