(Last Updated On: October 3, 2022)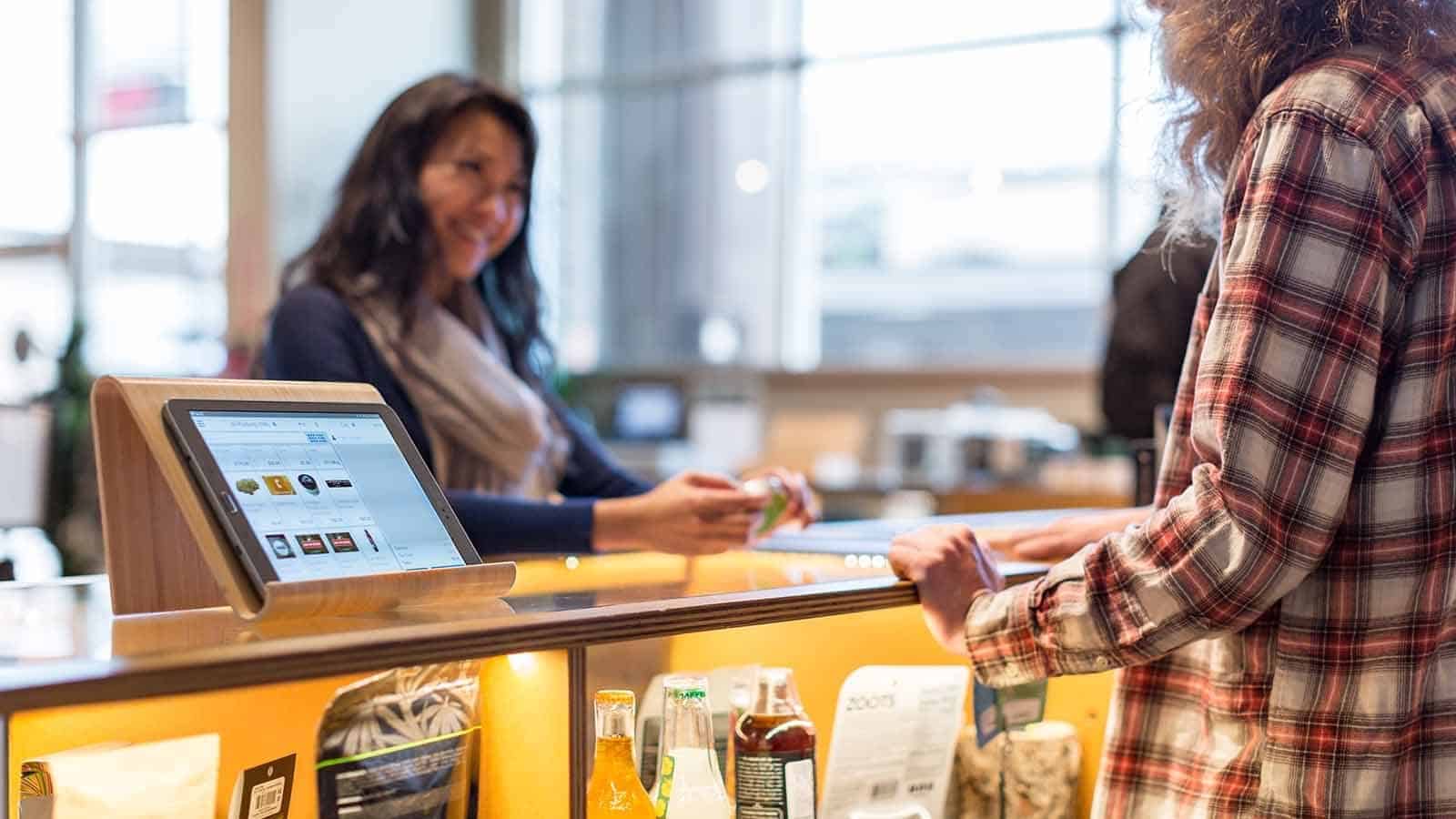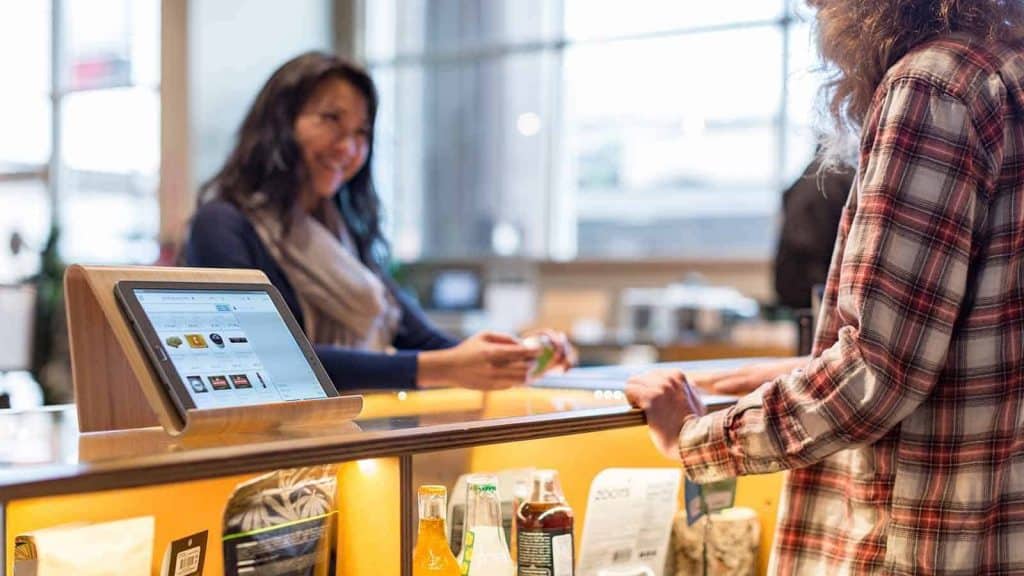 MJ FREEWAY is a cloud-based seed-to-sale POS and cannabis compliance software. The system has been designed for marijuana businesses, including wholesale, retail, manufacturing, delivery and cultivation businesses. 
If you're considering opening a marijuana dispensary, one of the best ways to start is by getting a marijuana-specific point of sale system. These software systems can help you comply with certain regulations and meet state compliance requirements. You can use them to keep track of inventory, forecast inventory, and better market your products. Plus, they can help you maximize your retail store design.
MJ Freeway's POS data is compiled from thousands of cannabis retailers across the United States. The company's latest figures indicate that sales on July 10 were 15% higher than the national average. This was largely due to increased purchases of concentrates. Sales in the concentrate category rose 18% that day. Additionally, sales over the 710 holiday have jumped 19% each year for the last three years.
Cannabis dispensaries can easily manage their inventory with MJ Freeway POS software. The software will help dispensaries display product information on their digital menu boards. This means no more manual double-entry of data. Moreover, with the POS-integrated menu boards, prices and inventory are automatically updated, in real time.
Cannabis POS software will help dispensaries increase sales and keep operations running smoothly. It will also help them comply with various regulations. A reliable POS system will process transactions faster, increase the number of transactions per day and increase the amount of dollars in the till. The software will collect consumer insights and streamline operations, so you can focus on growing your business.
The seed-to-sale software has been developed to make day-to-day operations in your hemp, and cannabis business easier.  The MJ platform is more than just a POS solution, featuring inventory management, cultivation management, and regulatory compliance capabilities. 
With real-time data and precise profitability metrics, you can see how your business is doing at any given point. Access the data 24/7 from anywhere, anytime. With strong compliance management, you can prevent violations before they take place.
After an extensive MJ Freeway review, our favorite feature was the in-app communication tools, where you'll be able to get re-ordering alerts for when your stock is low. Also, get invoice reminders so you're never behind on paying your suppliers. 
Most importantly, use the CRM features to reward your customers with points on their purchases (to keep them coming back to your dispensary). Provide discounts and special promotions and track your best-selling products. This way, you're never out of the items your customers love.
Let's dig deeper and discover MJ Freeway's top software benefits, pricing, and hardware components.

MJ Freeway Benefits 
Offers an array of In-app communication tools 

Features re-ordering alerts and invoice reminders  

Its customer relationship management feature offers insights, rewards and loyalty programs 

Allows you to monitor coupon and promotion management 

Supports more certified  state-system integrations than its competitors

Reliable compliance reporting tools and has alerts to every violation before they happen

Makes it easier for you to monitor performance, schedule and assign tasks 

Allows you to track quality and minimize human error 

Makes multi-state, and multi-country management easier for you

Aggregates data from all your locations and supports multi-currency management

Offers real-time data and intelligence, including past trends and future projections 

Allows for precise costing and offers profitability metrics 

Allows you to access the system from anywhere at any given time
Possible Drawbacks 
You may find the software to be comparatively buggy. Some users have reported occasional system crashes, during which the software does not allow the users from interacting with it. 
MJ Freeway Pricing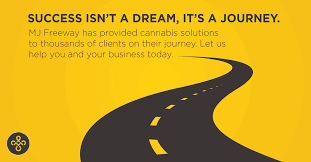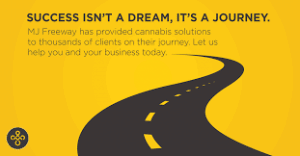 As you may have noticed, the provider does not display any pricing information for the MJ Freeway seed-to-sale solution. To get an accurate quote, you should contact the provider directly through the official website. 
MJ Freeway software Pricing mainly depends on the size of your cannabis operation, the I refractions you need, and the number of permissions levels required. Regardless of your specific needs, the provider will offer you a robust solution. 
Each of the software subscription packages offered by the provider offers cannabis-specific analytics, advanced insights, and granular reporting capabilities. Since each cannabis operation is unique, MJ FREEWAY tailors the pricing of its packages to suit each client's requirements.  
MJ Freeway POS System Key Features 
MJ Freeway happens to be the very first generation 2 cannabis software in the cannabis industry today. It is specifically designed for such operation as tracking, growing, manufacturing, and selling of recreational and medical cannabis. 
This platform streamlines and simplifies supply chain complexity for industrial hemp operations and cannabis company owners. The software is currently being used by more than 2,000 users across the globe. So, what makes it one of the popular cannabis POS platforms? 
Tools for Cultivators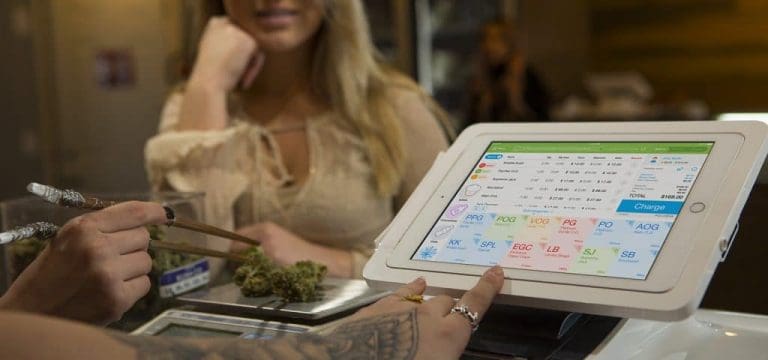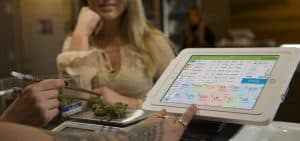 Cannabis Cultivators in the country are concerned with more than just the health of their plants. With MJ Freeway, you will have everything figured out for you. You also need to nurture the business in an effort to boost the bottom line and remain competitive. 
As one of the most powerful cannabis ERP solutions in the market, MJ Freeway will provide a vital structure to your cultivation process. By taking care of most of the important tasks, the software allows you to focus on matching your production to the demand. 
The historical data feature of the platform allows you to compare your seed-to-sale company data with what the market demands. It will make it easier for you to manage labor costs, plant nutrients, lighting, and water for optimal production. It will also ensure that you remain compliant with local and state laws. 
MJ Freeway Dispensary Features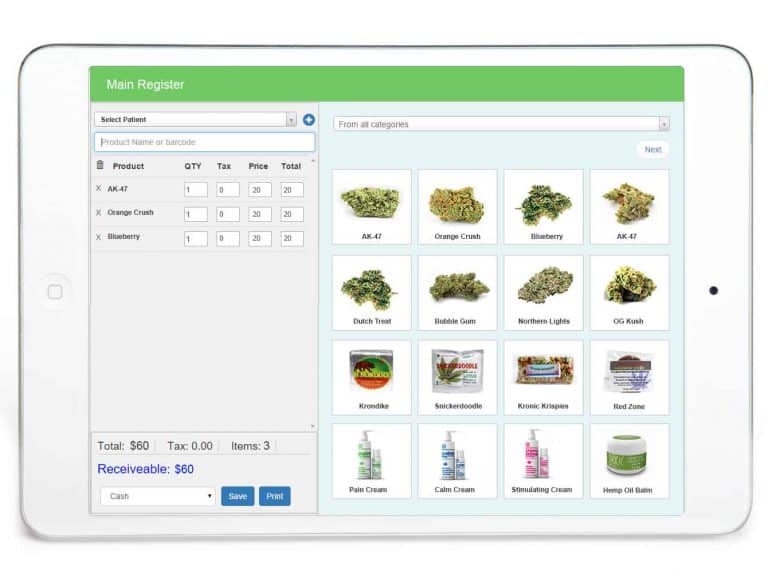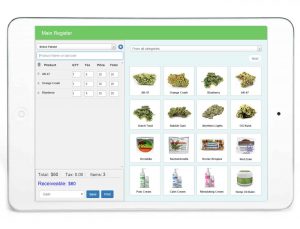 As the competition among cannabis delivery services and retailers stiffens, you need to think about the long-term success of your cannabis business.
This is precisely what the MJ Freeway Dispensary POS system helps you achieve. 
The system is equipped with a range of tools to help you streamline the sales process, increase operational efficiency, and manage inventory down to the bud.
With such a system, you will be able to view your revenue and gross profit in real-time as well as forecast inventory needs and get analysis on inventory turns. 
The Cannabis retail POS system also allows you to manage customer loyalty and rewards programs with performance analytics. It will also help you identify the most profitable customers and promotions in the business.
Other cannabis dispensaries POS features you will come to like about this platform include

Seamless Integrations 
MJ Freeway is a powerful integrated solution, allowing you to sell with confidence at every location. For enhanced versatility, the solution supports integrations with an assortment of business tools by the provider and third-party providers. 
For instance, you will find it relatively easy to integrate the platform to such services as QuickBooks Online, HR management, Sage Intacct, and Loyalty Programs. In addition to the hardware components offers by the provider, the solution is also compatible with third-party scanning/printing hardware.  
Multi-Location Management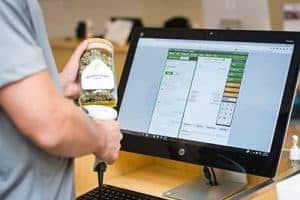 As your business grows, you may need to open additional locations. Even when that happens, you will have an easy time managing all the locations from a central location with MJ Freeway.
The system will centralize customer management, customizable discounts, and rewards in such a way that you can manage them remotely for each location.
The solution will also allow you to save product preferences and medical info for each business outlet whenever the need arises. 
Business Intelligence 
Getting accurate information about your business will keep you I formed of the important processes. In addition to effective management, the data collected by this system will help you make informed business decisions. 
In this regard, the platform features an Enterprise view dashboard with visualizations. It will also offer you real-time revenue insights. 
Compliance Tools  
If you offer cannabis retail and delivery services, there are several regulations you need to comply with. To ensure that you are always compliant with such regulations, MJ Freeway features purchase limit alerts.
Additionally, it is equipped with the right Hours of Operation compliance and compliant label printing tools for your business. 
Process Control 
Boost security and accountability in your business with MJ Freeway process Control tools. To begin with, this feature allows you to offer Role-Based permissions to your employees. Additionally, it allows for easy employee sale tracking and real-time batch-level inventory tracking. 
Features For Manufacturers 
As a THC and CBD extraction and infusion business owner, chemistry, artistry, engineering, product design, and manufacturing are some of the processes you need to worry about. To make things easier for you, it allows you to manage every element of the process, from seed to sale, from a single platform. 
The solution allows you to monitor costs by jour, day, method, employee, product line, or by the square foot. With this solution, you will be in a better position to forecast future sales, hence serve your customers with the products they love. 
The solution also allows manufacturers to manage vendors, and even create reminders for supply re-orders. The software is also designed to ensure compliance across the entire supply chain.
Industry-Specific Compliance Tools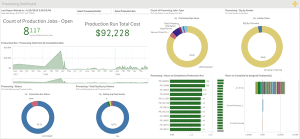 In addition to helping you manage the inventory, employees, and customers, MJ Freeway makes compliance a breed from seed to sale.
It features an integrated region- and vertical-specific warnings, error alerts, and reporting tools.
Compliance tools can be helpful for businesses with a variety of regulations. They can notify users when tasks are completed, delayed or failed, and they can also track compliance reports. In some industries, failing to comply with regulations can result in fines or imprisonment. By monitoring industry specific KPIs, businesses can ensure that they are fully compliant at all times.
The first step to providing industry-specific compliance tools is to understand the industry. By talking to industry insiders, you will gain valuable insights into your target market. This will help you develop industry-specific solutions and increase the chances of customer retention. Also, speaking the language of the industry can help you understand changes and nuance quickly.
Unlike most other industries, requirements in the marijuana industry vary not just by state but at the county and city levels, too. As you may be aware, there is just no room for mistakes as it may cause your business license to be revoked. 
The MJ Freeway Platform comes with the tools you need to avoid common compliance mistakes, including: 
Improper labeling and packaging

Falling behind on data entry

Failing to report on time

Exceeding customer/patient sales thresholds

Inventory discrepancies

Health and sanitation violations

Employee theft

Incorrect tax calculation

Sales outside of authorized business hours

Data security

Storage and disposal violations

Workplace safety violations

Facilities security

Staffing regulations
MJ FREEWAY POS Alternatives 
| System | Starting Software Costs | Hardware Costs | Key Features |
| --- | --- | --- | --- |
| | Quote based | Quote based | Allows you to monitor and manage the dispensary remotely |
| | $200-$1,000/month | Between $1,000-$3,000 | Years of experience helping dispensaries grow their bottom lines and increase profits |
| | $200-$500/monthly | $1,000-$1,500 for set up | 10+ years experience in the industry, specializes in cultivation and process management |
| | Starts at $249/monthly | Quote based | Physician and patient verification, offline sales mode |
Our Final Verdict 
The MJ Freeway Platform is more than a cannabis dispensary point-of-sale (POS) software. It is essentially a comprehensive cannabis seed-to-sale POS, management and compliance platform. It features cultivation management, patient management, inventory tracking systems, and regulatory compliance reporting and monitoring capabilities.
Its superior technology supports multiple supply chain business locations,  making it convenient for you to run a fully connected business on one platform. The solution allows you to complete visibility into products, customers, employee, and vendors.
From basic marijuana business management to in-depth cannabis ERP software, the MJ Freeway Platform meets all your seed-to-sale needs.