(Last Updated On: October 3, 2022)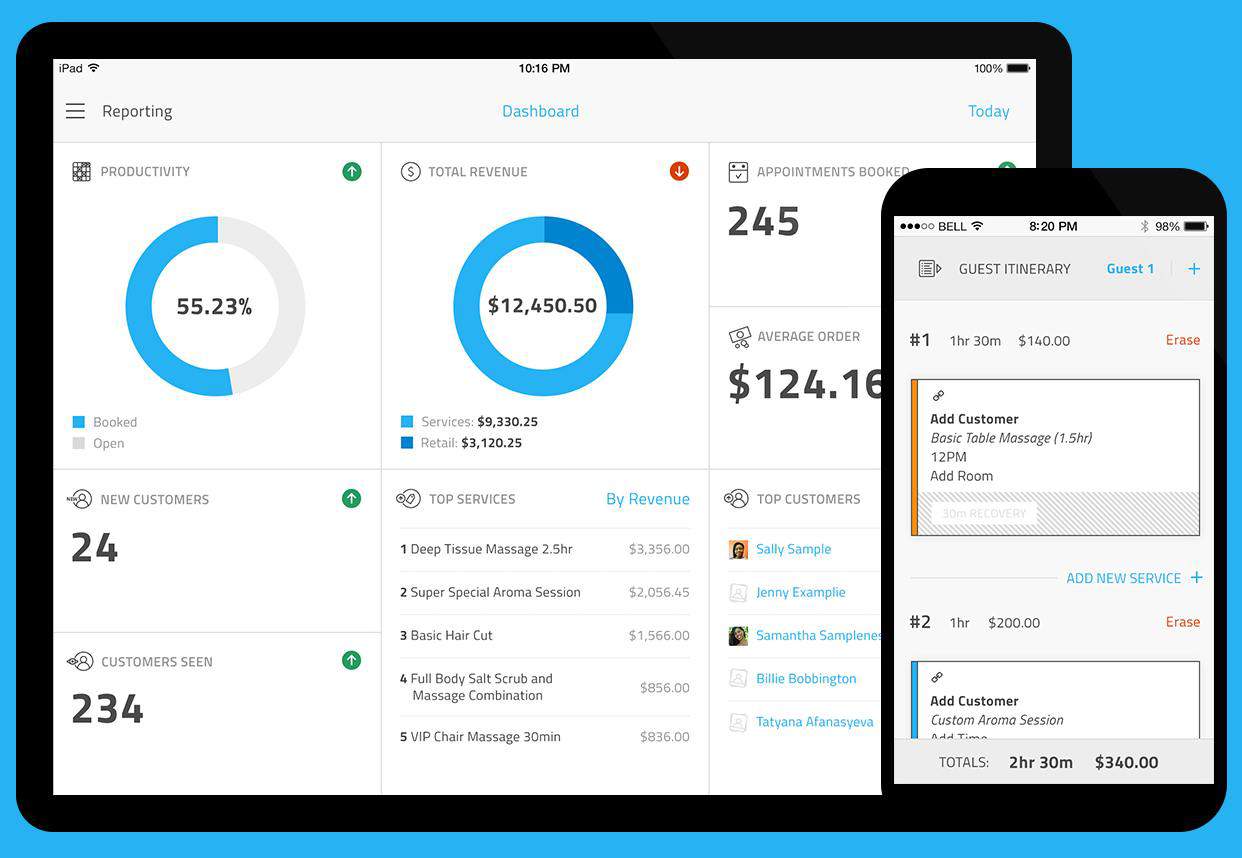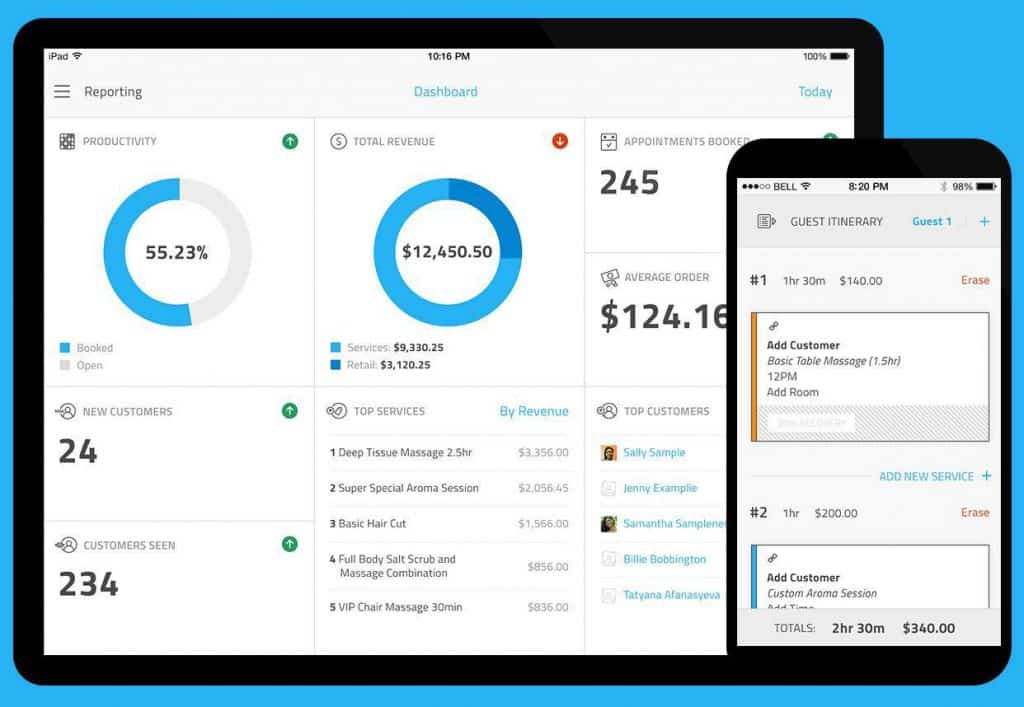 If you own a salon spa and need a POS system to handle your booking, customer management, payments, and marketing, look no further than Booker. This cloud-based point of sale solution allows you to book clients online, through mobile, or your social media channels.
With Booker, you can take online gift card sales online, it doesn't have to be just at your physical location. With a heavy emphasis on social media, Booker helps you grow your salon or spa's presence on channels like Facebook and Yelp (ones that are vital to your business' growth).
Got slow days? If your calendar is not booked enough, Booker helps you get clients in the door by sending targeted email campaigns to your customers to promote last minute deals and openings.
After an extensive review of Booker, the feature that stood out the most is the ability to automate your retention marketing. Your contact list will be updated automatically with each client's visit based on their purchase history, satisfaction, and interaction with your messaging. This will help you categorize clients and send them targeted offers to keep them coming back.
The software also encourages referrals, automatically promoting the referral program to current clients. Compensate your clients with a gift card or a point system. Booker believes in spreading the word about your business.
Finally, the Business Intelligence Dashboard lets you view your appointments, estimated revenue, cancellations, and other metrics, all in one dashboard. This way, you can see what's working and where you need to improve.
In this review, we'll examine Booker's top features, pricing, hardware options, and more. Let's take a look at how Booker can act as an online booking, a point-of-sale solution, and a powerful marketing tool all at once.

Who's Booker POS?
Booker POS focuses on connecting the world to wellness. The concept for the software emerged from the simple idea that small businesses deserve the time to focus on what is important. The platform has transformed this vision into one of the world's leading services marketplaces that links thousands of passionate health, beauty, and wellness professionals.
Booker is a web-based POS system that makes scheduling and payments easy for your business. The platform supports multiple payment methods including credit cards, PayPal and Google Wallet. It also has a mobile user interface that makes it easy to book appointments on the go. Booker's user interface is also intuitive, making it easy to manage sales, customers and employees.
The Booker POS system also lets you manage your inventory. You can enter your inventory in the system and then check your inventory level anytime you want. This feature keeps track of your inventory continuously, which makes it easy to investigate any discrepancies in your inventory. You can also sell your products online with Booker.
The Booker POS system comes with a touchscreen device, a printer and a monitor. It supports multiple payment types and can even accept loyalty points and gift certificates. It also has an integrated payment processor, allowing you to process credit cards. The Booker POS system also complies with PCI security standards. Other features of the Booker POS system include quick checkout, signature capture and a branded design.
Booker POS is an excellent choice for small businesses. The platform can manage payments, book appointments and manage employee profiles. It also has a customizable CRM and offers features for salon management and customer retention. It offers multiple package options for different needs, and integrates with existing payment methods, allowing you to customize your software for your business. You can also import existing inventory and add new products to your website. You can even automate processes and grow with the system over time.
Booker POS lives by their core values. They are committed to the mission of wellness in these aspects:
Emotional
Physical
Intellectual
Social
Environmental
Spiritual
Occupational
These are the seven dimensions of wellness the brand embraces when they develop each product. The company has a philanthropic nature that encompasses caring for yourselves, each other, and the planet as a whole. The main goal of Booker POS is to strive to always understand the perspective of others.
Booker POS Benefits
Pricing plans that provide flexibility to accommodate an appointment-based business model.
Credit card processing that integrates with a POS system.
Automated scheduling with available appointments and time slots
Robust network of partner sites.
Booker POS Pricing
Regardless of the size of your industry, Booker POS has planned for it all. They offer affordable pricing plans that make sense for a business of any size. Here are the current plans and pricing to keep an eye on:
Starter – $129/month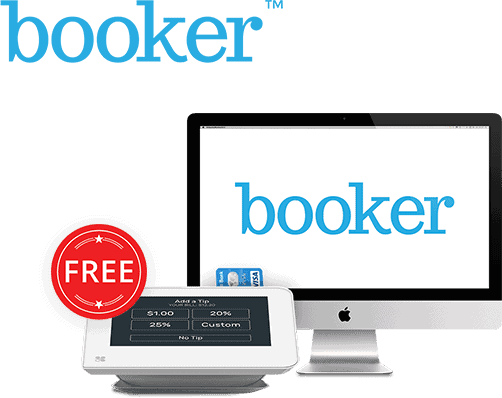 This is about the essential tools needed to run and manage a business in the spa and salon space. The package includes text messaging and online booking. It also comes with these features:
15 active employee files
Over 3k SMS notifications and reminders
360-degree client and staff management
State-of-the-art payment processing
POS system with robust inventory tracking
The package also includes other features like partner networking, reporting, and a consumer loyalty program.
Accelerate – $269/month
This program is intended to build client relationships and foster customer retention. It includes elegant email campaigns and smart contact lists that enable a business to perform efficient digital marketing ventures and reach a wider audience.
The package includes unlimited active employee profiles with two-way SMS notifications and reminders. It also pertains to features like:
Business Intelligence Dashboard
Email campaign builder
Smart contact lists
Client forms
Over 35 custom reports and analytics
This package includes all of the Starter features in the main package.
Ultimate – $429/month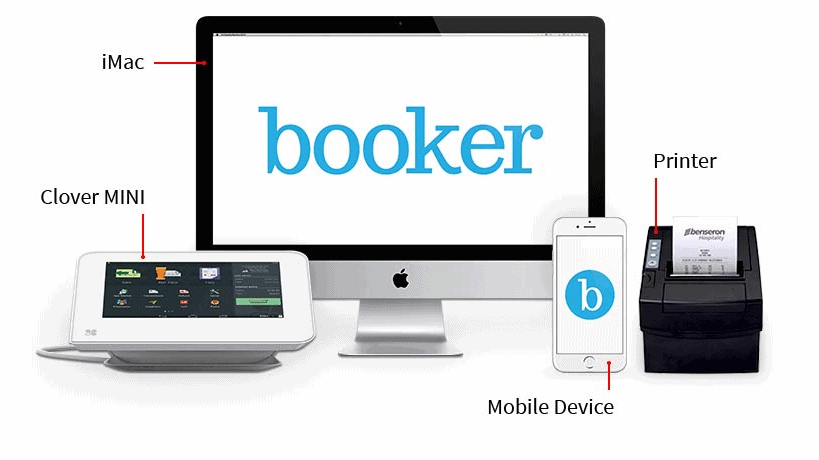 This can help a brand take their business to the next level through automated marketing and customer feedback tools. In addition to all the features included in the Accelerate program, the Ultimate package also includes:
Automated email and text campaigns
Customer feedback, ratings, and reviews
Personalized and custom drip campaigns
Incentivize referrals
Advanced marketing reports
It should be noted that all pricing is for U.S. customers only. If you are interested in the platform and are based outside the United States, you need to contact the company for pricing.
Branded Mobile Apps – $199/month

Increase your brand exposure, retain clients, and improve sales with your own branded app. Booker offers the ability to build an app with your own colors, logo, and style. They then list it in their app store for greater exposure.
Bowtie by Mindbody – $179/month
You will never miss a customer again because the Bowtie extension will convert missed calls into paying customers. You can automatically and instantly respond to a customer 24/7. A business can also message clients on their favorite platforms, like Facebook and Twitter.
Integrated Credit Card Processing
Provide the ultimate convenience for your business and customers with integrated credit card processing. Cut costs and earn more revenue with low transaction rates. Customers will always enjoy flexible payment and purchase options.
Booker's credit card processing includes:
No activation fees.
No sign-up fees.
No bank routing fees.
This program allows you to save money on merchant processing through special negotiated rates with Booker's payment partners. You can also earn more revenue with online ecommerce and gift certificate sales. Additionally, protect the business by charging no-show and cancellation fees.
Although Booker does not offer a free trial, they are happy to take you through a free guided demo of the product. You just have to request one.
Features
Booker software runs on any device. It has a gazillion features and is a highly flexible program. The advantages of the software are broken out into five categories:
Book
Sell
Attract
Manage
Retain
Book
The most important feature Booker offers involves the ability to appoint and book clients. These benefits include:
Online Booking
The Booker online booking page integrates seamlessly with your existing website. Customize the design of your booking flow to match your brand and empower customers to:
See available time slots.
View a "Book Now" button on your website's homepage.
Schedule multiple services.
View detailed descriptions of services.
Add additional guests.
Automatically add client and prospect email addresses to your Booker account
Mobile and Tablet Booking
Don't be chained to a desk all day. Booker is designed to be accessible from any device, anywhere. Customers receive the same mobile-optimized experience when booking. This gives them the freedom to connect with you while on the go, they simply:
Select the service.
Select the preferred date and time.
Specify service provider.
Scheduling
The calendar is the center of your business and Booker's scheduling features are designed with that in mind. The program allows you to effortlessly:
See available time slots.
View daily appointments by time and stylist.
View detailed descriptions of services.
Manage all resources, staff, equipment, and facilities required to power availability.
Sell
When you're looking to sell, Booker offers several features for doing so, which include:
Point of Sale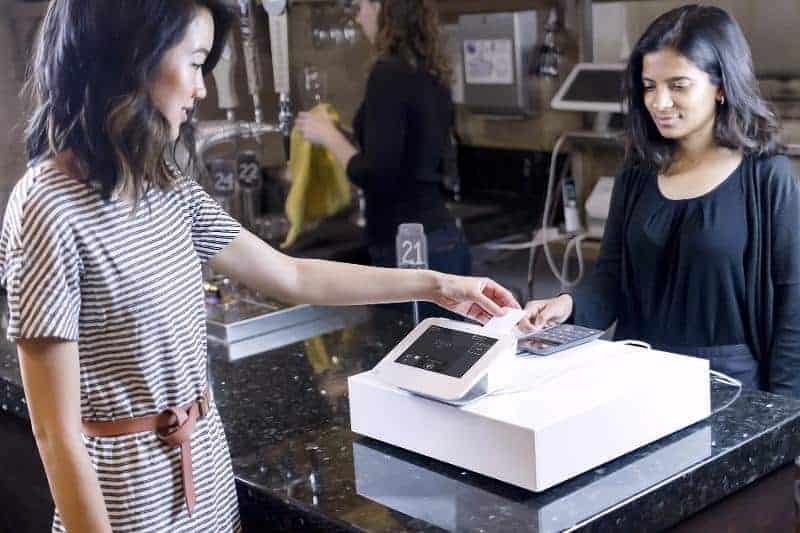 Keep the customer experience stellar with an effortless checkout system. Booker's POS software connects with a credit card processor to process transactions in real-time. You can also:
Connect your POS with customer profiles to process payments using a card on file.
Securely manage and analyze transactions.
Track customer purchases over time.
Accept multiple payment types including cash, credit, debit, gift certificates, and loyalty points.
Credit Card Processing
Who carries cash these days? Providing an option to pay with credit or debit is essential to running a modern business. Booker's credit card processing integrates with the POS system and your account so you can take payments securely and capture sales data from every sale.
The online booking page is a 24/7 store where customers can book appointments, purchase gift certificates, make deposits, and buy products online. Other benefits include:
Safe and reliable processing that complies with PCI and security standards.
Quicker checkouts to improve customer experience.
Competitive credit processing rates.
Mobile Payment Processing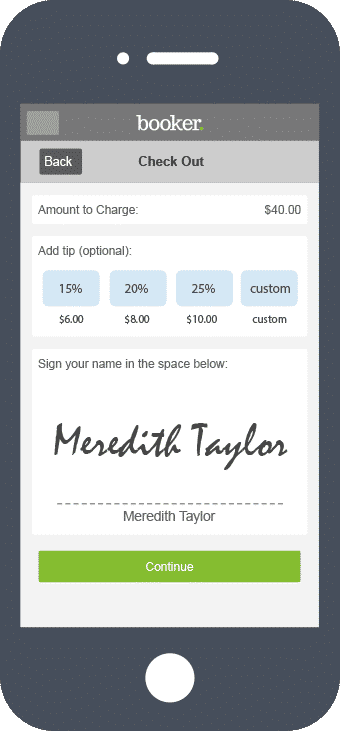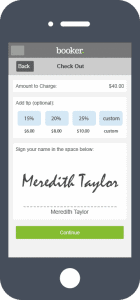 Mobile payments provide the ultimate convenience for both your customers and employees. Booker turns any tablet or smartphone into a payment terminal. This allows a business to capture and authorize charges anywhere in your store. You can also perform tasks like:
Send receipts via email.
Accept signatures directly on a device.
Provide fast and reliable payment processing.
Gift Certificates
Give the gift of convenience with customized gift certificates. Booker also offers:
Print and email delivery options.
Balance tracking and syncing customer records.
Personalized designs branded with business logo.
Sales from your store, Facebook Pages, and website.
Attract
A business also needs tools to attract new prospects and retain the customers you already have. Here are a few features to attract people:
Booker Marketing Network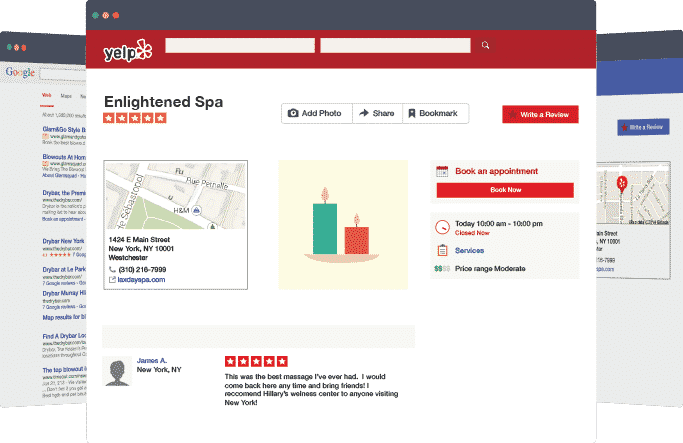 Advertise all open appointments with the Booker Marketing Network. Display unfilled time slots across Booker's network of partner sites to fill up your book during slow times. Booker's distribution partners include:
Bing
Yahoo
Yellow Pages
SuperPages
And more…
Social Promotion
Booker gives a business the ability to create and publish specials and offers to prospects and customers on channels like Facebook, Twitter, and other leading networks.
Booking Page
The customized booking page integrates with a website's flow and design. This makes it easy to demonstrate your services to prospects and facilitate booking an appointment. During the process, customers can select criteria that will help get the best in-person experience, like:
Preferred time and date.
Specified service provider.
Business Intelligence Dashboard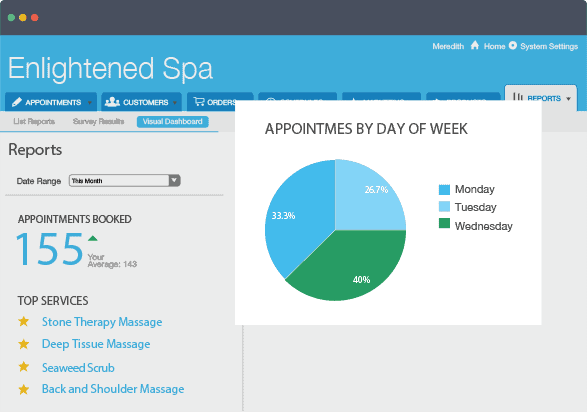 The majority of small businesses don't know if their marketing even works. Understanding where your customers are coming from is key to driving business.
The Booker Business Intelligence Dashboard provides insights that are actionable for sales and marketing efforts. This type of tool helps to intelligently grow a business and better understand if their marketing truly works. With the dashboard, you can easily:
Track customer referrals.
Understand how much your customers are spending.
Know which marketing initiatives drive repeat business vs. new business.
Manage
Employee Scheduling Software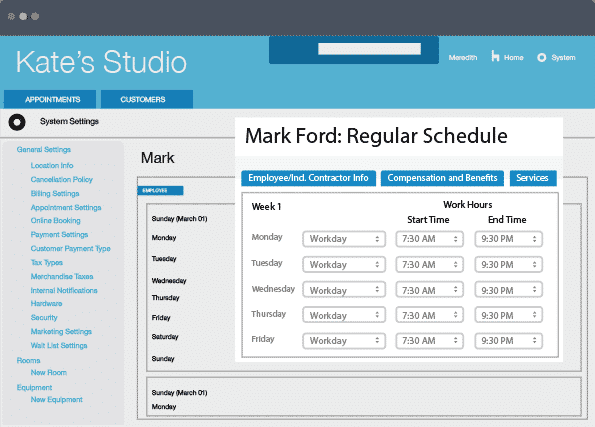 It's extremely time-consuming to manually update a schedule. It can lead to lapses in coverage or double-bookings. Booker's employee scheduling software and payroll management help reduce errors so you can spend more time growing the brand. Additional features include:
Mobile schedule access for your staff with automated shift reminders.
Employee schedules that sync with your calendar.
Flexible options to support a compensation structure.
Centralized reporting on staff hours, tips, and service deductions.
Customer Relationship Management (CRM)
Customers are the heart of your business. The system has in-depth profiles and reports that will help you build better relationships with new and existing customers. Booker allows a business to:
View real-time total sales.
Track customers' first and last visits.
See appointment history and preferences.
Robust reporting across all consumer activity.
Track marketing campaigns and membership information.
Inventory Management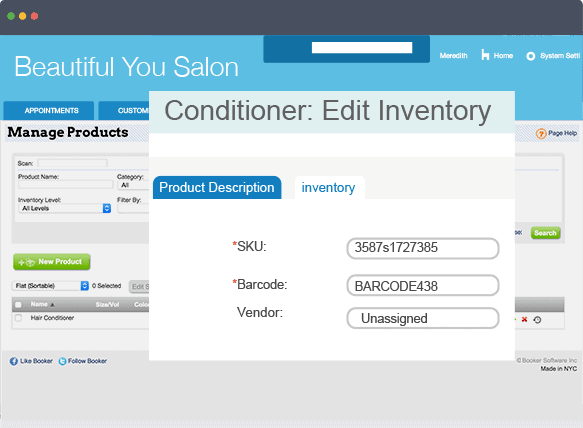 Managing inventory isn't a favorite task. That's why Booker offers simple and reliable tools to help you track product and vendor inventory for both online and in-store sales. The inventory management feature allows you to:
Optimize inventory based on in-person and online buying patterns.
Take physical inventory.
Oversee purchase orders.
Manage product lines by manufacturer.
Identify trends in staff performance, product usage, and customer purchases.
Reporting
Data only benefits your brand when you're using it to make good decisions. The Booker reporting suite provides real-time reports that are designed to help you analyze key performance stats and gain valuable insight into:
Customer trends and behaviors.
Booking and sales.
Employee compensation and hours.
Inventory turnover.
Marketing campaign performance.
Retain
Email Campaigns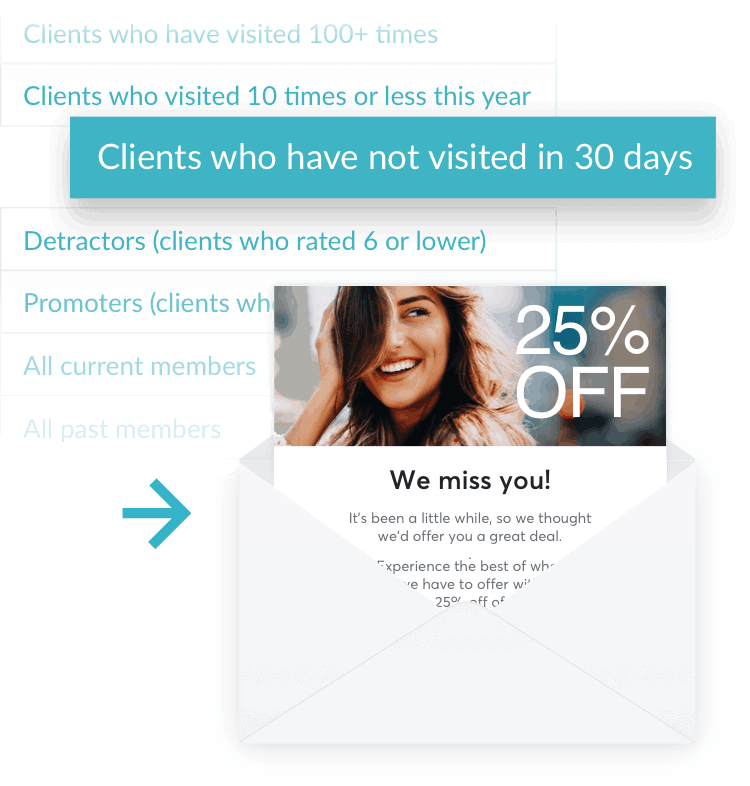 Booker allows a business to create, schedule, and send emails to an entire mailing list or a single customer in just a few clicks. Design beautiful emails and put them in campaigns to customers to increase engagement.
One of the most effective ways to engage customers is through email campaigns. Depending on your business, you may be sending emails to encourage them to buy upsell items or to pre-book a reservation. You may also be sending milestone emails that indicate a certain phase of a customer's lifecycle, such as a birthday or anniversary. These types of emails are highly effective and have a high open and click-through rate. To make the most of these emails, you must first gather customer data.
Newsletters are a common type of email marketing. They welcome customers and introduce new products. Newsletters may also contain articles, blog posts, or reviews, which can help people learn more about a product. Most newsletters contain a call to action. They can also include a special offer. These emails can also be customized to suit your business's unique needs.
A successful email campaign should have targeted audiences. Emails sent to the wrong audience can hurt the open rate and engagement rate. To avoid these issues, segment your lists based on their behaviors and preferences. You can even ask your subscribers to provide additional information, such as gender, age, or category of goods they like.
Before you can begin sending email campaigns to your customers, you must first build an email list. You should consider your target audience, as well as your budget. For example, a business that sells baby clothes should target mothers-to-be. You can build a database of these email addresses through conventional means, or you can also use a subscription form such as SendPulse. This service is an excellent choice because it allows marketers to integrate subscription forms onto their website. Furthermore, it helps in collecting quality subscribers since it embeds subscription forms in high-traffic areas of a website.
Additional features include:
Send newsletters, holiday greetings, special offers, and more.
Target a few customers or your entire list with the Smart Lists feature.
Build professional emails in a few simple clicks using the email builder.
Marketing Automation
The Booker Marketing Suite syncs effortlessly with your schedule to send the right message to the right people, at the right time—automatically. You can create customized, programmed texts and emails from templates and then send them based on your criteria. Control what specials and services you promote to keep clients coming back for more. Other benefits include:
Convert drop-ins.
Rescue lost customers.
Remind clients to book again.
Fill last-minute openings and slow days.
Booker POS Customer Service and Support
Booker customer support can be reached via phone, email, or social media. They offer a variety of resources for customers that include:
Case Studies
Blog
Customer Stories
Manage Email Subscriptions
Guides
Checklists
The brand also offers a help center with several types of content like:
Training videos
"New to Booker" section
MINDBODY One – Booker forum of professionals
Helpful articles
Support is available Mon-Fri 9 a.m.-9 p.m. EDT.
The Final Say
Booker is one of the best POS systems for scheduling and booking clients. They specifically cater to stores like:
Spa
Salon
Float Spa
Cryotherapy Spa
Lash Salon
Blow Dry Salon
You can always get a custom solution if you contact the brand directly. Overall, if you need a robust system for appointing customers in an automated fashion, Booker is your prime choice.