(Last Updated On: December 28, 2022)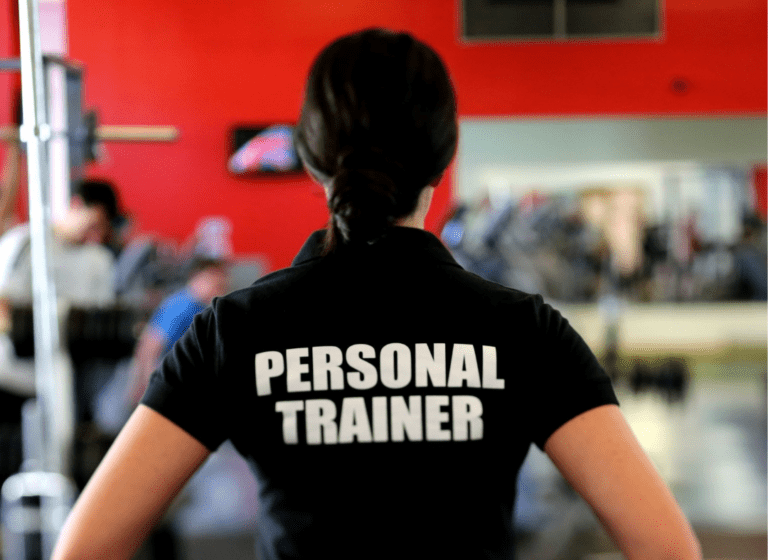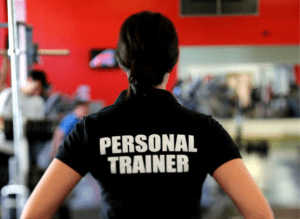 Are you an active person?
Do you have a passion for helping others?
Have you always dreamed of working for yourself?
The field of personal training may be the one for you. According to the Bureau of Labor Statistics, (1) the employment of fitness trainers and instructors is projected to grow 39 percent between the years 2020 and 2030.  
Becoming a personal trainer is a very lucrative and timely opportunity in 2022, considering the projected growth. With the pandemic still in full effect, starting your own personal training business has never been easier. Why? Because many personal trainers and fitness professionals have made the shift to working with their clients completely from home. Classes, training sessions, nutrition advice, and more – can all be conducted over telephone or video conference.  
If you're interested in becoming a personal trainer, you'll need to develop a number of skills. These include communication, planning, and interpersonal skills. Then, you'll have to pass an exam.
There are several different types of certification exams. You'll want to choose one that suits your skills. Choosing the right certification can help you land a job and advance your career.
Many certified personal trainers work at health and fitness centers, sports clubs, and hospitals. They may also run their own business as independent contractors.
Personal trainers work with people of all ages and physical abilities. They provide training programs for their clients and help them achieve their fitness goals.
Personal trainers are paid for their expertise. As a result, they must continually improve their knowledge of nutrition and training methods. To stay abreast of these trends, they should enroll in continuing education courses.
During an interview, a personal trainer should demonstrate their confidence, communication skills, and dedication to their profession. They should also ask questions about the motivations of their clients, and understand how they can retain them.
Before taking a training certification exam, you'll want to make sure you're in excellent physical shape. It's also a good idea to take a public speaking class.
Most certifying agencies will require you to renew your credentials every few years. Your certification will give you credibility and give your clients confidence.
Depending on the certification, your exams will cost $250 to $400. Training materials can cost $200 to $1,500, depending on the agency.
The personal training industry can provide a livable income for most. The great thing about this career path is that it is completely scalable. Your business will grow as much as you are willing to put in the work to market yourself and expand your clientele. According to the National Academy of Sports Medicine, the average salary of personal trainer in the United States is $40,000. Most trainers choose to charge on an hourly basis, so the more clients that you acquire to work with and the more hours that you put into your business, the higher that salary number will become.  
| System | Starting Software Costs | Hardware Costs | Key Features |
| --- | --- | --- | --- |
| | Quote based | Quote based | Ideal for hybrid fitness businesses, in-Person & online gym payment processing |
| Our pick! | $117/month | Quote based | Will build a responsive website for your gym |
| | $149 to $389/month | $0 | Enhanced ease of use, scalability, exceptional customer support and intuitive design |
What Do You Need to Become a Personal Trainer? 
If you are interested in becoming a personal trainer, there are three key things that you will need.  
#1) Love for fitness and helping others – If you are serious about becoming a personal trainer, make sure you have the right motivation. There is an expectation that you have a passion for fitness and health. Training clients can bring a set of challenges, so it's important to have a desire to help others accomplish their fitness goals to get you through hurdles in your career encounters. You should focus on what you want and why you want to become a personal trainer. It will help you be successful in your business. 
#2) Certification – You will need a certification to become a personal trainer, whether you are working for yourself from home or decide to work at a facility one day. Many employers will require you to have a certified personal trainer certification to be able to work there. 
#3) CPR Certificate – Most personal training certification programs will require you to complete a CPR training course and become certified in order to gain your personal training certification.  
5 Easy Steps to Become a Personal Trainer
If you have the drive and desire to help others in their own exercise journey and are willing to put in the time and effort to get your CPR and personal training certification – personal training may be the right fit for you. There are 5 easy steps that you can take to get you on your way to success in this field. 
A step that isn't actually required but may help you in your endeavors is to have a business background, especially if you are planning to run your own training business. This isn't as hard as you might think. You can complete a small business training course, which you can take at a community college. After you've graduated from the program, you should join your local Chamber of Commerce or a Meetup group. You can also participate in trade shows or annual expos that are held in your area, which is a great place to network with other industry professionals to your surrounding community. This will help you find potential clients as well.  
The first official step in the five step how-to-guide is to get your CPR training and your personal training certificate. You should choose an institution that is accredited by the NCCA, or another reputable source. You must have at least two years of experience in the fitness industry to qualify for a certificate, however most institutions will accept your own fitness journey as adequate experience.  
If you want to specialize, The International Sports Sciences Association offers certification in several different areas, including fitness training, strength and conditioning, and senior fitness. The ISSA offers many specialized accreditations and has partnerships with some of the leading health clubs. The cost to become a certified personal trainer is usually about $500. 
The second step that is not an obvious choice but will be extremely helpful, particularly if you are brand new to the industry – is to find a mentor. The mentors of the industry can help you gain the knowledge and expertise necessary to become a professional. A mentor will be able to guide you through the ins and outs of the industry, and help you with every step of the process when it comes to establishing yourself as a trainer.  
In addition, mentors may be able to send you clients that they are not able to take on. The right mentor will be able to give you advice on many aspects of the career from setting reasonable rates, different client personalities, and more. It will be beneficial to have someone who has walked through the journey you are embarking on and be able to answer any questions that you may have.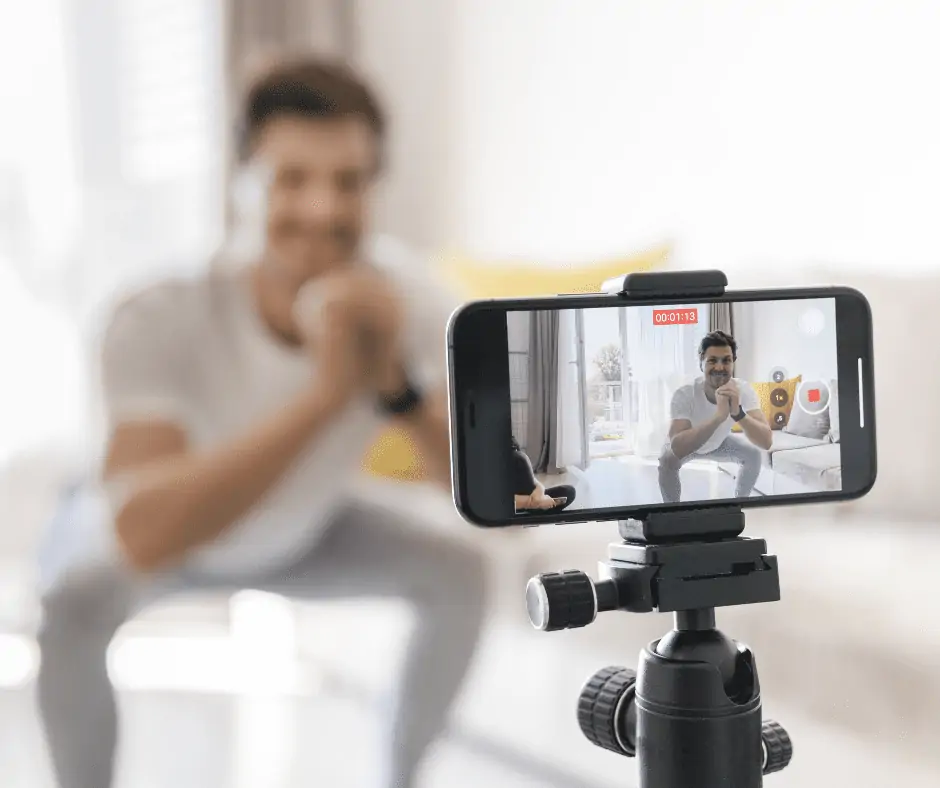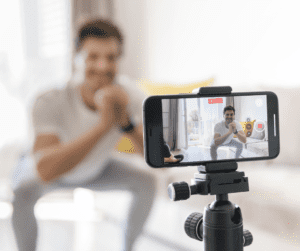 Third, you will want to purchase equipment and start on your marketing. If you are running your personal training business from home, it will require you investing in the right equipment. If you are deciding to do fully virtual training, you'll need to make sure you have fast-working internet connection, a video camera with good visual quality, and a microphone with clear sound quality. Investing in the right technology will ensure that your clients are able to see you and hear you well during their training sessions. If you are planning to train clients in your home, you'll need to make sure that you have ample fitness equipment to train a wide variety of clients at different stages in their fitness journey.  
Once you have purchased any equipment that is needed, you should start marketing yourself. Create a logo for your business, and consider imprinting it on your own gym apparel to sport around your community. These promotional pieces will identify your business and invite potential clients to approach you. You can also use your logo to set up online profiles on social media platforms to create your online presence.  
After you have developed a brand for your business, you can begin attracting new clients. Decide if you want to provide services to everyone, or if you simply want to target a niche audience like senior citizens, runners, body builders, etc. It's important to develop a great marketing plan so that you're able to have a strategy in place to acquire clients, whether that is through social media, word of mouth, or attending fitness events. As a fitness trainer, you'll want to be able to sell your services and clearly communicate to people why they should hire you. 
Fourth, you'll want to complete any legal steps that are required by your state. This will vary depending on where you live. In most cases, you will need to register your business as a limited liability company or some type of official legal entity. Registering as an LLC will ensure that any personal assets that you have are secure in the event that you get sued. This is an important step, as well as investing in a good business insurance plan. Training clients always presents a risk of injury, so it's crucial to make sure that you are protected in the event that a client gets hurt. If you are planning to host clients in an area out of your home, check with your local government to ensure inquire about any zoning approvals that may be needed. 
Fifth and lastly, it's time to get paid. You'll need to decide on the rates that you want to charge your clients. Your rates should be based upon your qualifications, experience, as well as how much money that you want to make. You can use some simple math using your desired income to determine where you need to set your rates. 
Check out this online personal training income calculator below (2) and you can plug in your own numbers and quickly view some common rate numbers and the income that those rates would bring in. 
For example, if you charge only $99 a month for online training and you add seven new clients every month, here's how much money you'll make: 
After 12 months: $54,054

 

After 24 months: $207,900

 

After 36 months: $461,538

 
Now, let's run those numbers with you charging more for your online training—something many trainers should do. If you charge $179/month and add seven new clients a month, here's what your online training alone would bring in: 
After 12 months: $97,734

 

After 24 months: $375,900

 

After 36 months: $834,498

 
Keep in mind that growing your business is a marathon not a sprint, and it will take time to grow your business. Make sure to set a rate that is sustainable. 
Best Point-of-Sale System for Personal Trainers
After setting your rates, you will want to make sure that you have a method of accepting payments. Using a platform like Venmo or PayPal to accept payments is common, however these types of payment platforms can be difficult to track your income when it comes to tax reporting time. It's best to invest in a point-of-sale (POS) system to make receiving payments a much easier process. There are a few different point of sale systems on the market that are designed specifically with the fitness industry in mind.  
Exercise.com – Most Widely Used in the Industry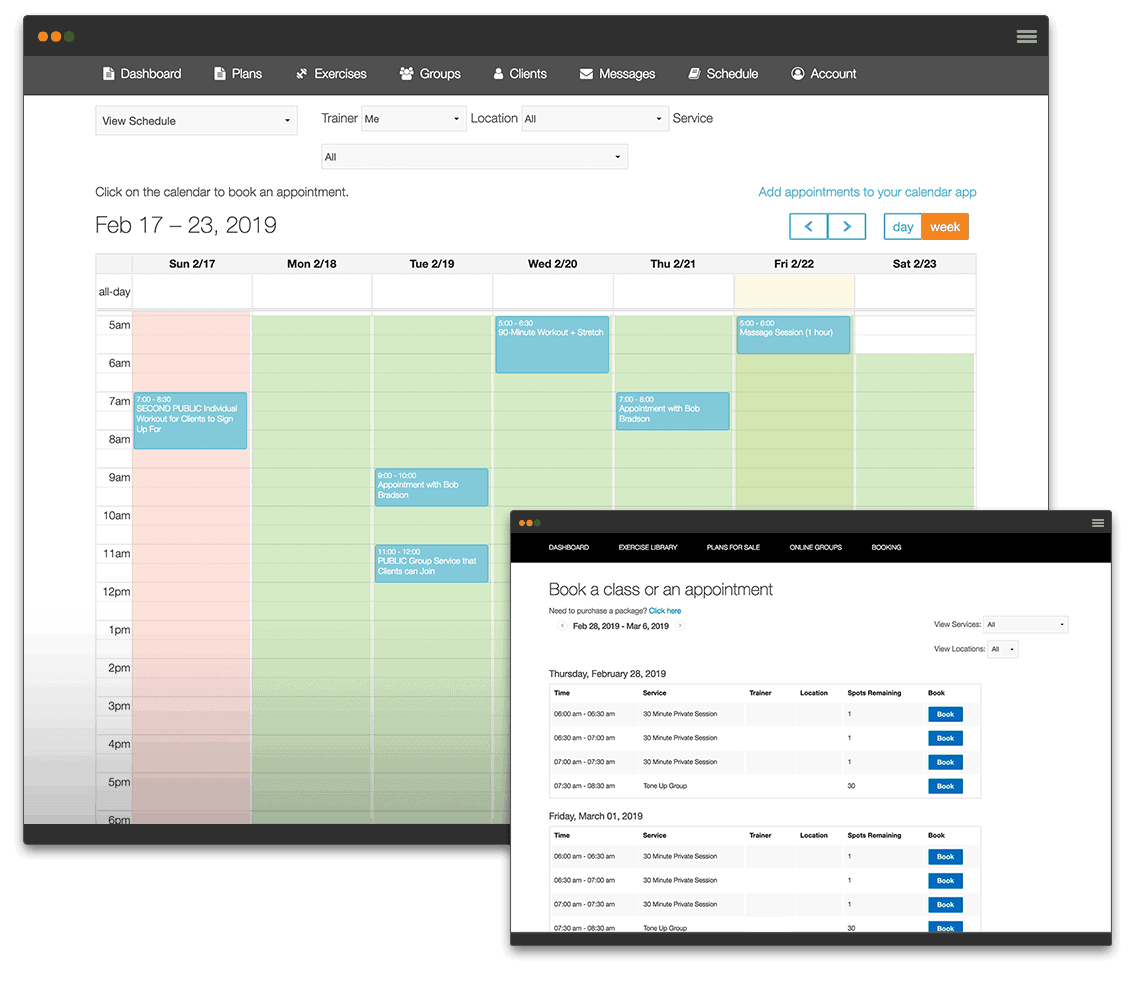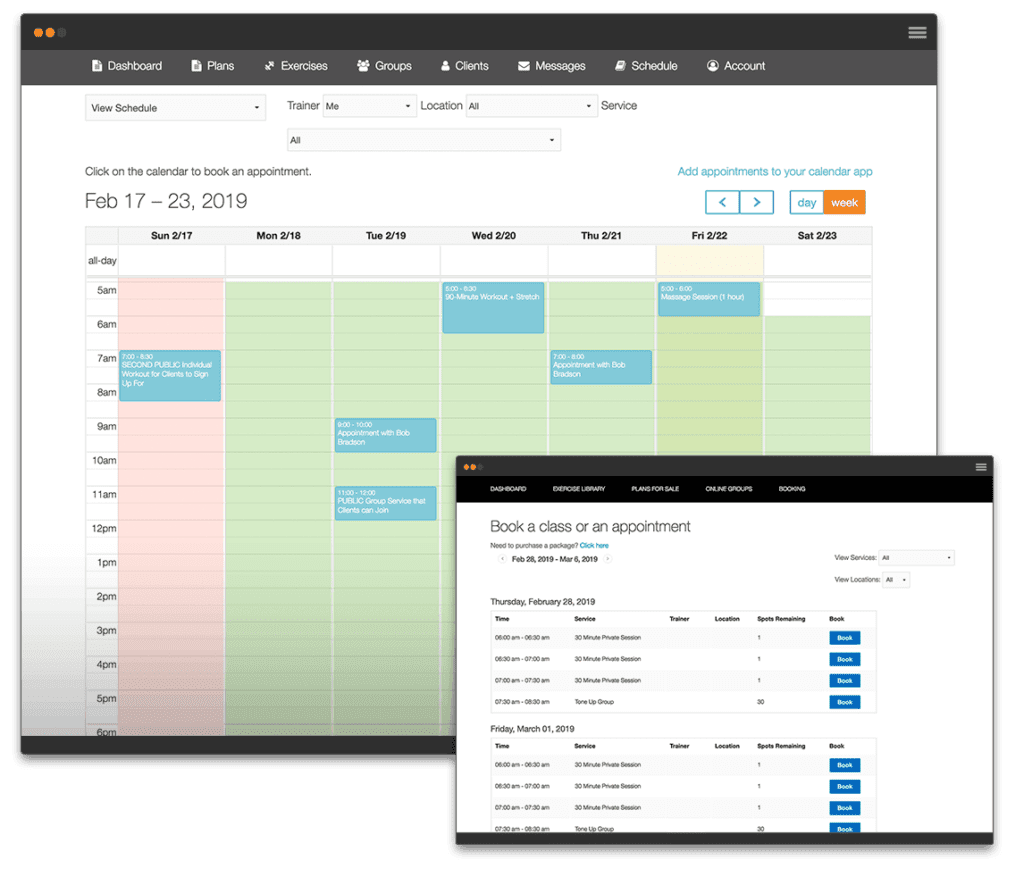 A great option and one of the most widely used POS systems in the fitness industry is Exercise.com. Exercise.com is our top recommendation for fitness industry professionals, because the platform offers the most industry-specific features at the most appealing price point. Not only will this software allow you to accept payments, but the software offers an all-in-one solution that can assist you in every single aspect of running your training business.  
The right POS for your gym can help you streamline your business and increase your revenue. While it can be tempting to buy a POS system just to save money, you should think about its features and functionality before you make a decision. A good gym POS should be able to handle all aspects of your gym including scheduling, billing and marketing.
If you are looking for a POS system that can accommodate your needs, try Zen Planner. It's a multi-faceted system that offers superior POS features and can keep your members motivated to hit the weights. You'll also be able to track their progress through an inbuilt percentage calculator. Plus, Zen Planner's website is mobile-friendly and has embedded forms, which have proven to drive more leads to your studio.
Another feature of this POS is its ability to create custom-branded apps for your members. They can use these to check their account and make payments online. This feature makes managing your gym's memberships and reservations easier.
In addition to billing and scheduling, EZ Facility POS is also designed to simplify the day-to-day operations of your gym. Featuring advanced tournament schedules and printable scorecards, this software can automate your daily activities. For instance, it can help you set up complex league schedules, track member purchase histories and bill members on time.
Another great feature of this POS is its compatibility with a wide range of cash tills. Using a POS that's compatible with a variety of different cash tills ensures that you can manage your daily business from a single point.
Exercise.com Pros: 
-Appointment Scheduling Assistance 
-Client Fitness Assessments 
-Billing & Invoicing Tools 
-App and Website Creation  
-Quick Payment Processing 
-Attendance Tracking 
-Exercise and Nutrition Logger 
-eCommerce Capabilities 
-Interactive Customer Support Staff 
Exercise.com Cons: 
-Users Report System Glitches 
-Limited Customizations 
-Workout Program Builder is Sub-Par 
-Platform is Not as User Friendly as Others on the Market 
-Users Report Heavy Differences Between Apple and Android User Experience 
More about Exercise.com… 
The personal training platform from Exercise.com will allow both you and your clients to easily log their workouts, view training history, track their nutrition, and view progress notes. This feature will enhance client-trainer communication and allow you as the trainer to really aid in helping your clients reach their goals in a timely manner. The software uses smart analysis on client performance, tracking key stats like records/PRs, exercise performance, and progress photos.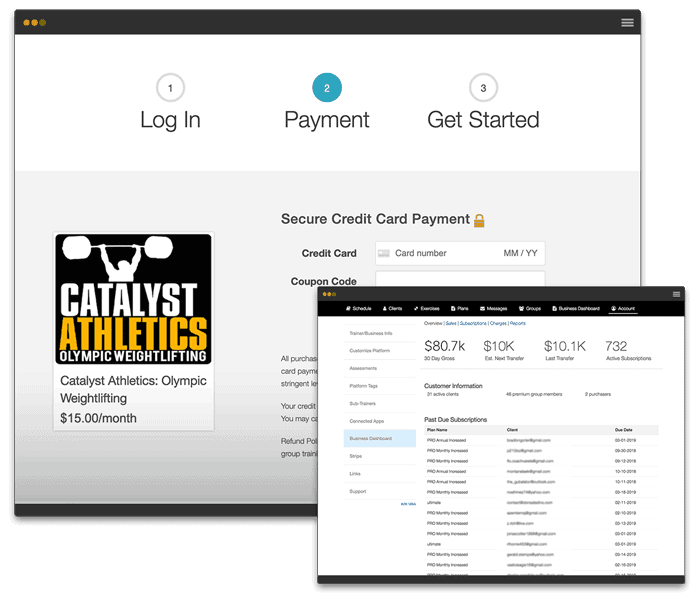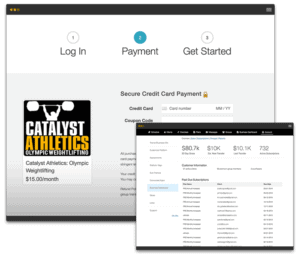 Scheduling is everything when it comes to running a personal training business, and using a great fitness point-of-sale software such as Exercise.com will help you with scheduling management. Make your schedule viewable online and keep it up-to-date for clients to utilize online booking. You can schedule, view, and manage all your appointments in one easy location. You can also set it up for recurring training sessions and send out automated appointment reminders to clients to ensure they never forget a meeting. 
Clients are able to pay you online on a secure payment processing portal offered through your custom branded application. Clients can be set up with automated billing and billing reminders. In addition, clients are able to purchase membership packages through your website or app. It's a simple process and clients can pay you in just a few clicks.  
Exercise.com runs on a quote-based pricing model, but there are various pricing plans available based on your needs. Typically, trainers with 25 clients or less can expect to pay around $125/month. 
ZenPlanner – The Most Customizable Option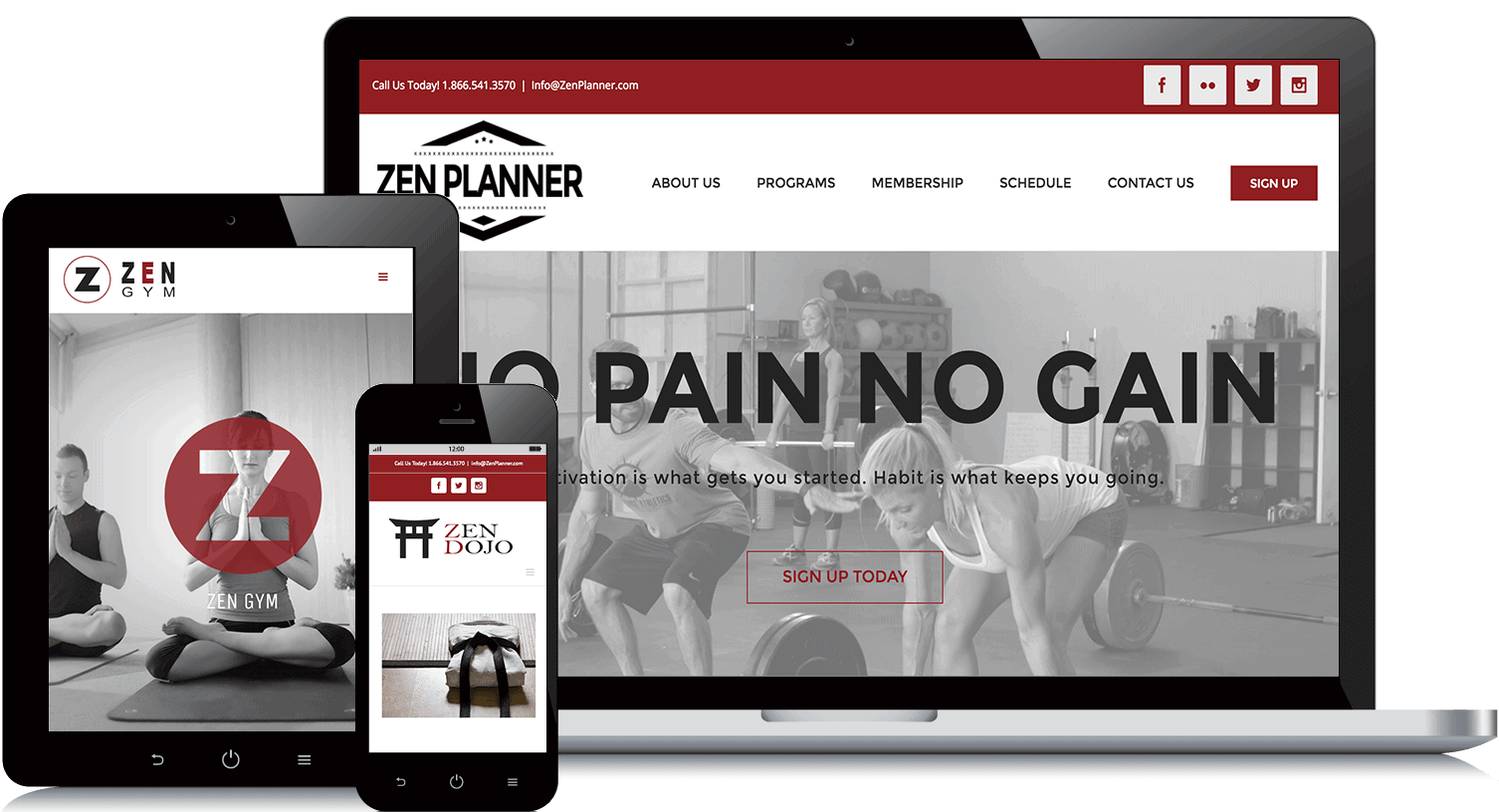 ZenPlanner is another great option to utilize as a personal trainer. ZenPlanner offers the best management software solution for those in the fitness industry. What sets ZenPlanner apart from other platforms on the market is the attention to detail when it comes to customer relationship management. 
ZenPlanner Pros: 
-Customizable Automations 
-Mobile App for Clients 
-Integrated Marketing Tools 
-Simplified Scheduling 
-Workout Tracking and Reporting 
-Easy-to-Use Website Builder Templates 
-Straight Forward Pricing 
ZenPlanner Cons: 
-Android App is Not as Extensive as Apple App 
-Users Report the Application Can Be Buggy and Crash 
-Customer Service is Lacking 
-Steep Learning Curve for Trainers and Clients 
More about ZenPlanner… 
A great aspect of ZenPlanner is their pricing model. Their platform offers very transparent pricing. A personal trainer with 50 clients or less will pay $117/month to use their system. There aren't any start up fees or long-term contracts, which is a nice bonus if you decide that you don't like the platform and would like to switch.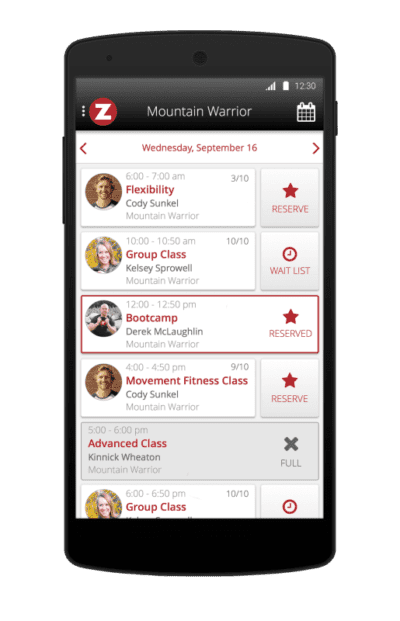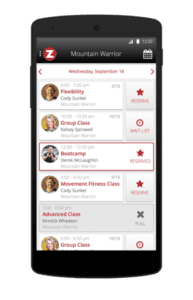 ZenPlanner excels in their all-in-one customer management suite. In recent years, their platform launched the Websites feature that allows for their management software to be integrated with a custom WordPress site for trainers. The Website automatically embeds ZenPlanners calendar and lead form tools within the template for you.  
The customer support staff at ZenPlanner will assist you in any questions that you have during website creation or any issues that arise. This is a really nice feature for trainers who are working or operating their business from home, so clients can interact with you directly on your website. Having a clean online website for potential clients to be able to find you and book your services is important. 
A fun feature that is exclusive to ZenPlanner POS software is that you are able to program workouts directly onto the software and then share them onto your website or social media. Your clients can access the workouts from their mobile app. In addition, you can let your clients interact with each other through a client leaderboard. This will allow your clients to log their workouts, and "like", "comment", or cheer other clients on as they log their progress. It's a fun way to stay accountable with others on their journey as well as have some friendly competition.  
Receiving payment is fairly simply through the ZenPlanner dashboard. You can set clients up on an automated draft schedule. If you're in person, you can simply use the Credit Card Capture tool and take a picture of your client's card. Or, clients can use their member app and the self-service portal to pay you directly online. 

Mindbody – Marketing Focused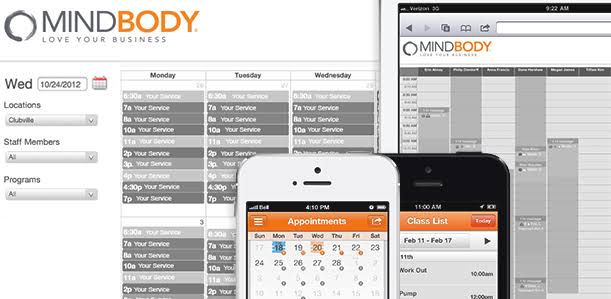 If you are just starting out on your personal training journey and need to focus on gaining clients, Mindbody will be a great option for you. This platform works hard for you when it comes to marketing and client acquisition. 
Mindbody Pros: 
-Built-In Marketing Capabilities 
-Reliable 24/7 Customer Support Access 
-Alerts and Notifications for Clients 
-Real-Tiem Scheduling Alterations 
-Integrated Artificial Intelligence Tools (Available with More Costly Pricing Packages) 
-Robust Reporting Capabilities 
-Transparent Pricing Pacakages 
MindBody Cons: 
-Full Feature Set Can Be Expensive 
-Steep Learning Curve 
-Software Can Be Buggy 
More about Mindbody…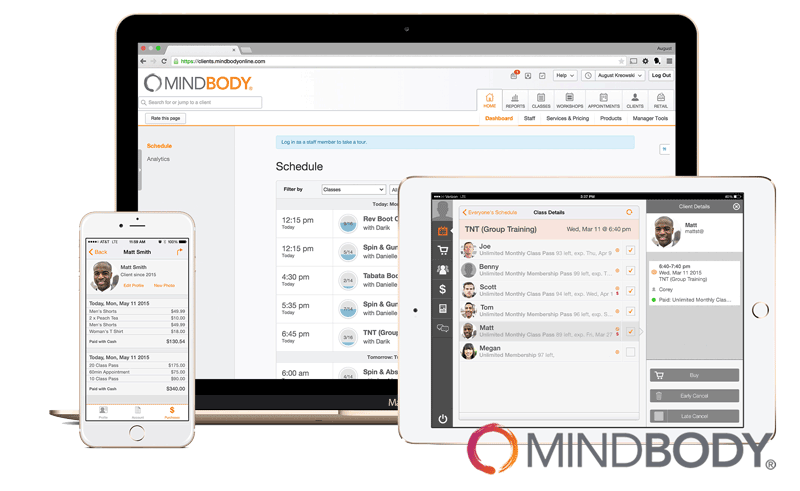 As with ZenPlanner, Mindbody is upfront about their pricing. The most basic package will cost you $129/month, and the most extensive plan is $399/month. The basic essential pricing plan includes scheduling, reporting, and point-of-sale. The most feature-rich plan includes automated campaign options, and a customer referral program.  
One way that Mindbody will assist in growing your client base is through their finder tool on their website. Consumers are able to go onto Mindbody's website and search for fitness instructors close to them. When you use Mindbody, you can make your profile visible on their finder tool so that potential clients in your area are able to easily find you online.  
Mindbody's platform works to automate tasks for you so that you are able to focus more on training. Mindbody will automatically send text and email confirmations for appointments to your clients through the Mindbody mobile app. You can also set up automatic spot refills. If a client wants to train at a certain time slot, they can choose to be put on a waitlist. If someone cancels for their spot, Mindbody will let them be added to that spot automatically. 
The point-of-sale functionality within Mindbody has a user-friendly interface. It's easy to accept payments, as you can create client profiles. Within the client profile, clients can save their preferred payment method and make secure payments within the platform. 
Get Started: Build Muscle and Business!
Becoming a personal trainer can be a very rewarding career choice. As you grow your personal training business, finding the right point-of-sale solution is very important.  
You will need a system that helps you with scheduling, management of your client base, website and app creation, as well as point-of-sale capabilities. While investing in a point-of-sale solution may seem like a daunting and expensive leap at first, your business will experience a strong return in the long run.  
Bureau of Labor Statistics

(2021)

 
Exercise.com

(2022)