(Last Updated On: March 28, 2023)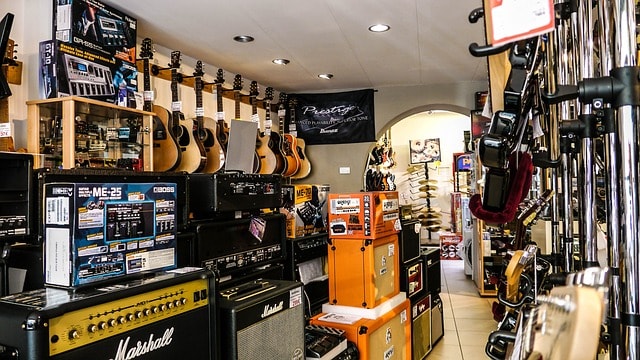 Even though much of the music industry is transitioning online, physical music stores can still be a profitable business venture. Musicians are passionate about their craft and many prefer to hold the instrument in their hand to see if it is a good fit, purchase music accessories without worrying about shipping times, chat with a professional or another musician for an opinion, or simply support their local music community. 
 Opening up a music business will require a catchy naming and branding, business licensing, a great location, a solid POS system, and continuous community involvement. Though it may seem like a daunting task at first, opening up your own music store is definitely possible when you break down the steps and follow a solid business plan. 
 Whether you are passionate about music or would simply like to fill a gap in your community, opening up a music business can be a profitable and long-term business venture. This article will walk you through the basic steps of opening up your own successful music store.
1. Pick Your Name and Branding
Before you get started, you will need to decide whether you would like to create your own store or open an existing franchise. Consider which option will work best for you:
Franchise: A franchise is an established brand that may allow you to open up a location for one of their stores. The requirements and fees for each franchise vary, but most franchises require an initial fee and continued royalties. In return, you are able to open a franchise location using their branding, connections, intellectual property, existing name recognition, and more.
Your Own Music Brand: Creating your own music brand from scratch allows you to have full control over your business strategies, product curraction, vendor selection, branding choices, and marketing. 
While operating a franchise can provide an existing business plan, creating your own brand will allow you to maintain full control of your brand, what it stands for, and what it will do in the future. When opening your own music brand, some important things to consider include:
A Great Name: The name of your store is one of the most important things. Consider using the word "music" in your name so it is self explanatory. While you may get some customers from word of mouth, having a self explanatory name will let anyone who is passing by understand what kind of store you are. 
An Eye Catching Logo: Your logo should be a visual representation of your brand. Your logo should be appealing to view, and it should conceptualize your brand. Ensure that all parts of your logo are easy to read. This includes any fonts, high quality images or icons, and a clean color scheme. Since your logo is a vital part of your brand, you may want to consider getting professional design assistance for the centerpiece of your brand. 
Color Scheme and Branding: Decide on a general color scheme that you would like to stick to. This will help with consistent and professional branding. 
2. Set Up A Legal Business
While you may want to jump right into the fun stuff, there are some necessary business steps that have to be taken first. Before you can open your doors, you will need to:
Set Up a Legal Entity:

You will need to set up a legal business entity in order to open a storefront. Most businesses form an LLC (Limited Liability Company), and you can also form a partnership if you intend to bring on additional partners and investors.

Secure Your Digital Assets:

Physical property is not the only thing you have to protect in your store; ensure that your digital property is protected as well. This includes applying for the necessary trademarks and rights to your logo, name, and any slogans or unique branding. 
3. Set Up Necessary Licensing and Insurances
After you set up your legal entity and secure your digital assets, you will need to purchase applicable insurance and licensing. While the music industry may not have as many licensing requirements as other industries, there are many insurance options that you will want to research and consider. These options include: 
Liability Insurance: Protects against customer injury claims such as slips and falls, as well as property damage claims that occur on your property. 
Commercial Property Insurance: Help cover the costs of damages if your property is damaged. 
Certificate of Occupancy: This is essential for any physical storefront. It shows that you have passed all inspections and maintain a safe environment for your employees and customers. 
Business Interruption Insurance: Helps cover losses if your business has to temporarily close down due to a disaster. Some plans will also cover costs if your business has to close for a pandemic. 
Many insurance options can be paid by affordable monthly fees. In addition to the options listed above, research any specific requirements or recommendations from your local state, county, and town. 
4. Pick The Perfect Spot
Once you have everything in order on the legal side, it is time to pick your location. Whether you are leasing a location or buying a space, there are many important factors to consider:
High Traffic Area: One of the most important things about your store is the location. While customers may find you online or by word of mouth, it is essential to have a location with high traffic. If you are opening in a mall, take a look at the location within the mall. Is your store going to be in a high traffic area that many people will walk by, or is it in a dead-end corner that customers don't venture to?
Easy to Spot: When someone walks or drives by your location, will it be easy to spot? If your location is in an independent building or at a strip-mall, take a look at how visible it is from the main roads. Also consider what may be blocking the view of your location.
Accessibility: If a potential customer would like to come to your store, will they be able to get easy access? If your location has a parking lot, ensure that the parking lot is large enough and is well maintained. If your store is inside a mall, how far is the walk to the closest entrance or exit? You will want a location that is easy and convenient to get to. 
Competitor Analysis: While your own location is important, you should also research how far away your competitors are. Opening up your store a few feet away from a major competitor may not be the best option; you want your location to stand out and draw your customers in.
Physical Space: In addition to the storefront space, you will need to consider what additional space is needed to house all of your business operations. You will likely need a back room for receiving shipments, excess inventory, and a secure safe. 
Nailing down a solid location is a vital part of your business plan. You may also want to keep your future growth in mind and select a location that will be able to accommodate your business as it grows over the years.
5. Set Up Your Space
Once you have secured your spot, it is time to bring it to life. When planning out your setup, there are many factors to consider.
Who Do You Want To Sell To?
When starting your music store, consider what kind of store you would like to create. Sure, it is a music store, but what kind of music store? Do you want to create a community store that anyone from curious beginners to experienced professionals will feel welcomed? Or do you want to create a classy and elegant high end store that only attracts professionals?
What Kind of Layout and Organization Do You Want?
The layout and organization of your store is essential. You will need to purchase shelving or displays for your inventory. Ensure that there is ample space for customers to move around your store without knocking over your products.
What Protections Do You Need?
Since you can't be at your store all the time, you need to protect it while you are gone. When laying out your store, consider where you want to set up security cameras. You will also need to install a secure safe or drop box that cannot be easily removed or opened. Alarms on the doors and safes are also essential for protecting your inventory, cash, and property. 
Necessary Brick and Mortar Accessories
Since you are opening up a physical store, you will need to get cash registers with an integrated POS (Point of Sale) system and set up a checkout area. In addition, you may also want to purchase signs that display your hours and whether you are open.
6. Curate Your Inventory and Vendors
Curating your inventory and searching for reliable vendors is an essential part of making money. Diversify your inventory to appeal to more music lovers and offer a wider range of options. While quality is important, you may also want to consider reasonable budget options.
Pricing your inventory correctly can make or break your business. Determine your desired profit margin and keep this in mind while pricing your items.
Adding lower priced accessories near the checkout area is a great way to increase your revenue. Ensure that these accessories are relevant to your customers and will tempt them to make a last minute purchasing decision while they are standing in line at the checkout.
7. Get a POS System
The software associated with your inventory is as important as the inventory itself. Inventing in a robust and efficient POS (Point of Sale) system can make or break your business. In addition, it will keep your business organized and sort out all the moving parts. An effective POS system can:
Manage your inventory 

Enable you to accept credit cards and gift cards 

Measure your profits and profit margins 

Generate helpful sales reports

Seamlessly integrate with your online sales 

Automate many other tasks
Many POS systems are available through affordable monthly plans, and investing in a good POS system will dramatically increase your chances of success, enable you to grow your business, and help manage the essential day to day operations.
8. Assemble An Excellent Team 
Your sales team is the frontline of your store and these are the people who will be interacting with your customers every day. Build a motivated and skilled team that will provide a great customer experience, whether it is for a curious beginner or a veteran professional. When hiring your initial employees, come up with a list of questions that will guide the interview through the topics you would like to cover.
Many customers will ask your employees for guidance and advice; try to hire employees who are passionate and knowledgeable about music. 
9. Build A Web Presence
In today's market, building a web presence is an essential part of your business. Consider creating a basic website that showcases your hours, location, and contact information. In addition to displaying your information, you can also utilize your website to:
Collect Customer Emails:

Allow your customers to sign up for email newsletters. Email newsletters can be a helpful tool for marketing as you keep your customers in the loop, keep them interested, and link them to new and interesting products. 

Sell Online:

Sell to customers who are far away by opening up an online store from your brick and mortar style. 
In addition to building a website, you will also need to build a social media presence to interact with your customers, find new customers, and advertise your products to your target audience. 
10. Get Involved in the Local Music Community
Attending local music events is also a great way to increase your brand recognition and establish yourself as a friendly and reliable business in the community. While attendance may be enough, some stores also sponsor local bands, groups, and organizations to help promote their brand. 
Finding the local music organizations and schools can also bring in business and help build your local music community. Many schools have music programs and either purchase music equipment or require their students to buy their own equipment. 
Music stores are great spots to socialize
In most cities, a music store is a cultural hub where people gather and listen to the local bands. Post notices about community events like festivals and live music shows to encourage people to check out your shop and support the musicians in your area.
Whether you're an amateur or a professional, a music store can help you find the instruments and equipment you need to get started. They offer an extensive inventory of guitars, pianos, violins, drum kits and percussion instruments.
A good music store is dedicated to serving its customers with a personalized service. They understand their needs and constraints, and can work with them to find the best solution.
They're passionate about helping aspiring musicians and improving their communities through music. They often donate their time to school board meetings and fight for children's music education programs.
Their knowledgeable staff is eager to assist you in your journey as a musician. They will also help you overcome any challenges you might encounter along the way.
Using their extensive network of suppliers, they will be able to get you the products you need at a lower price than online retailers. They will also offer a 2-year warranty on most instruments and a 1-month return policy.
They also offer a lot of other accessories that are useful for the musician in general and their specific instrument. A well-stocked music store will have everything you need to play your favorite songs and create the sound you've always wanted.
Are You Ready To Get Started?
Starting your own music store can be an exciting and fulfilling adventure. You can add to your local music community and fulfil your own passion for music. 
Now that you know the general steps to opening your own store, consider whether this is the right move for you. While the process can be length and requires up front costs, the long-term profits and prosperity will make it worth the investment.