(Last Updated On: July 24, 2023)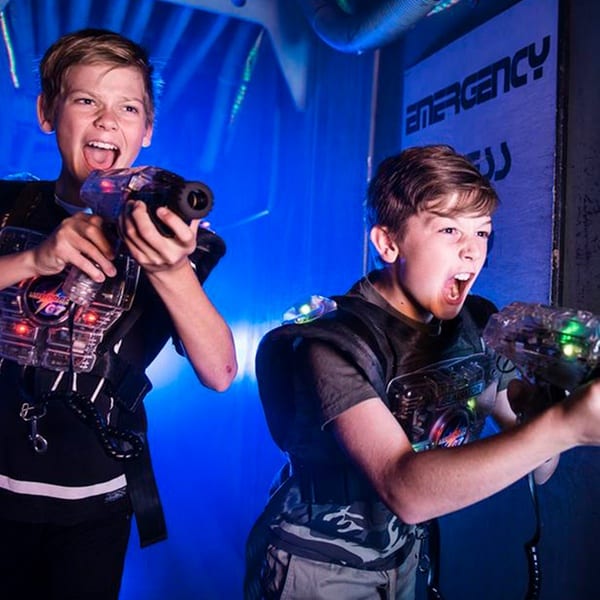 Zap! Pow! Pew, pew, pew! Laser tag is one of the most popular ways for people to get a serious workout while unleashing their inner child. As it becomes increasingly popular among friends of all ages, more people than ever before are looking into the possibility of getting their own laser tag business off the ground. If you're considering a new venture, you need to know what it will take.
Starting a laser tag business requires you to write a business plan, get business insurance, open a bank account, put together an accounting setup, find a venue, add furnishings, hire staff, and also advertise your company. 
If you love playing laser tag and have an entrepreneurial spirit, you may be interested in starting a laser tag business. This type of business can be lucrative and rewarding, but there are some things to keep in mind when getting started.
Get A Business Plan
It is essential to have a business plan when starting a laser tag company. This will help you determine what your financial requirements are and how much you need to invest. It will also provide you with a roadmap for the future of your business. This is something that you should review periodically to ensure your business stays on track.
Setup Your Accounting Process
Once you have a business plan in place, you'll want to setup an accounting process. This will allow you to keep track of all your business expenses and make sure that you're paying taxes on time.
Open An Account
You'll need to open a business bank account so that you can separate your personal finances from those of the company. It's also important to secure business insurance. This will help protect you if something happens to your equipment or venue.
Marketing
If you're going to start a laser tag business, you need to market it to your target audience. One of the best ways to do this is through social media. Make sure to have an arena account on Facebook, YouTube and Instagram. Take group and individual photos during events and post them on these sites. Encourage your customers to like>> and share>> these photos, and make sure you have a watermark on the corner with your brand name.
If you want to become a business owner in the laser tag world, it's going to take a lot more than enjoying the game. To help aspiring business owners get a leg up in this world, we assembled this guide.
1. Write Your Business Plan
The first thing you're going to have to do is write a business plan. Even though laser tag arenas seem to be pretty straightforward at first glance, they're not. You need to have a clear, concise direction in business. This means your plan should have the following written down:
Business Expenses.

How much will you need to get off the ground, and how much money will it cost to run your shop every month? Most people will need between $70,000 and $150,000 to start up their laser tag. Monthly costs can be between $20,000 to $22,000 depending on how you set it up.
Marketing Plans.

Most people would be wise to turn to social media. This can be an additional $4,500 for startup costs. You should specify whether you want to do social media, Groupon, or sponsored ads. Ideally, it'll be all of above.
Potential Competitors.

As an entertainment venue, you're bound to have potential competition and threats. After all, laser tag is somewhat niche. How are you going to separate yourself from the masses. 
Mobile Vs. Stationary.

This is a business idea that can be done via a mobile unit, but is usually better off in a retail space.

Business Concepts.

This includes your brand, what else you'll have aside from laser tag, as well as other amenities you intend to bring on. 
How much does laser tag equipment cost?
It can cost as much as $4,000 to $5,000 to get a professional-grade set of equipment. If you want to have customized items, then you may need to get additional funding for this.
2. Get A Business License
Laser tag doesn't require any specific licenses like a cosmetics company would, but you are still going to need to have certain permits. These include:
A Business License.

This is the LLC and business registration that you get from the IRS. This should be the bare minimum. 
A Sales Tax License.

Most states require you to have a permit for charging sales tax, if you want to sell laser tag gear at your store. 
Gathering Permits.

While you should always be able to host gatherings indoors, if you want to do once-monthly laser tag sessions at parks, this might be mandatory.
Certificate of Occupancy.

A CO shows that the venue you rented or will own passed all the safety standards. 

First Aid Certification.

It's always good to have at least one staff member certified in First Aid and CPR. You never know what can happen.
3. Open A Bank Account
Your laser tag business should not be run out of your personal bank account. To make sure that you get your finances separates, you're going to have to open a bank account. Most major banks will have a business bank account service that you can use. 
Most major cornerstones of business operations will require an account. This includes employment services, taxes, as well as things like insurance. You'll need a business account, period.
How much reserve cash should you have?
Because it can take a while for laser tag companies to get off the ground, it's often best to make sure you get a savings reserve before you kick off your plan. We suggest having at least $50,000 for a reserve amount. 
This should be enough to hold your business over for at least six months or more. Should you have to take a break due to tourist season change or anything else, you'll be able to bounce back.
Should you get a business line of credit?
If you are low on funds and want to make sure that you have a decent income while your company gets situated, then this is a good idea. Otherwise, it's not always necessary. Most of the time, having a line of credit is a smart idea.
4. Get Business Insurance
Much like with most other sports, laser tag is an activity that has a high risk of injury. Trips, falls, and even more painful injuries can occur. If you want to avoid being held liable, then you are going to have to get business insurance. Most states also won't allow retail stores to function without insurance, so it's doubly important to obtain it. 
5. Put Together An Accounting Setup
Accounting is one of the most important parts of getting a business off the ground, and not just because it is so crucial to your tax filings, either. It helps you keep track of everything going on in your company. As a result, you are going to have to figure out how to set up your accounting. 
A good and cost-efficient way to do it is to invest in a POS system. Modern point-of-sale terminals do more than just accept credit cards and print receipts. They now offer accounting software built into the system, and also work as marketing platforms. 
Want to make sure your online marketing campaign is good? A POS can help too. It's possible to accept new reservations made online, right through your POS. Needless to say, since it can help track your company's cash flow and bolster it, it's a good investment. 
Most people will need to set aside at least $100 to $200 per month to get a good terminal. 
6. Find A Venue
While it's possible to get a mobile laser tag unit set up, most people find it to be easier to get a venue that's stationary. Here's what you are going to have to look for in a laser tag space…
You need a lot of space.

This is the biggest thing you're going to have to look for. The more square footage you get, the better off you'll be. People need space to run! 
Ideally, the place you choose will have a lot of foot traffic, too.

It's a lot easier to get people to walk in after shopping in a mall than it is to get people to go out of their way to visit you.
Venues that are close to other attractions tend to do well.

This is why you typically see laser tag arenas in tourist towns. 

If you want to have food or birthday parties, a kitchen and a private room is ideal.

You don't have to have these, but it definitely makes a difference. 
Most of the time, landlords are pretty happy to rent to laser tag companies because there's a low chance of bailing and an even lower chance of property damage. 
What do you need to add to a laser tag venue?
Laser tag venues are very furniture-heavy, despite being places where you're expected to run around wildly. It's all about the decoration, after all. These items below are commonplace with most basic laser tag arenas, but you can add more if your budget allows:
A Front Desk.

You will need to have a place for people to check in and pay. You might also need a barrier if you want to make sure people don't sneak past. 
Black Lights.

Most laser tag arenas have black lights. It just works with the mood. 
Obstacles.

People need things to hide behind when they are playing. It's no different than paintball. If you want to make sure that it's a highly interactive scene, it's best to construct platforms and corridors that allow for climbing. A fully interactive setup can cost as much as $100,000 to set up.
Display Cases.

If you want to sell gear, offer prizes, or otherwise have cool stuff to flaunt, you need display cases near the front desk.
Cubby Holes/Lockers.

While not mandatory, most people want to have a place to store their stuff. After all, no one wants to run around an arena with a purse on their shoulder!
Do you need to get extra building insurance?
In most cases, a laser tag venue is going to be somewhat risky. This is especially true if you want to add special effects or get parties for children under eight. You should expect your building insurance to be higher.
7. Hire Employees
Employees are a must in a laser tag arena, simply because you can't run the place on your own. You will need to have at least five to 10 employees for a typical laser tag business. This will include cashiers, servers, people to watch over the arena, as well as the cleanup crew. If you want to host parties, additional staff may be required for food and parties.
When you're hiring people, it's important to have at least two people who are certified in CPR and First Aid. Should anyone get injured, you will be able to have a person on staff to help them out. In some states, this is also legally mandated. 
If you want to add food to the mix, then you also will need to hire people who are certified to handle food safely. The standards for certification vary from state to state, so you will have to search this up locally.
Finally, since this is a business venture that often requires more than 15 employees in some situations, you need to look into health insurance. Many states require employers to have it.
8. Market Your Laser Tag Business!
No company will survive too long without marketing. This means that you are going to need to make sure that the word gets out. There are several ways to make sure that locals hear about your laser tag venue…
Groupon.

Most new laser tag venues use Groupon as a way to get people in the door. This is a great choice for people who want their advertising to pay for itself.
Use Social Media.

Flattering photos of your venue, funny laser tag memes, and announcements on platforms like Instagram and Facebook can help. You might want to consider getting a social media guru for this

Use Local Coupons.

Believe it or not, people do use coupon clippers they get in the mail. If you want to get the word out and have extra cash, this might be a good way to do it.
Create A Website.

You should have a website and register your company with Google Places and Yelp. These are the fastest ways to make sure that your company is accessible online. You can link your POS to your site so that you can also get reservations.
Ready To Help People Have Fun?
If you've ever gone to a laser tag arena, you already know that it's a thrill. There's something so satisfying about being able to target people, hide, and also run from your pursuers. If you are passionate about sharing laser tag with the world, it's possible to do so…as long as you have the right plan. 
Getting a laser tag arena is a massive, large-scale endeavor that takes a lot of work and a lot of money. Should you take this route, make sure that you have enough funds and skills to make this work. Aside from that, having a passion for laser tag is a great way to make your life (and the lives of others) a lot more fun and active.