(Last Updated On: September 28, 2022)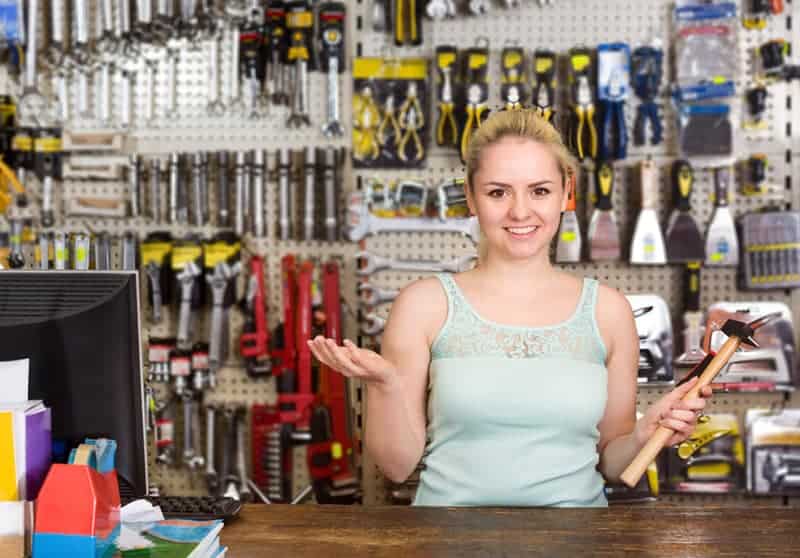 Hardware Stores are one of those businesses that offer remarkable profits when managed well. Once dominated by small independent stores, now these have been invaded by huge enterprises known worldwide. Consumers nowadays are more flexible than ever, and they accept the idea of online stores and brick-and-mortar ventures alike.
Opening up a hardware business will require a well-structured business plan, basic management skills, adequate licensing, a venue, a new business bank account, a reliable accounting system, and some employees to put your plan into action. The key to getting successful in this business is knowing your products and being smart about the inventory while keeping competitive prices.
Running a hardware business to the point of financial stability is not quite an easy task, but if you have passion, you can control certain factors to increase your success potential. This guide will provide you the basic information of what you need to do. 
1.Craft Your Business Plan
An in-depth business plan that specifies the layout about how to proceed with it is essential. You need to have your part of the research done for this business and figure out how you can keep it stable. 
The success of each entrepreneur depends on how clear he is about his business goals and setting up your hardware store is no exception. Determining the following aspects will help align your startup with modern business strategies.
Your Startup Costs:

 It is not strictly a low-cost business, especially initially, but investing wisely will gain you many perks. A hardware store can be start in less than $100,000. Start-up inventory will require up to $50,000. Other costs include rent for the building, display setup, and labor costs.

Your Business Type:

 If you are prone to make 100% decisions about your business, then starting from scratch is the thing for you, and it will be cost-effective as well. But creating a hardware store with a known franchise will give you direct access into the market with an established operational model. You will still have the margin to make the business decisions.

Your Marketing Plans:

 Understanding the advertising solutions that will get you the maximum and appropriate audience is essential. Recently, online promotional campaigns have proven to get solid results. Having good online marketing than the competitors can help increase your market share.
2.Product Targeting  & Target Market 
Hardware business gets money by charging the customers for supplies and tools. Most customers prefer paying by credit or cash and offering them various ways can help as some clients might require credit terms to do business with you. 
Determine your target market in your vicinity and online. In most cases, these will be the downtown residents, downtown businesses, contractors, property managers, and suburban commuters.
Since there exists cutthroat competition between the hardware industry due to its diverse domains, it would be best to decide which domain is most suitable for you before paying for anything. Some of the niches include tools, electrical supplies, plumbing fixtures, paint supplies, gardening tools, emergency preparedness, and more. 
Starting a hardware store is an exciting and challenging business venture. Due to the growing popularity of DIY home projects, the hardware industry is growing rapidly. It is expected to reach $35 billion in the year 2021. Small hardware stores are also facing fierce competition from large e-commerce retailers and big box stores. However, there are several things that you can do to ensure success.
First, make sure you have all the legal documentation in order to run your store. For example, most states require a retail store license and require businesses to collect sales tax. Despite these challenges, the hardware store industry can be a lucrative business opportunity. To get started, you will need to find a retail space that is large enough to house your inventory. You will also need to register with the local zoning commission to determine if there are any zoning restrictions in the area where you plan to open your hardware store.
The hardware store industry is incredibly competitive and you will have to learn new marketing strategies in order to stand out from the competition. Oftentimes, the best way to stand out is to have an existing customer base. Existing customers will likely be your biggest asset since they know what your store is all about.
3.Get Adequate Licenses
Legal documentation is required for every business, and not having the right ones can be an offense punishable by law. The rules differ for each business and region in which it is based. For a hardware store, the following documents are needed.
A Business License:

 An LLC registered with the IRC is the essential requirement for your startup. It will also provide you with a tax number.

A Federal, State, and Local License:

 These will allow you to operate your services and file your taxes with the city, federal, and state government while also making you eligible to open a business bank account.

Employment Agreements:

 This is also something you need to look into as it will set some regulations for both parties.

Retail Business Credential:

 Having certifications like RBC and Customer Service and Sales Certification can benefit your business by adding more value to it.  

Certificate of Occupancy:

 Having your store verified for all the necessary building inspections is also needed.

Federal Tax Identification Number:

 It is a validation of your business entity and can be used for tracking your organization's tax obligations and payments.
4.Create A Separate Business Bank Account
Owning business bank accounts is essential as this is where your order's money and employees' paychecks are all in one place. When you have a dedicated business account, it will be easier to manage its finances. 
Also, it will protect your personal assets because there are fewer chances of getting your business money mixed with the personal assets and getting it sued. It also simplifies the process of accounting and tax filing.
How Can You Cut Down Costs for Merchant Services?
You have to pay for merchant account services; since the hardware business includes many small purchases, it is better to look for options that will help cut down your cost per transaction. Among many of the pricing models of merchant account services, flat-rate pricing will suit your hardware store the best as this model is more transparent and allows you to pay a fixed amount monthly, so you do not have to worry about those lots of transactions.
5.Establish Robust Supply Chain Management 
This business performs several operational processes regularly. Having knowledge and a proper understanding of how a hardware store operates is the crux for better management. The significant functions that your hardware store will be needing are the following:
Getting Supplies

 involves placing orders with the manufacturers regularly or when the stock reaches the re-order point. 

Managing Inventory:

 Maintaining a regular check on the stock is the primary task in hardware store management. It ranges from receiving the shipment, sorting it, to disposing of the boxes.

Client Service:

 The original purpose of a hardware store is to offer an avenue for the clients to view, handle and buy specific items. In short, the hardware activities are customer-centric, and these range from in-store assistance, transaction process, and attending to the complaints.

Accounting:

 Reporting the financial details to the accounting department regularly is a necessary process. It also includes reports on missing or defective items in the inventory.
6.Invest in A Good POS System
Spending on a high-tech POS is an investment as it will work wonders for your new business. It will maintain a check on your product performance report and provide a direction to your business, thereby increasing sales by performing the following tasks for your hardware business:
Better Inventory Management: 

A POS makes it easy to keep track of your inventory by allowing you to have all the information of products at your fingertips. Only you have to scan the items when received, and the software will track the sales automatically with each transaction and maintain a record of sold and available items in the store. 

Improved Supplier Order Management: 

Since buying equipment is an essential part of a hardware business; a POS system also helps manage your purchases from the suppliers by keeping a record of all the orders placed. It allows you to view all your invoices and information about the items, including description, quantity, and cost. Future purchases can also be managed by POS software as it guides the availability of items in store and how much amount is needed to maintain optimal inventory.

Simplification of Operations: 

Most of your operations are simplified since software offers real-time reports of your orders, purchases, and sales, so you do not have to keep manual track of the inventory and accounts. 

Better Customer Orders: 

POS system keeps track of client orders, and if some item is not available, it notifies the employees to contact the customer. It allows you to save client information for future purchases and understand the potential target market. It enhances customer experience due to the fast and accurate service.

Quick Payments: 

POS system makes the payment process faster by reducing waiting time for customers and allowing employees to complete transactions quicker. It automatically calculates the price of items the clients want to buy and sends a mail to them with a receipt. It may also incorporate multiple modes of transaction, including cash, debit card, or credit card. 
7.Secure Your Business
Business insurance is vital to a business as the licenses and permits for it to operate safely. Protecting the business's financial well-being in case of a loss is a priority of every business owner. There are different types of business insurance policies created after considering the diversity in risks projected to each business. 
A General Liability Insurance is a good option if you are uncertain about the types of risks your business can face. 

Employees' Compensation Insurance can also be considered if you are considering getting employees. Many companies acquire this insurance policy to carry worker compensation coverage required by the state.
Other than business financial security, your company's data security is equally important. Other than installing security alarms for protection against theft and securing your servers with passwords and anti-virus software, integrating your data with a high-tech POS system is a good option used by many businesses today. It will grant access to limited authorized users and block the intrusion of malicious users, and with the cloud-backup, your data will remain protected against haphazard like store fires or floods.
8.Select A Suitable Location
If you are interested in having a conventional brick-and-mortar business, a competitive landscape provides an excellent opportunity. Select a location that offers prime foot traffic and easy accessibility to your customers. Instead of going solely by the price of location, you should also consider these factors for deciding an appropriate venue for your hardware business:
Venue as a Marketing Tool:

 According to facts, advertising is the most expensive tool to get new customers. Instead, you can focus on what you already have, like a good store, for funding internal rewards and referral programs.

Store Accessibility:

 Your hardware store should be in a space that's easy to be seen and quite accessible to your target buyers and potential investors. Putting yourself in the customers'/investors' shoes will help you decide better about what suits their needs. 

Business Freedom:

 We suggest you be conversant with local laws and potential constructions that can inhibit your store's accessibility, signage or hold you from holding an event. After discussing the zoning ordinance, you can have an idea of the kind of freedom your store will have once set up.
9.Increase Your Workforce
Setting up a hardware business comes with a good deal of responsibilities. Though the business flourishes as many industries revolve around it, having an inadequate workforce for keeping up with customer service can lead to its decline. Your clients can get frustrated if they are not attended to and served well. Not having good quality service will make you lose customers.
Like any other retail business, your hardware business requires a retail manager, store manager, security, and sales assistants. The number of employees will keep on increasing as your business expands. Being the business owner, it is your responsibility to ensure good manpower and customer service to keeping your business running at a good pace.
10.Create a Diverse Marketing Program
Advertising your hardware store will cost you money, but it's all worth it. Having a good brand awareness will attract new customers and increase the trust of existing ones. There are specific ways to do it:
Create a Website:

 Right after getting registered and finalizing your business name, make a website. The size of your store does not matter when getting your business online.

Get on Social Media:

 Remember that social media accounts on Facebook, Instagram, or LinkedIn are not replacing your website. They are just the catalysts to improve your marketing campaigns.

Market to the Community:

 Besides creating a website and social media accounts, targeted mailing campaigns add a lot to your advertising. You can also use offline media portals like newspaper ads.

Develop Strategies Like Sponsorship:

 Make sure that your marketing campaigns are flexible to grow along with your hardware business. You may also opt for sponsorships, promotional merchandise, or holding public events.
Will Investing in a Hardware Business Payoff?
Hardware stores are undoubtedly the most important retail shops to exist as everyone turns to these for essential supplies, be it drilling a nail or constructing an empire. Making decisions that support your business goals is the ultimate skill and once you have got the idea of a perfect business- hardware store; all you have to do is refine it. 
The hardware business is a center around which many contractors, residents, and industries orbit, and providing them with requisite services is the best shot at staying afloat. If you are determined to realize your business idea of setting up a hardware store, then, by all means, do it. A well-executed business plan can make the hardware business a means of owner and community satisfaction.