(Last Updated On: May 20, 2022)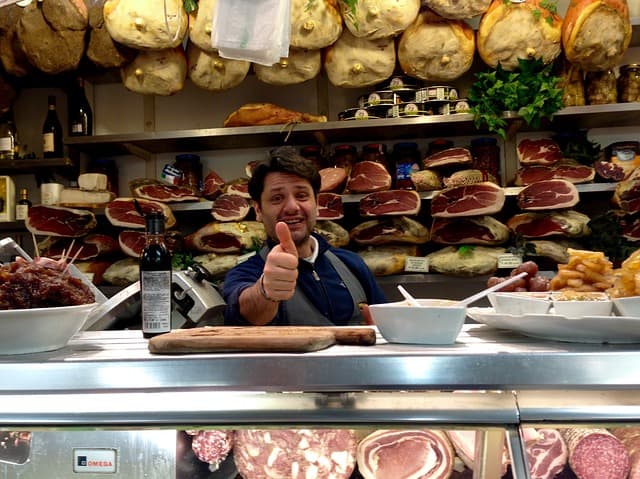 Is there anything more traditional and all-American than getting lunch at a deli? It's a place that has all the staples: sodas, sandwiches, maybe a little pastrami. Delis are a safe, reliable way to make money. They're not going anywhere anytime soon, which is why starting your own deli business is a smart move. 
Starting your own deli company will require a business plan, a business license, a venue, proper permits for your business, a business bank account, as well as an accounting system. After you put together the basics, you will need to work on hiring your staff and advertising your deli.
Working towards owning your own deli might seem like a delicious concept, but it can leave a bitter taste in your mouth if you aren't careful. This step-by-step guide will make sure your plan will succeed.

1.Write A Business Plan
Delis aren't just about bread and cold cuts. They require a serious amount of planning, since this isn't a low-investment endeavor. A plan will help steer your business decisions and give you a better idea of what to expect. At a bare minimum, this should include:
Startup Costs.

A deli has a staggeringly wide range of startup costs, with much of the variety being due to the location that you choose. It can range from $60,000 in a small town in Iowa to as much as $1.5 million in San Francisco. 

Menu Concepts.

Are you going to be the "old school" deli that keeps standard rolls and serves up pastrami on rye? Or, are you looking to be the next big name in ethical, vegan fare?
Food Sources.

Which companies do you want to carry in your deli? Boar's Head, maybe? It's best to source vendors before you get into business.
Marketing Plan.

How do you intend to market your business? Will it be mostly on Instagram, or is it going to be something a little different? 
Break-Even Costs.

This is a fancy way of saying that you need to know how much you have to sell to break even. 
Is a deli a profitable business?
It can be, but it needs to be done right. Most food-centered businesses have fairly tight profit margins. This means that you might have a hard time turning a profit, especially if you have frivolous costs. A deli needs a lot of care to grow well. 
2.Create A Business Entity
To start any type of business, you will need to register your company with the IRS. This gives you the legal rights to the business name you choose. Most delis are either LLCs, or partnerships. When choosing your name, make sure it's available on the following spaces:
The Registry.

If someone else has the deli name you want on file with the IRS, it's not going to work out. 

Social Media.

Grab the company social media handles immediately after you register your business. You'll be glad you did.
Domain Names.

That's right. You're going to need a website, too. 
3.Buy Business Insurance
Without fail, delis are going to be a retail and restaurant venture. This means that you are going to need to have employees as well as individual buyers around your venue. With that comes a risk of serious injury, especially when it comes to things like meat slicers or wet floors. 
Business insurance is legally mandated for companies that serve in a retail space. This includes places like delis. It's what keeps your company from being held liable for damages arising from accidents and injuries. 
A deli is considered to be a risky business compared to others because of all the cooking, hot oil, and knives that come in the area. You should set aside around $5,000 to $6,000 a year for this insurance. 
4.Open A Business Bank Account
In order to keep your business finances and your personal finances separate, you are going to have to get a business bank account. This acts as a major foundation to your business. It's where your employee checks will come from, where you will get your funding placed, and where your expenditures will come from. 
Do you need to use an employee check service?
Most delis will have between five to 10 employees, so it's a small company. Having a service that calculates paychecks and makes sure everything goes smoothly can help. In most cases, it's a good way to avoid hassles. 
Do you need a business line of credit?
A business line of credit is a good idea for a deli owner, simply because there are so many crazy unforeseen expenses that can happen. Your credit line can also help pay the bills in a pinch, too.
5.Get A Point-Of-Sale Terminal
Once you have a business bank account, the next thing you need to do is to get a point of sale terminal. The POS is going to be what makes it possible to get credit card, debit cards, and even gift cards as a form of payment. Moreover, a typical terminal can also track your income, returns, and even more. 
It's not uncommon to hear of people using terminals to create loyalty programs and discount codes. Some delis also use them to get online orders, while others use their point-of-sale terminals to handle employee hours. Basically, if you need something done, you need to get a good terminal for your company. 
A POS system for your deli will track expenditures, refunds, as well as sales. Moreover, it also gives you the chance to accept credit cards and checks. With some models, you can also get the luxury of accepting online orders through the terminal while you're on the job. 
Its clear that a good terminal can do a lot for your company. You should put aside at least $100 per month to afford a terminal for your deli.
When you're looking at how to start a deli business, you'll notice that there are a few things you'll need to get right. If you're opening a food truck, you'll need a suitable vehicle and a location with a high amount of foot traffic. You'll also need a space large enough for a meat case, prep area, and kitchen. The most important part of your deli, however, is the food. Before you open your deli, make sure you advertise your business heavily. There are multiple advertising methods you can use, from newspapers and radio ads to social media, and you can even personally introduce yourself to local businesses. After you've opened your doors, you'll need to scale down your advertising efforts, but you'll still want to use several methods to build a solid customer base. Once your deli is open, focus on offering high-quality food and getting to know your customers. Make sure you offer a wide range of choices and stay up-to-date with what your customers want. You'll need a building, so you'll need to lease one instead of purchasing one. It's also important to find a location with a high foot traffic, since your customers will be passing by your deli frequently. Look for a building near schools, hospitals, and office buildings. If possible, consider opening your deli in a building that was once a deli. This will save you money on merchandising equipment.
6.Get A Venue
Delis are going to be a tough type of industry to find a home for, primarily because it is considered to be a somewhat risky business. Food businesses, in general, are going to be hard to turn a profit from. When finding a venue, it's important to look for these things below:
You have to find a place that has as many deli fixtures as possible.

Ideally, you will choose a place that was once an old deli. If you can't find that, look for a restaurant setting or "bodega" setup. 

Good foot traffic is a must.

Delis can have their own niche group of people they serve, but most of the time, it's foot traffic that gets you your first clients. A strip mall, regular mall, or busier district in your city is a good choice. 
The building that you choose should have most or all the areas up to code.

The more repairs you have to do, the pricier it will be. 
Avoid any building that has a known pest problem.

This can harm you business immensely, even going so far as getting your place shut down.
Space is a good thing to have, but not totally necessary.

Most delis are not considered to be dine-in. 
Avoid areas that have other delis, bagel shops, or breakfast restaurants.

These are your competitors, and that can lead to some serious problems between you and fellow business owners. 
 What kind of fixtures do you need for a deli?
A deli needs several fixtures in order to work out well. The most common fixtures found in a deli include:
A Refrigerator/Refrigerated Display Case.

There needs to be a place to keep your food cool, right? 

A Flat Top Grill.

Most delis have at least one flat top or a stovetop to cook food in. This can also be the place to toast buns. 
A Meat Slicer.

Since most lunch meats tend to come as a large chunk, this is a must. 
Shelving/Retail Displays.

Delis don't just have fresh meats or cold cuts anymore. They also tend to be the place to grab small snacks like soda or chips. You need to have a way to display them. 
Buffet Table.

This is a common sight in New York delis. If you want to have an olive bar or just want to have a "serve yourself" area, this is a must. 
A POS Terminal.

Most people do not pay for deli meats with cash anymore. Having a terminal allows you to accept credit cards. 
Do you need to have furniture in your deli?
It depends on what kind of deli you want to have. Most major city delicatessens do not require a lot of furniture, since people don't eat in the deli. However, if you want to get tables and chairs for a dining area, that's alright.
7.Get An Accounting System
Part of running a deli successfully is having an accounting system that is easy to manage. After all, delis can get pretty chaotic at times. An accountant can help you understand the basics, but having a good point of sale terminal can help you make everything streamlined. 
8.Get All The Required Permits
Delis are surprisingly permit-heavy, all things considered. You will need to make sure that your deli is up to code before it opens. To do this, you will need the following items:
A Sales Tax Permit.

Most states require you to have a permit to charge sales tax. You  will need one, since you're selling stuff that people will be eating. You can find out how to get a sales tax permit by looking at your state's site.

A Reseller Permit.

This is a permit that gives you the right to resell wholesale goods at the price you choose. Some companies will also require you to get training on their products before you sell them. 
A Certificate of Occupancy.

This is a certificate that shows that you have all aspects of your building up to code. You can't open up shop without one.
ServSafe.

This is the standard certification showing that you and your employees can handle food properly. 
Sign Permits.

If you want to hang a sign outside your venue, you will need to get a permit in most cities. Check with your local municipal court.
9.Hire Your Employees
The ideal deli employee will be certified in ServSafe food handling, and also will have some experience in making good sandwiches. Your employees should also be over the age of 18, since most states won't allow your employees to work with sharp items if they are underage. 
Most delis will require between three and 10 employees. This gives you enough manpower to handle your deli's hours, have a cook behind the counter, and also have a janitor on staff. With that said, you should scale your employee roster up or down depending on the size of your operation.
10.Advertise Your Deli
Although your deli will get some business through foot traffic, you still need to put together a good advertising campaign. These options below offer a good beginning:
Online Presence.

You will need to have a website dedicated to your deli, ideally with an  online ordering platform connected to it. (GrubHub works well, but you can also link yours to Shopify if you have a POS.) 

Social Media.

Flattering shots of your food can go a long, long way when it comes to getting people at your door. Instagram, Twitter, and Pinterest are popular here.
Groupon.

If you are okay with cutting people a deal, you can run specials for certain sandwiches on sites like Groupon. It's a form of advertising that can pay for itself. 
Street Fairs.

Having your deli present at street fairs is a smart way to add a personal touch to your service while getting the word out about your venue. Like Groupon, this form of advertising can pay for itself in due time. 
Coupon Mailers.

Though coupon mailers are not as popular as they once were, they still have a place in society. These mailers help get the word out about your deli, and also can help deliver some new clients to your doors. 
Get Started On This Delicious Venture
Did you know that the word "delicatessen" can be traced back to French and German words for "delicious things?" It's true, and that's what owning a deli is all about. This is a venture that is ideal for people who love making mouthwatering sandwiches and serving up hefty plates of food to fans. 
Of course, there's going to be a lot to do if you want to become the biggest deli in town. With a little work and a lot of smart moves, there's nothing stopping you from making a deli startup that will rock your town's tastebuds.