(Last Updated On: September 28, 2022)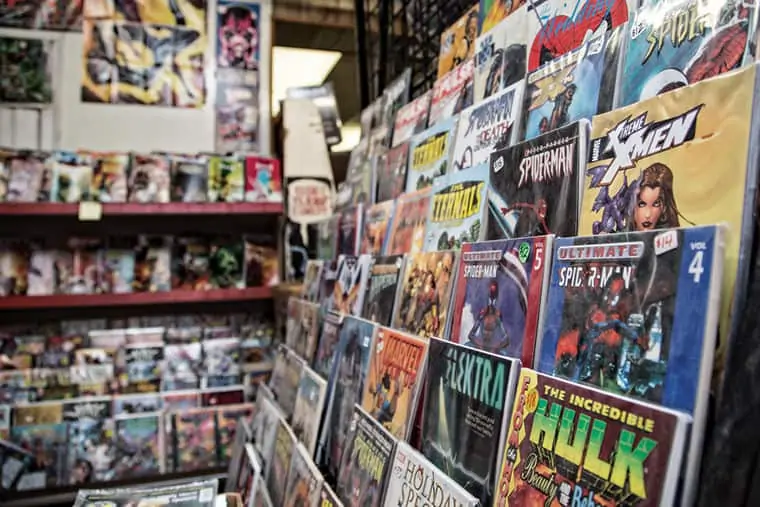 It's been said that if you are working at something you love, you will never work a day in your life. You love comics and comic book stores, so what better way to totally immerse yourself in something about which you are passionate than to open your own comic book store?
In order to convert your passion for comic books into a successful comic store, you need to obtain an all-in-one POS system, a detailed business plan, and between $25,000 to $100,000 in funding. You'll also have to legally organize, find a great location, line up suppliers, acquire insurance, licenses, and permits, and hire employees. Let's look at each of these steps. 
Let's review everything else you will need in order to open a successful comic book store.
1.Create A Detailed Business Plan
It may sound daunting to write a business plan, and it can be challenging to put your great ideas for a comic book store on paper. You can do this, though, with a little thought and the right attitude.
Why write a business plan?
A business plan is where you articulate what your business will be, what it will sell, whom it will serve, and discuss why it will be different in ways that will make it successful. It's also where you work through how much money you'll need to get started and how you'll spend that money until the profits start rolling in.
Your business plan helps you define what you must do to be successful, calibrate your expectations, and convince money lenders that you're creditworthy.
Think of your business plan as your roadmap, complete with guardrails to help you keep moving in the right direction. One of the primary reasons that new businesses fail is lack of preparation, so you want to avoid this common pitfall.
What's in the plan?
Your business plan describes the heart and soul of your business.
Here's a thumbnail sketch of what you must include in your comic book store's business plan:
An executive summary. This is a compelling narrative about why you're starting your business. You provide a brief overview of the products you will be selling and comment on the market in which you'll be competing.

A business description. Here you go into more detail about the market that you'll be competing in – how big is it, who are your competitors, how much is the market growing? You'll write about how your business is going to be different and how those differences will enable you to succeed. You want to do your homework to demonstrate that you know what you're getting into and that you have a solid rationale for believing that you will succeed.

Identify your leaders. Write a brief biography of the people who will play leadership roles in your comic book store enterprise. Discuss their qualifications to generate confidence that there are steady hands on the wheel.

A marketing plan. Write about how you plan to promote and advertise your store. What ideas do you have to get their attention, bring them into your store, and convert those footsteps into sales?

A financial plan. Lay out your financial status – how much money you have and how much you need – and then a timeline that shows how and when you plan to spend and make money. Lenders want to know how you'll be using money, and what kind of return you're projecting.
2.Establish a banking relationship.
It takes money to make money. Many businesses fail within the first year or two, and one of the main reasons they crash is because they are undercapitalized – they don't have enough money to keep the business alive until it starts turning a healthy profit. 
Owning a brick-and-mortar store requires money for rent, equipment, fixtures, displays, signage, utilities, inventory, licenses, permits, and more. These are up-front costs that, depending on the size of your store, can run up to more than $100,000 – money that you must spend before you open your doors to customers and make your first sale. 
Turning a profit can take several months, perhaps much longer. Consequently, you need a good line of credit.
Find a friendly banker, preferably at a bank that issues Small Business Administration (SBA) loans. You might have to shop around to find a bank that is eager to lend money to small start-ups. Here's where your business plan is invaluable.
Enthusiastically talk your banker through each part of your business plan. They've worked with many other businesses and seen business plans for each. You'll be delighted by the extent to which they can help you tweak your plan for even greater success and how they can help you address what they consider the most important points to establish a solid relationship.
3.Obtain A POS System 
There are a lot of moving parts involved in running a comic book store. A good accounting system will help you avoid chaos related to poor accounting practices and haphazard inventory management. You can't keep track of everything in your head or on the back of a scratchpad.
One of your most critical purchases will be a reputable POS (point of sale) system. A POS system comprises the hardware and software that enables you to execute and record sales transactions and helps you control your inventory.
Your POS system does a lot. It will:
Handle the first step in any sale by recognizing the product that your customer has selected to purchase.

Correctly price the item being sold, including the appropriate sales tax.

Enable your bank to authorize credit or debit card transactions so that your can complete the sale.

Print a receipt so that your customer has confidence that the price was accurate and perceives your business as professionally run.

Create a record of every sale and all taxes collected so that your records are accurate and up to date. This is essential for complying with generally accepted accounting practices and intelligently managing your cash flow.

Automatically update your inventory, so that you can immediately see how many more of the sold items are still in stock. This is critical to avoid running out of fast-selling items or being burdened with the expense of carrying too many slow-selling items. Inventory management is one of the most important issues for any retailer because it can get out of control quickly without proper attention.

Some POS systems capture sales information by the customer so that you know who's buying what. This enables you to personalize sales and marketing campaigns that generate more revenue with the least cost per sale.
Got 60 seconds to spare? Get the best pricing!
4. Legally Organize Your Business.
Your comic book store will most likely be organized as a legal entity called an LLC (limited liability company) because doing so can save on taxes and protect your assets. 
Your attorney, bank, and tax professionals can advise you on the best type of organization based on your personal situation. There is a small fee for registering your company.
Before opening your comic book store, it's important to understand your local laws regarding business licenses and taxes. Some states require certain licenses for comic book retailers, including sales tax and insurance. Contact your state's office of small business administration (SBA) for information about requirements. You may also need a resale certificate, which allows you to purchase certain products without sales tax. You can get this certificate from your city, town, or state's clerk's office.
Before you start running your comic book store, you should develop a business plan. A good business plan will include a description of your shop's products, employee compensation, market analysis, and financial projections. An executive summary and a list of employees are also important parts of a good business plan.
To ensure that your customers' safety, you must educate yourself on local laws regarding adult material. For example, if you sell adult material, be sure to place it behind the counter, or on a higher shelf. While it's not illegal to sell adult materials, you shouldn't allow minors to purchase them. Remember that if you don't want to deal with lawsuits, your customers' safety is your priority.
Aside from ensuring the safety of your customers, you should also educate yourself about the current market for comic books. Attend trade shows to learn more about the industry and what customers are looking for. You should also know about new releases and special promotional displays.
5.Name Your Comic Book Store
There is no "right" name for a business. But there are a few things that you definitely want to consider when you choose your name:
Make sure it won't be confused with any other stores or businesses in your marketing area – you don't want to send your customers to another business.

Pick one that is easy to say, write, and remember.

Keep it short and simple by avoiding words that are hard to pronounce or spell.

Check to make sure that the name is legally available – you can't use something for which any other business holds a trademark or service mark.

Ideally, choose a name that you can register for a .com domain so that you can set up an easy-to-find website, etc.
6.Location, location, location
You want to locate your comic book store where it is easily accessible for your target customers. For instance, you may want to be near a college campus or near stores with heavy traffic.
Your comic book store's location is important. Bear in mind that the better the location – high traffic, good visibility, and so forth – the larger the rent check you will have to write every month. Be prepared to intelligently compromise.
Your business plan's financial projections will help you determine what you can afford, and your bank and Realtor can help you find the most promising site that is within your means.
Once you have chosen a location, it's time to determine the looks of your store. Comic book stores are increasingly frequented by female shoppers, so keep that in mind when choosing music, fixtures, and displays.
7.Establish a Distributor Relationship
You will purchase virtually all the merchandise that you sell in your store through a distributor. Distributors buy large quantities directly from publishers and then resell merchandise to retailers. 
The biggest name in the business is Diamond Comic Distributors, Inc. They can supply you with all the major labels as well as other products like apparel, games, and toys that will enable you to keep your inventory fresh with popular items.
Depending on your business plan, you may also want to buy from other distributors who specialize in indie or foreign covers.
Your credit line is important here because you will probably have to pay cash for your initial purchases, perhaps for as long as six months until you establish a favorable track record. Later, you'll be able to buy on terms and may be able to sell your most popular merchandise before you must pay for it.
8.Getting your ducks in a row.
Before you can finally open your doors, you need to purchase insurance and obtain any necessary licenses or permits. Your insurance agent and a bank can guide you through whatever business insurance you will need. The city in which you are setting up your business will advise you regarding any necessary permits or licenses that are required for your comic book store to open and operate.
8.Hire knowledgeable Employees
Once you are ready to launch your new comic book store business, it's time to get the right people on the bus to help you make it a success. You should try to find hard-working people who are comic book enthusiasts, are friendly and sociable and are genuinely interested in helping customers select their purchases.
A comic book store offers comic books and other related merchandise. Many comic book stores offer an exclusive selection of comic books and unique memorabilia. They have a social atmosphere and a community-oriented business model. Customers expect a personalized shopping experience and unique items. There are a few steps to get started, such as establishing a legal entity and establishing an accounting system.
First, determine what your retail pricing policy is. You can either set your prices based on market value or use a 30% to 40% markup as a rule of thumb. Rare comics are the most expensive and can command high prices, so be sure to research the market before setting your pricing.
Once you have identified the demographics of your target market, you can choose a store location that is convenient for your customers. It is best to choose an area where there is high foot traffic, so customers can walk in and browse the comic books. Also, consider the type of items you sell. If you're selling rare, hard-to-find comics, consider selling them at a discount.
Gut check: Are you ready to commit? 
Entrepreneurship requires sacrifice. It can be fun but making your own comic book store a success requires hustle and grit. Ask yourself: Am I willing to sacrifice family time and playtime to make a go of my comic book store? 
If you have the gumption to jump in and the commitment to keep going, you're on your way. Preparing to open a comic book store is a labor of love. Nobody can provide you with a simple, one-size-fits-all, step-by-step process, but we can set you off on the right path. Don't get frustrated as you work through the process – your goal is to hit the ground running. You may want to gain experience by working in a comic book store before opening your own. 
Closing Thoughts
It's exhilarating to devote your life to doing something you love. Bear in mind, that owning your own comic book store can be fulfilling and profitable, and attaining success entails sacrifice, dedication, and unwavering commitment. Finally, businesses stay afloat with money and credit, so you must make sure that you have enough of each lined up for your comic book store to weather your early months as a start-up and to fund great ideas for expanding your product offering or marketing efforts to build sales.
Get A Free Quote